Happy Friday, friends! Oh, what a long week it was indeed. Jason changed around his work schedule, which ultimately will be amazing but with any change, getting into a new rhythm takes time! As a result I am now solo in the mornings which means I may or may not have gone four days straight without washing my hair. Ugh. Just keeping it real here folks...hey, at least the twins got fed! Ha! I did however attempt to photograph a bit more variety this week from dinners to snacks! And like always, please comment in the section below with any toddler meals your little ones love, I'm always looking for new ideas. Here's what I fed the twins this week...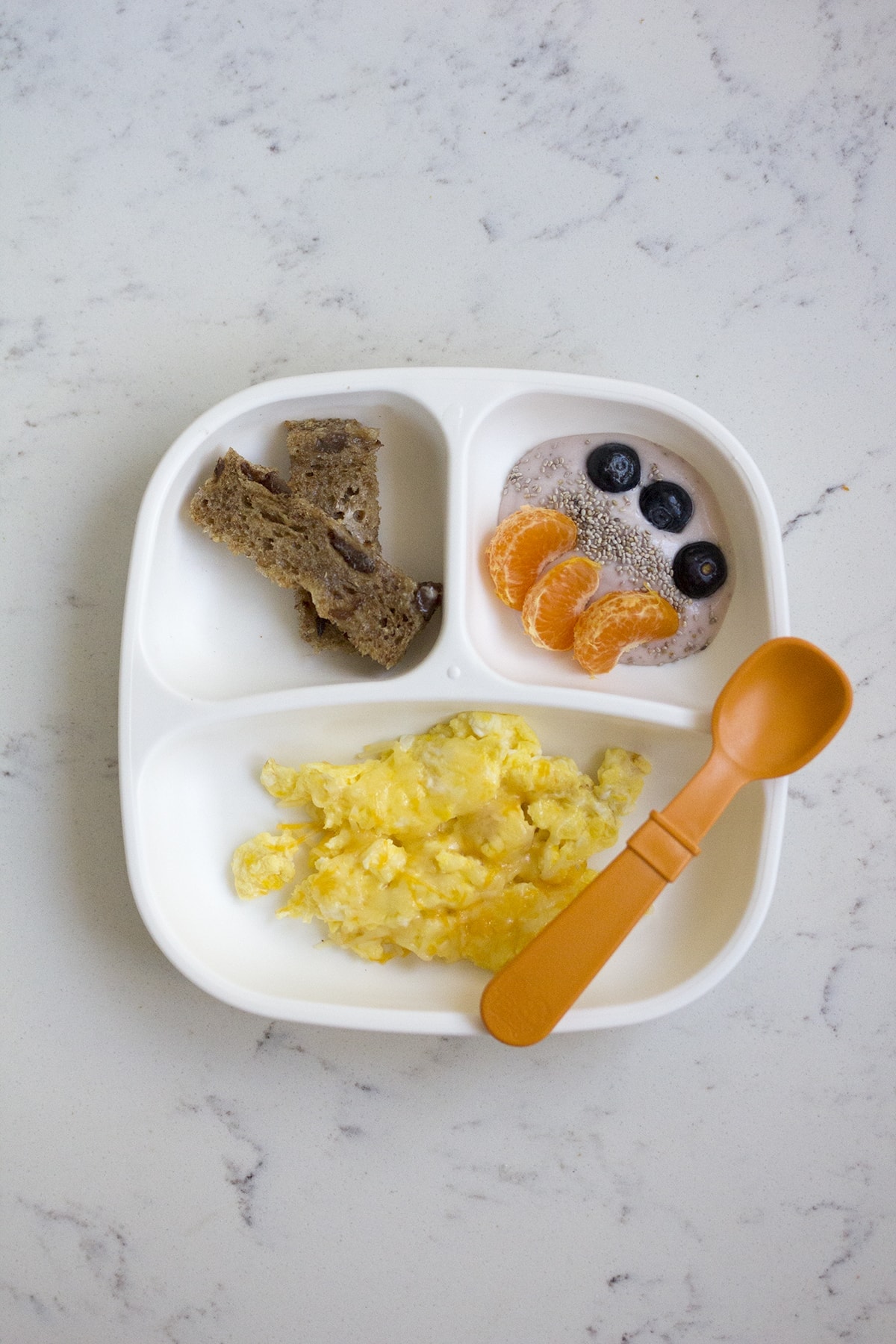 Breakfast: Cheesy scrambled eggs, cinnamon raisin Ezekiel bread with butter & blueberry yogurt with chia seeds, blueberries and mandarin segments.
Notes: The twins love cheesy scrambled eggs! Making this yogurt parfait was something new and they seemed to enjoy it.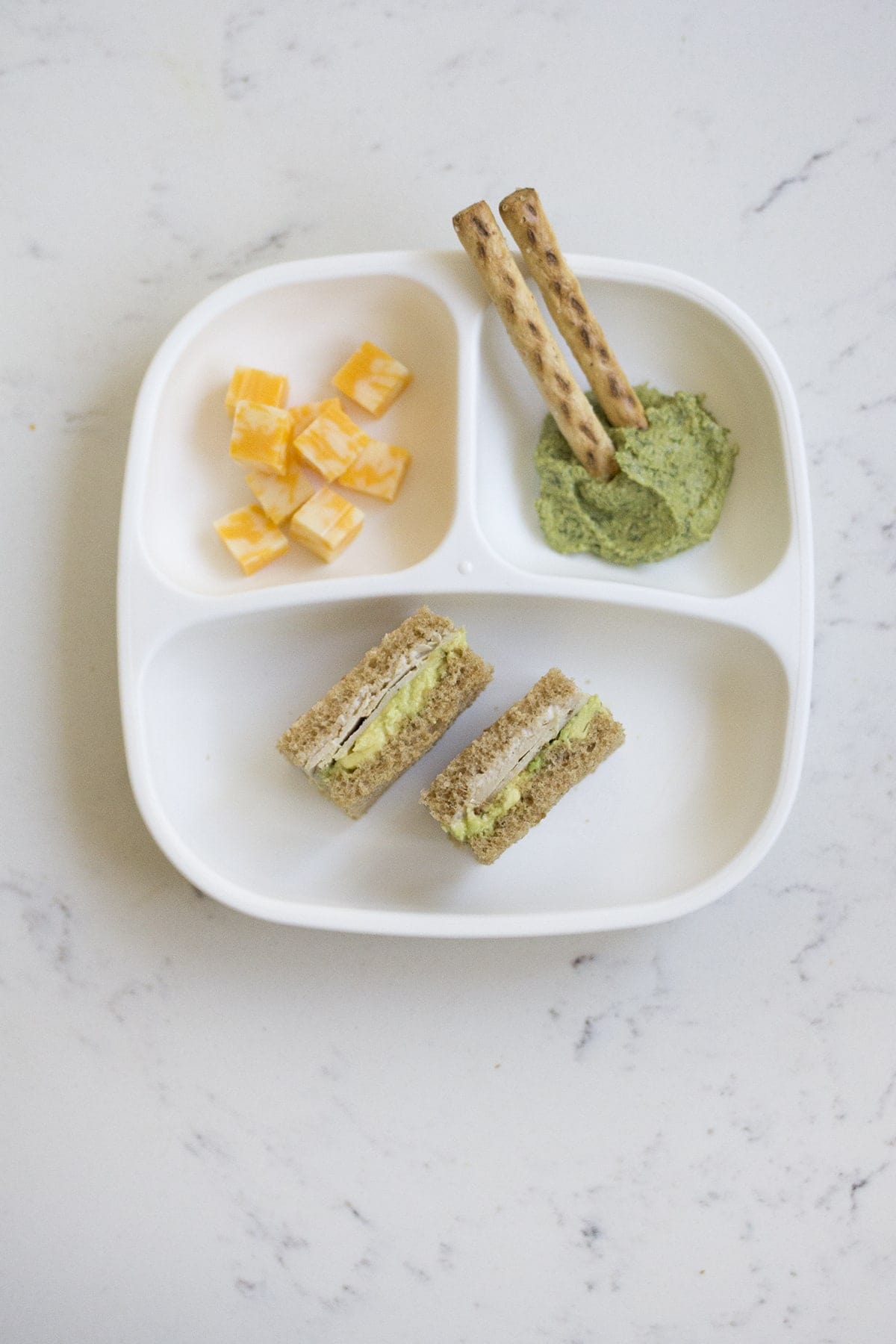 Lunch: Mini turkey sandwiches on whole wheat bread with smashed avocado, turkey, mayo and dill. Organic colby jack cheese cubes. Green Tahini Dip from Trader Joes with honey wheat pretzel sticks.
Notes: The twins devoured these sandwiches! I don't love giving them processed lunch meat so I ask for roasted turkey breast to be sliced for sandwiches in the deli section of my grocery store. It's so much more delicious! Also, this Green Tahini Dip from Trader Joes is one of the twin's favorite things. Great for dipping!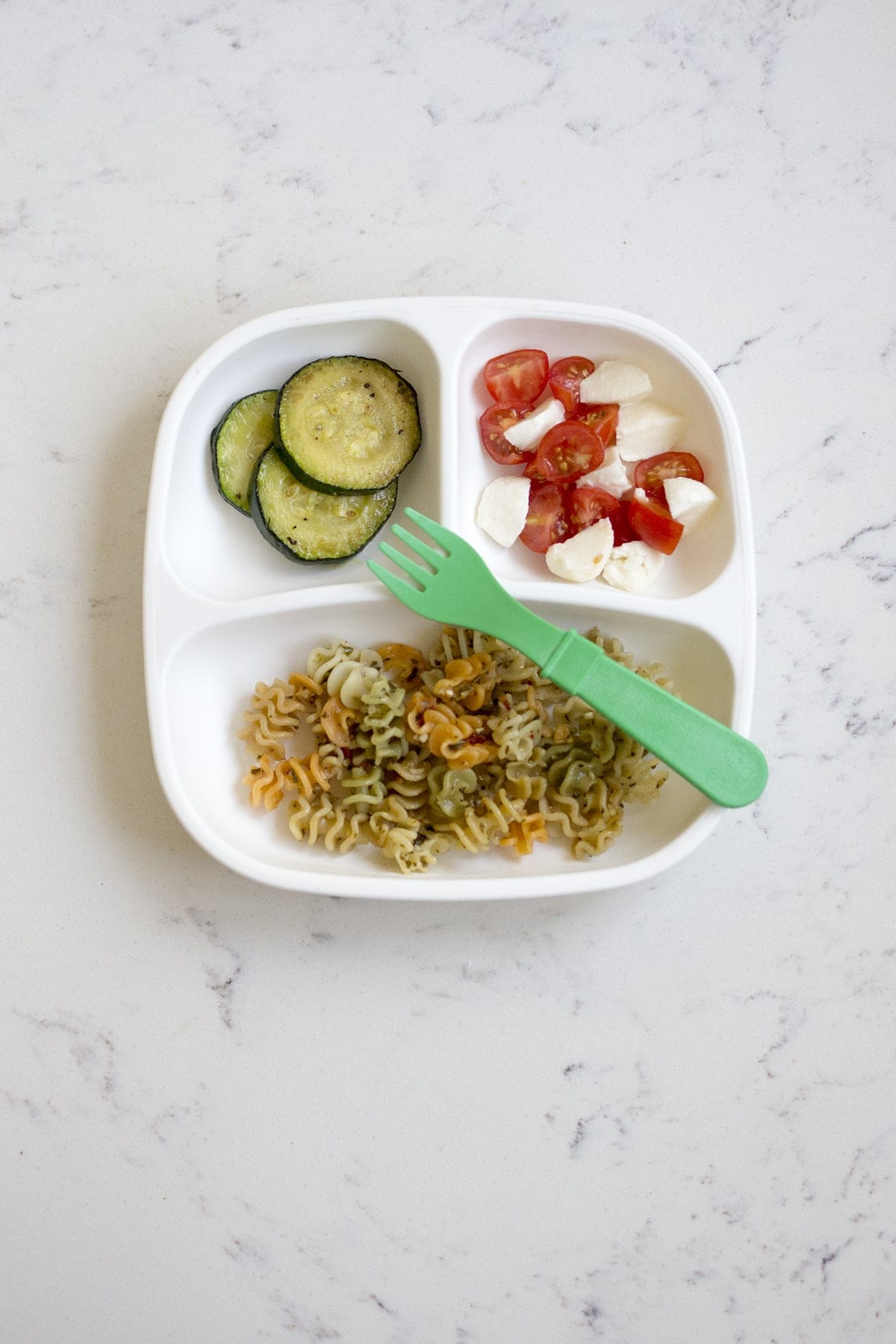 Dinner: Organic Vegetable Radiatore with pesto and sun-dried tomatoes, sauteed zucchini & tomato and mozzarella salad.
Notes: Pasta is pretty much my easy go-to dinner when all else fails. We love adding pesto and sundried tomatoes to our pasta instead of marinara. As for the "baby caprese" cherry tomatoes are a big hit with the twins!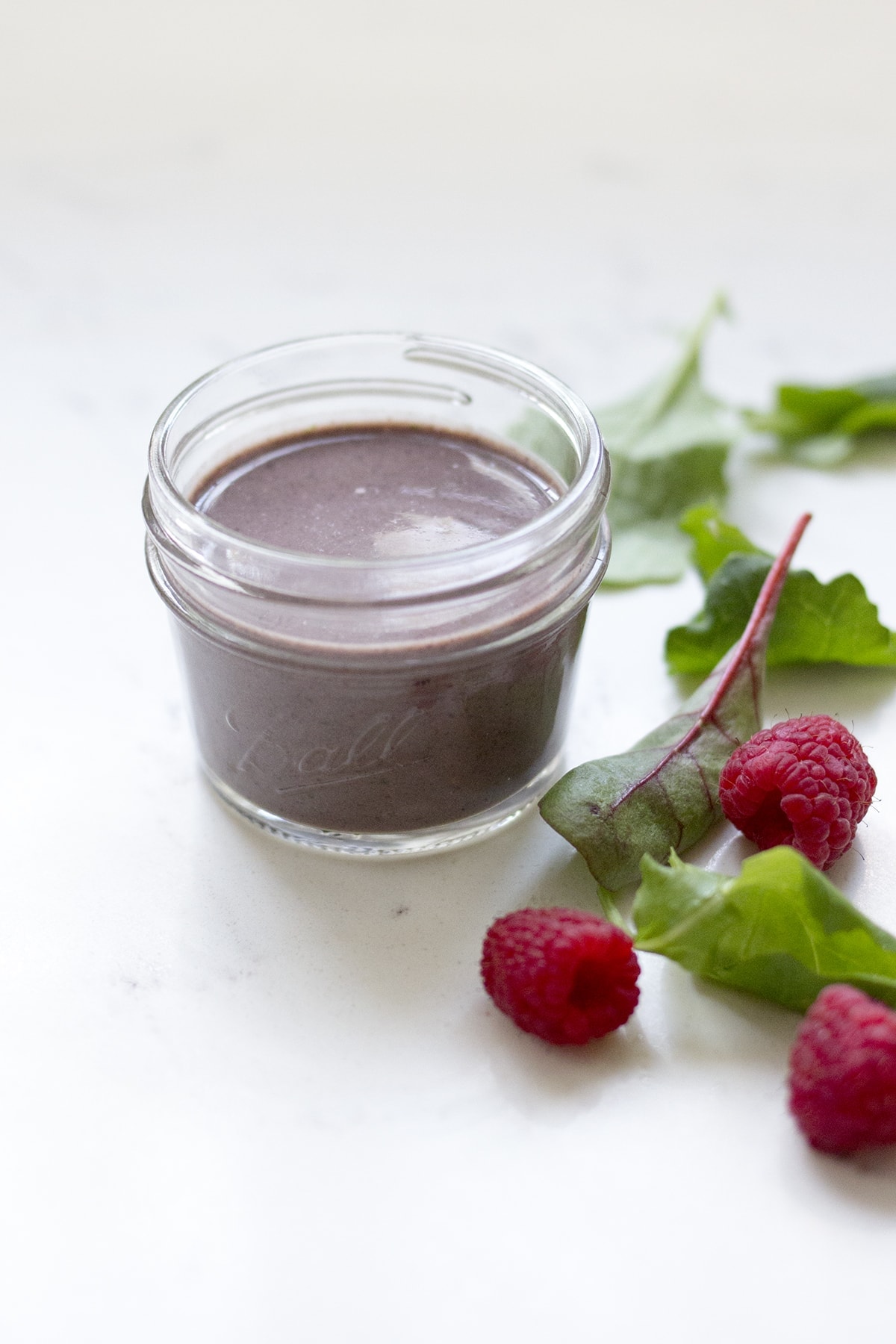 Snack Smoothie: Frozen Acai puree, spinach and swiss chard mix, banana, raspberries, peanut butter and organic whole milk.
Notes: When all else fails, make a smoothie! The twins love smoothies and I pack them full of protein and greens so it's a win-win! Also, Trader Joe's now sells Organic Un-Sweetened Acai Packets in the frozen section!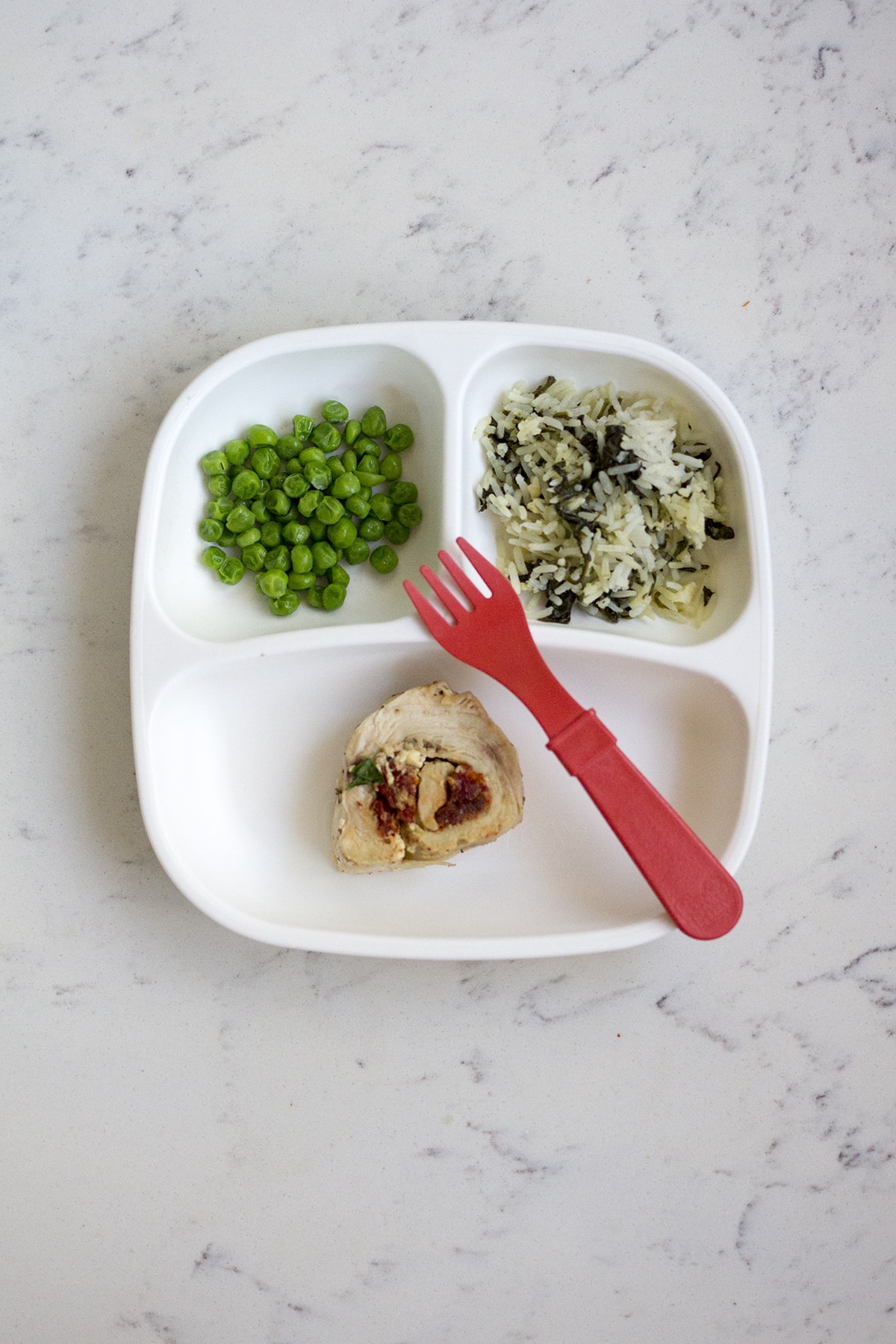 Dinner: Buttered peas, Spinach Dill Rice and Sun-dried Tomato & Feta Chicken.
Notes: Dinner is always a modified version of what Jason and I are eating. This dinner was totally kid-friendly but I did add the addition of peas just for them. Also, I cut the chicken up very small...we are still working with a total of 10 teeth combined over here!
Until next week! For a look at all kid-friendly recipes, visit the "kid-friendly" recipe section here.
Save
Save
Save