While Leah's sipping margaritas on the beach in Tulum, I say we have our own little south-of-the-border staycation, no carry-on needed! Any objections?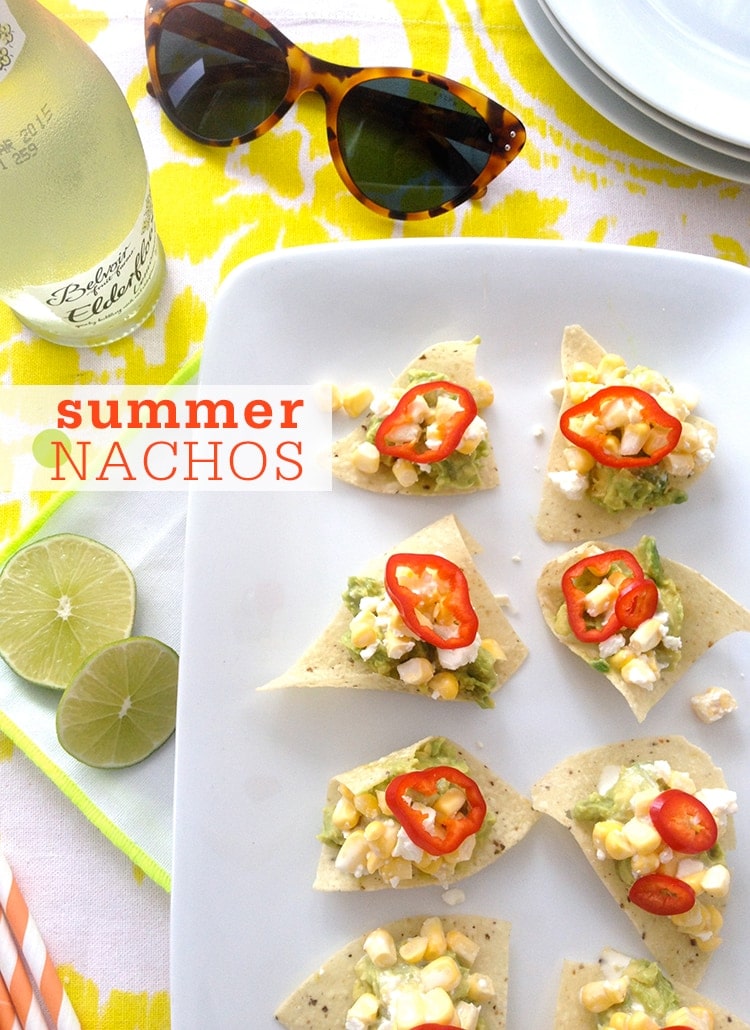 Here's the plan: This weekend, find a friend with beach or pool access and invite yourself for the day. Tell her your bringing snacks and booze, she won't mind. (Hi mom, I'm coming over!) Pack your tote with the essentials. I'm talking fave swimsuit, tequila, magazines, your cutest cover-up, sunscreen (of course), and the ingredients for your nibbles below. You could show up with chips and guacamole from the grocery store but where's the fun in that? This is your well-deserved staycation—treat yourself!!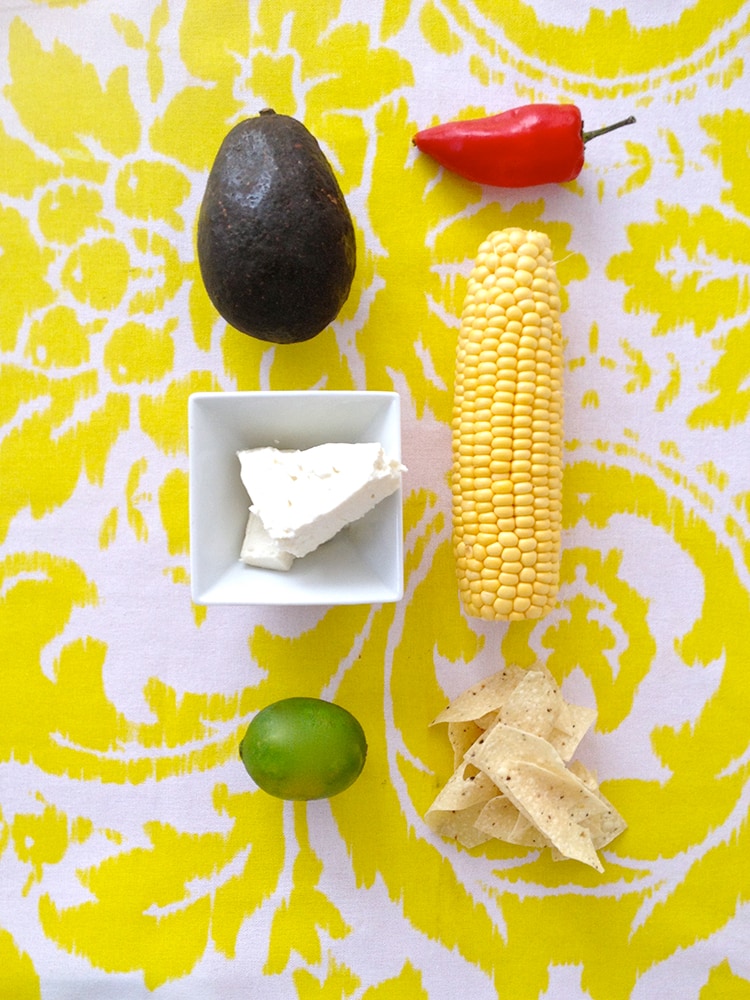 I've never been to Mexico but it's high on my list. In my imagination, savory snacks show up poolside loaded with fresh veggies and lots of salty-spicy flavor. If that's not the case, shhh! Let me dream…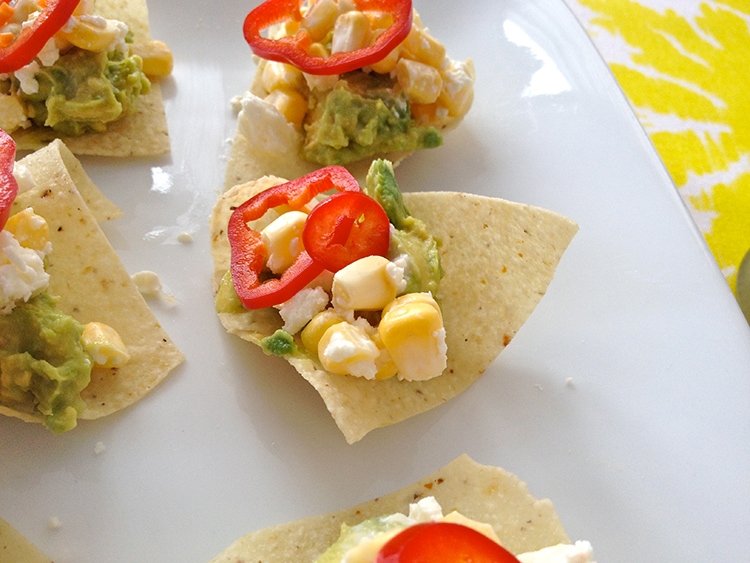 To recreate that experience at home, I came up with these no-cook, bite-size "nachos" topped with creamy avocado, a quick corn salad, crumbly cheese and red jalapeno. Each chip is perfectly dressed and ready for munching. One whole tray only takes about 15 minutes to assemble (so speedy) but bonus points if you can get a cute guy to make 'em for you instead! Feel free to tweak this recipe to you taste (nix the garlic, add cilantro, take out the mayo) but whatever you do, make sure you toast your down-day with one of Leah's famous cocktail—I think this tropical one would do the trick!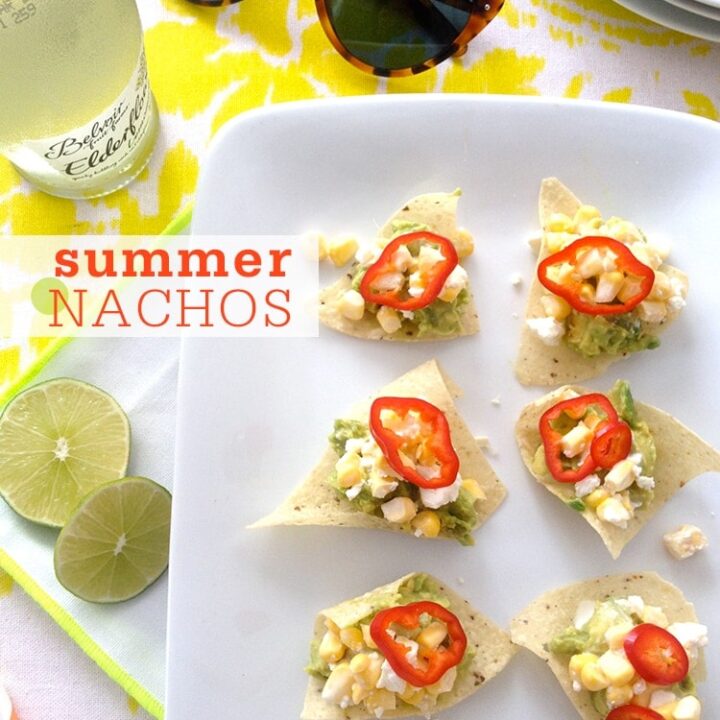 No-Cook Summer "Nachos"
Fresh summer nachos with corn salsa and cotija cheese are
perfect pool or beach-side.
Ingredients
1 large ear corn
2 tablespoons fresh lime juice
1 to 2 teaspoons mayonnaise
¼ c. crumbled cotija or low-fat feta cheese, plus more for topping (optional)
Kosher salt
1 avocado, halved and seeded
1 small clove garlic
1 red jalapeno chile pepper or similar, very thinly sliced (optional)
Tortilla chips, for serving
Instructions
Cut the kernels off the cob using a chefs knife; transfer to a small bowl. Add 1 tablespoon lime juice, the mayonnaise, cotija and a pinch of salt and stir to combine.
Scoop the avocado into another small bowl using a spoon. Add
the remaining 1 tablespoon lime juice, garlic, and pinch of salt and mash until combined.
Divide the avocado mixture, corn mixture, and jalapeno slices among tortilla chips—about 1 teeny scoop each! Top with more cotija, if desired.