Pumpkin bread, glorious pumpkin bread! There are few recipe in the world that are easier to make and more satisfying than pumpkin bread. It's moist, delicious and blurs the line between breakfast foods and desserts so nicely.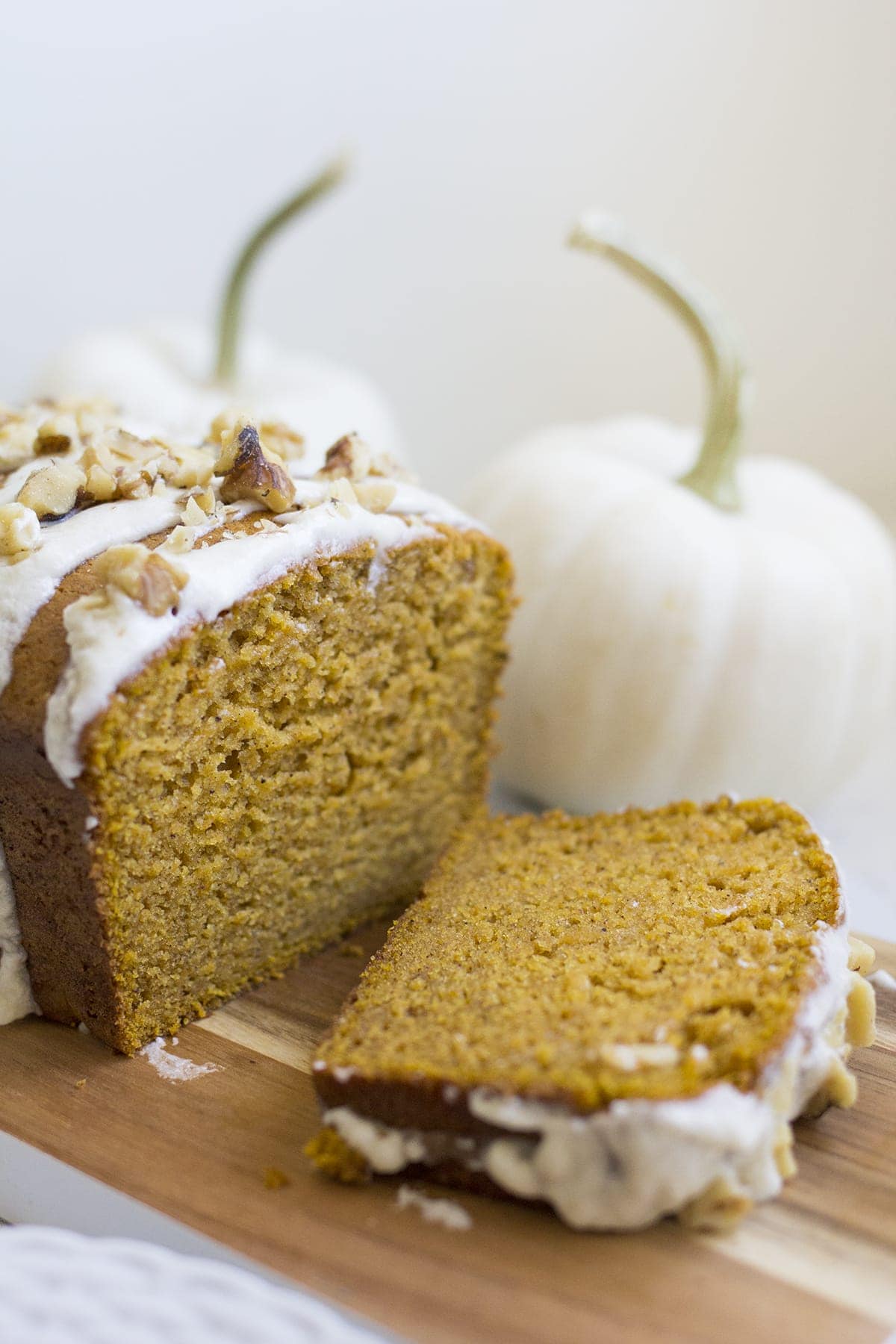 Pumpkin Bread with Maple Butter Icing
So, remember last week when I wrote about how the weather here in LA was finally beginning to cool down, blah, blah...fall on it's way and all of that? Well, I jinxed it. Yes, I spoke too soon and this past weekend was a scorcher.
We're talking 97 degrees on Sunday and I'm over here baking Pumpkin Bread and cursing the heat. Because this time of year all I want in the world is a cool crisp breeze and a possibly a sweater...is a sweater too much to ask for?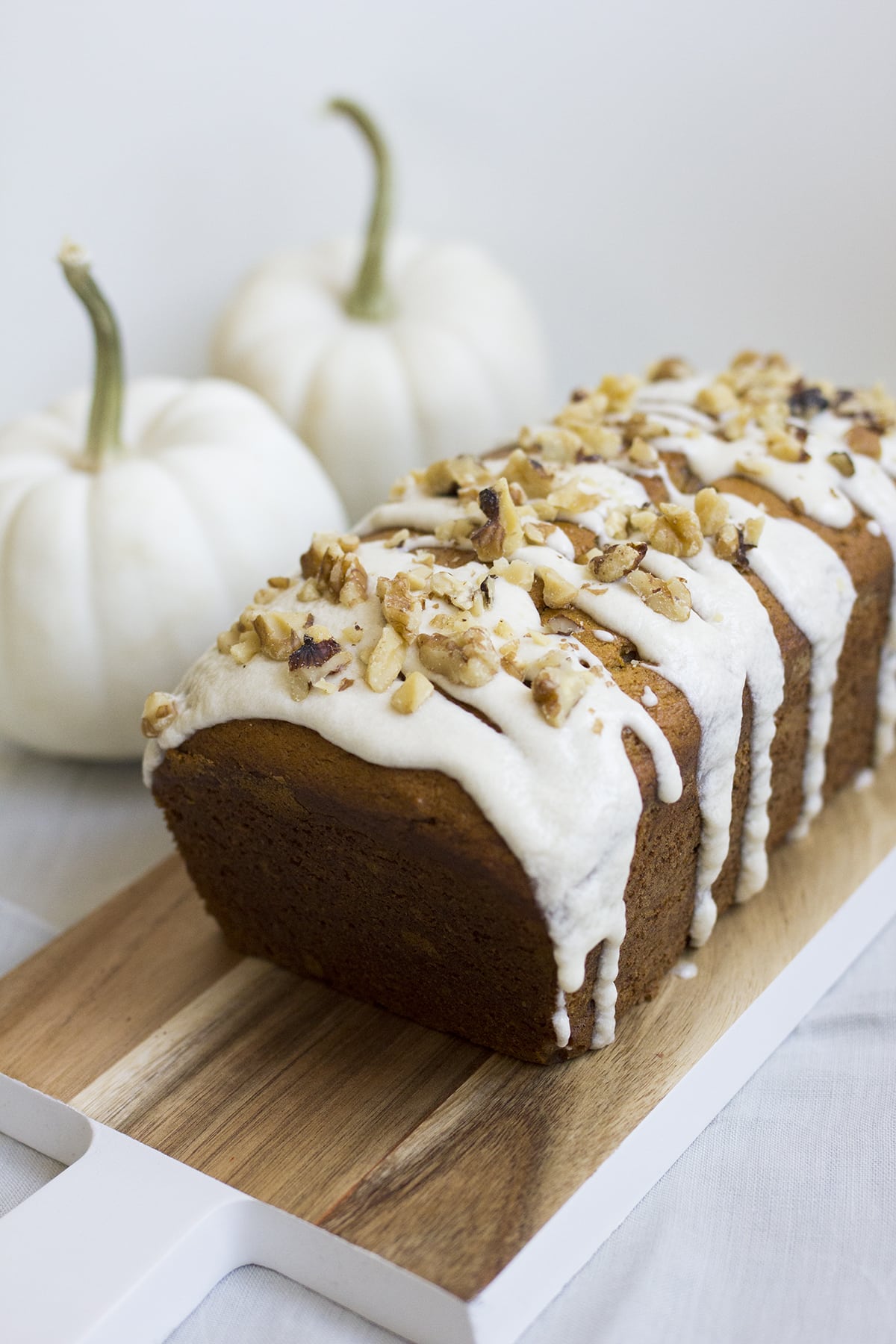 Pumpkin Bread with Maple Butter Icing
Pumpkin Bread with Maple Butter Icing is the classic sour cream pumpkin bread recipe that I've been making for years now but with a tasty addition of maple butter icing and chopped walnuts.
Pure pumpkin puree make this bread moist and the addition of sour cream insures it is rich and dense. And in the land of quick breads, it really doesn't get more perfect than this.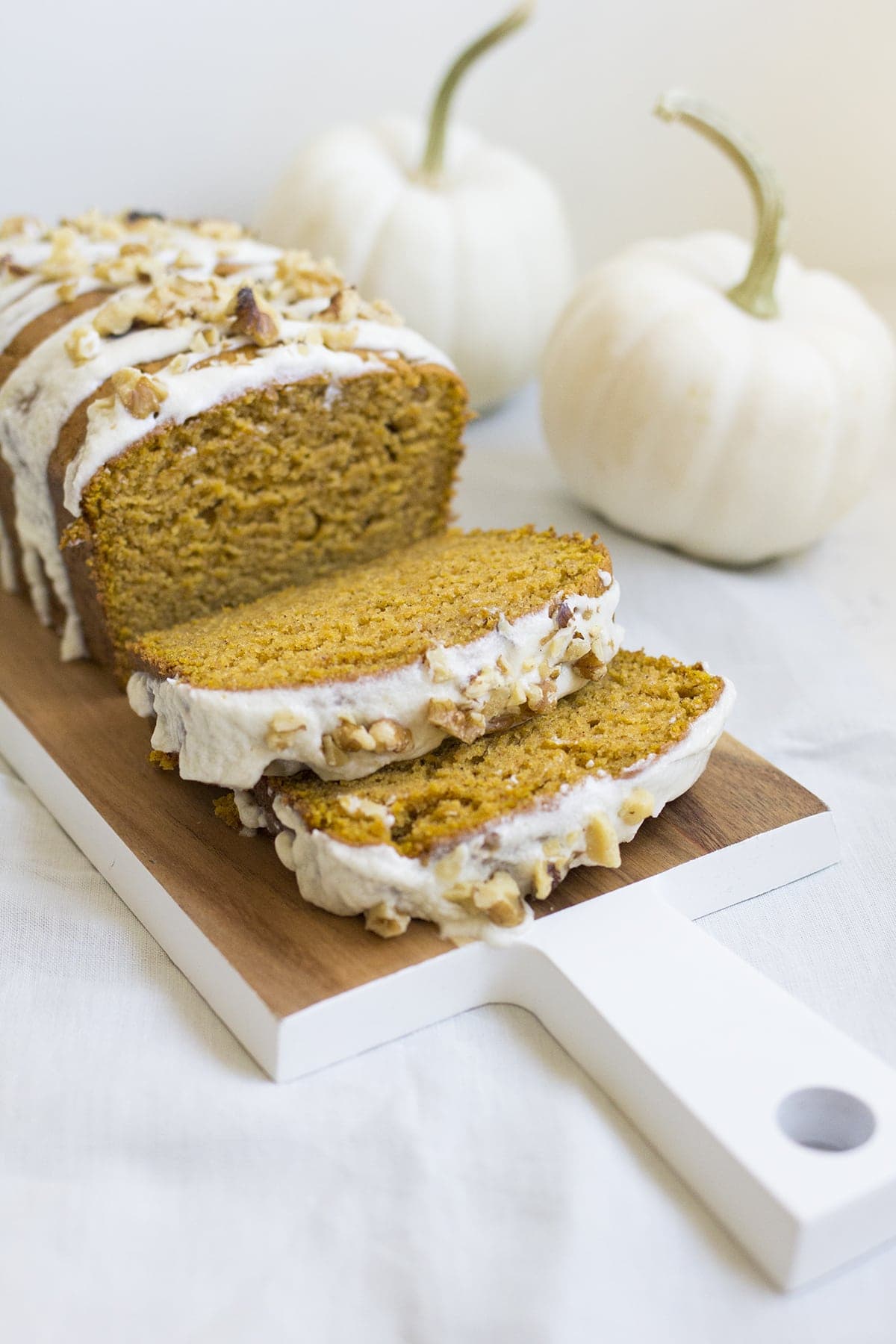 So, if you make just ONE of my recipes this fall, let it be this one. And if you happen to be cranking the AC and pretending like the brown leaves on your lawn are signs of fall and not just dead from the blazing heat...I'm standing in solidarity with you.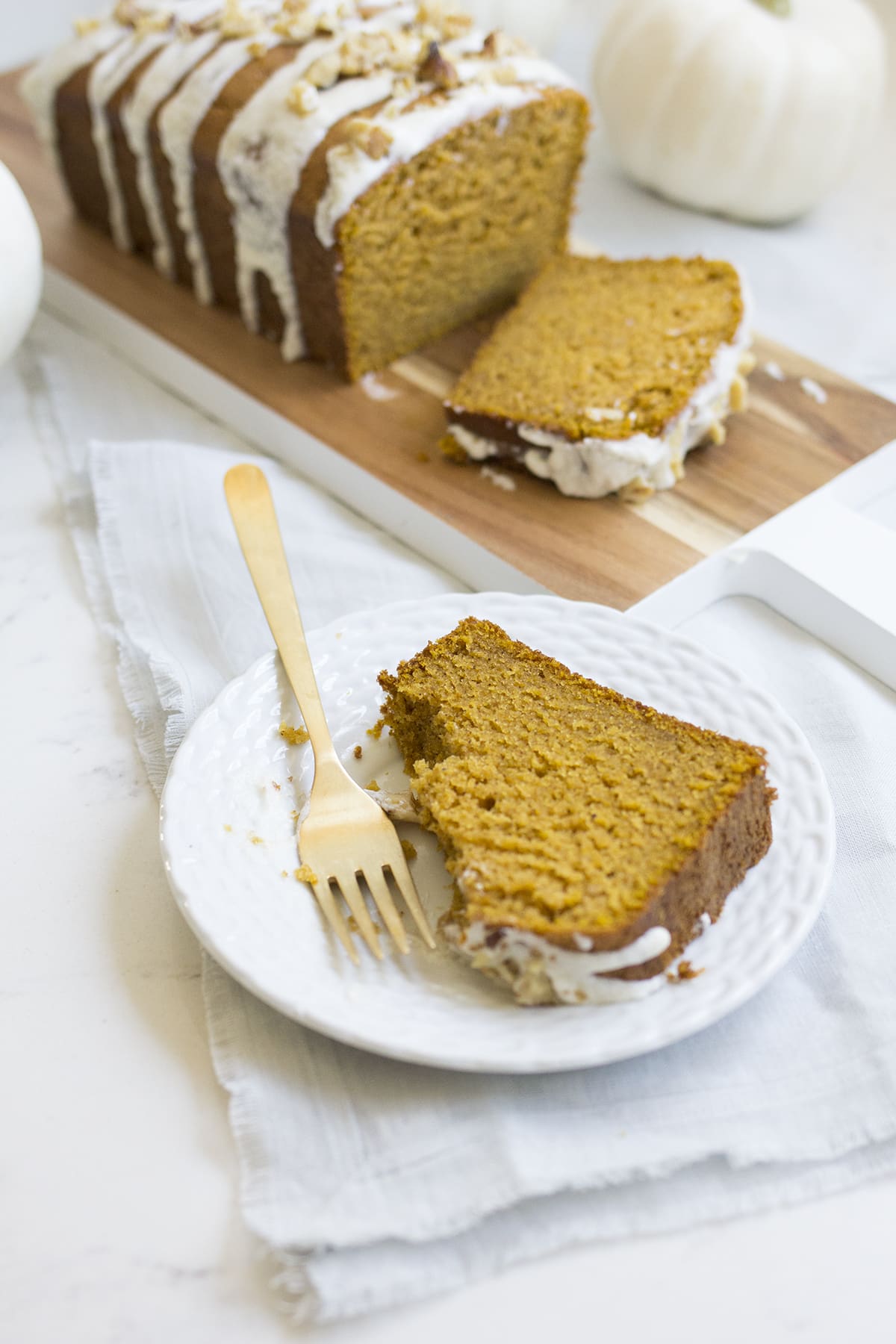 Now eat a slice of pumpkin bread and stand under that ice cold ac vent...this too shall pass.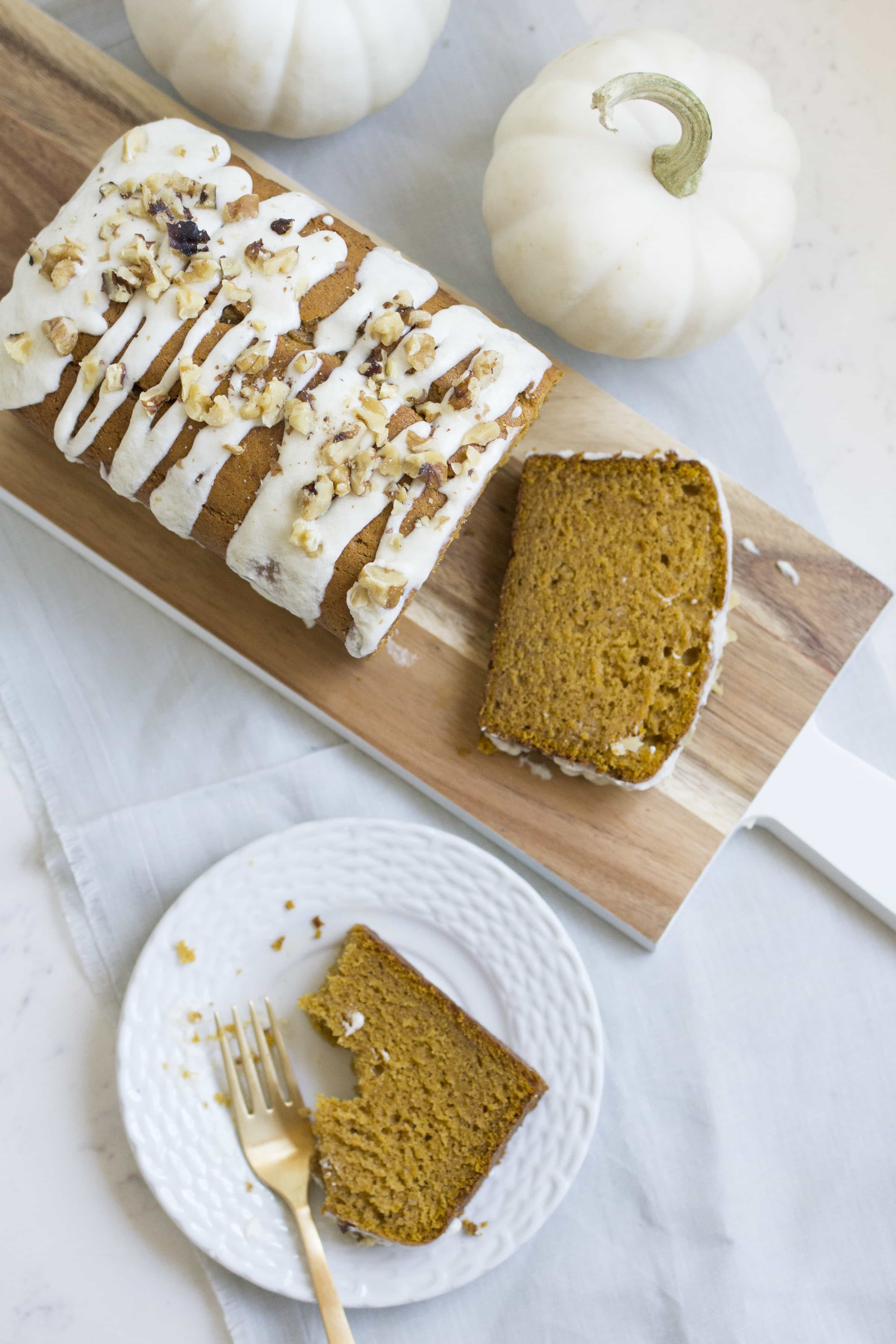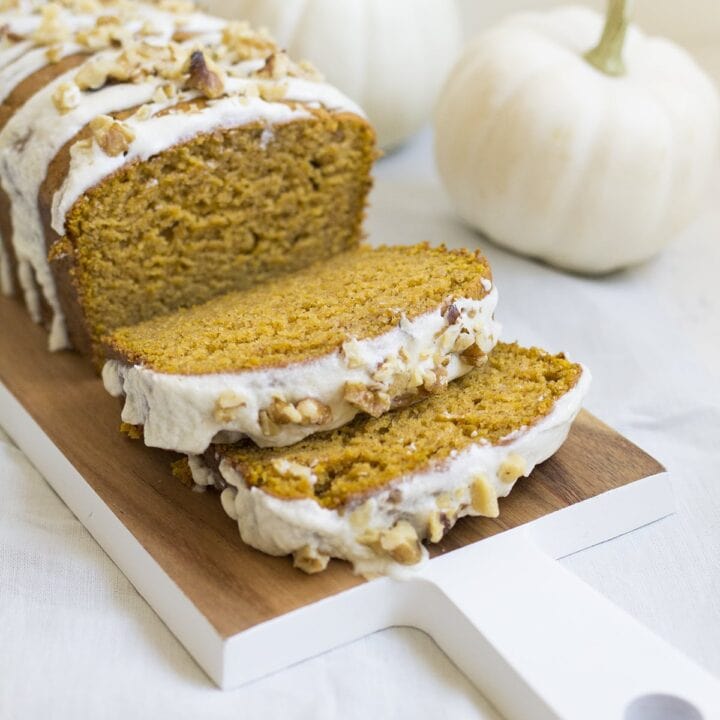 Pumpkin Bread with Maple Butter Icing
Additional Time:
10 minutes
Total Time:
1 hour
20 minutes
A sour cream pumpkin bread with a maple syrup infused icing.
Ingredients
½ cup (1 stick) butter, at room temperature, plus more for pan
1 cup granulated sugar
2 large eggs
1 ½ cups all purpose flour
1 teaspoon baking soda
1 teaspoon salt
1 cup pumpkin puree
½ cup sour cream
1 teaspoon vanilla
1 teaspoon cinnamon
½ teaspoon nutmeg
Maple Butter Icing:
2 Tablespoons butter, softened
¼ cup maple syrup
1 cup confectioners sugar
2-3 teaspoons milk, or more if needed
chopped walnuts, optional
Instructions
Preheat oven to 350 degrees. Butter and line a loaf pan with
parchment; set aside.
In an electric mixer fitted with the paddle attachment,
cream butter and sugar until light and fluffy.
Add eggs, and beat to incorporate.
In a medium bowl, whisk together flour, baking soda,
cinnamon, nutmeg and salt. Add to the butter mixture, and mix until just
combined.
Add pumpkin, sour cream, and vanilla; mix to combine.
Pour batter into prepared pan and bake 45-50 minutes or
until a cake tester inserted into the center of the cake comes out clean. Let rest in pan for 10 minutes, then pull out of the pan using the parchment paper and place on a cooling rack to cool completely before icing.

Make the Icing:
In an electric mixer, beat butter and maple syrup until well
combined. Add in the confectioners sugar and beat until smooth.
Add in the milk one teaspoon at a time until the icing is
able to be drizzled but still thick.
Drizzle over the top of the cooled pumpkin loaf and sprinkle
with chopped walnuts.

Save
Save