Christmas time is a dangerous time for a cookie lover such as myself! It's the only time of year when it's completely acceptable to bake 6 dozen cookies in a weekend all in the name of gift giving, am I right?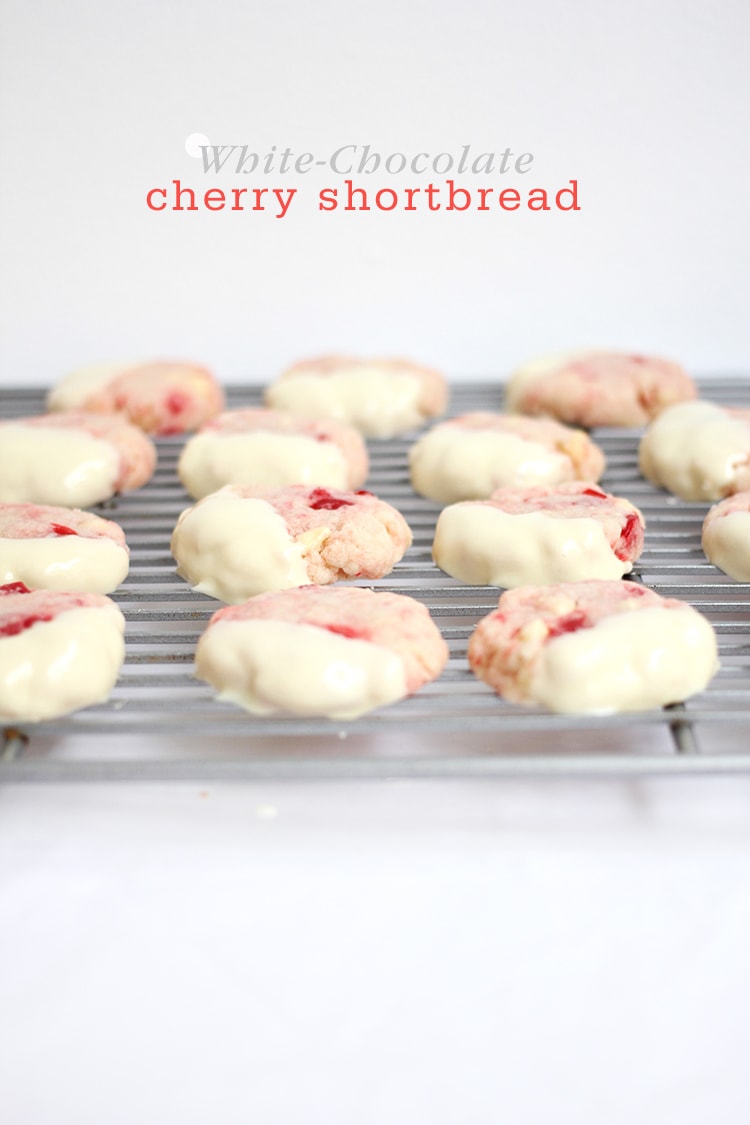 This year I added White-Chocolate Cherry Shortbread Cookies to my Christmas baking list. Little buttery shortbread rounds flecked with sweet, bright maraschino cherries, and dipped in creamy white chocolate. They taste like cherry-vanilla buttery goodness and remind me quite a lot of my Grand Grandmother's recipe for Cherry Nut Bread! Hopefully a few will make it into gift jars...but there are no guarantees.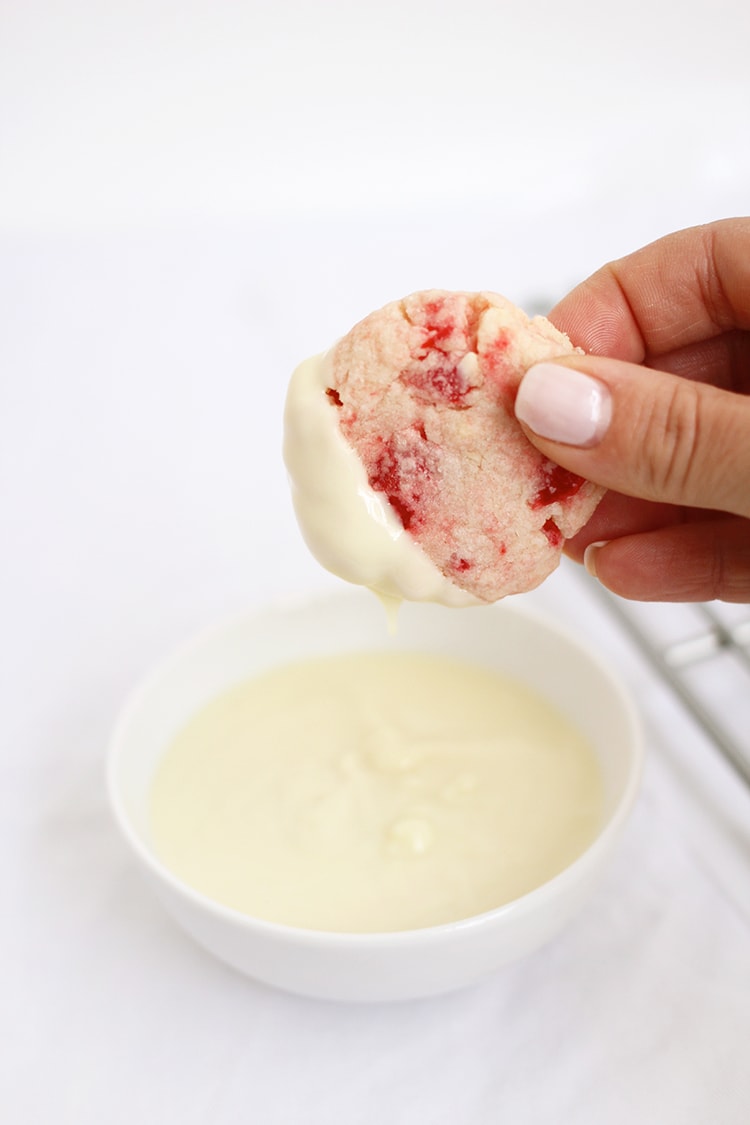 Are you making Christmas cookies this year? What are some of your favorites?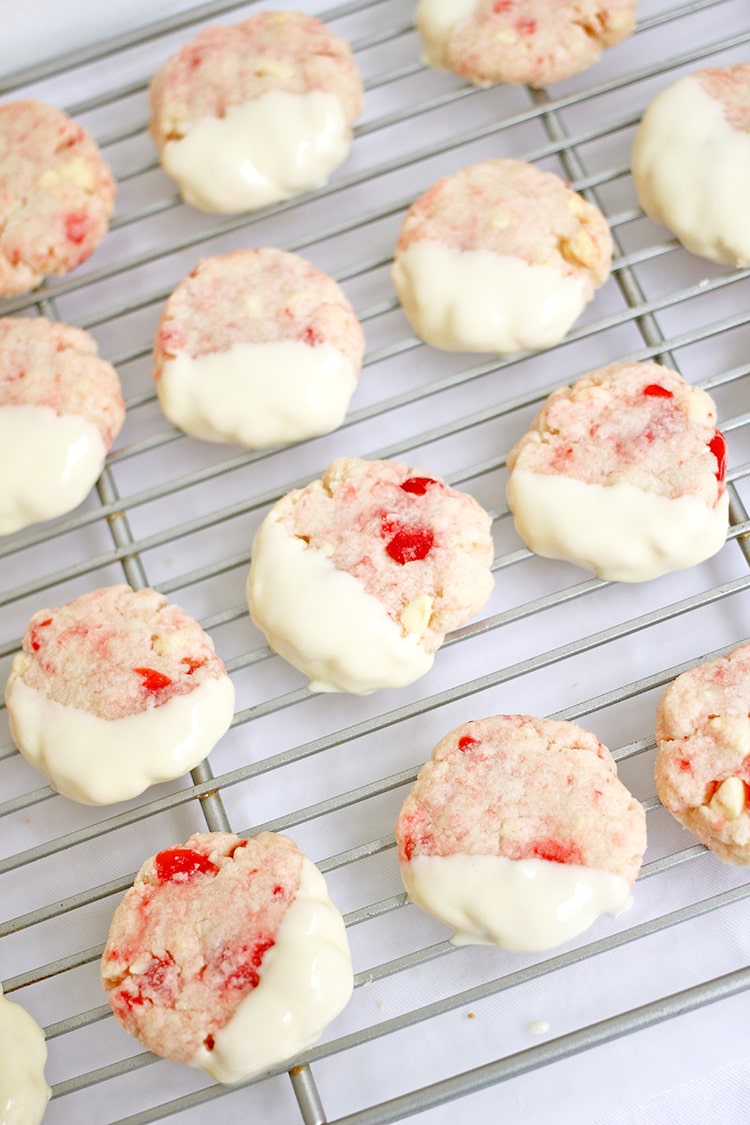 photos by Leah Bergman
White-Chocolate Cherry Shortbread- Better Homes and Gardens
makes about 40 cookies
½ cup of maraschino cherries, drained and finely chopped
2 ½ cups of all-purpose flour
½ cup of sugar
1 cup of cold butter
12 ounces of white chocolate baking squares with cocoa butter, finely chopped
½ teaspoon of almond extract
2 drops red food coloring (optional)
2 teaspoons of shortening
Directions:
1. Preheat oven to 325 degrees F. Spread cherries on paper towels to drain well.
2. In a large bowl, combine flour and sugar. Using a pastry blender, cut in the butter until mixture resembles fine crumbs. Stir in drained cherries and 4 ounces (⅔ cup) of the chopped chocolate. Stir in almond extract and, if desired, food coloring. Knead mixture until it forms a smooth ball.
3. Shape dough into ¾-inch balls. Place balls 2 inches apart on an ungreased cookie sheet. Using the bottom of a drinking glass dipped in sugar, flatten balls to 1-½-inch rounds.
4. Bake in preheated oven for 10 to 12 minutes or until centers are set. Cool for 1 minute on cookie sheet. Transfer cookies to a wire rack and let cool.
5. In a small saucepan, combine remaining 8 ounces white chocolate and the shortening. Cook and stir over low heat until melted. Dip half of each cookie into chocolate, allowing excess to drip off. If desired, roll dipped edge in nonpareils and/or edible glitter. Place cookies on waxed paper until chocolate is set.
Storage Note: Layer cookies between waxed paper in an airtight container; cover. Store at room temperature for up to 3 days or freeze for up to 3 months.
Freutcake Note: This shortbread cookie dough is quite crumbly and dry in texture but don't worry, it will come together. If you are still having trouble forming it into a ball, add a tiny bit of milk to your dough.