A camp themed party is the perfect way to celebrate a summer birthday and when my twins turned six, that's just what we did!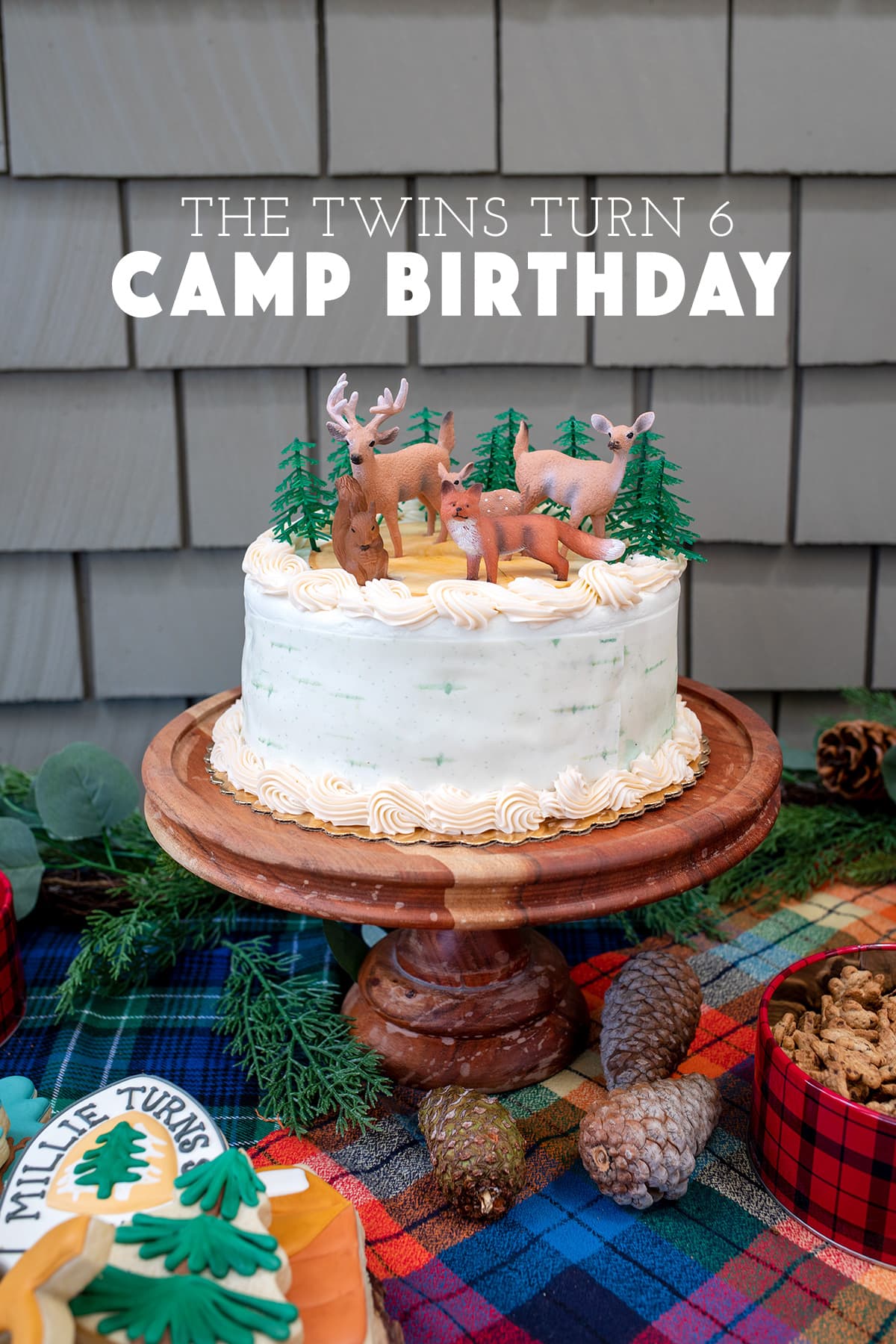 Camping Birthday Party
One of our family's favorite summer traditions is our fishing trip to the Eastern Sierras. We've made so many memories fishing, hiking, spotting bears and cooking over the campfire.
In Millie's words, "it's her favorite thing in the world," and I wanted to recreate some of that magic with a Camping themed sixth birthday party.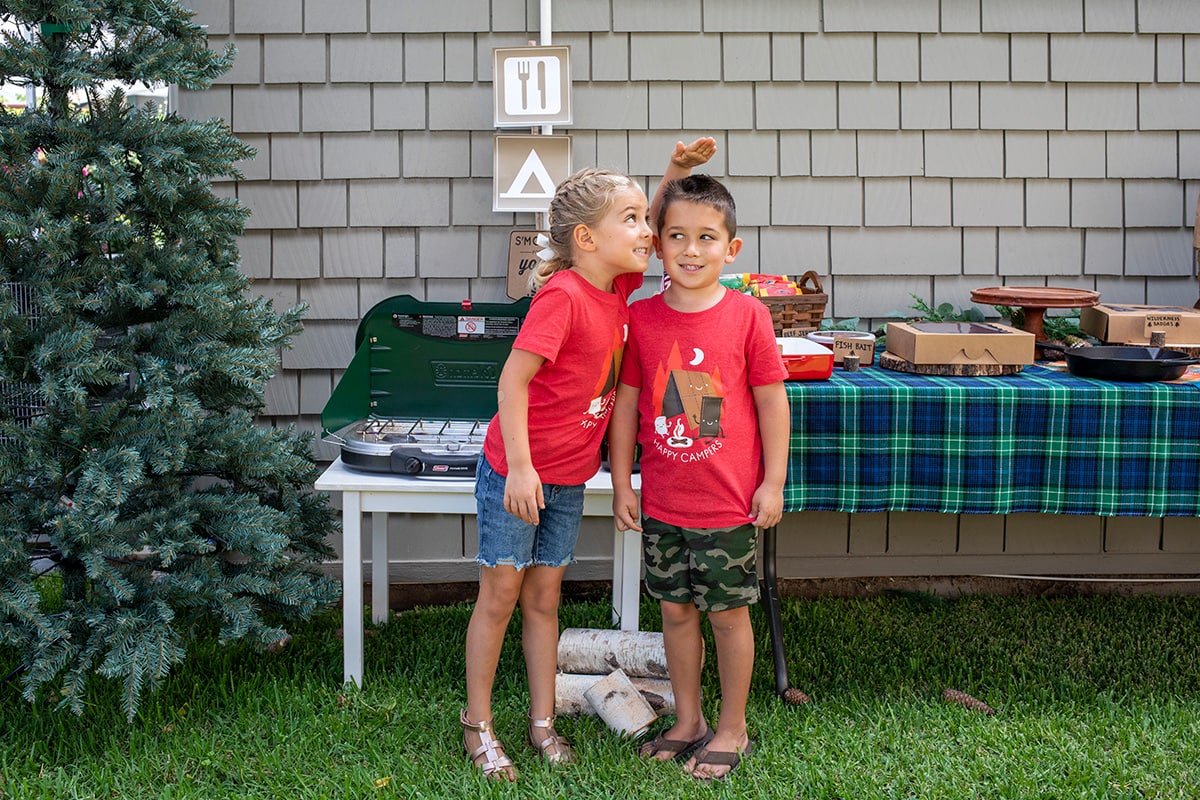 Five, turning six is such a fun age. The twins are old enough to have lots of opinions about their party but also young enough to think nothing of sharing the day.
I know it won't be like this every year and when they get older, I'm sure they will want their own parties or at least themes.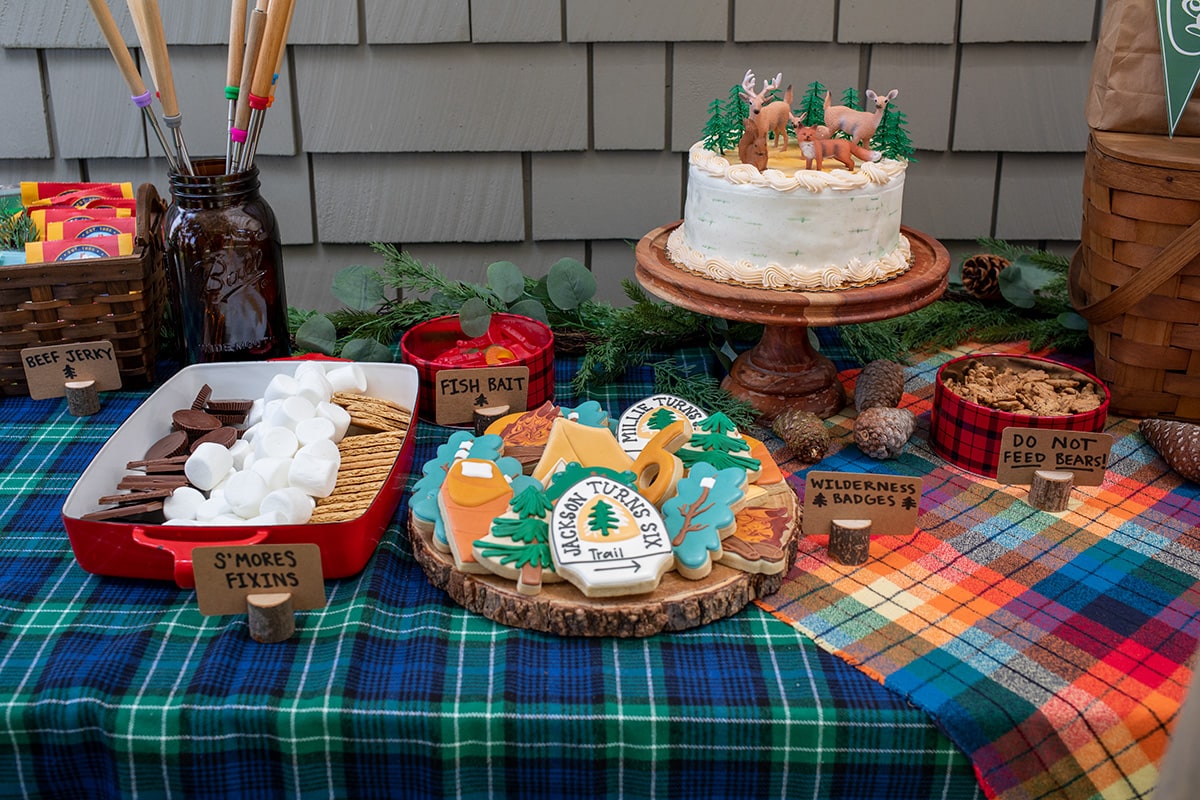 Camp Themed Party Decor
Of all the parties I've thrown, the decor for this camping theme was probably the easiest! Mostly everything I used to decorate the food and dessert table, s'mores station, and even the tent were items we already owned.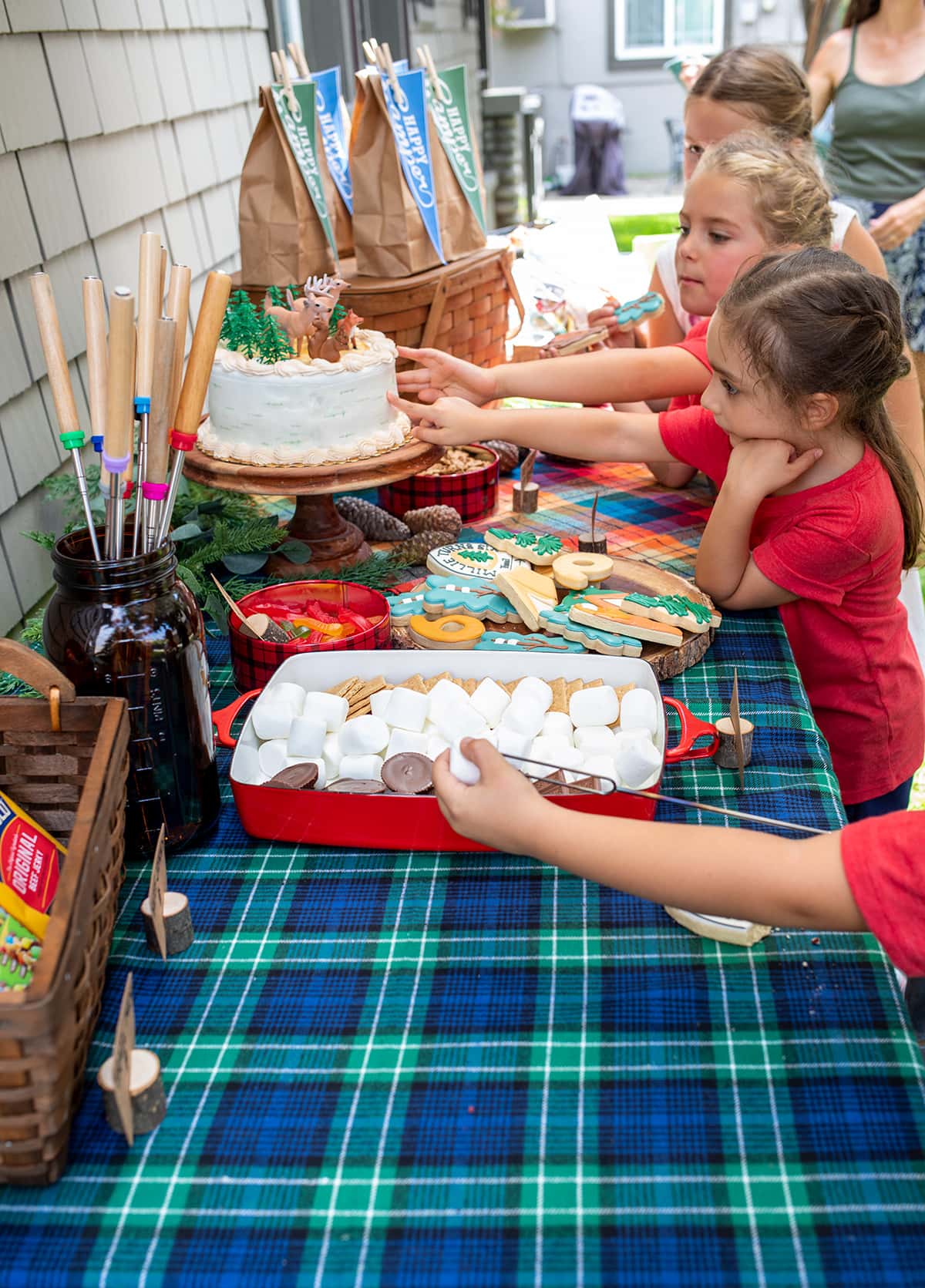 Start by going through your camping gear, fall and even holiday decor. You will be surprised by how many things you already have that can be used to transform your backyard into
Here are some ideas of props you can gather:
Christmas tree - we set up our artificial tree in the backyard and it really added to the forest vibe.
Small Tabletop Trees
Pinecones - collect them from around your neighborhood or local park. I used these on the tables and scattered through the grass.
Wooden Serving boards - I already own quite a few of these cut wood serving boards that I've collected over the years. You can usually find them at craft stores and even occasionally at Home Goods.
Camp Stove - we set up our propane stove for roasting marshmallows.
Tent & Sleeping bags
Camping Chairs - we had family bring their own camping chair! It was easy and casual.
Picnic Baskets - baskets or wooden crates are always great on tables to create height.
Plaid Fabric or Tablecloth - we used a couple of different plaid fabrics from Joanne Fabrics for the table.
Cast Iron Skillets or pots - for serving food.
Other ideas - camping thermoses, ice chest, logs or firewood.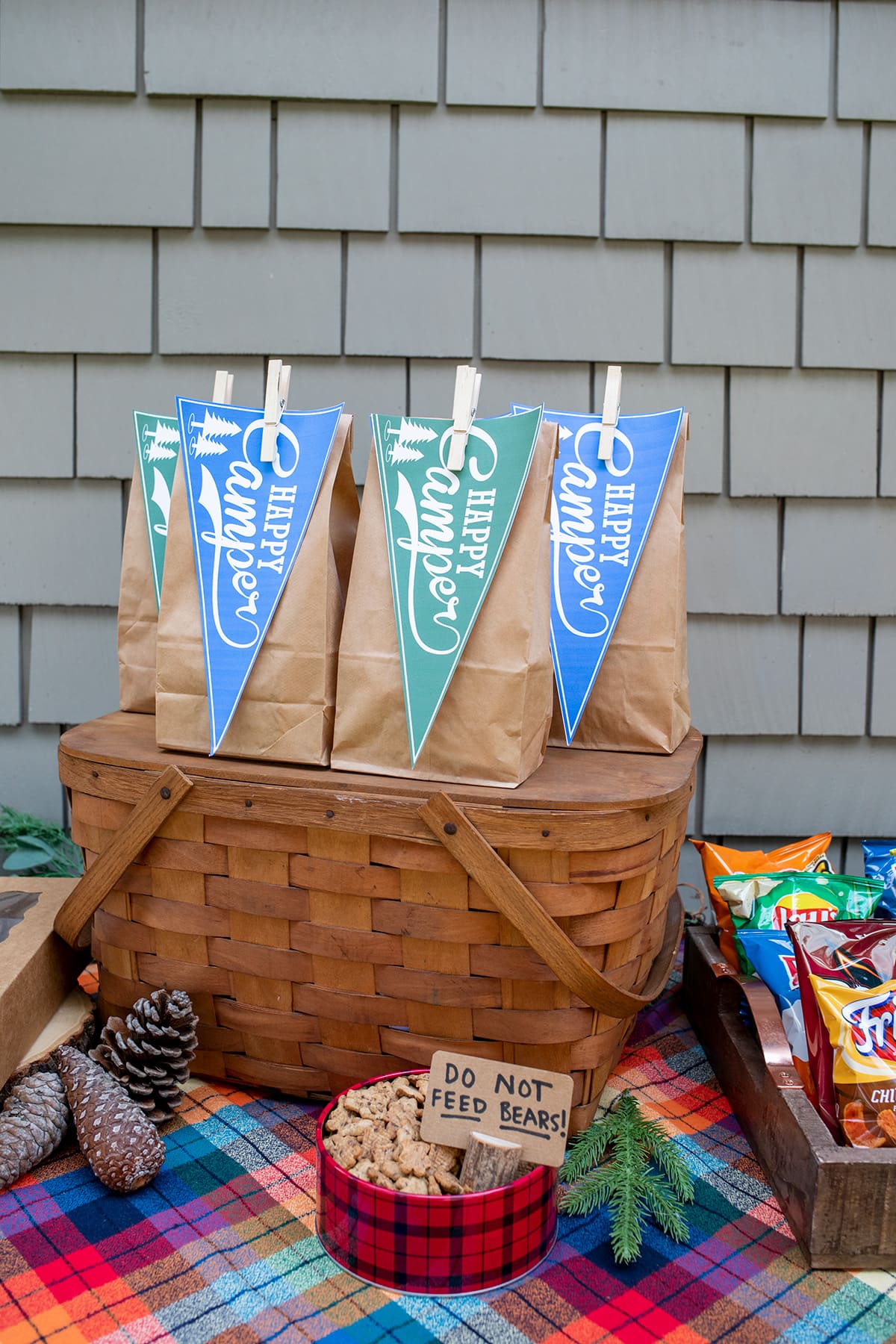 Camp Themed Goodie Bags
I had so much fun putting together goodie bags for this party! I actually had to rein it in quite a bit because you could really go all out with this theme.
Costco is a great place to buy individual packs of trail mix and beef jerky. I set some out at the party and also added them to goodie bags. The bee lollipops are actually honey stir sticks for tea that I found at Home Goods, and the wood pencils are available here.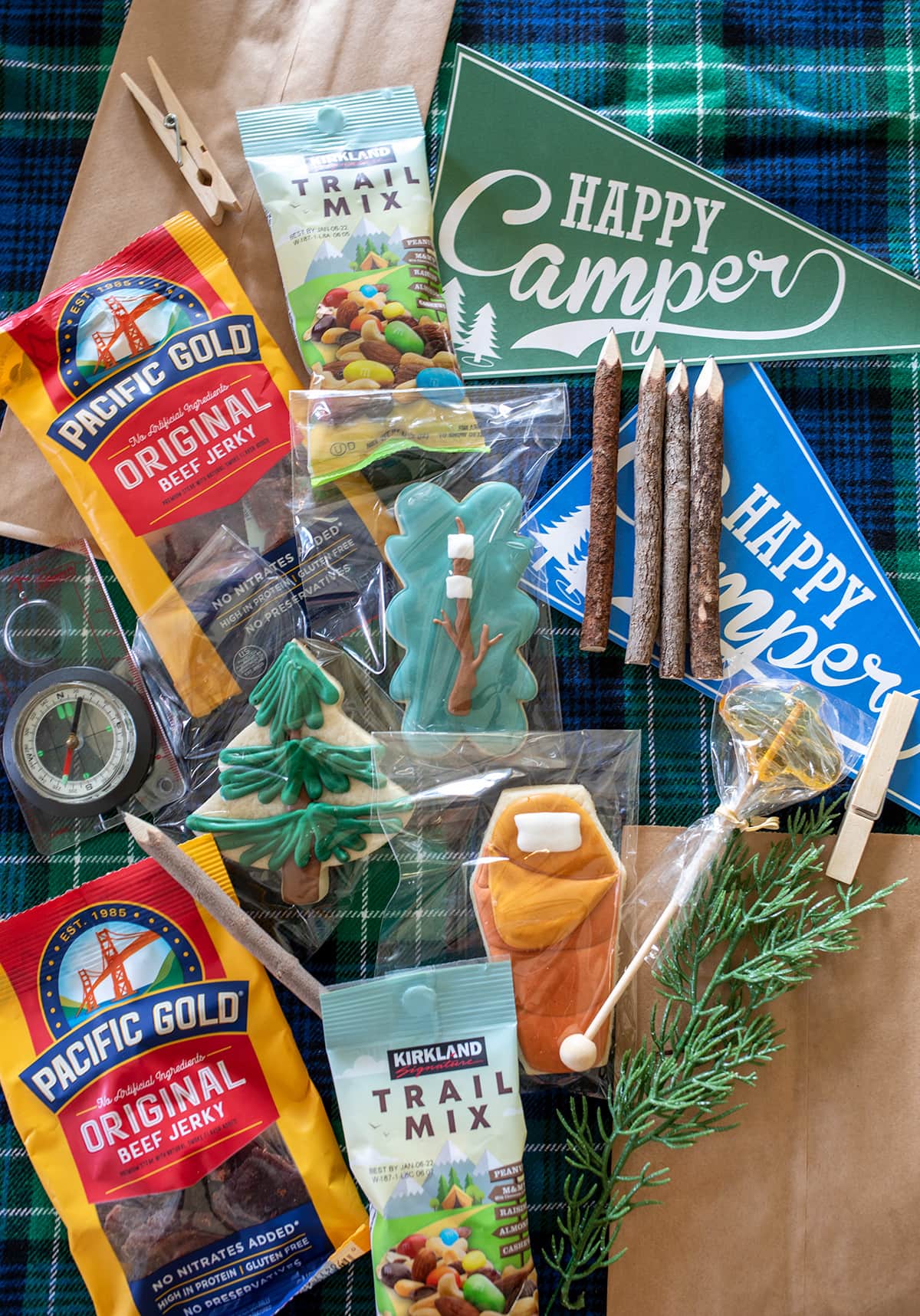 We used brown paper lunch bags from the grocery store, these Happy Camper printable flags, and wooden clothes pins. I absolutely loved the end result!
More Camping Themed Goodie Bag Ideas:
toy compass
binoculars
mini flashlights - I've spotted plastic flashlights in the Target dollar spot!
individual hot chocolate packets
popcorn or caramel corn
gummy worms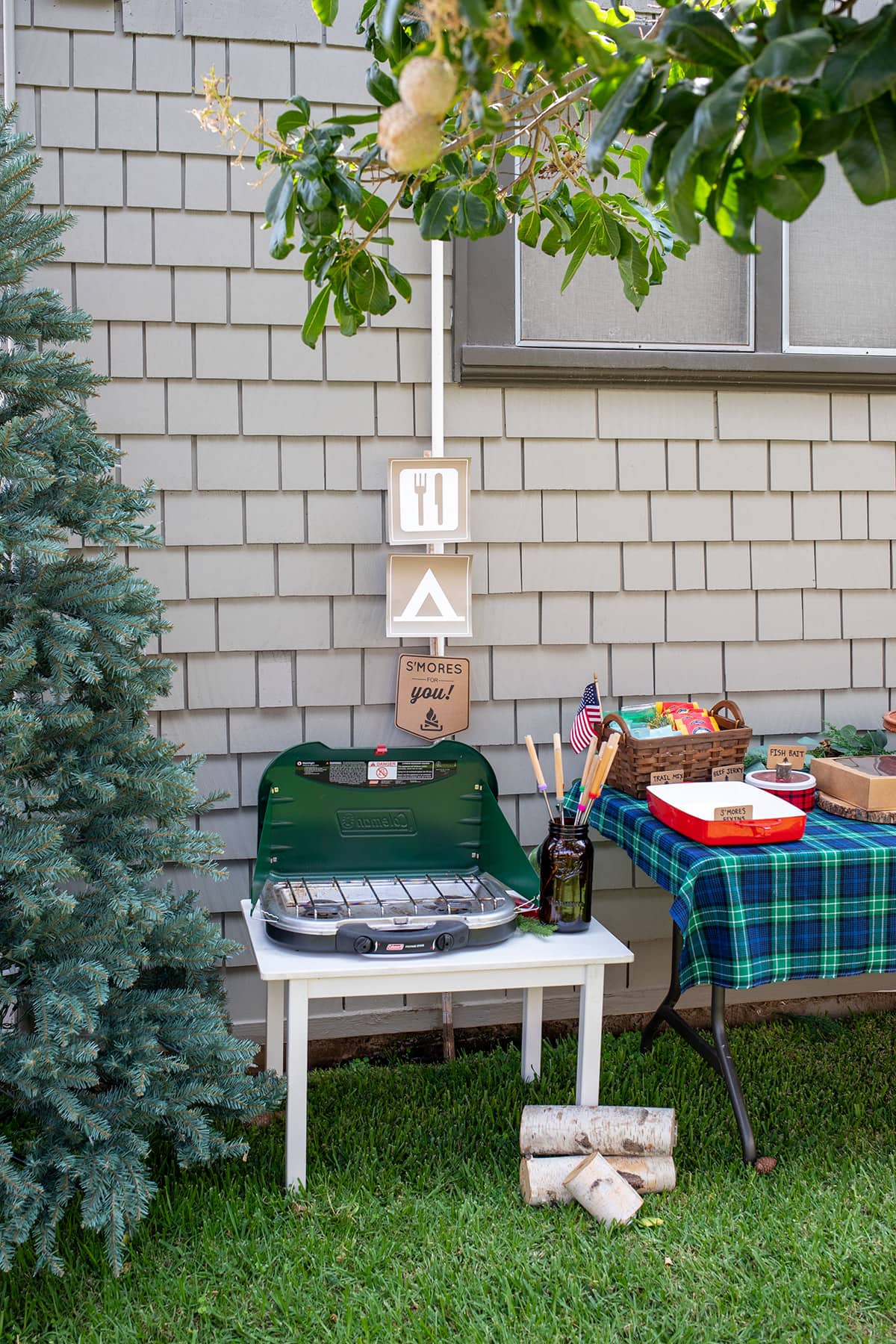 S'Mores Station
I think we can all agree that it isn't camping without s'mores! This is such a fun and easy dessert to set up for kids (and adults) to make themselves.
A camping stove is a creative way to toast marshmallows without a fire pit. S'mores skewers are a must for s'mores making and you can get a large set of them here.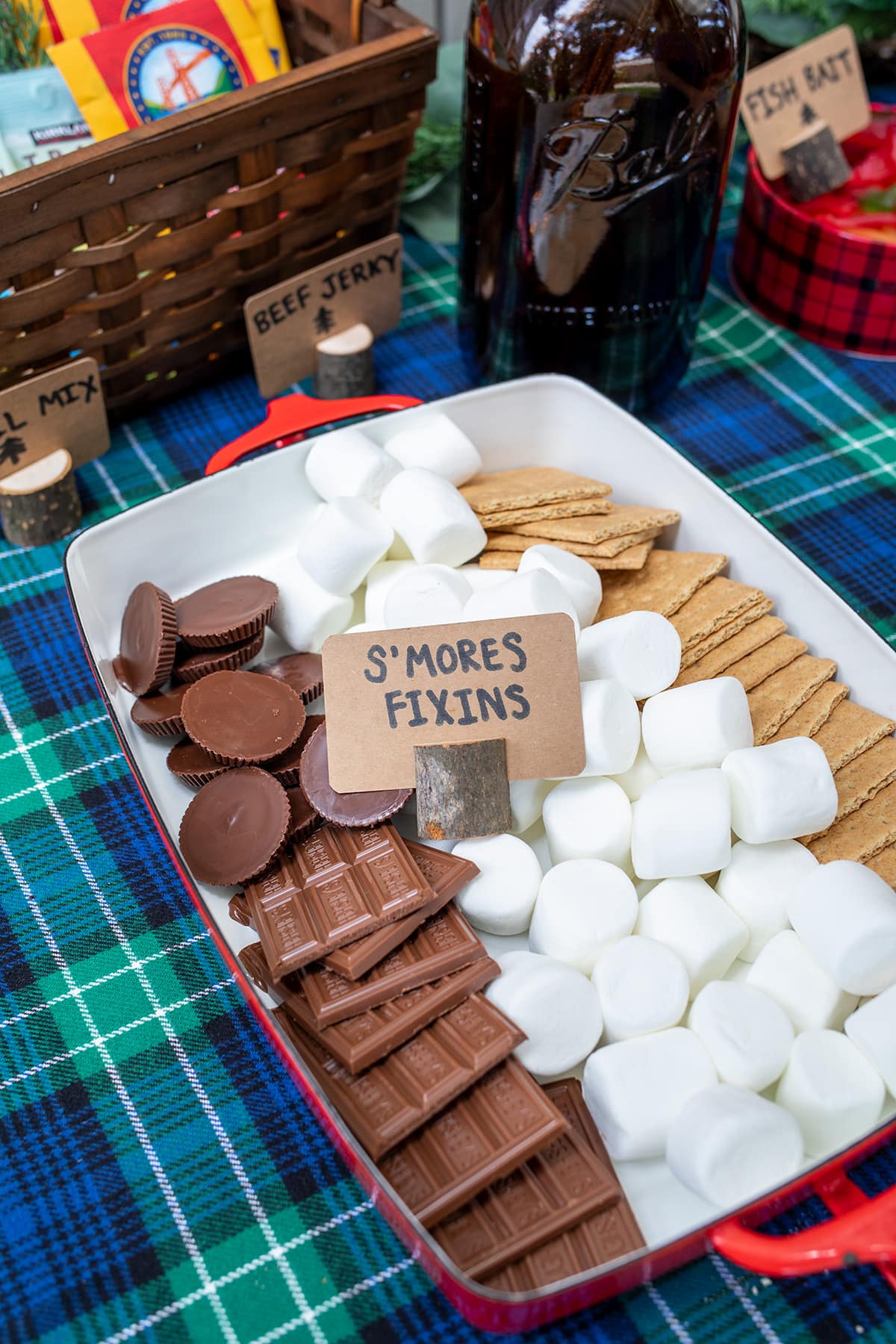 You can get pretty darn creative with fancy s'mores fixin's but we stuck to the classics: marshmallows, graham crackers and Hershey's chocolate bars. I found Reese's peanut butter cup thins in the candy section of Target which were a fun addition.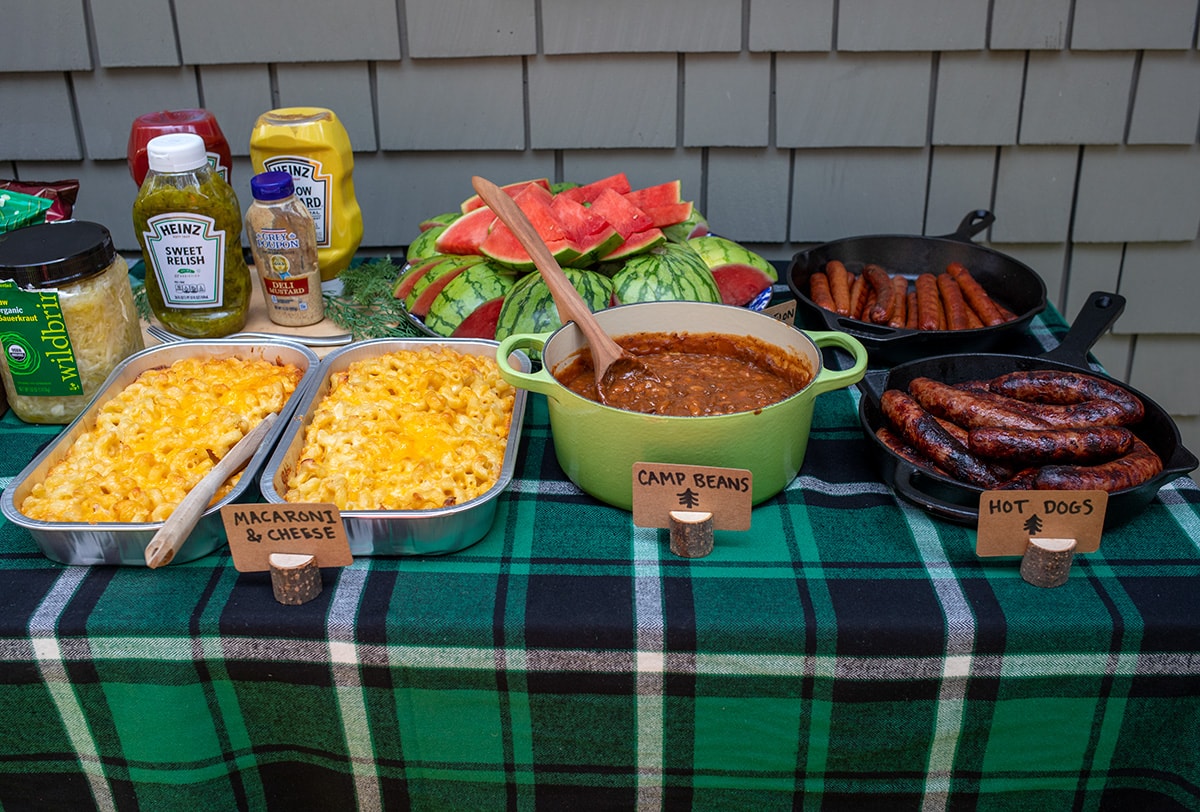 Camp Party Menu
Now, let's get down to business and talk about the menu. When we camp we grill a lot of barbecue chicken, or trout when we catch it and there is always a chili night.
While all of that is amazing in the woods, August in southern California is way too hot for chili so we took the easy route.
Baked Beans
Grilled Hot Dogs and Bratwurst
Watermelon
Chips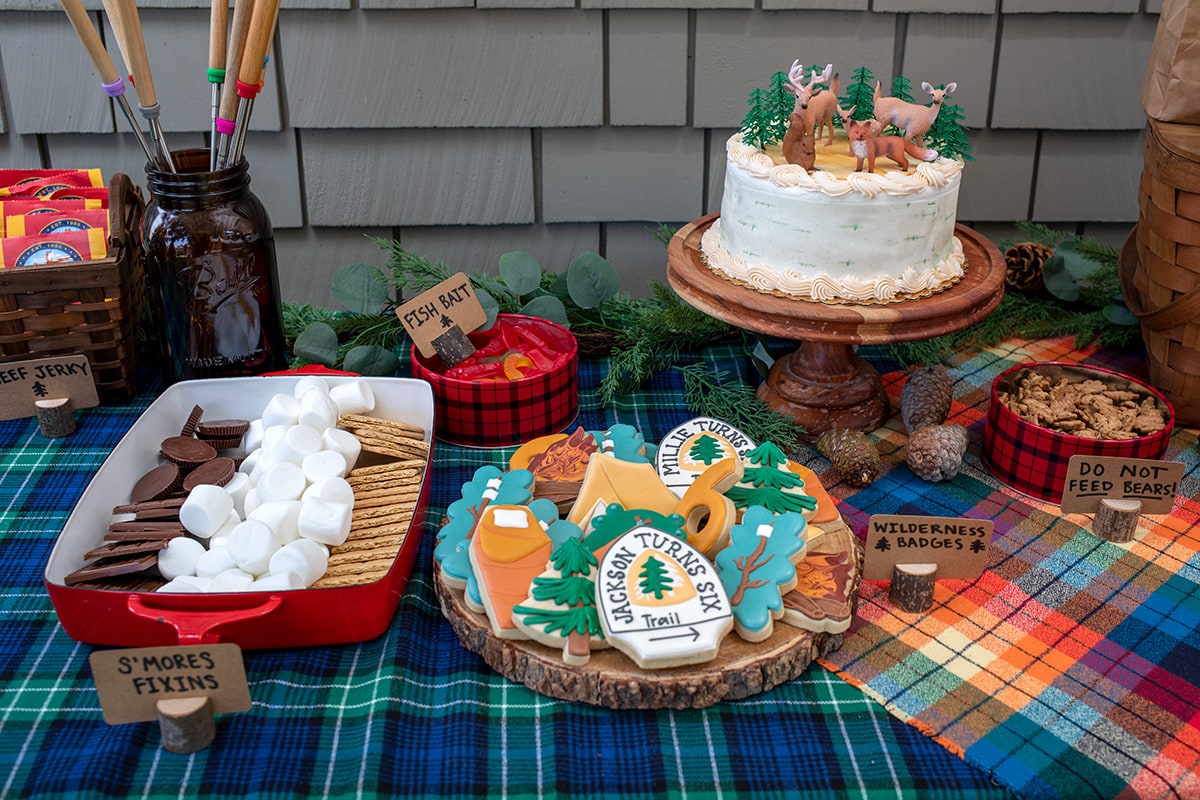 Other table top goodies included Teddy Grahams (DO NOT FEED BEARS!), a tin of gummy works and Swedish Fish for fish bait, and the most adorable custom sugar cookies made by my friend Mary of Boldly Vanilla.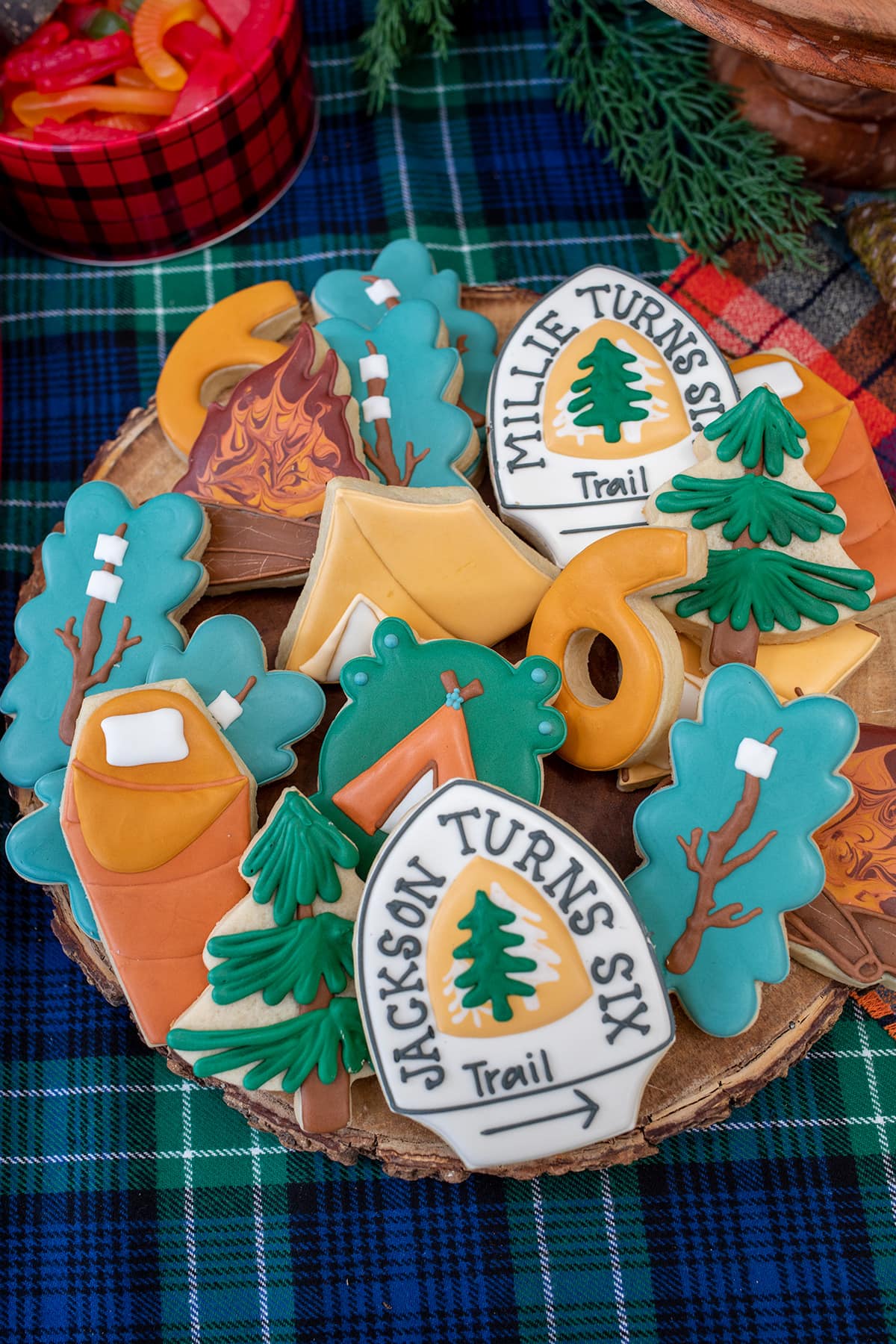 Camp Sugar Cookies
Mary's cookies are always mini works of art and really completed the theme and dessert table! I love ordering here cookies for parties, holidays and for personalized gifts! You can find her on Instagram @boldlyvanilla and on Etsy.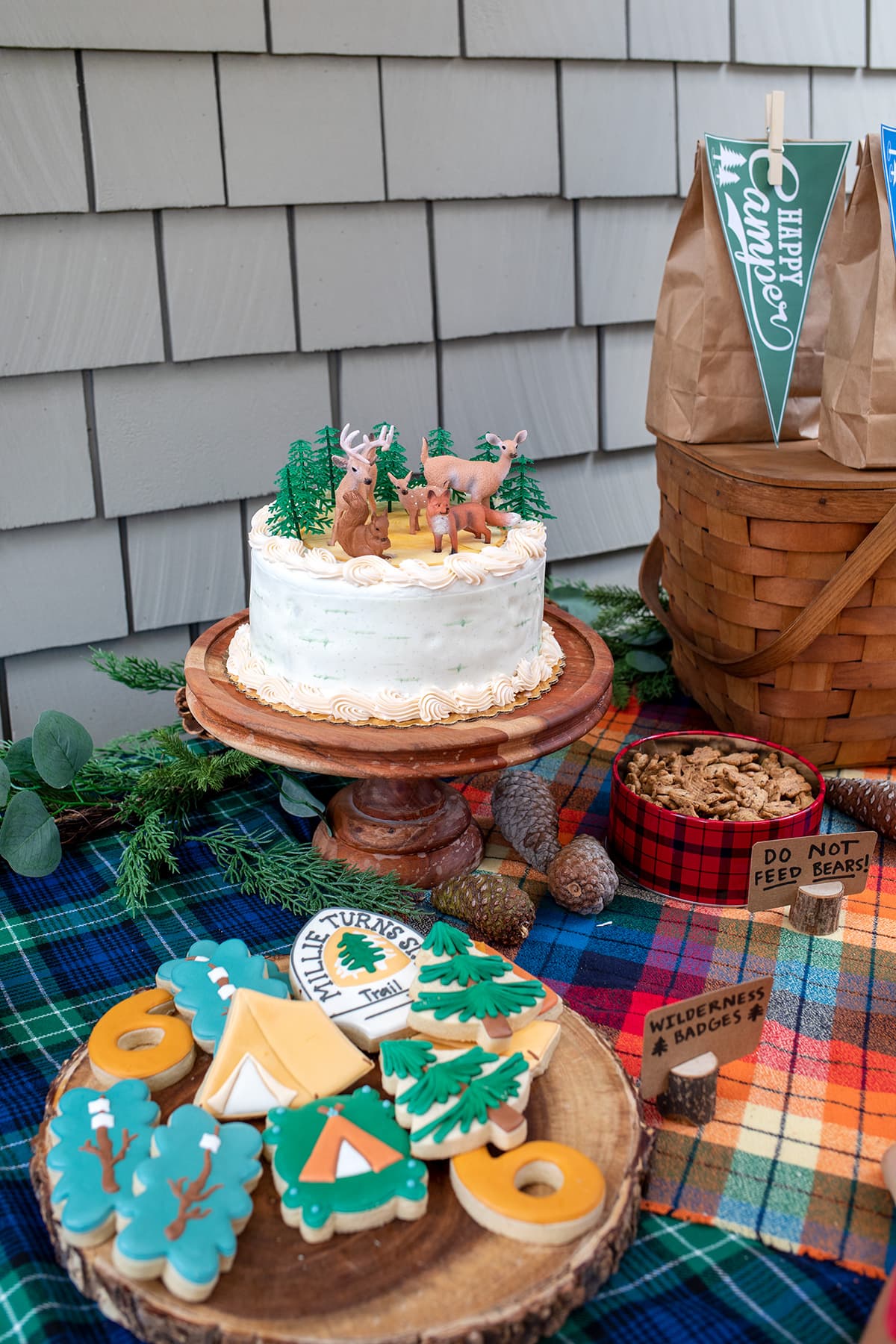 Woodland Animal Birthday Cake
When the twins turned one, I made my own carrot cake cupcakes for their birthday party. When they turned three, I took some help from the Von's bakery department and have ever since!
Grocery store cakes are very underestimated and they have all types of customizable designs. I purchased the cake toppers myself. Here is where you can find the little trees and forest animals.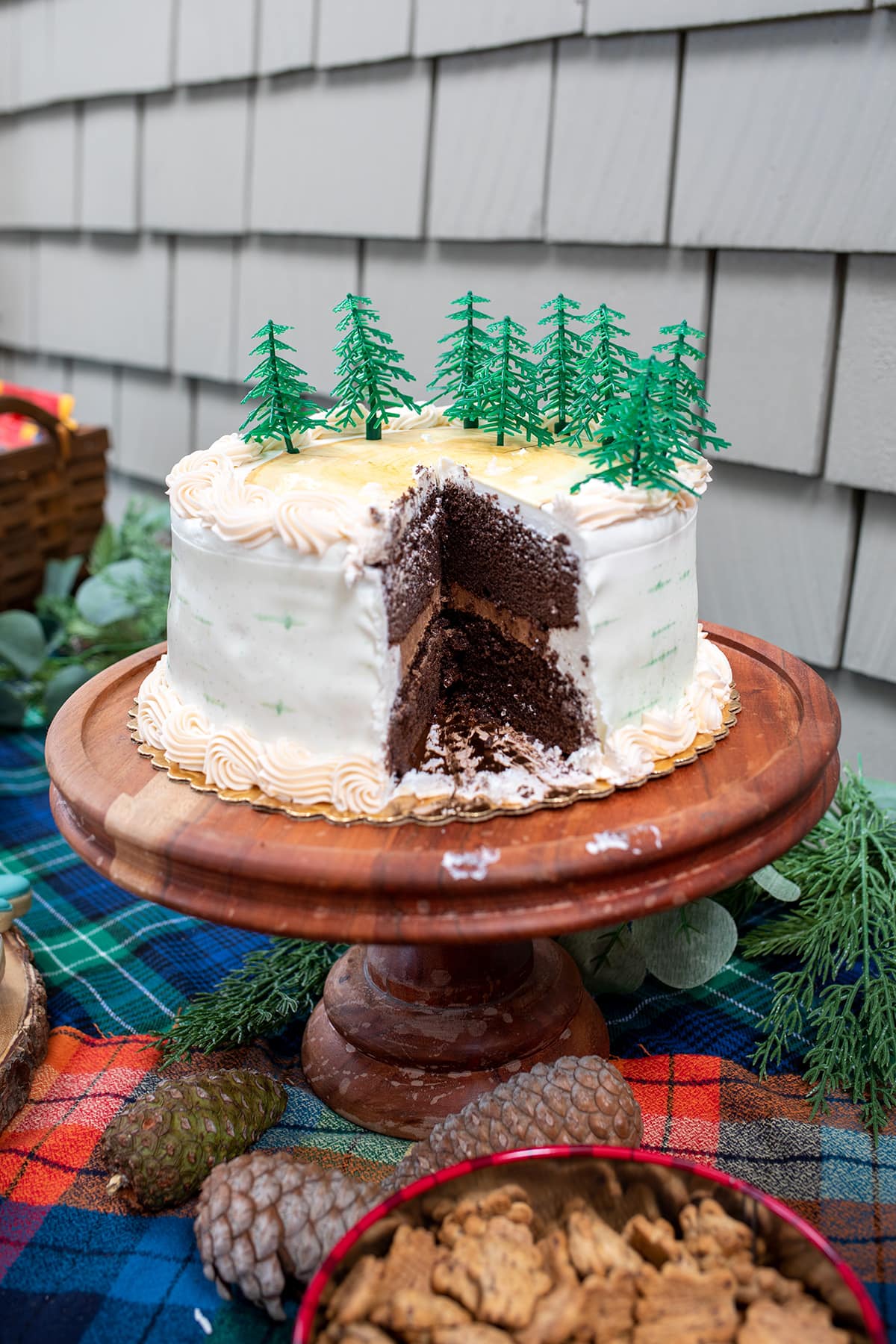 Despite the summer heat, the party was such a fun day for the twins and for our family!
A camping themed birthday party works any time of year and if it does happen to fall in colder months, there are so many other fun ideas like a hot chocolate bar, a fire pit to cozy up beside, and blankets for guests.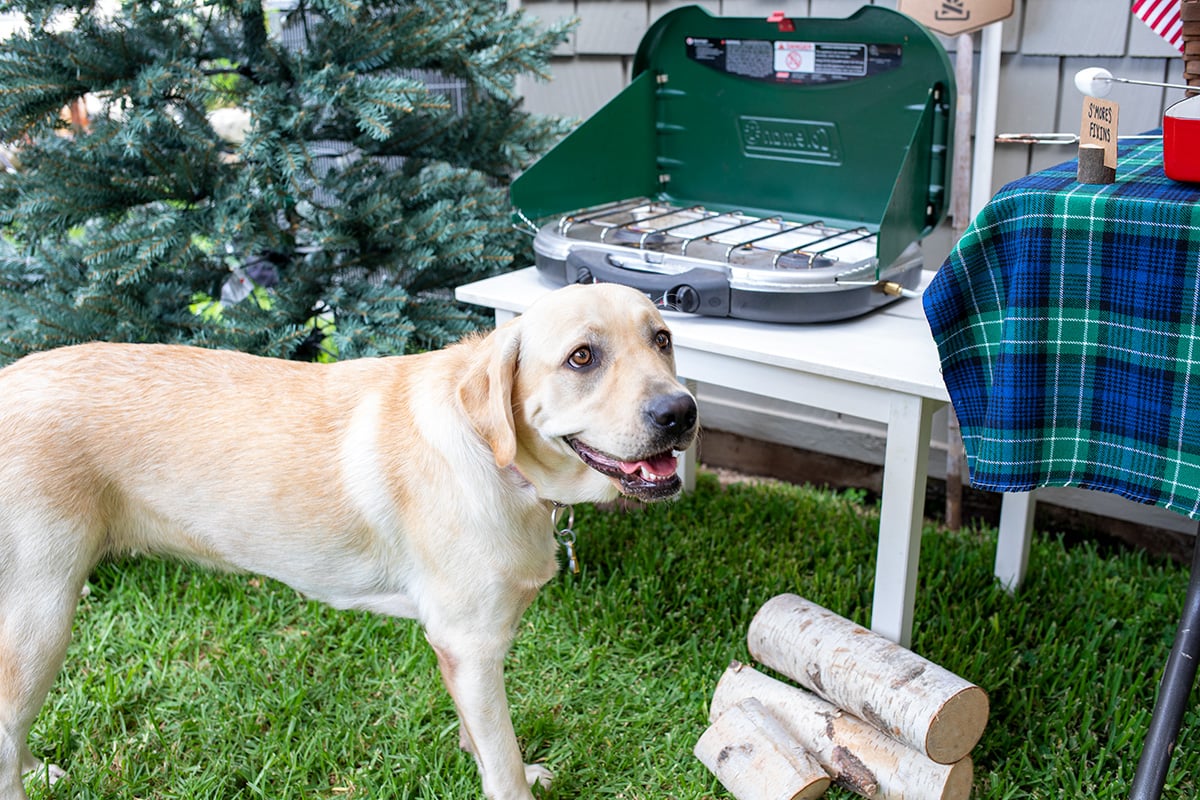 If you are planning a party in the summer months like we were you will want to make sure to add a a cooler filled with ice cold drinks and waters, along with sunscreen, bug spray and shade. It's like real life camping, y'all!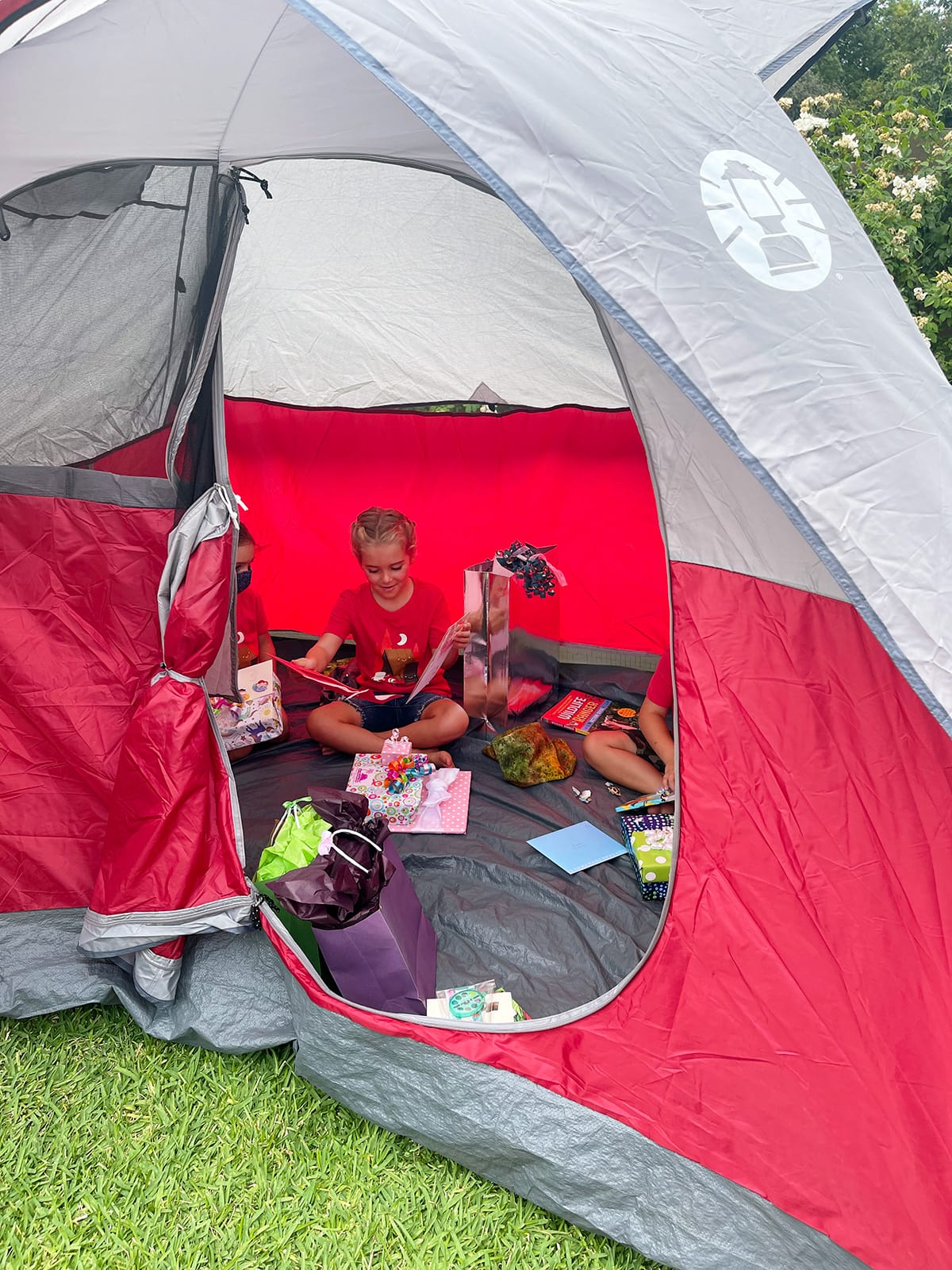 Happy sixth birthday to my Happy Campers! I can't believe you are six years old. Here's to many more years of fun adventures together.
More Party Inspiration: