Family favorite creamy homemade baked macaroni and cheese, inspired by my Grandma's recipe! This oven baked macaroni with it's golden crust of baked cheese, is the ultimate American comfort food side dish.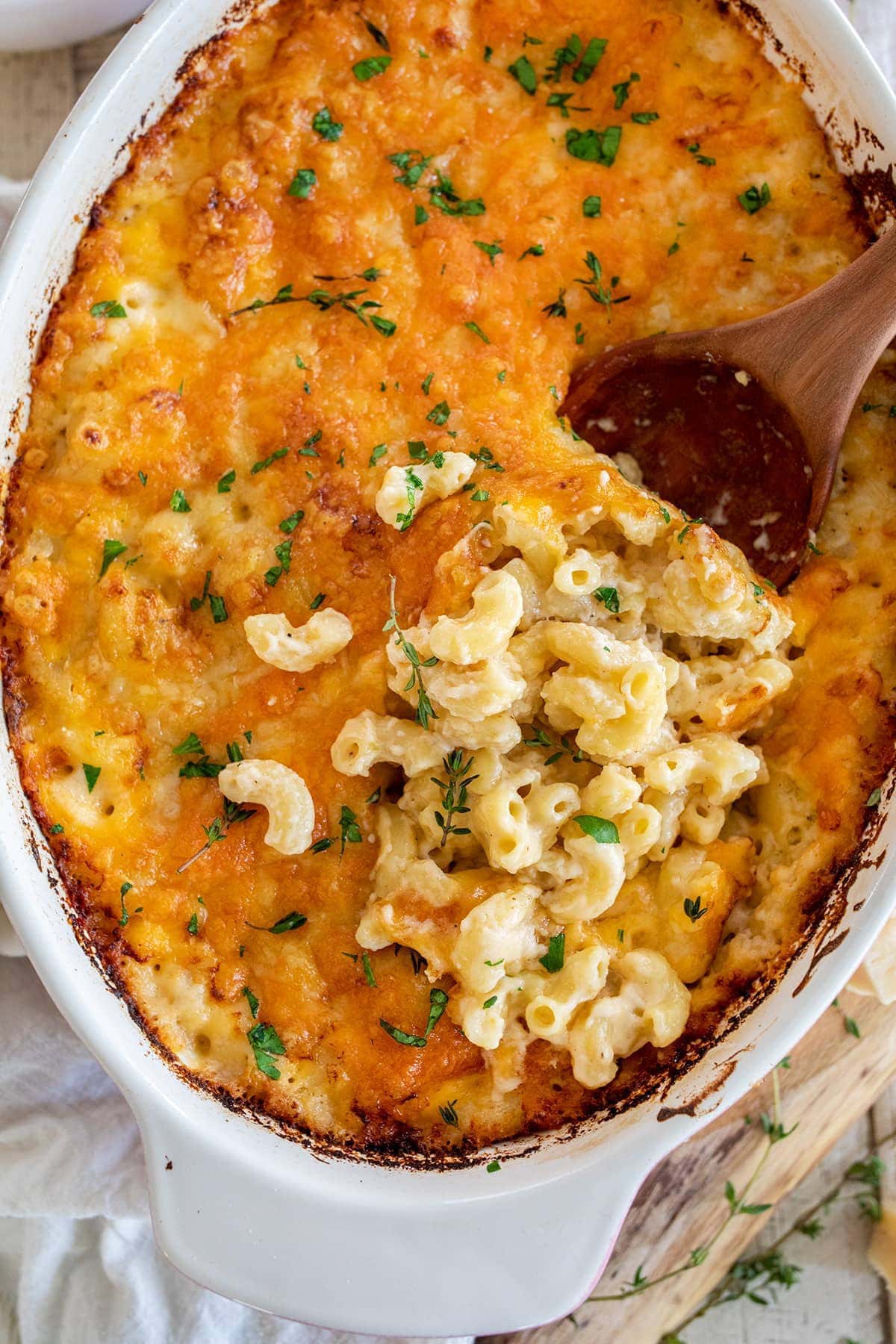 Creamy Baked Macaroni and Cheese
One of the recipes that my Grandma is "famous for" is her Baked Macaroni and Cheese. If you ask my Aunt, this is one of her best ever recipes and I love how simple it is. The secret ingredient is dried mustard powder, which if you've never added to your mac, absolutely makes the dish!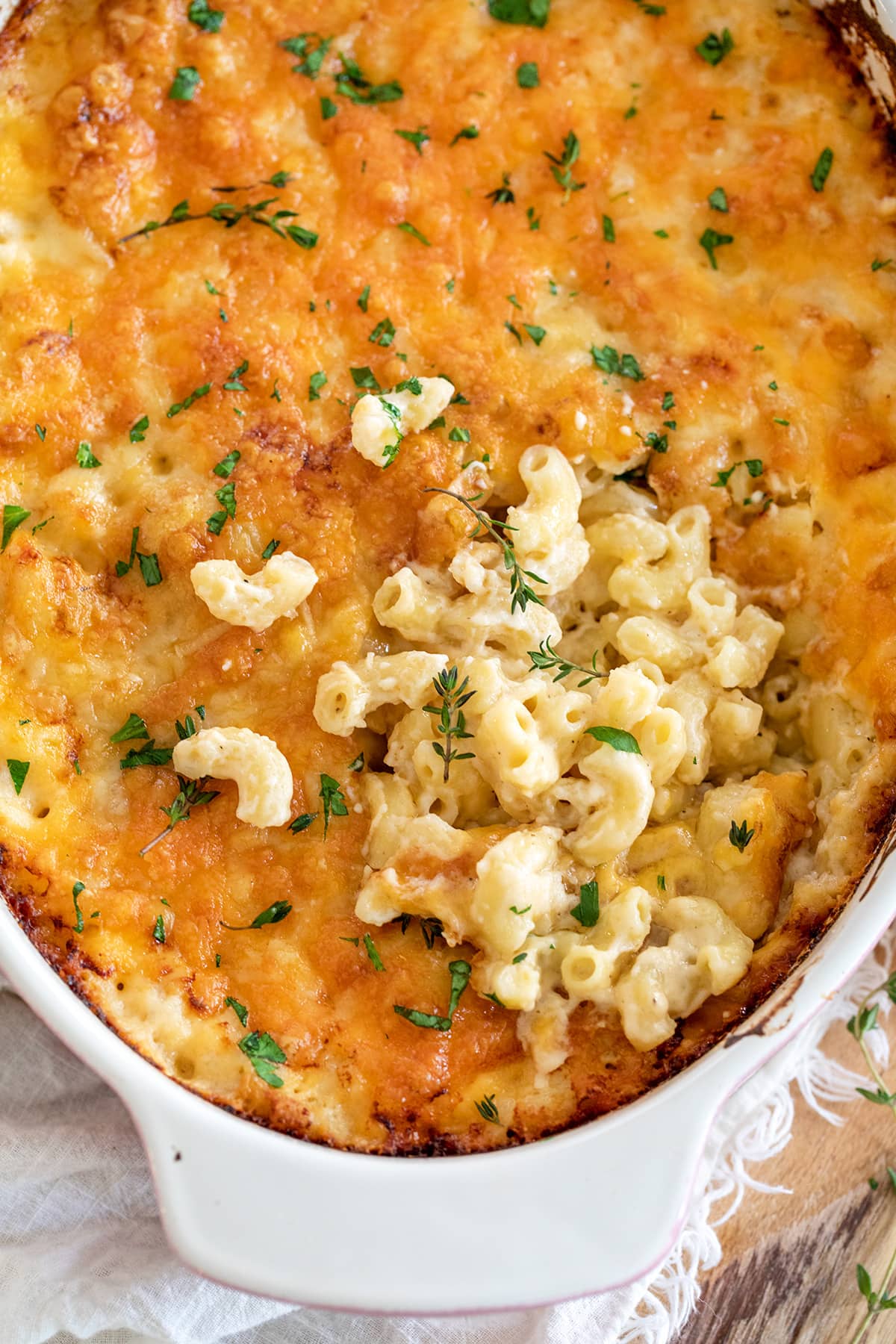 Back when my Grandma was making this macaroni for my Mom, Aunt and Uncle; she used classic Shredded Cheddar Cheese. I also love the sharpness of cheddar but I think you get the creamiest texture and most delicious flavor by using a blend of cheeses. Here's how I adapted her family classic recipe to make it my own...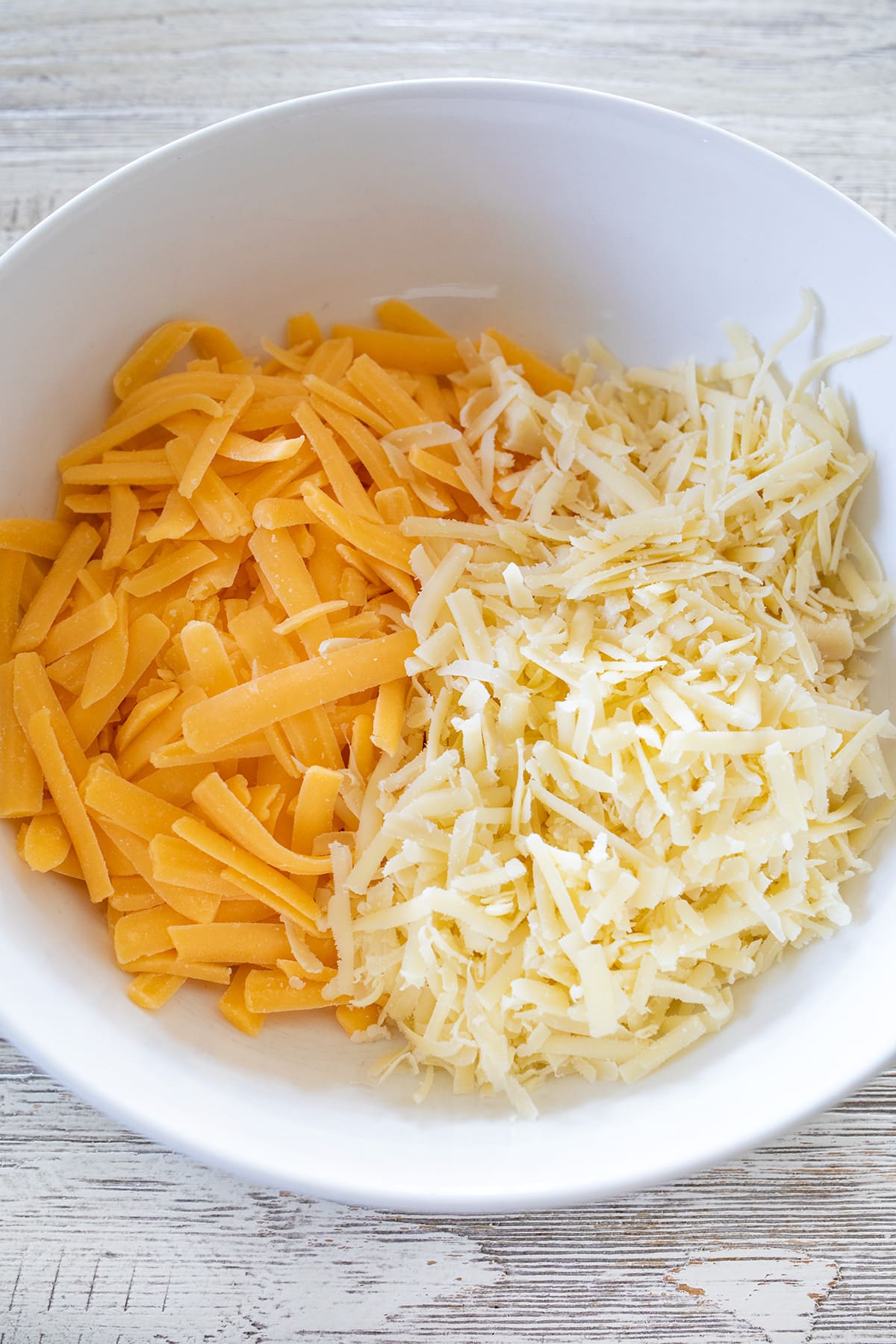 What Cheeses Are Best in Macaroni and Cheese
For my version of my Grandma's mac, I use a blend of Sharp Cheddar Cheese, Gruyere and Cream Cheese. Cheddar brings the most classic flavor, Gruyere melts beautifully and has a rich nutty taste and cream cheese makes the cheese sauce luscious and just a tiny bit tangy. The three together are perfection!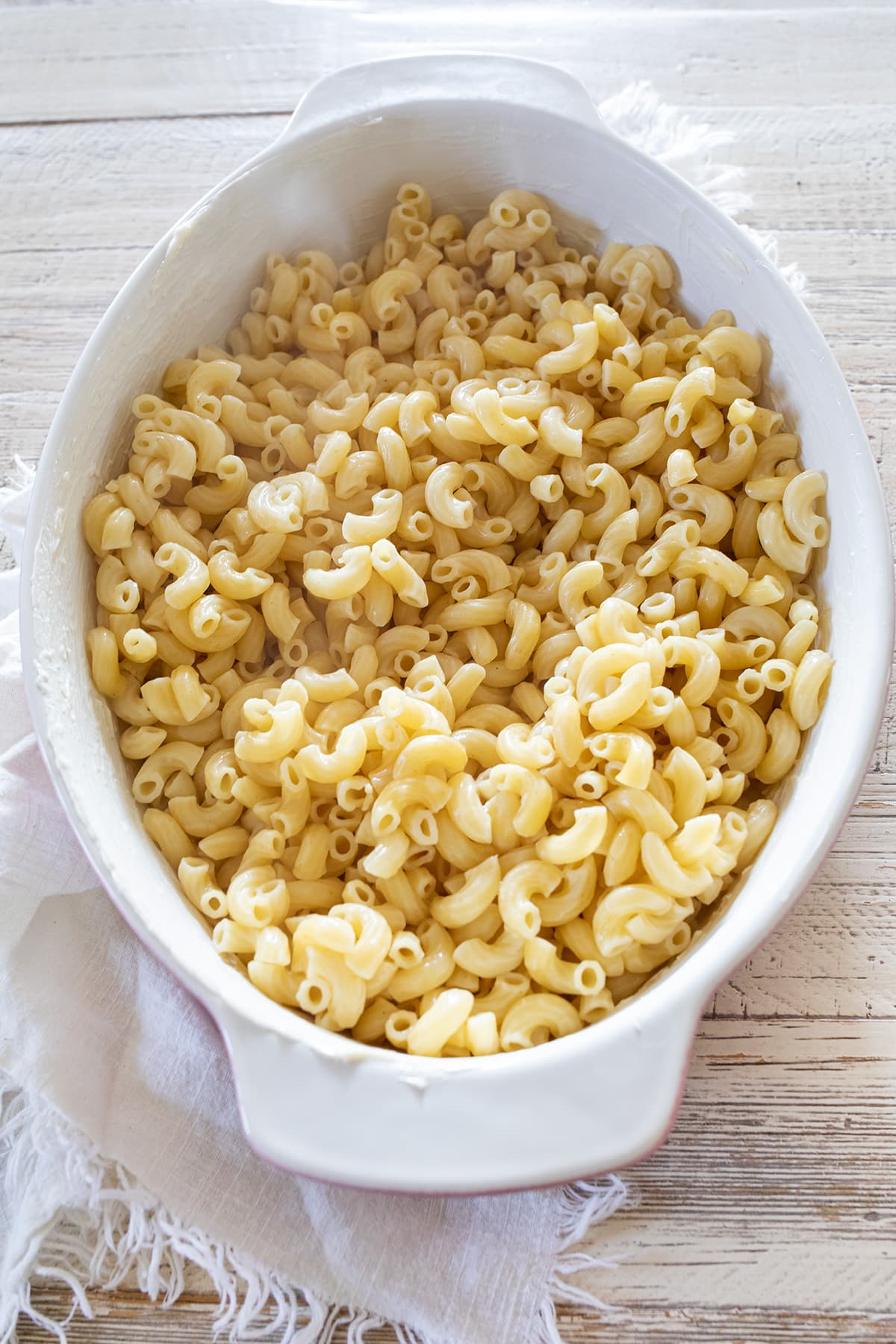 Ingredients in Homemade Macaroni and Cheese
Macaroni Noodles - I personally like Barilla dried macaroni noodles for this.
Butter - unsalted, we will add our own salt!
Flour - to combine with the butter to make a roux.
Salt - for flavor.
Pepper - for more flavor.
Dried Mustard Powder - this is the secret flavor ingredient! IMPORTANT: there is no substitute for this. Dried mustard powder is not the same as the condiment. Please do not use prepared mustard...you will not like the results.
Milk - whole milk makes the best cheese sauce!
Cheddar Cheese - sharp and shredded.
Gruyère Cheese- this is a hard yellow Swiss cheese and full of flavor.
Cream Cheese - this makes your cheese sauce extra creamy!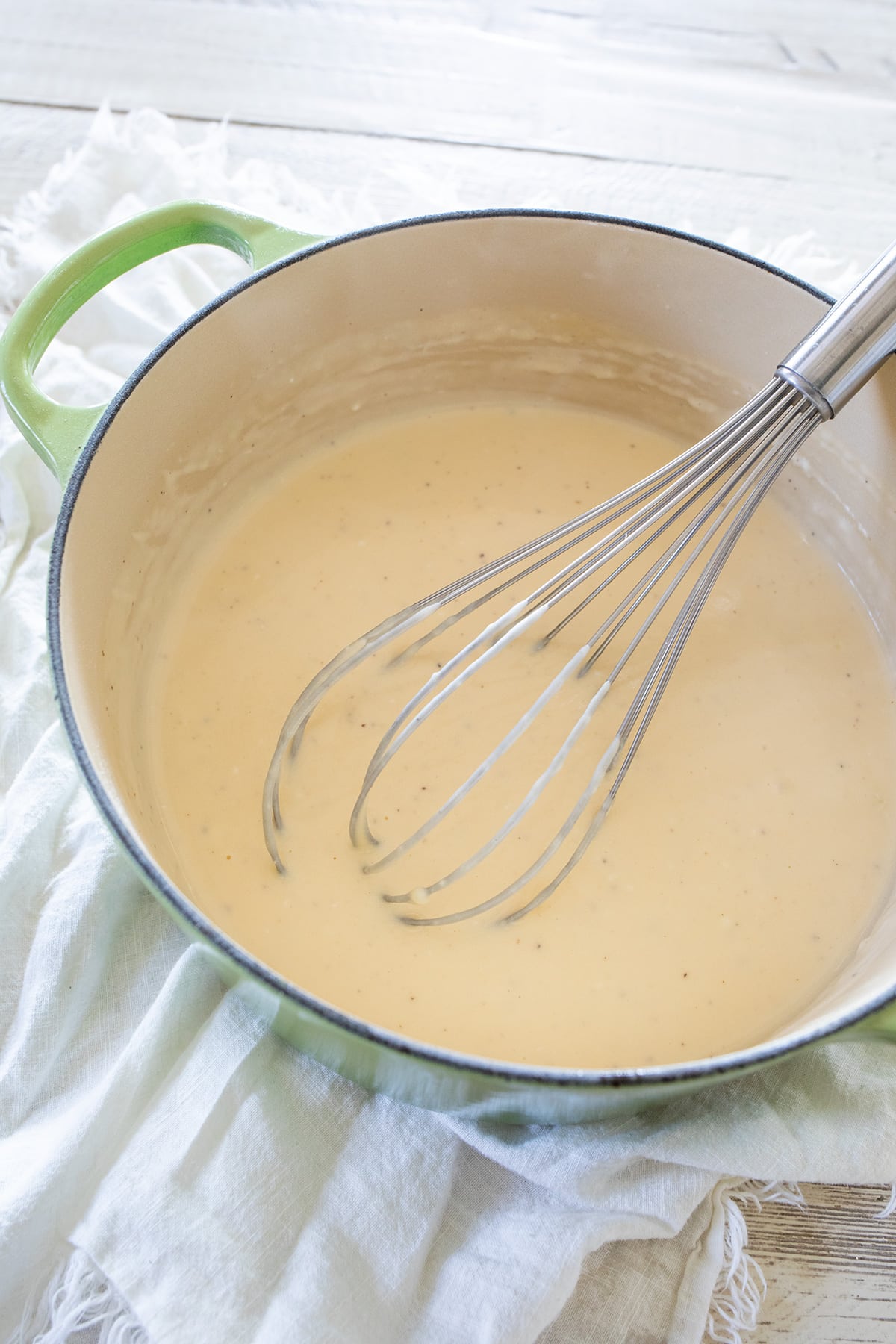 How to Make A Cheese Sauce
Cheese sauce for macaroni and cheese starts with a classic Béchamel (white sauce.) This sauce is the start of my Grandma's macaroni and makes for the creamiest cheese sauce. Unlike a Southern Baked Mac and Cheese, this recipe doesn't call for it.
In a sauce pan, melt butter and whisk in flour until you have a roux.
Season with salt, pepper and mustard powder working quickly and whisking to keep the flour from becoming too dark. You want a blond roux unlike the dark roux you use to make gumbo so work quickly.
Whisk in milk and bring to a simmer until the sauce thickens.
Stir in cheese until sauce is smooth.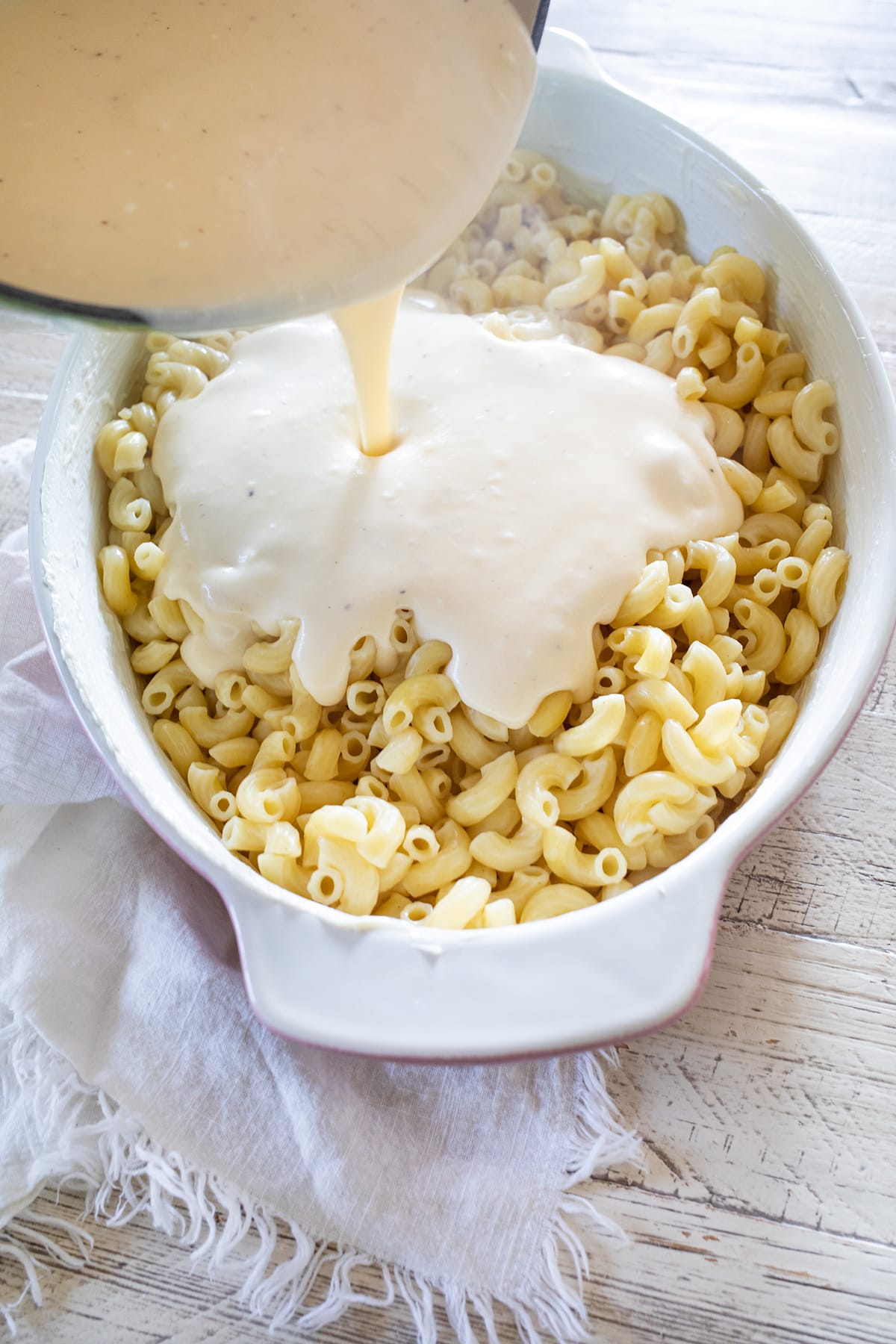 How to Make Baked Macaroni and Cheese
Grate: start by grating your cheeses and set aside.
Boil: cook macaroni noodles for just 7 minutes, they should be al dente.
Melt: make your cheese sauce while the noodles cook. (see above!)
Mix: add cooked macaroni to baking dish and pour cheese sauce over the top mixing to combine.
Sprinkle: cover the top with more cheese!
Bake: bake until the cheese is melted and the macaroni is hot and bubbling.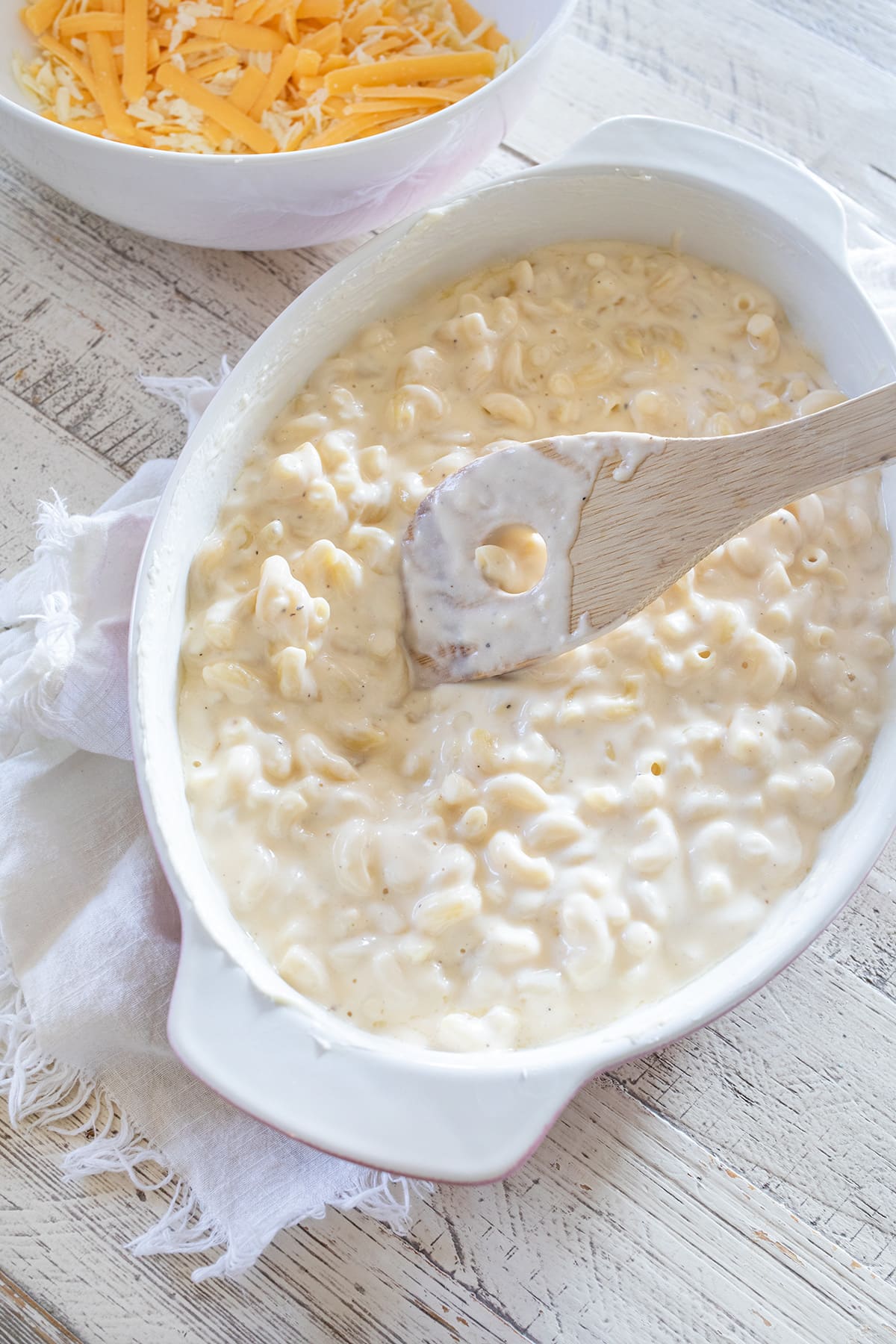 Tips for Making Mac and Cheese
Boiling the Pasta: don't overcook it! You want the noodles to be a bit al dente as they will continue cooking in the oven. Also, do not rinse your noodles! I actually think this is a tip for most recipes...I never rinse pasta. You want that starch to hold onto the sauce.
Shred Your Own Cheese: I know this takes a lot more effort but pre-shredded cheese has binders in it which keeps it from melting as smoothly.
Choose a Blend of Cheeses: I personally love sharp cheddar and gruyere but you can use any blend you like best! Gouda, Smoked Gouda, Swiss, White Cheddar, any meltable cheeses you love.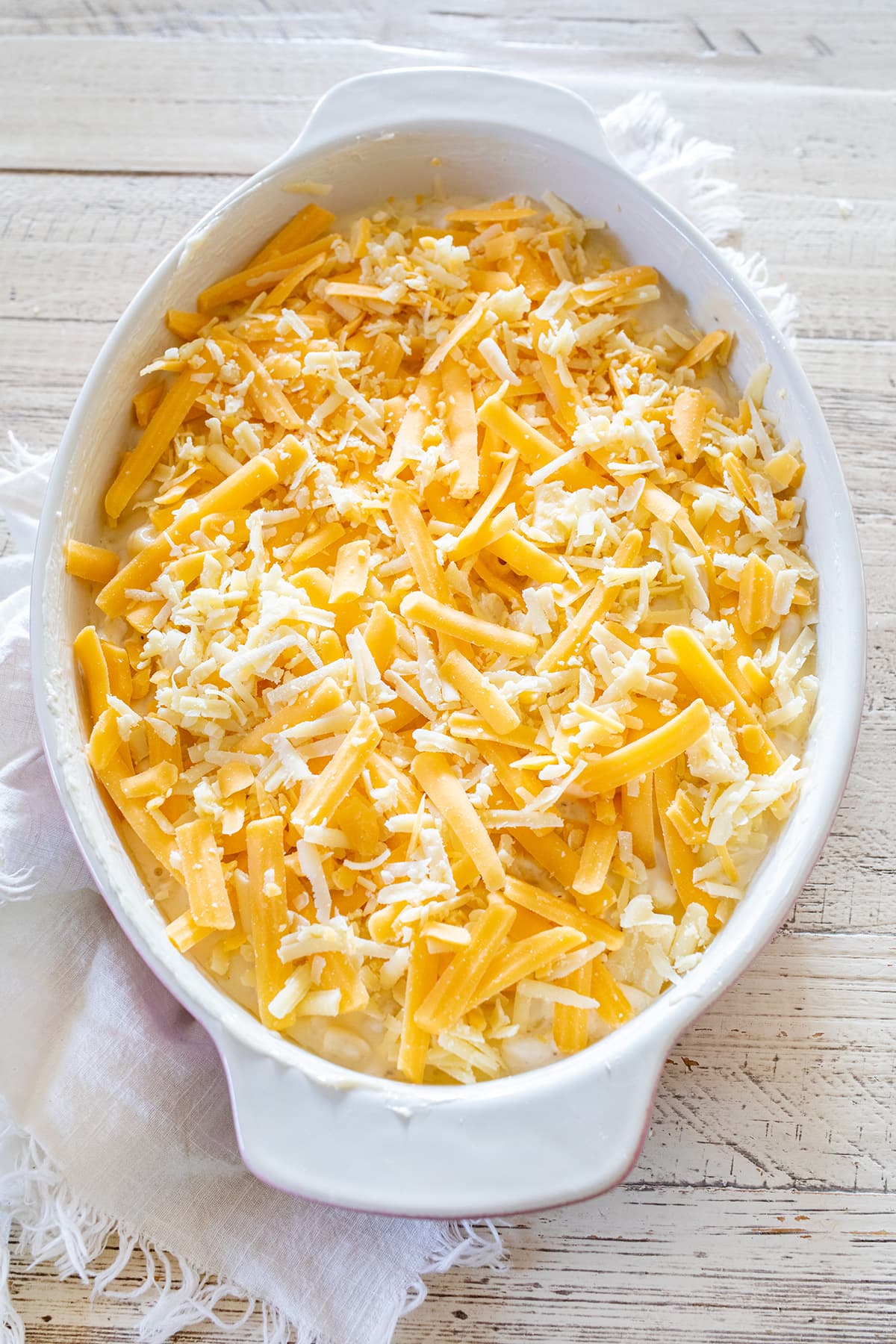 I have a confession to make. I didn't shred my cheddar cheese this time around and only shredded the gruyere. LET me tell you. It causes issues. If you every feel like the end product of your macaroni and cheese isn't creamy enough or the cheese doesn't melt properly...chances are, it's thanks to pre-shredded cheese. It's fine. My family still inhaled it!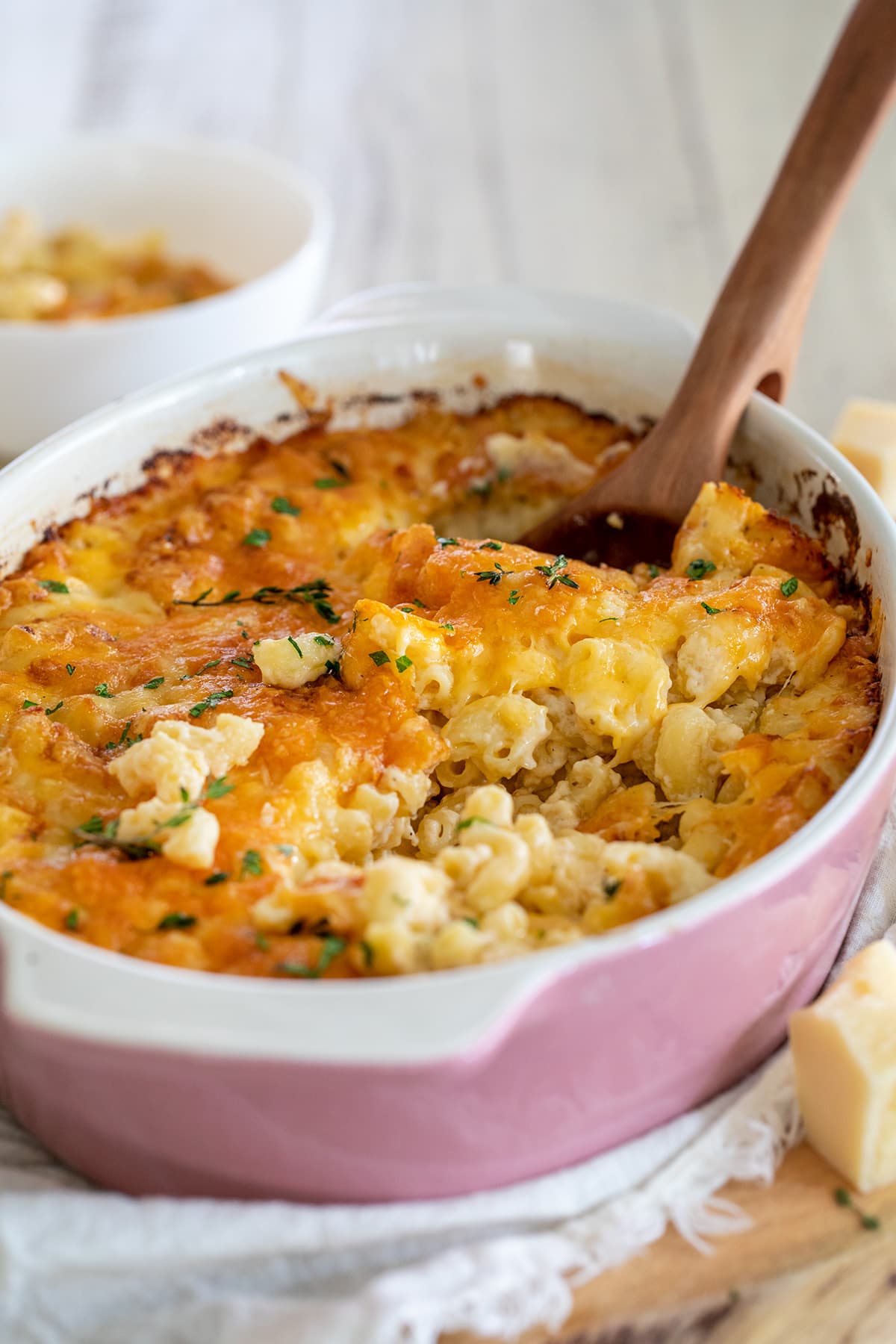 Can You Make This on the Stovetop?
Absolutely! If you don't bake your macaroni, simply add all of the shredded cheese to the sauce and combine the noodles and cheese sauce right in the pot. The only real difference with oven baked macaroni and cheese is the crisp cheese crust and the texture. Baked macaroni sets up a bit more and of course has those delicious crisp edges. However both are completely delicious!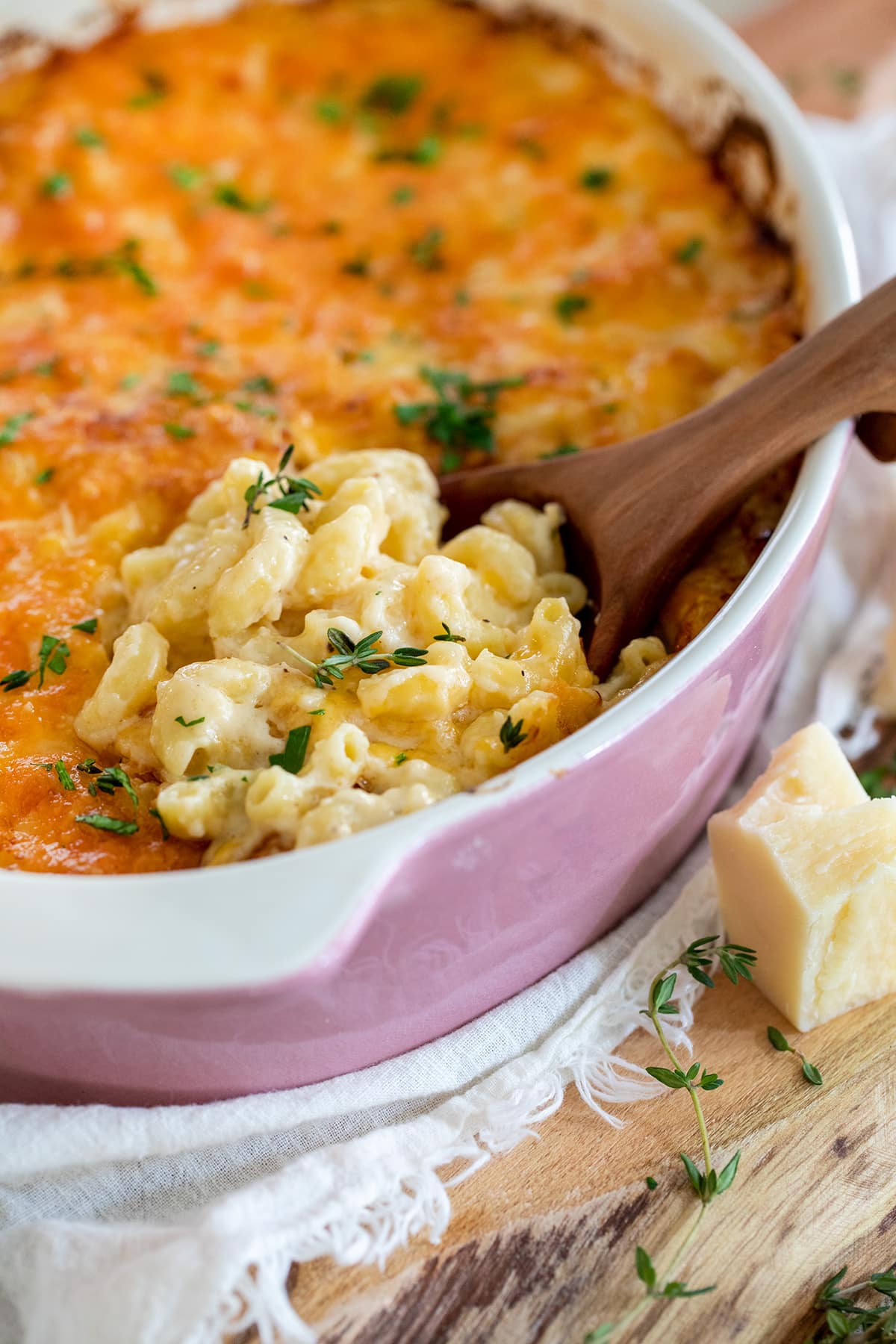 I like to top my macaroni with fresh minced herbs like parsley and even thyme which is perfect if you are serving this dish for Thanksgiving. The bite of creamy macaroni with fresh bright herbs is really delicious!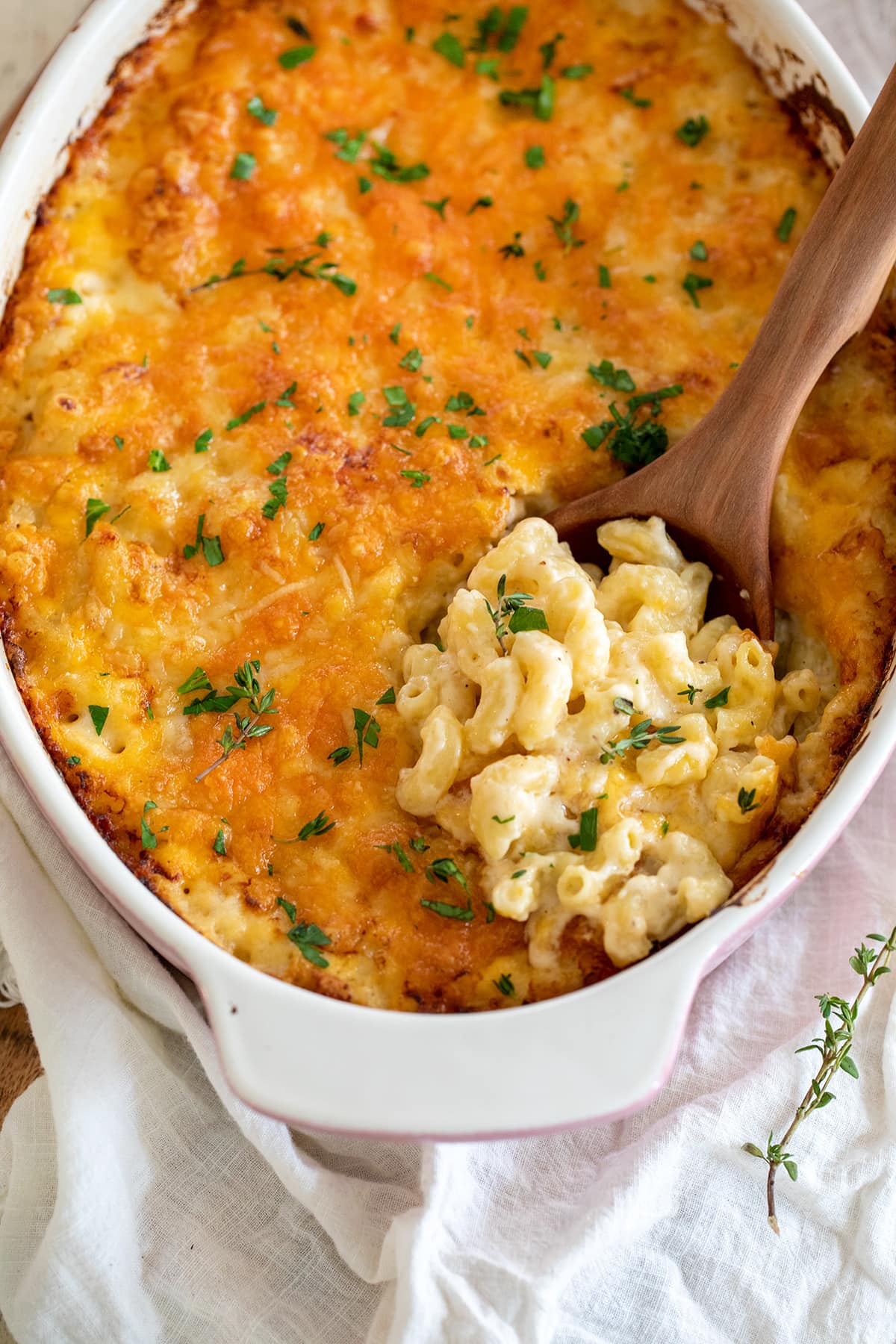 More Cheesy Recipes to Try!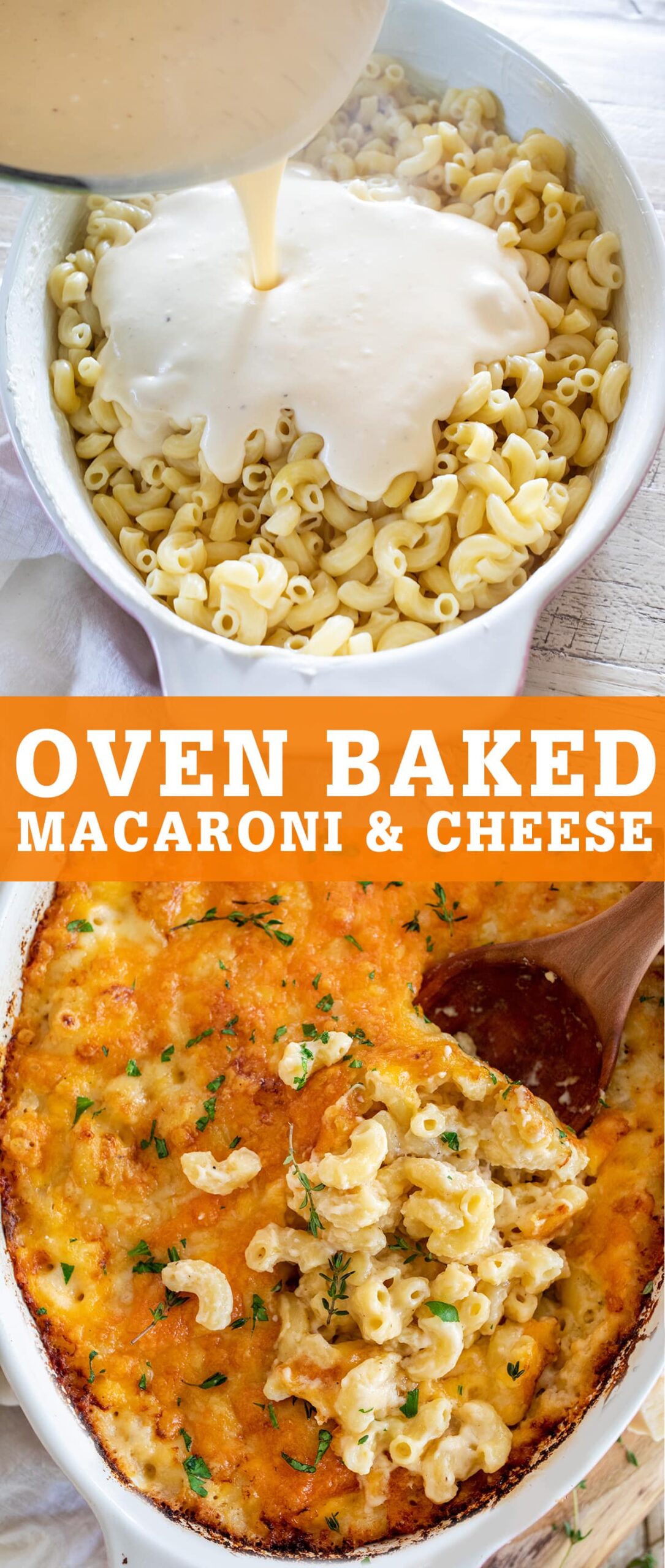 What to Serve with Macaroni and Cheese
We always make macaroni and cheese for holidays like Thanksgiving, and Easter. It's so delicious served with ham or my Favorite Roast Turkey, however there is no wrong time for mac and cheese! Here are a few of my favorite holiday recipes to serve with macaroni and cheese: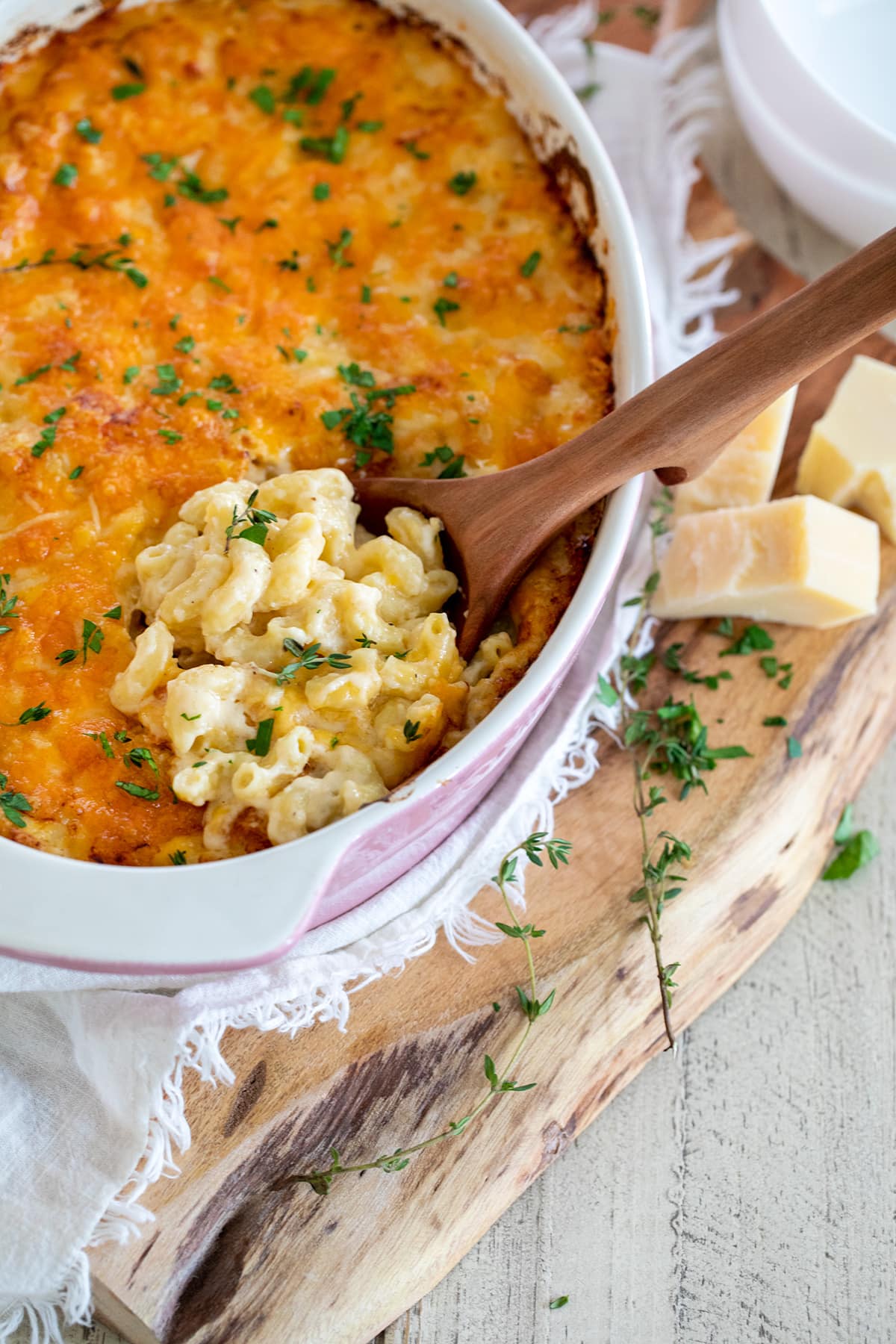 I know my Grandma will be so happy to hear that you all are trying this macaroni and cheese. If you do make our family recipe, please come back and let me know how you and your family like it!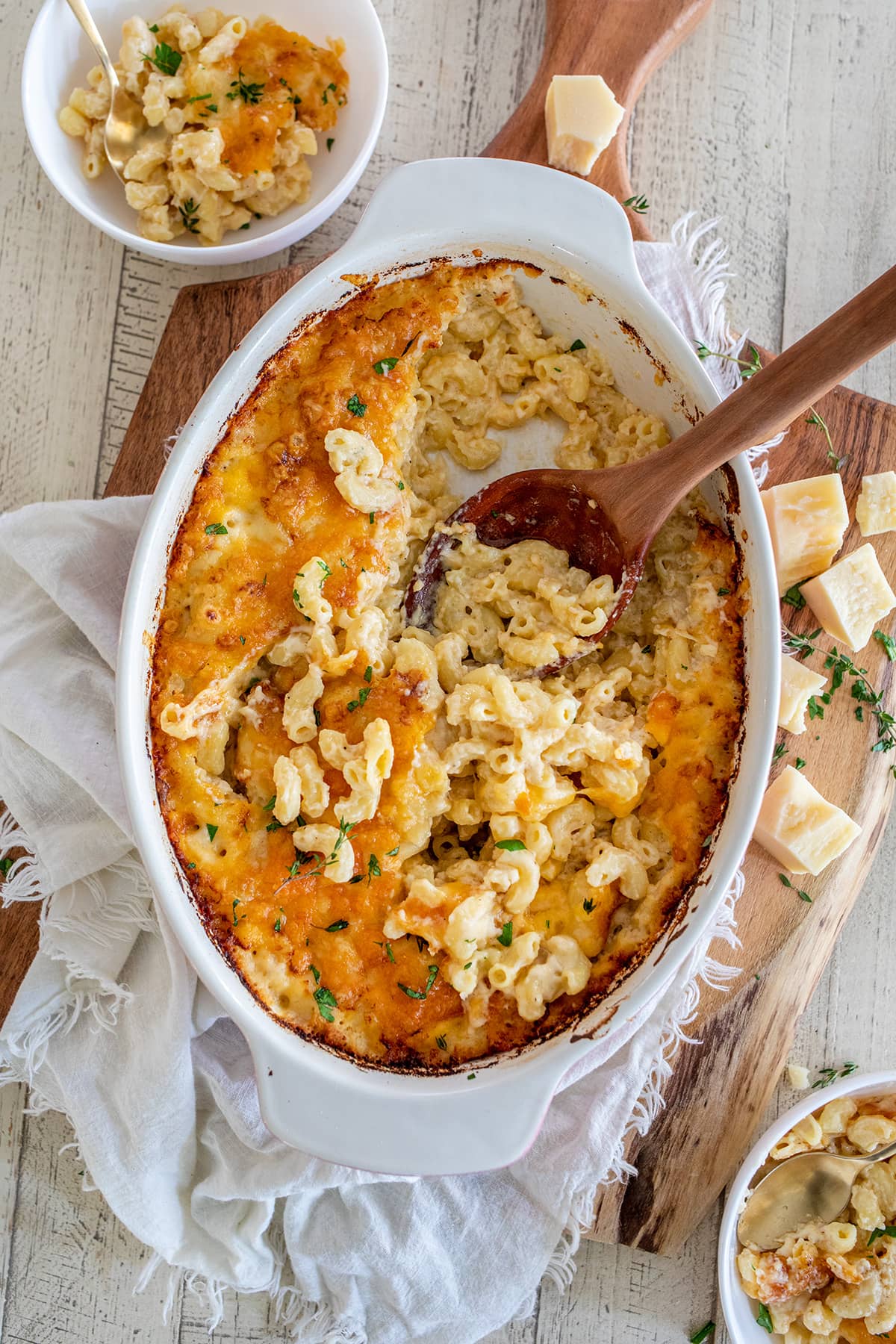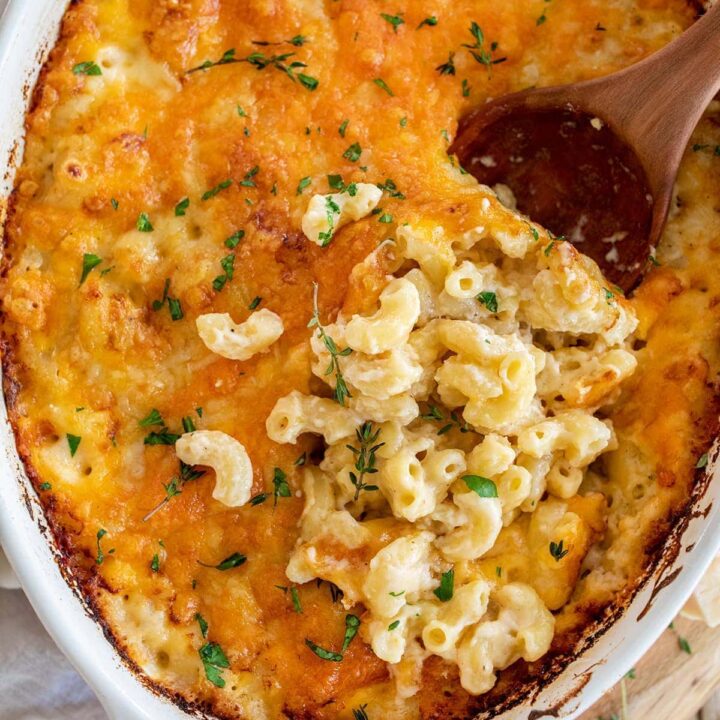 Baked Macaroni and Cheese
Additional Time:
5 minutes
Our family favorite creamy baked macaroni and cheese inspired by my Grandma's classic recipe!
Ingredients
2 Tablespoons unsalted butter
2 Tablespoons all-purpose flour
1 teaspoon Kosher salt
1 teaspoon dry mustard powder
¼ teaspoon black pepper
2 ½ cups whole milk
8 oz shredded sharp cheddar cheese
6 oz shredded gruyere cheese
¼ cup cream cheese
8 oz elbow macaroni, cooked 7 minutes and drained
Instructions
Preheat oven to 375.
Bring water to a boil in a large pot for the macaroni noodles.
Meanwhile, in a medium sauce pan melt butter over medium heat. Add flour and whisk to combine.
Whisk constantly so that the flour doesn't burn and add salt, pepper and dry mustard.
Slowly whisk in milk. Increase heat slightly and bring to a simmer, stirring constantly until the mixture begins to thicken.
Stir in cream cheese and 2 cups of the cheese mixture (cheddar + gruyere combined) leaving the rest of the shredded cheese for the topping.
Once cheese is melted, remove from heat.
Cook macaroni until al dente about 7 minutes, drain and place into a 2 quart baking dish.
Pour cheese sauce over the noodles and toss to combine.
Cover with the remaining cheese and bake at 375 for 20 -25 minutes or until cheese is golden and melted and macaroni is bubbling.
Remove and serve right away.
Notes
Do not substitute prepared mustard for the mustard powder! If you can't find dry mustard powder simply leave it how. However it adds a delicious flavor.
Like all homemade macaroni and cheese, this is best served right away! By nature homemade mac will loose some of it's creaminess the longer it sits.
Nutrition Information:
Yield:

6
Serving Size:

1
Amount Per Serving:
Calories:

479
Total Fat:

34g
Saturated Fat:

20g
Trans Fat:

0g
Unsaturated Fat:

11g
Cholesterol:

101mg
Sodium:

895mg
Carbohydrates:

19g
Fiber:

1g
Sugar:

5g
Protein:

24g