5 Bento Box School Lunches: a weeks worth of school lunches that I've packed for my preschool age twins to inspire your lunch packing!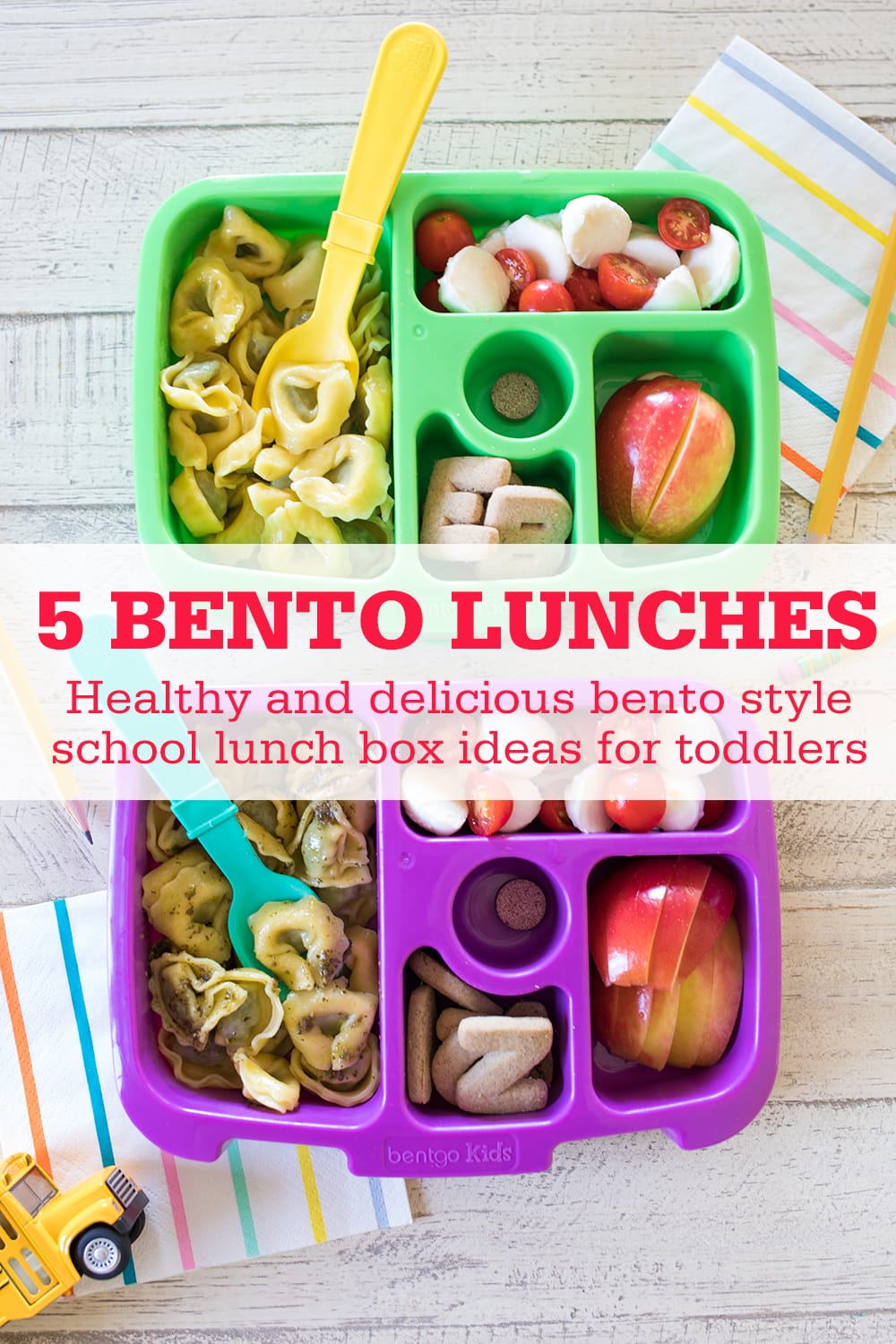 5 Bento Box School Lunches
This is the first year that I am actually packing school lunches for my twins. They are still in a half day of preschool but have been staying for the lunch program and loving it! It's been fun for them to carry their new lunchboxes in and place them in their cubbies knowing that they will have more time to stay and play with their friends after eating. It's pretty cute to see how excited they were to use their lunchboxes FOR REAL at school, not just at the park or home. Here are 5 Bento Box School Lunches that I've packed for them so far. All are served cold because our Bentgo Kids Bento Boxes don't keep food warm. That being said, these are all delicious cold.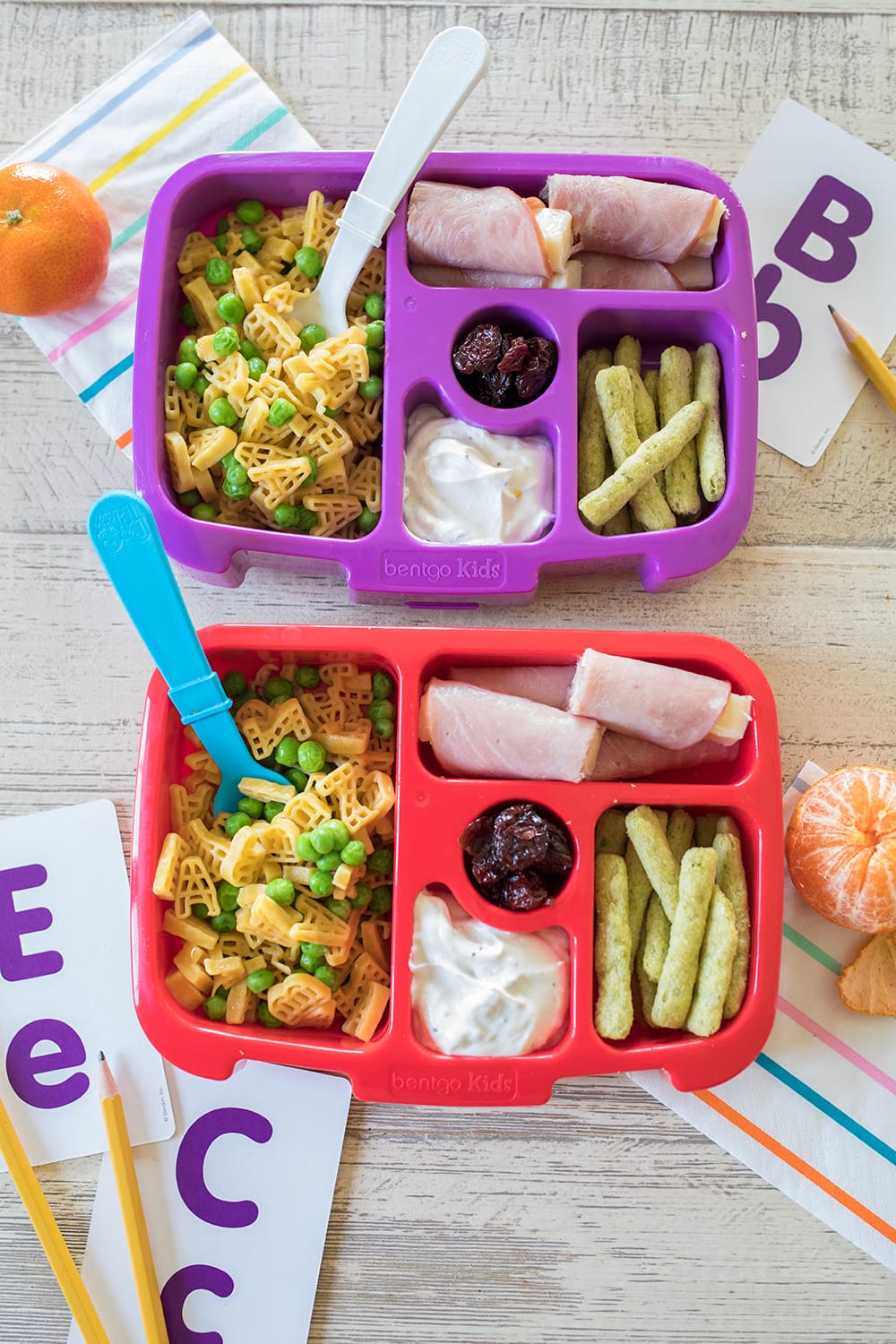 Bento Box Lunch #1
Banza Alphabet Pasta with Peas. Toss frozen peas into the water in the last minute of cooking the noodles and drain all together. Then toss the noodles and peas in butter and parmesan, pesto or your kid's favorite sauce.
Ham & Cheese Roll-ups. I start with a Beecher's Flagship Cheese Stick and wrap it in our favorite ham. Easy and tasty!
Snap Pea Crisps with Everything But the Bagel Yogurt Dip from Trader Joe's.
Dried Cherries for a sweet treat.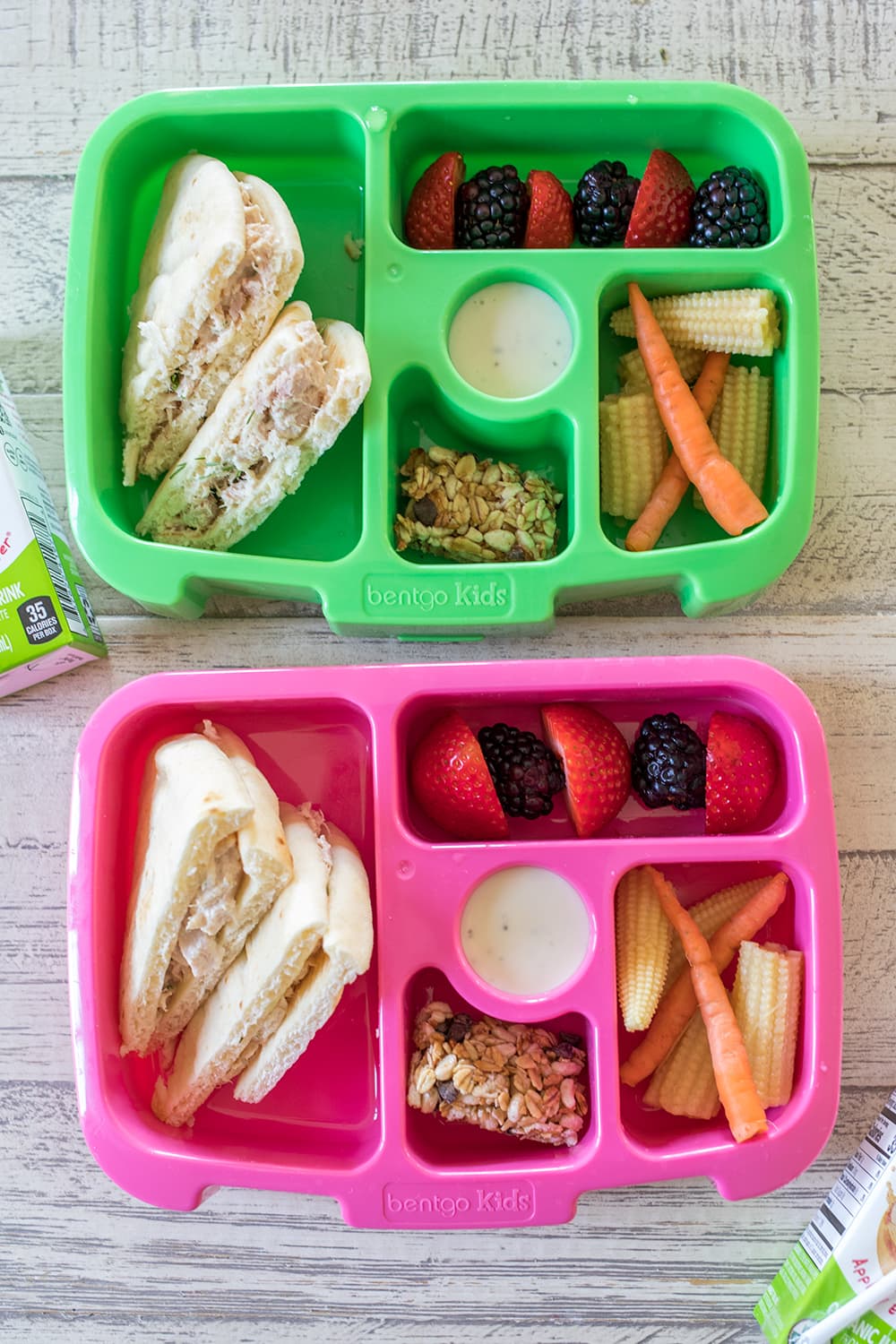 Bento Box Lunch #2
Tuna sandwiches on pita bread. Everything is tastier on soft pita! We get this bread from our local farmer's market and the twin's love it. If tuna isn't your kid's favorite, turkey on pita is also delicious.
Farmer's market berries. Little carrots and baby corn with ranch for dipping.
A chewy granola bar with chocolate chips for a sweet treat and an organic apple juice box.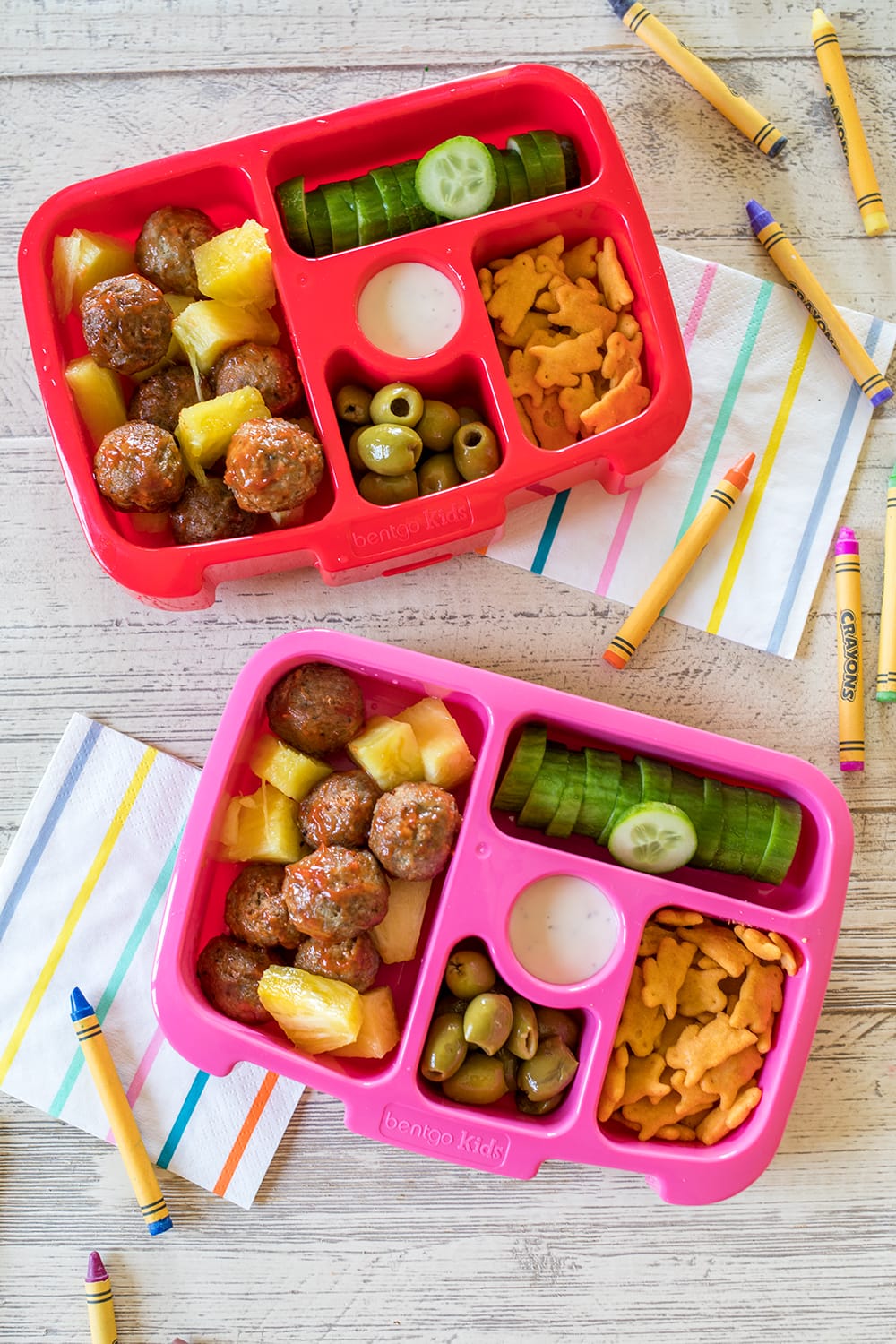 Bento Box Lunch #3
Mini meatballs with ketchup and pineapple. I absolutely love this lunch idea because it's easy and delicious! If you do have a lunchbox that keeps food warm, even better. I buy the fully cooked, frozen, Open Nature Angus Beef Meatballs and the twins love them. Heat according to the package instructions and toss in either ketchup or your kid's favorite barbecue sauce.
Olives - my kids love green olives but try black olives for a milder flavor.
Mini Persian cucumbers with ranch for dipping.
Annie's Organics Cheddar Bunnies.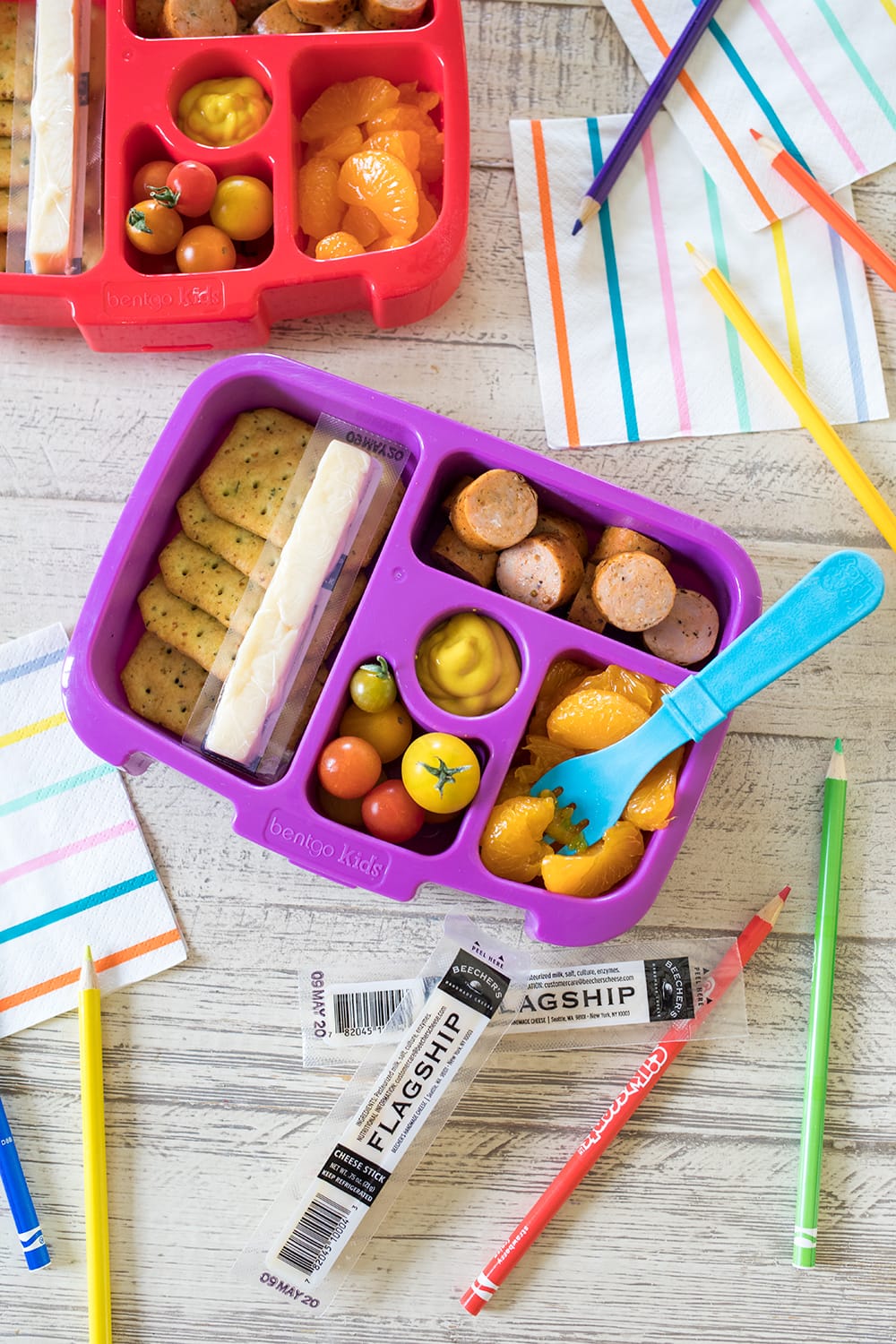 Bento Box Lunch #4
Cheese and Crackers.
Applegate Turkey Apple Sausage with mustard for dipping. Alternately you could pack hot dogs but my kids like this sweet turkey apple sausage.
Cherry tomatoes and mandarin oranges.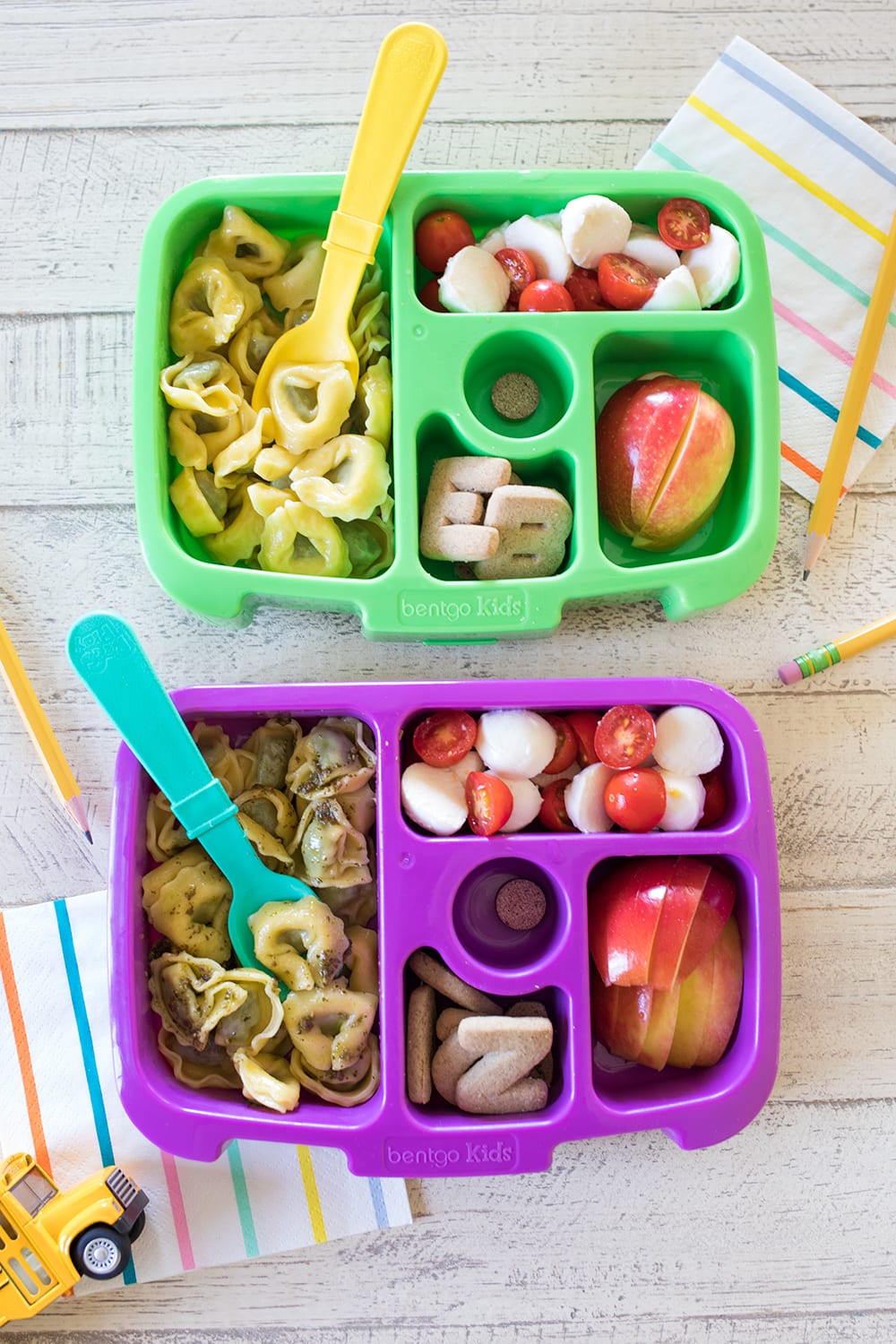 Bento Lunch Box #5
Cheese and spinach tortellini with pesto sauce.
Mini mozzarella with cherry tomatoes.
Alphabet cookies from Trader Joe's and apple slices for a sweet treat.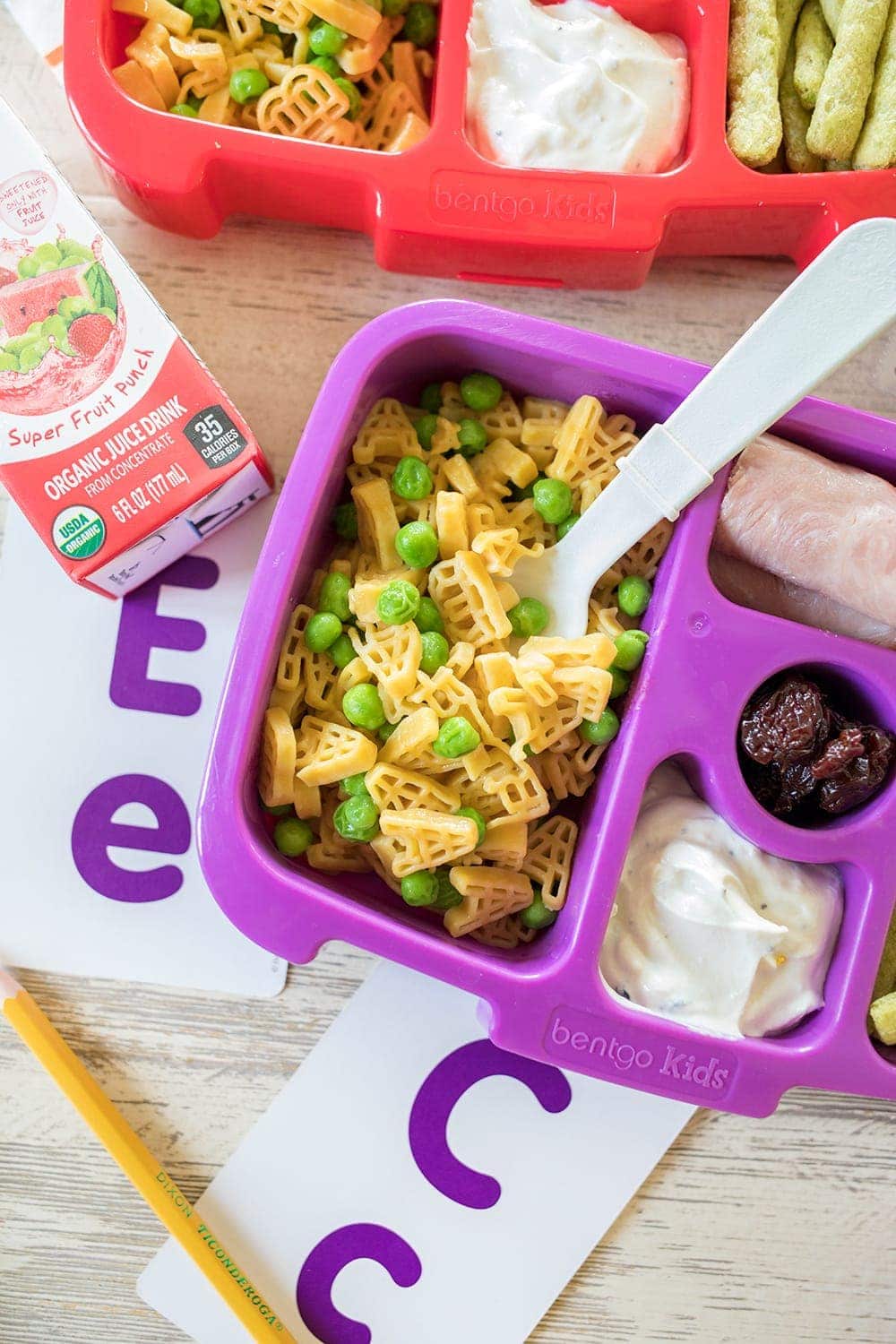 Looking for more kid lunch ideas? You might like my Back to School Recipes and my Toddler Meals!
Want more Bento Box Lunch Ideas? I've got more here.
After School Snacks Inspiration: The Ultimate List of Healthy Trader Joe's Toddler Snacks.