If the sound of your toddler screaming "I want a snack!" sends chills down your spine, you need this post. I've compiled The Ultimate List of Healthy Trader Joe's Toddler Snacks that are tried and true favorite with my three year old twins.
This list, and toddler-feeding-formula, has stood the test of time as easy, healthy, and always eaten. Because no one likes dumping a plate full of food into the garbage bin. Let's get snacking...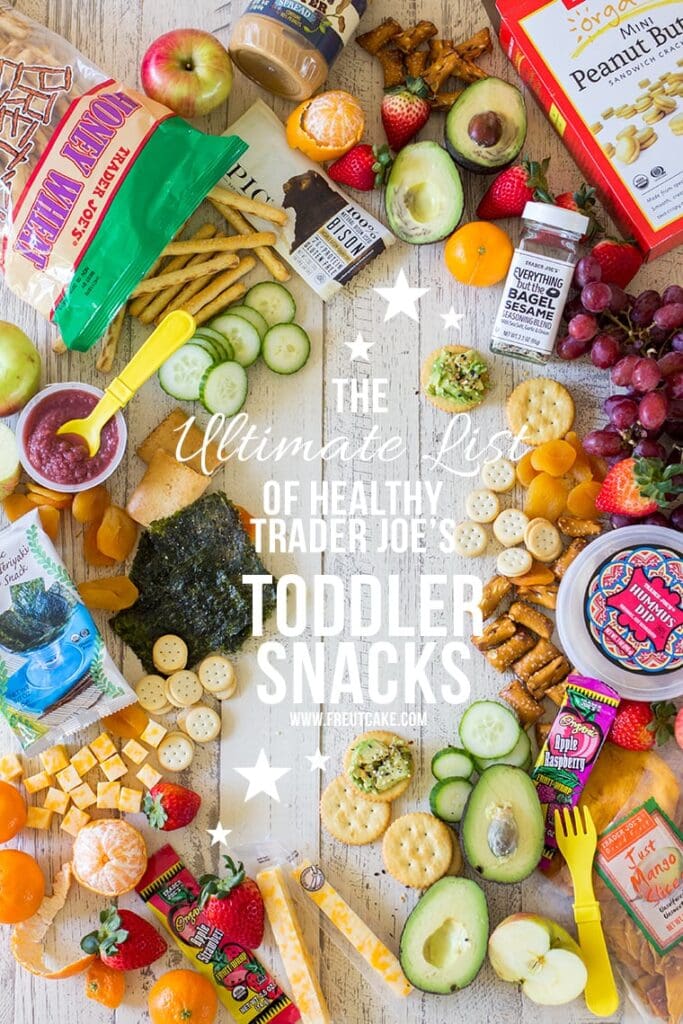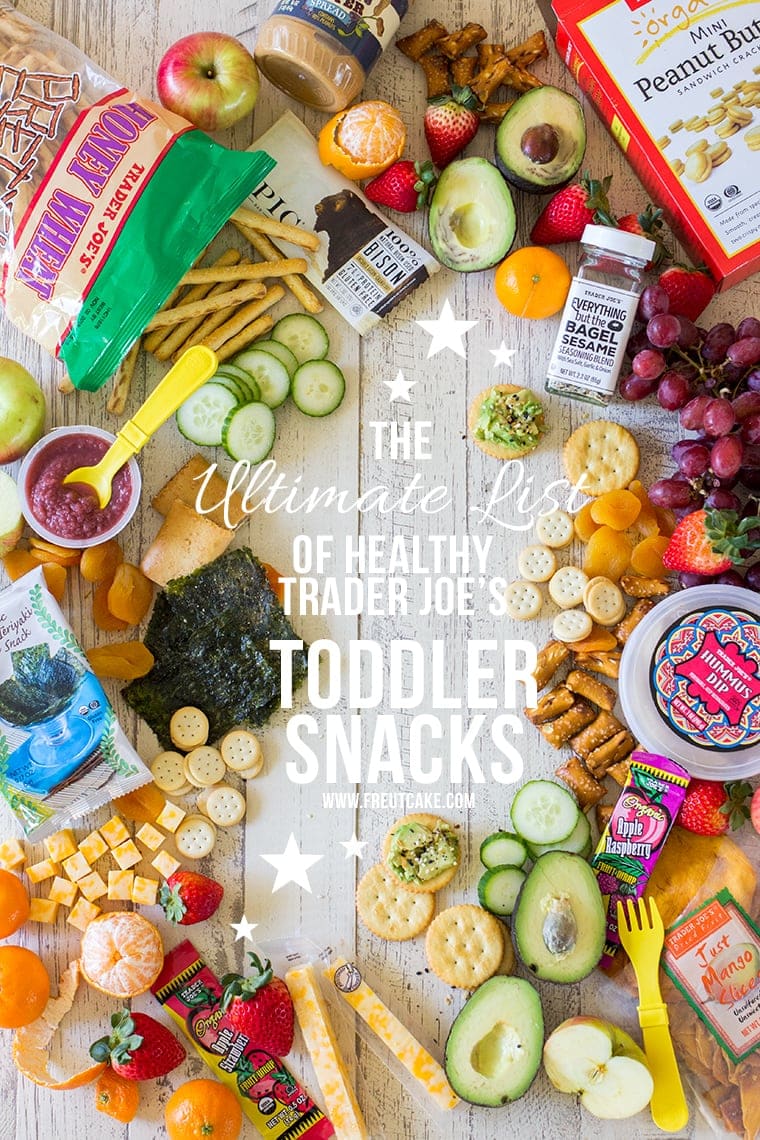 Easy Toddler Snack or Lunch Ideas (no cooking required.)
In my opinion, snacks should never need to be cooked! Snack time (in my opinion) should be quick, easy, healthy, and have no cooking required. Which brings me to an important point about snack time. If you have a picky eater who is reluctant to eat their meals (breakfast, lunch, dinner) you may want to use this guide for lunch plan versus snack!
Over-feeding kids at snack time will result in them eating less at mealtime. I would also suggest that you tailor the amount of food to your child's age and appetite!
The plates below might be more of a lunch for your child but they work well for my twins as an after-school snack around 3:30 with plenty of time before dinner. Morning snacks are significantly smaller.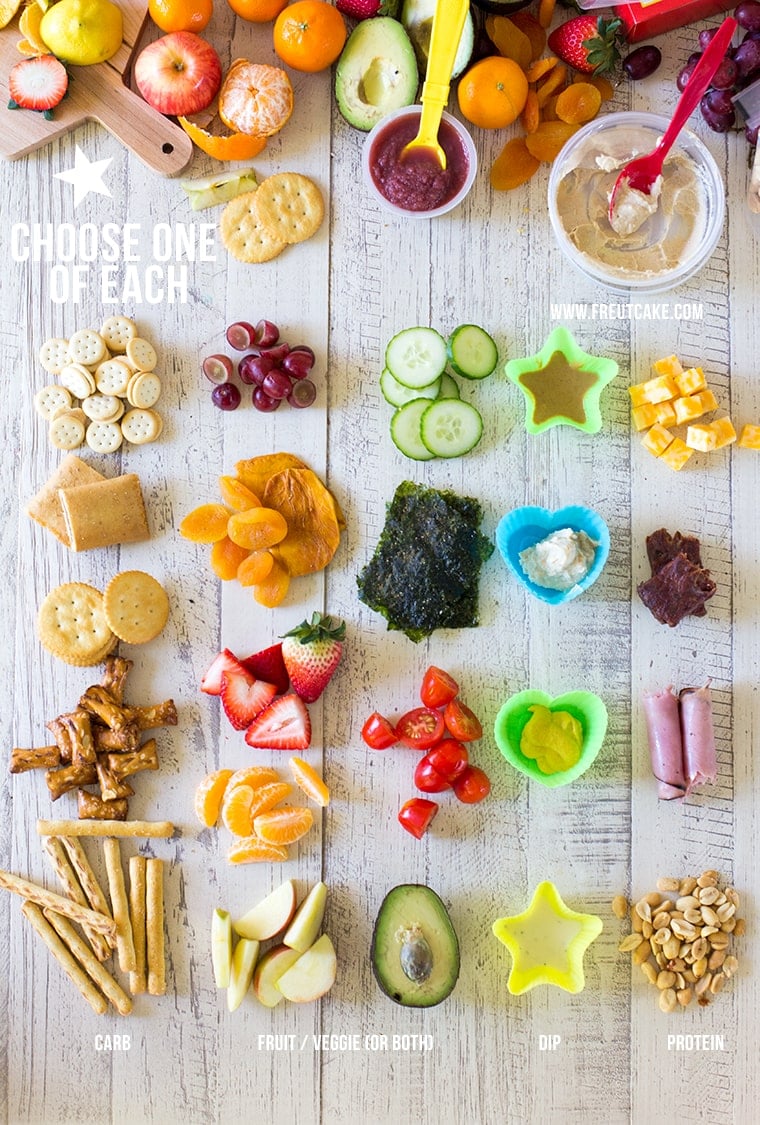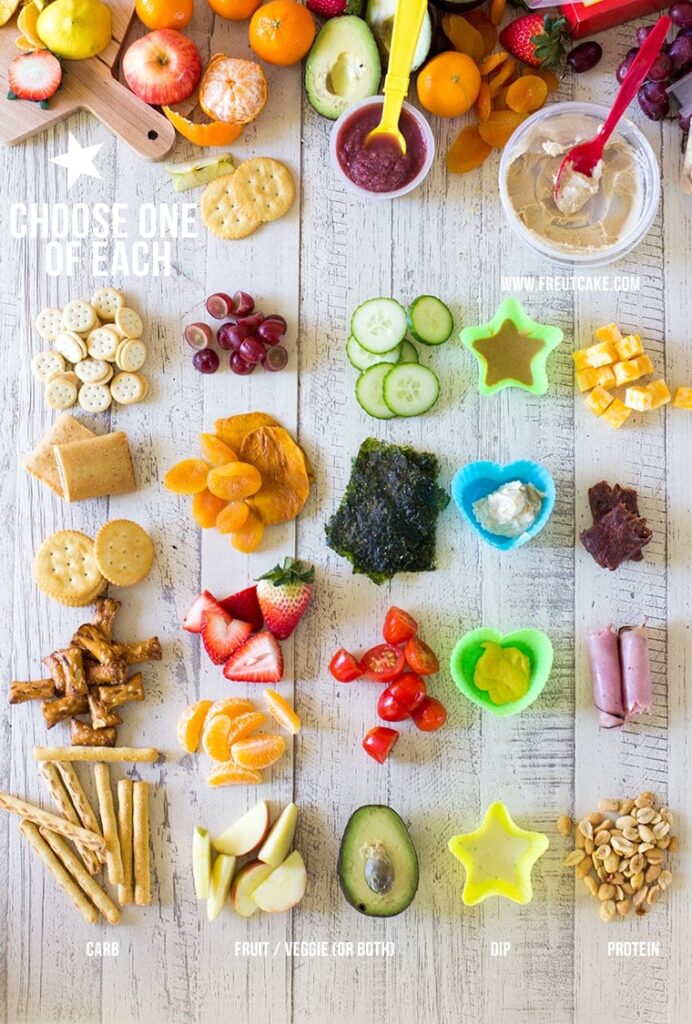 Kid-friendly Trader Joe's Shopping List
Trader Joe's is a really a treasure trove of kid-friendly snack, lunch and dinner items. Here is the master list of our favorite snack items:
Produce:
Honey Crisp Apples
Bananas
Seedless Grapes- red and green *cut into quarters for younger children.
Small organic pears
Hot House English Cucumbers
Cherry Tomatoes *cut into quarters for younger children.
Mandarines
Berries
Dry Goods:
Organic Mini Peanut Butter Sandwich Crackers
Golden Rounds Crackers
Honey Wheat Pretzel Sticks
Peanut Butter Filled Pretzels
This "Apple Walks Into a Bar" Cereal Bars
Organic Roasted Teriyaki Seaweed Snack
Nuts
Trail Mix
Epic Bars & Beef Jerky
Dried Fruit: Turkish Apricots & Just Mango (dried mango)
Fruit Wraps
Other Items:
hummus
cheese sticks
apple sauce cups
apple sauce pouches
lunch meat- primarily turkey & ham
Everything But The Bagel Seasoning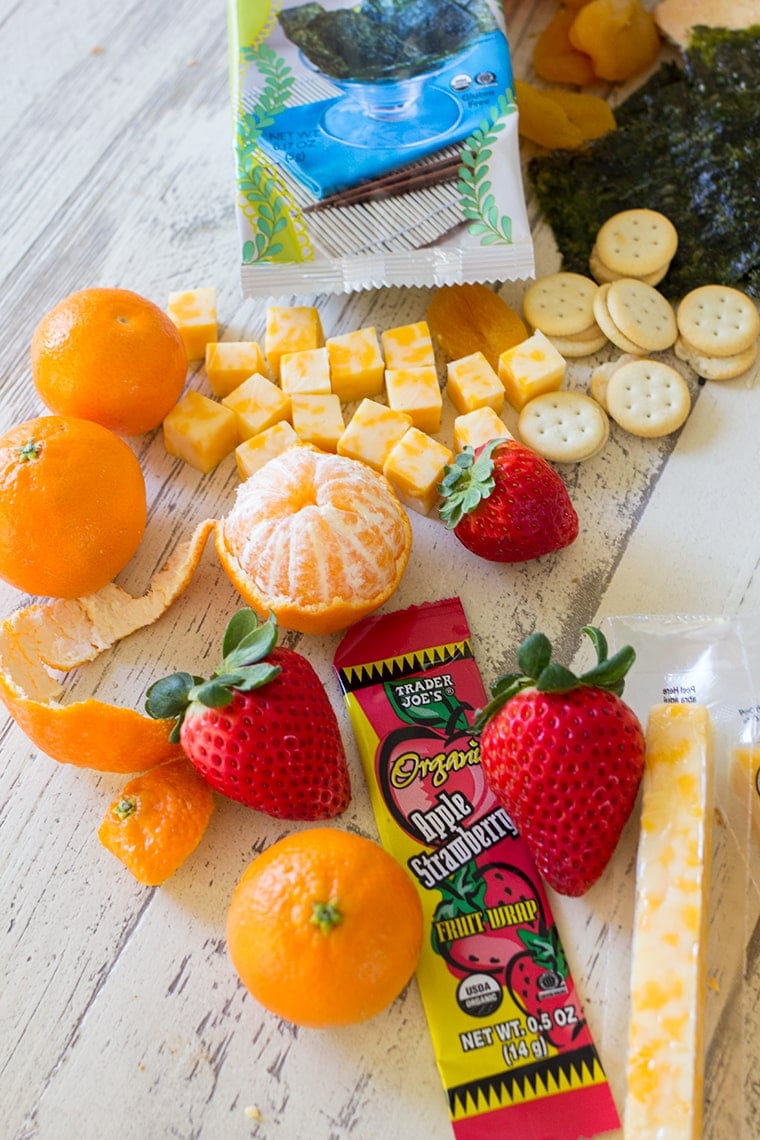 Healthy Toddler Snack Ideas
Healthy toddler snacks ideas don't have to be complicated! I use this formula to prepare snacks for my twins and it works to take the guess-work out of snack time every time.
Important to note: When I am only giving them a small snack, say after lunch but before school, the snack will be smaller and not include all of these categories, maybe just one or two items. And because I'm frequently asked about it, THESE are the plates I use for my twins. We love them!
Here is the formula I use:
I also use this same formula for composing a well rounded and healthy lunch!
Pick a carb.
Choose a fruit, veggie or both!
Does this snack need a dip?
Add a protein.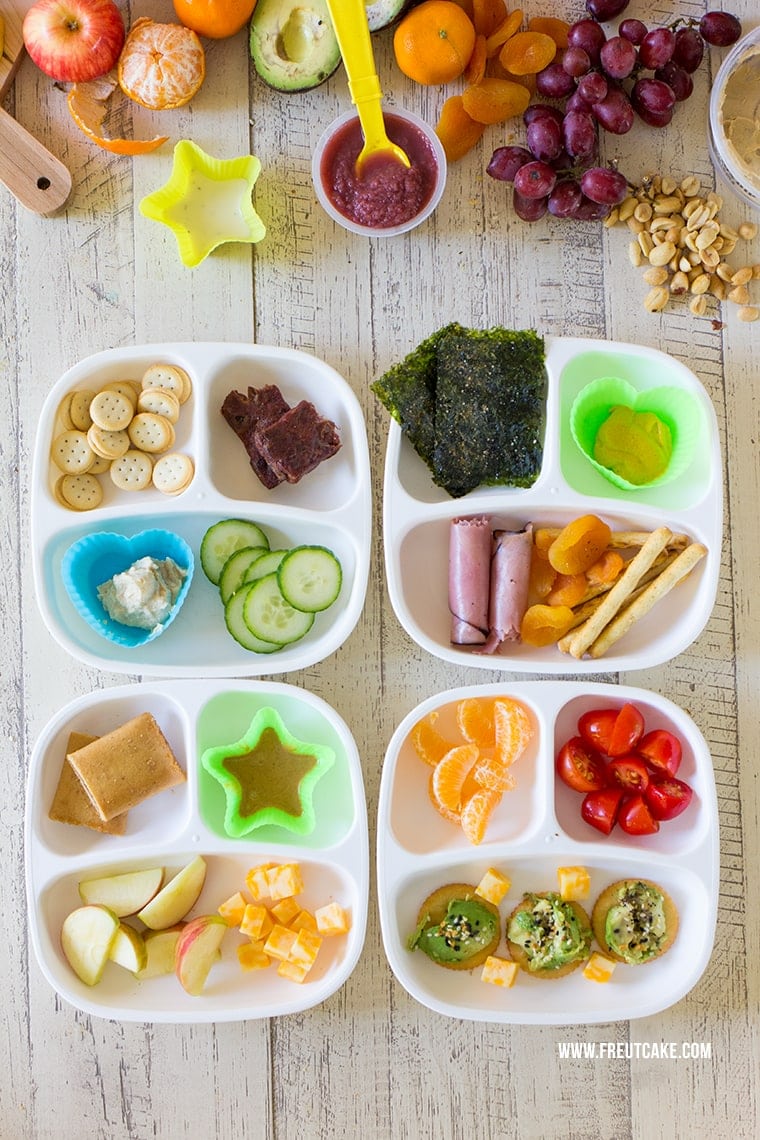 Best Toddler Snack Ideas
If you were to Google "Best Toddler Snack Ideas" you would find hundreds of pages of toddler foods, most of which are unhealthy or down-right unrealistic. Here are some combinations that are favorites of my three year old twins and that they ACTUALLY eat.
Of course, you can use my formula above to mix and match any of these. The following combinations are just a few suggested favorites:
apples + peanut butter
pretzel sticks + peanut butter
pretzel sticks + hummus
cucumber slices + hummus
cucumber slices + ranch
cherry tomatoes + ranch
cucumber slices + whipped cream cheese + Bagel Seasoning
ham lunch meat + cheese + mustard
golden round crackers + avocado + Bagel Seasoning
golden round crackers + peanut butter + jelly
pretzels + guacamole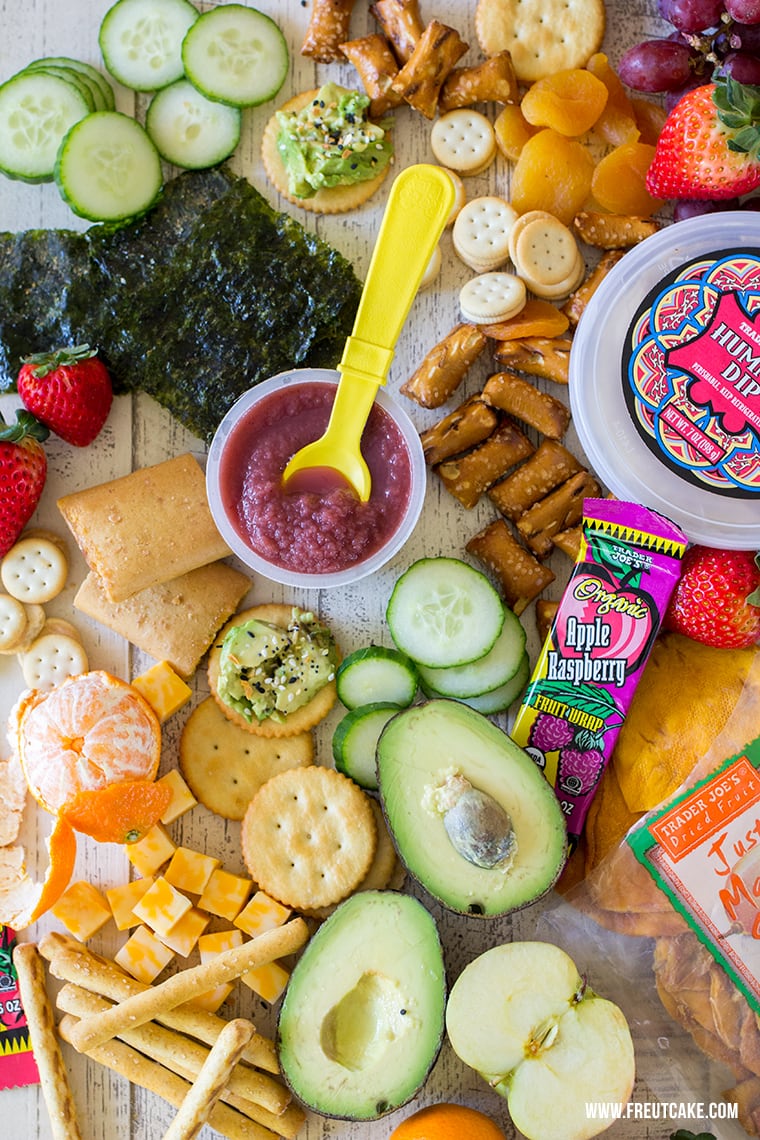 Favorite Toddler Snacks?
So, what are your toddler (or big-kid's) favorite snacks? Any favorites from Trader Joe's that didn't make my list? I left out items that my twins don't love or that we have brand favorites of from other stores.
That being said, I'd love for the comment section to be a living resource of ideas and other snack recommendations from all of you! Now's your turn...leave me a comment with your little ones favorite snack foods. We are all in this feeding-toddlers boat together!
Want more toddler meal ideas?