Have I mentioned my utter adoration for cookbooks lately? Well, if you weren't aware, I'm pretty much obsessed. I've been known to sit with a stack of my favorite cookbooks and read them for hours, making shopping lists, adding bookmarks, and poking Jason when I find a really delicious recipe. "Ooh, doesn't this sound good?!" "How about this recipe for dinner this week?" It's basically my favorite past time.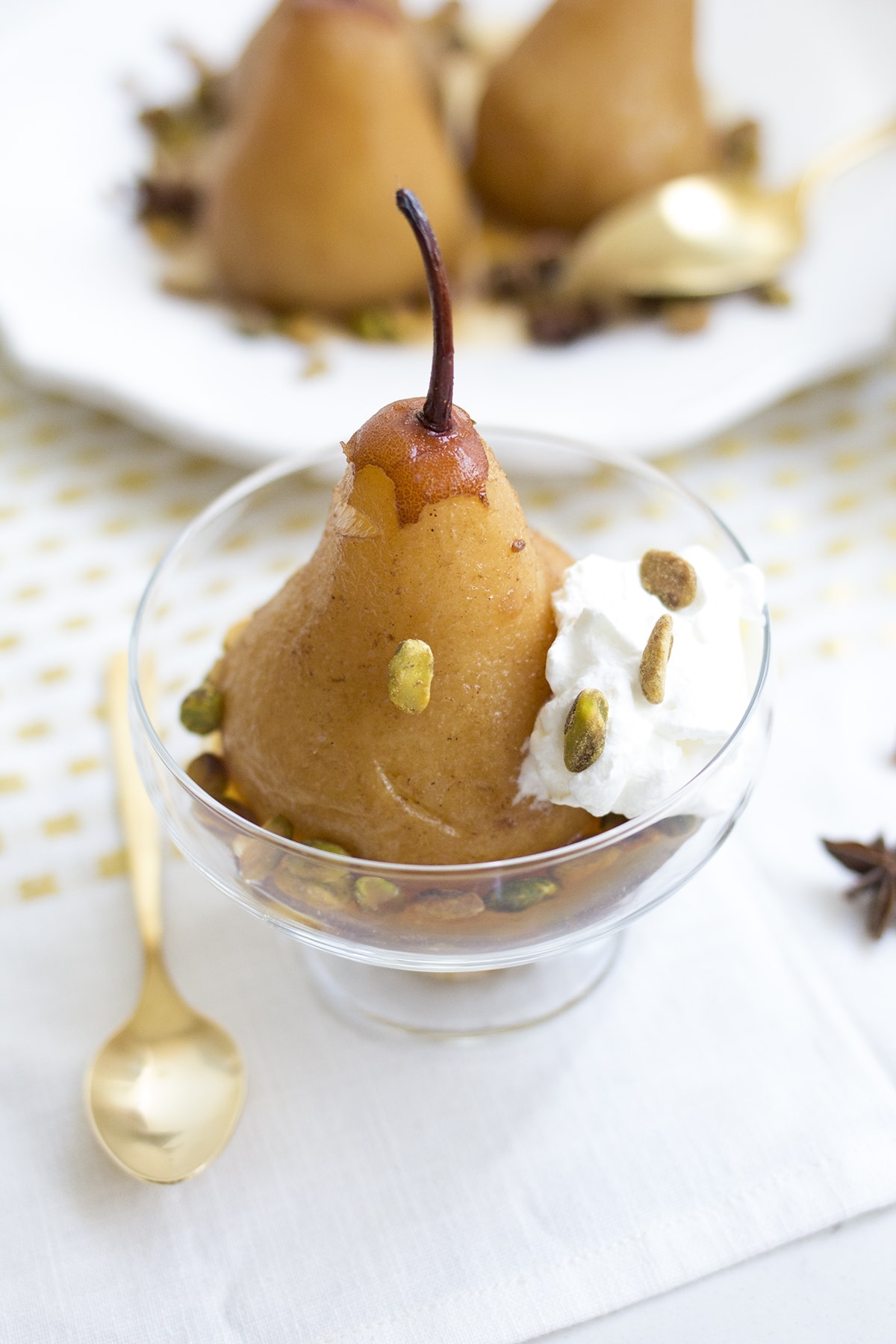 While I don't get quite as many cookbook reading sessions in these days (hello, twins) I still love to crack one open when I get a moment. So when I was gifted Danielle Walker's beautiful new cookbook Celebrations, I pretty much squealed with joy. For quite some time now, I've been wanting to bring back "Book Club" here on the blog but switch up the reading and share cookbooks and entertaining books this time around. What do you think? So the here goes with the first cookbook, and boy is it a good one…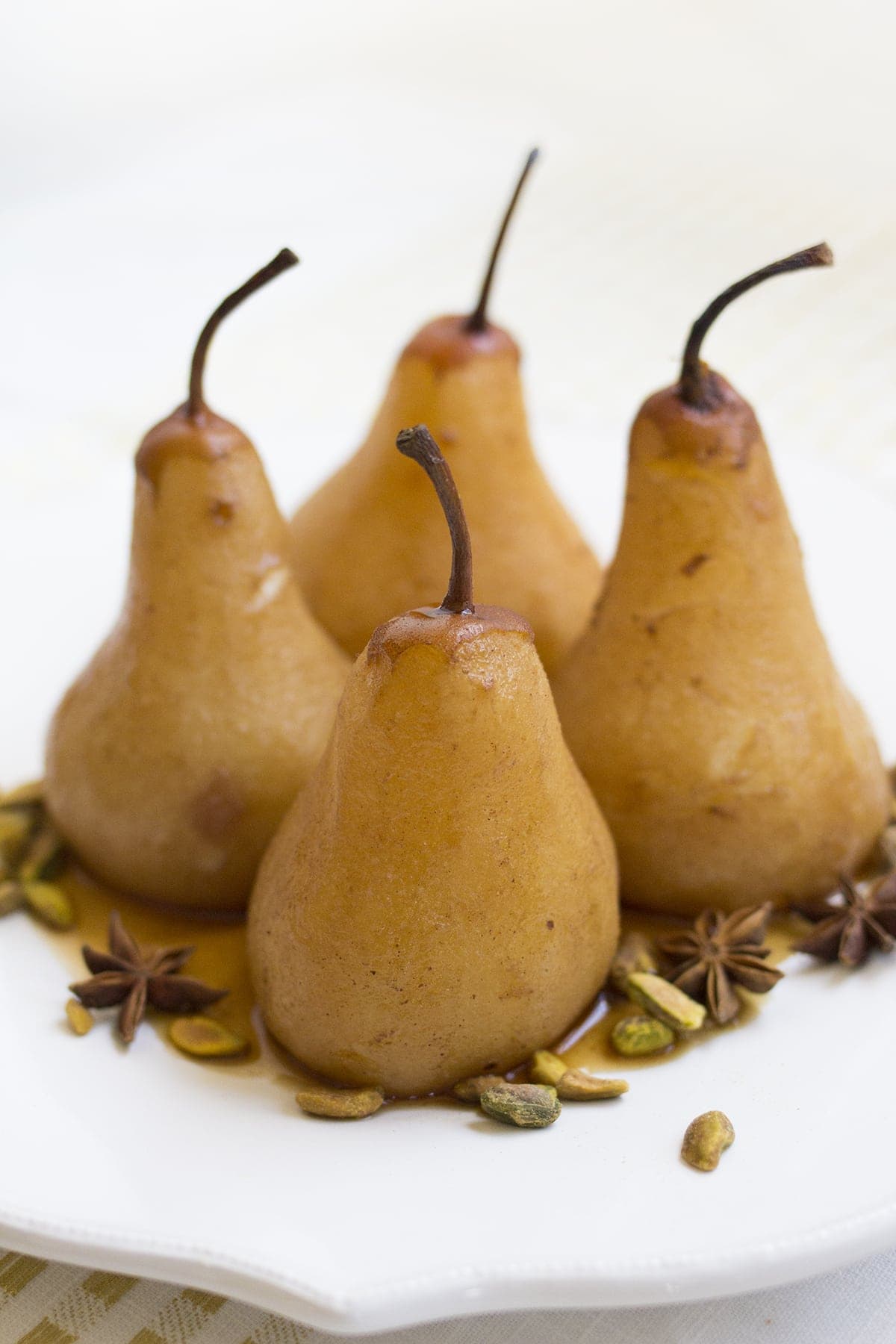 When it comes to cookbooks, Celebrations is gorgeous! It's a year of gluten-free, dairy-free, and paleo friendly recipes for every holiday and occasion bound in a beautiful hard cover and cock-full of bright and cheerful photography. While I don't personally have gluten-free or paleo food restrictions, I know quite a few people who do and this book is a delicious resource. This past Sunday I made the Chai Poached Pears for dessert along with homemade whipped cream (not in the book but very delicious) to accompany our pot roast. Danielle actually shares a coconut whipped cream (dairy-free) to accompany the pears which sounds delicious if you are indeed dairy-free.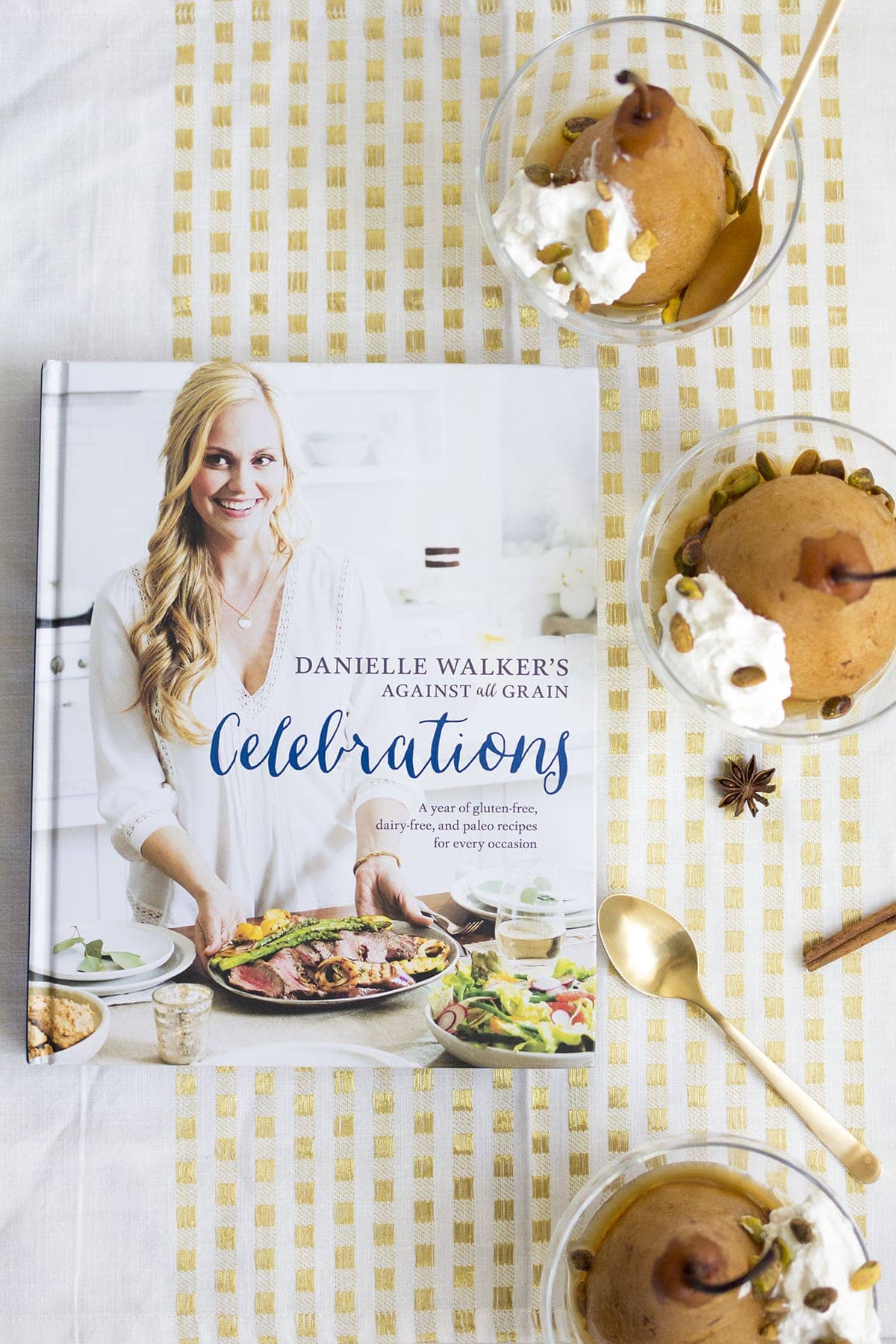 The air was cooler than usual this past weekend and the smell of the poaching pears mixed with the crock-pot pot roast cooking away was a little bit magical. We had all of the windows open to let the cool fall breeze in as I whipped up the cream to top the spiced pears. The resulting dessert was just perfectly sweet but not over the top with plenty of chai flavor and a nice crunch from the pistachios.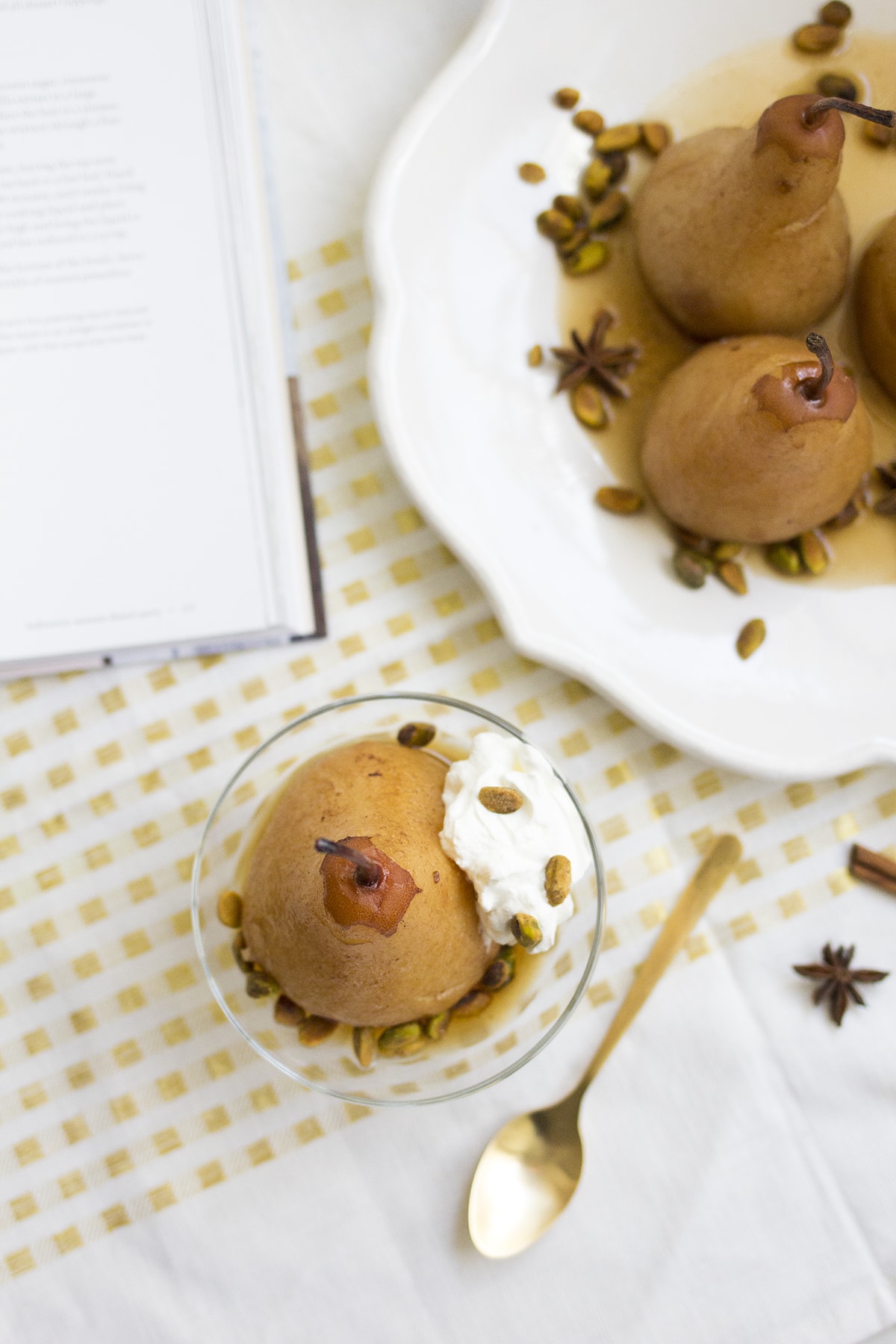 The twins ate the pears and whipped cream gladly, by the spoonful, and Jason and I couldn't wait until after dinner to enjoy them. Yup, they were that good.
I've flipped through the pages of Celebrations now at least a dozen times. It has me excited for the holidays with dishes like Prosciutto-Wrapped Glazed Shrimp, Curry Pumpkin Soup, and a beautiful Apple Sausage Stuffing that (alongside turkey) looks to-die for! Now I'm sneaking bites of the leftover whipped cream out of my fridge (the pears are long gone) and enjoying this fall weather. I'll definitely make this dessert again and again!
So, what are some of your favorite cookbooks? Any recommendations for my next review?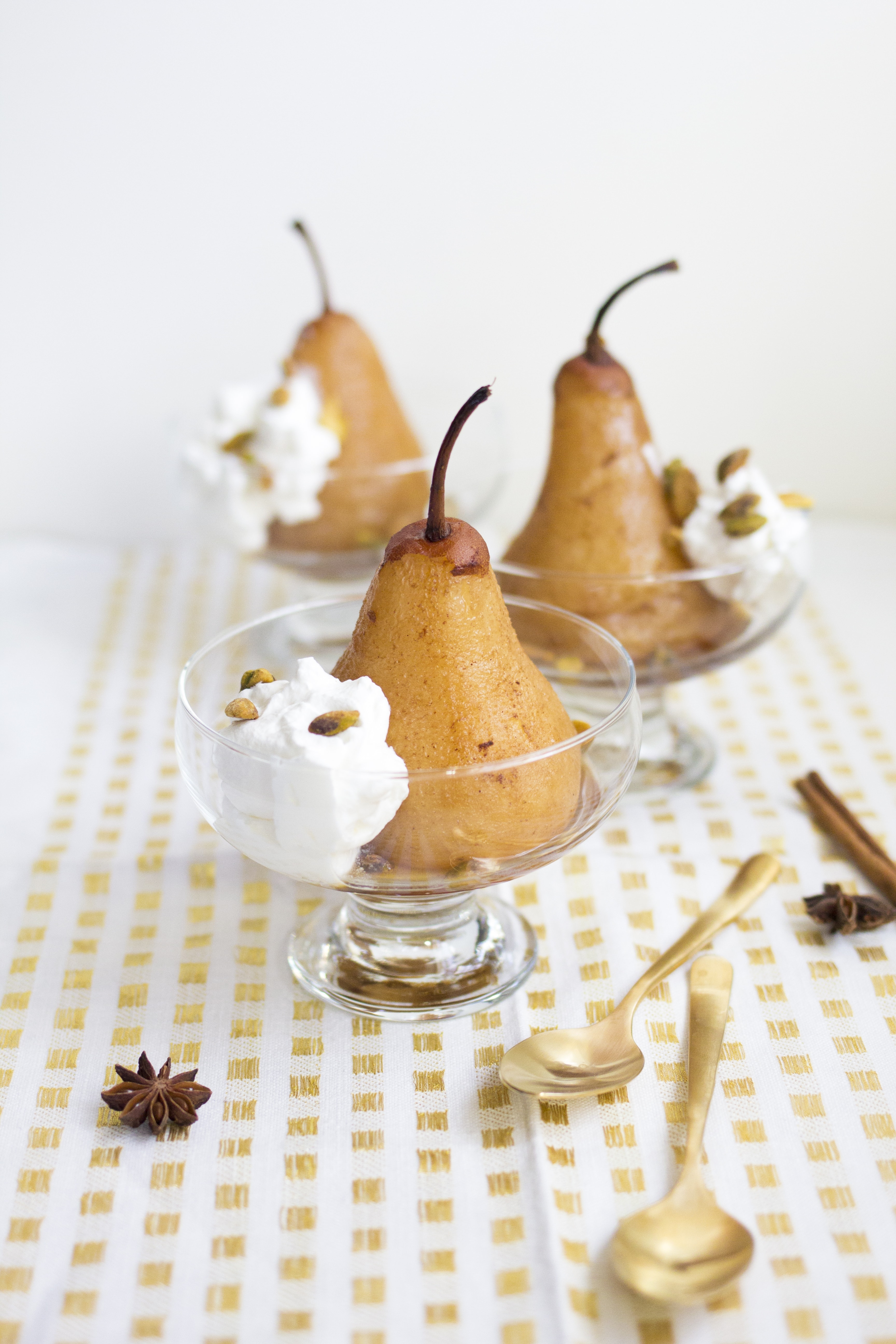 photos by Leah Bergman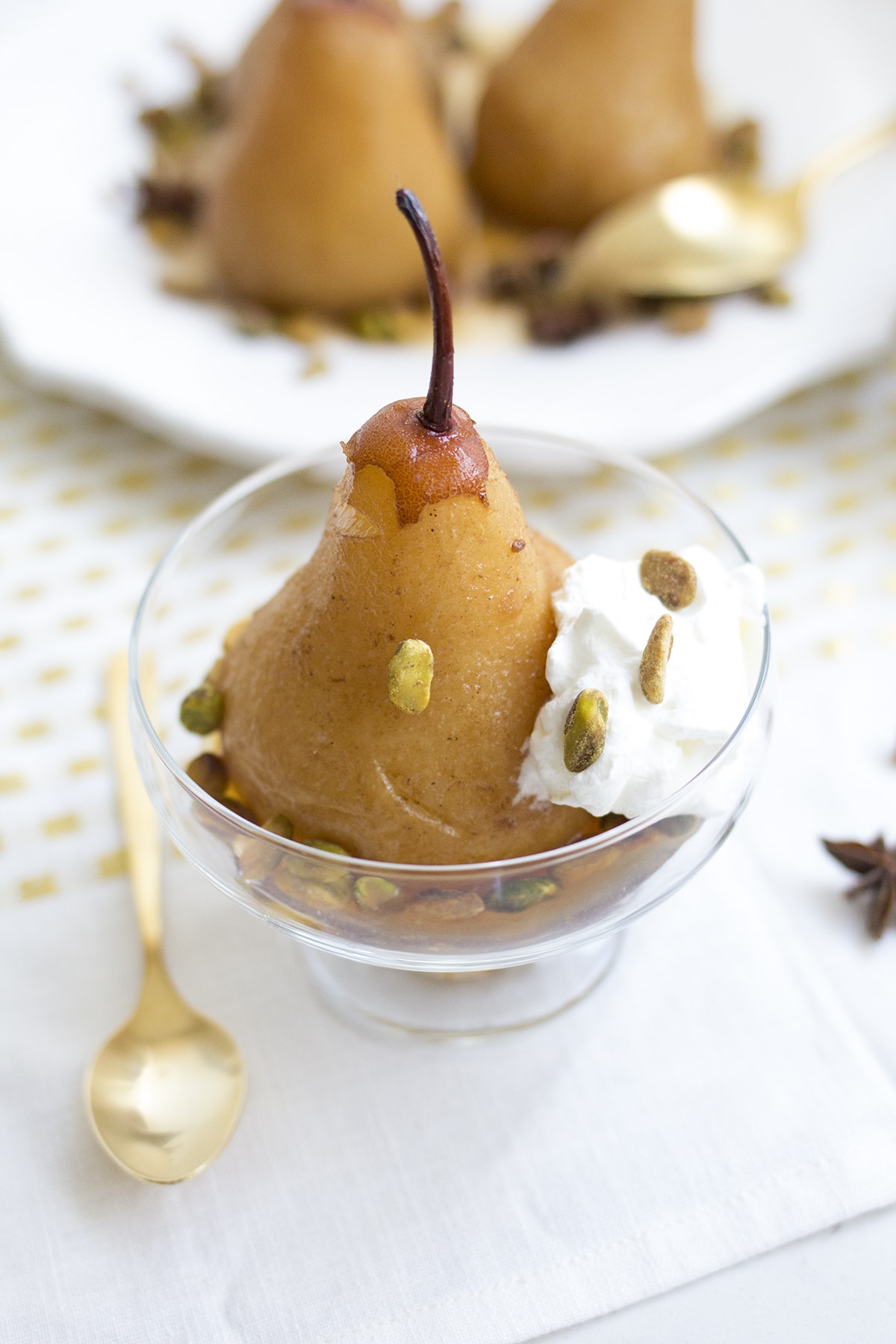 Chai-Poached Pears
2016-10-16 21:49:48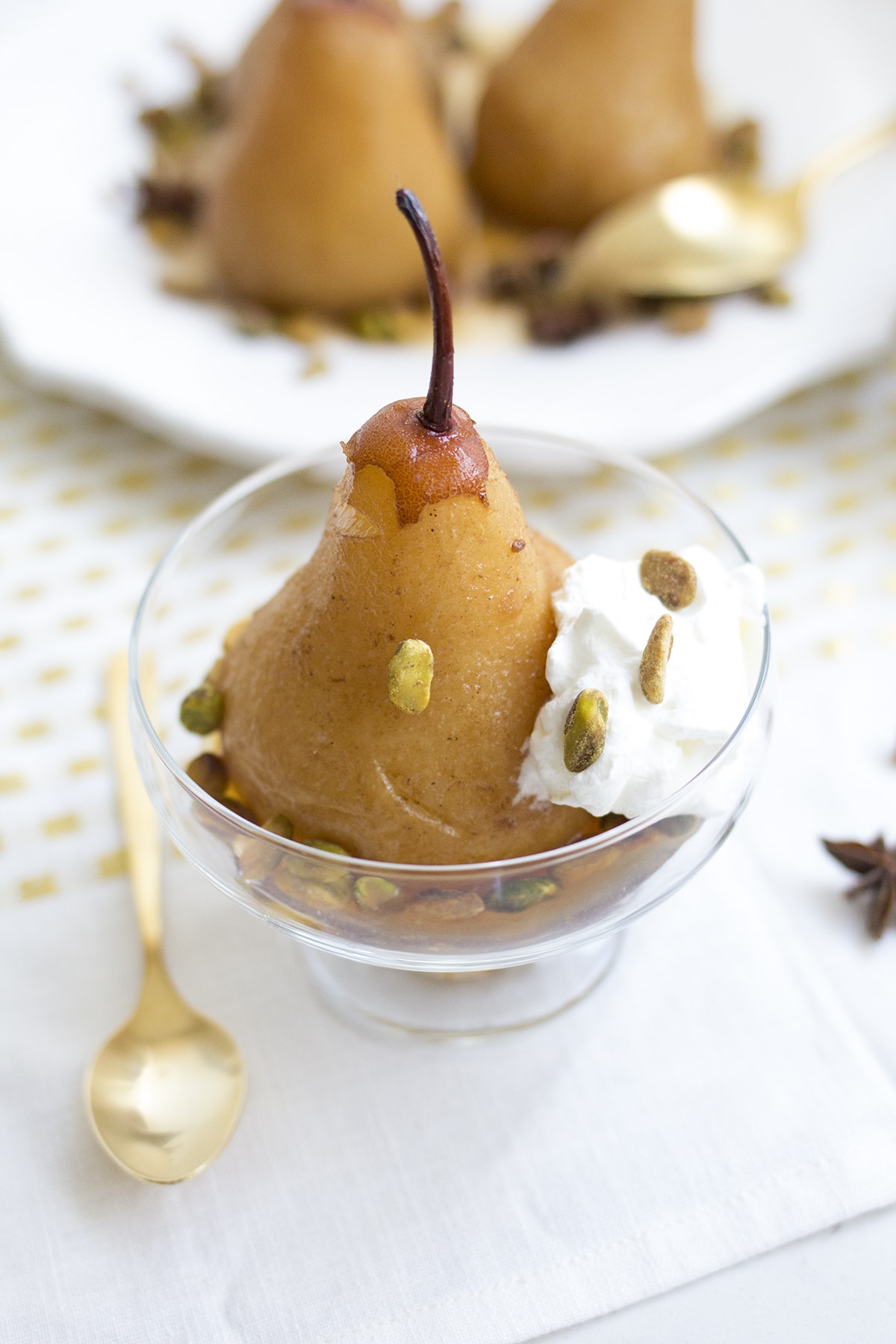 Serves 6
Ingredients
8 cups water
8 black tea bags
1⁄2 cup pure maple syrup
1⁄4 cup coconut sugar
1 cinnamon stick
1 tablespoon pumpkin pie spice
2 whole star anise
1 teaspoon pure vanilla extract
6 ripe but firm Bosc pears
Whipped cream
2 tablespoons raw pistachios, lightly toasted and chopped
Instructions
Combine the water, tea bags, maple syrup, coconut sugar, cinnamon stick, pumpkin pie spice, star anise, and vanilla extract in a large saucepan. Bring to a boil, then cover and reduce the heat to a simmer. Steep over low heat for 30 minutes. Strain the mixture through a fine-mesh sieve, then return the liquid to the pan.
Peel the pears and core them from the bottom, leaving the top stem intact. Place them in the pot and bring the tea back to a low boil. Poach the pears over medium-low heat for 30 to 40 minutes, until tender. Using a slotted spoon, remove the pears from the cooking liquid and place them in serving bowls. Increase the heat to high and bring the liquid to a boil. Boil for 15 minutes, or until the liquid has reduced to a syrup.
Spoon the syrup over the pears and into the bottom of the bowls. Serve with a dollop of whipped cream and a sprinkle of toasted pistachios.
Notes
The pears can be poached and the poaching liquid reduced up to 2 days in advance. Store the pears in the liquid in an airtight container in the refrigerator. Reheat the pears in a saucepan with the syrup over low heat.
Adapted from Celebrations
Freutcake https://www.freutcake.com/
The Book: Danielle Walker's Against All Grain Celebrations: A Year of Gluten-Free, Dairy-Free, and Paleo Recipes for Every Occasion
Disclosure: The cookbook Celebrations was gifted to me but all thoughts about the book are my own.