In the mood for sweet, sticky, slightly spicy takeout? These Sticky Baked Asian Chicken Thighs served over fluffy white rice will curb all of your cravings. The best part, they only take 30 minutes to make!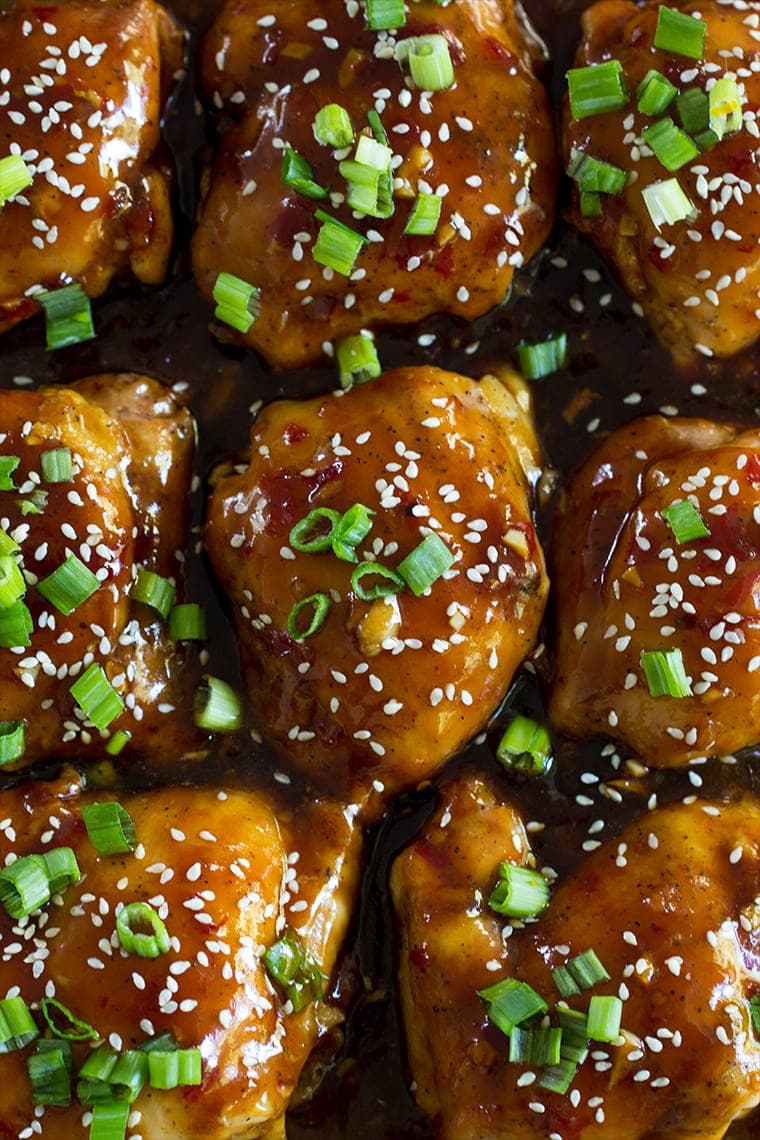 Sticky Baked Asian Chicken Thighs
I love an easy dinner that takes 30 minutes from start to finish and my Sticky Baked Asian Chicken Thighs are just that. I've already made them TWICE this week because they really are that darn good.
Chicken thighs are an underestimated cut of meat, in my opinion. They are super affordable, tender, full of flavor and cook quickly! Plus, if you are cooking for kids, this is a good meat to try because it won't dry out and it's soft for little teeth.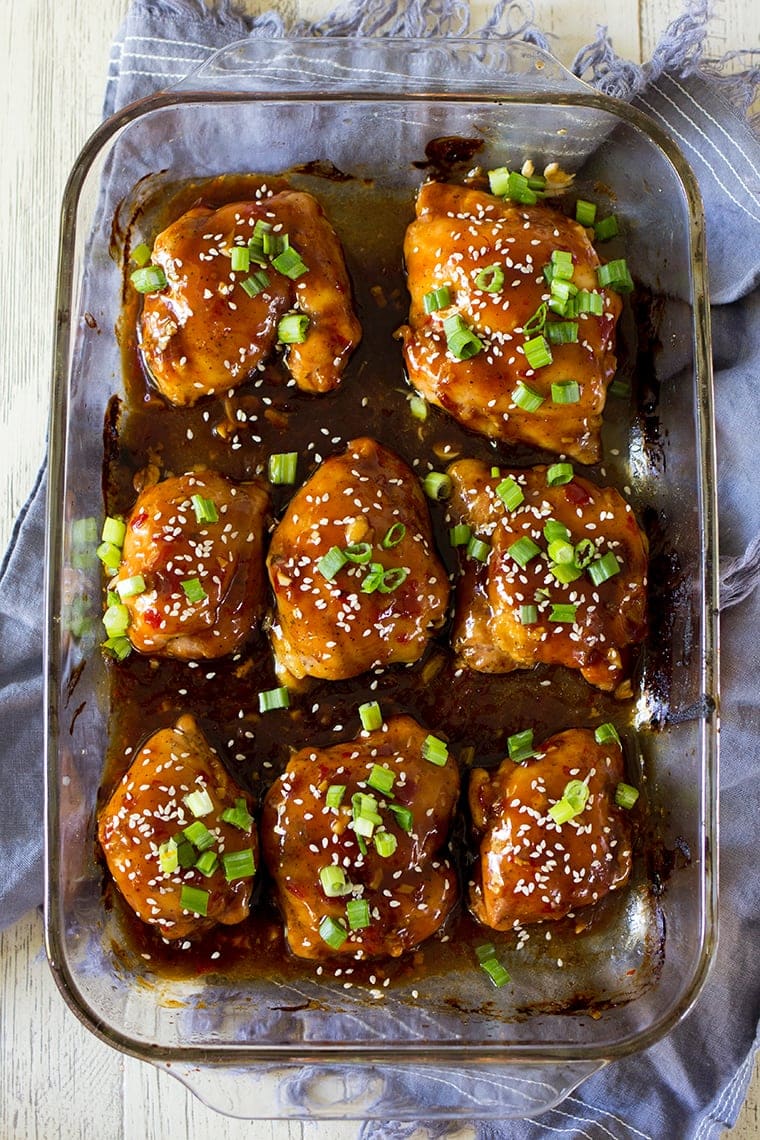 Cooking Chicken Thighs
I chose to buy boneless and skinless chicken thighs for my Sticky Baked Asian Chicken Thighs because they bake up in the oven in less than 30 minutes. When Cooking Chicken Thighs, you just want to make sure that the meat is cooked through and the juices are clear when cut through the center. If you are using a kitchen thermometer, the safe internal temperature for cooked chicken is 165° F.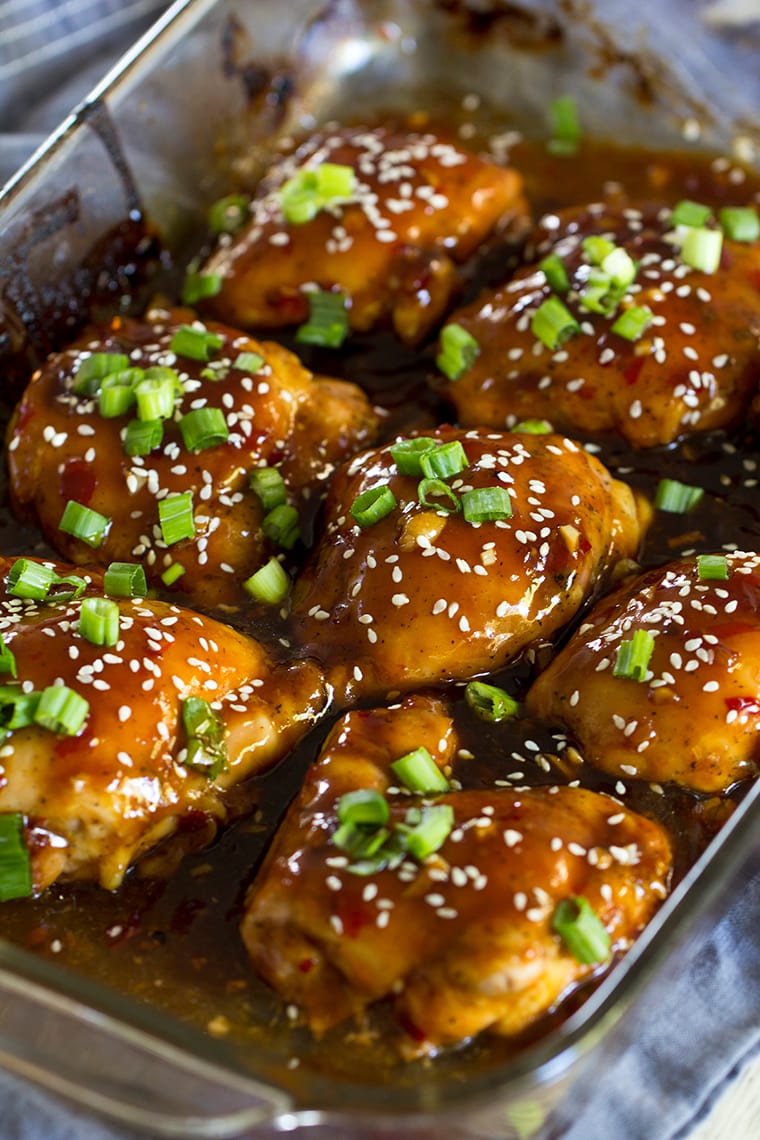 Sticky Asian Glaze
This recipe came to be purely out of experimentation. I knew I wanted a Sticky Asian Glaze on my chicken so I pulled all of these ingredients out of my cabinet:
Sweet Chili Sauce- ok, I had this in my refrigerator (not my cabinet)...it's a favorite!
Soy Sauce- essential for any Asian flavored sauce.
Fish Sauce- this gives an authentic, salty, savory flavor to Asian cooking.
Fresh Garlic- gotta have it!
Orange zest & orange juice- I added this after tasting and realizing it needed some citrus.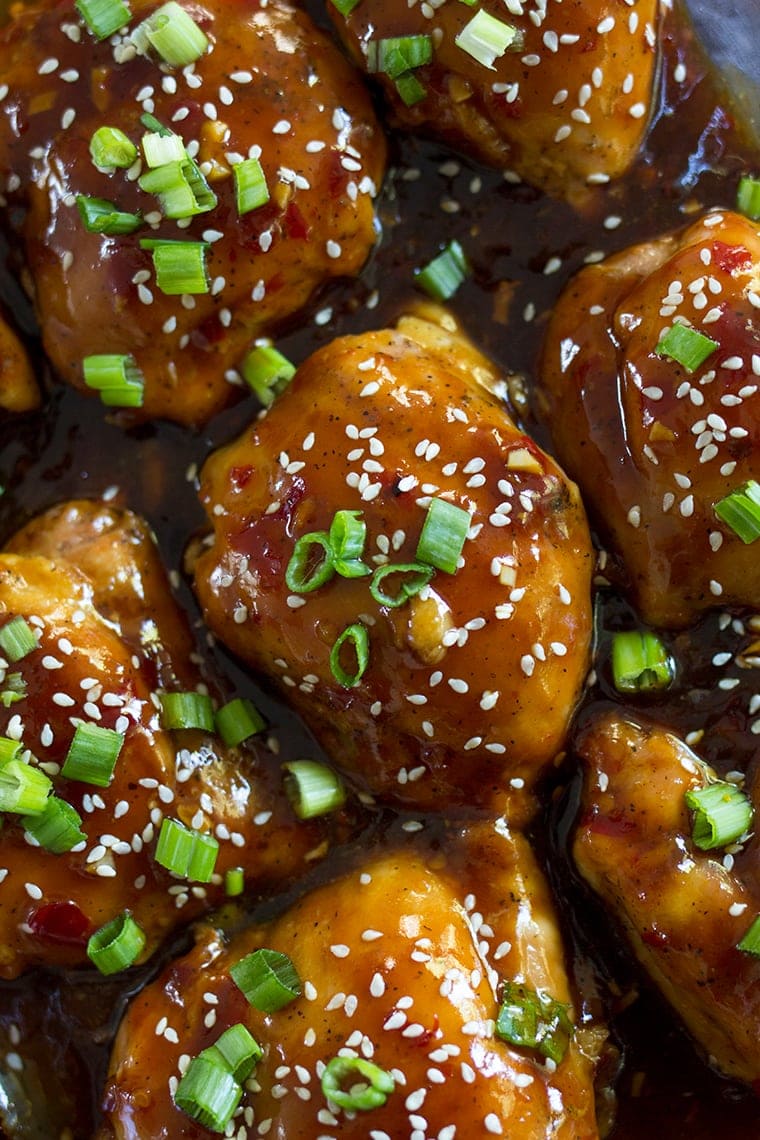 How to Make Sticky Asian Chicken
Whisk all of your sauce ingredients together until it is thick and reduced. This is the trick to getting a thick glossy glaze on your chicken thighs. Then just spread, bake and toss in more sauce! For garnish I topped the Sticky Baked Asian Chicken Thighs with chopped scallions and white sesame seeds.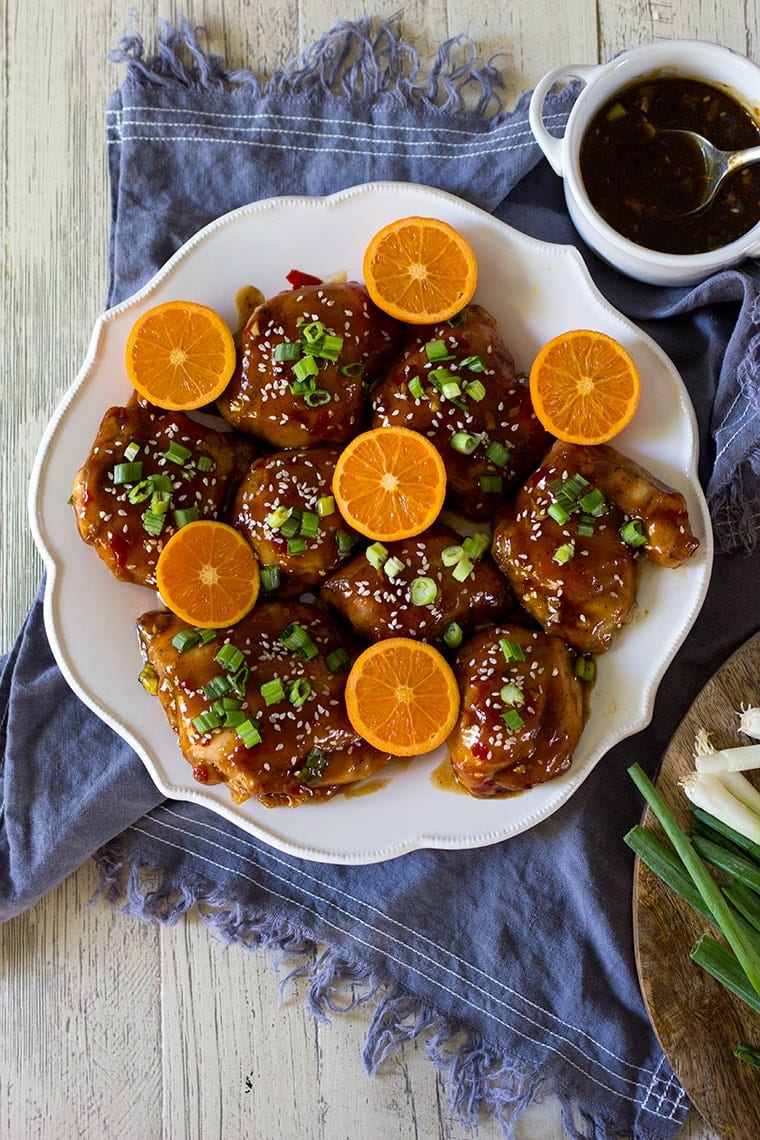 Quick Wasabi Slaw Recipe
Serve Sticky Baked Asian Chicken Thighs over a bed of fluffy white rice or with a side of quick and spicy wasabi slaw. For the slaw I make a fast dressing with Trader Joe's Wasabi Mayo whisked together with a few dashes of apple cider vinegar and salt and pepper to taste. Toss with a bag of pre-cut cabbage and carrot slaw and dinner is ready!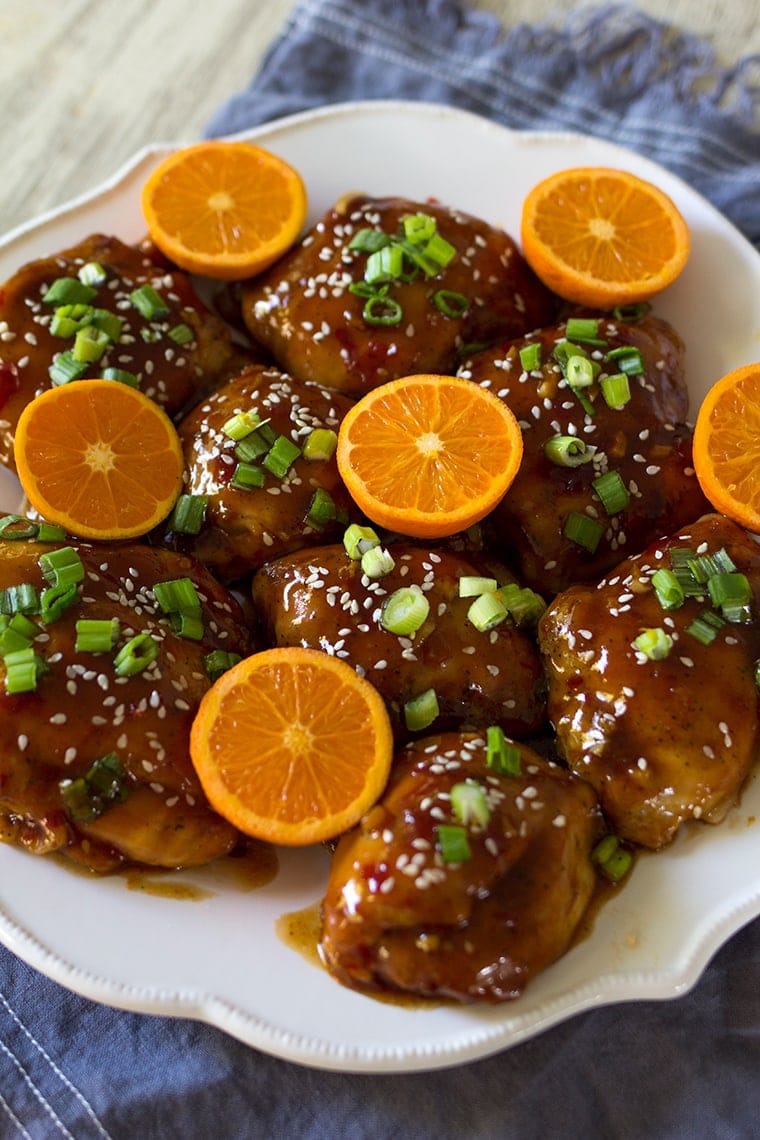 More Easy Weeknight Recipes to Try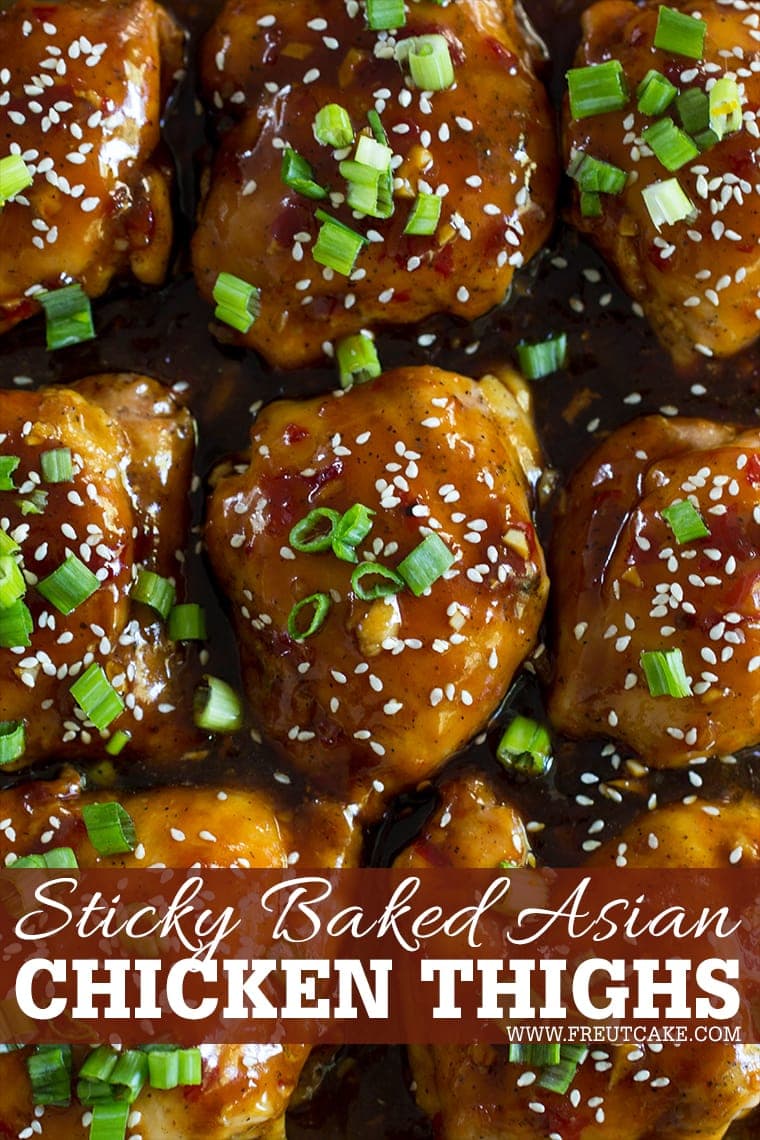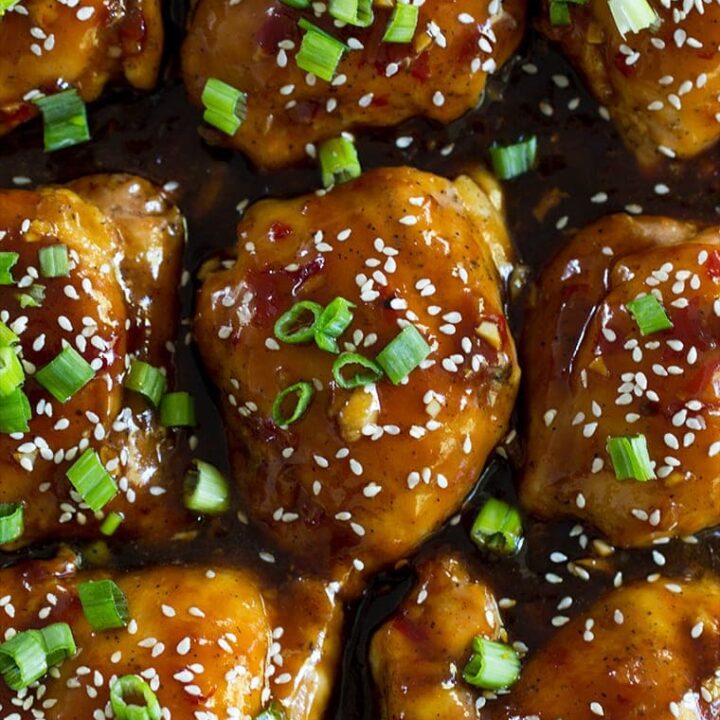 Sticky Baked Asian Chicken Thighs
Sweet, sticky and slightly spicy Baked Asian Chicken Thighs
Ingredients
8 boneless skinless chicken thighs
1 cup sweet chili sauce
½ cup soy sauce
2 teaspoons fish sauce
4 cloves garlic, minced
1 Tablespoon orange zest
juice of ½ an orange
¼ teaspoon pepper
more salt & pepper for seasoning chicken
olive oil
sesame seeds, for garnish
scallions (green onion), chopped for garnish
Instructions
Preheat oven to 400 degrees and place chicken thighs in a baking dish. Drizzle with olive oil and season with salt and pepper on both sides. Set aside.
In a small sauce pan, combine sweet chili sauce, soy sauce, fish sauce, minced garlic, orange zest, orange juice and pepper. Whisk to combine.
Place pan on stove over high heat and bring to a boil. Reduce and simmer on medium low, whisking frequently until sauce reduces and slightly thickens about 5-7 minutes.
Spoon about 1 Tablespoons worth of sauce over each chicken thigh and use tongs to toss coating all sides.
Place chicken in the oven and bake 20-25 minutes or until chicken is cooked through and juices run clear in the center.
Remove from oven and place cooked chicken thighs in reserved sauce. Toss to coat.
Serve while hot garnished with sesame seeds and chopped scallions.