Christmas Sugar Cookie Bars with Cream Cheese Frosting are irresistible little squares of almond sugar cookie bar topped with the creamiest homemade frosting.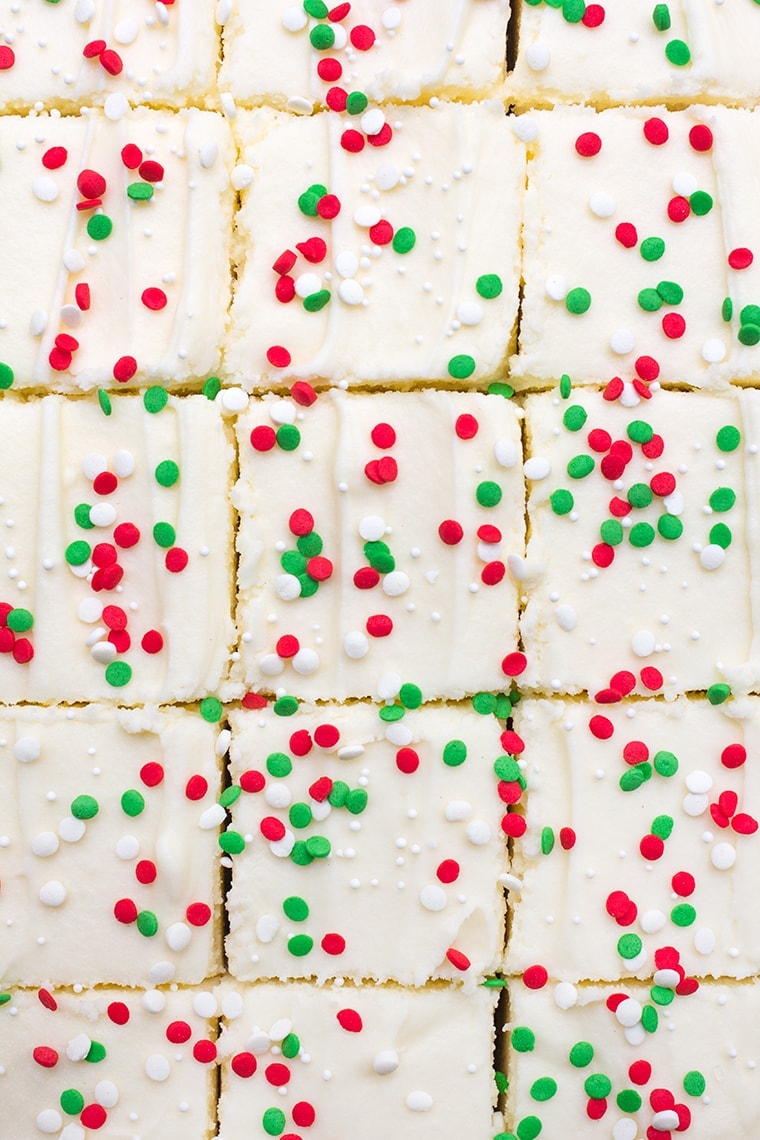 Sugar Cookie Bars
Cookie bars! Cookie bars! Fa-la-la-la-lahhh! These almond infused sugar cookie bars are pure heaven. If you love the sweet and chewy taste of a classic sugar cookie but hate the fuss of cookie cutter (I get it) then this recipe is for you. Of course if you would like nothing more than a classic cut out sugar cookie recipe that doesn't spread, I've got that here for you too!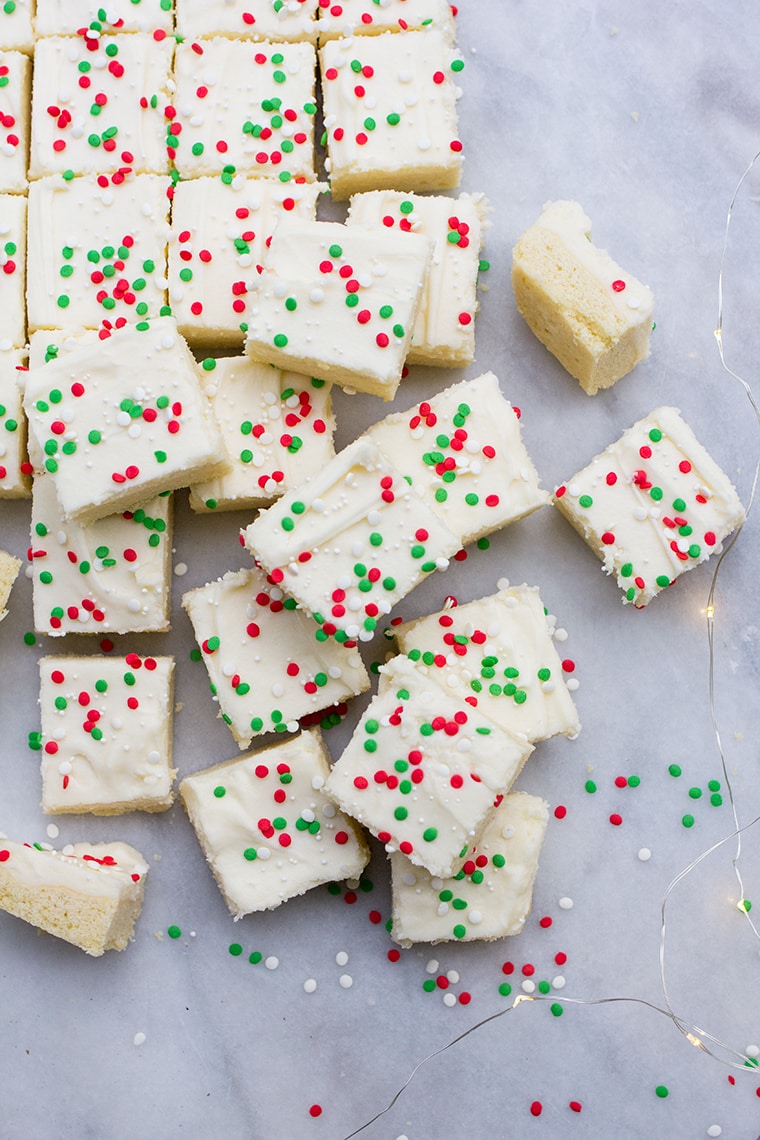 These would be a great alternative to traditional cookies for Santa or just a sweet bite to serve while decorating the tree, wrapping gifts, or hosting friends. The secret to the delicious flavor is all in the almond extract.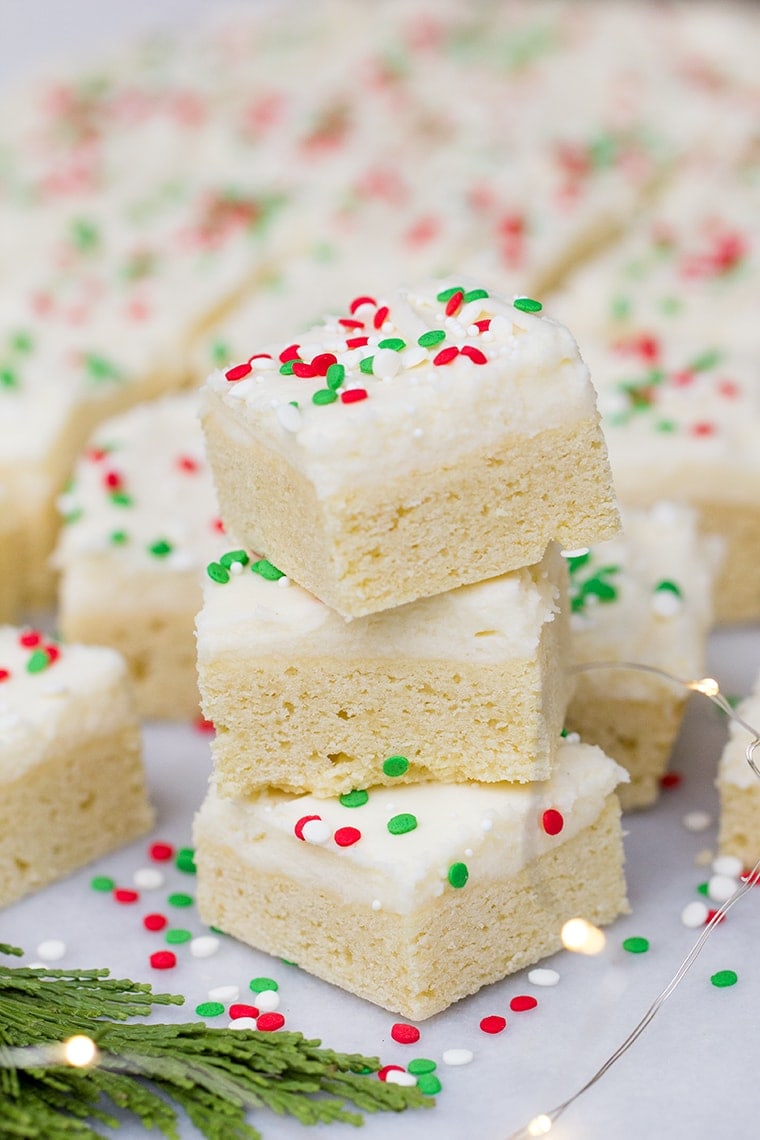 Almond Extract Sugar Cookies
If you've never added almond extract to your sugar cookies, you are missing out on a classic flavor! It's almost hard to detect mixed with vanilla extract but gives the cookies a deeper flavor than just butter and sugar. Also, I add a splash to my cream cheese frosting because I'm a total fan of the flavor it gives.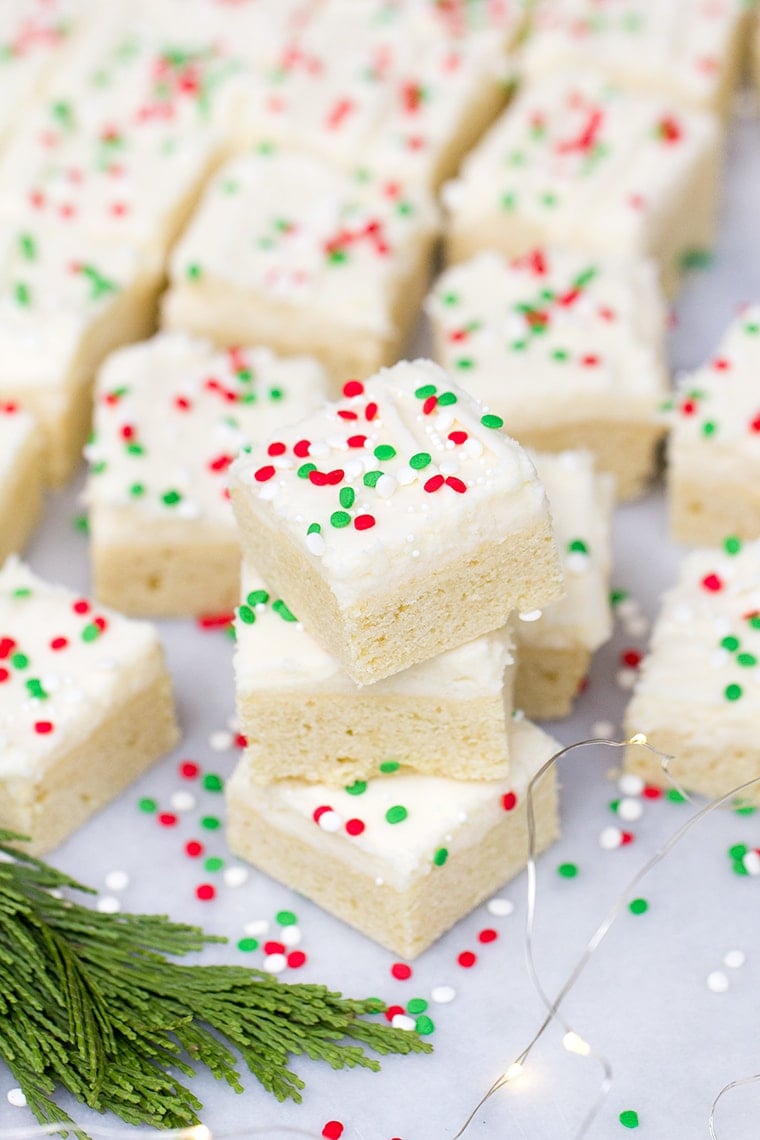 Serve these bars cold out of the fridge or bring to room temp just for 10 minutes or so before serving. I like the denseness that comes with a cold cookie bar and how the frosting sets up really thick. Although if you prefer a softer frosting, definitely bring them out ahead of time to take the chill off. These bars would be perfect served with coffee, tea or your favorite spiked beverage. Merry Christmas!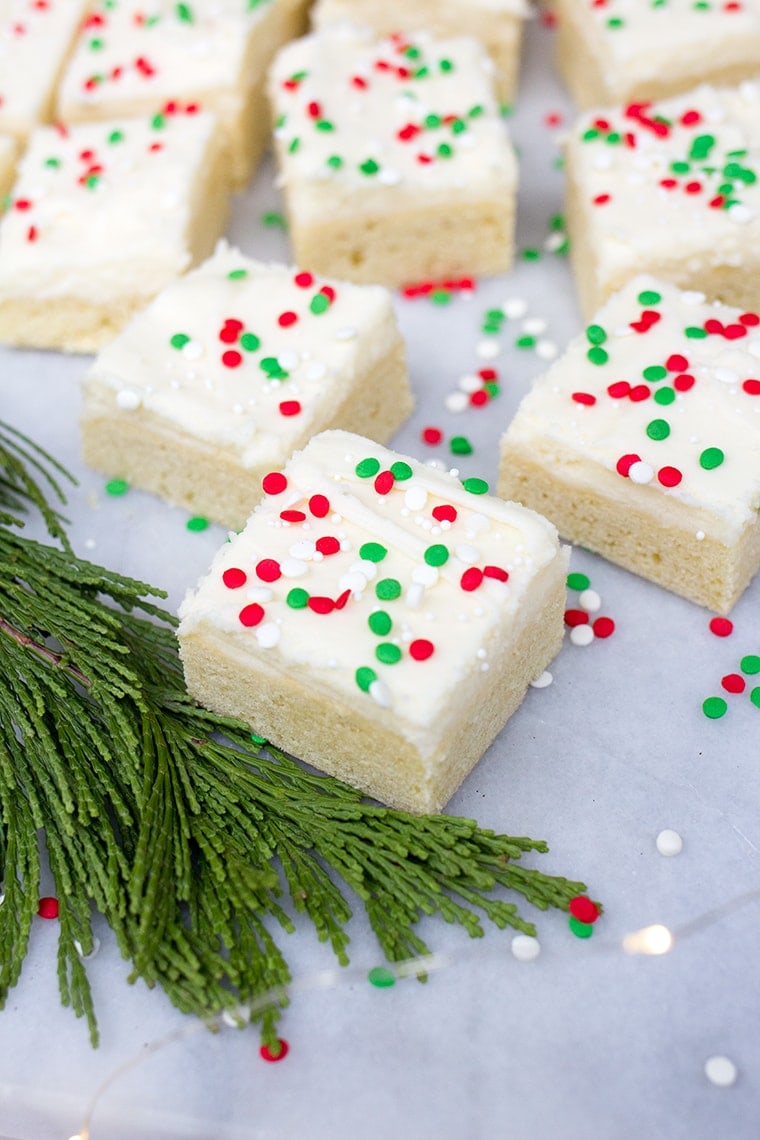 If you liked this post you might also enjoy my recipe for Chewy Ginger Cookies!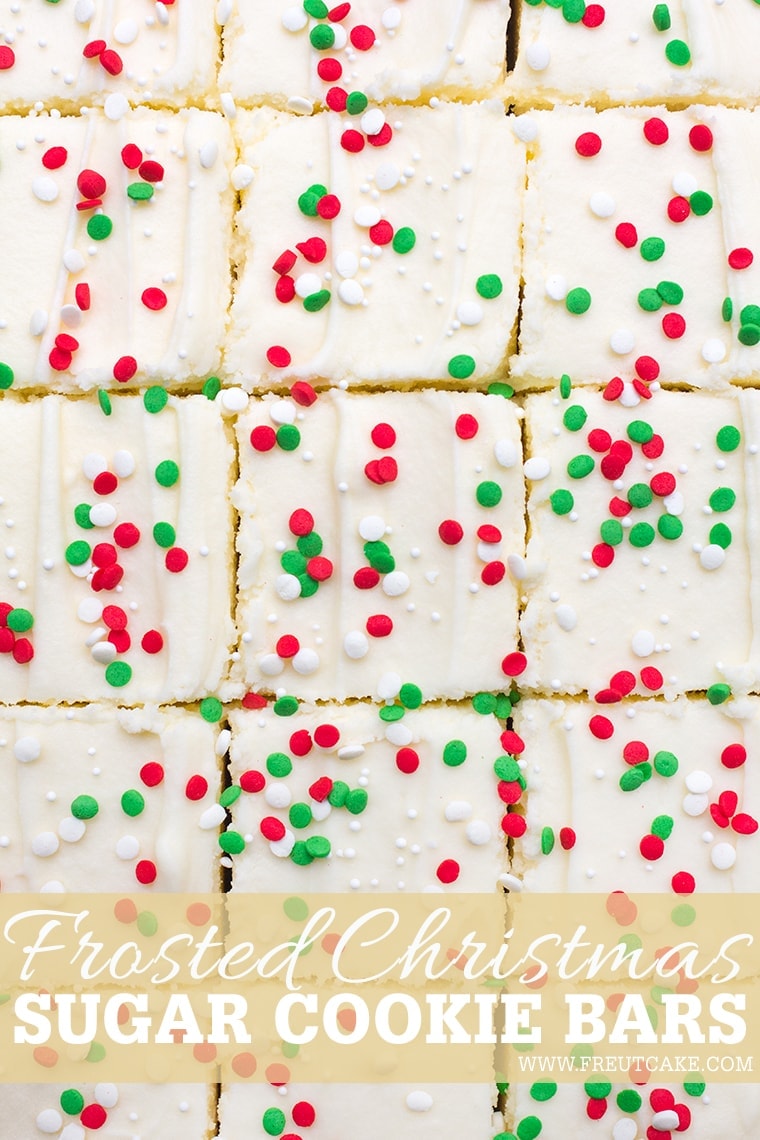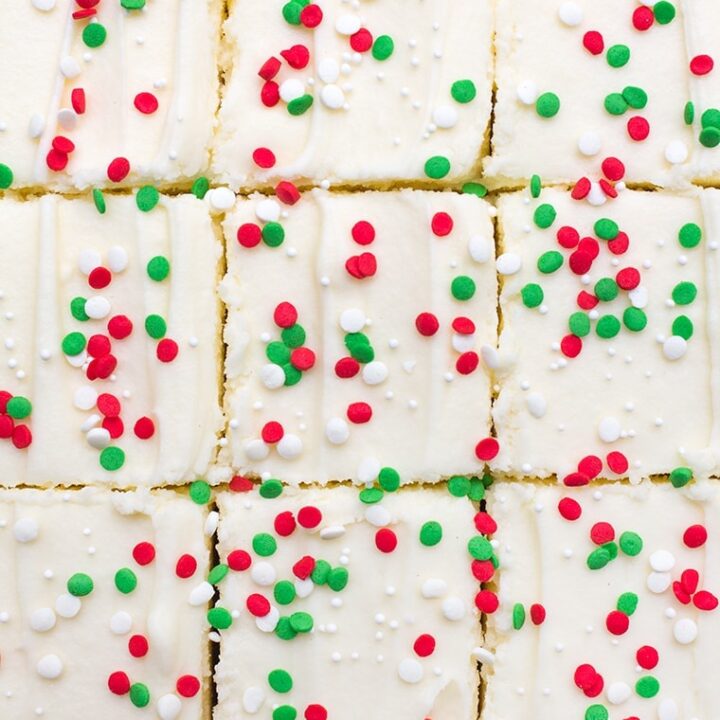 Christmas Sugar Cookie Bars with Cream Cheese Frosting
Soft and chewy almond flavored sugar cookie bars topped with a decadent cream cheese frosting.
Ingredients
¾ cup unsalted butter, at room temperature
1 cup granulated sugar
2 large eggs
½ teaspoon almond extract
½ teaspoon vanilla extract
2 ½ cups all-purpose flour
1 teaspoon salt
1 teaspoon baking powder
Cream Cheese Frosting:
8 oz cream cheese at room temperature
¾ cup unsalted butter at room temperature
½ teaspoon vanilla extract
½ teaspoon almond extract
3 cups confectioners sugar
pinch of salt
sprinkles for decoration
Instructions
Preheat oven to 350 degrees.
In the bowl of an electric mixer, cream together butter and sugar scraping down the sides.
Add in eggs, almond extract, vanilla extract and mix until combined.
In a separate bowl, whisk together flour, salt and baking powder.
Add dry ingredients to the butter and egg mixture and beat slowly until combined. Don't overmix.
Grease a ¼ sheet pan with butter and line with parchment paper for easy removal.
Spread cookie dough into pan. You will need to use your hands to pat and spread dough into all of the corners. TIP: Butter or nonstick spray on clean hands helps the spreading go faster.
Bake at 350 degrees for 15-20 minutes or until the cookie bar is set in the center and edges are only slightly golden. Do not over-bake if you want chewy soft cookie bars!
Remove from oven and let bars cool in the pan for about 10 minutes. They are easy to remove once they have cooled down a bit. Simply lift the parchment and transfer to a cooling rack to cool completely.
While the cookie bars cool make the cream cheese frosting! Note: the bars must be completely cool before frosting. I actually returned my cooled cookie to the baking sheet and placed it in the fridge to until I was ready to frost.
To make the frosting, beat together cream cheese and butter, until light and fluffy.
Add in vanilla, and almond extracts, and a pinch of salt and beat until combined.
Slowly add in confectioners sugar a little bit at a time until it's all mixed in.
Spread frosting over COMPLETELY COOLED cookie and refrigerate until firm.
Remove from refrigerator, decorate with red, white and green sprinkles, slice and serve.