Pop champagne! Dance on the counter tops! The kitchen is finished! Well close enough, and while I'm not quite popping bubbly, its high time I shared an update on our progress. With the early arrival of our babies, and the holidays shortly after, our little fixer-upper has taken a back seat to everything else we have going on. But 2016 is my year I tell you and I'm resolving to finish projects room by room starting with this kitchen, thanks to a little help from Samsung.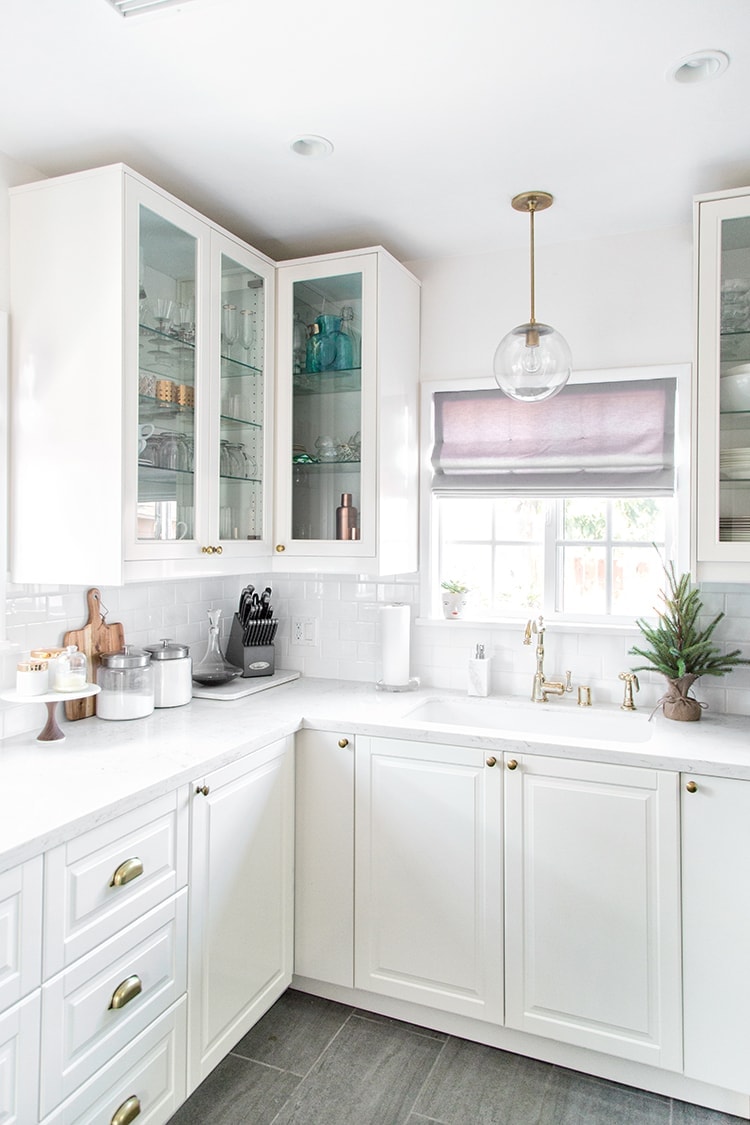 If you remember I shared a look at our kitchen before the remodel here and my design inspiration. My vision for the small space was simple: clean and modern tile, white counter tops, white cabinets with glass fronts to visually open up the space and brass hardware. All in the hopes that keeping the kitchen mostly white and grey would make it feel light and airy.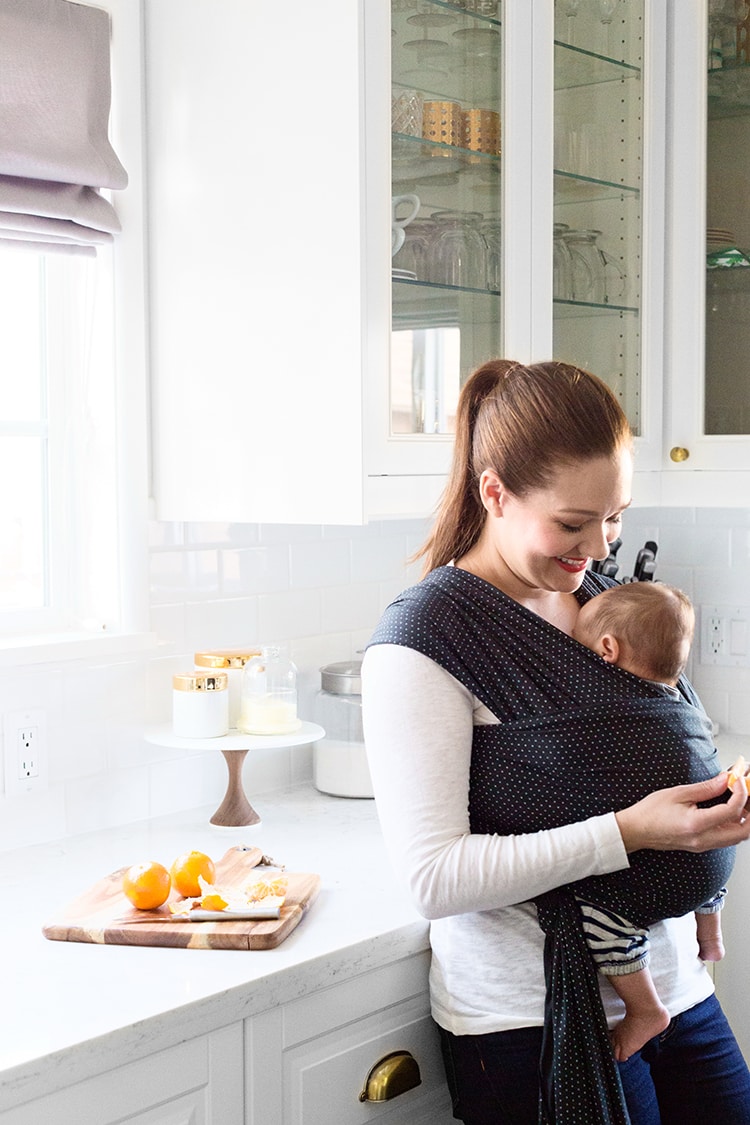 But with any new kitchen comes the dreaded shopping for new appliances. Why is that so stressful? Appliances are a huge investment and it's scary to think you might be spending your money on something you won't love. Because I use our kitchen, a lot, Jason and I wanted to invest in nice appliances that we can enjoy for years to come. After all, I've been baking in apartment ovens and cleaning out used apartment refrigerators for most of my adult life! How many of you can relate?
So, I partnered with Samsung to pick out our refrigerator and other appliances for our new home. I have to say, it was so helpful to have help in this department! Samsung invited me to visit one of their Samsung Open Houses at Best Buy to see how their appliances work and see how they would look in my kitchen.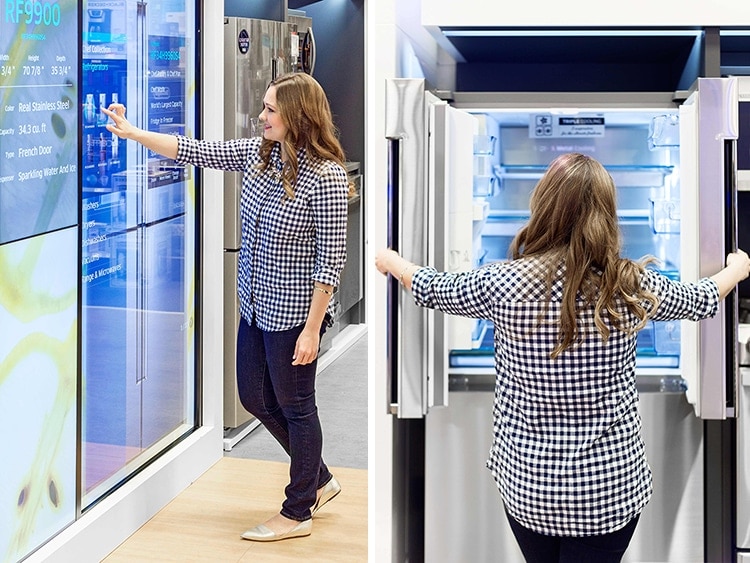 It was pretty darn cool, I must say, and very interactive! In the end we decided that the counter-depth Samsung 4-Door Flex French Door Refrigerator would work best in our space. Plus the idea of being able to convert one of the two freezers into a wine fridge or better yet a dessert fridge was just too good to pass up. Although currently both freezers are working overtime as breast milk storage for the twins. Let's keep it real here friends, there's not a whole lot of wine drinkin' going on!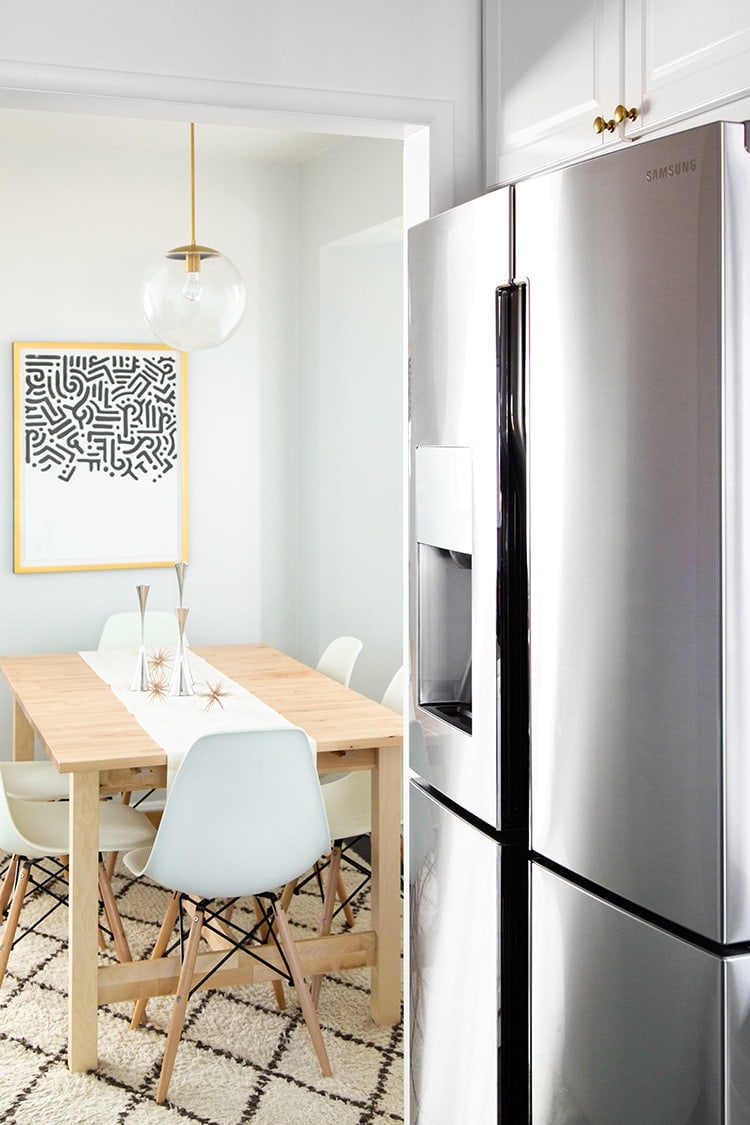 Sadly, we didn't get the higher-end model with the sparkling water dispenser, (gah!) can you imagine? Sparkling or still, darling? However, I'm loving our new fridge and double freezer, sparkling water or not! It has way more space than I am used to and I love that I can control the temperatures of all the zones. Plain and simple, it's fancy-shmancy and keeps our food super fresh!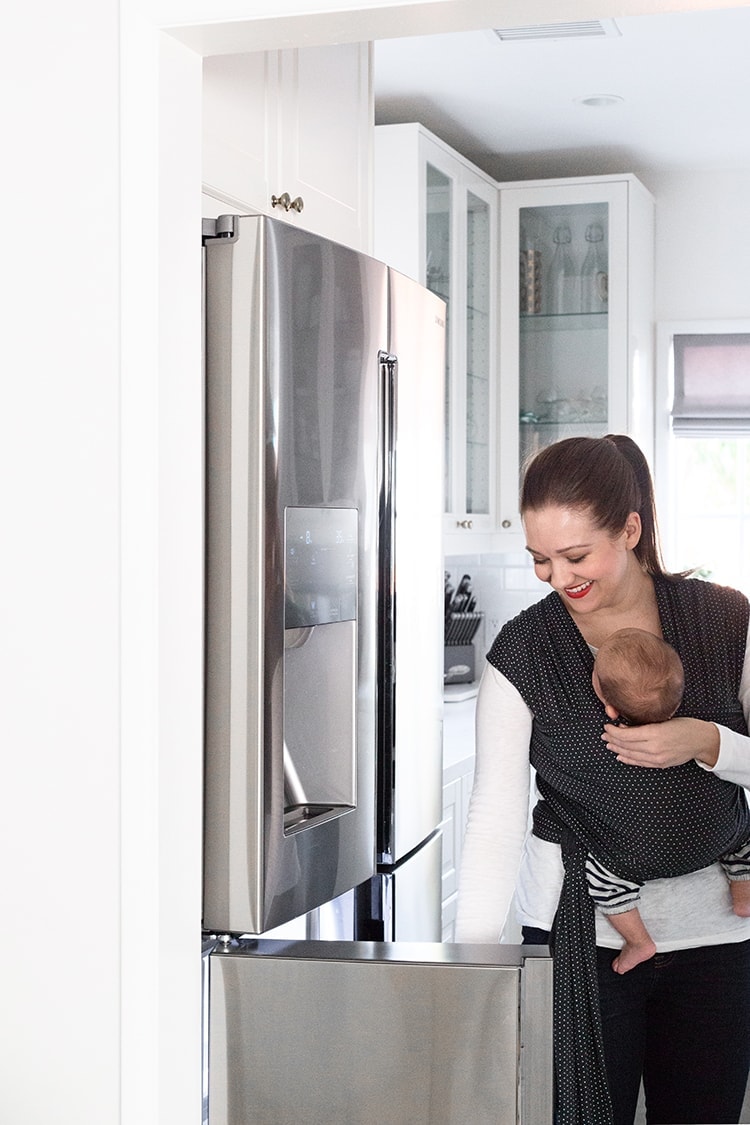 Now moving on to tile decisions! One of my favorite features in the kitchen is the tiled wall behind our range. Originally I wanted this to be a focal point in the kitchen and so I picked out a gorgeous grey and white patterned tile to cover the wall. Blame it on my pregnancy brain at the time or the hormones but the day before install I changed my mind and went with a small glossy white lantern tile instead. I'm so thrilled with the way it turned out and love that the tile adds a pattern to the space without distracting with color.
Oh, and don't mind the only half installed hood vent seen below...didn't I mention this was a work in progress?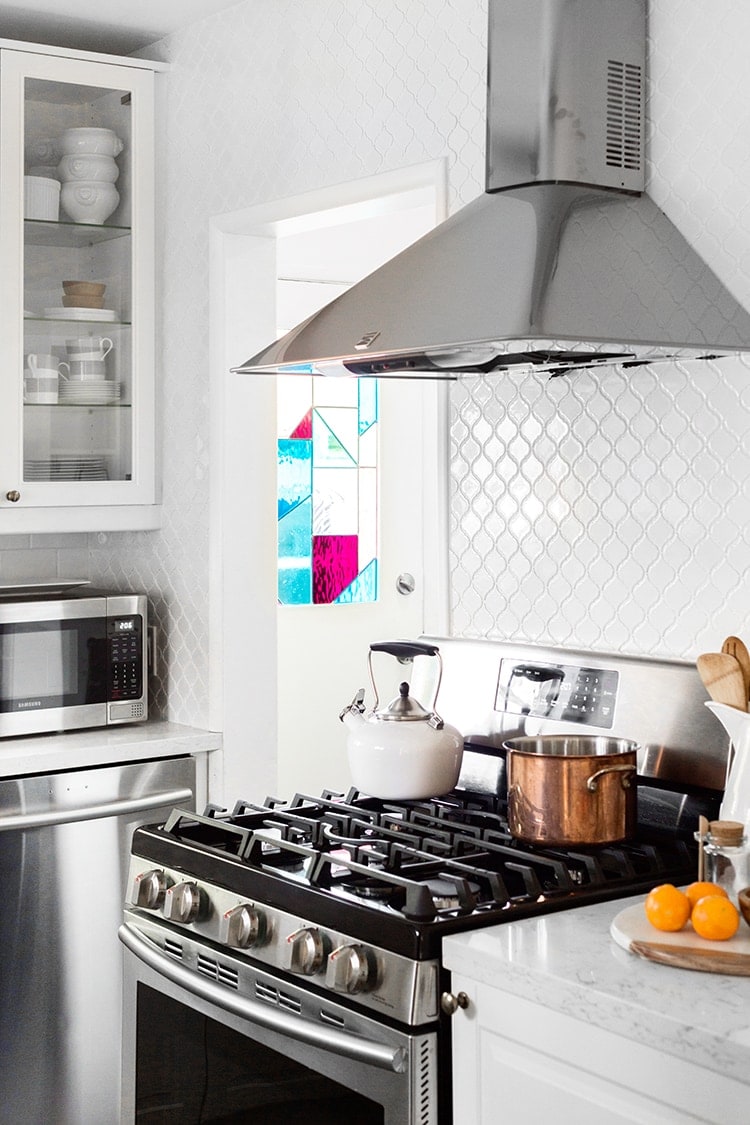 As for the rest of the kitchen, I'm super happy with the way the design turned out! I shared all of the sources in this past post and I'll link to the appliances we ended up purchasing at the end if you're interested.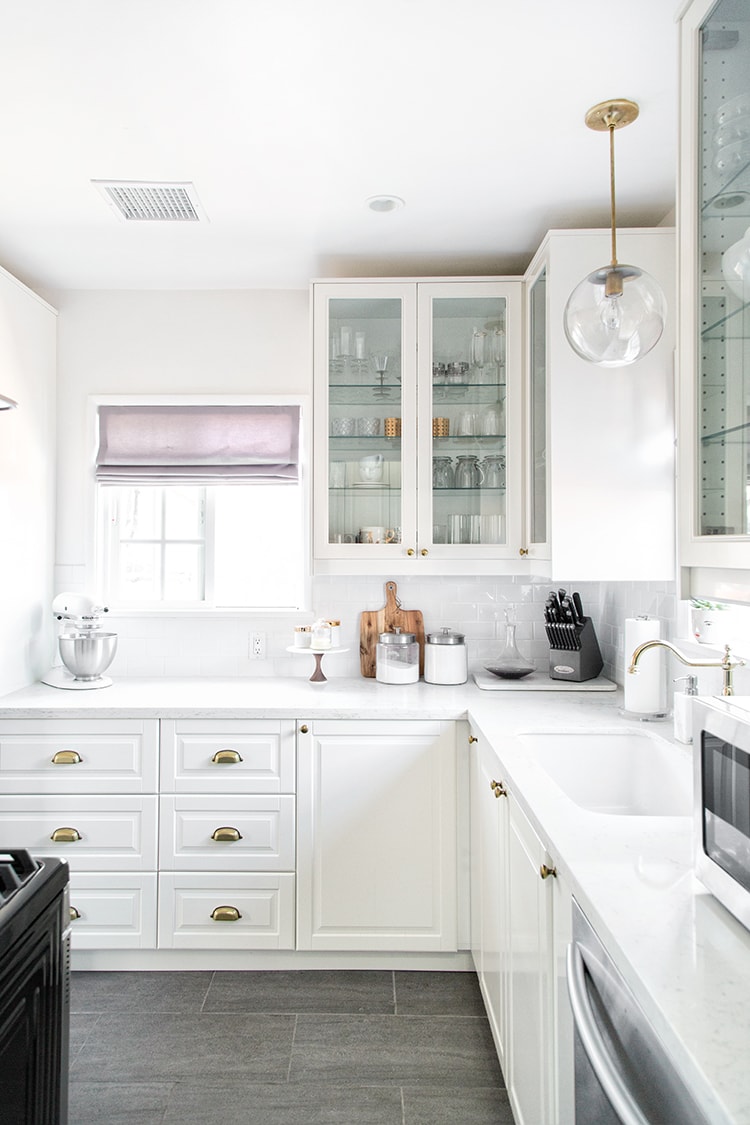 There are still a few final touches I would like to add like hanging my vintage brass jello molds above the window and adding a few accent shelves, but the kitchen is already my favorite room of the house!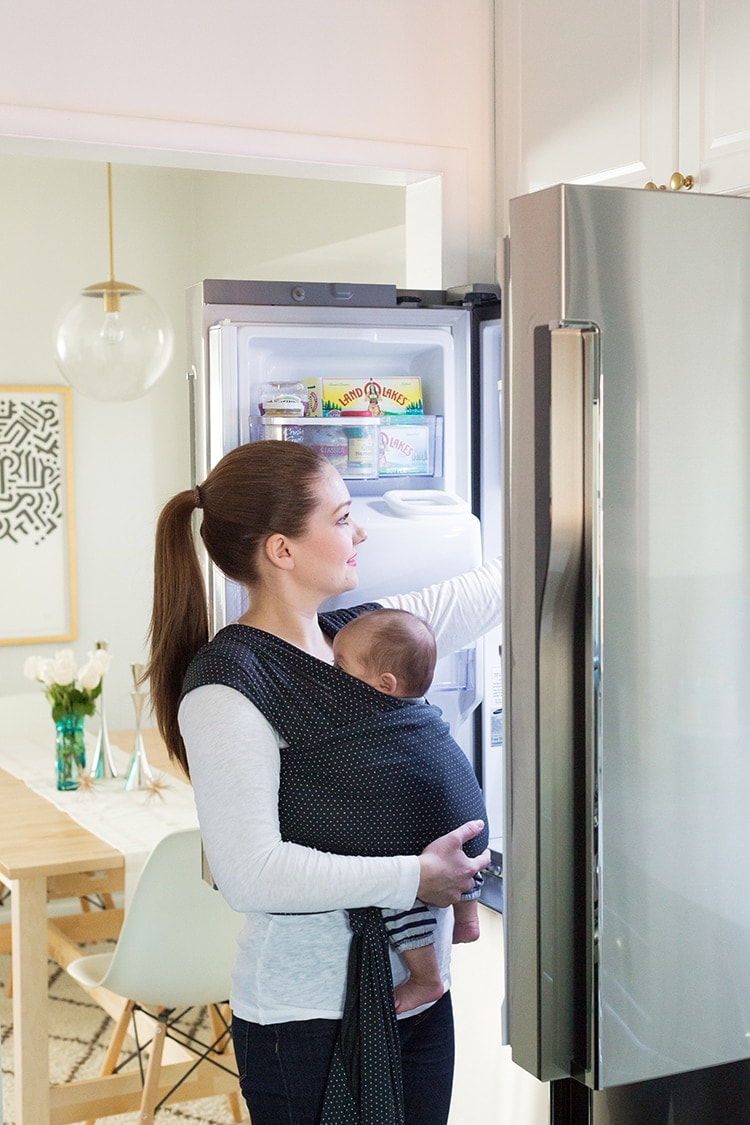 On a final and completely unrelated note, how cute are these little baby feet courtesy of Jackson who loves being carried around in his wrap?! Thank goodness because I've got my hands full!
You can find more of our renovations here & on my Instagram #FreutcakeFixerUpper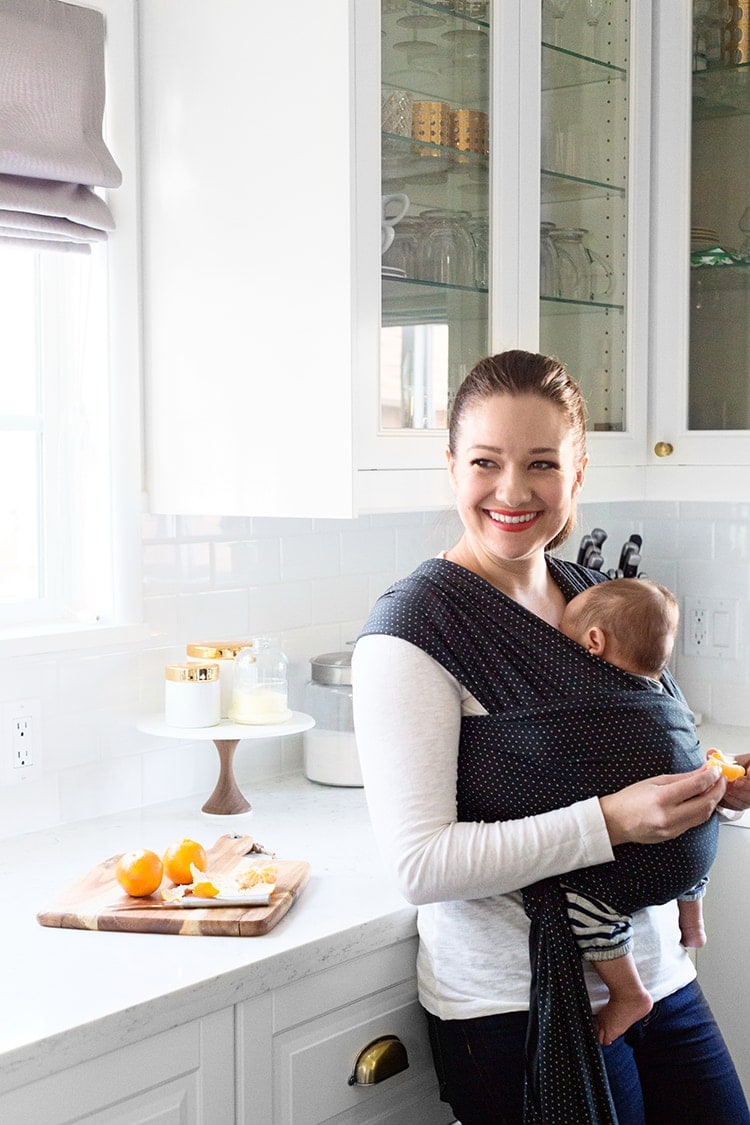 photos by Jeff Mindell
Our Appliances:
Gifted:
Samsung - 22.5 Cu. Ft. 4-Door Flex French Door Refrigerator with Convertible Zone
Purchased:
Samsung - 30" Self-Cleaning Freestanding Gas Convection Range
Samsung - 24" Tall Tub Built-in Dishwasher with Stainless Steel Tub
Disclosure: This post was sponsored by Samsung however all opinions expressed here are my own. I was gifted appliances in exchange for this post. For more on Samsung check out #herestohome on social media. Thank you for supporting the sponsors who support Freutcake!
Save
Save
Save