It's always a good idea to have at least one no-bake, easy, and impressive dessert up your sleeve. For me it's Berries & Cream Parfaits made with store-bought pound cake, fresh berries, jam and easy Almond Breeze vanilla bean "cream."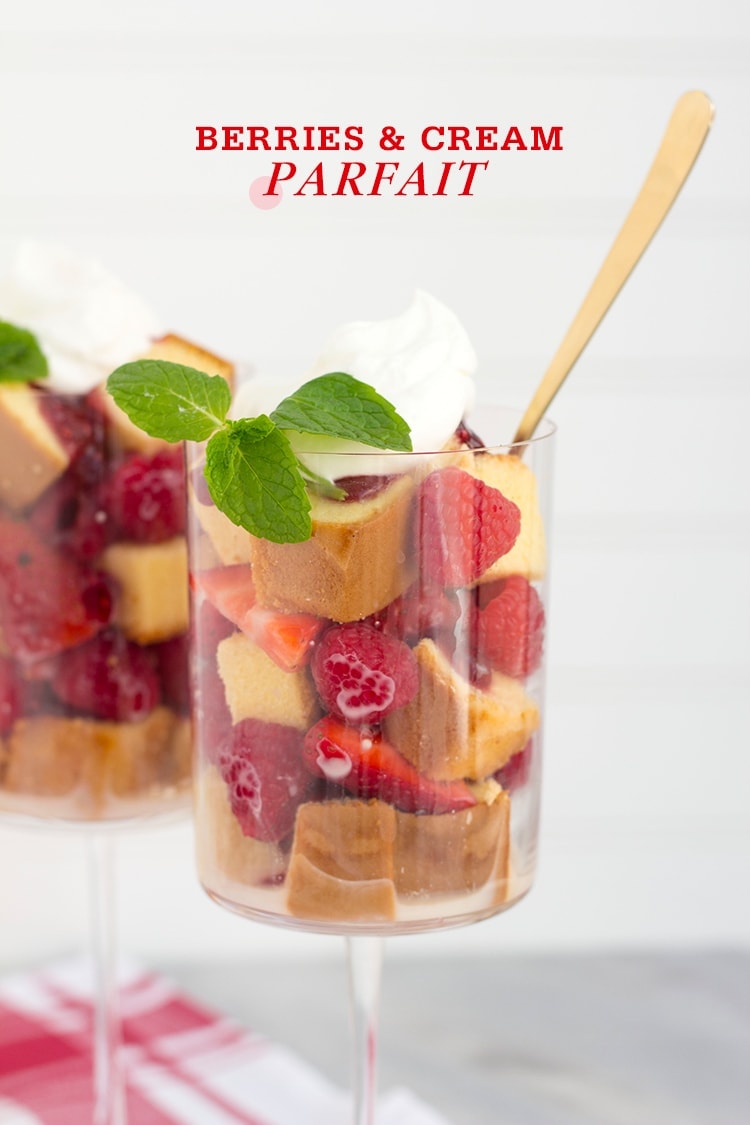 First, let's talk about store bought pound cake. You might be shocked to know that I consider pound cake a staple items that everyone should have on hand (in the freezer) at all times. A good frozen pound cake is literally a life saver when a sudden dessert urge strikes. Just take that baby out of the freezer and let it sit on the counter for about 10 minutes before slicing, or in this case cubing, and serving. It doesn't get much easier than that! However if you have the time and want to make a homemade pound cake for this recipe, be my guest! I'm sure it would be equally if not MORE delicious.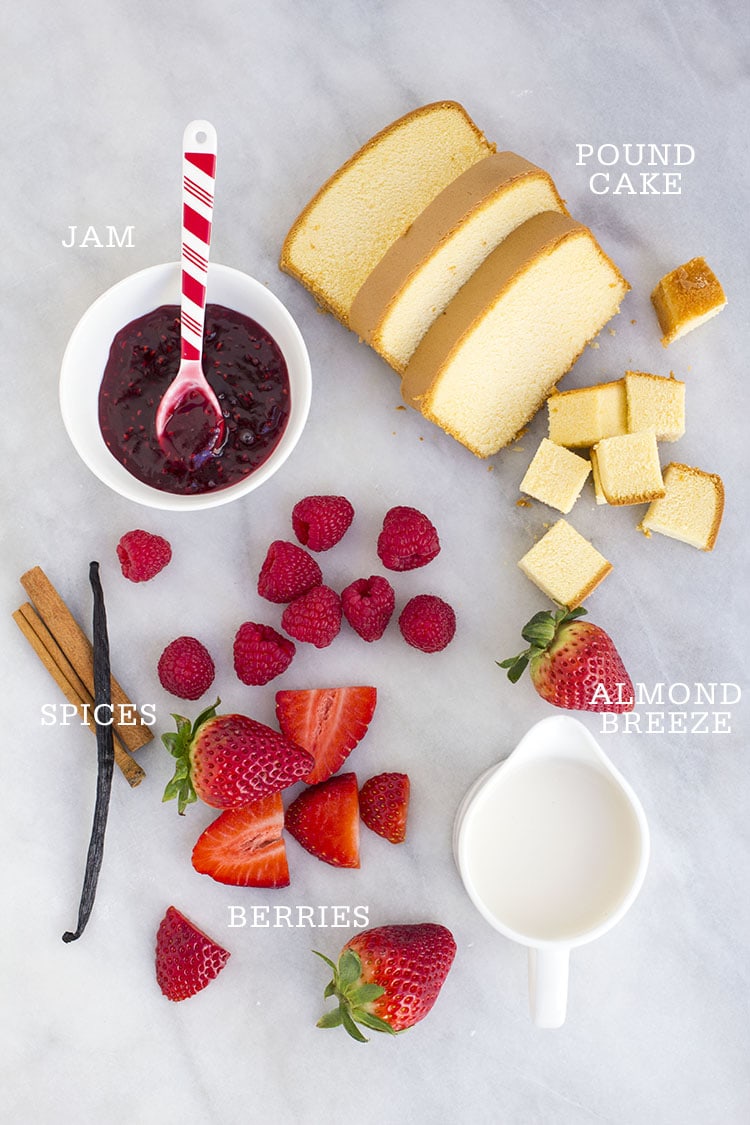 Now moving right along to all of that fruit, creamy Almond Breeze, and jam. To create the cream I steep Unsweetened Almond Breeze Almondmilk with just a touch of sugar, a scraped vanilla bean, and fresh cinnamon sticks to create a sweet and spiced cream to drizzle over the cake. Have you ever had a piece of buttery pound cake dipped in almond milk? (omg) It makes a soft pudding like layer perfect for scooping up with the fresh berries and jam. It's totally divine!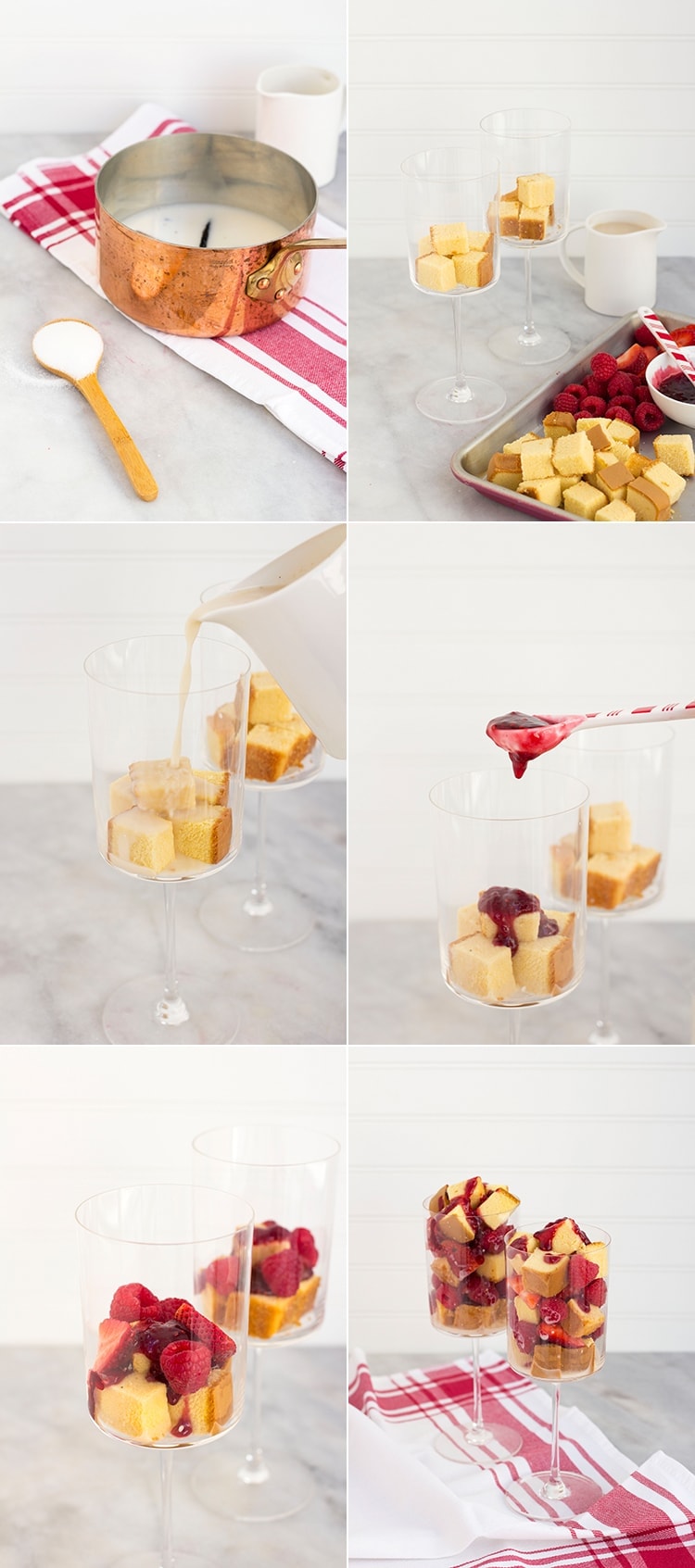 When you're ready for dessert, layer cubed pound cake, a drizzle of the vanilla bean "cream", a drizzle of raspberry jam and fresh berries. Repeat as many times as you can until you have completely filled your serving glass. I served this recipe in my favorite wine glasses because it made my dessert looked especially fancy…it's all a trick I tell you!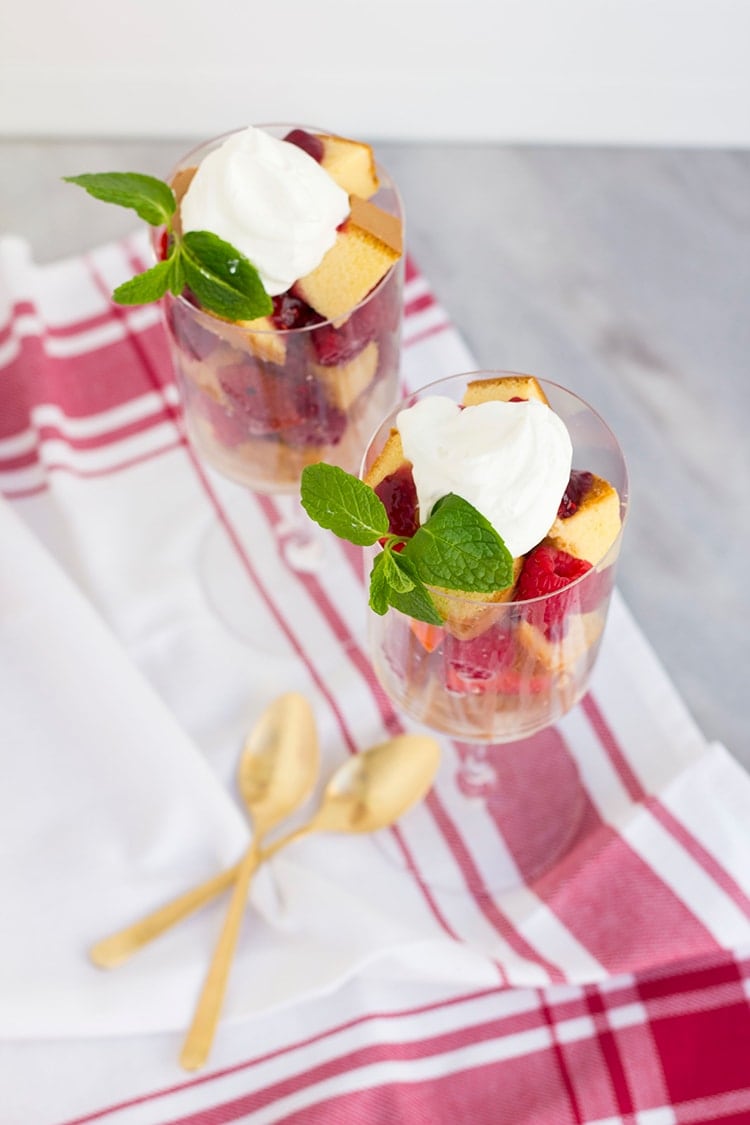 Top with homemade whipped cream or no-dairy whip if you aren't doing dairy, and a sprig of fresh mint. Trust me when I say you'll make this recipe again and again! Valentine's Day dessert has just been solved.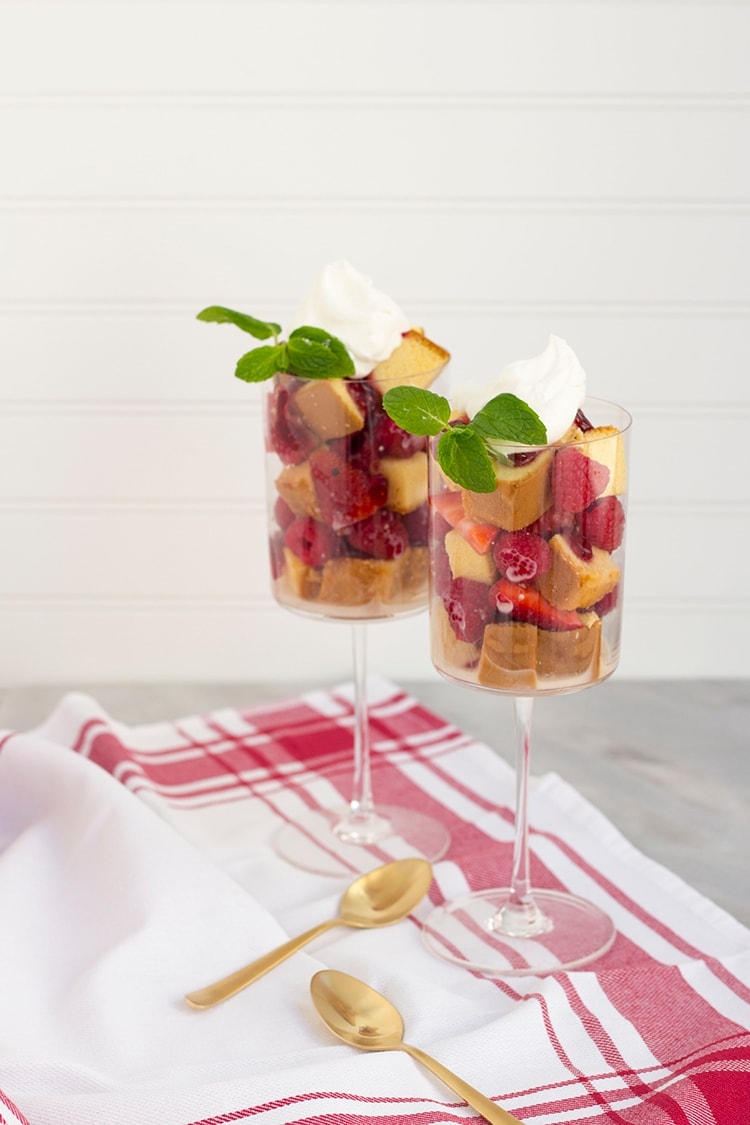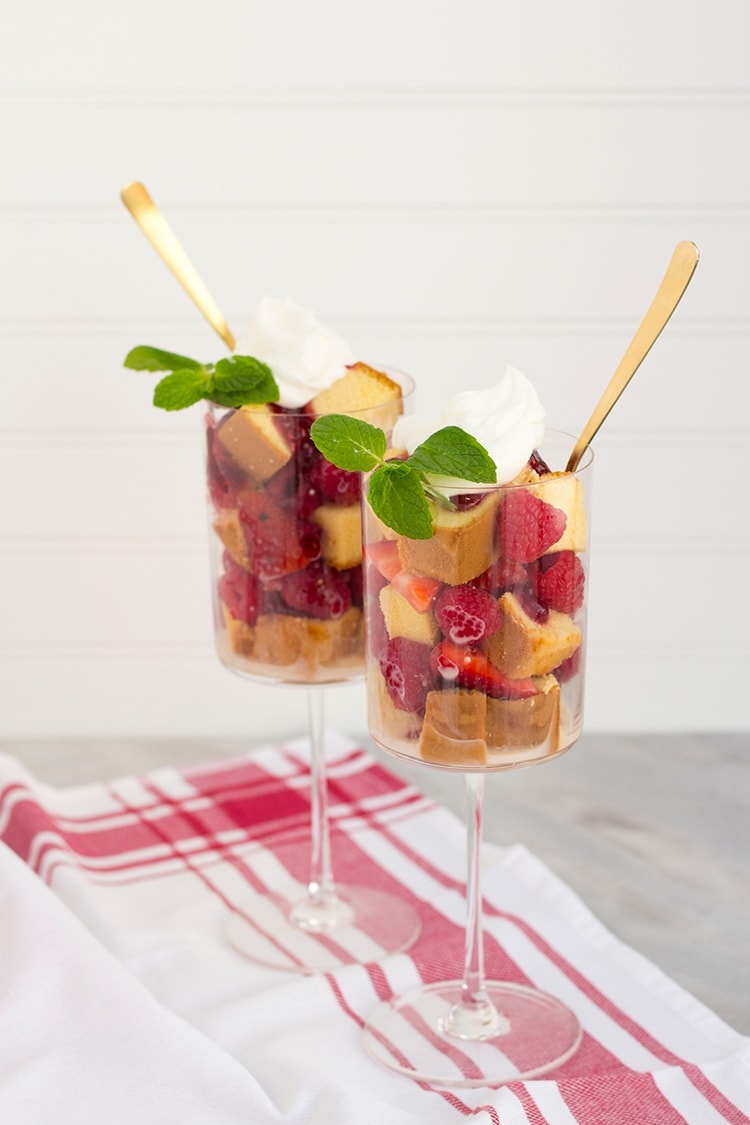 photos by Leah Bergman


Disclosure: This post was sponsored by Almond Breeze Almondmilk however the recipe and all opinions expressed here are my own. Thank you for supporting the sponsors who support Freutcake!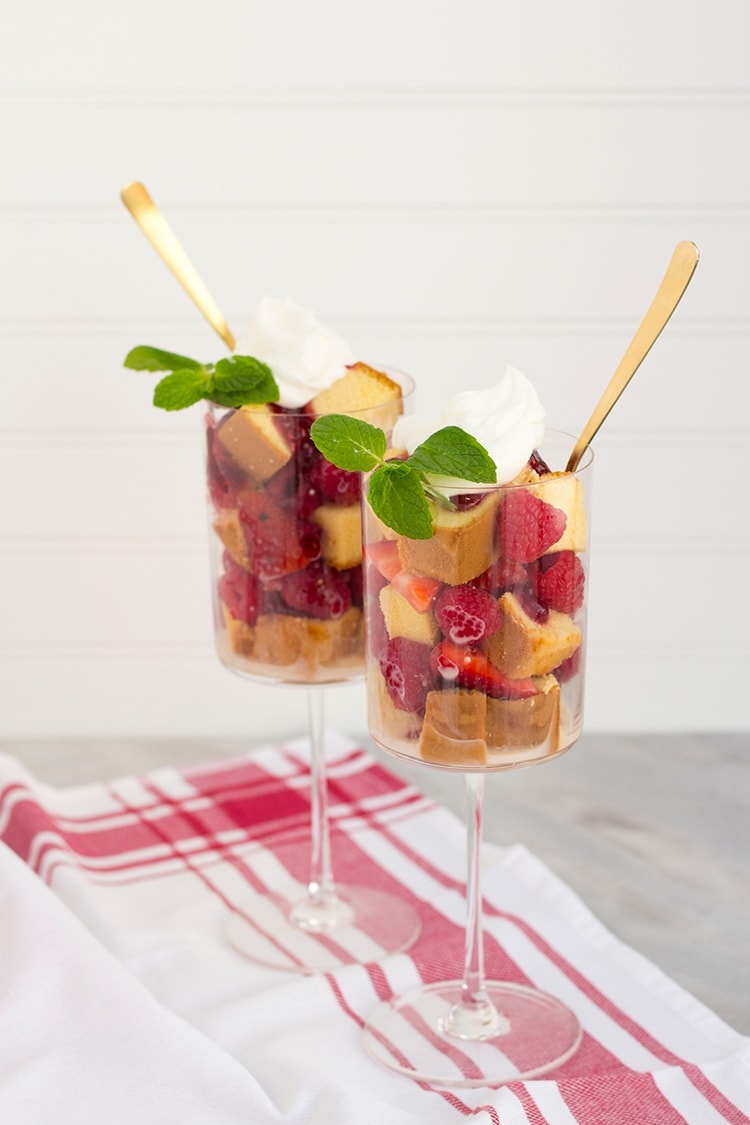 Berries & Cream Parfaits
2015-02-07 11:56:11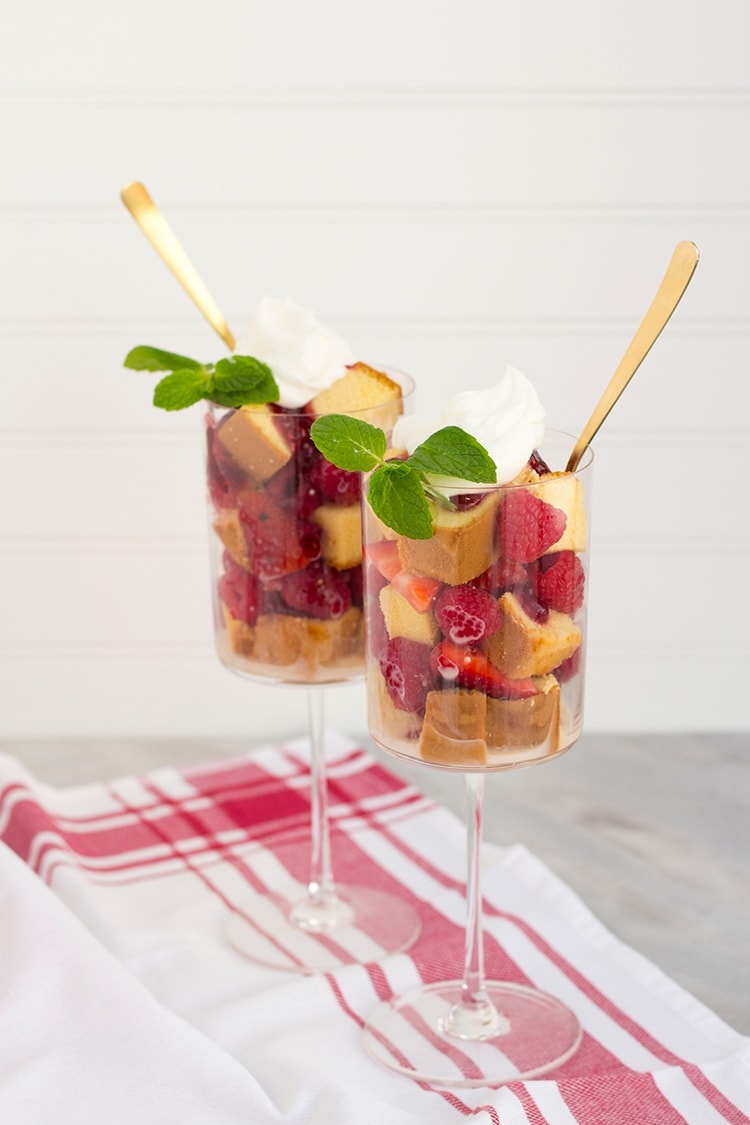 Serves 2
Ingredients
4 slices of pound cake, cubed (I used Sara Lee® All-Butter Frozen Pound Cake)
1 cup Unsweetened Almond Breeze (or Vanilla Almond Breeze)
1 vanilla been, scraped
2 cinnamon sticks
1 Tbsp sugar, optional
1/4 cup raspberry jam
1/2 cup raspberries
1/2 cup sliced strawberries
whipped cream & mint, for garnish
Instructions
Using a sharp knife, split the vanilla been lengthwise and using the back of the knife, scrape out the seeds. In a small saucepan combine Almond Breeze, the scraped vanilla bean seeds, vanilla been pod, cinnamon sticks and sugar. Note: If you are using Vanilla Almond Breeze you can skip the sugar.
Bring mixture to a simmer over medium-low heat, whisking to break up the vanilla bean seeds. Remove from heat and allow to cool completely. Remove cinnamon and vanilla bean pod and refrigerate until cold.
In a parfait glass layer cubed pound cake, a drizzle of the chilled vanilla bean Almond Milk mixture, a drizzle of jam, and a few berries. Repeat layers until you have reached the top of your glass. Finish with an extra drizzle of the vanilla bean cream.
Top with whipped cream and a sprig of mint.
Freutcake https://www.freutcake.com/