Baked Eggnog French Toast with Whiskey Whipped Cream is a new favorite holiday brunch recipe in our house. It's so easy to make ahead of time and serves a crowd which is great for entertaining holiday guests on Christmas morning, or anytime during the holiday season! If you are planning to entertain, it's the perfect dish to create a cozy holiday brunch menu.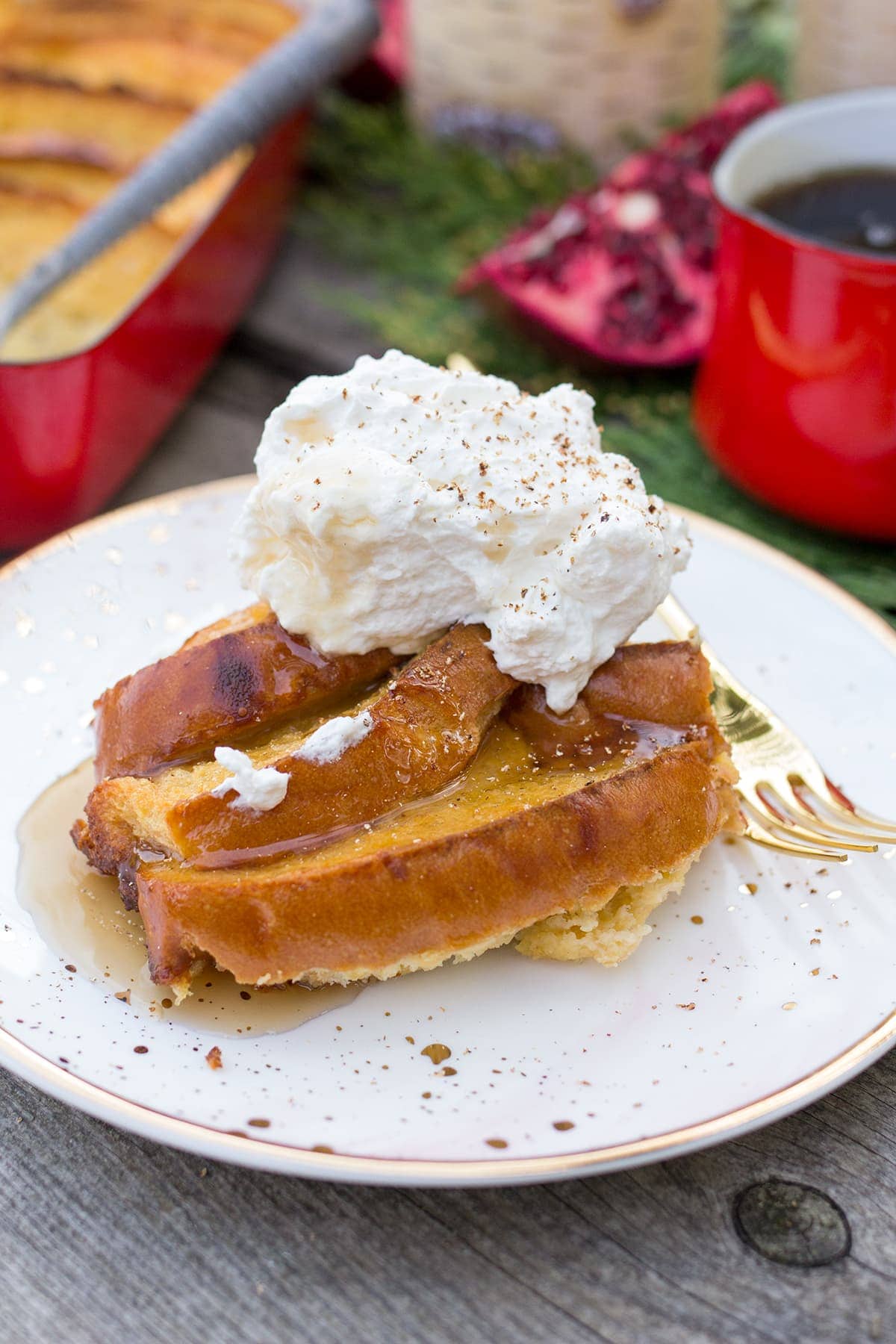 I partnered with Bed Bath & Beyond today to share some of my favorite tabletop finds for the holidays. Bed Bath & Beyond is amazing because it is literally a one stop shop for all of your entertaining essentials like these Olivia & Oliver Harper Organic Shape Splatter Accent Plate in Pink. They are absolutely gorgeous for holiday entertaining but I plan to use them year round!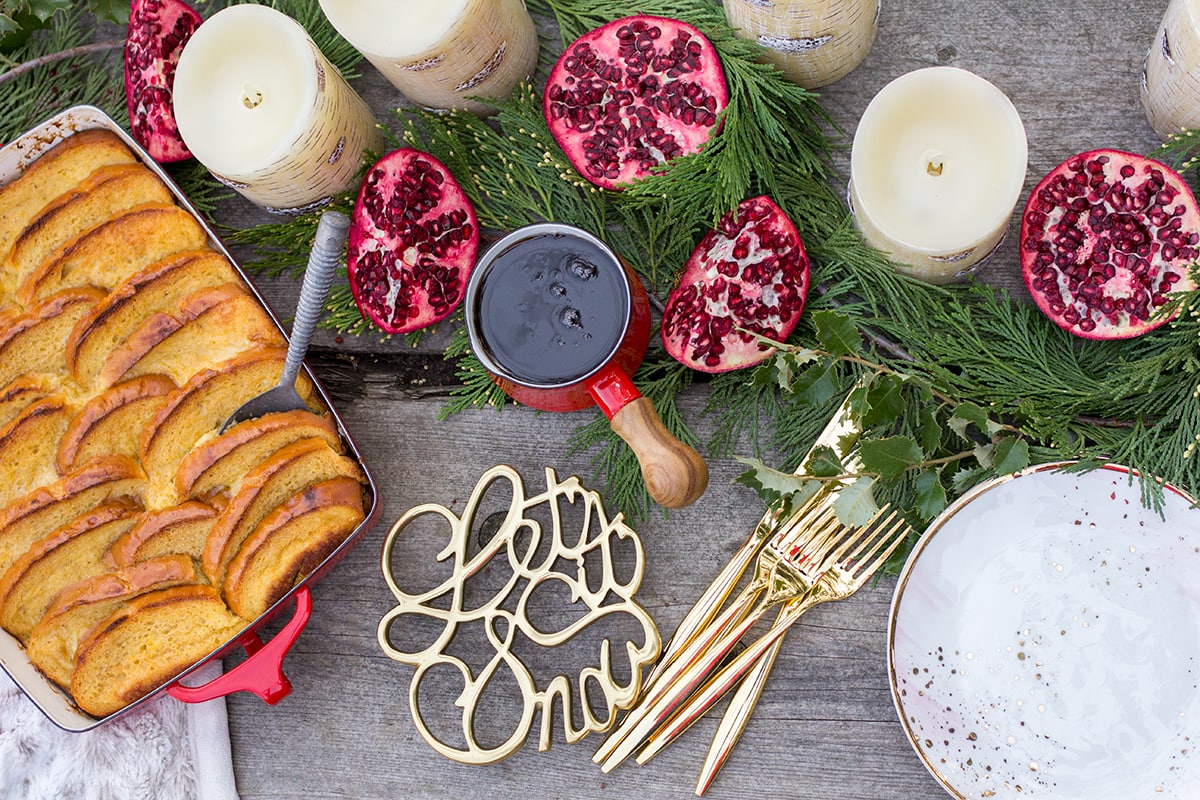 To turn a rustic wooden table into a cozy winter brunch buffet, I added this Faux-Fur throw and lots of birch pillar candles. I've been cuddling up with this throw on the couch all week long and I have to say, it's a new favorite of mine! For the centerpiece I cut some fresh cedar and holly sprigs to lay around the birch candles as well as segments of pomegranate.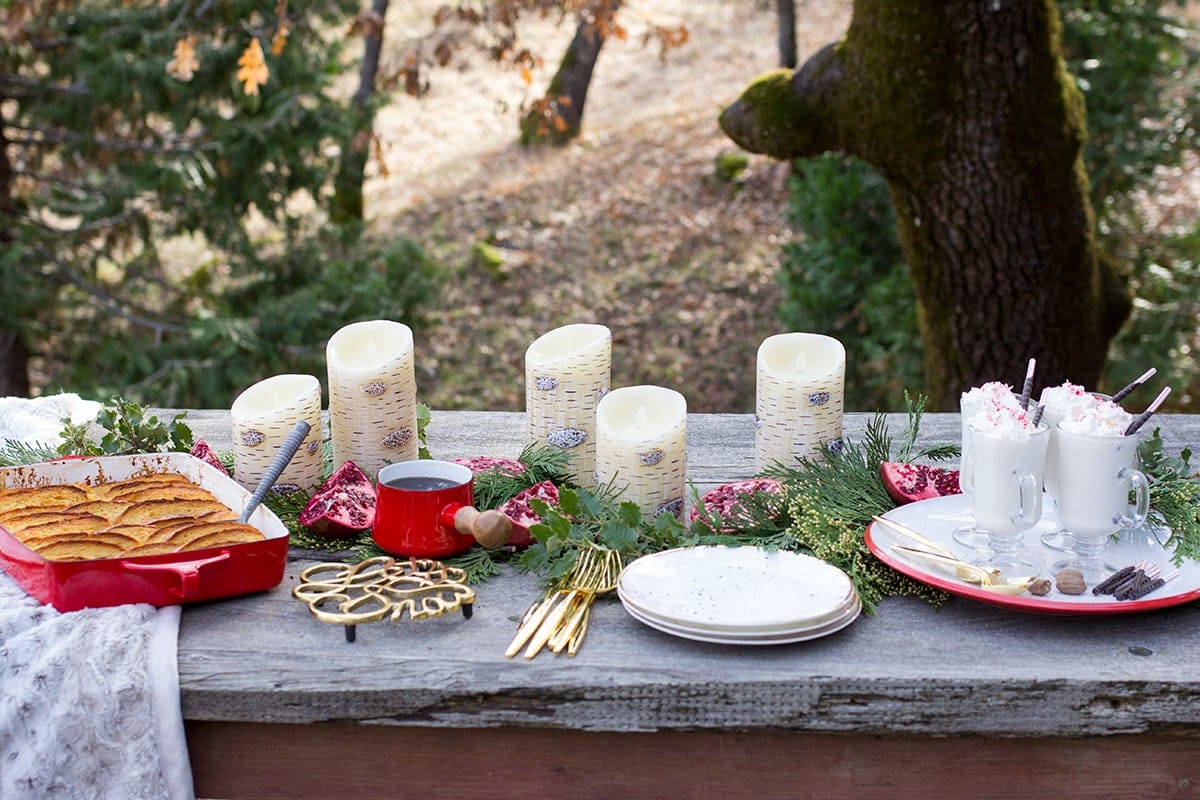 If you are serving a holiday brunch dish like baked eggnog french toast, you have to have a baking dish that's pretty enough to go from oven to table. This red Dansk Kobenstyle Baker is so stunning and adds such a fun pop of red to the table.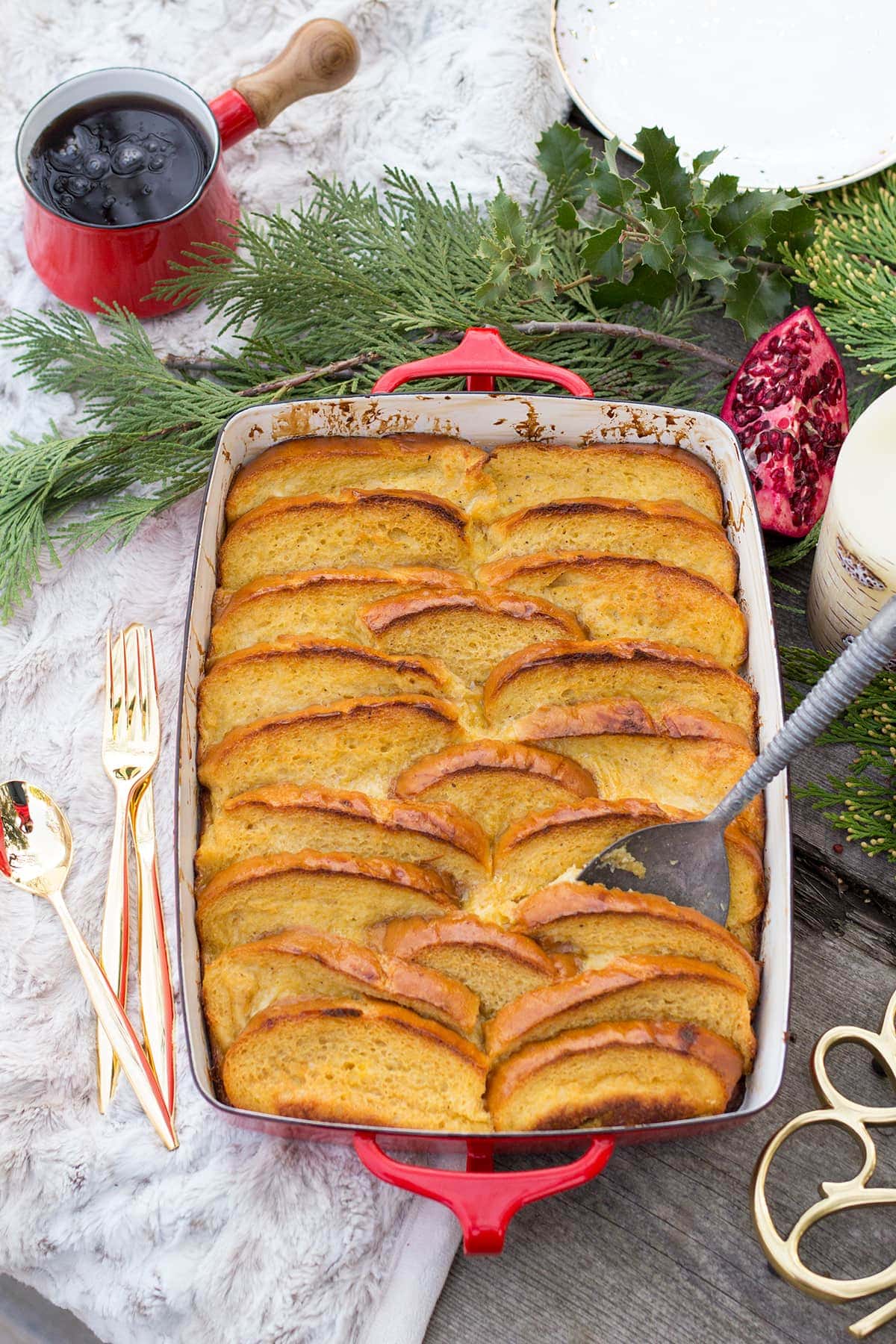 I also use love this matching red butter warmer for serving warmed maple syrup and this Dansk white and red platter which I used for drinks.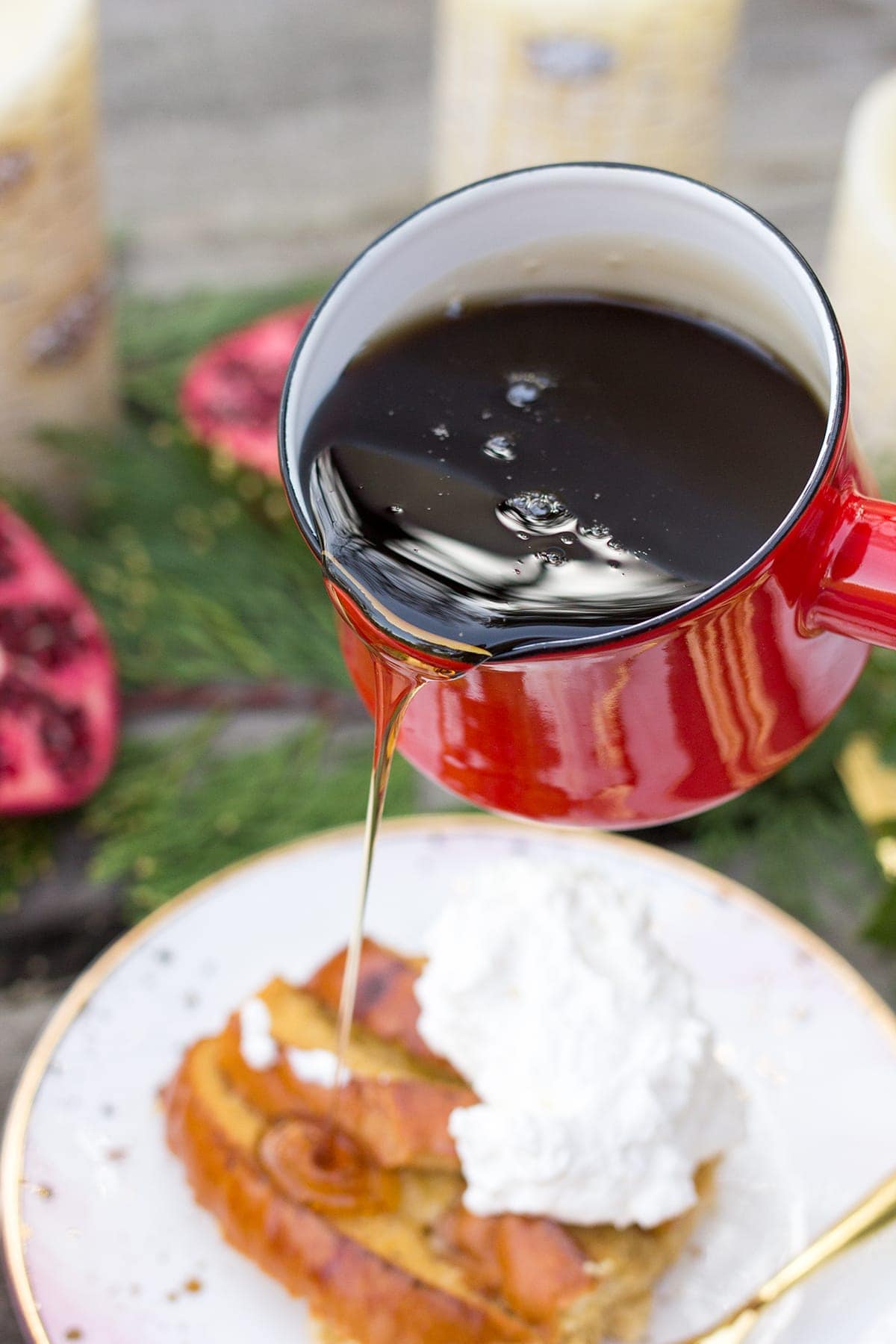 Serve baked eggnog french toast with a drizzle of hot maple syrup, a dollop of whiskey whipped cream and a grating of fresh nutmeg. It doesn't get much more festive than that!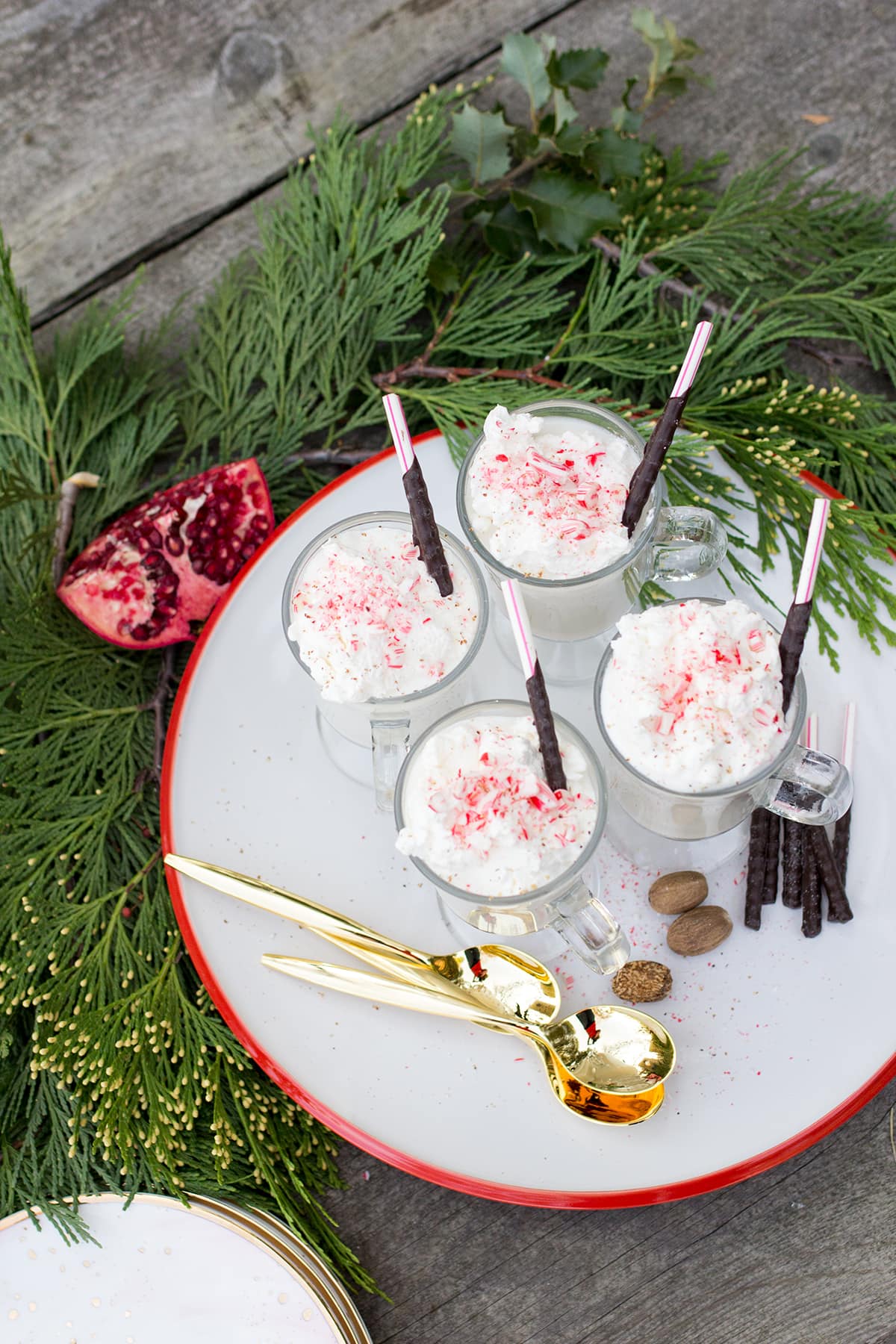 Serve white hot chocolate or your favorite warm beverage in glass Irish coffee mugs with more whipped cream and crushed candy cane. I picked these (super affordable) mugs up at Bed Bath & Beyond along with chocolate dipped peppermint sticks for serving.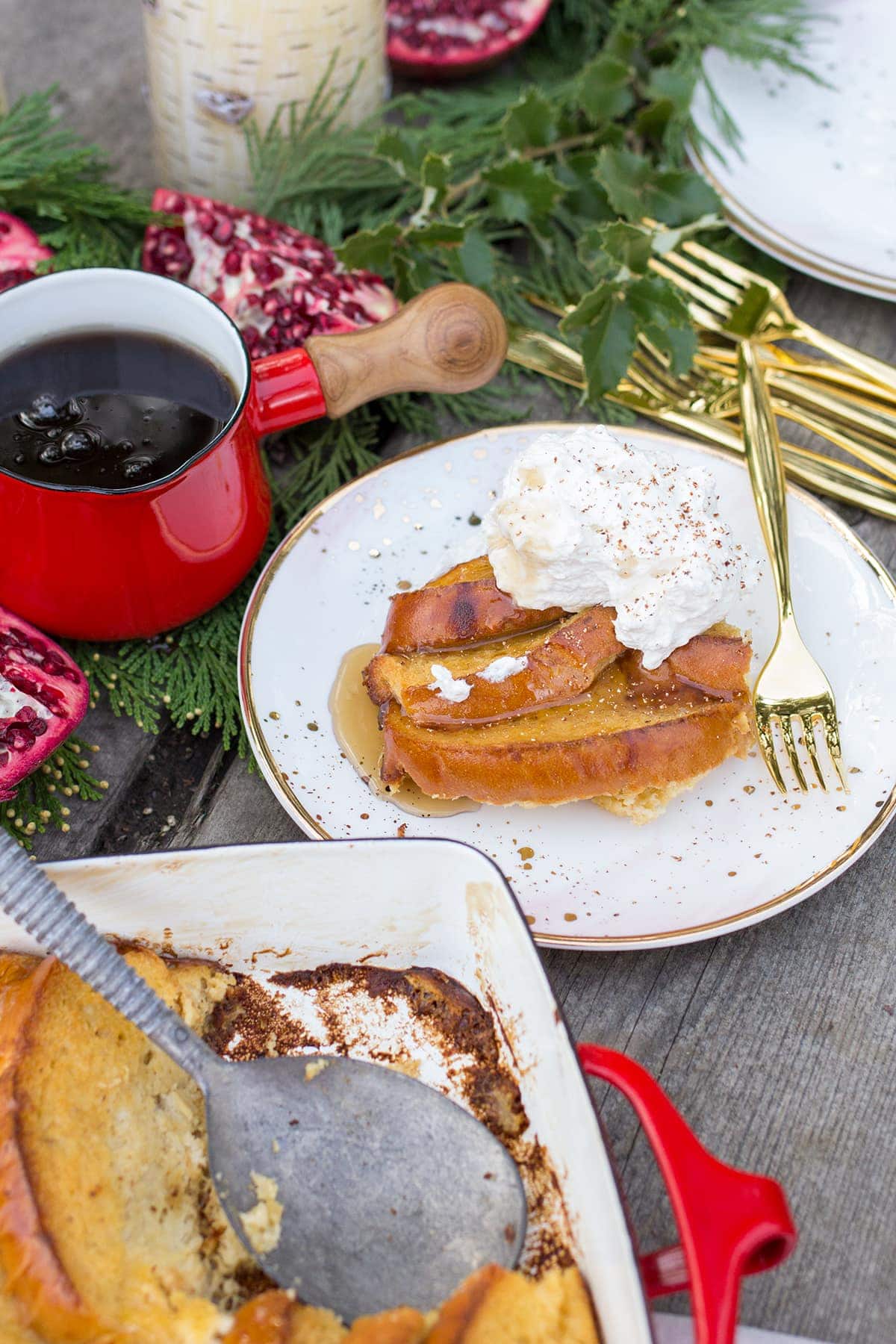 For silverware, I matched the gold rimmed splatter plates with a set of gold flatware. I also found the most adorable "Let it Snow" trivet. I hope this table and recipe inspire your holiday brunch but if you need more ideas for holiday entertaining essentials, Bed Bath & Beyond has tons of specialty curated category shops online to help.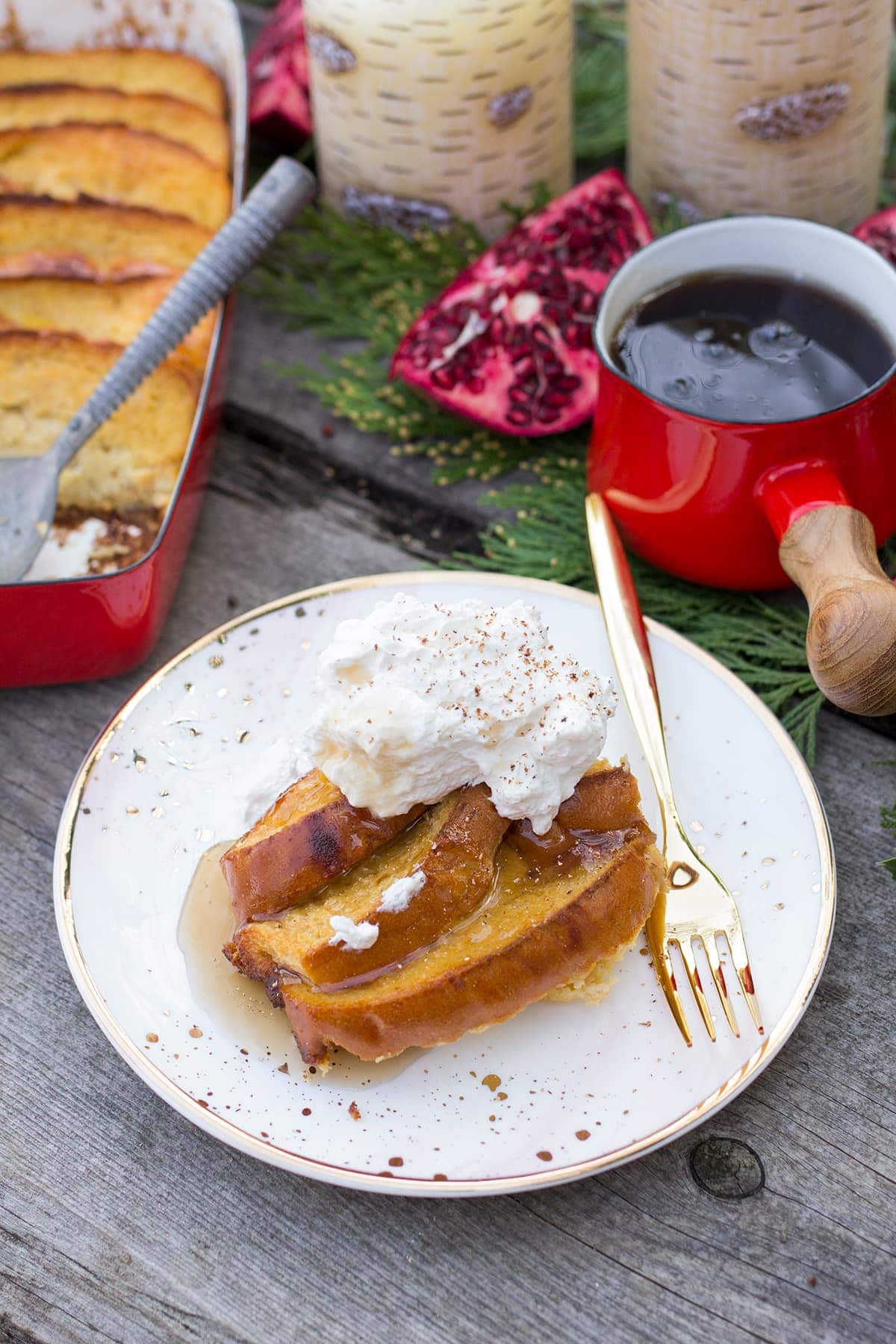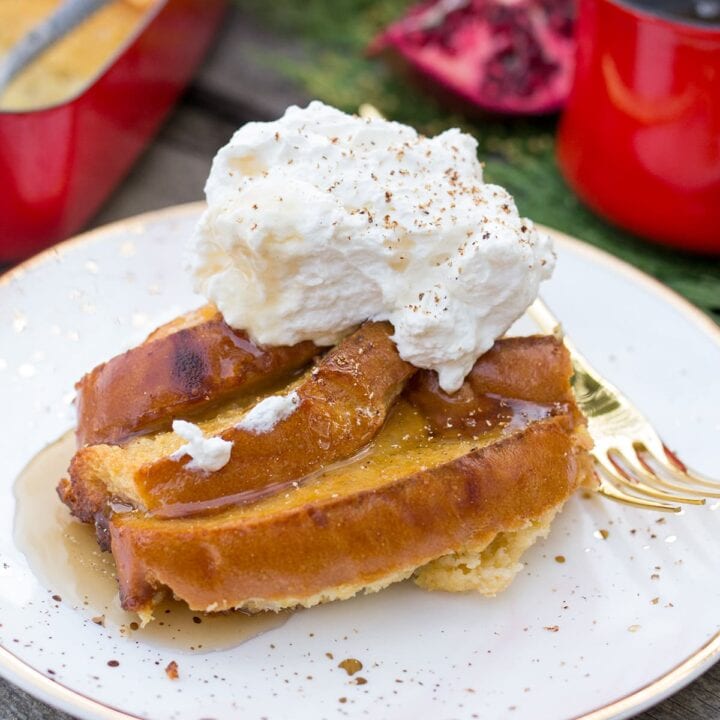 Baked Eggnog French Toast with Whiskey Whipped Cream + a Cozy Holiday Brunch Table
Total Time:
1 hour
10 minutes
A festive holiday eggnog french toast that can be made ahead and baked in the oven to feed a crowd. Perfect for holiday brunch served with whiskey whipped cream and fresh nutmeg.
Ingredients
Butter, for the pan
1 loaf crusty French bread
8 eggs
2 cups eggnog
½ cup brown sugar
1 teaspoon vanilla extract
½ teaspoon nutmeg + more for garnish
pinch salt
maple syrup, for serving
whiskey whipped cream, for serving
Instructions
Grease a baking pan with butter and preheat the oven to 350 degrees.
In a large bowl whisk together ingredients for the custard: eggs, eggnog, sugar, vanilla, nutmeg and salt.
Slice French loaf into slices and dipping each in custard until the bread has absorbed as much custard as it can hold. Tile pieces of bread in baking dish.
Pour any extra custard evenly over the bread. Make ahead: At this point you can cover the pan tightly with plastic wrap and store in the fridge overnight.
Bake French toast at 350 for 35-40 minutes or until french toast is cooked through and the the top is golden brown. Remove from oven and serve with warmed maple syrup and whiskey whipped cream.
Make the whipped cream: Combine 1 pint heavy whipping cream, 1 teaspoon vanilla extract, ¼ cup granulated sugar and 1 Tablespoon whiskey in a bowl. Beat with electric mixer until soft peaks form. Serve over french toast.
Disclosure: This post is sponsored by Bed Bath & Beyond, an unexpected place to find unique products, helping you "sleigh" the holiday with awesome entertaining essentials. Thank you for supporting Freutcake sponsors.