Multigrain Birthday Cake Pancakes are a fun breakfast treat to make for someone special!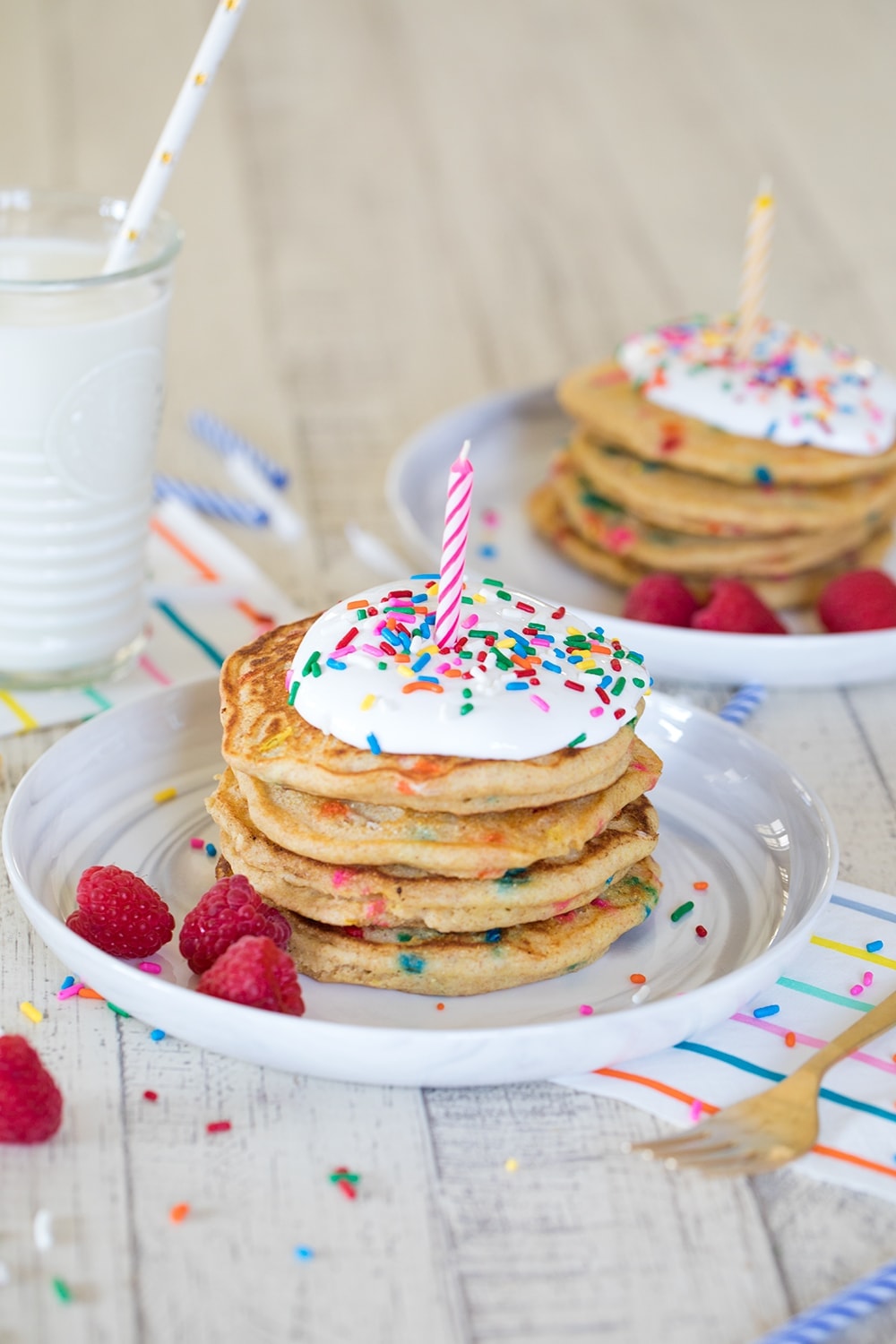 Multigrain Birthday Cake Pancakes
These multigrain birthday cake pancakes have become a birthday morning tradition in our house. It started last year for the twin's 3rd birthday when I wanted to make a fun breakfast for them. I reached for our favorite pancake mix and the sprinkles and these birthday pancakes were created!
It's a stretch to call this a "recipe" since I use a pre-made mix however if you wanted to make them from scratch, here is my favorite homemade pancake recipe.
Note: you can leave out the lemon and chia seeds and sub in sprinkles. Here is a look at the this years birthday pancakes and last year's (smaller) birthday pancake breakfast!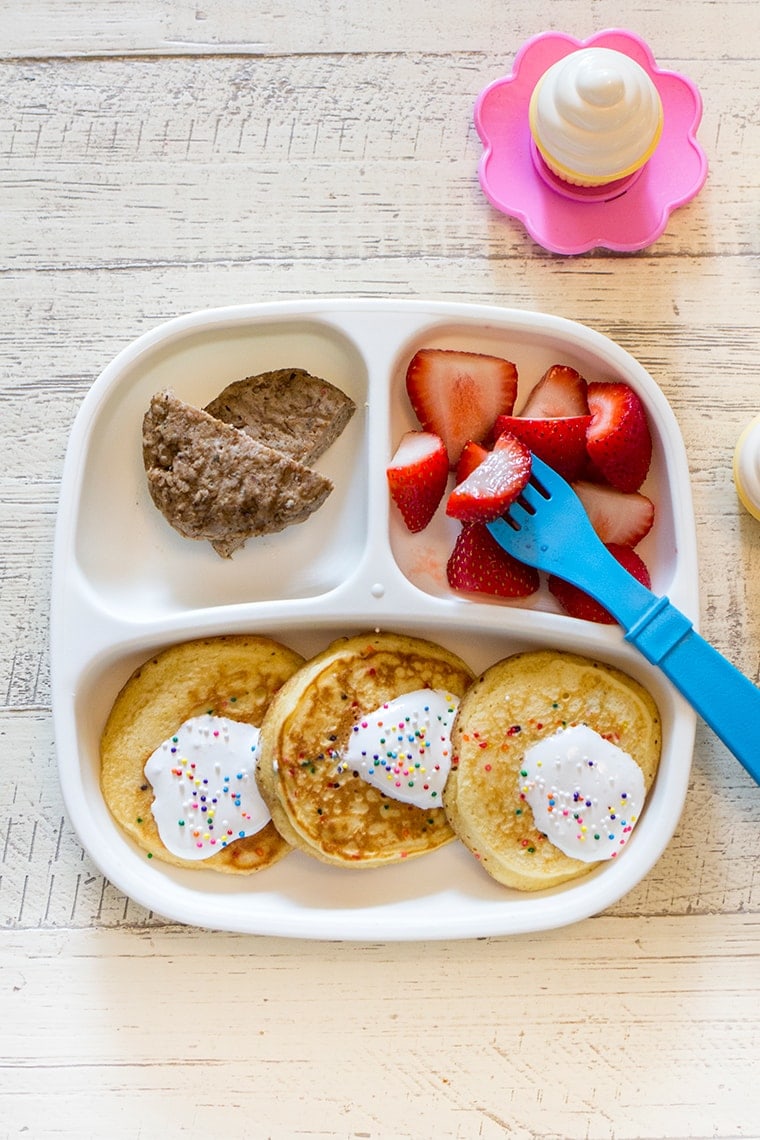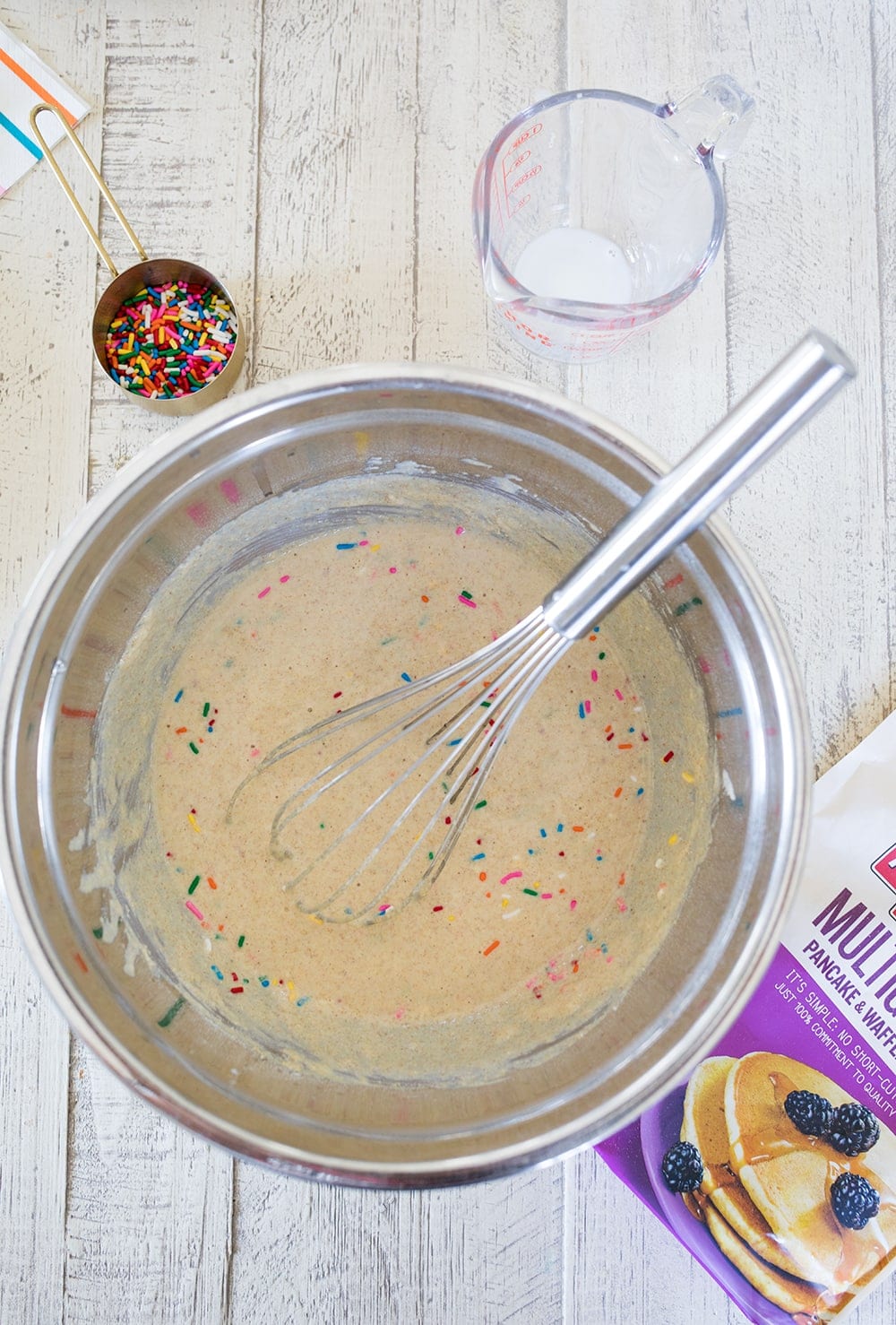 Favorite Pancake Mixes for Kids
When I was little there wasn't much of a variety when it came to pancake mixes. They were pretty much all made the same with bleached white flour and tons of sugar.
Now you can find everything from gluten free pancakes mixes to buckwheat, multigrain, protein pancake mixes and even paleo mixes. Currently, my two favorite pancake mixes for kids are Kodiak Cakes Power Cakes mix and Arrowhead Mills Multigrain Pancake Mix.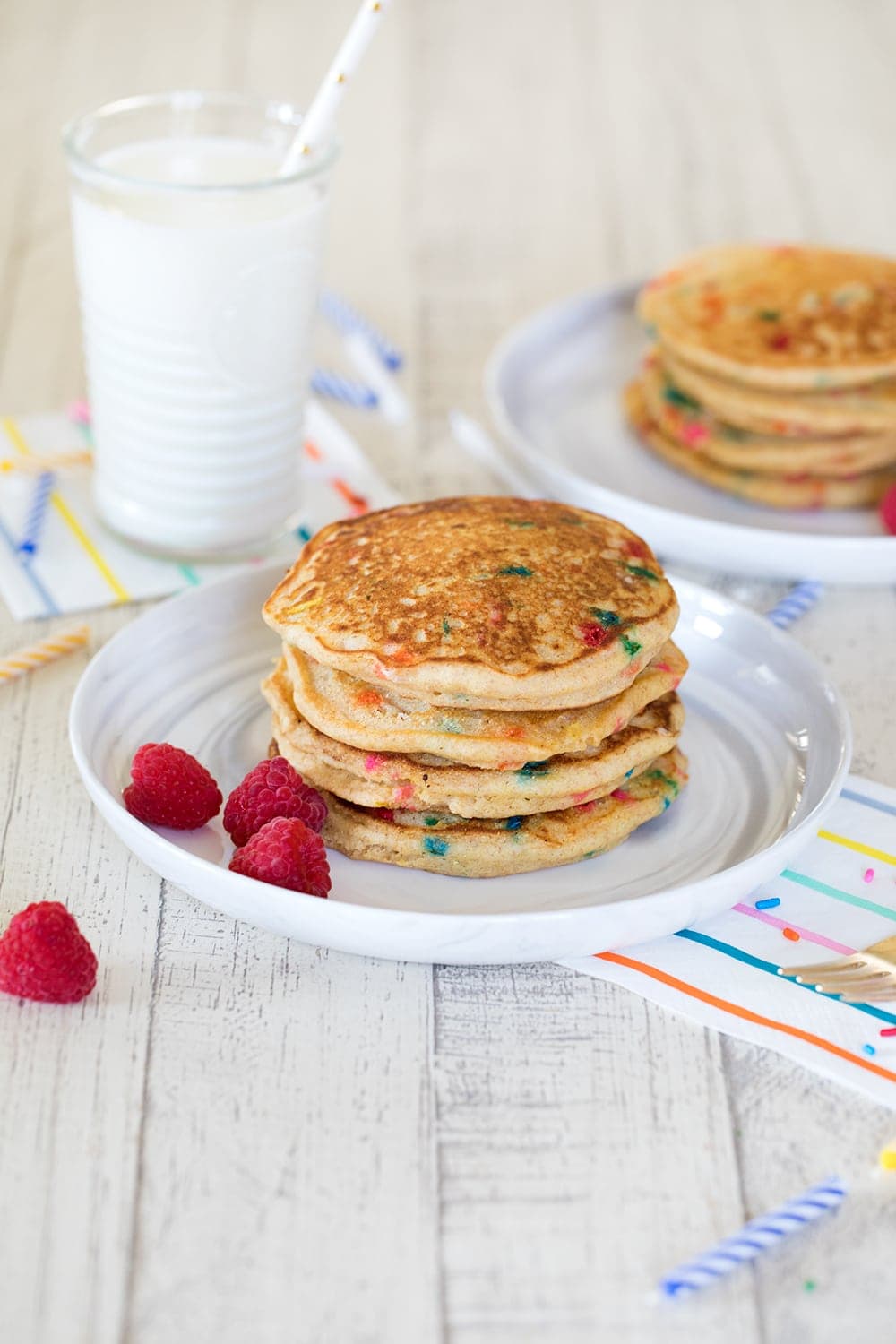 Kodiak cakes pancakes have a more traditional texture and are high in protein which I love and Arrowhead Mills has a hearty whole grain flavor and a bit of a cornmeal texture which is also delicious. Either one work well with this recipe but you can use any mix you prefer!
I like picking a heartier (healthier) mix since I'm adding in sprinkles and topping it with "frosting." It makes me feel slightly better about this sweet breakfast.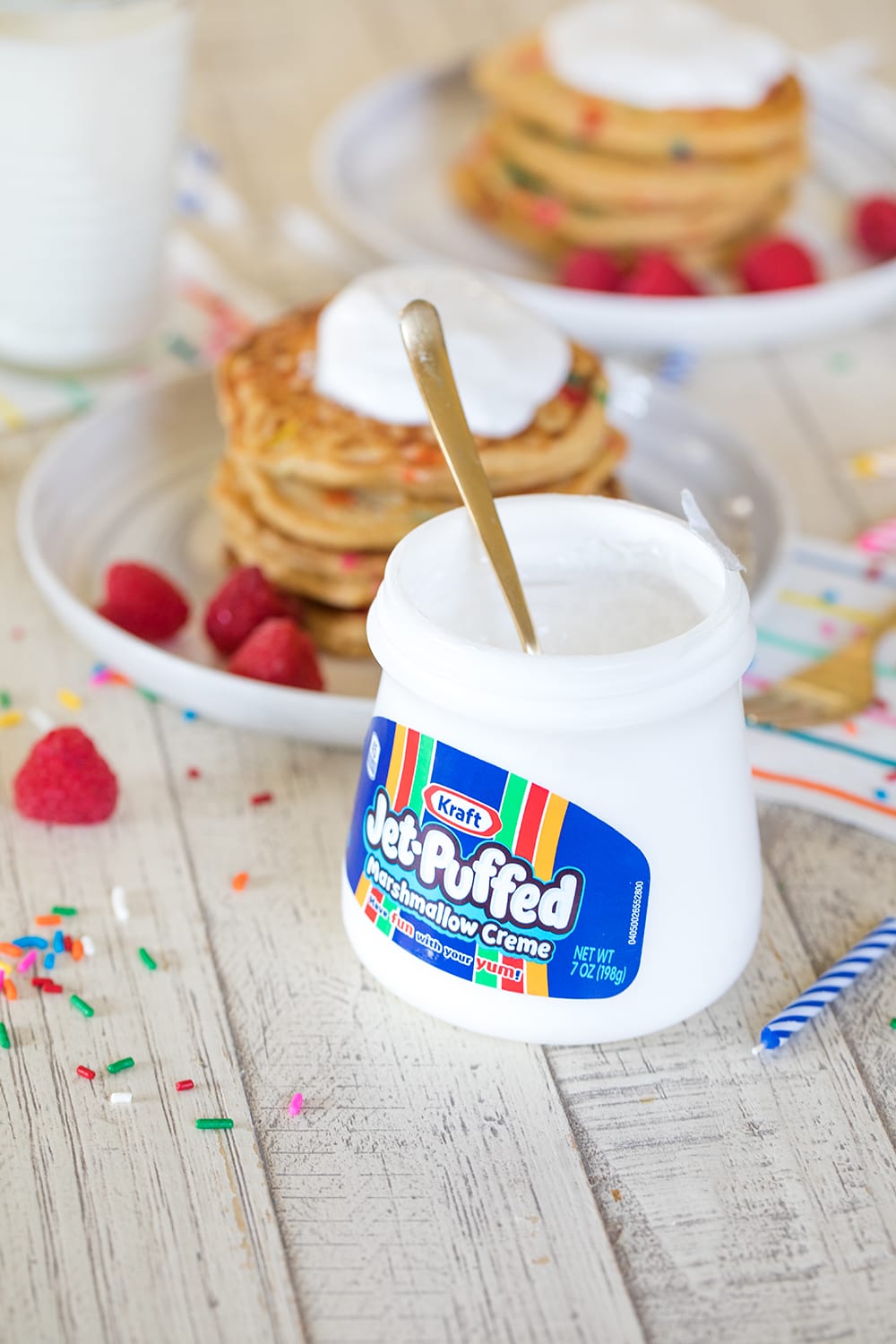 Birthday Cake Pancakes with Frosting
It wouldn't be a proper birthday cake pancake without "frosting," am I right? Here's where the recipe really turns into a once-a-year birthday breakfast treat.
I top these pancakes with a dollop of good old fashioned Marshmallow Fluff and it's delicious! A little goes a long way with the fluff so be conservative. The warm pancakes start to melt the fluff and it spreads out nicely over the top of the pancakes.
Anyone else a marshmallow lover? I go crazy for this stuff and obviously I'm passing my love onto my children.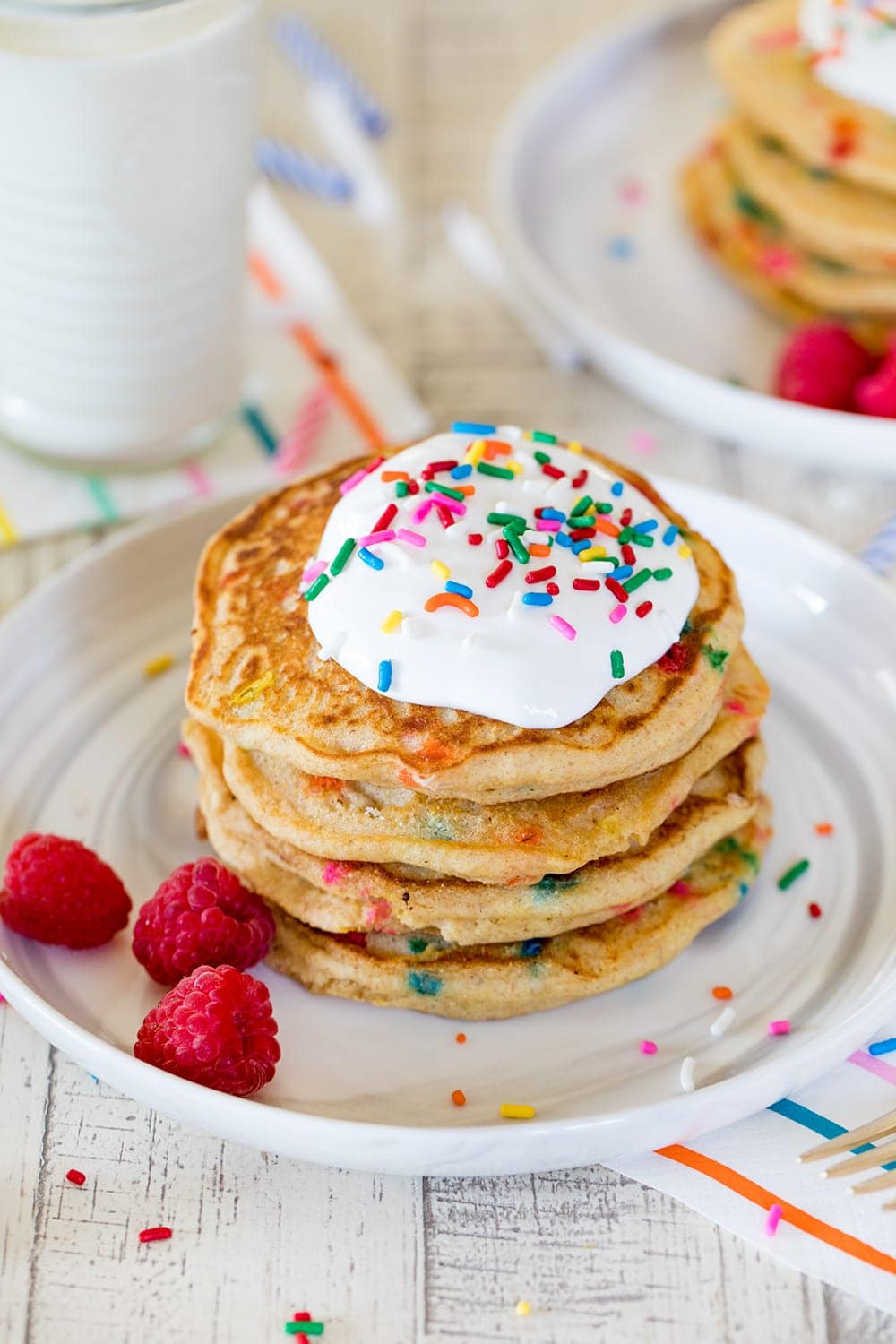 When the twins were turning three, I made this recipe into tiny little pancake rounds with the smallest dot of marshmallow fluff and served them with breakfast sausage and fruit on the side.
This year I made them a bit larger with bacon and fruit on the side. Whichever way you decide to serve these fun pancakes, they are sure to be a hit! Just don't forget to top with a candle and a few extra sprinkles.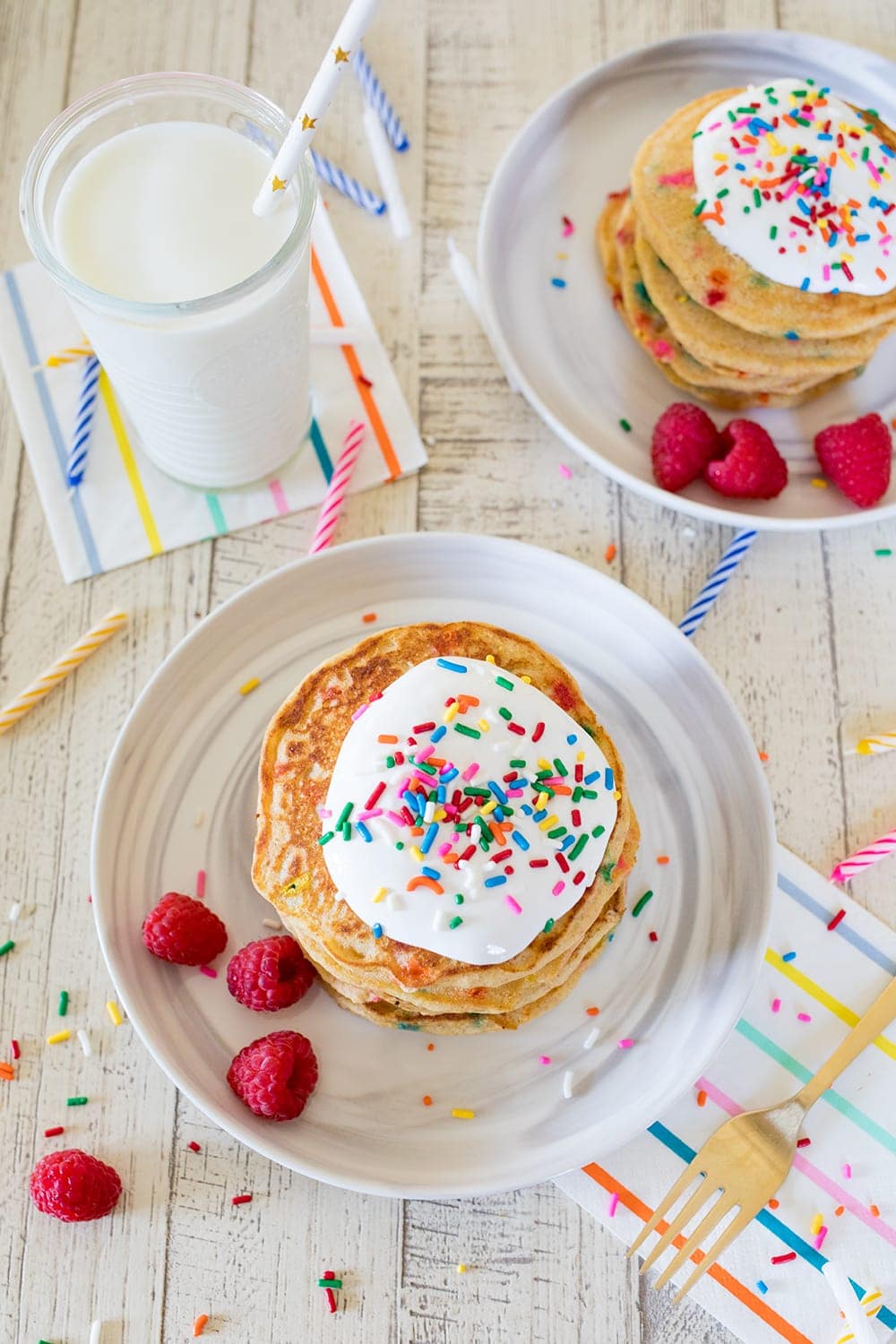 Birthday Traditions for Kids
Do you have any birthday traditions for your kids? I've always thought that waking up to a house full of balloons was the cutest birthday morning tradition.
Personally, I'm never prepared enough to decorate the house but I CAN whip up these easy pancakes. I hope you will try this simple recipe with your family and let me know how they like it!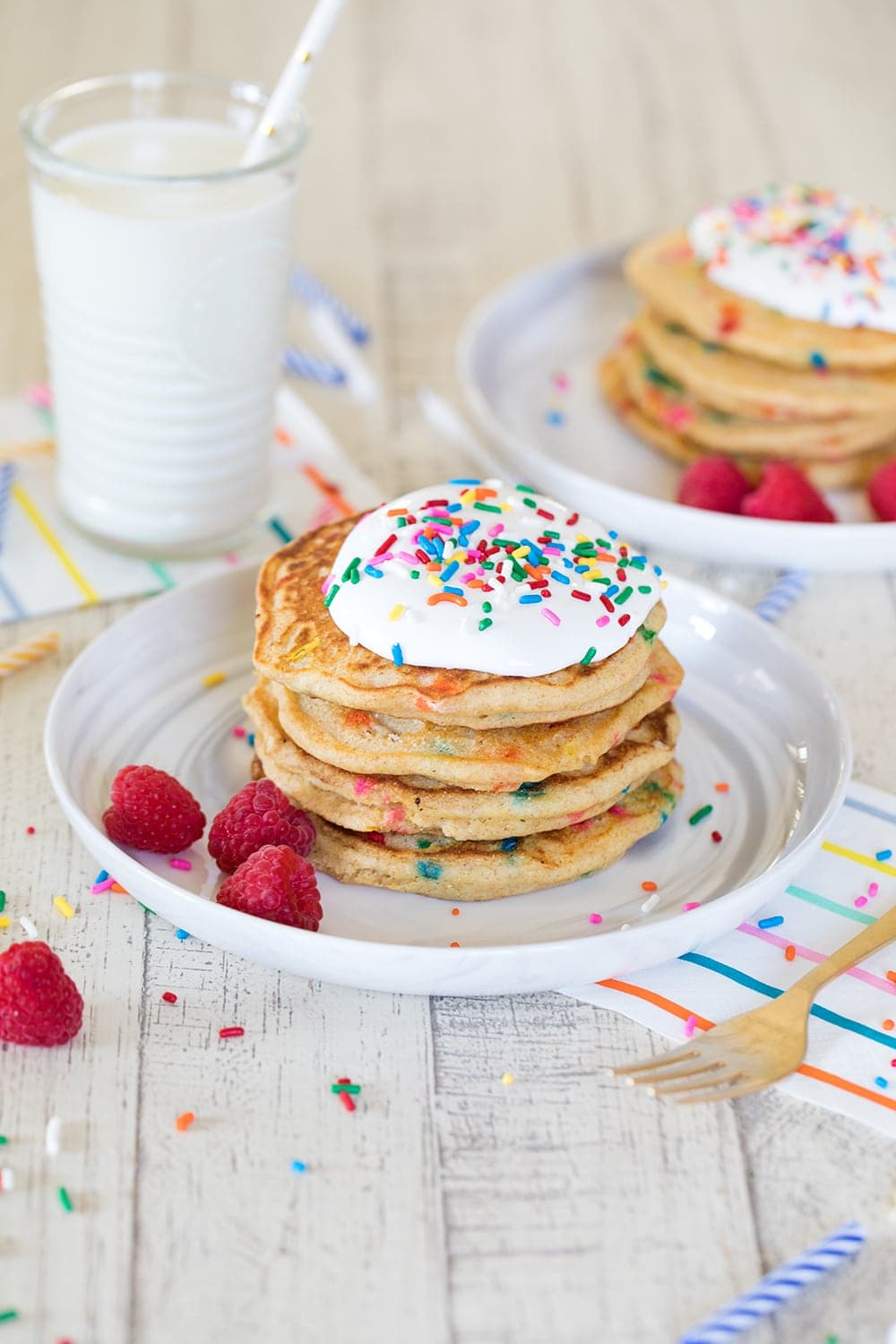 Want another kid-friendly pancake recipe? These healthy Monster Pancakes are a favorite in our house and are packed with spinach! They are such a fun way to veggies on the plate.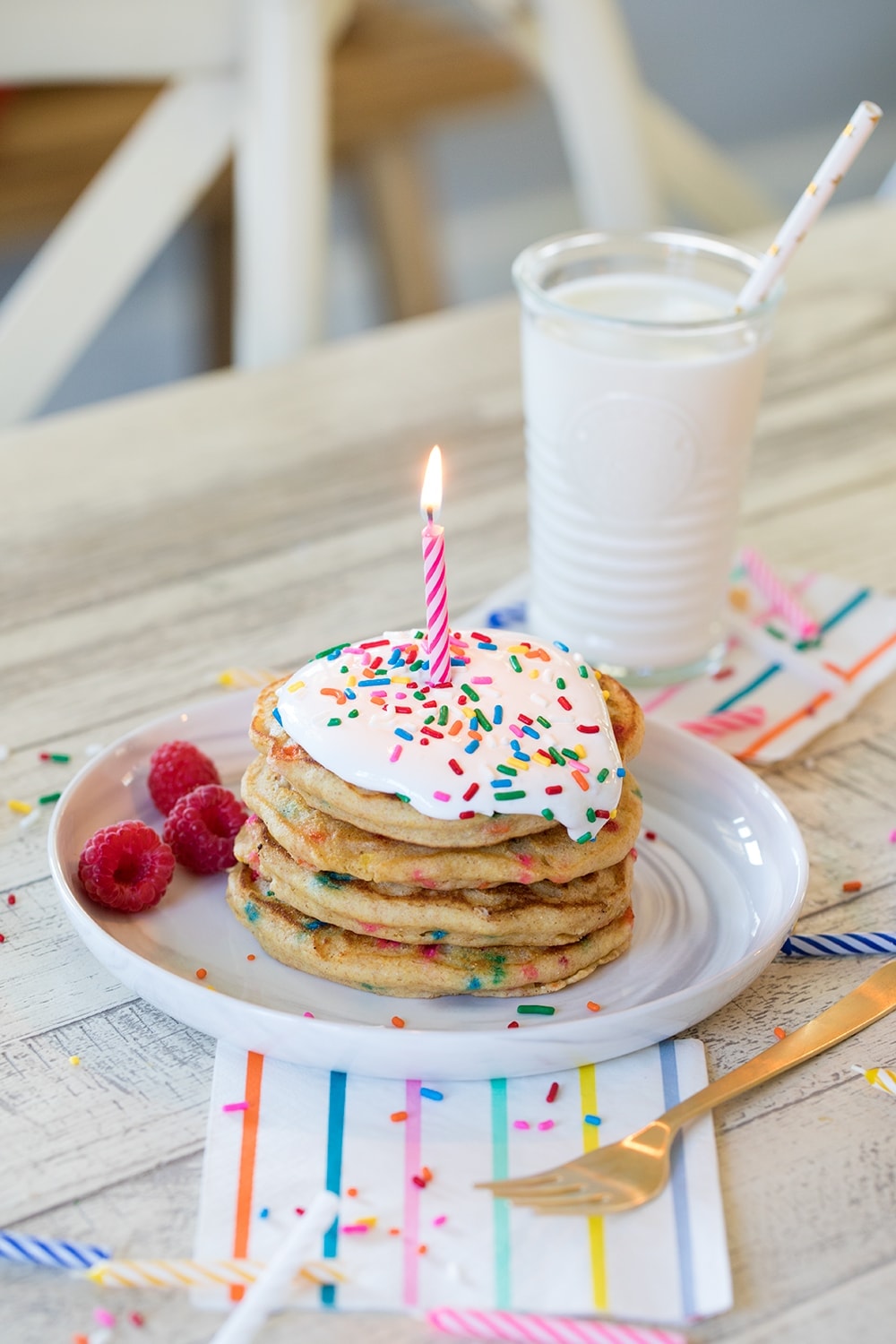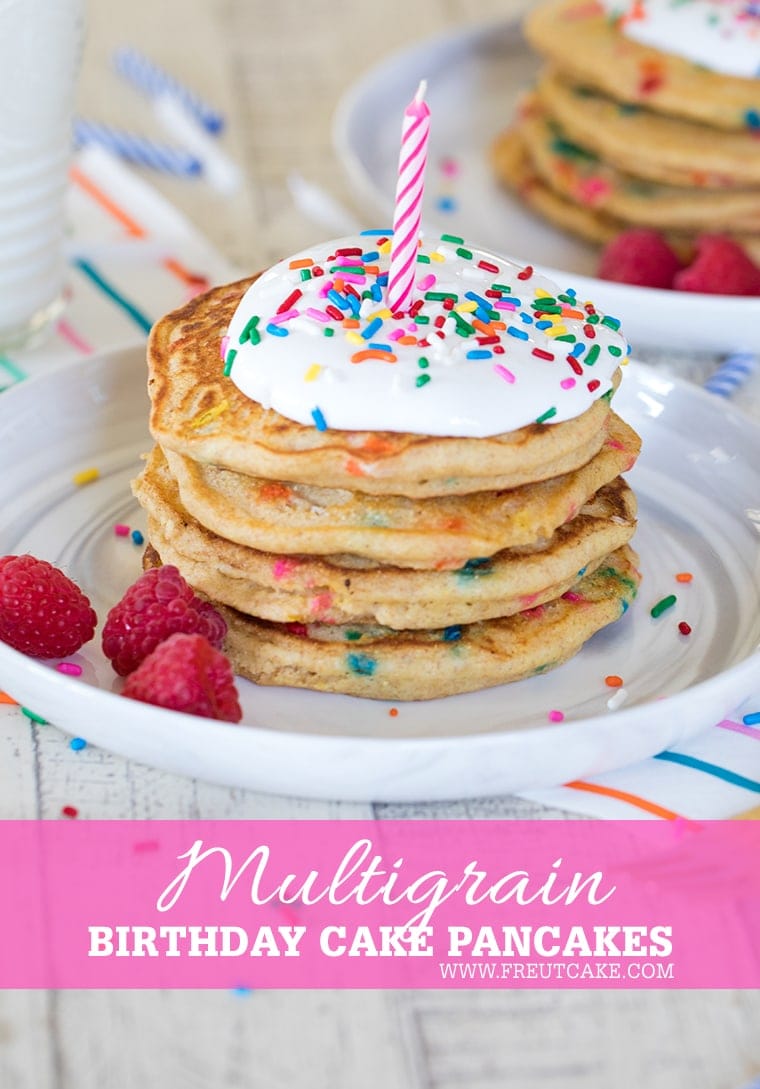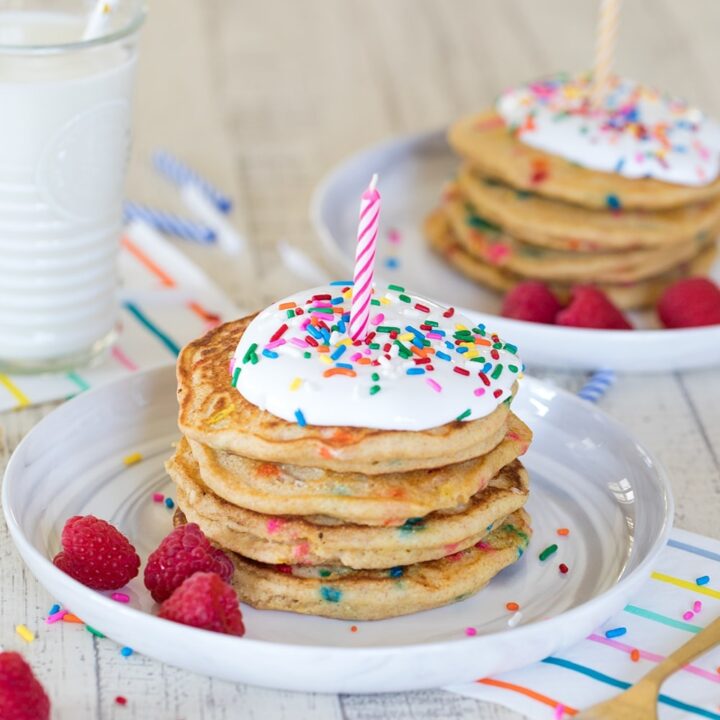 Multigrain Birthday Cake Pancakes
An easy funfetti style birthday cake pancake recipe made healthier with multigrain pancake mix.
Ingredients
Multigrain or whole wheat pancake mix
¼ cup sprinkles
Marshmallow Fluff topping
candles
Instructions
Follow box instructions for pancake mix.
To the batter, add in ¼ cup of sprinkles.
Cook pancakes over low heat on a buttered griddle or non-stick pan.
Serve with a small dollop of marshmallow fluff topping and more sprinkles.
Top with a candle and serve!