Looking for a fun and festive Halloween breakfast recipe? Healthy Halloween Monster Pancakes are perfect for kids, made with fresh spinach, and no food coloring! These pancakes are scary good and no one will ever taste the hidden veggies.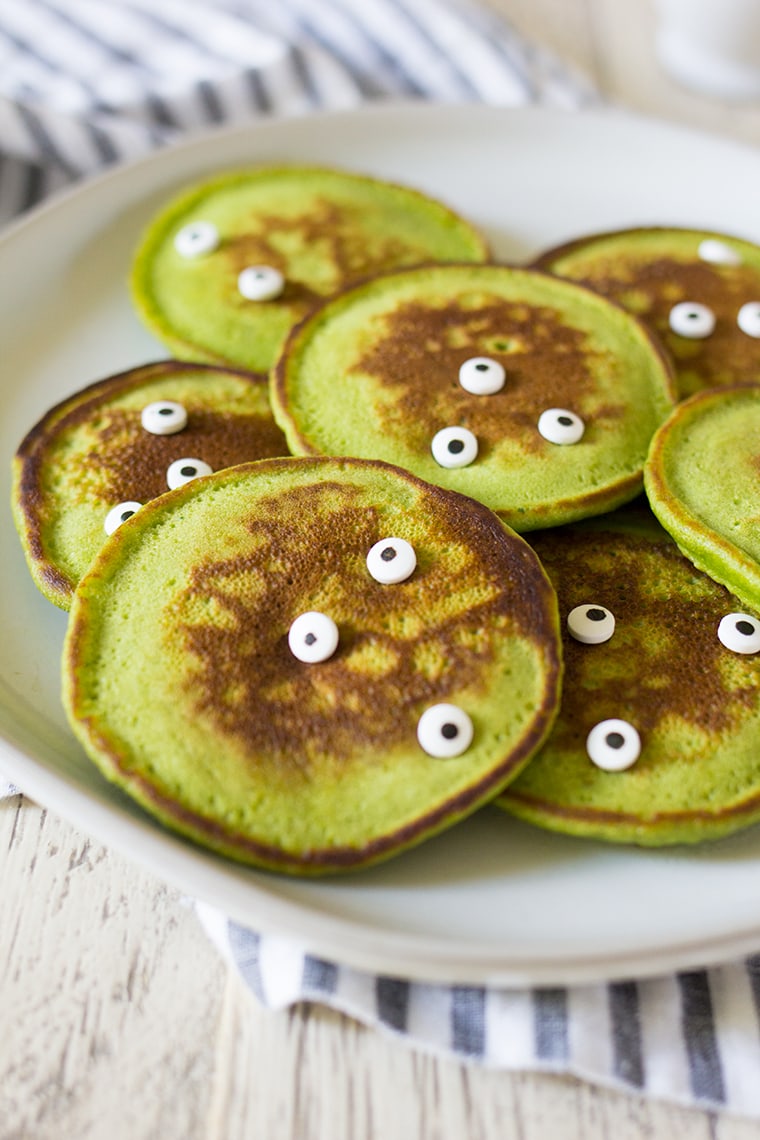 Happy October! It's time for all things spooky and fun including these Healthy Halloween Monster Pancakes for kids. I made them for the twins this past weekend and they were an immediate hit. "Do you want to make monster pancakes?" Immediately the twins were intrigued...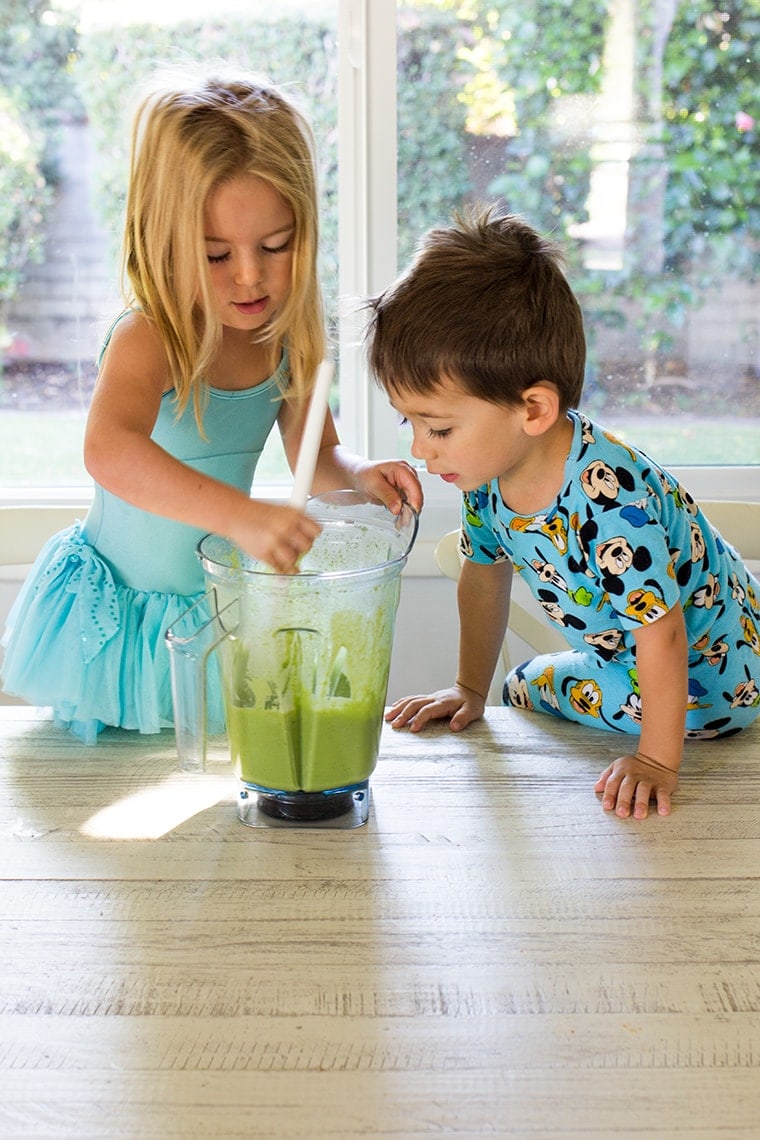 How to Make Monster Pancakes
To a blender we added the liquid ingredients needed for our favorite pancake mix which includes milk, oil and eggs plus about 1 cup of packed fresh spinach, a bit of vanilla extract and pureed. The resulting mix was a vibrant green monster pancake batter that any kid would love!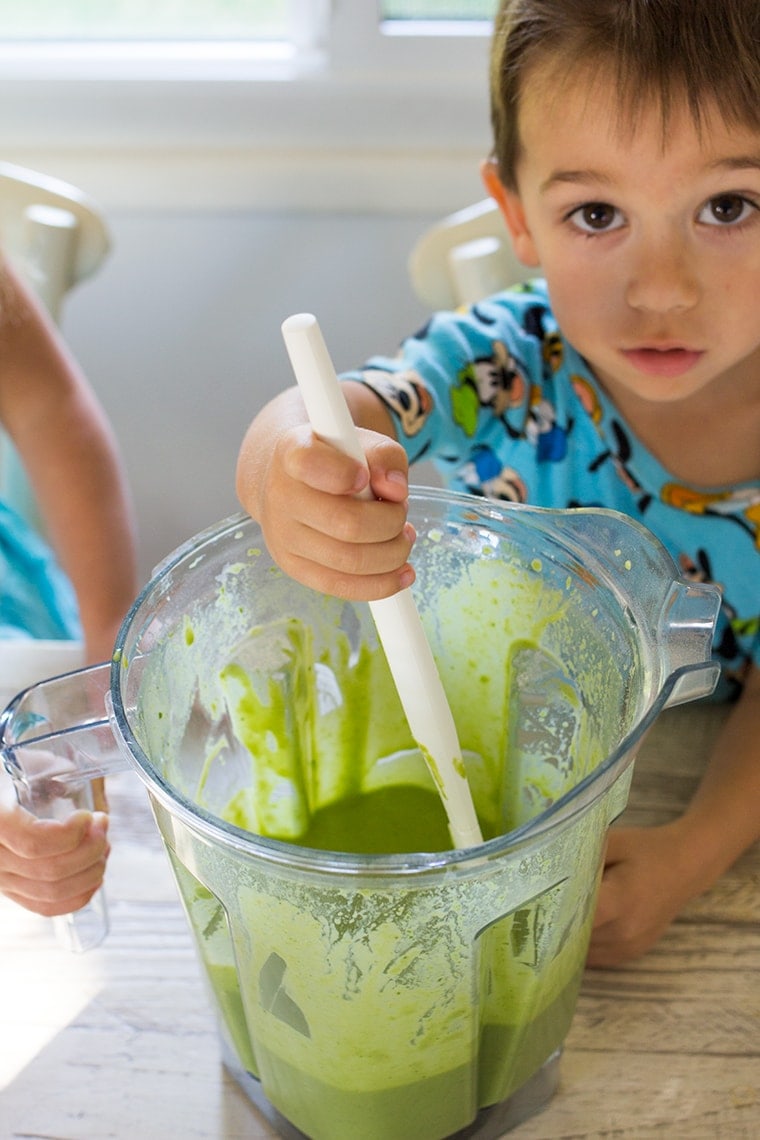 The twins took turns stirring and adding ingredients to help. Once the liquid was mixed, we added in the dry pancake mix and blended once again. Smooth, perfectly green, pancake batter!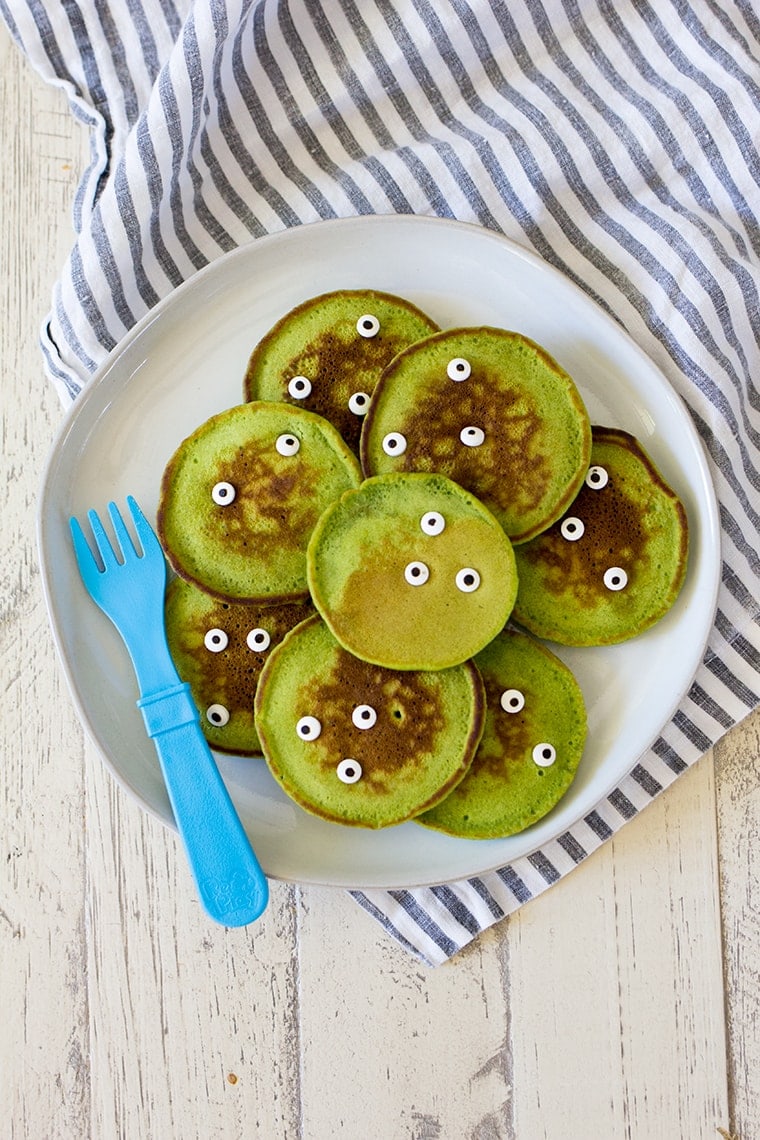 Next it's pancake making as usual. Butter a pan and pour a small amount (about ⅛ cup) at a time into the skillet to make mini silver dollar sized pancakes. Cook on low so that the monster pancakes don't brown too much and flip when firm enough.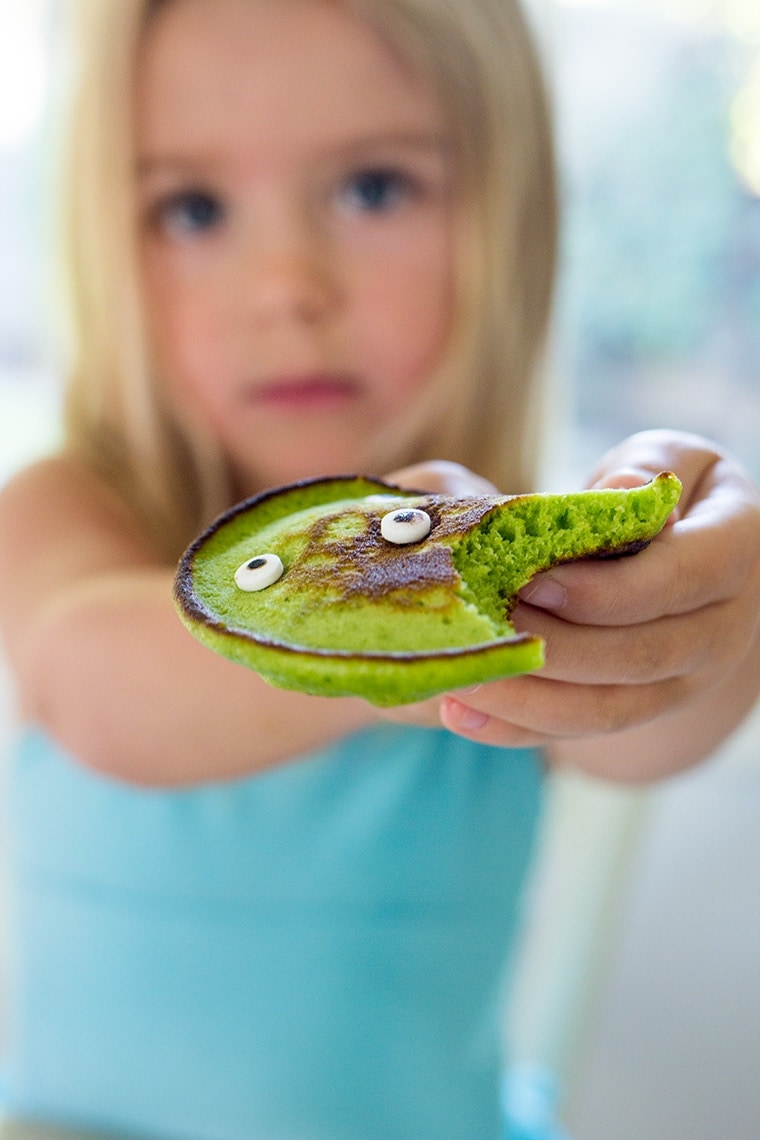 Remove mini monster pancakes from the pan and place on a plate. Have your little ones help you press candy eyeballs into the pancakes and serve. There is no right or wrong way to do it. One-eyed monsters, three eyed monsters, it's all delicious!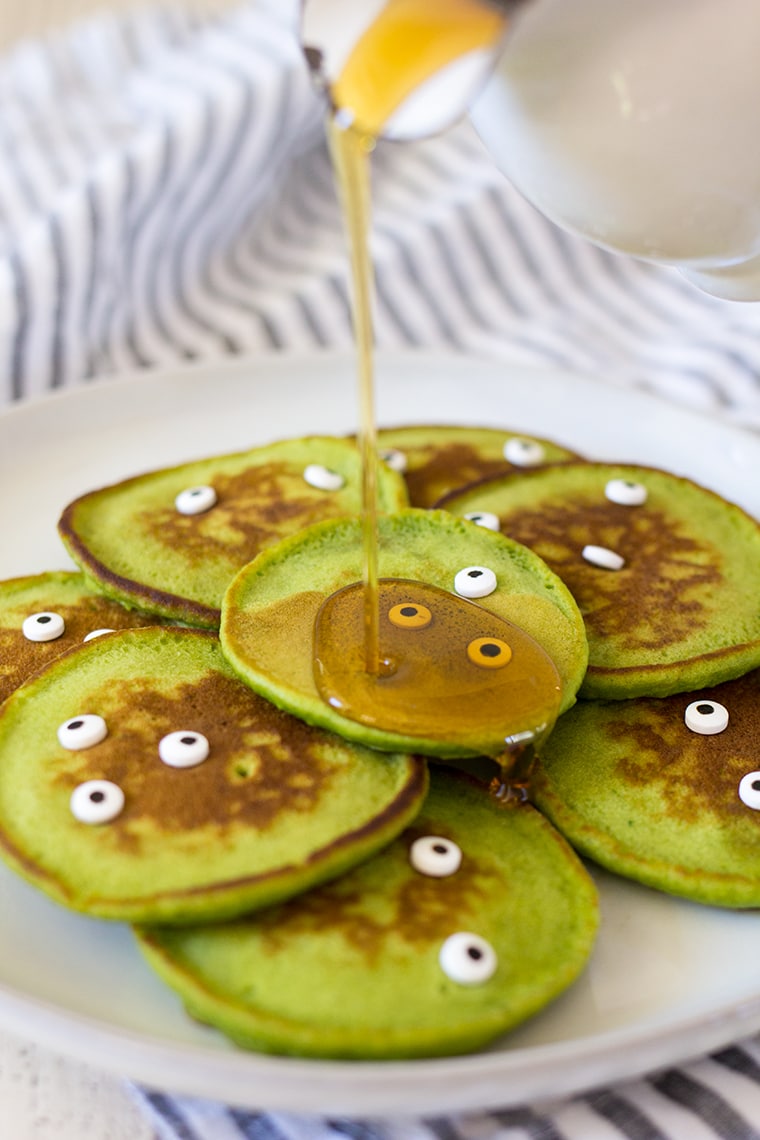 If you like syrup, go ahead and add it! Or, if your little one is anything like my twins, they may enjoy picking their Monster Cakes up and eating them whole, one bite at a time.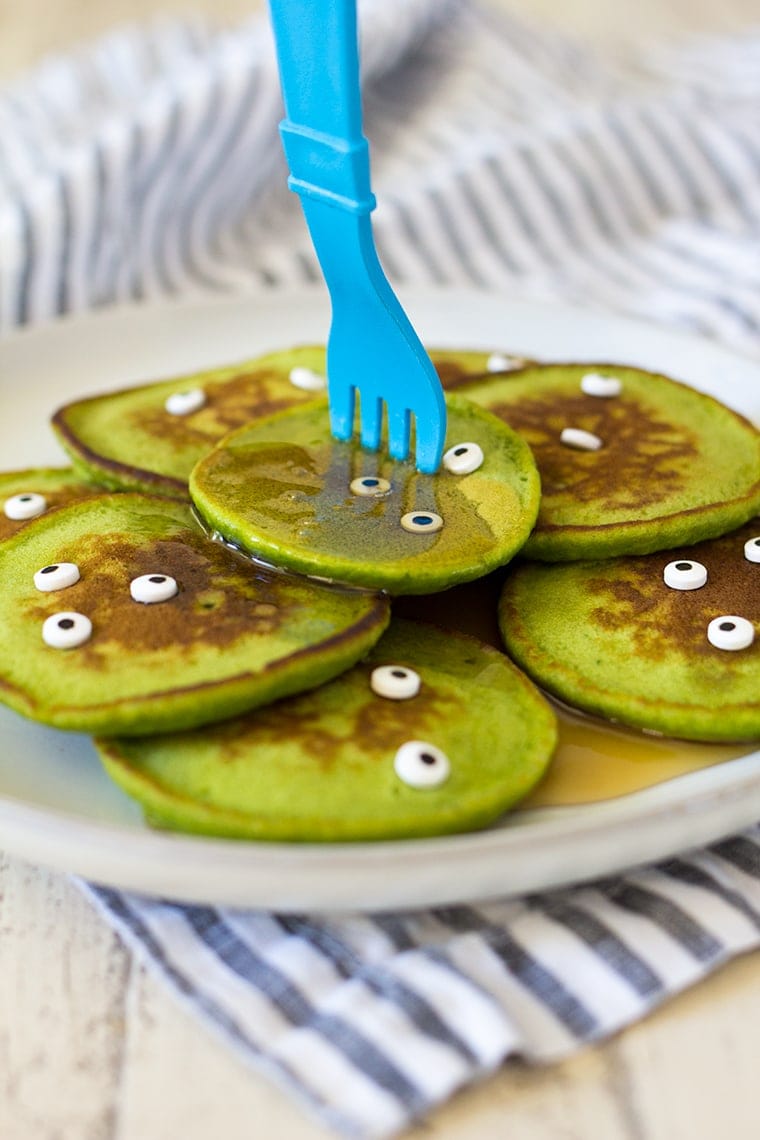 Hidden Veggies
The flavor is classic pancake with a subtle hint of spinach which is virtually undetectable. I love this recipe because it is PACKED with one whole cup (or more if you chose) of fresh spinach which is rich in vitamin C, vitamin K, folic acid, iron and calcium.
My twins gobbled them down, candy eyeballs and all, and had no idea they were eating their veggies! I mean, what kid wouldn't love bright green Monster Pancakes for a breakfast treat? Happy Halloween!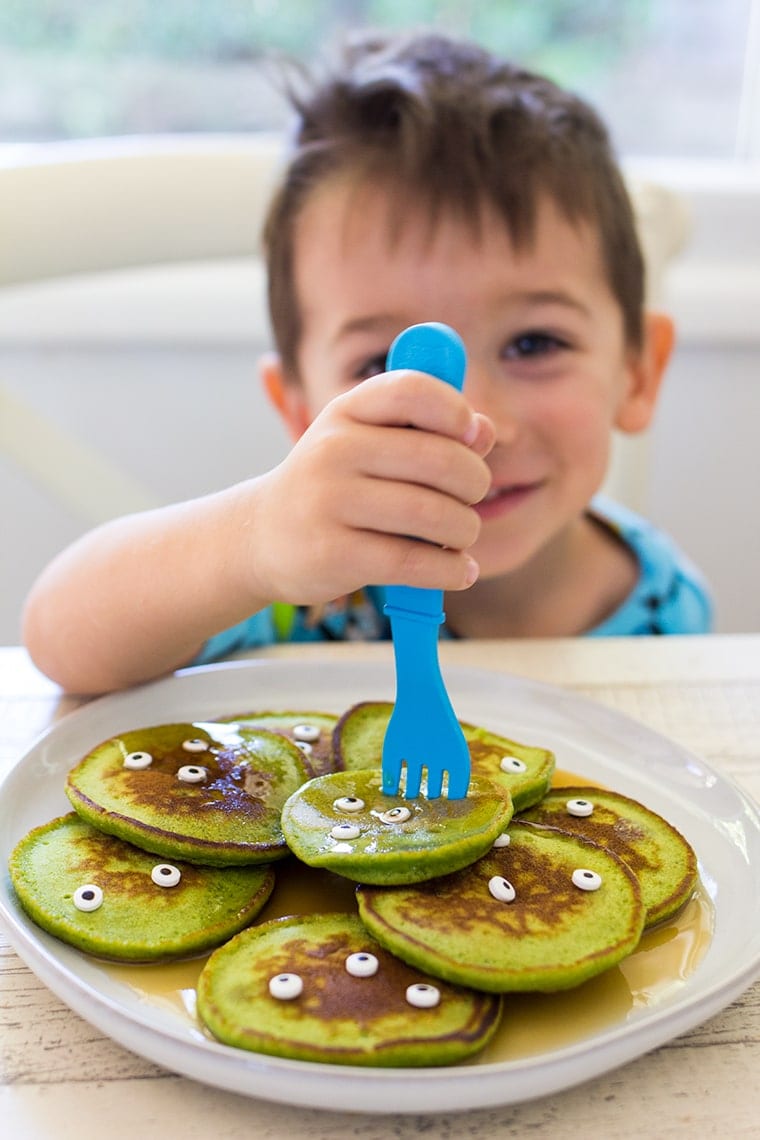 More Kid-Friendly Halloween Recipes: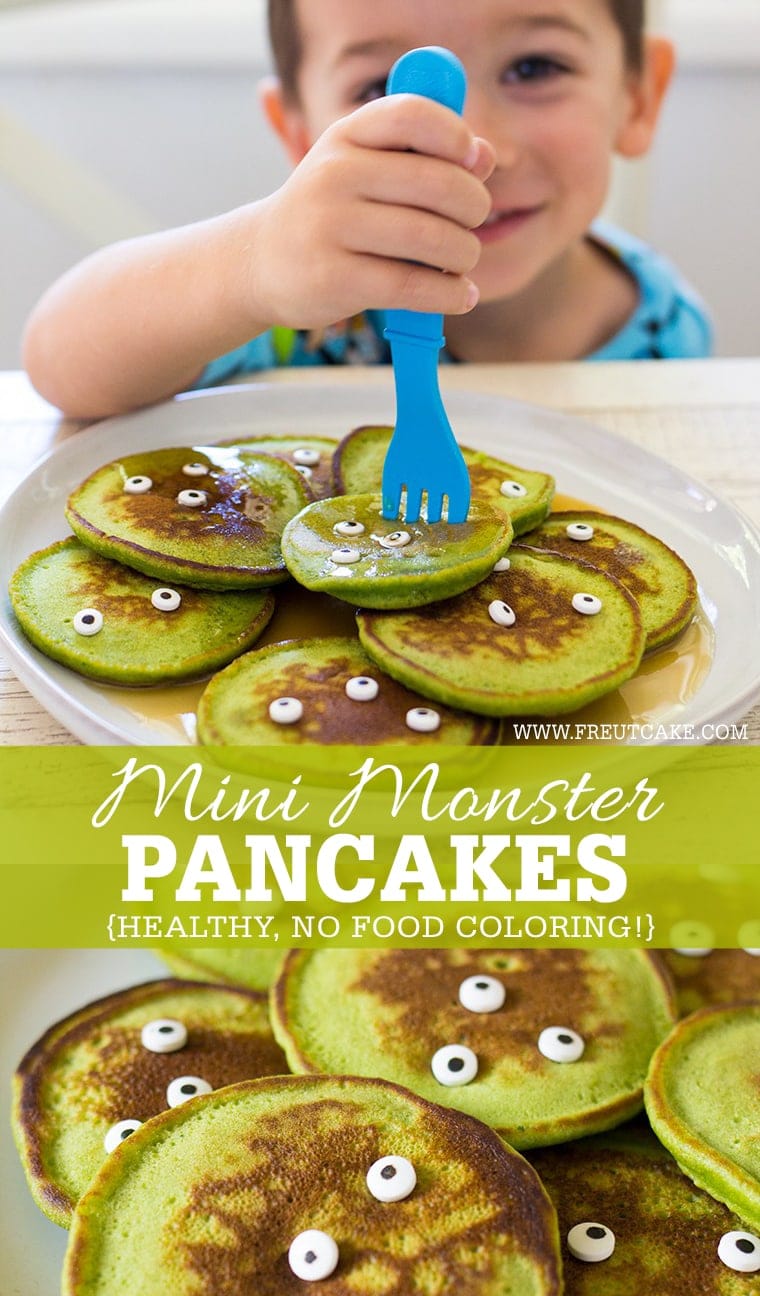 Looking for more kid-friendly Halloween Recipes? My Kid-friendly Halloween Lunch ideas are a scream!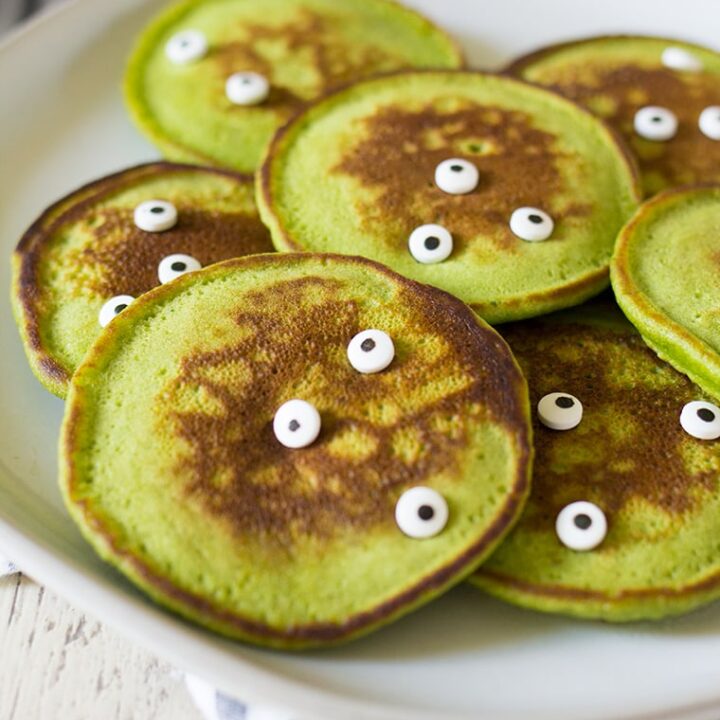 Healthy Halloween Monster Pancakes for Kids
Ingredients
1 cup fresh spinach, packed down
1 cup whole milk, more if needed
2 eggs
2 tablespoons oil
2 teaspoons vanilla extract
2 cups pancake mix
mini candy eyeballs- found in the cake decorating section
Instructions
In a blender combine spinach, milk and oil and blend until smooth. Make sure spinach is completely pureed.
Add in eggs and pulse until combined.
Add in pancake mix and pulse until combined, scraping down sides of the blender.
Heat a skillet or non-stick pan over medium-low heat.
Butter or grease pan and add pancake batter ⅛ or a cup at a time to create small silver dollar sized pancakes.
Cook over low heat (so as not to over brown) and flip when firm and set.
Cook both sides until firm and remove from pan.
Press candy eyeballs into pancakes and serve.