You might read that title and think, "them is fightin' words!" but I can honestly say that (in my humble opinion) this is THE BEST Sour Cream Banana Bread recipe I've ever baked and I've been baking it for years.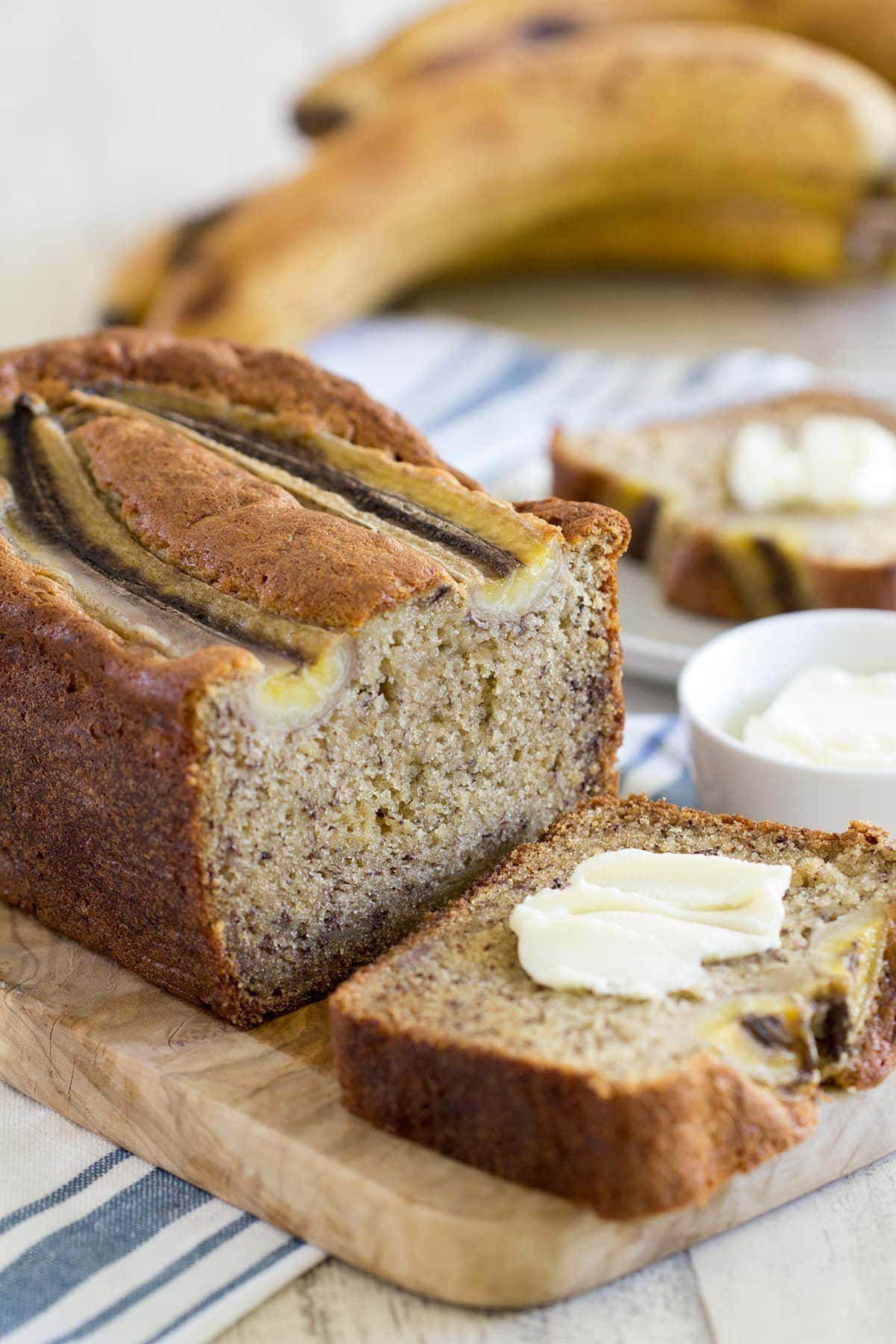 Banana Bread with Sour Cream
When I started writing this blog back in 2010 I had only a few go-to recipes up my sleeve. Just a few tried and true recipe cards that made their way out of the recipe box on repeat. This banana bread with sour cream was one of them. I've made it too many times to count over the years (four time this past week to be exact) and it's always a winner.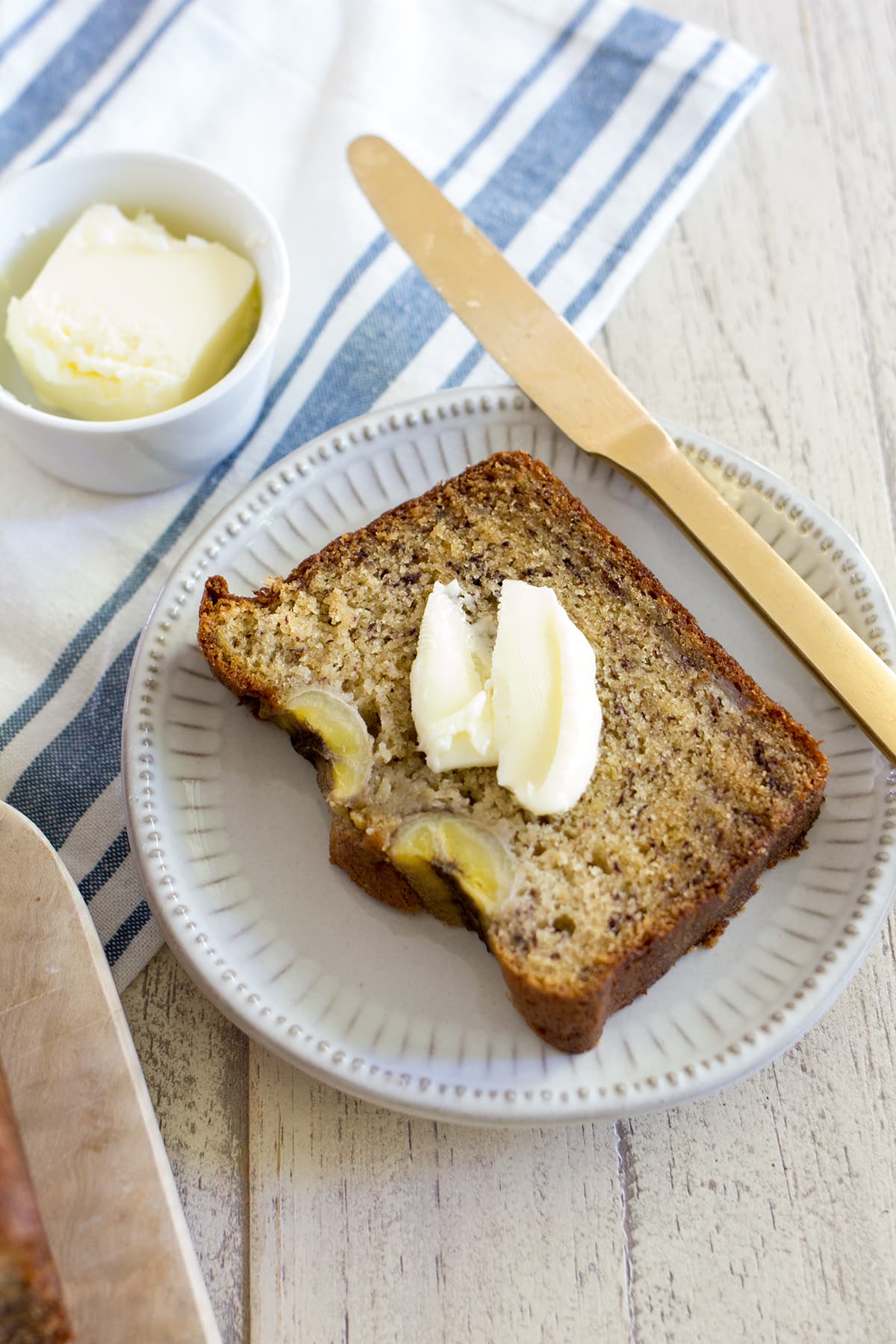 The flavor is really hard to beat with a mix of brown sugar and white sugar, whole milk sour cream to give extra moisture and just a hint of cinnamon and vanilla. It's simple yet perfect in every way. Incredibly moist (although that is a hard thing to show in photos) yet firm enough to withstand a good smearing of salted room-temperature butter.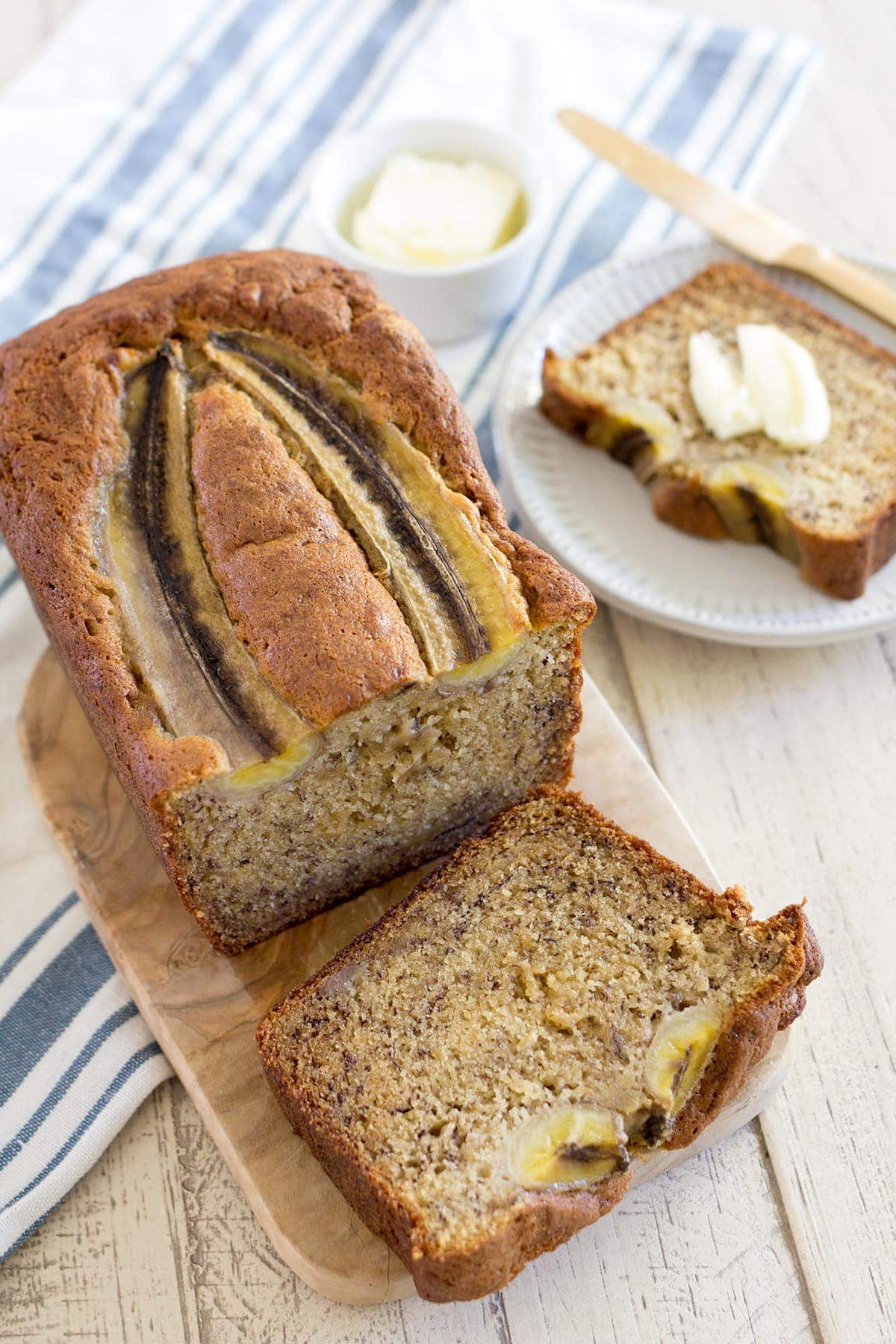 Just recently I began slicing a whole ripe banana to garnish the top before baking. It's an unnecessary addition but it makes for a pretty presentation non the less. So, if you have an extra banana, give it a try! Just press the cut banana down into the batter until nothing but the cut top remains and bake.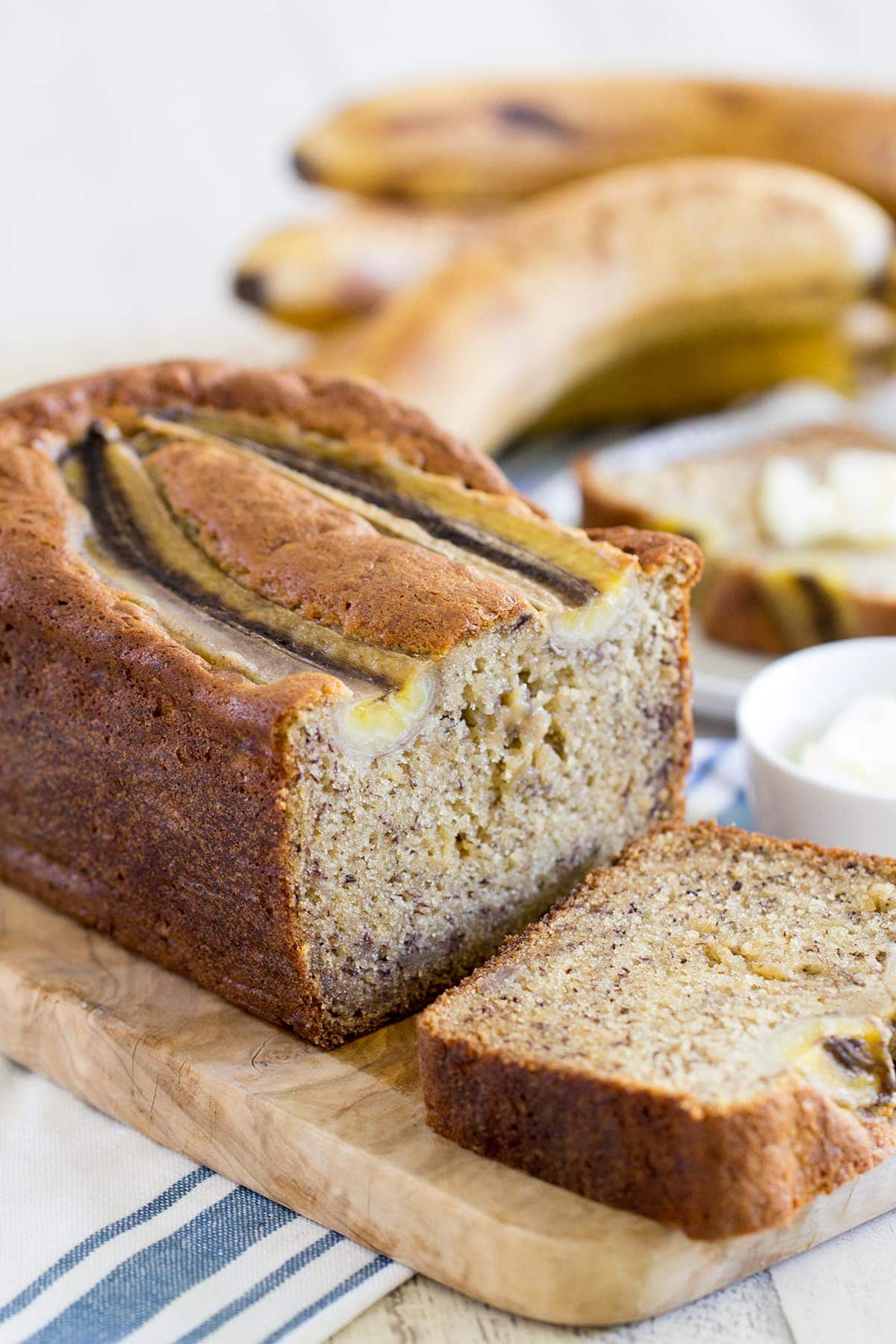 TIPS FOR THE BEST BANANA BREAD
Always use over ripe bananas. The brown speckled, over ripe bananas give the best flavor and sweetness to banana bread! Make sure to mash them really well so that they incorporate easily into the batter.
Room temperature ingredients work best. When you take your butter out to come to room temperature, take out your two eggs as well.
Sour cream makes moist and delicious banana bread. Don't skimp on the fat! Full fat, whole milk sour cream is the secret ingredient here. It adds a dense richness to the bread and extra moisture to boot.
Wait before slicing. Never slice your bread while it's hot! Cool your banana bread for about 10 minutes in the pan before removing to a cooling rack to cool completely.
The longer you wait the moister it gets. If you have time, wrap your banana bread in plastic wrap or a large ziplock bag and leave it (un-cut) for at lease one day. This bread gets moister the longer it sits. It's worth the wait, I promise.
Pay attention to your pans. Darker, non-stick pans will brown and cook your bread faster than light aluminum pans. King Arthur Flour wrote a great blog post on this topic here!
Finally, don't forget to butter AND parchment paper line your pans. The combination of the two will ensure your bread comes right out of the pan without leaving anything behind.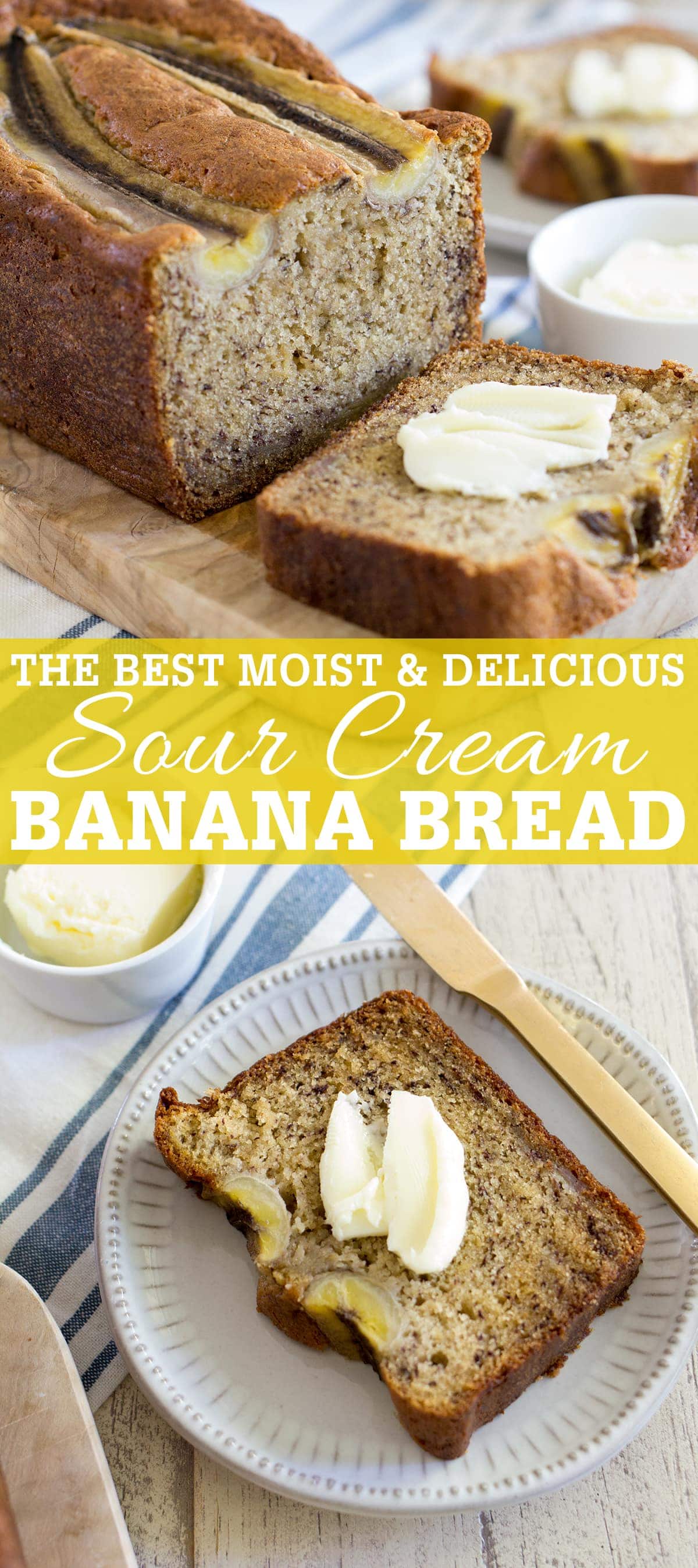 Optional Mix-Ins for Banana Bread
Recently I polled my Instagram followers to find out what their favorite banana bread mix-in's included. Here are a few great suggestions! *mix in 1 cup total of your favorite mix-ins to the banana bread batter just before pouring into the pan.
chocolate chips
chopped walnuts
chopped pecans
hazelnuts
butterscotch chips
chopped dates + nuts
crystalized ginger + nuts
dried pineapple soaked in rum - you might like to try my Pineapple Coconut Banana Bread!
chopped oreo cookies
cinnamon chips
shredded coconut
chopped apples
blueberries
raisins
Note: I have not personally tried all of these mix-ins as they were recommended by my readers HOWEVER, if you try any delicious combinations, please let me know if the comments below!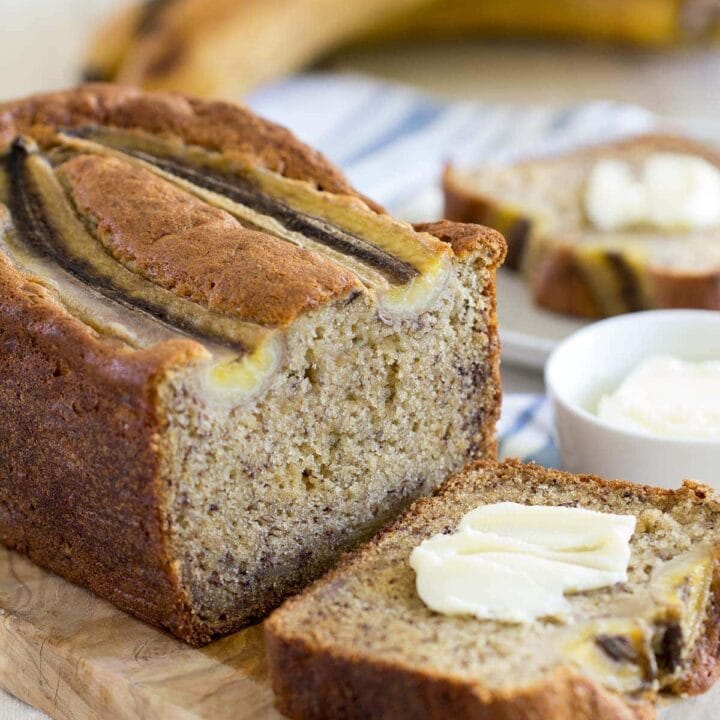 The Best Sour Cream Banana Bread
Total Time:
1 hour
20 minutes
A moist and delicious, classic sour cream banana bread.
Ingredients
½ cup unsalted butter
½ cup light brown sugar
½ cup granulated sugar
2 eggs
1 teaspoon vanilla extract
1 ½ cups all-purpose flour
1 teaspoon cinnamon
1 teaspoon baking soda
½ teaspoon salt
1 cup mashed ripe banana
½ cup whole milk sour cream
Instructions
Preheat oven to 350 degrees.
Butter and line a standard loaf pan with parchment paper, set aside.
In an electric mixer, cream butter, brown sugar and granulated sugar together until light and fluffy.
Add eggs and beat until combined, scraping down sides of the bowl.
Mix in vanilla extract.
In a separate bowl combine flour, baking soda, salt and cinnamon and whisk together.
Add dry mixture to the butter mix and beat just until incorporated.
Add in mashed banana and sour cream and beat until combined, scraping down sides of the bowl.
Pour into prepared loaf pan and bake for 55-60 minutes or until a wooden toothpick comes out clean from the center and loaf is golden brown. Start checking as early as 50 minutes depending on your oven.
Remove from oven and allow to cool 10 minutes in pan before removing to a wire rack to cool completely.
Looking for more quick bread recipes? Try my Chocolate Chip Zucchini Bread!