Sweet and delicious coconut banana bread studded with fresh pineapple and topped with toasty coconut flakes. This banana bread is my family's new favorite.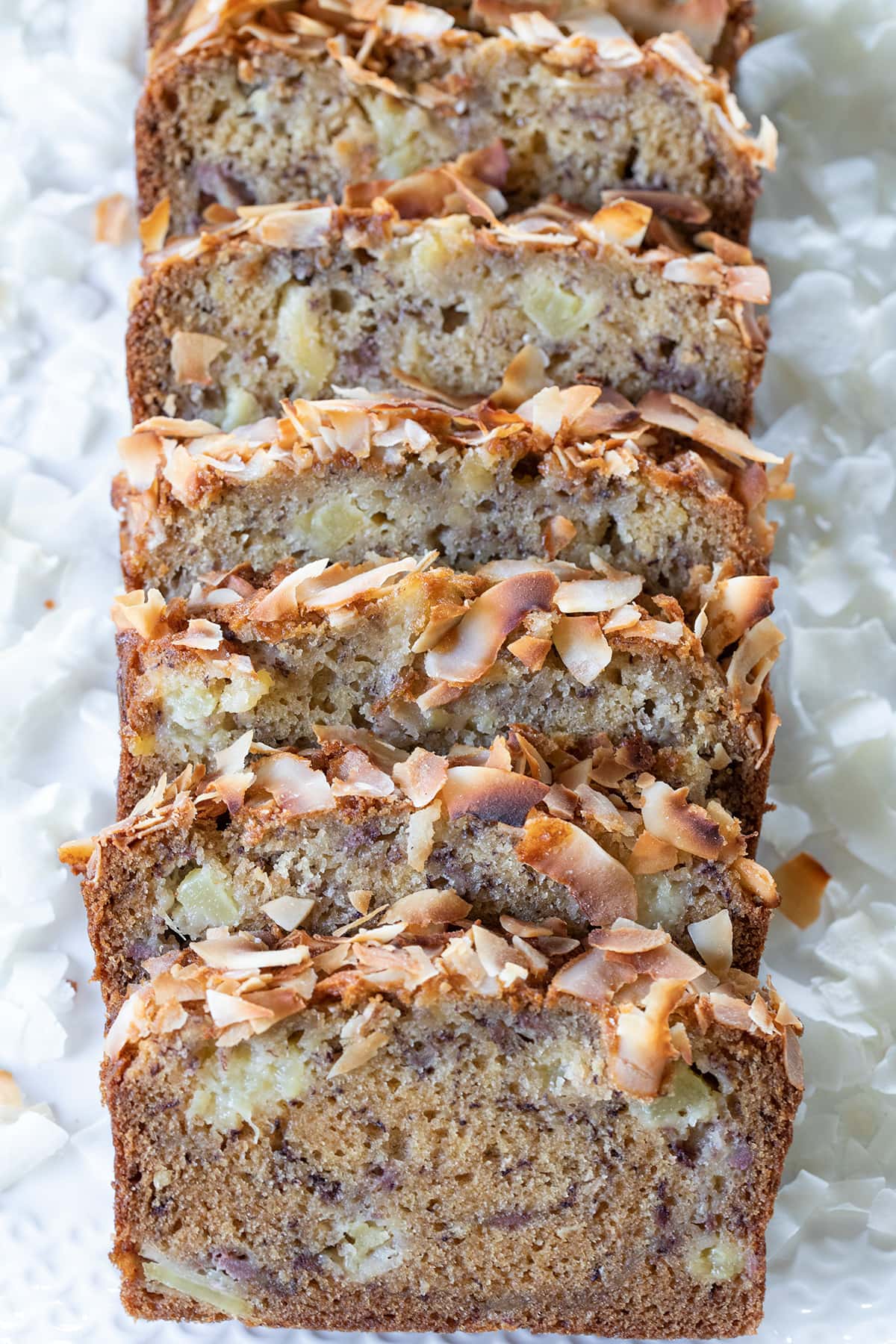 Pineapple Coconut Banana Bread
What do you do with that can of coconut cream and pineapple sitting in your pantry? Make a tropical Pineapple Coconut Banana Bread of course!
This past weekend the twins and I made banana bread which has become one of my favorite easy recipes to make with them. They love helping me mash the bananas, measure the flour, and mix it all together.
We usually make Sour Cream Banana Bread but this time we decided to put a tropical twist on it.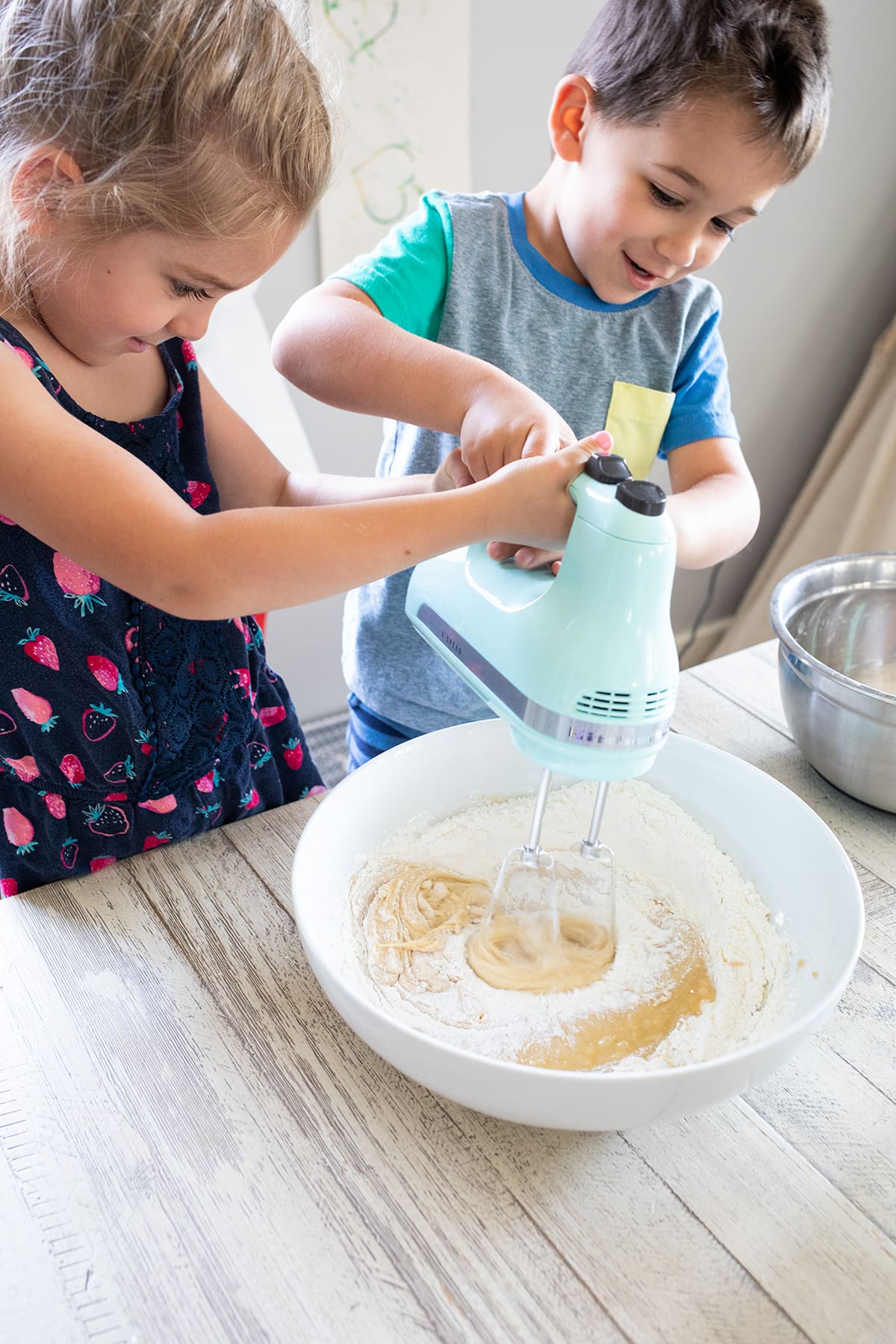 Working with ingredients I had in my pantry, we substituted the sour cream for coconut cream, added in chopped pineapple, topped it with more coconut and ended up with the tastiest tropical banana bread loaf, ever!
The entire house smelled dreamy with sweet notes of coconut and banana floating through the air.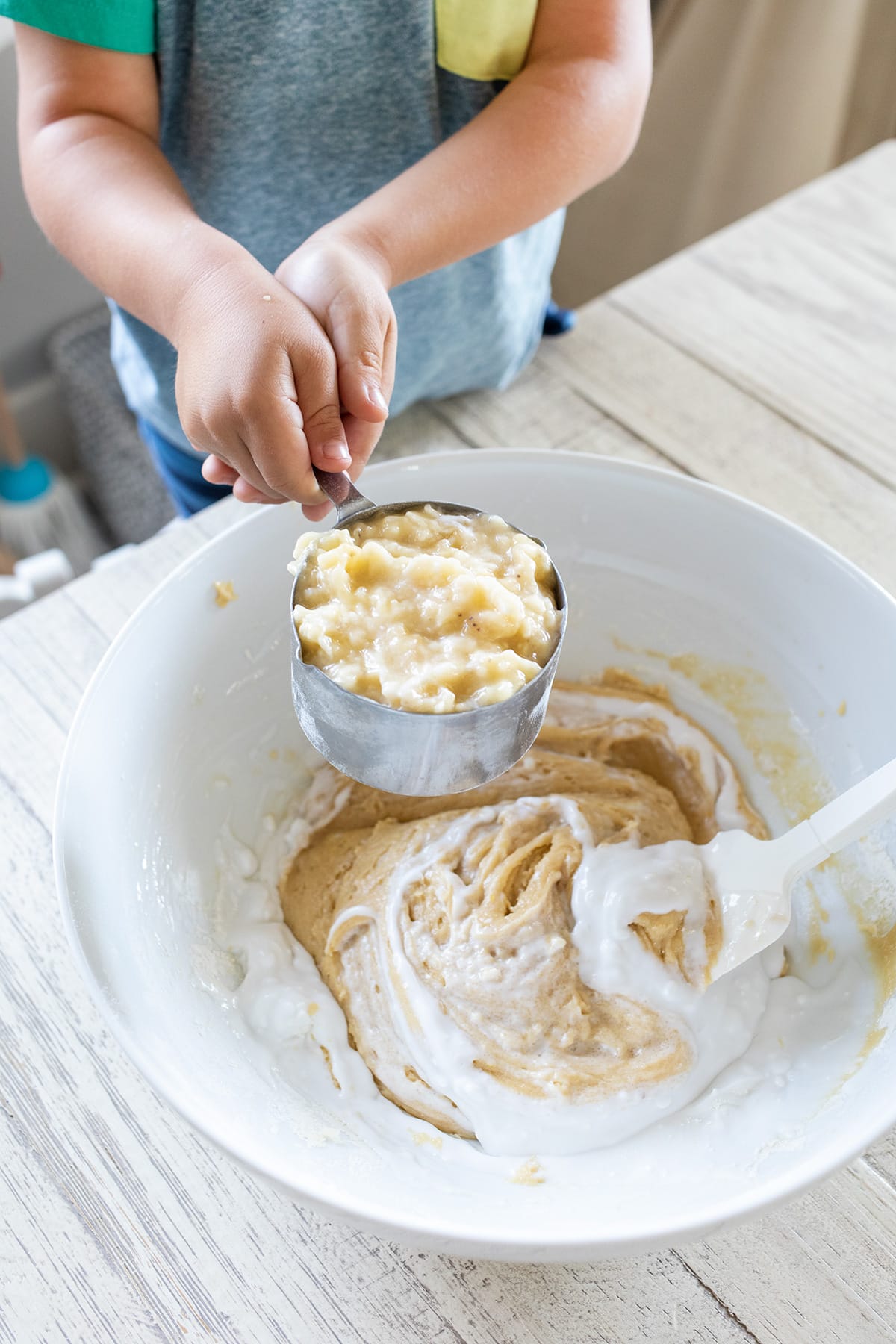 Ingredients in Tropical Banana Bread
Butter – because everything is better with butter!
Sugar - both white and light brown sugar. I love the combination of both.
Eggs - gotta have them for quick bread.
Vanilla Extract - for all of the yummy flavor. Alternately, you could use rum extract if you want to give this a piña colada flavor!
Flour - all purpose flour works best.
Baking Soda & Salt - both essential for baking!
Banana - this is a great time to use up those overripe bananas.
Coconut Cream - full fat canned, unsweetened coconut cream.
Pineapple- you can absolutely use fresh pineapple but I had a can of diced pineapple so I used that.
Coconut Chips- unsweetened coconut makes a toasty and crisp crust on top of the bread.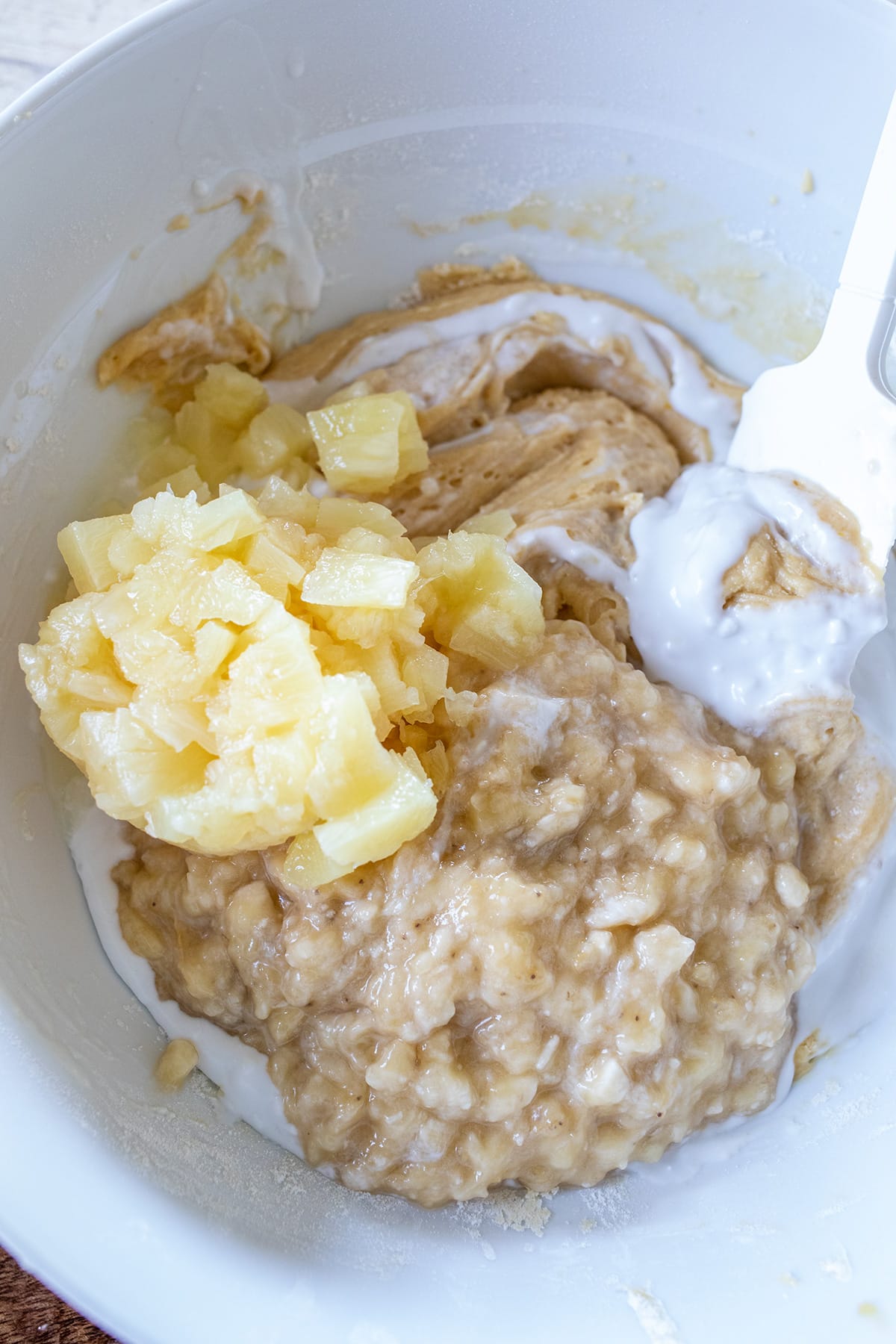 How to Make Coconut Banana Bread
Preheat & Prep- preheat the oven to 350 degrees and line a loaf pan with parchment paper.
Wet Ingredients - In large bowl mix together butter, brown sugar and granulated sugar. Add eggs and vanilla extract and beat to combine.
Dry Ingredients - In a separate bowl whisk together: flour, baking soda and salt. Add dry mixture to the butter mix and beat just until incorporated.
The Good Stuff - Add in mashed banana, coconut cream and diced pineapple and mix to combine.
Pour- Pour the batter pan and sprinkle with coconut chips.
Bake- Bake on the center rack for 70-75 minutes. Sounds like a long time but this bread has a lot of moisture so it needs to bake longer than standard banana bread.
Cool- Allow to cool completely before slicing!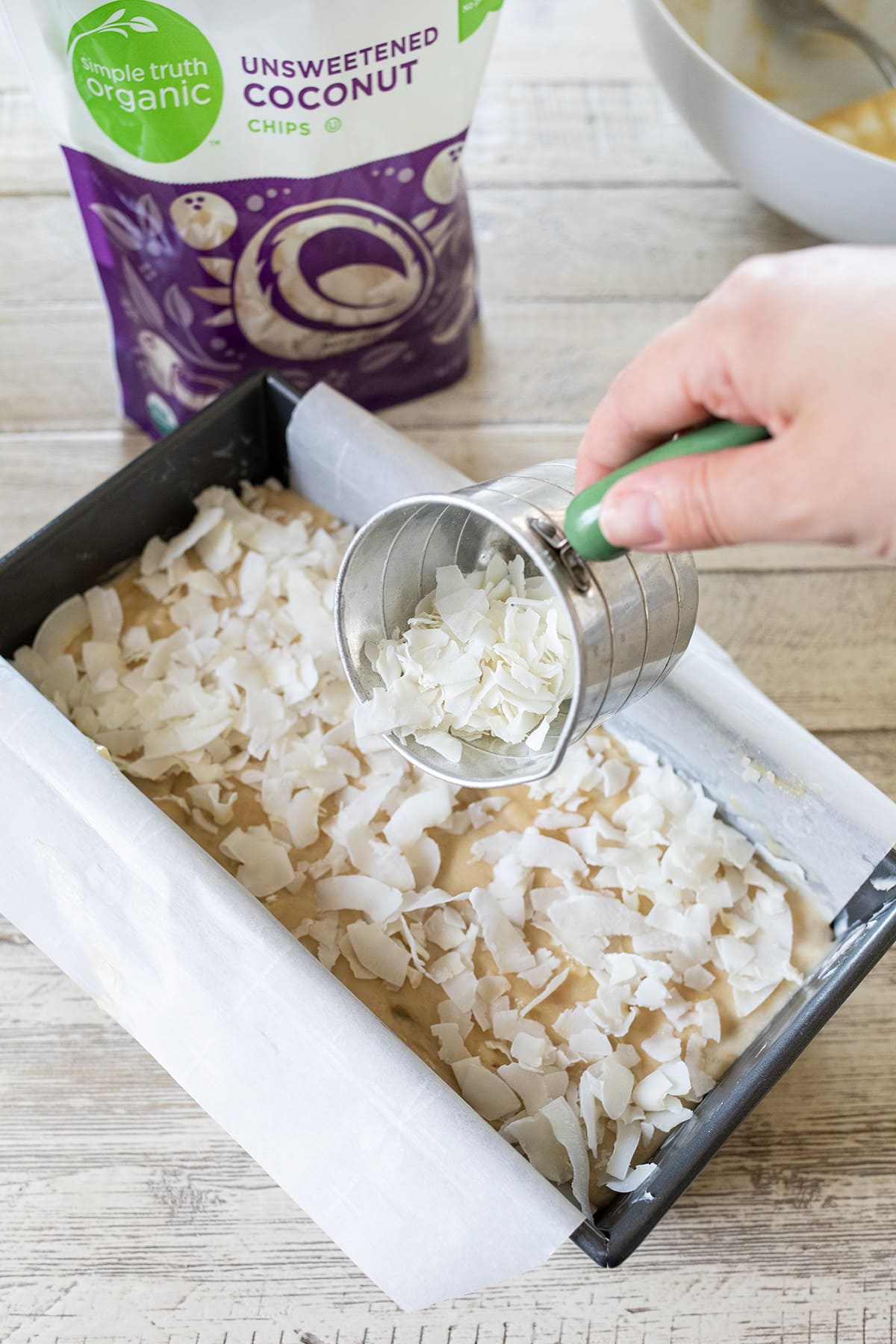 Possible Substitutions
Making this bread, I used what I had on hand and that just happened to be canned pineapple, unsweetened coconut chips, and full fat coconut cream.
The recipe came out absolutely delicious with these three ingredients added in and I would highly recommend you not substitute them.
For the pineapple, make sure you chop it rather small as larger chunks have a tendency to sink in the bread. I also would NOT recommend substituting crushed pineapple as it would add too much extra moisture to the batter.
As for the coconut, the bread is very sweet so unsweetened coconut is perfect.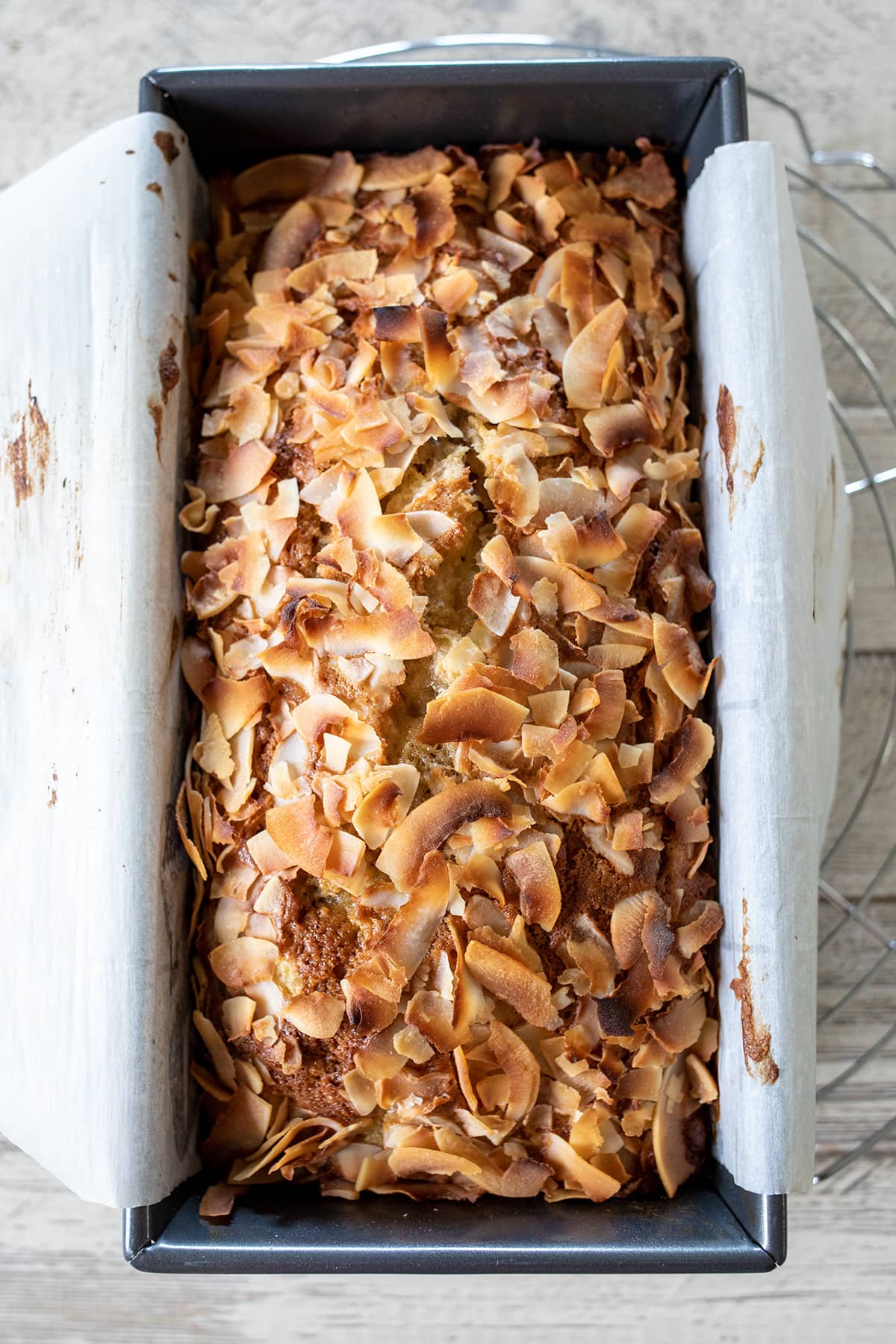 Tips For No-Stick Banana Bread
There is nothing worse than baking a beautiful loaf of banana bread only to find that it's stuck in the pan. Here are my steps to prevent loafs from ever sticking.
Use a non-stick loaf pan, like this one. It's extra insurance however even with an aluminum loaf pan, the next steps will prevent sticking.
Grease the pan well on all sides and bottom with butter.
Cut a piece of parchment paper to fit length of the loaf pan with overhang on both sides. This is KEY to easy removal and zero sticking. It also makes removing the loaf easy, just lift it right out.
Cool the loaf in the pan for 5-10 minutes and remove to a wire rack to cool the rest of the way.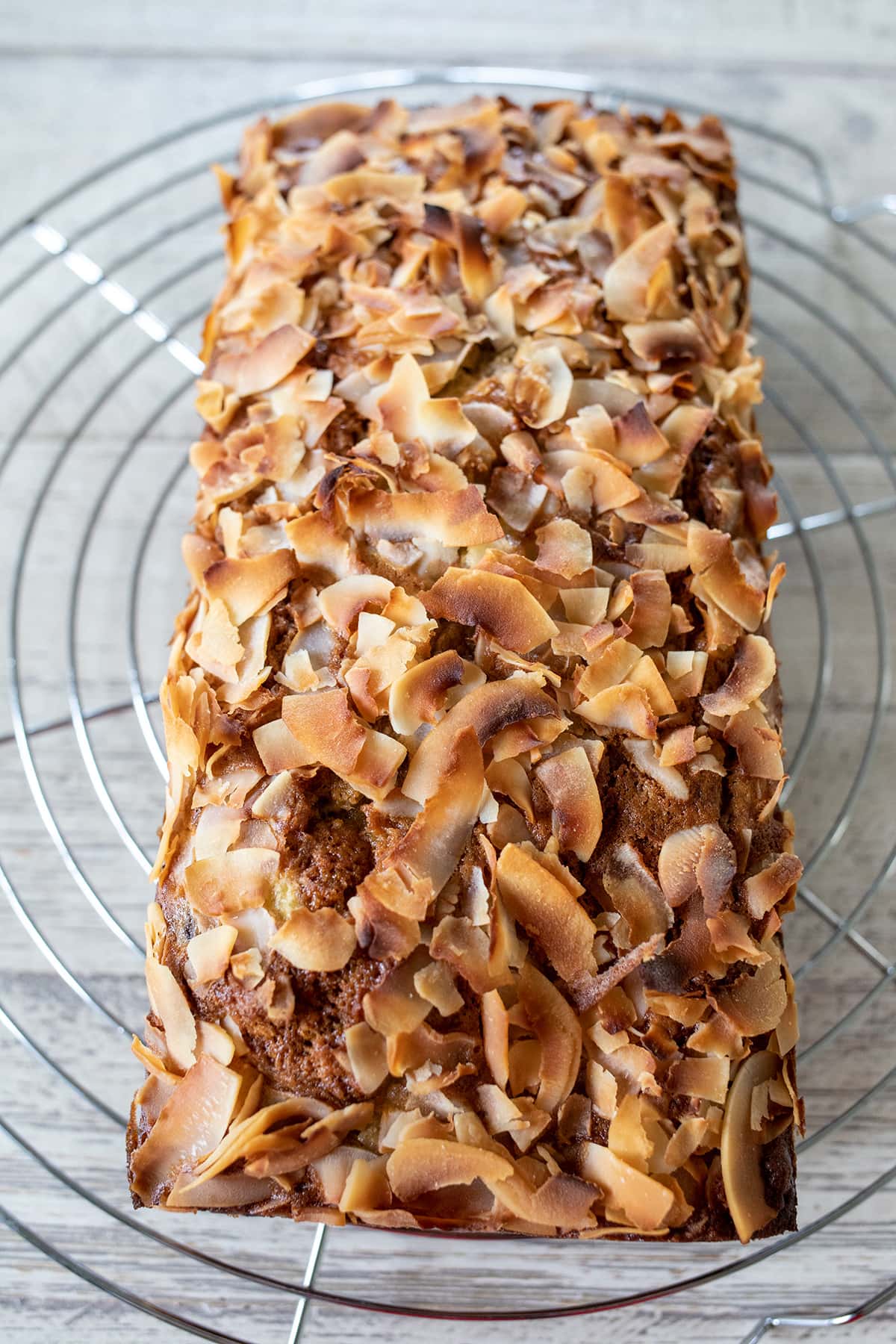 How gorgeous is this loaf? Resisting the temptation to cut right into it was by far the hardest part. This Pineapple Coconut Banana Bread needs to cool completely before it's sliced and enjoyed but the wait will be well worth it.
Slice with a serrated knife into thick slices and enjoy for breakfast, brunch or even an afternoon snack. There is no wrong time of day to enjoy banana bread!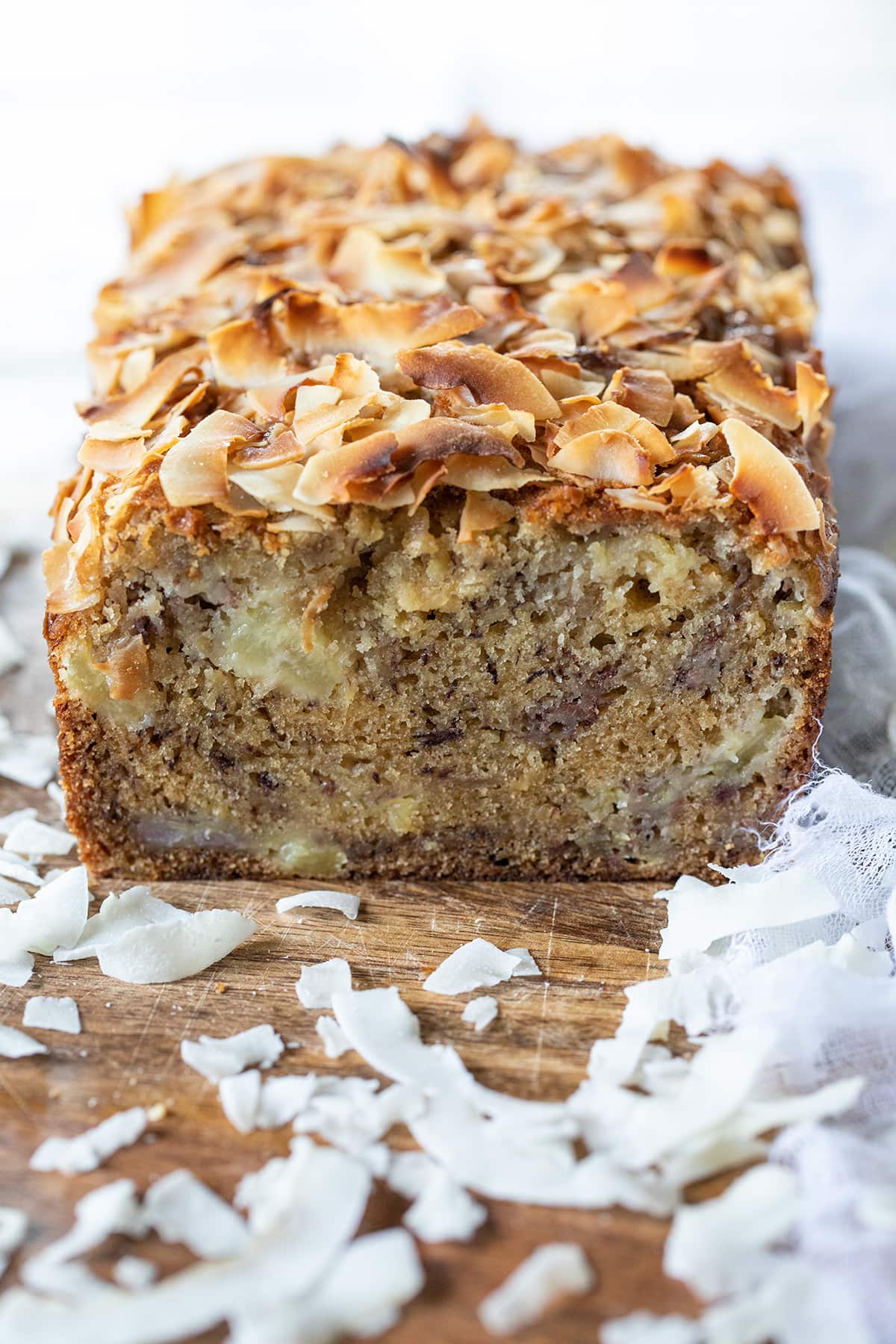 The final flavor of this bread is definitely packed with banana goodness but gets a subtle sweet coconut note in every bite while chunks of pineapple and more toasted coconut on top really make this bread a tropical treat!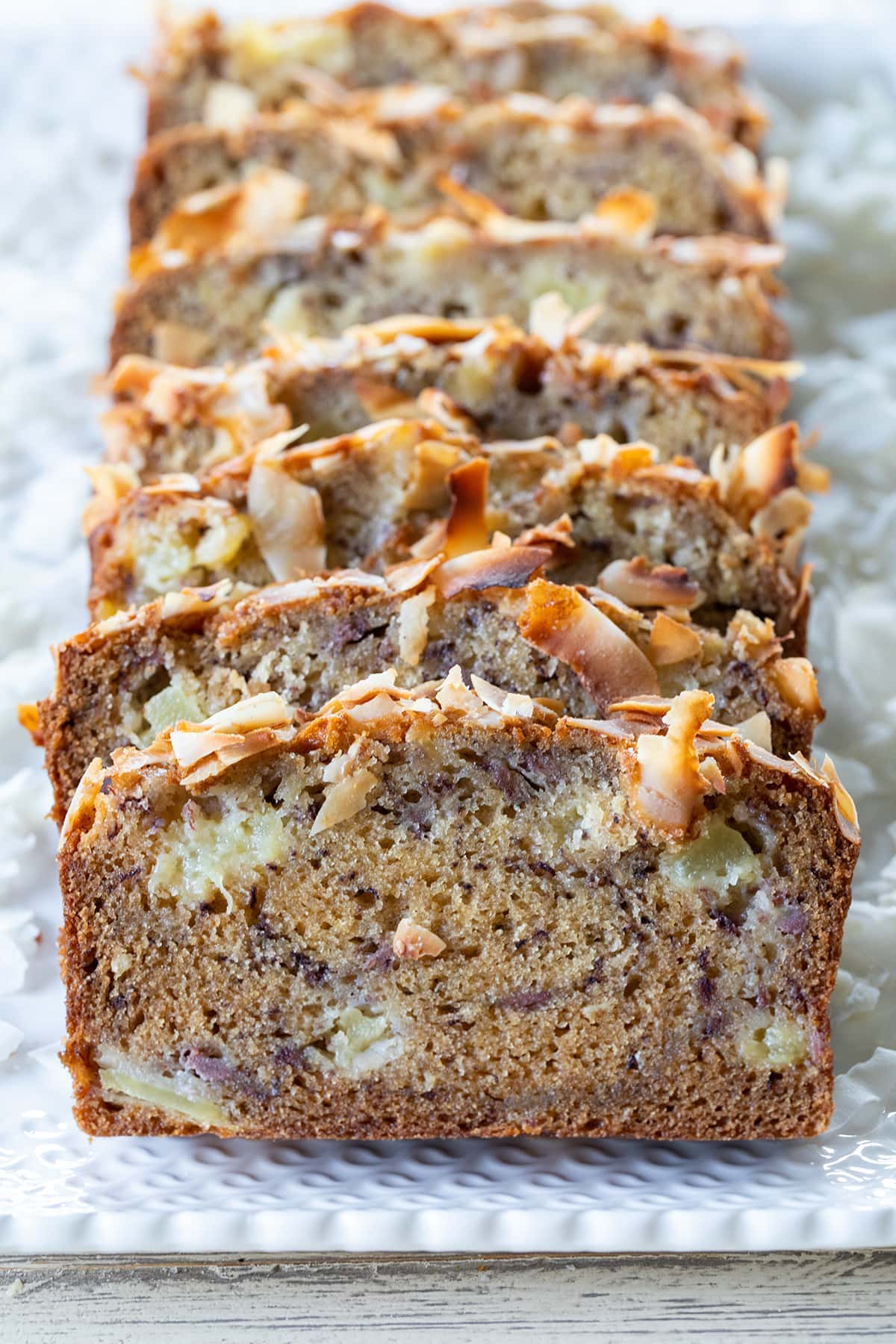 More Quick Bread Recipes to Try: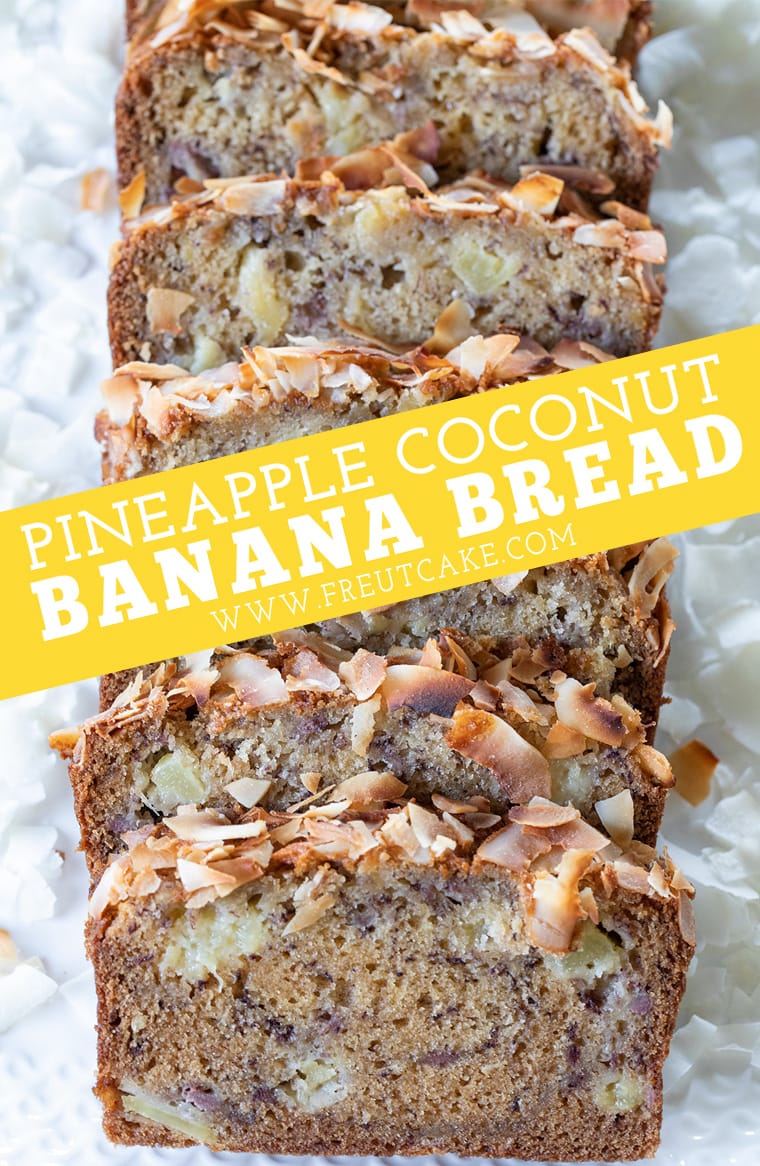 I hope you will enjoy making and eating this Pineapple Coconut Banana Bread as much as the twins and I did! In John's words this loaf was "the best banana bread I've ever made." It definitely got the seal of approval from my family.
If you make this banana bread, please leave me a comment on this post and share a photo on social #freutcake @freutcake so I can see your tropical creation. Happy Baking!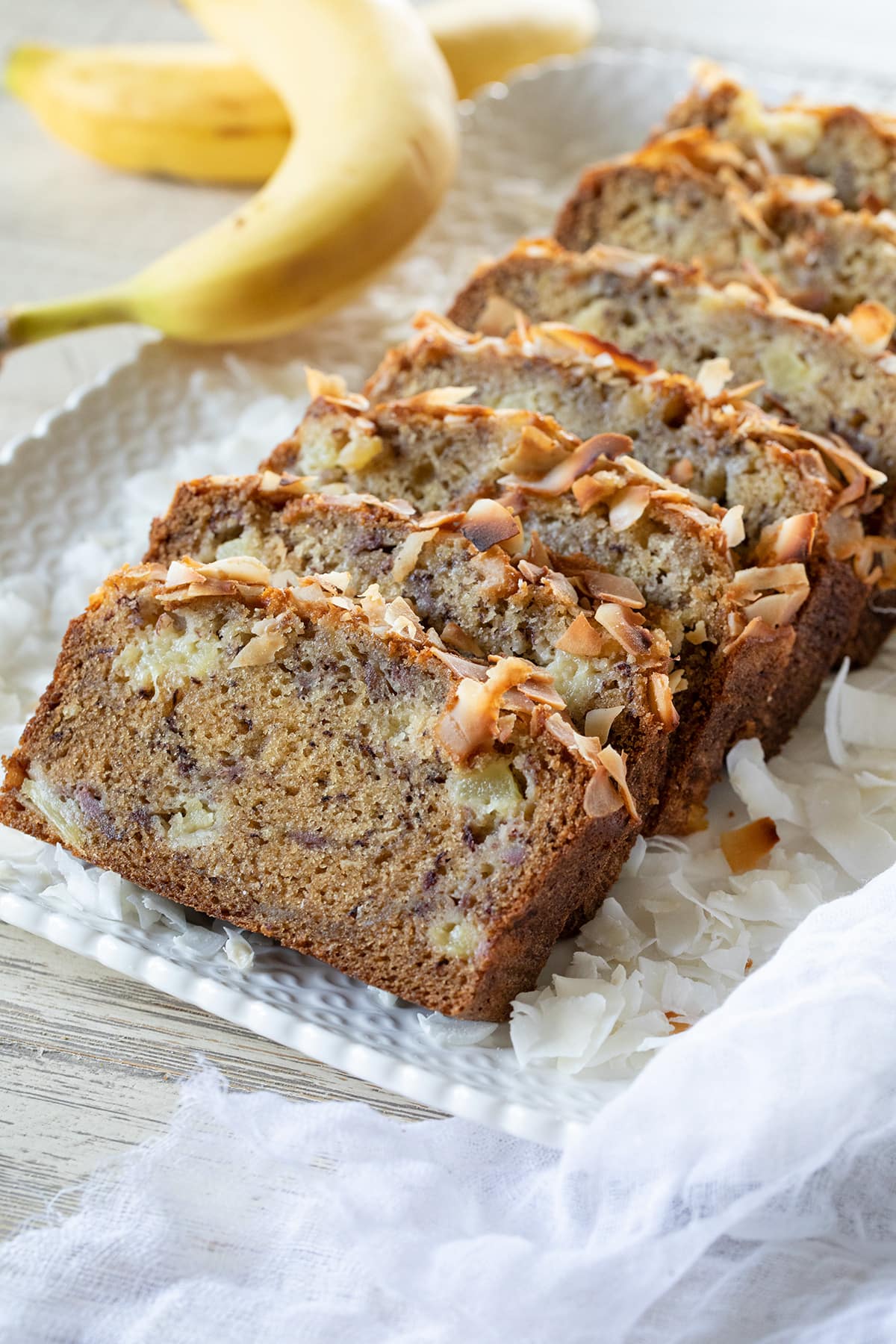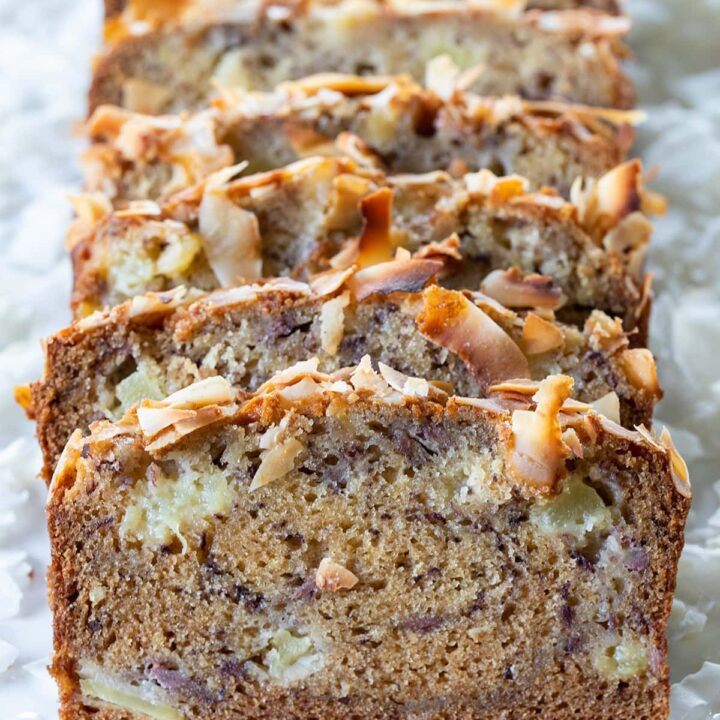 Pineapple Coconut Banana Bread
Cook Time:
1 hour
15 minutes
Total Time:
2 hours
35 minutes
A topical infused banana bread made with coconut cream, chunks of sweet pineapple and toasty coconut chips.
Ingredients
½ cup unsalted butter – melted and cooled slightly
½ cup light brown sugar
½ cup granulated sugar
2 eggs
1 teaspoon vanilla extract
1 ½ cups all-purpose flour
1 teaspoon baking soda
½ teaspoon salt
1 cup mashed ripe banana – about 3 regular sized bananas
½ cup full fat coconut cream
1 cup chopped pineapple (canned, drained) Note: do not use crushed
1 cup unsweetened coconut chips (for the top)
Instructions
Preheat oven to 350 degrees.
Butter and line a standard sized loaf pan with parchment paper, set aside.
In a large bowl mix together melted butter, brown sugar and granulated sugar. I used an electric mixer but you can also do this by hand if you don't have one.
Add eggs and vanilla extract and beat until combined, scraping down sides of the bowl.
In a separate bowl whisk together: flour, baking soda and salt.
Add dry mixture to the wet mixture and beat just until incorporated.
Add in mashed banana and coconut cream and beat until combined, scraping down sides of the bowl.
Gently fold in chopped pineapple and transfer batter to prepared loaf pan.
Sprinkle with coconut chips.
Bake on the center rack for 70-75 minutes or until a wooden toothpick comes out clean from the center without any batter sticking to it.
Remove from oven and allow to cool 10 minutes in pan before removing to a wire rack to cool completely.
Cool completely to room temperature before slicing with a serrated knife.


Notes
This is a very moist bread due to the coconut cream and pineapple so it does take a bit longer in the oven than other banana bread recipes. Just be patient and use a toothpick to test doneness.
The coconut will start to toast up very quickly in the oven, don't be alarmed! My loaf baked the entire 75 minutes and the coconut never burnt. If your loaf is getting too dark you can alway tent it with foil and continue baking.
Allow loaf to cool completely before slicing.
More tips and tricks in the blog post, enjoy!
Recommended Products
This site uses affiliate links in which I may earn a small percentage from qualifying purchases.
Nutrition Information:
Yield:

12
Serving Size:

1
Amount Per Serving:
Calories:

342
Total Fat:

16g
Saturated Fat:

11g
Trans Fat:

0g
Unsaturated Fat:

4g
Cholesterol:

51mg
Sodium:

228mg
Carbohydrates:

48g
Fiber:

3g
Sugar:

28g
Protein:

4g