Delicious candied orange peels dipped in melted milk chocolate are perfect for homemade holiday gift giving!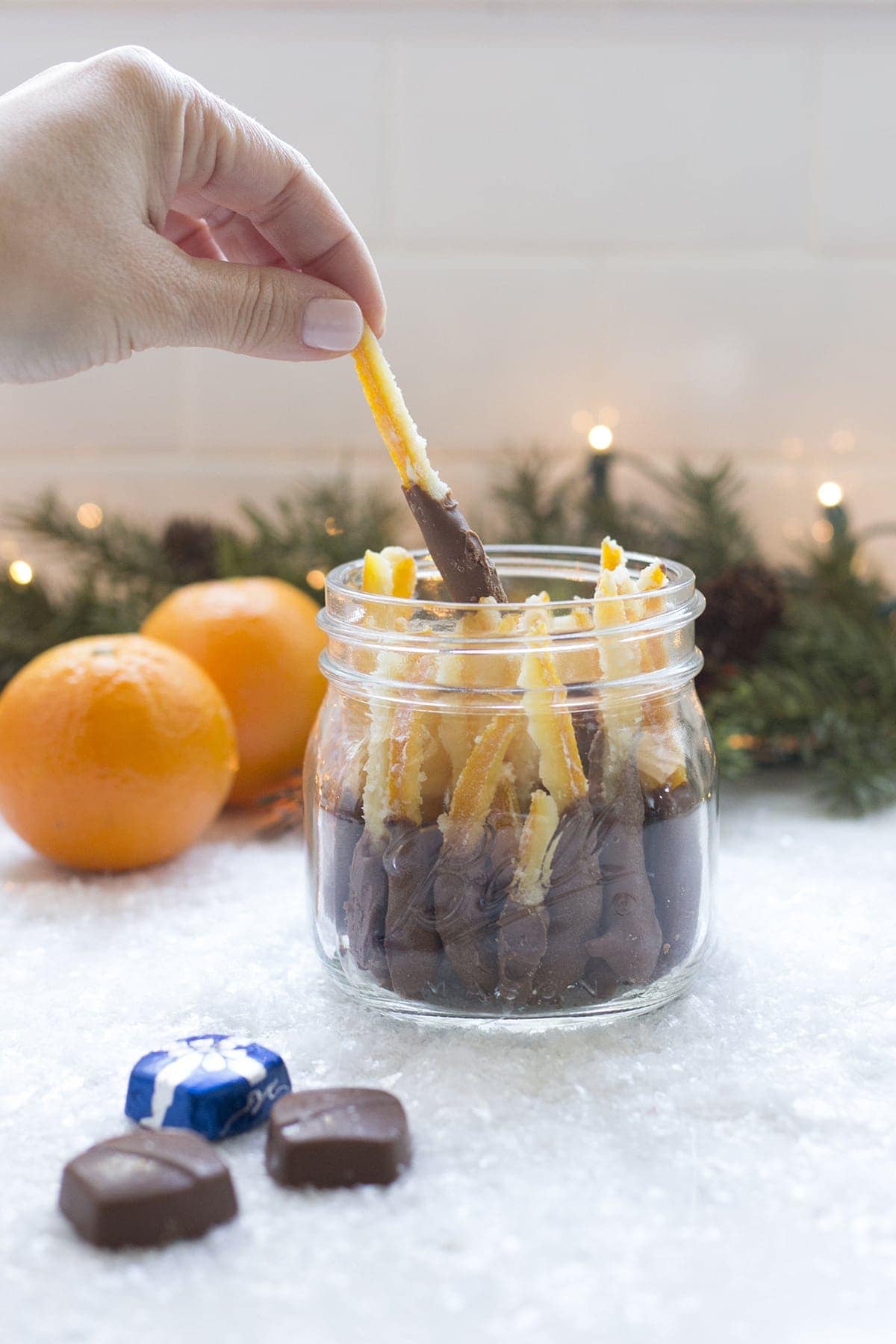 Chocolate Covered Orange Peels
When I was little, we had a family friend who would throw a big annual Christmas party. His house was old and beautiful and sort of creepy through the eyes of a child but I remember he had this amazing train track that ran through his house and bowls of mixed nuts still in their shells and metal nutcrackers scattered all around.
I always ate the Brazil Nuts because they tasted like coconut and coconut was one of my favorite flavors. Nuts and glass bowls of chocolate covered orange jelly candies. Have you ever eaten one of those?
I'm pretty sure I was the only kid at the party who liked them and by the end of the night I always had a stomach ache from all of the treats I snuck. Isn't it funny how flavors bring back memories? To this day I still love the taste of orange and chocolate together but much prefer candied orange peels dipped in chocolate.
They are like the grown up version of those jelly candies, but way more delicious! They literally TASTE like Christmas.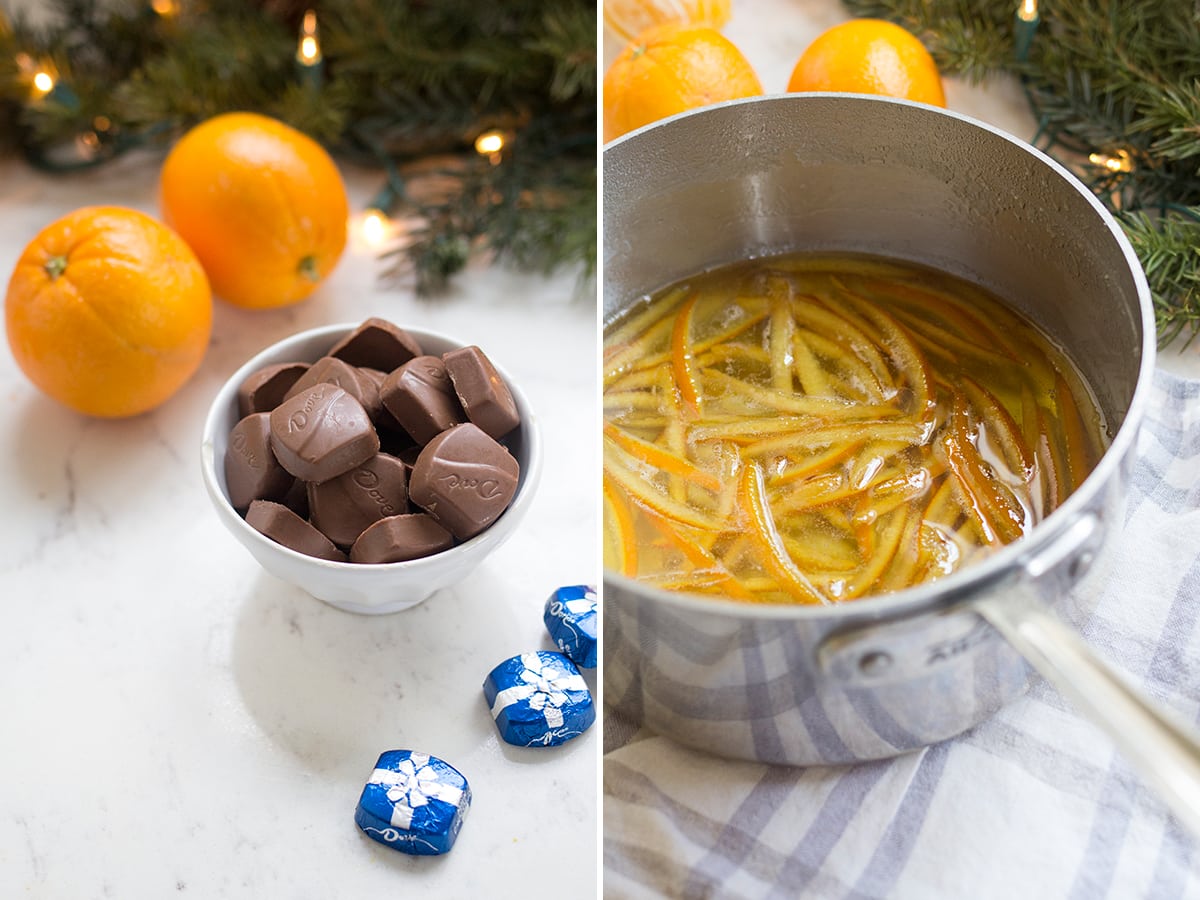 It's funny, when I bake and cook it's never really for me. It's for the twins, it's for Jason, it's for anyone but for myself. But today, I made these Chocolate Dipped Candied Orange Peels just for me. A little taste of a childhood favorite, a Christmas memory, a moment to myself to watch the candied peels bubble away and turn translucent in a bath of sugar and water…it's all pretty magical.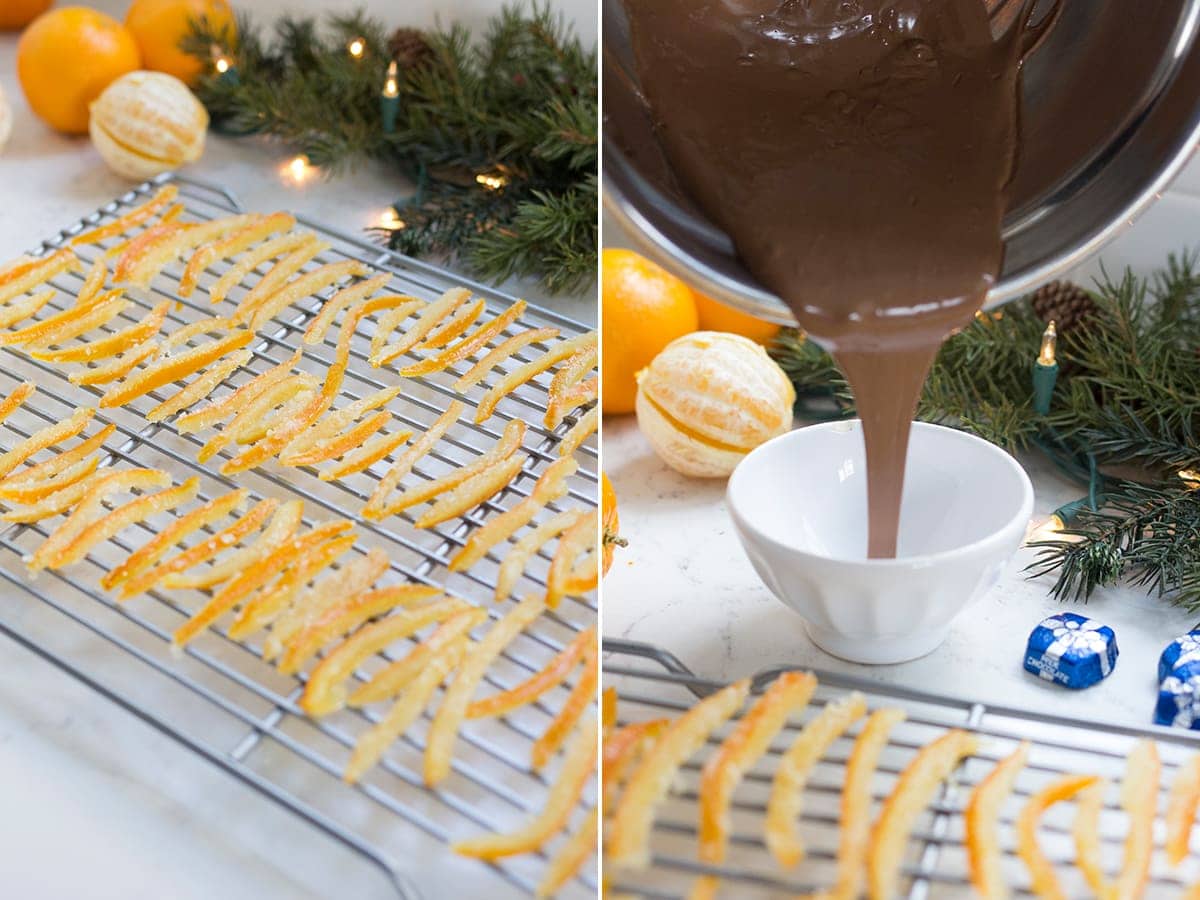 But not as magical as dipping them one by one in Milk Chocolate and sneaking a few while the chocolate is still warm and gooey. Gosh, I love these candies so much. While I'd be absolutely LYING if I said I wasn't thinking about keeping this batch all for myself, but luckily, I'll share the sweet treat with all my loved ones and not to mention, they make excellent gifts!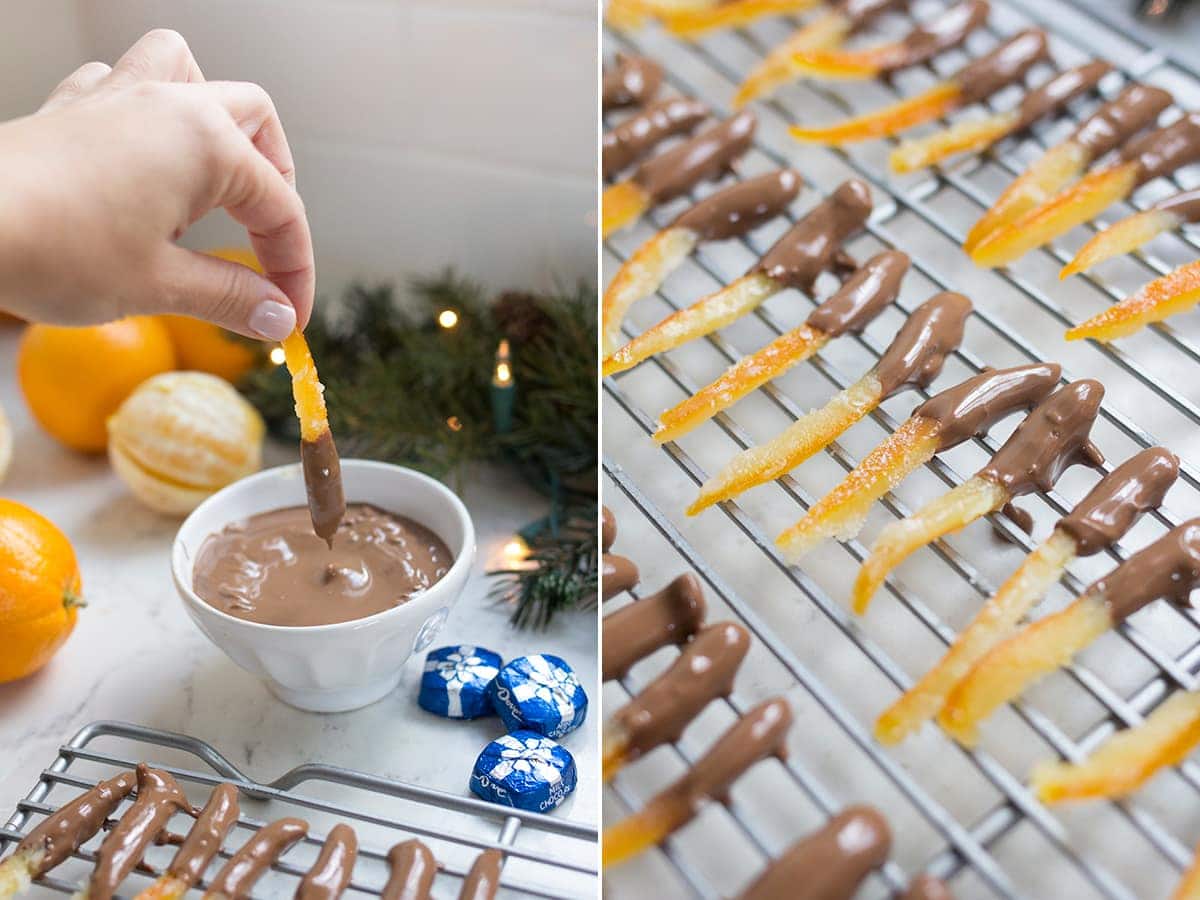 I'm all about homemade and edible gifts this time of year. Sneak a few into tins of your Christmas cookies, enjoy a couple with a cup of hot chocolate, or keep a jar on your kitchen counter for a midday treat.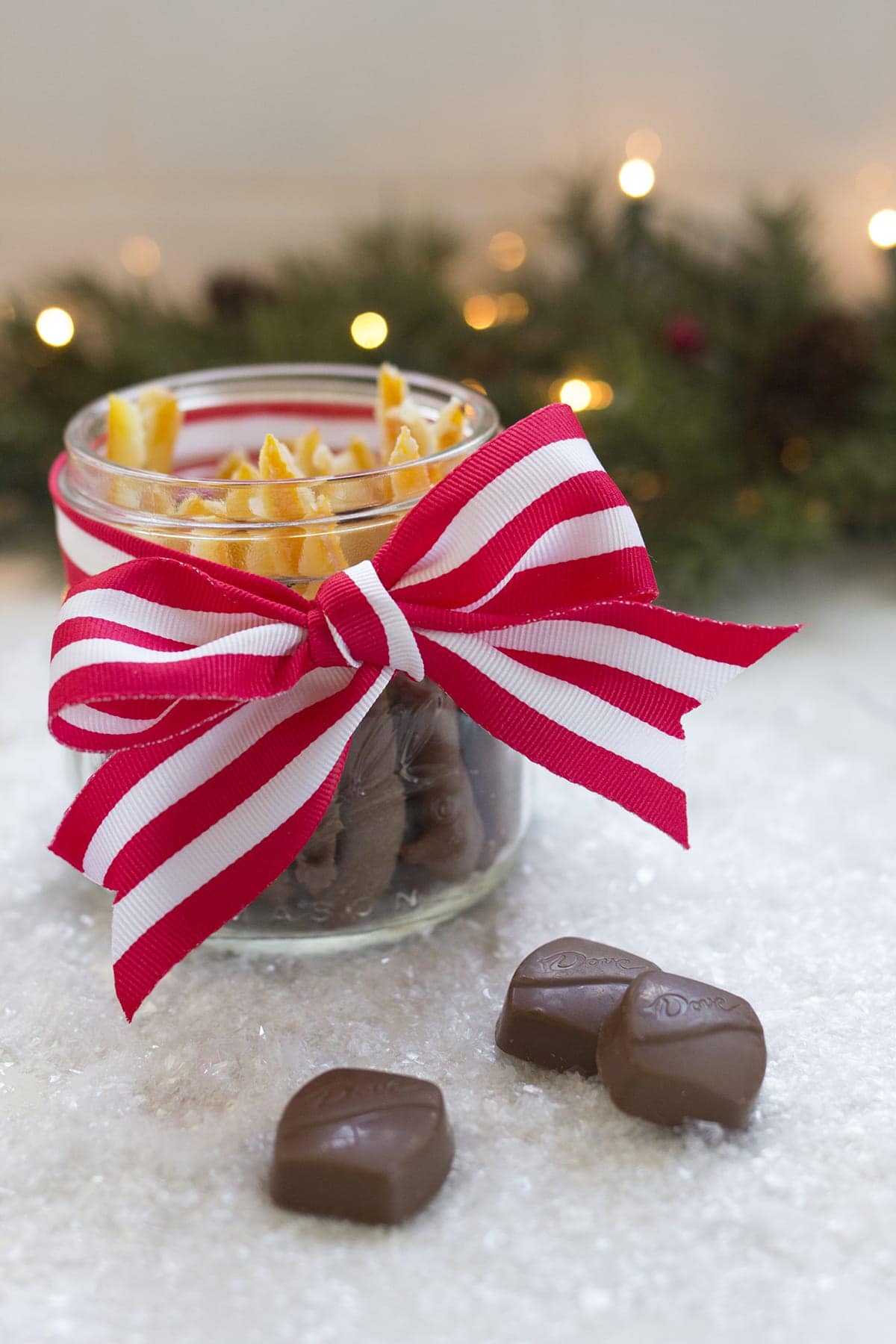 I hope you will make them and love them as much as I do. Let me know in the comments below!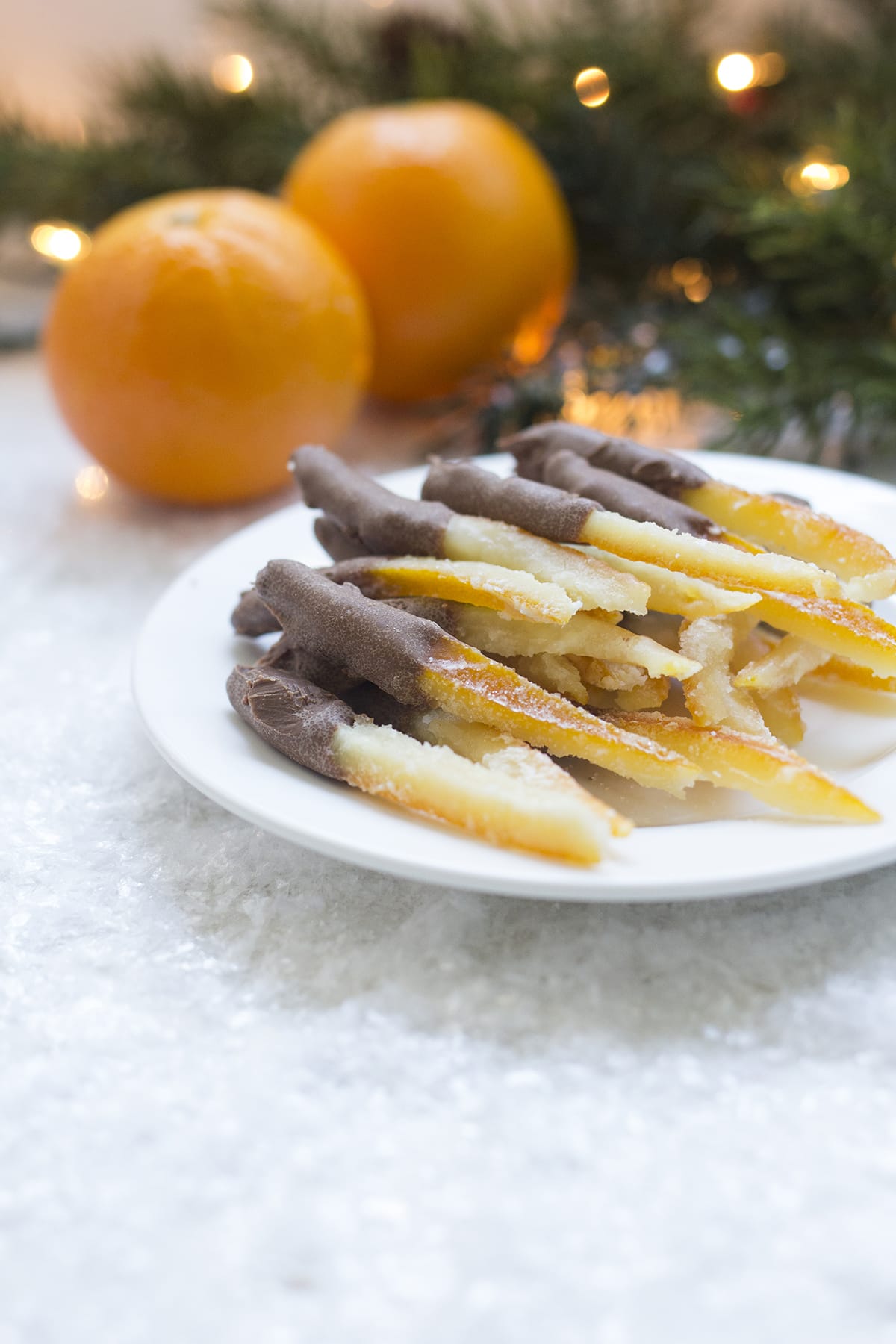 More Christmas Candy Recipes to Make:
The Easiest Chocolate Pecan Fudge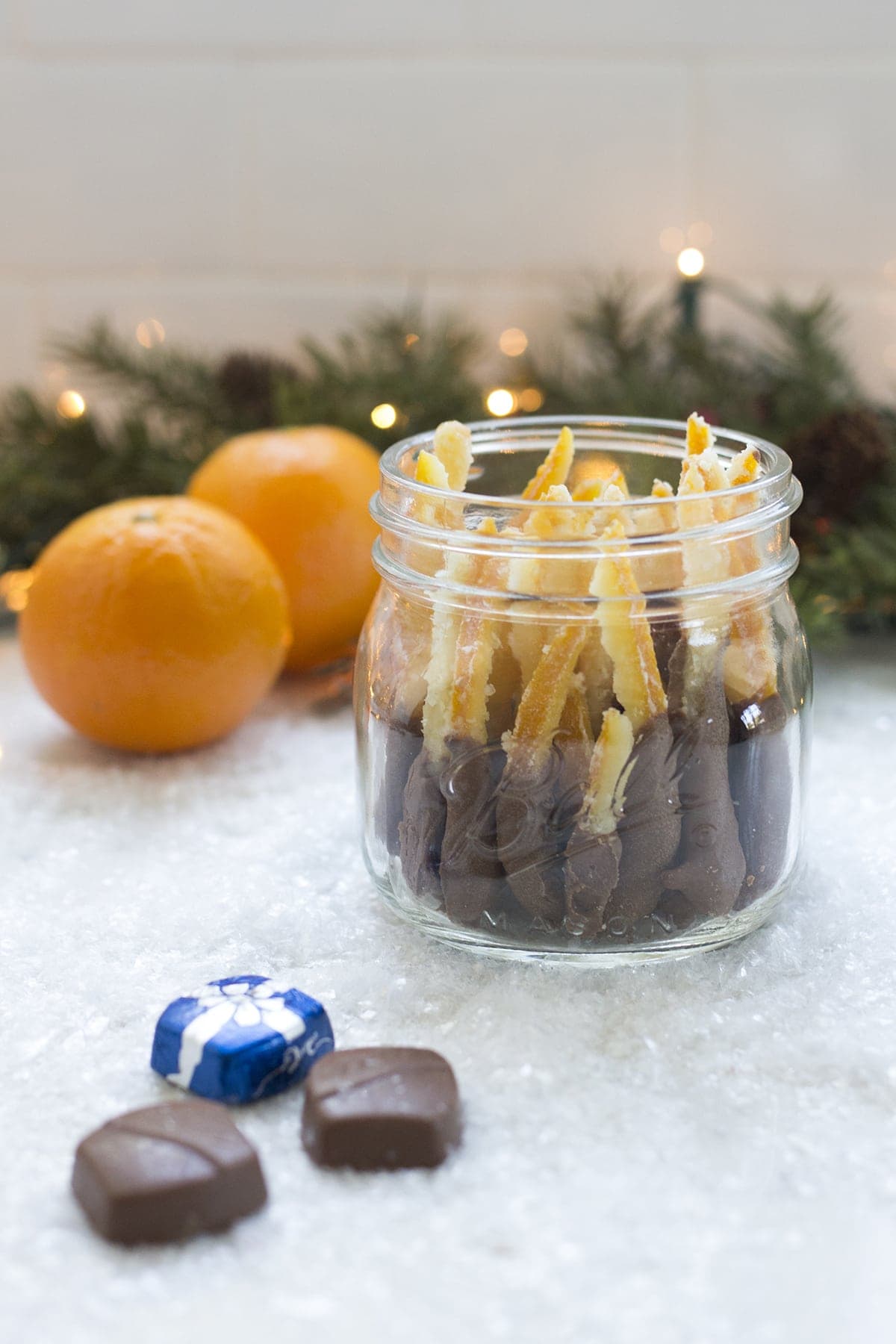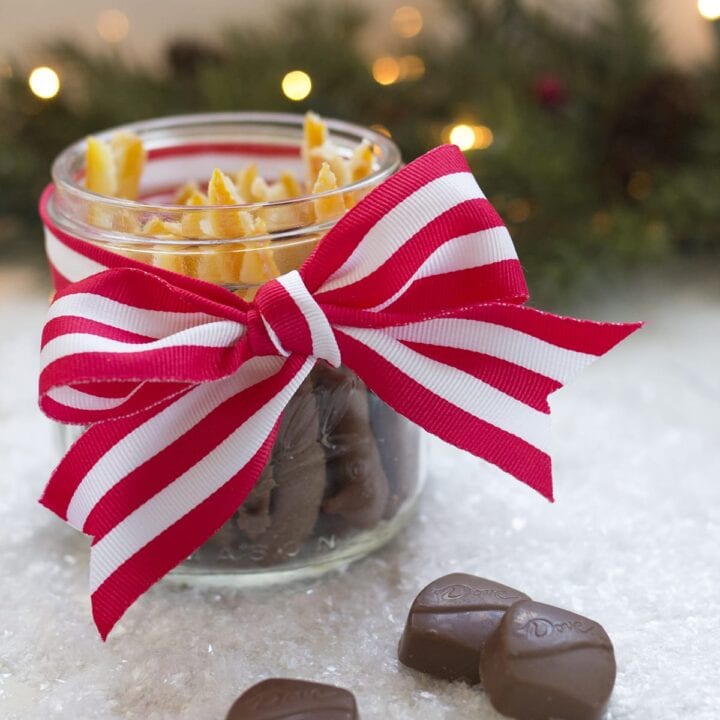 Chocolate Covered Orange Peels
Additional Time:
30 minutes
Candied orange peels covered in chocolate.
Ingredients
3 navel oranges
4 cups sugar
4 cups water
1 bag milk chocolates or milk chocolate chips
Instructions
Start by peeling the oranges. Make 4 cuts along the curve
from top to bottom, cutting through the peel but not the fruit. Remove the segments of peel carefully, trying not to tear them. Cut the peel into thin strips about ¼ inch wide.
Place the strips in a large saucepan and cover them with
cold water. Bring the water to a boil, then strain and discard the water. Repeat this process two more times to remove some of the bitterness from the white pith.
Once the strips have been boiled 3 times, combine the 4 cups
of sugar and 4 cups of water in a saucepan and bring it a boil, stirring occasionally until the sugar dissolves. Add the orange peels to the boiling syrup and reduce the heat to medium-low. Continue to simmer the peels for one hour. Peels should be very limp and start to look translucent.
Remove the pan from the heat, and let the strips cool in the
syrup.
Remove the peels from the syrup and place them on a wire
cooling rack set over waxed paper. Let them drip and dry for about 30 minutes. At this point you can roll them in granulated sugar or leave them as is. I skip the sugar step however the sugar creates a nice sparkle and extra crunch.
In a heat proof bowl set over simmering water, melt Milk Chocolate over low heat. Once chocolate is completely
melted, dip peels half way into the chocolate and place back on the cooling rack to set. Leave out at room temperature in a cool place overnight.
Package in glass jars with a tight fitting lid for storage
or gifting!

Notes
The candied peels will keep, in a sealed jar, at room temperature for up to two weeks.
Nutrition Information:
Yield:

6
Serving Size:

1
Amount Per Serving:
Calories:

727
Total Fat:

10g
Saturated Fat:

6g
Trans Fat:

0g
Unsaturated Fat:

3g
Cholesterol:

10mg
Sodium:

53mg
Carbohydrates:

161g
Fiber:

3g
Sugar:

154g
Protein:

4g