"Send help." "I'm literally standing in my kitchen bingeing on cookies right now." That's how the text read that I sent to my girlfriends after make a batch of these Coconut Oil Chocolate Chunk Oatmeal Cookies. I love cookies, the struggle is real.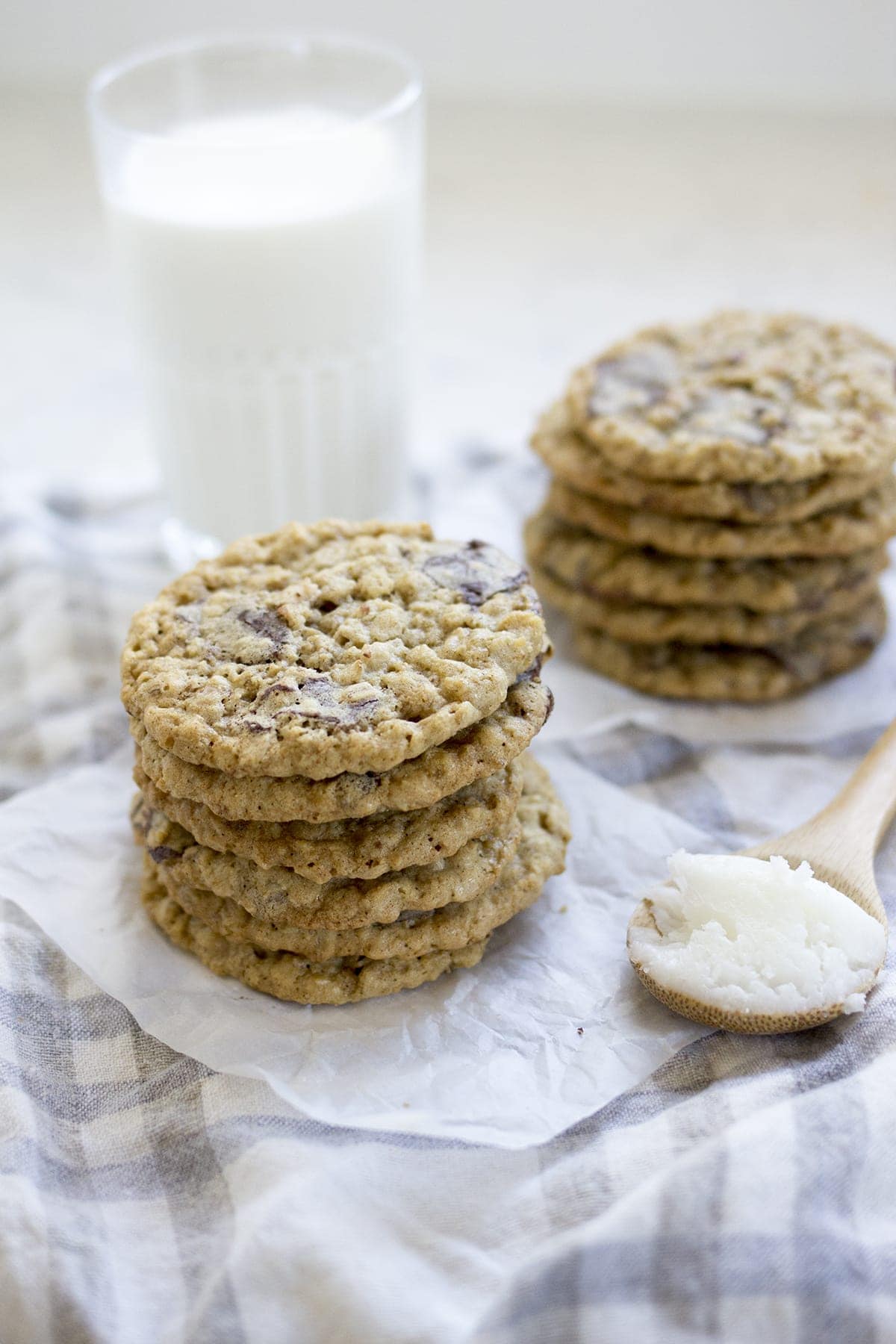 I'm asked all of the time how I control myself around all of this food that I post, and here is the simple answer...I don't. Ha! Ok, this is so not selling you on trying this cookie recipe is it? But hear me out because I have something to say about these cookies and you might want to hear it...wait, I'm going to just eat one more...no, I'm focused.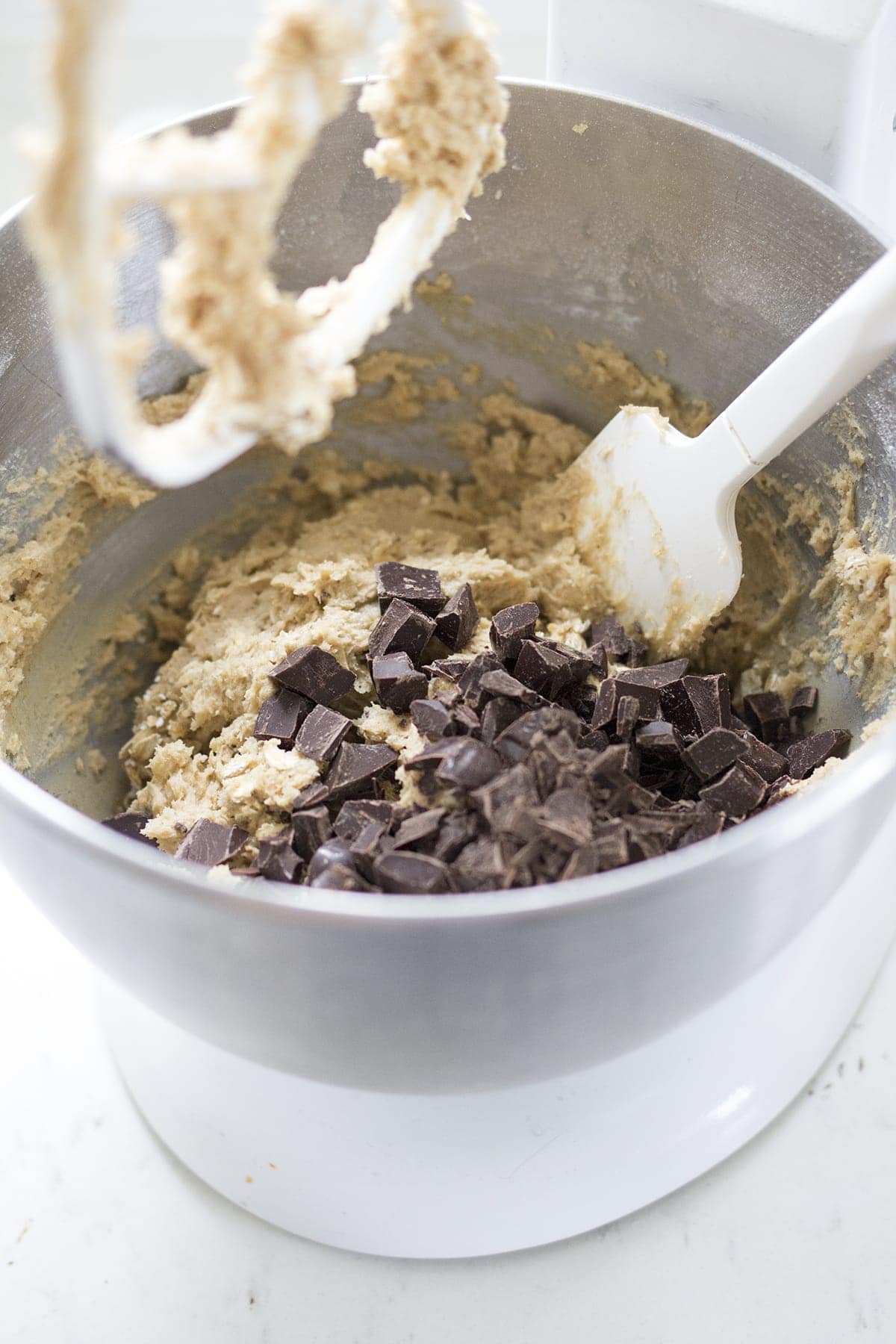 Coconut oil! It's funny, I've cooked with coconut oil for years now. I've made homemade body scrubs with it, used it as a moisturizer, used it as a natural remedy for diaper rash (ok, definitely not selling you on these cookies) but I've never actually baked with it until a couple of weeks ago. I was having one of my many cravings for cookies, big hearty chocolate chip oatmeal cookies, and my internet digging led me to this recipe. Absolutely NO BUTTER, just coconut oil. I was mildly offended and also intrigued.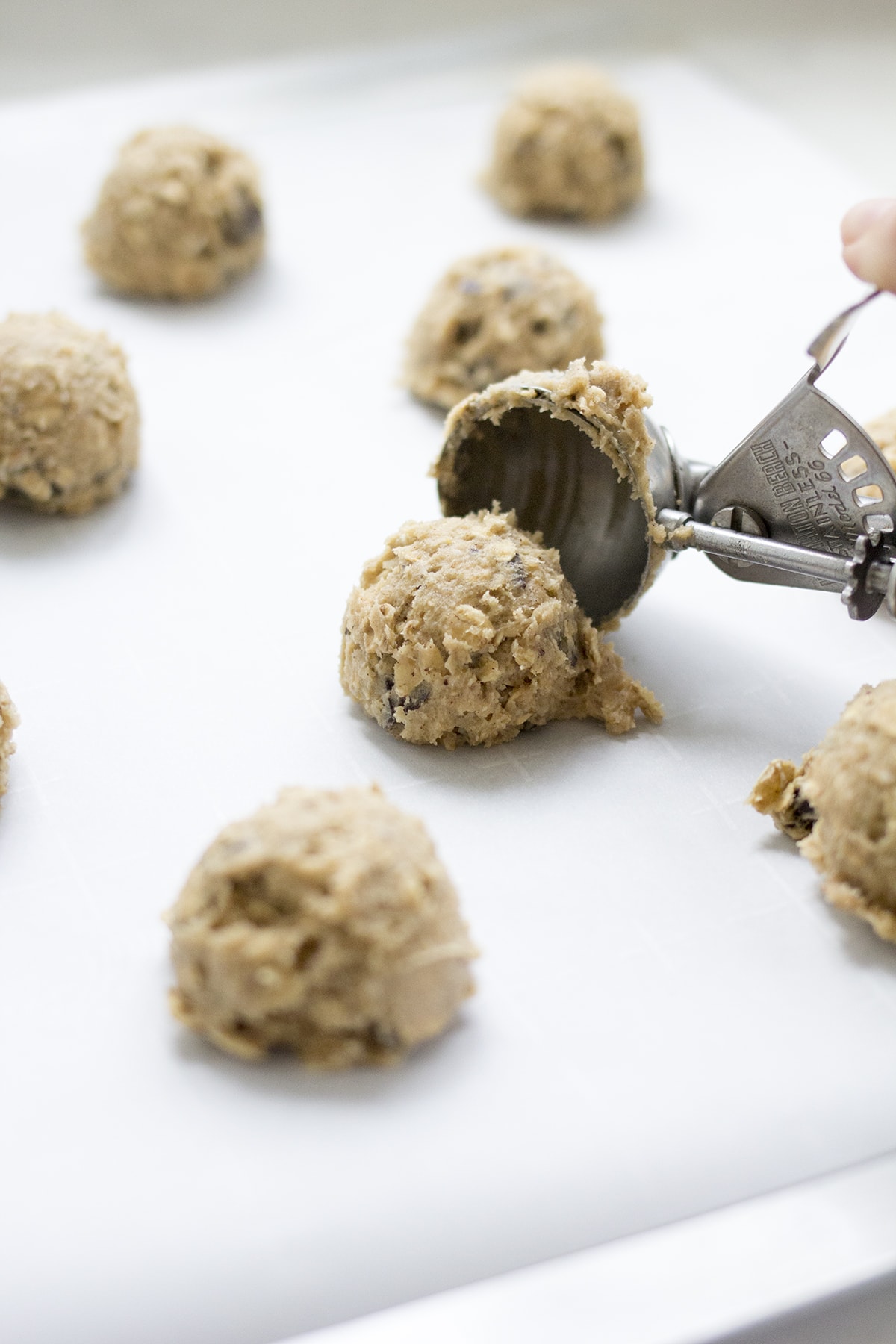 I made these cookies twice. Once with organic unrefined coconut oil and one with (less expensive) refined coconut oil. Hands down the unrefined coconut oil made a better tasting cookie. That subtle hint of coconut flavor with the oats and dark chocolate, cowabunga! I watch far too much Sesame Street. Coooookieee!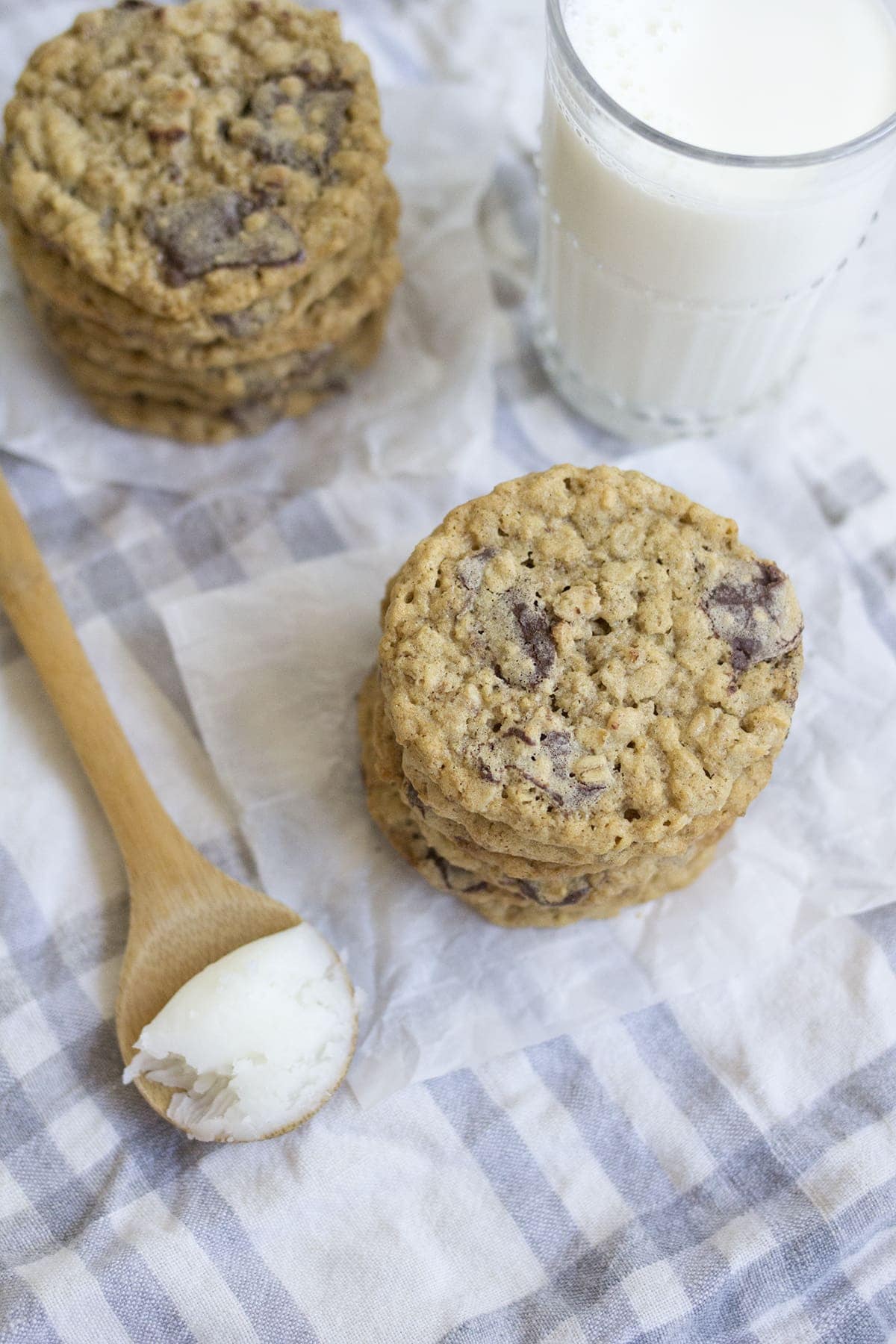 You see, that's what I'm here for, making double batches of cookies and taste testing so that you don't have to. See how I just gave myself that job? Anyway, back to the cookies. These cookies are thin and crisp around the edges but with a good bendy-chew throughout. They are hearty and delicious and slightly less naughty due to the whole coconut oil bit, right?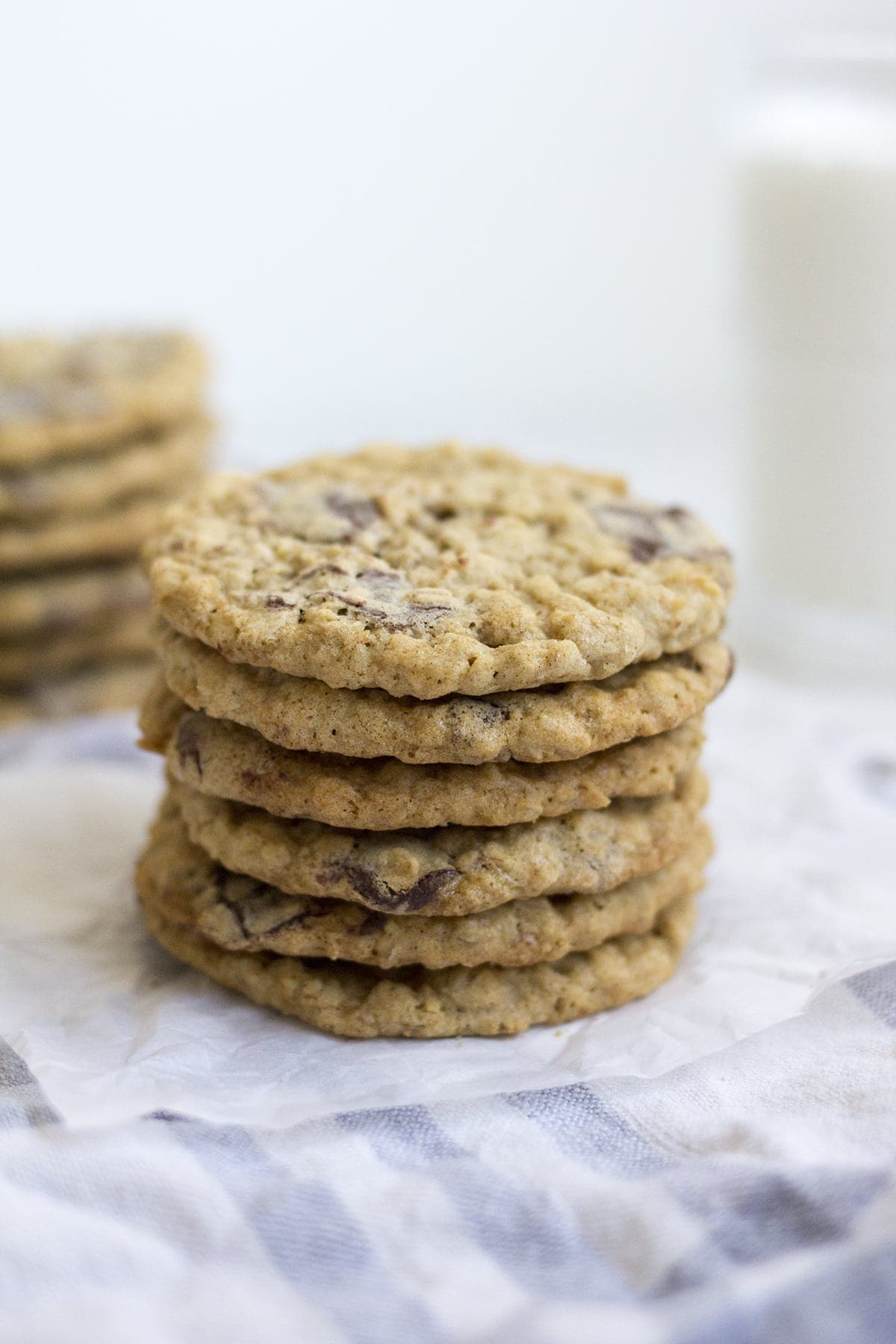 So, have you ever made cookies with coconut oil? What are some of your favorite recipes, I'm dying to try them.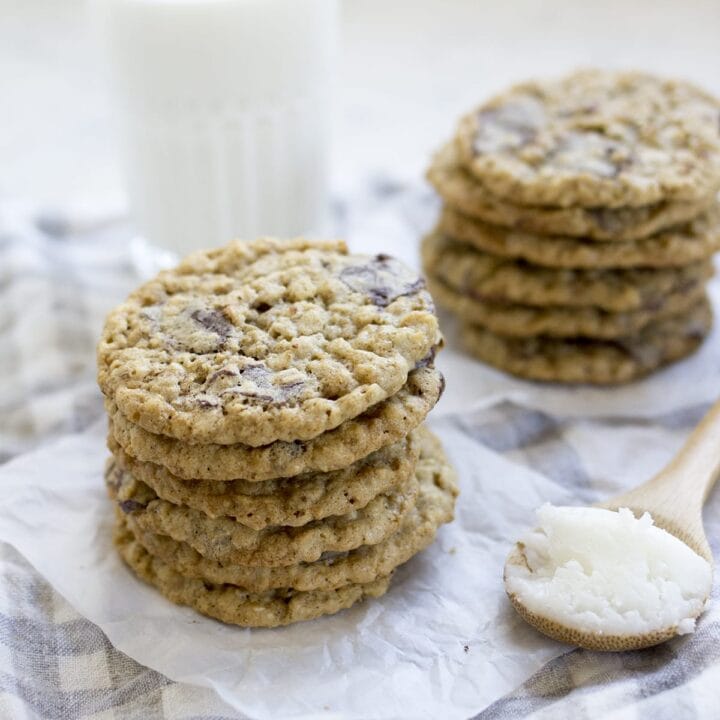 Coconut Oil Chocolate Chunk Oatmeal Cookies
Chewy and crisp Oatmeal Dark Chocolate Chunk cookies made with coconut oil instead of butter for a subtle coconut flavor.
Ingredients
1 ¼ cups white whole wheat or all-purpose flour
1 teaspoon baking soda
¾ teaspoon ground cinnamon
½ teaspoon salt
¾ cup virgin coconut oil, softened state, but not melted
¾ cup packed light brown sugar
¾ cup granulated sugar
2 teaspoons vanilla extract
2 large eggs
2 ½ cups old-fashioned oats
6 oz chopped dark chocolate chunks (I used DOVE dark chocolate)
Instructions
Preheat oven to 350° F. Line baking sheets with parchment paper.
Combine flour, baking soda, cinnamon and salt in small bowl.
Cream together coconut oil, brown sugar, granulated sugar and vanilla extract in large mixer bowl until combined. Add eggs one at a time, beating well after each addition. Gradually beat in flour mixture. Stir in oats and morsels. Form into balls using a slightly rounded tablespoon. Place on prepared baking sheets spacing about 2 inches or more apart. These cookies do spread a bit more than cookies made with butter.
Bake for 9 to 11 minutes or until cookies are golden and edges have begun to set but centers are still soft. Cool on baking sheets for 2 minutes; remove to wire racks to cool completely.
Save
Save
Save
Save
Save
Save