Spookify your favorite peanut butter blossoms this Halloween by turning them into Chocolate Peanut Butter Pumpkin Blossoms! In our house this classic peanut butter cookie gets a chocolate twist and a Mellowcreme pumpkin on top all October long, and it's pretty darn adorable.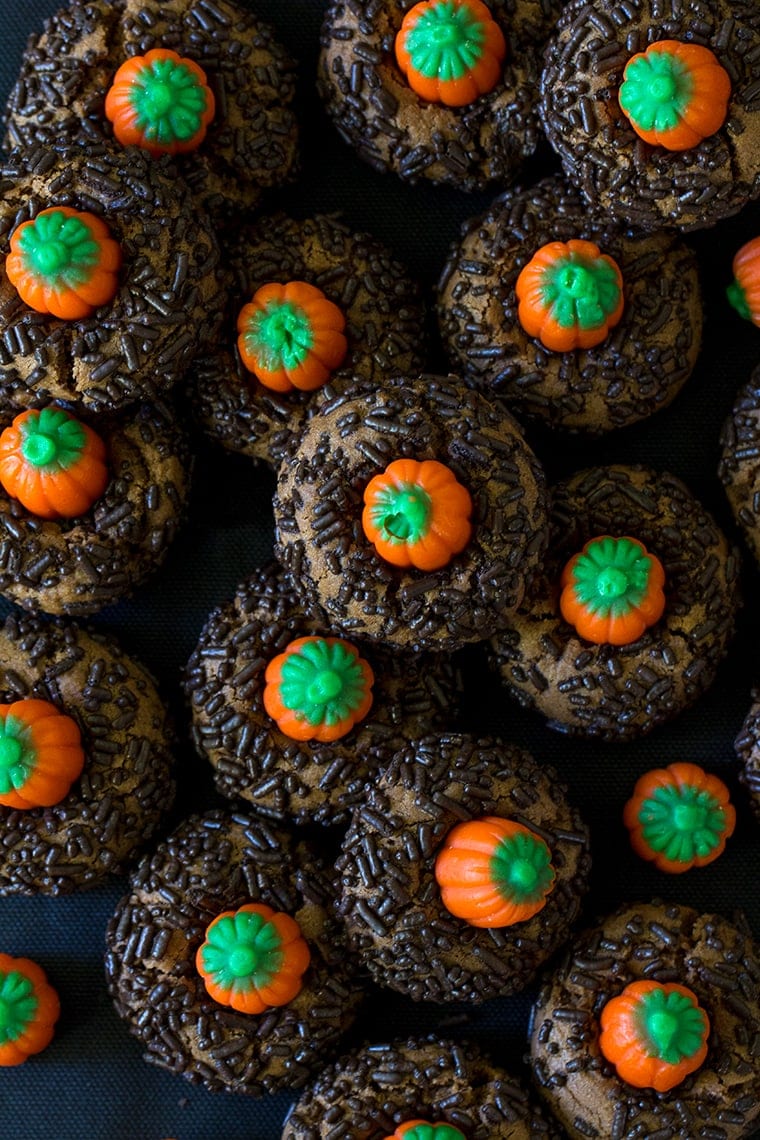 Chocolate Peanut Butter Pumpkin Blossoms
I make this recipe for Peanut Butter Blossoms almost every Christmas and it's a family favorite. Peanut butter cookies with a Hershey's Kiss pressed into the top just after baking. The holidays wouldn't be the same without them and I wanted to start the cookie fun early by making a Halloween version.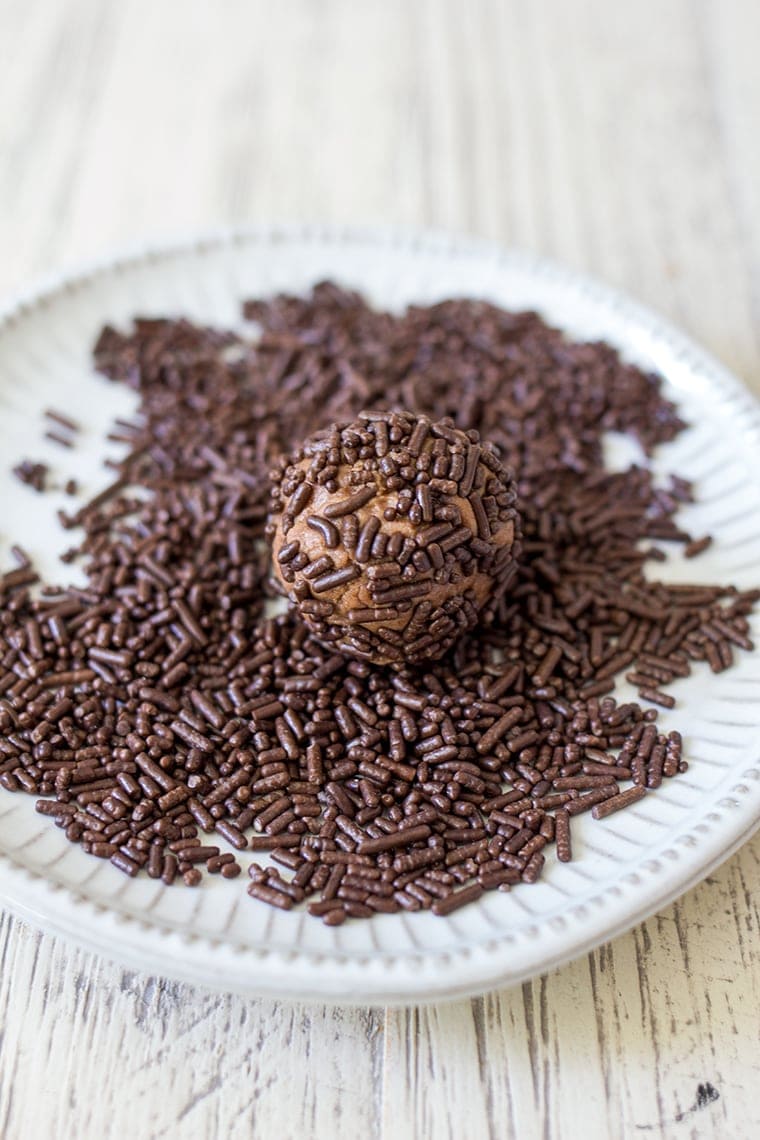 Chocolate Peanut Butter Blossoms
Chocolate and peanut butter are such a good flavor combination, am I right? These cookies get a bit of cocoa powder in the dough and are rolled in chocolate sprinkles just before baking. It's a subtle chocolatey touch and a dark brown color that plays well with the bright orange pumpkins. Note about this step: I love the look and flavor of the chocolate sprinkles but they do change the texture of the cookie just a little. If you like the traditional sugar crunch of peanut butter blossoms, you can always roll them in granulated sugar or black sanding sugar.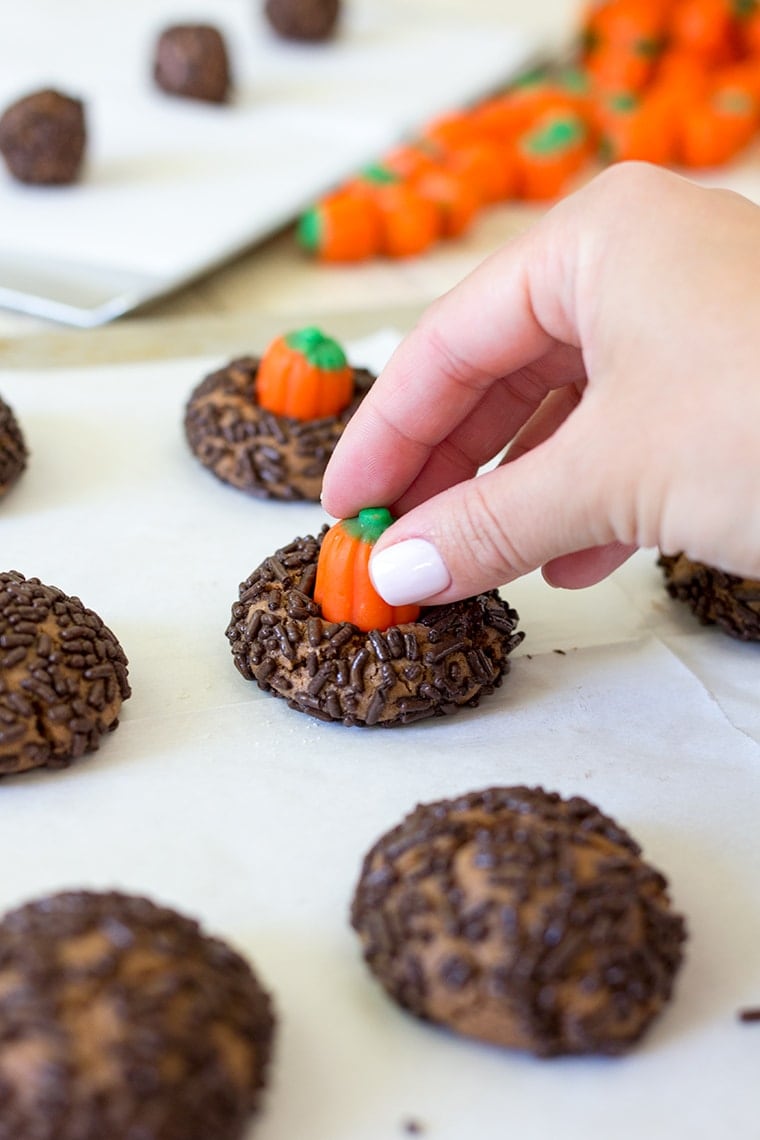 The most important step to baking these Chocolate Peanut Butter Pumpkin Blossoms is not to overbake them. Like with all of my cookie recipes, I recommend baking a test run of 2-3 cookies to test baking time for your oven. This recipe will give you a range of minutes but the difference between 9-12 minutes can really change the quality of your cookies if your oven runs hot.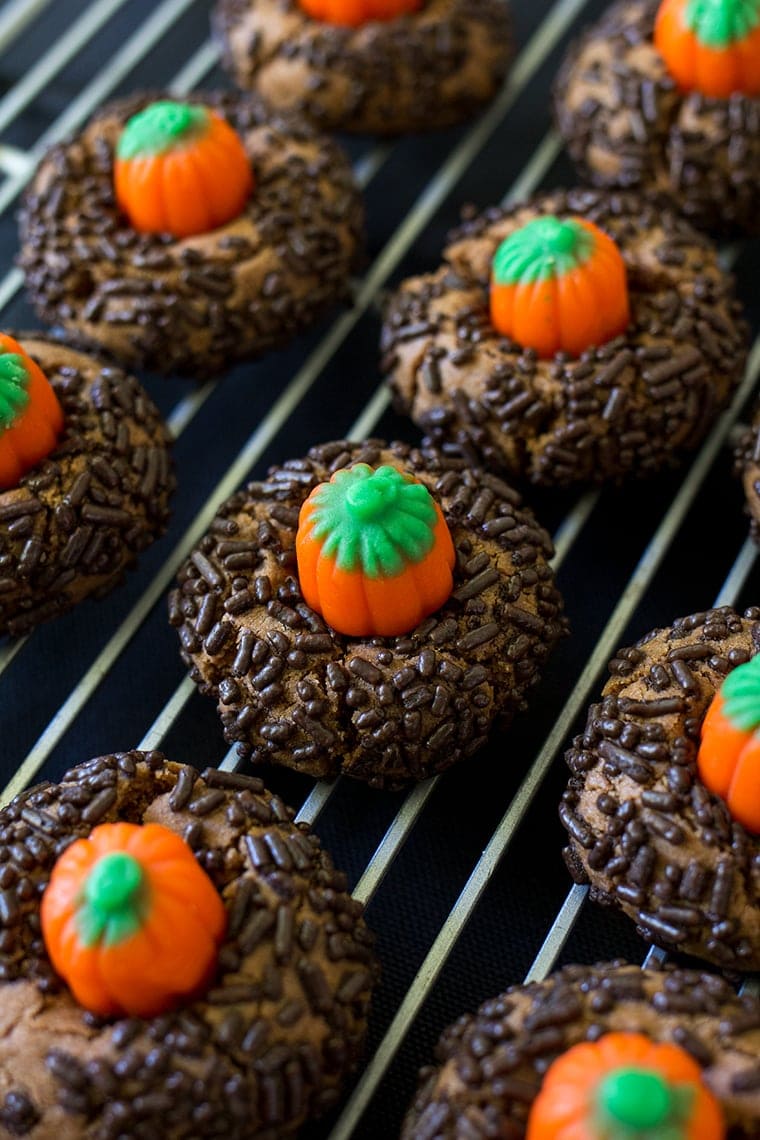 Mallowcreme Pumpkin Candies
I can't be the only (adult) out there who LOVES Mallowcreme Pumpkin Candies, right? If you ahve never had one, they taste like candy corn but are shaped like sweet little pumpkins. I currently have a glass pumpkin candy dish filled with them and it's taking all of my willpower not to eat one every time I walk by the bowl. They melt in your mouth in a creamy, sugary way and I just love them this time of year. If you don't want to use these pumpkins however, you can use any sort of Hershey's Kiss from dark chocolate to Pumpkin Spice which is usually available this time of year!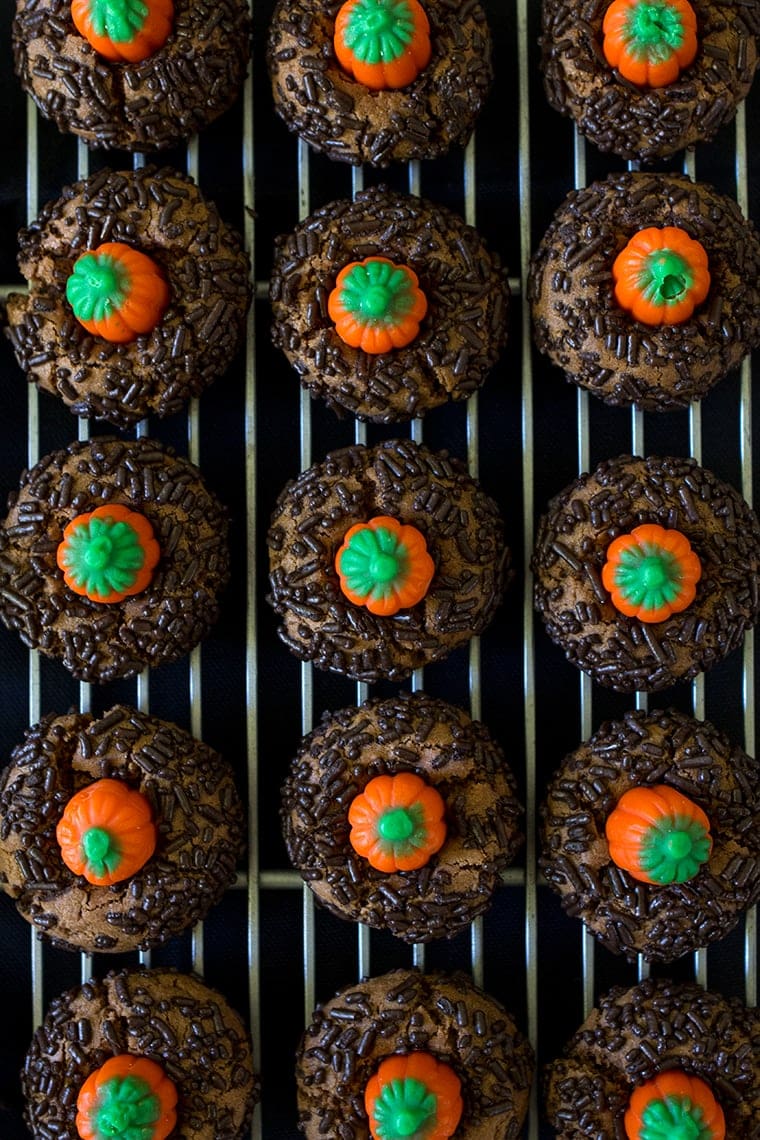 Let those cookies cool...
Remember to press the pumpkin candies into the hot cookies immediately after taking them out of the oven. Don't worry if they crack a little around the edges, that's normal! It's also important to let those cookies cool just a few minutes on the cookie sheet before removing to a cooling rack. This will keep the shape and make sure no cookies crumble during the transfer process.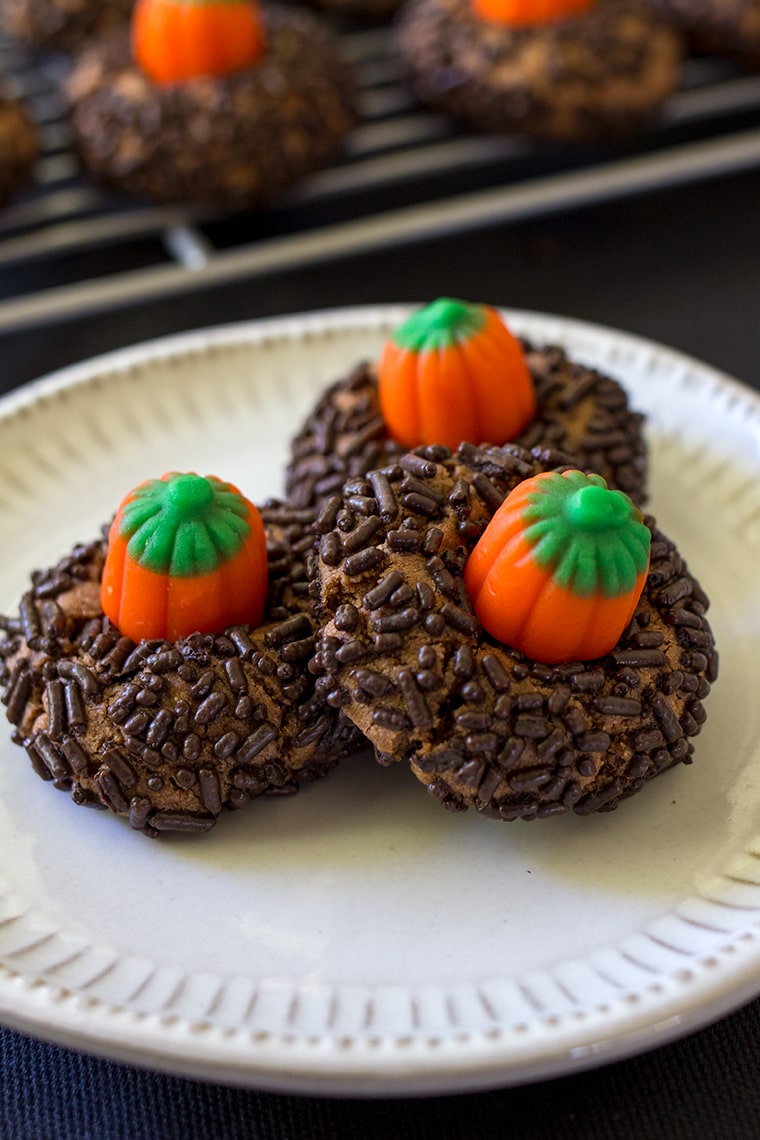 Perfect Halloween Cookie
Chocolate Peanut Butter Pumpkin Blossoms really are the perfect Halloween cookie. If you are planning a Halloween party or pre trick-or-treat dinner, these cookies definitely deserve a place at the dessert table. If you are serving little ones, make sure inform parents that they contain peanut butter. Looking for more Halloween cookie inspiration? My Perfect Pumpkin Cookies are to diiiieeee for.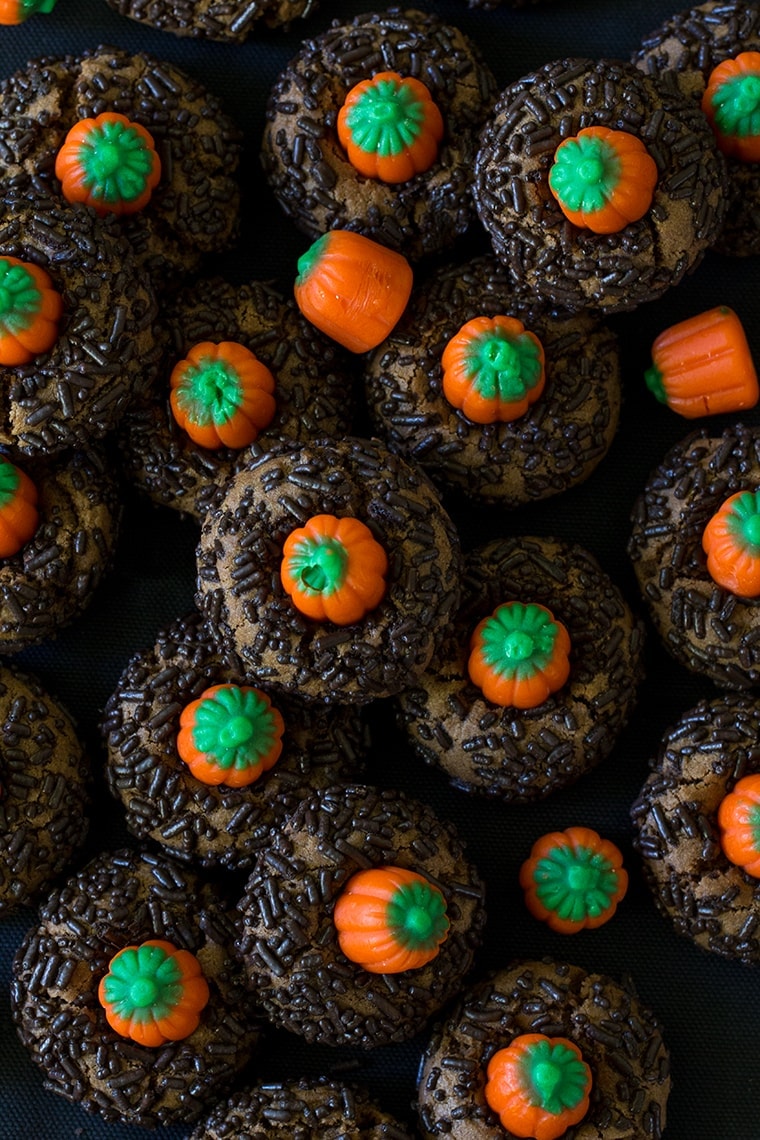 Happy Halloween baking!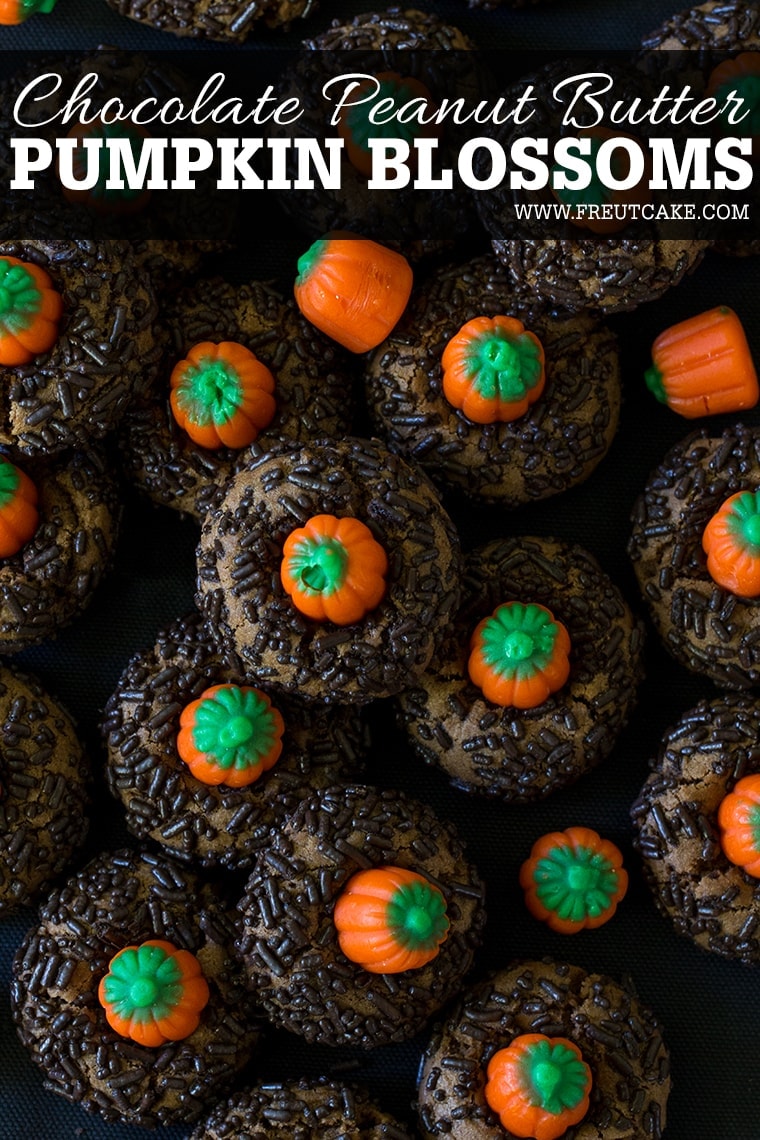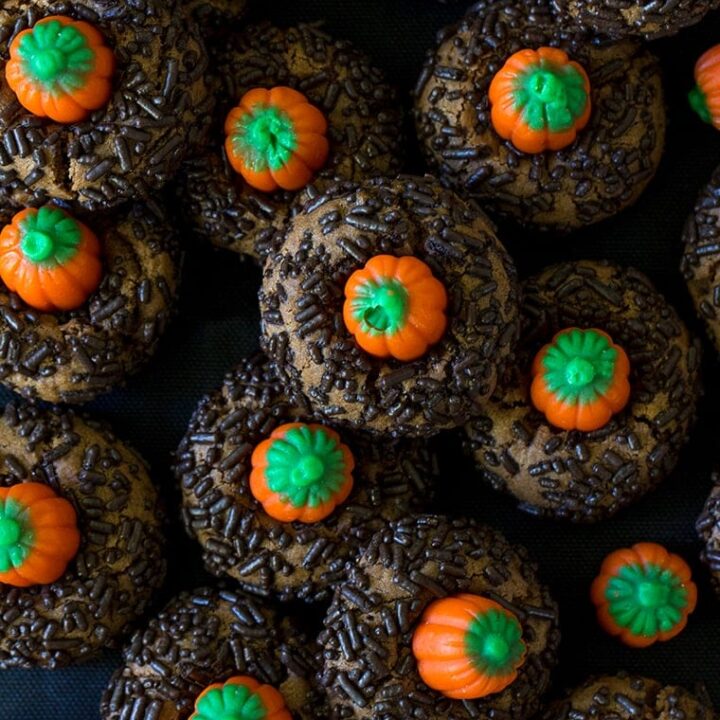 Chocolate Peanut Butter Pumpkin Blossoms
The perfect Halloween cookie! A chocolate and peanut butter cookie rolled in chocolate sprinkles and topped with a pumpkin mallowcreme candy.
Ingredients
½ cup shortening
½ cup creamy peanut butter
½ cup granulated sugar
½ cup packed brown sugar
1 teaspoon baking powder
⅛ teaspoon baking soda
1 egg
2 tablespoons milk
1 teaspoon vanilla extract
1 ½ cups all-purpose flour
¼ cup unsweetened cocoa powder
chocolate sprinkles for rolling
1 bag Mallowcreme Pumpkin Candies
Instructions
Preheat oven to 350 degrees.
With an electric mixer, cream together shortening and peanut butter. Add in granulated sugar,
brown sugar, baking powder and baking soda and beat mixture. Add in egg, milk and vanilla extract
and beat until combined.
In a bowl whisk together flour and cocoa powder and add to butter mixture. Mix just until dough comes together.
Roll dough into 1" balls and roll in chocolate sprinkles. Place on an ungreased cookie sheet lined with parchment paper.
Bake 8-10 minutes or until the bottoms are golden and the edges are firm. Do not over-bake as they will set more after cooling.
Remove from the oven and immediately press pumpkin gently into the center of each cookie. The edges will crack a little, that's normal!
Allow to cool on cookie sheet for 2 minutes before removing with a spatula to a cooling rack to cool completely.