Mixed Berry Pavlovas with a swirl of jam and freshly whipped cream are the perfect Mother's Day dessert. So beautiful to look at and decadent to eat, they really do make any day feel extra special.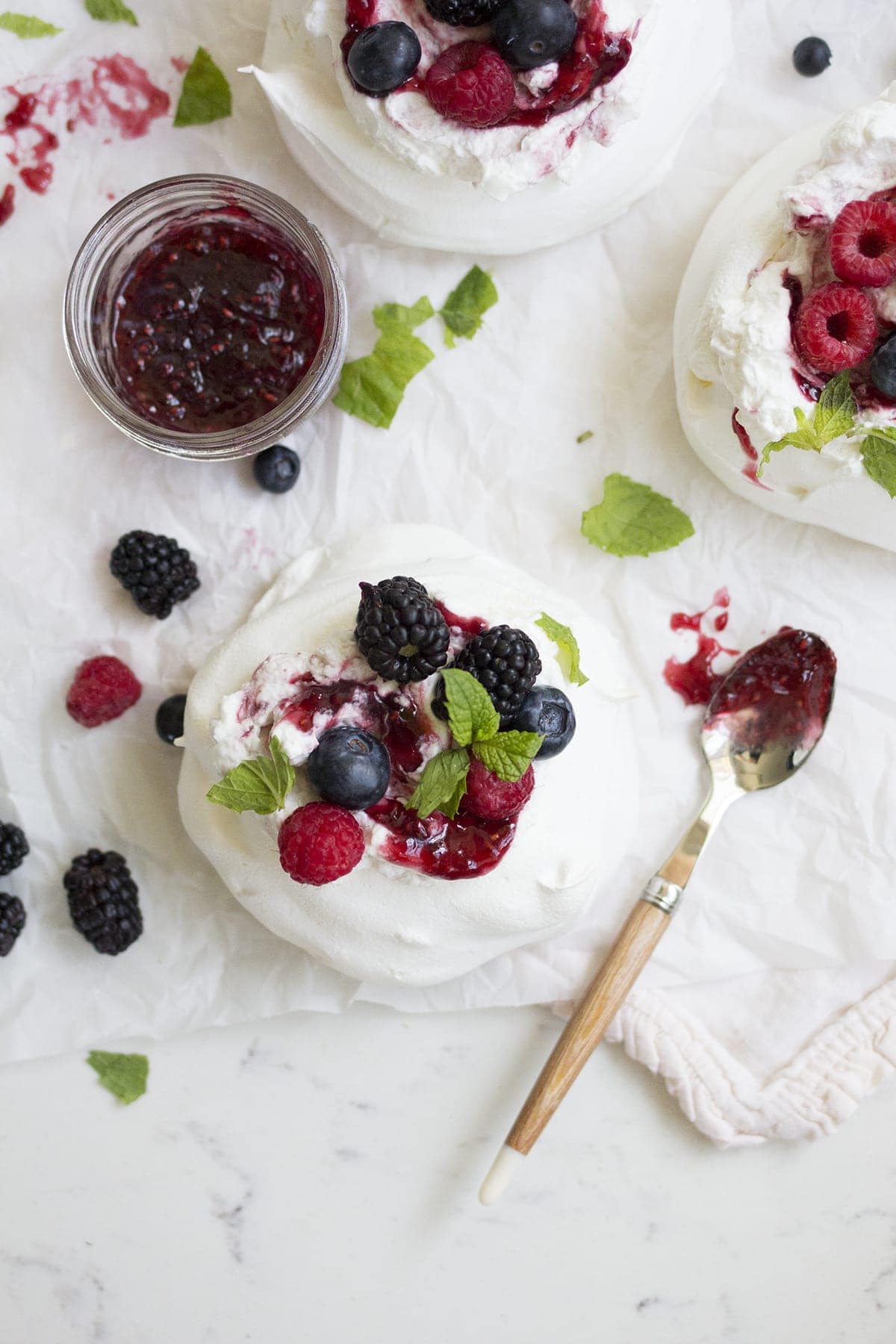 This recipe is all about the meringues. They need to be light as air, crisp on the outside and just a slight chewiness left on the inside so that when you break into them with your fork you get a little bit of every texture. And while they might sound intimidating to make, they really are very simple! The trick is to start with room temperature egg whites and quite a bit of patience. If you have that, leave it to your stand mixer and oven to do the rest! I promise, you will be pleasantly surprised.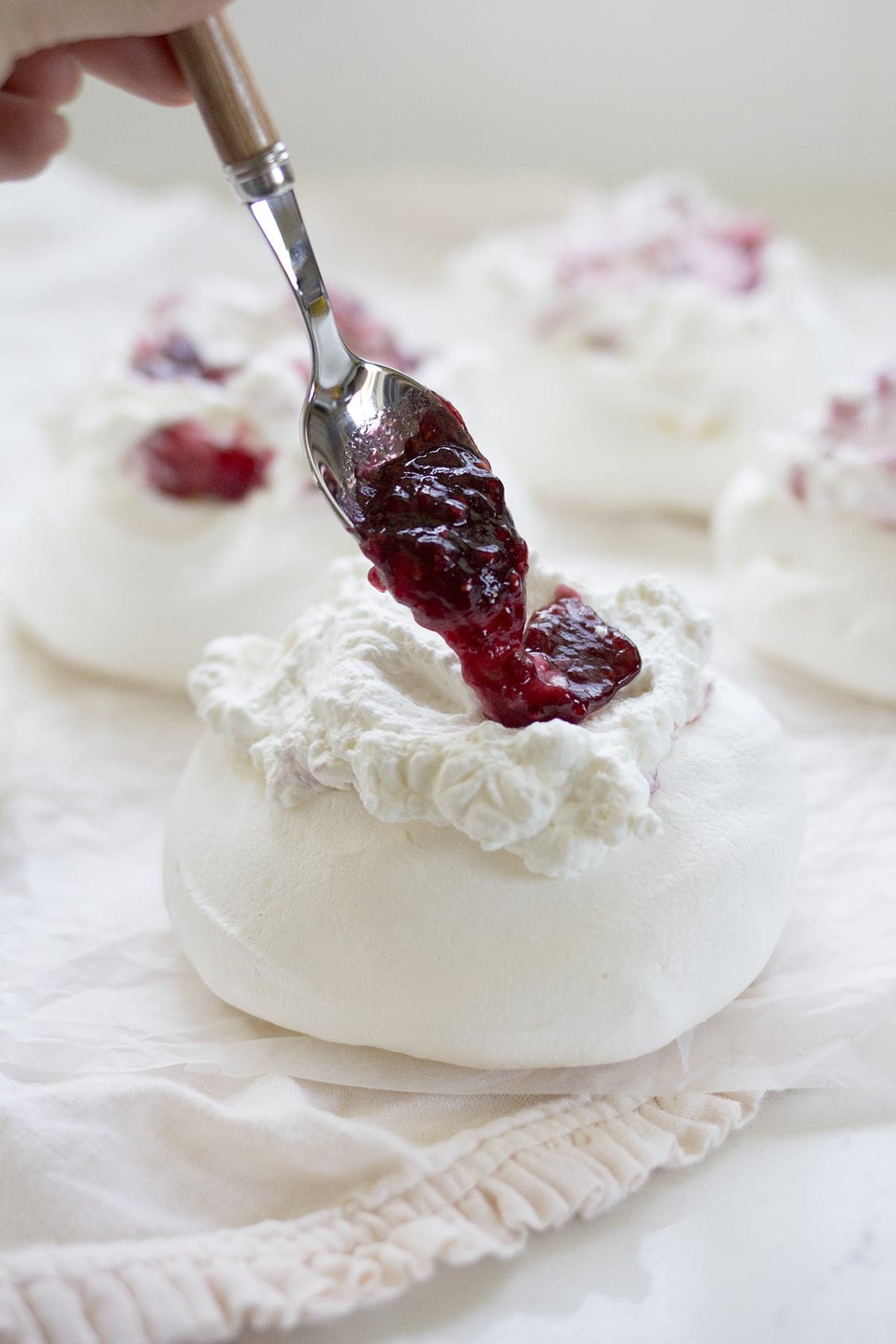 For a topping I like to used homemade unsweetened whipped cream. The meringues are perfectly sweet enough so I like to cut that sugary base with a fluffy unsweetened cream, a swirl of raspberry jam and of course lots of fresh mixed berries.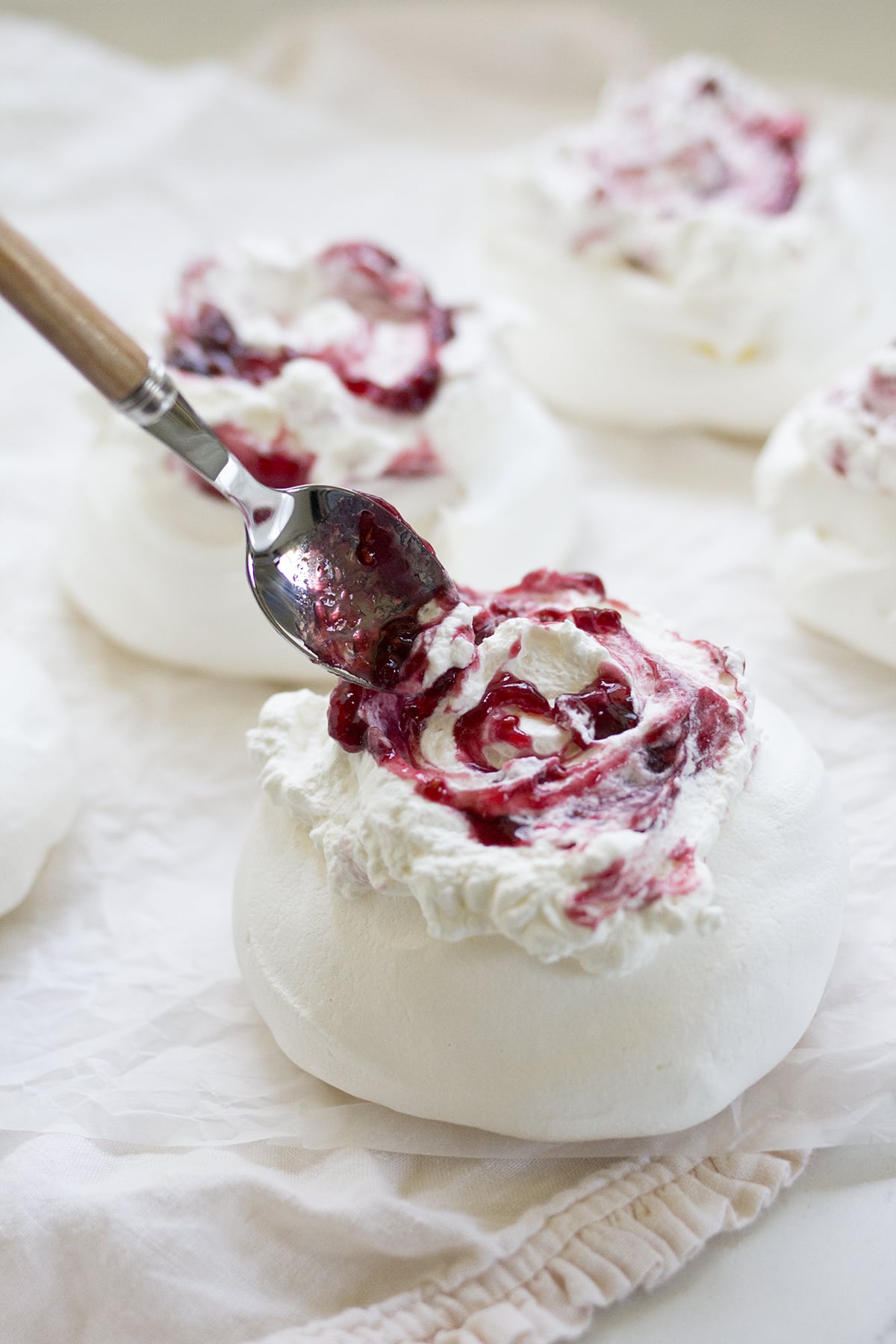 Really, I could just eat spoonfuls of whipped cream with jam...I mean, couldn't you?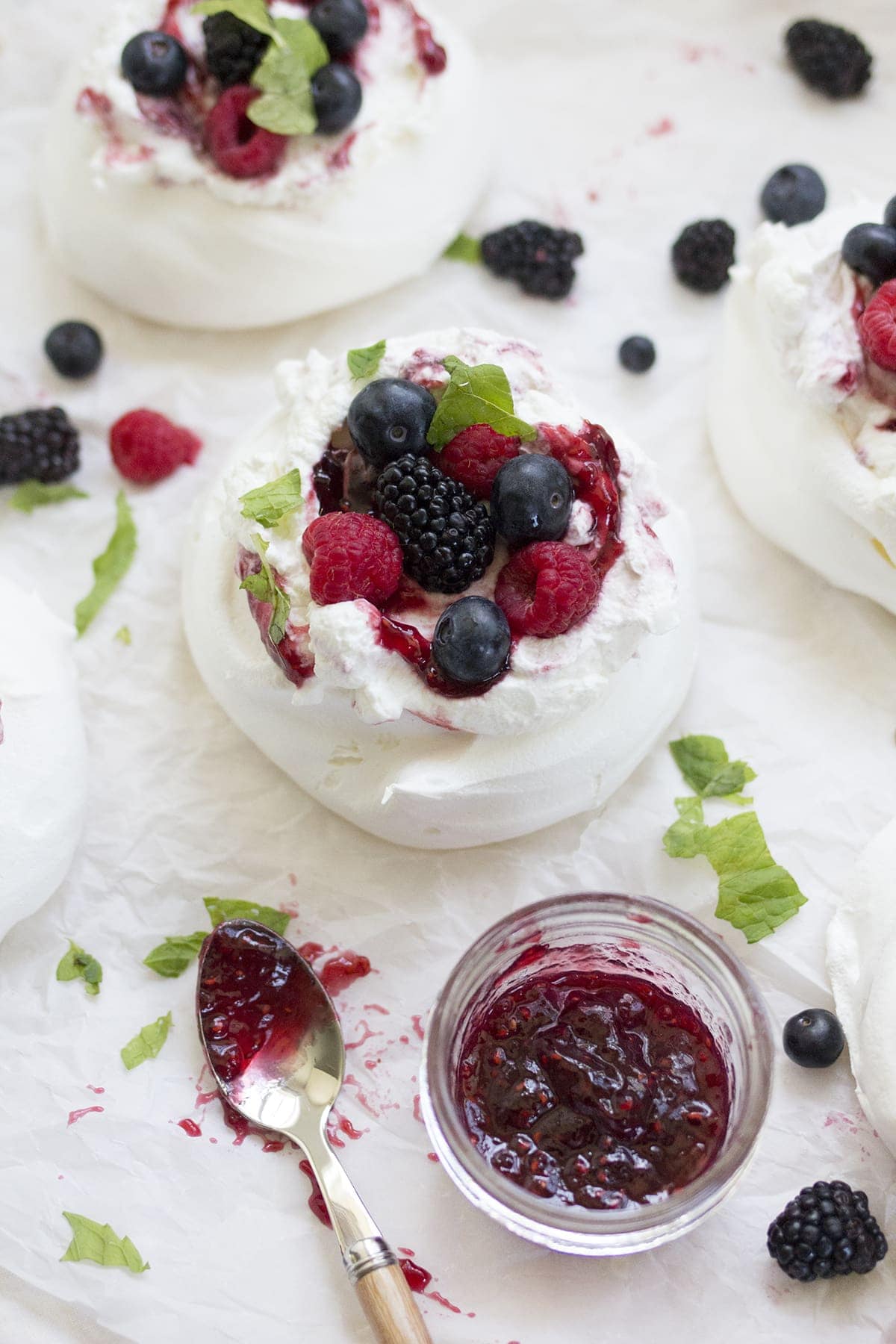 I just love this beautiful and rustic dessert! You can make one big pavlova to serve like a cake, or like I did, individual sized portions. I think the presentation is a big prettier when the meringues are individual sized but it's completely up to you! I'm sure Mom will not mind the size of the pavlova, just so long as it makes it's way onto her plate.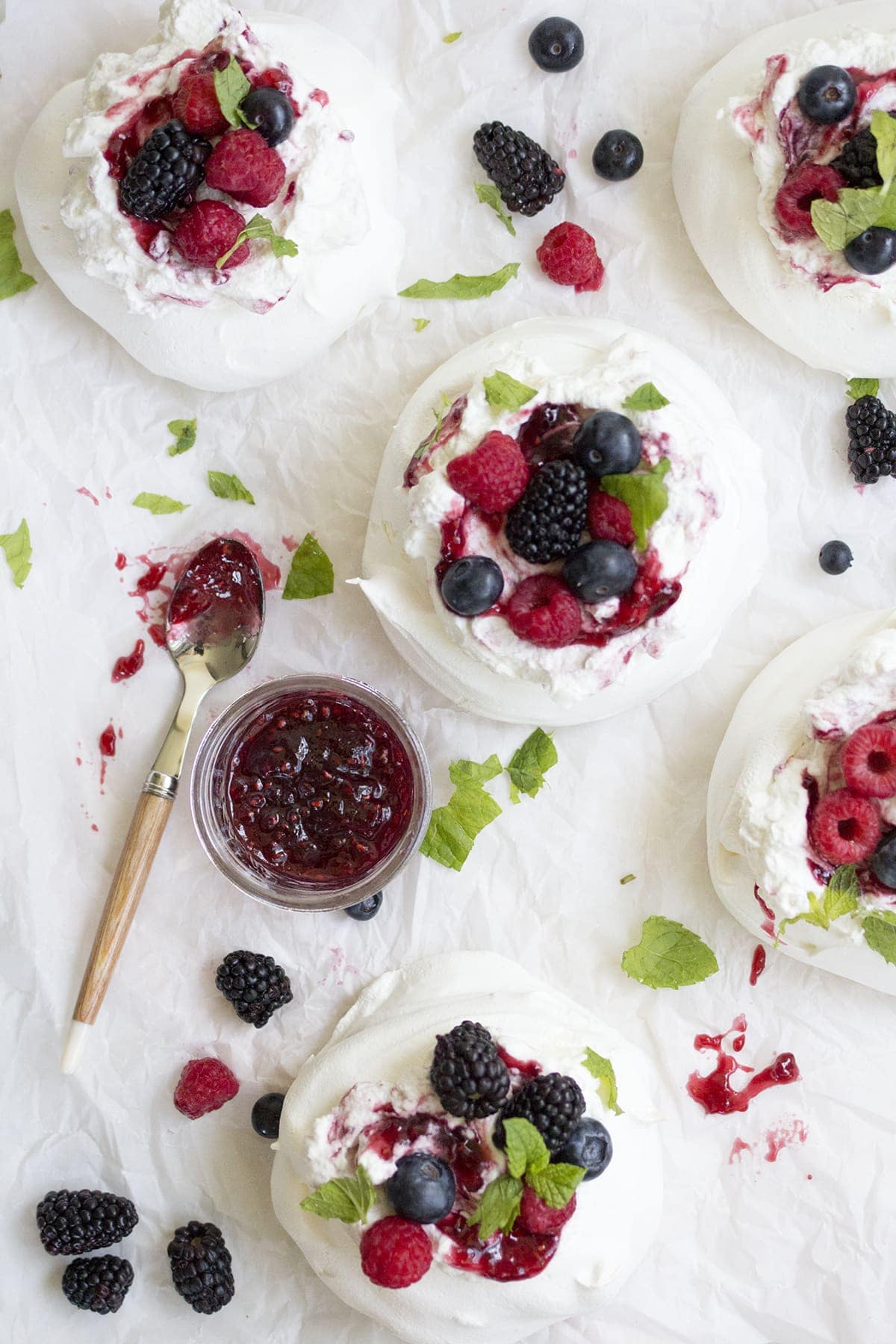 Here's how I make them...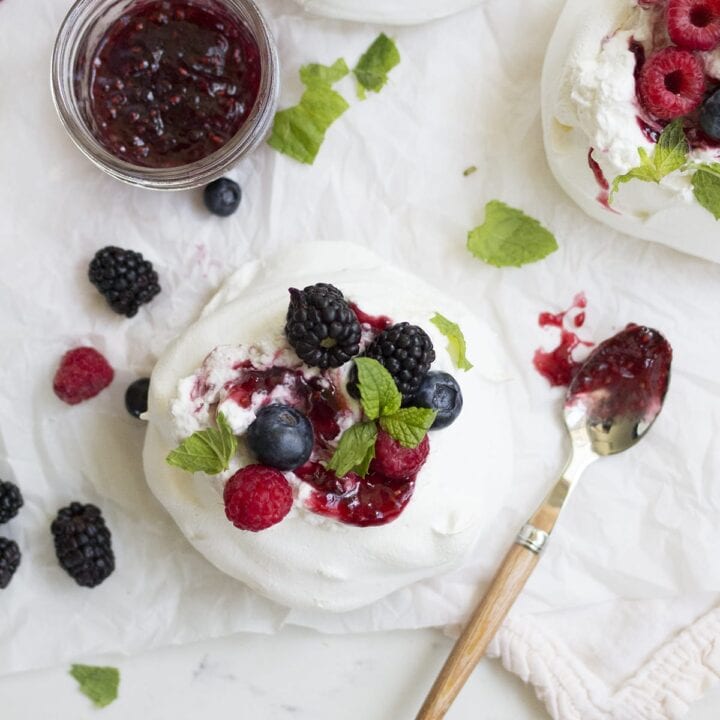 Mixed Berry Pavlovas
Prep Time:
4 hours
30 minutes
Total Time:
4 hours
30 minutes
Meringues topped with whipped cream, raspberry jam and fresh mixed berries.
Ingredients
6 egg whites
⅛ teaspoon cream of tartar
pinch salt
1 ½ cups sugar
1 teaspoon lemon juice
½ teaspoon vanilla + 1 teaspoon vanilla for whipped cream
2 ½ teaspoons cornstarch
2 cups mixed berries
1 pint heavy whipping cream
raspberry jam
fresh mint
Instructions
Allow egg whites to stand at room temperature 30 minutes (this helps create more volume). Meanwhile, line two baking sheets with parchment.
Preheat oven to 250 degrees F. For meringue, in the bowl of a stand mixer fitted with the whisk attachment beat egg whites, cream of tartar, and salt on medium speed until soft peaks form. Add the 1 ½ cups sugar, 1 Tbsp. at a time, beating on high speed until stiff peaks form and meringue is no longer gritty (18 to 20 minutes), scraping down bowl as needed. Beat in lemon juice and vanilla extract. Using a rubber spatula, gently fold in cornstarch.
Spoon meringue mixture into 8 large mounds (about ¾ cup each) onto parchment paper-lined baking sheets, spacing them 3 inches apart. Using the back of the spoon, create an indent in each meringue. Bake for 1 hour. Turn off oven; let meringue dry in oven with the door closed for 1 hour. Remove and cool completely.
In the bowl of a stand mixer fitted with the whisk attachment beat heavy whipping cream and 1 teaspoon of vanilla extract until soft peaks form. Begin slowly and increase speed to prevent splattering.
Wash and dry berries and fresh mint for garnish.
Fill each meringue shell with a good dollop of whipped cream and about 1 Tablespoon of raspberry jam. Swirl the jam through the cream with a spoon and top with mixed berries and torn mint.
Serve immediately.
Recipe adapted from Better Homes and Gardens.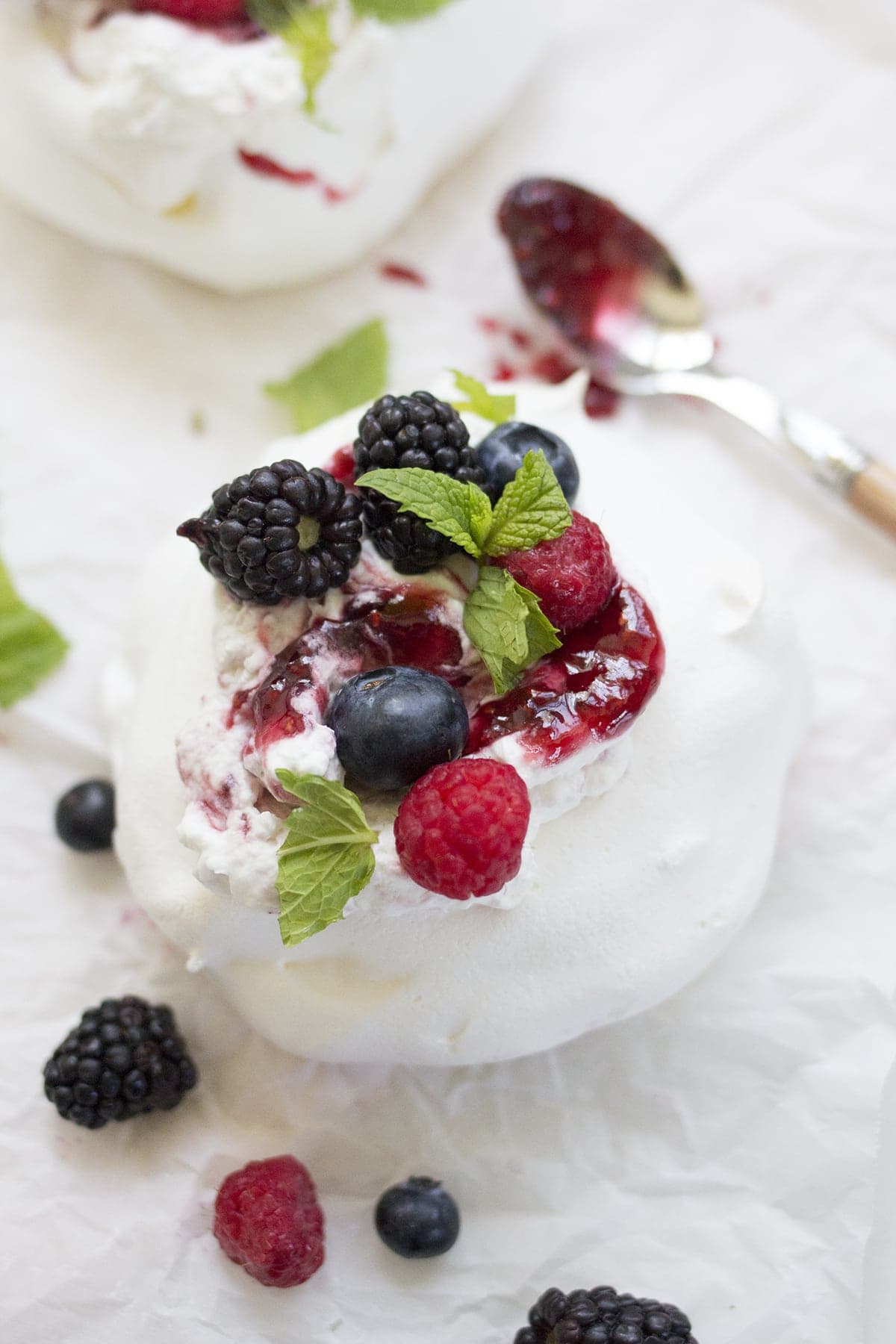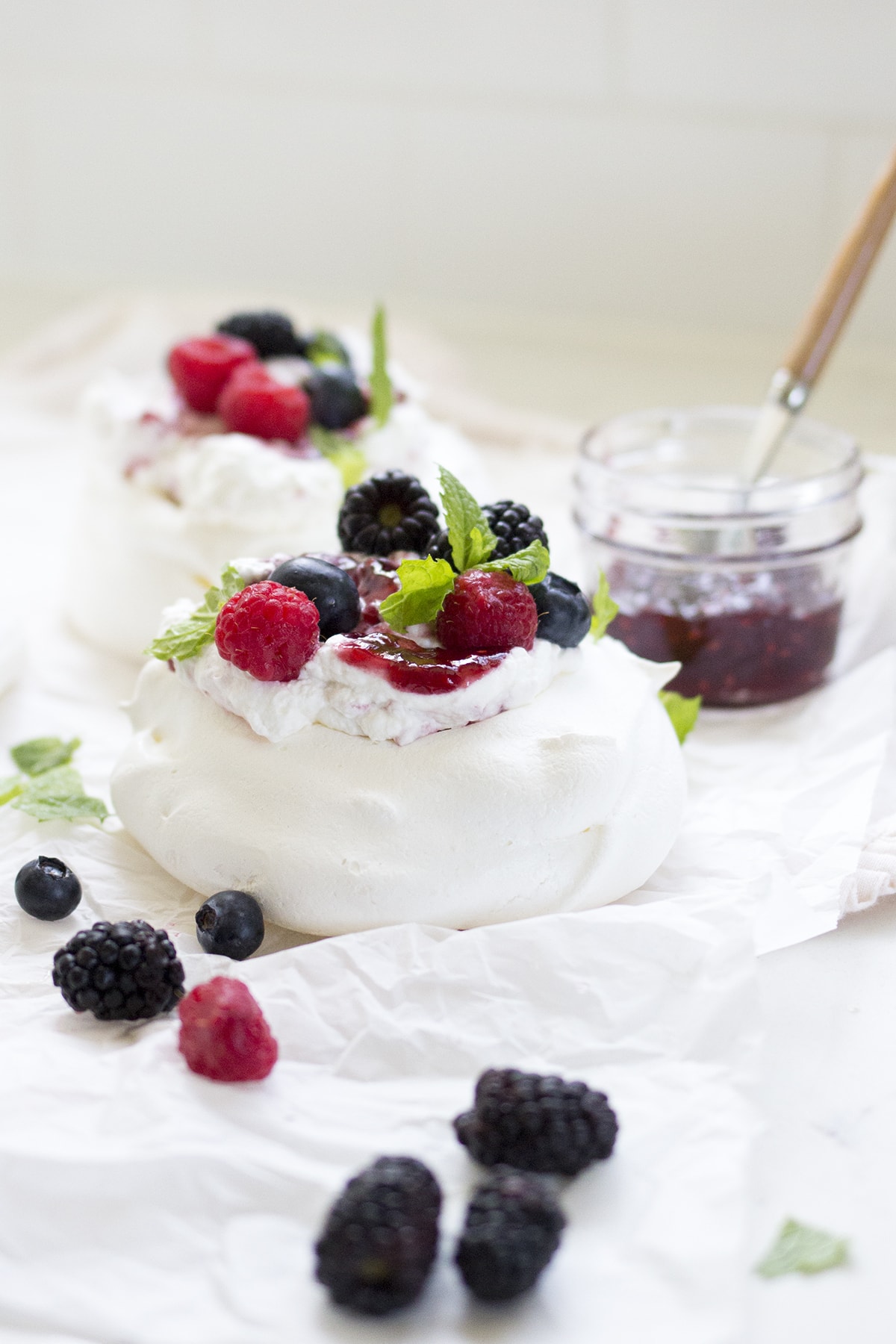 Save
Save