Easy Mexican Rice Stuffed Peppers with turkey and black beans are not only packed with flavor, they are cheesy, simply to make and a whole-family crowd pleaser. This is the best stuffed pepper recipe, and let me tell you why...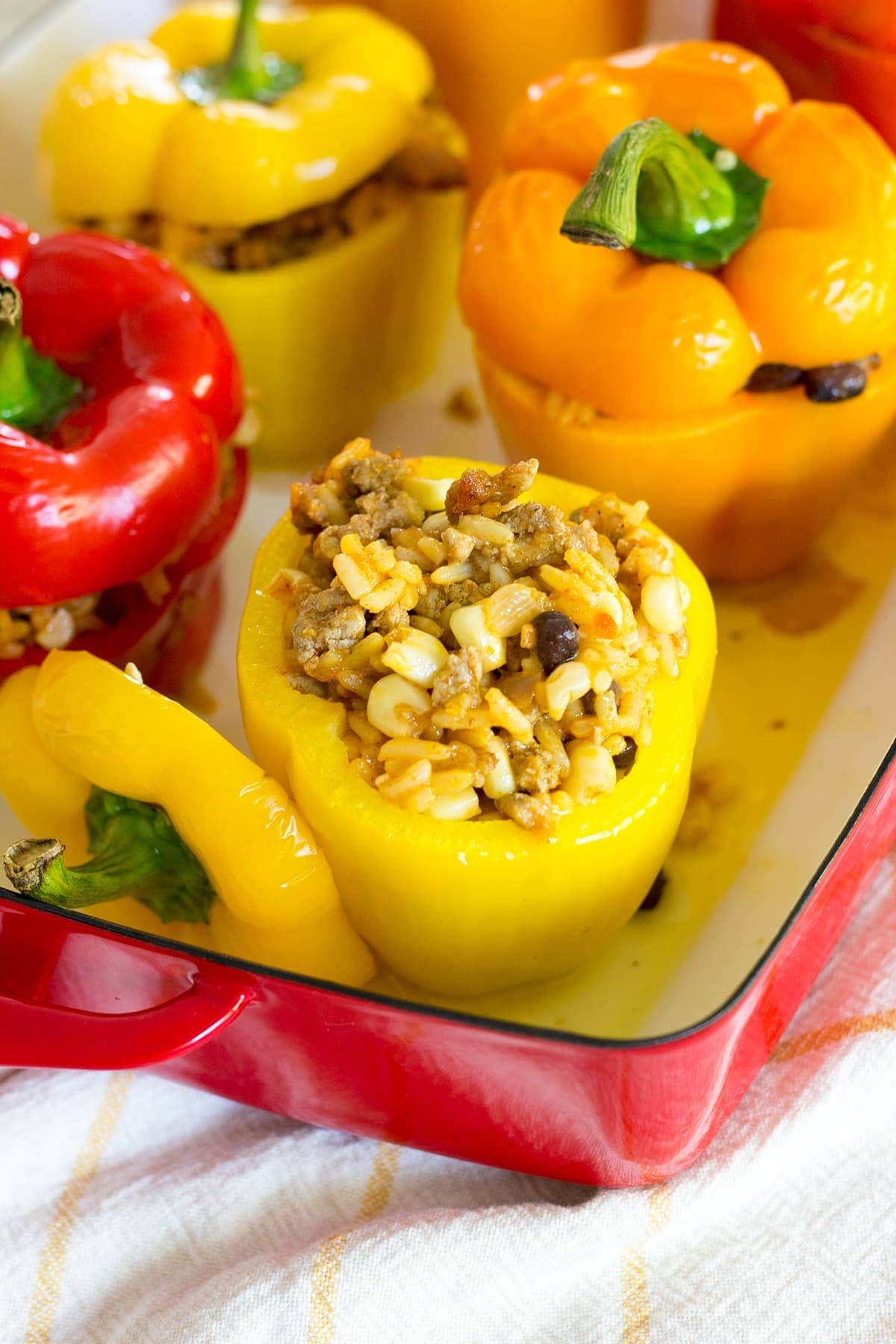 The Best Stuffed Pepper Recipe.
In my opinion the best stuffed pepper recipe consists of a few things.
1. a tender but not overcooked or soggy bell pepper.
2. moist and hearty filling.
3. plenty of cheese!
These Easy Mexican Rice Stuffed Peppers meet all of my criteria to be the best stuffed pepper recipe. Let me tell you about how these delicious stuffed peppers came to be. It was a weeknight and I had nothing but a few random ingredients in my refrigerator. When this happens I usually whip anything I have into an easy pasta dish but tonight I was feeling spunky. P.S. Looking for pasta dishes? Try my Bacon Avocado Tomato Pasta, it's one of my FAVORITE recipes.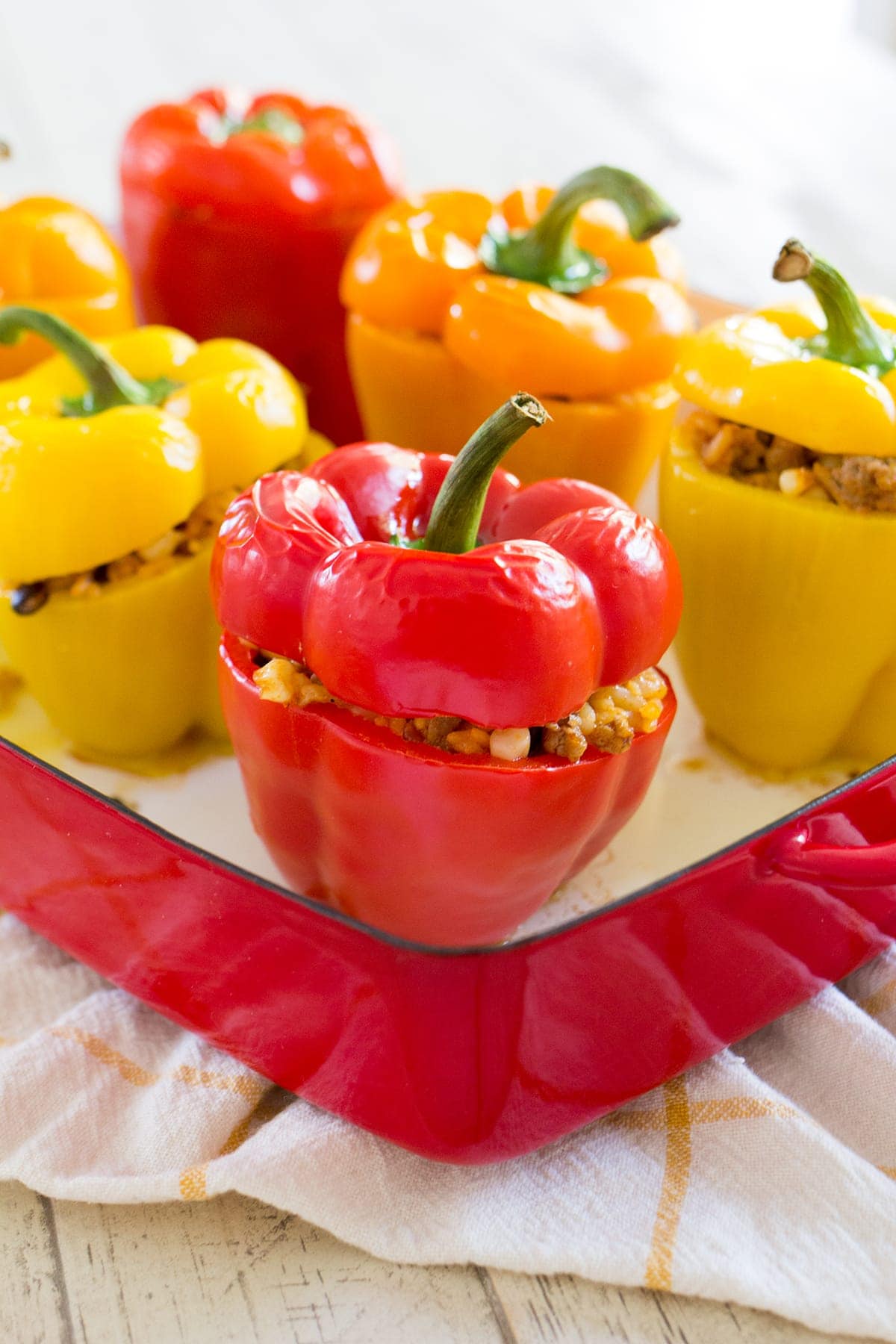 I happened to have a ton of bell peppers in my crisper, honestly, don't ask me why...Trader Joe's sells them in packages of three, so I ran with it. A box of Mexican rice was in my cabinet, a can of black beans, a pound of ground turkey in my fridge reserved for some other purpose, and so began the building of my Easy Mexican Rice Stuffed Peppers.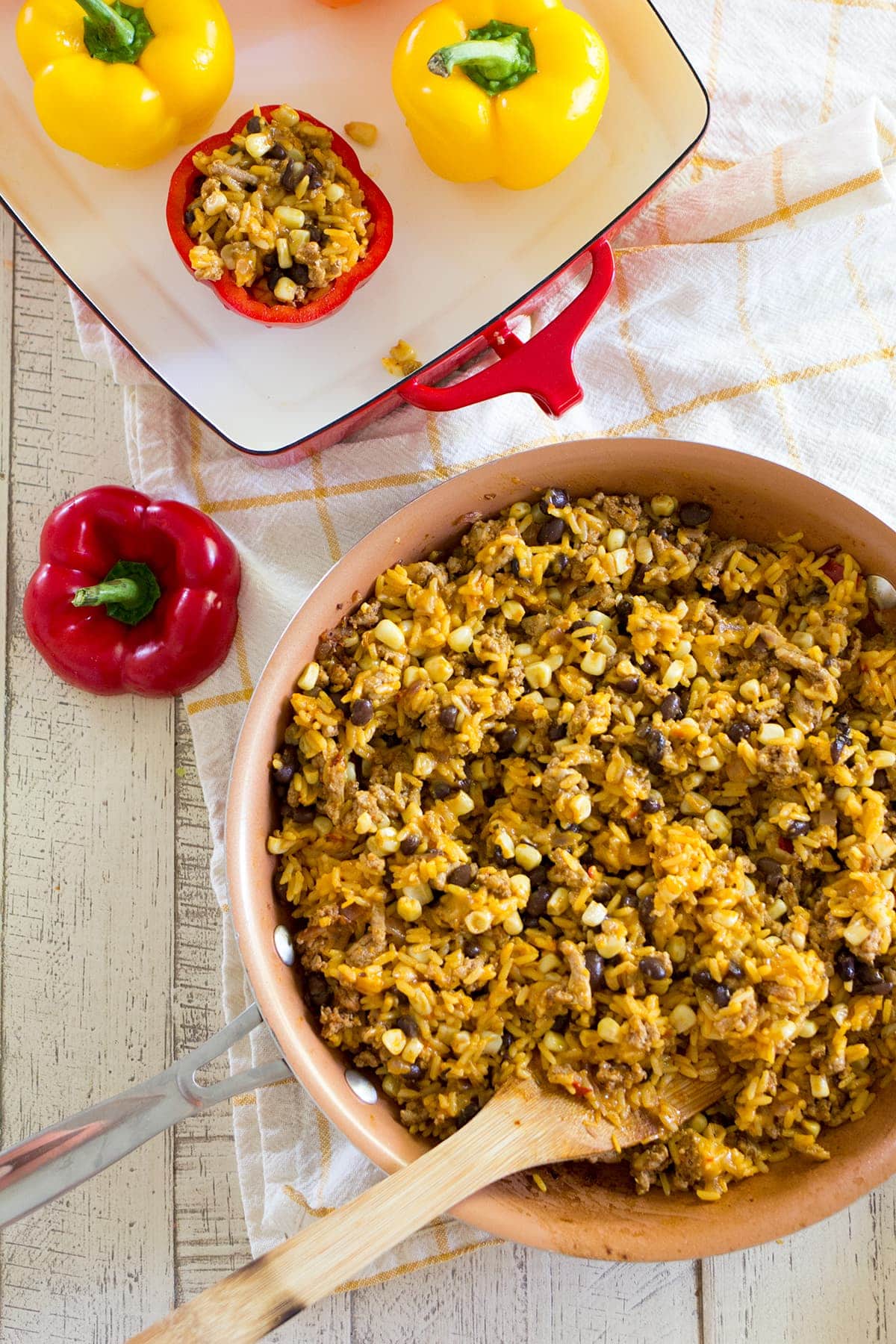 How to Make Delicious Stuffed Peppers
Start by sautéing red onion in just a bit of olive oil because that is the base for all flavor. Once your onion is soft, add in the turkey and begin to brown the meat breaking it up as you go. From here it's easy, taco seasoning, frozen corn, and a can of drained black beans all go in the skillet. You could make this recipe your own by adding any other veggies you love as well! Think zucchini, yellow squash, chopped mushrooms, you name it!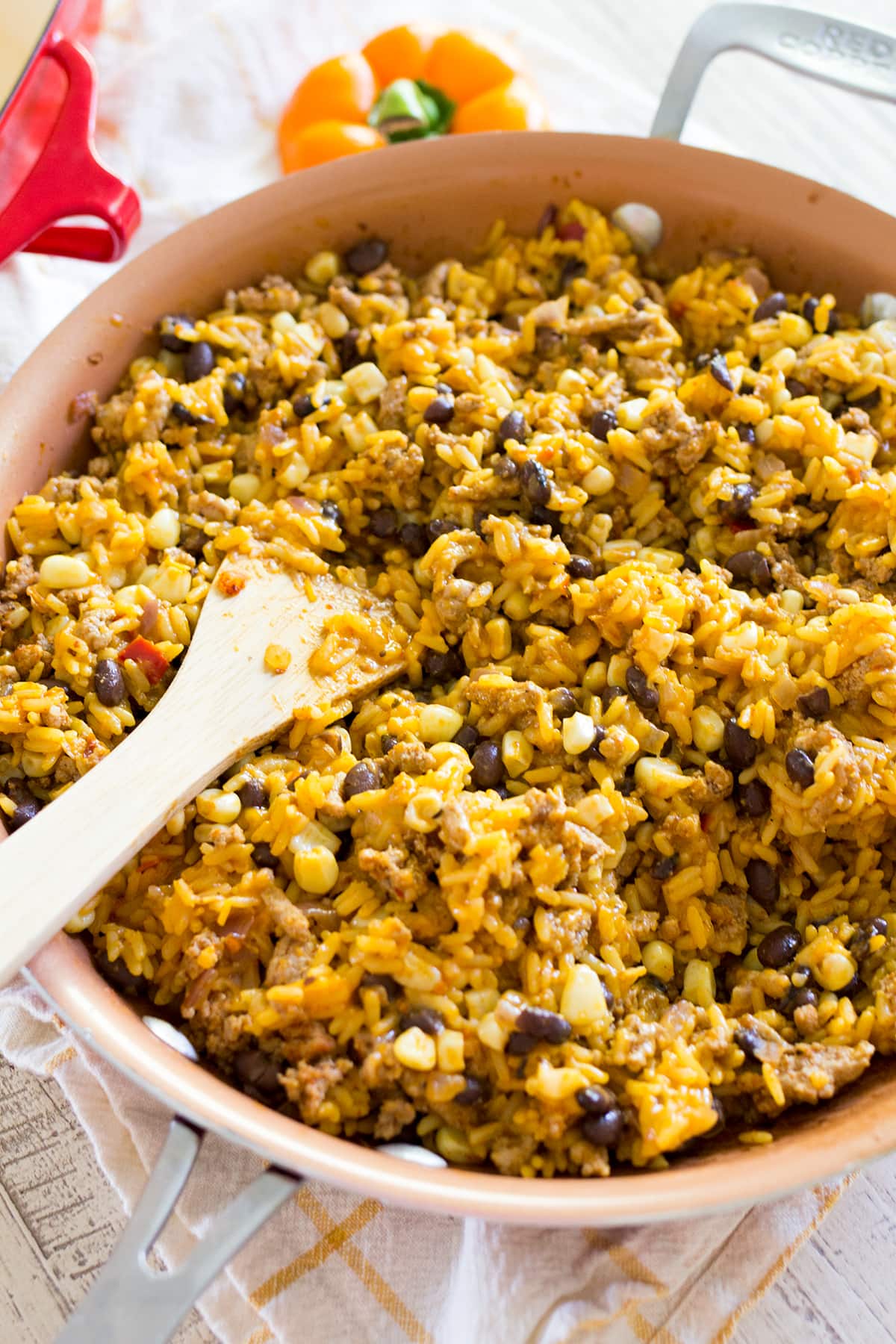 Now let's talk boxed Spanish Rice
It's hard to believe that not all boxed Mexican or Spanish Rice blends are the same, but they aren't! I always look for brand that have fewer, more straight forward ingredients and don't include msg. Lundberg or Near East are both great tasting and "clean" boxed rice brands if you can find them. Also, be careful to pick a brand of Spanish or Mexican Rice that isn't too spicy, unless you like the heat!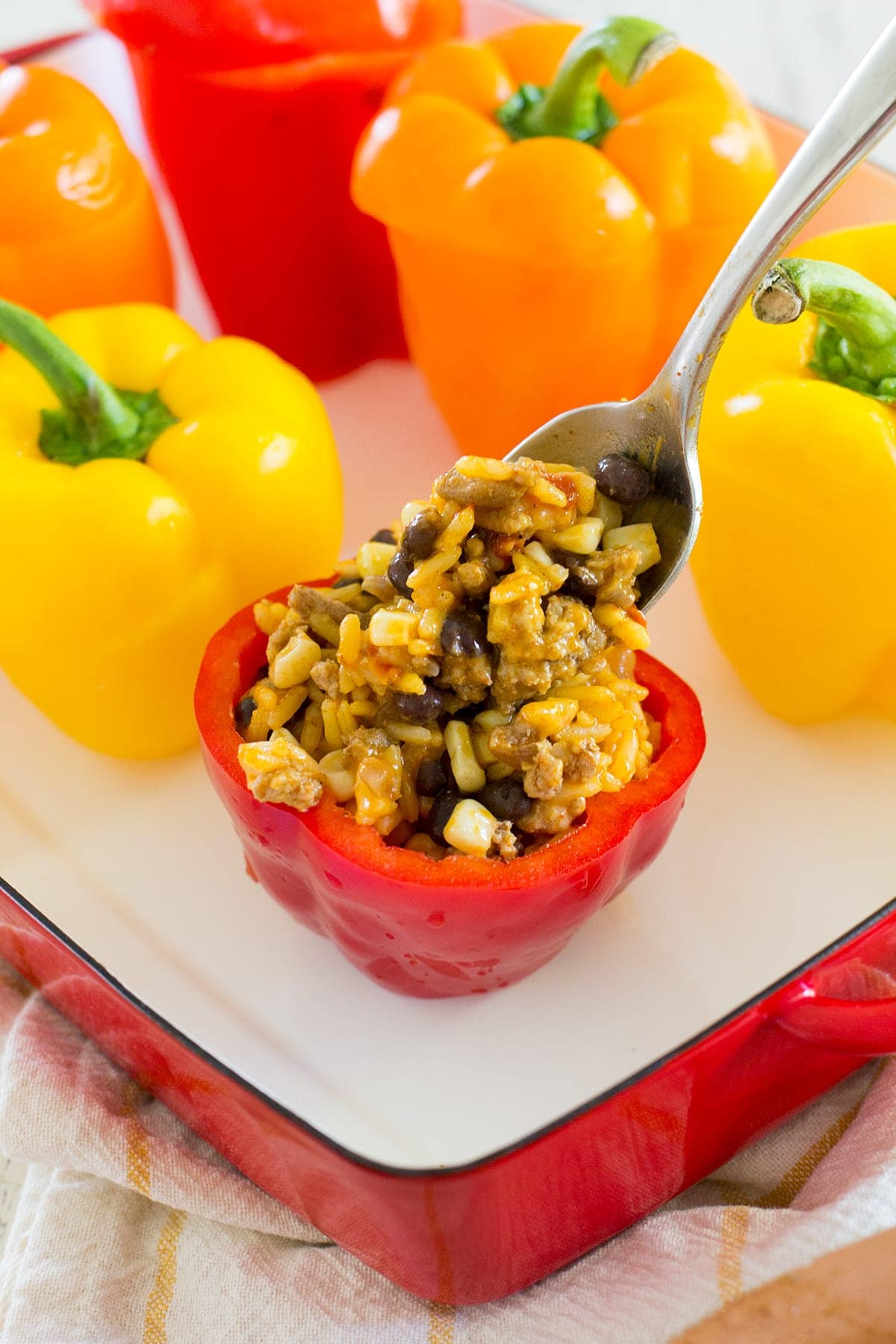 How to Assemble Stuffed Peppers
Once your Spanish or Mexican boxed rice is cooked and fluffed according to the boxed instructions, add it to your ground turkey mixture along with the shredded cheese. This is the step that take the most self-control because the mixture is so darn cheesy and delicious that it's hard not to stand there and eat it straight out of the pan!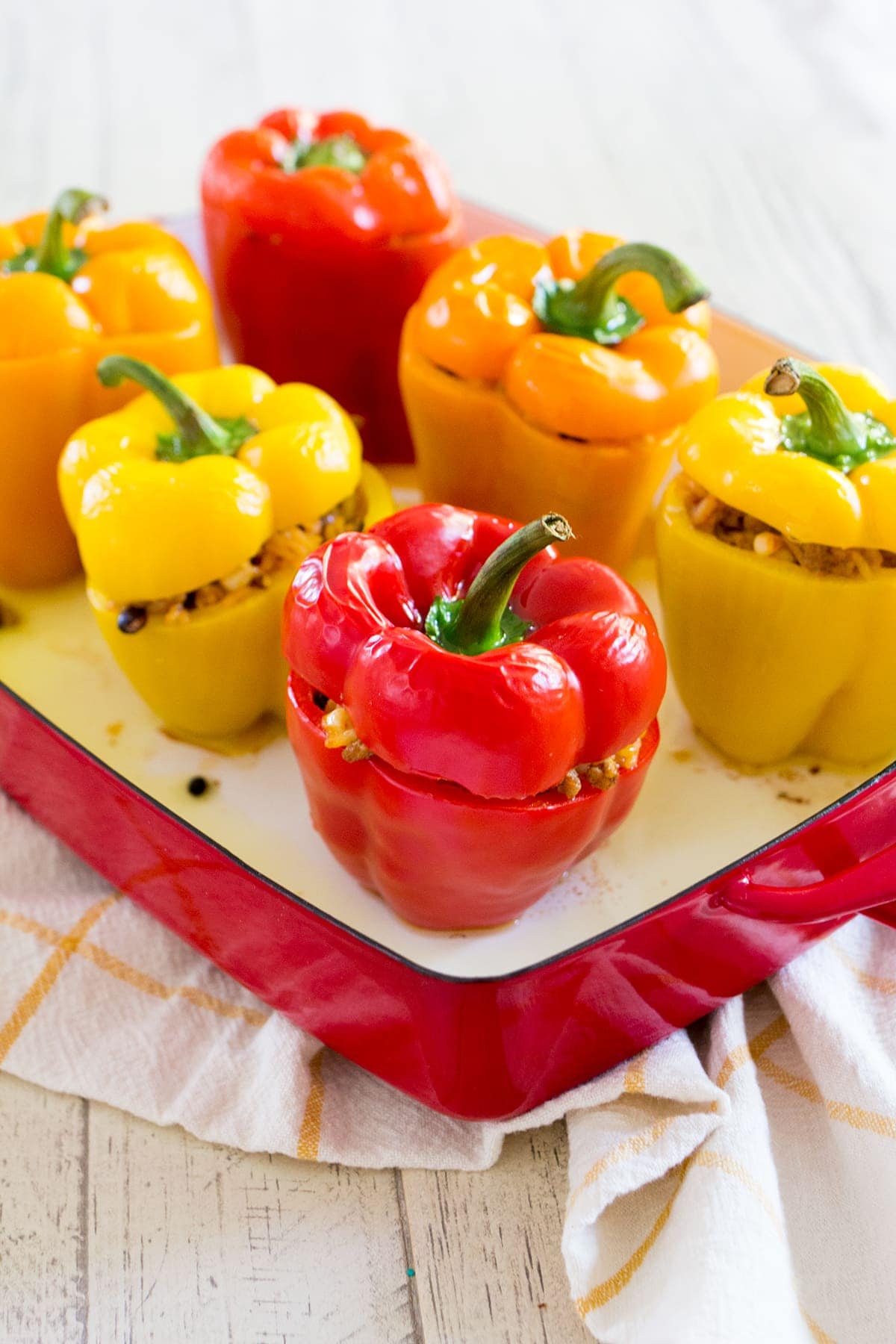 Tips for Getting Stuffed Peppers to Stand Up
So how do you get your Stuffed Peppers to stand up without tipping all over the place? The answer is: cut a very (VERY) small amount off of the bottom of each pepper to level it out. This creates a flat base for your pepper to stand without rolling around in the baking dish. Genius! Next, use a spoon to scoop your filling into peppers and place them in a baking dish. Place their lids back on top, add a drizzle of olive oil and your peppers are ready to bake.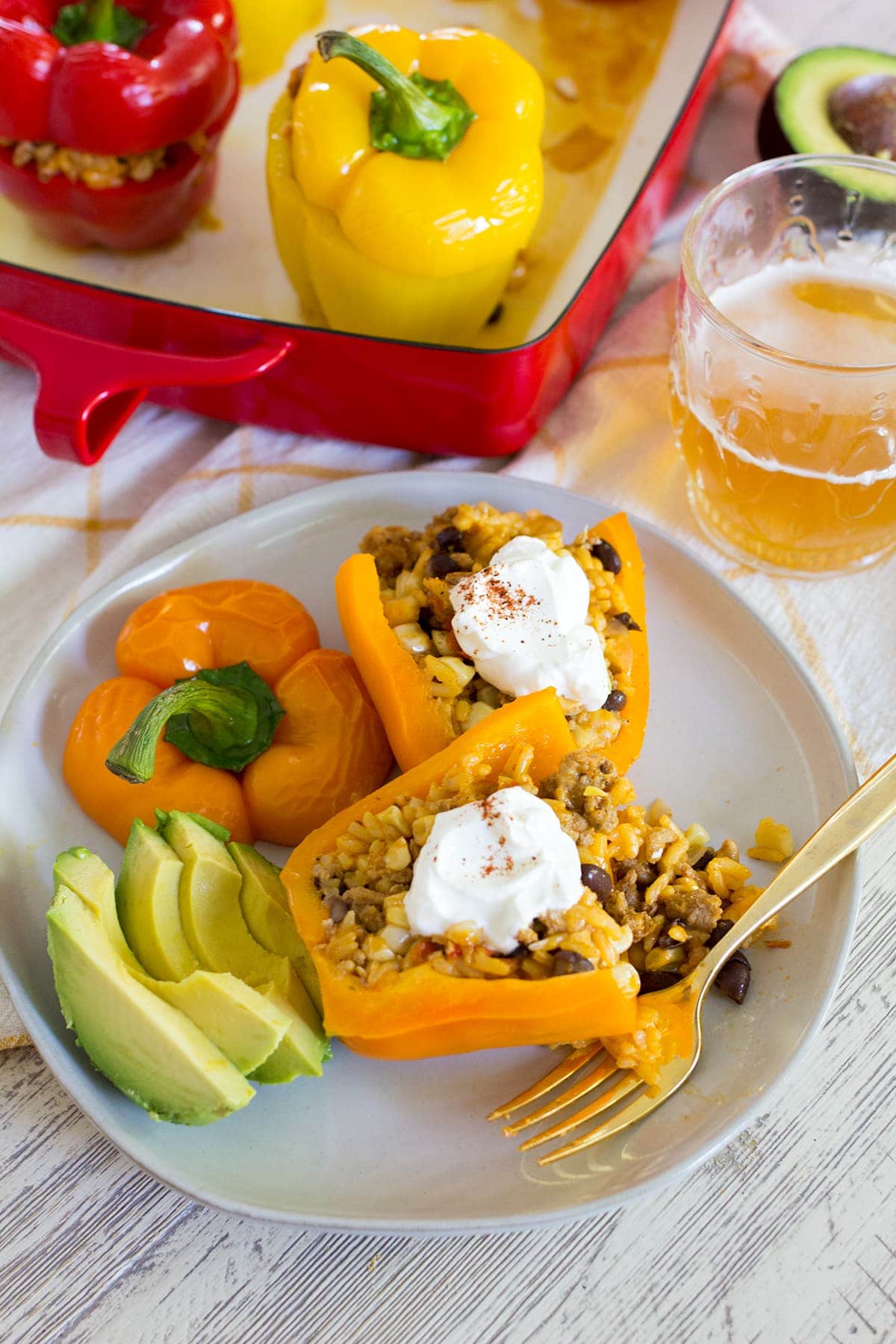 Serve with a dollop of sour cream or a slices of avocado, or just straight up because they are really are the best stuffed pepper recipe and need nothing else. That being said, my Homemade Guacamole might be a nice side dish or a round of my favorite margaritas! Happy weeknight cooking to you. I hope you will make this recipe and share it with me on social #freutcake so that I can see how delicious it turns out.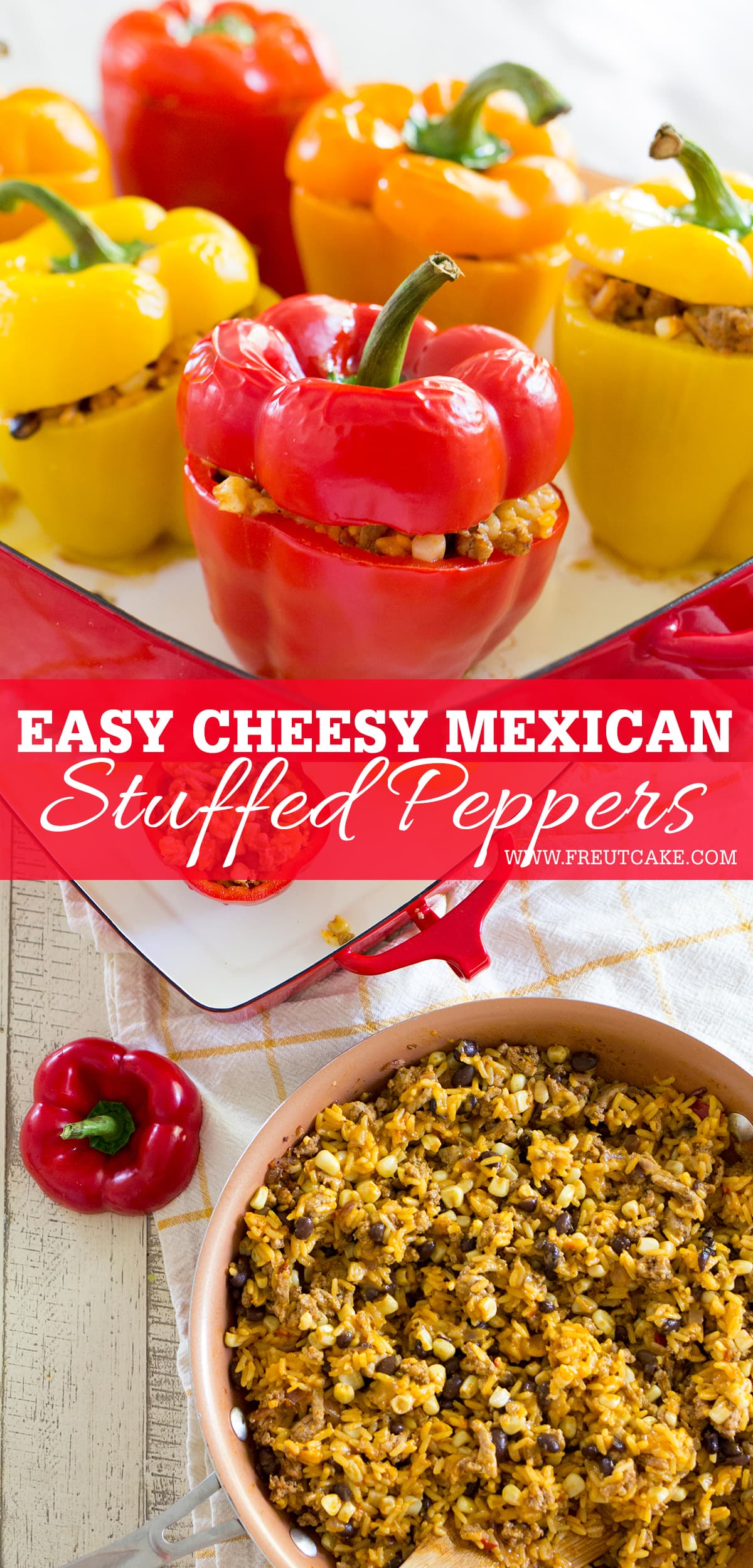 Let's Get Cooking!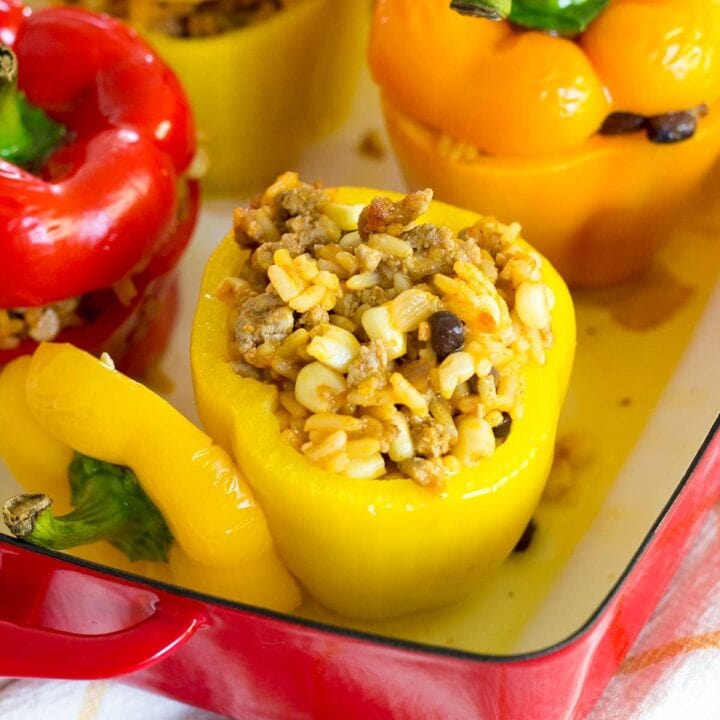 Easy Mexican Stuffed Peppers with Turkey and Rice
Easy Mexican Stuffed Peppers with ground turkey, Mexican rice, black beans and corn are a crowd pleasing weeknight dinner.
Ingredients
12 bell peppers- short and wide work best
½ cup diced red onion
1 pound ground turkey
1 package taco seasoning
1 box Spanish or Mexican rice
2 cups frozen corn
1 can black beans, drained and rinsed
1 cup shredded cheddar cheese
¼ cup water
olive oil
Instructions
Preheat oven to 400 degress.
Wash your bell peppers and cut the tops off reserving them.
Remove seeds and cut a small sliver off of the bottom of each pepper to create a flat surface for it to stand upright in a baking dish. Set prepared peppers aside.
Prepare Spanish rice according to boxed directions. While rice cooks, prepare meat filling.
In a large sautee pan, add in 1 tablespoon olive oil and onion. Sautee over medium heat for about 3 minutes.
Add in ground turkey and cook breaking up the meat with a wooden spoon until no longer pink.
Add in ½ taco seasoning packet, ¼ cup of water and frozen corn. Cook stirring for 2-3 more minutes or until seasoning is well distributed through the mixture and corn warmed through.
Stir in black beans and shredded cheese, remove from heat and set aside.
When rice is finished cooking, toss into the meat mixture.
Scoop filling into each bell pepper and replace tops.
Drizzle just a bit of olive oil over each pepper in baking dish. Bake 400 degrees for 20 minutes or util soft but still firm enough to stand.
Notes
Cooking time will vary based on the boxed rice mix you use. Please read all of my recipe notes and suggestions in this post before making!