Sweet Potato and Black Bean Tacos are an easy vegetarian weeknight meal that I've been making for my family for years!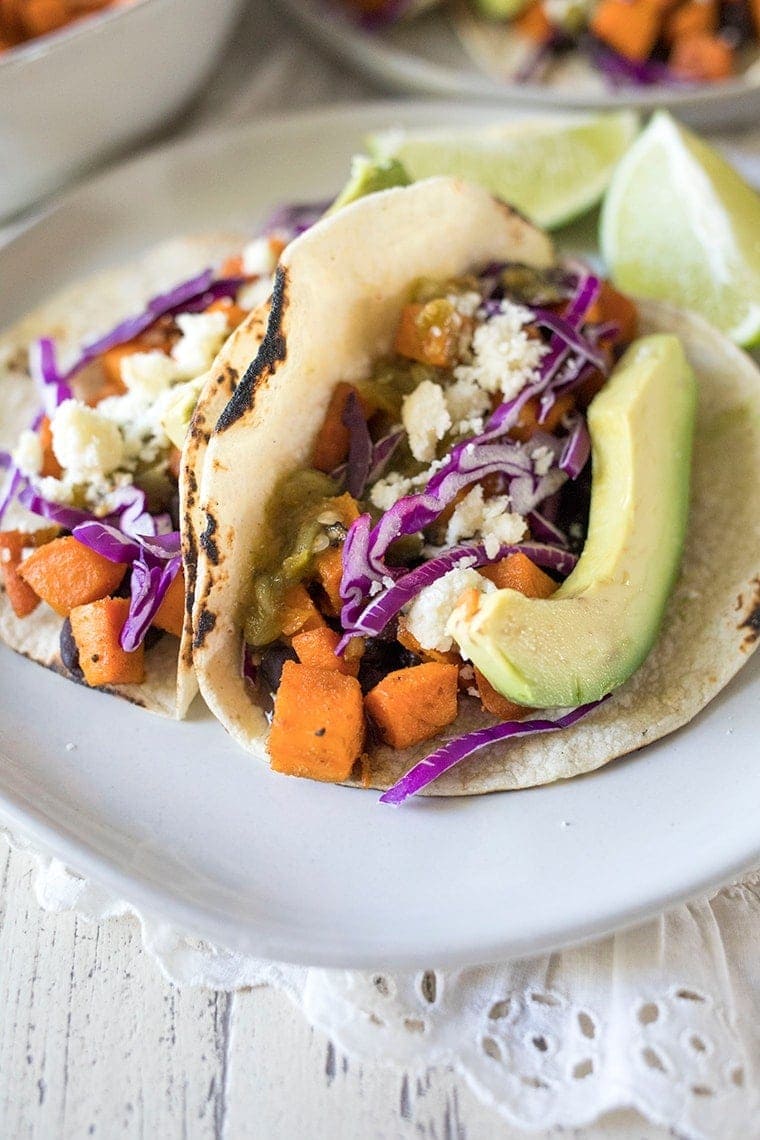 Sweet Potato and Black Bean Tacos
It started out as a purely economical meal. I wanted to use up the can of black beans that I had in the pantry and a random sweet potato that had graced my kitchen counter for far too long. Voila! Sweet Potato and Black Bean Tacos. Dinner was surprisingly good that first time. So, naturally made this recipe again, and again until it became a staple. I've added other veggies when I had them on hand, ground turkey meat to make it meaty, I've topped it with Mexican crema and cotija cheese, and I've gone without. Either way, no matter how you dress these tacos up, they really are simple and delicious.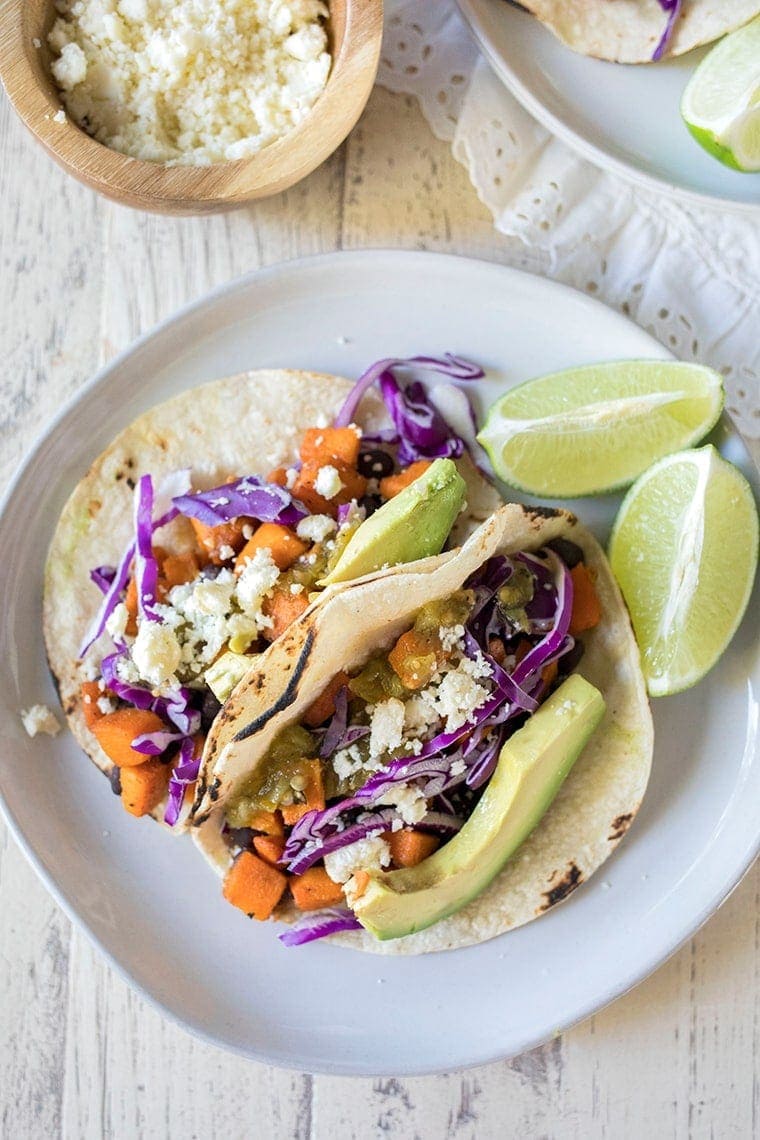 Roasted Sweet Potato
It all starts with really well seasoned and roasted sweet potato. This is the base for these Sweet Potato and Black Bean Tacos so I flavor them up to the max. Fresh garlic, tons of cumin, salt, pepper, and a hit of cayenne because I love spice. While the sweet potato roasts, start heating up a can of seasoned black beans in a small sauce pan and prepping the toppings.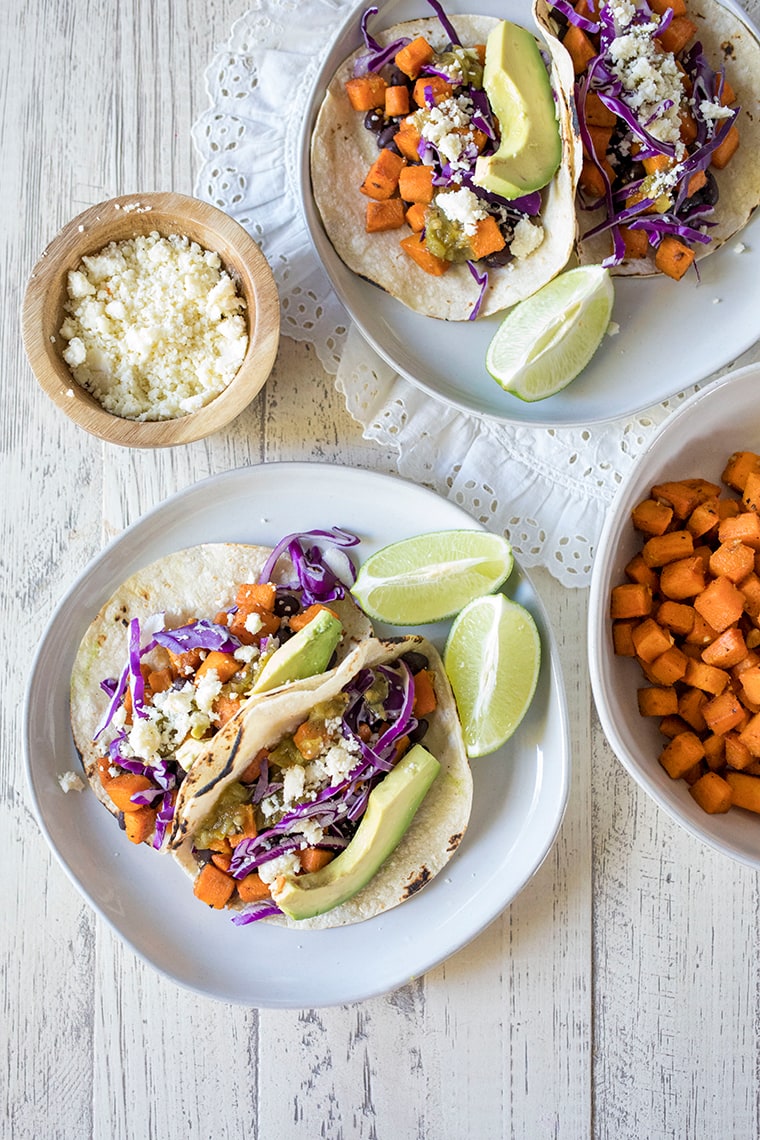 Taco Toppings
For the taco toppings you can really go wild! I say the more the better especially when the filling is vegetarian. Red cabbage, avocado, cilantro, green onion, salsa, guacamole, the topping choices are endless! Oh, and corn tortillas. I quickly char mine right on the stove top over a burner. I like the flavor and texture it imparts.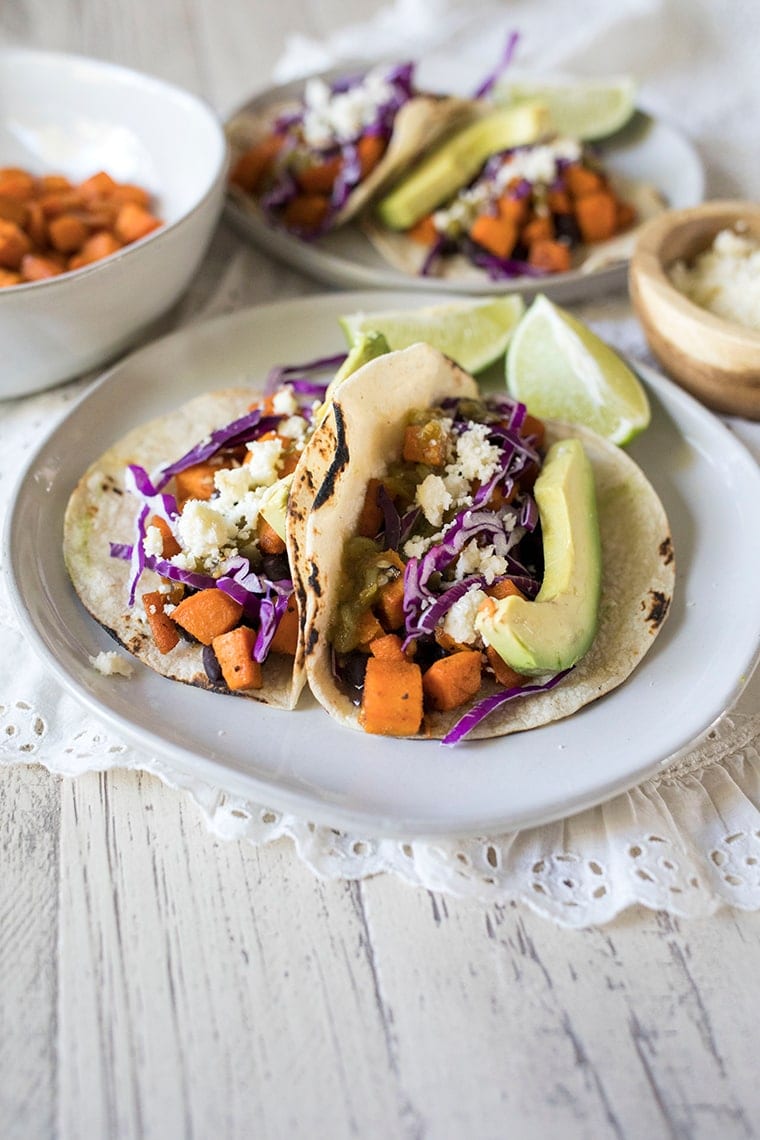 After the sweet potatoes are roasted and the beans are warmed, it's time to assemble. Drain your black beans well and add a good spoonful to each tortilla followed by a good spoonful of sweet potato. Finish according with toppings and in 30 minutes, taco night dinner is ready!
Looking for more taco recipes? You might enjoy my favorite fish taco recipe, my ULTIMATE guacamole recipe, or my crockpot shredded beef tacos that are to die for!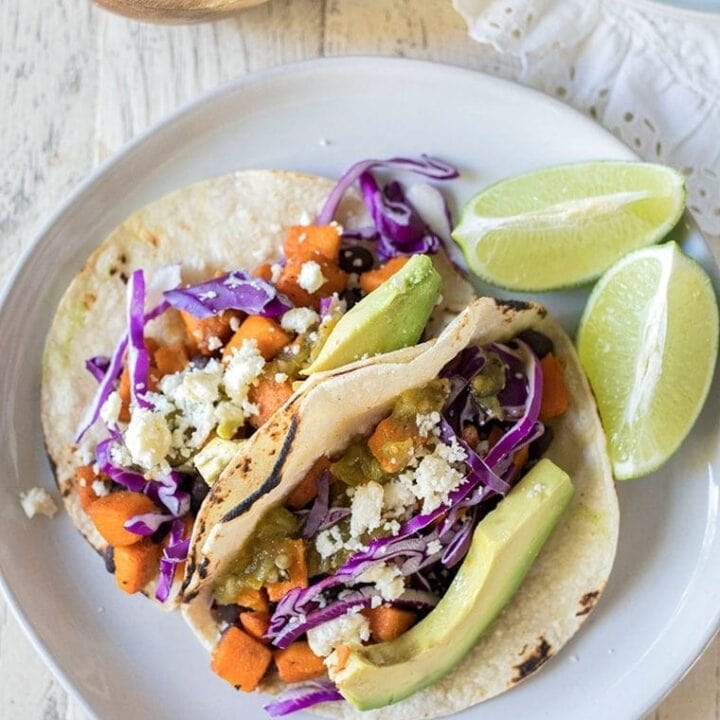 Sweet Potato and Black Bean Tacos
A delicious vegetarian sweet potato and black bean taco
recipe.
Ingredients
5 cups peeled and cubed sweet potato (about 2 medium sized sweet potatoes/yams)
olive oil
1 ½ teaspoons cumin
½ teaspoon kosher salt
3 garlic cloves minced
¼ teaspoon cayenne (optional, or less to taste)
1 can seasoned black beans
10-12 small corn tortillas
shredded red cabbage
green onion, chopped for garnish
crumbled cotija cheese
lime wedges, for garnish
Instructions
Preheat oven to 400 degrees.
On a rimmed sheet pan toss cubed sweet potato with a drizzle
of olive oil, cumin, kosher salt, garlic and cayenne.
Bake for 20 minutes, stirring frequently, until sweet potato
is fork tender.
Heat a can of black bean in a small sauce pan until warm.
Toast tortillas over an open stove top flame to warm.
Top each tortilla with a scoop of (drained) black beans,
sweet potato, shredded cabbage, green onion, cotija and a squeeze of fresh lime
juice.
Serve immediately and enjoy!