Are you ready for the easiest cocktail recipe of all time? Well, I've got it here for you and it's called a Salty Dog. Not the prettiest name, I'll admit, maybe I should have called it a Pink Salty Dog? But nonetheless it's delicious and simple and can be made to fulfill your happy hour dreams in a matter of seconds.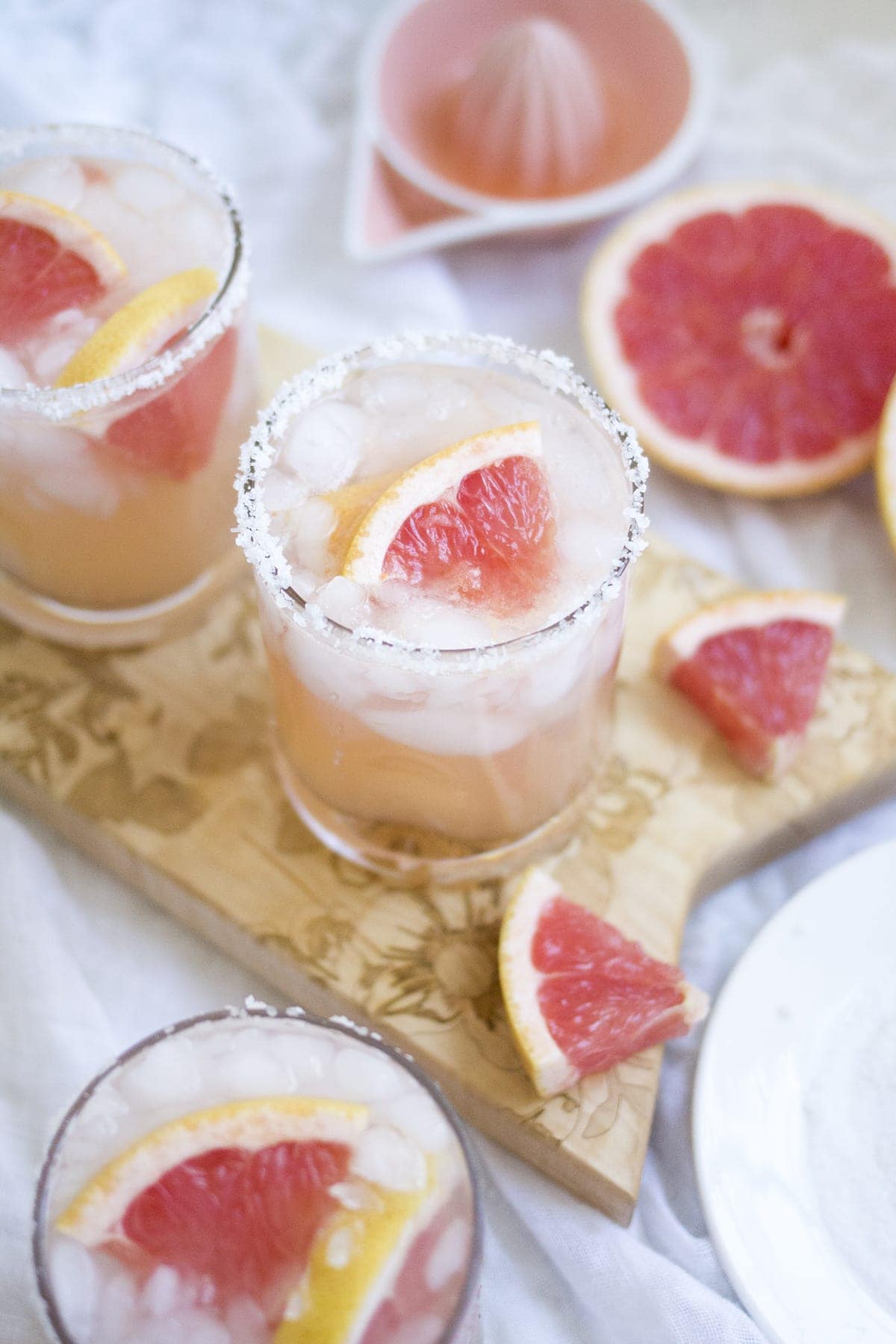 What is a Salty Dog Cocktail?
Salty Dogs are basically a Greyhound Cocktail served with a salted rim...hence the name Salty Dog. Whoever came up with this quirky name is awfully clever, I must say. Traditionally Greyhound Cocktails are made with grapefruit juice but I prefer to use pink grapefruit juice as it has just a hint more sweetness and adds a pretty pink color to drinks.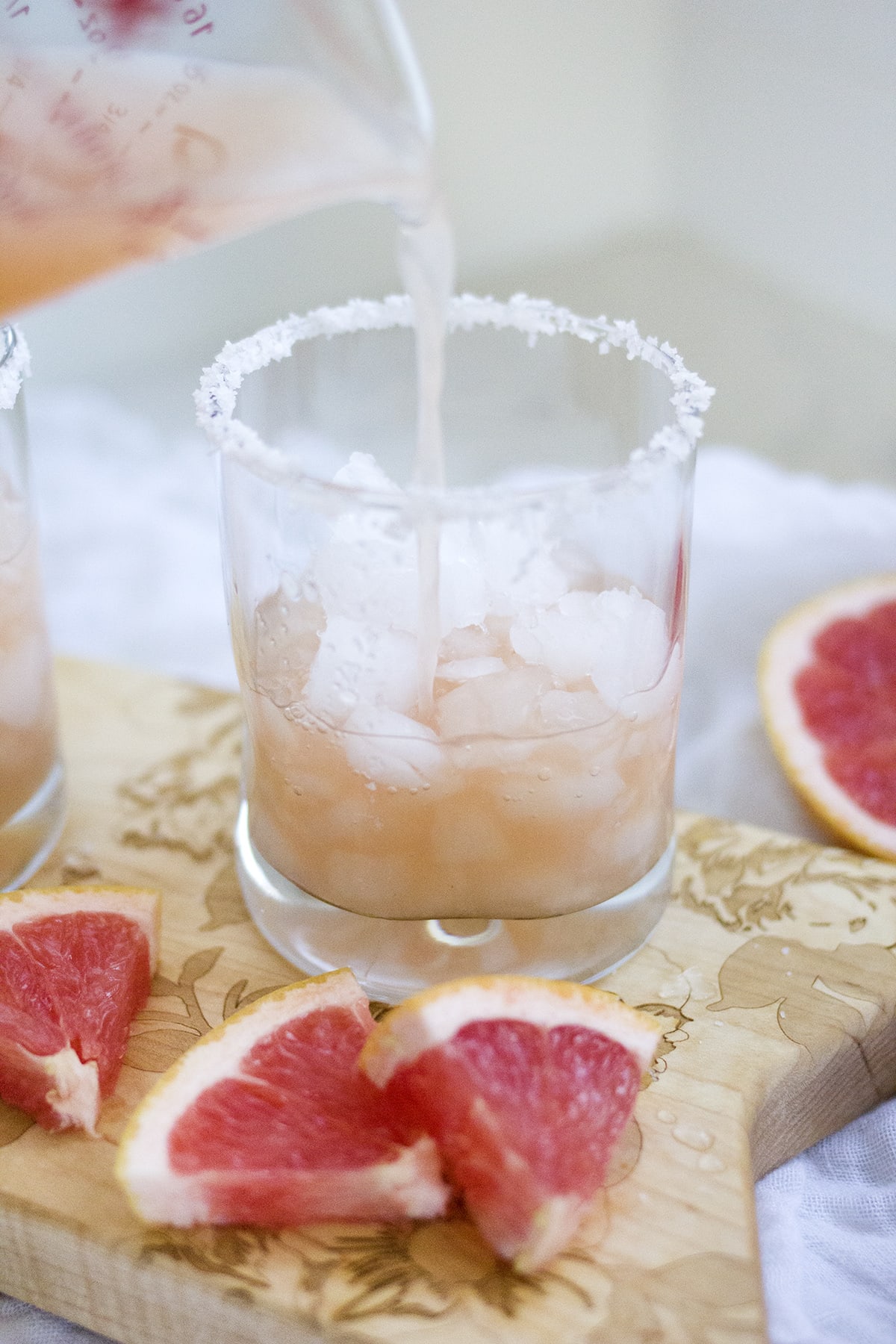 Ingredients in a Salty Dog:
Vodka - Use your favorite brand of unflavored vodka.
Pink Grapefruit Juice - of course you can use regular grapefruit juice as well, whatever you can find, just make sure it's freshly squeezed if possible.
Simple Syrup - store bought or homemade. I'll share the easy recipe for how to make it below.
Crushed Ice - lots of it!
Salt - coarse Kosher salt is great for rimming cocktail glasses.
Grapefruit wedges - for garnish to make it pretty.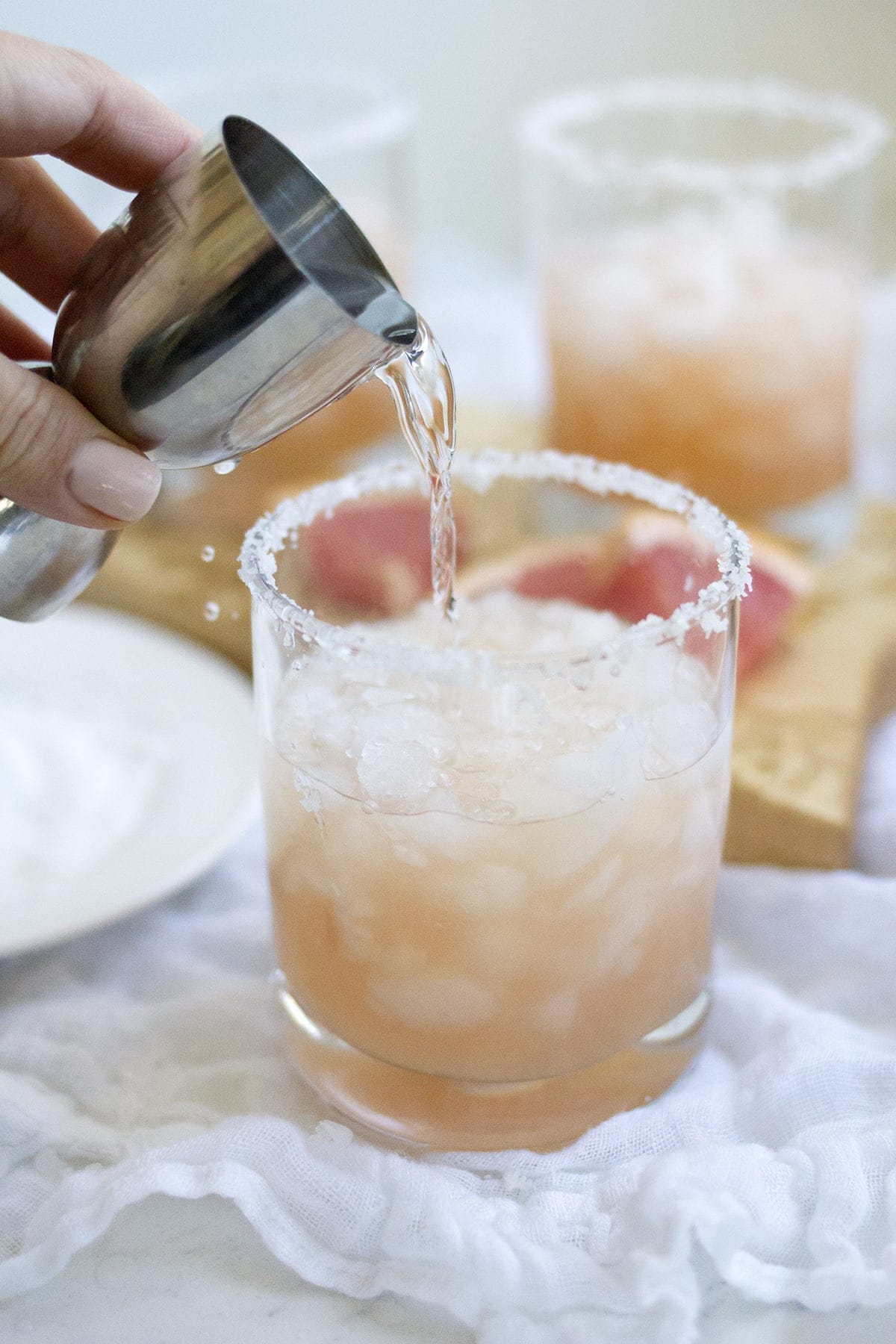 How to Make a Salty Dog
Salt the rim of a tumbler and fill it with ice. Personally I prefer mine crushed, and not crushed like out of my ice machine crushed, but put into a bag and literally crushed with a wooden muddler until the ice is perfectly small and crunchy…but that's just me.
Next, juice a couple of Ruby Red or pink grapefruit and add that to the glass. Top with equal parts of your favorite vodka, a splash of simple syrup and stir to combine.
Garnish with slices of pink grapefruit and you have yourself a Salty Dog!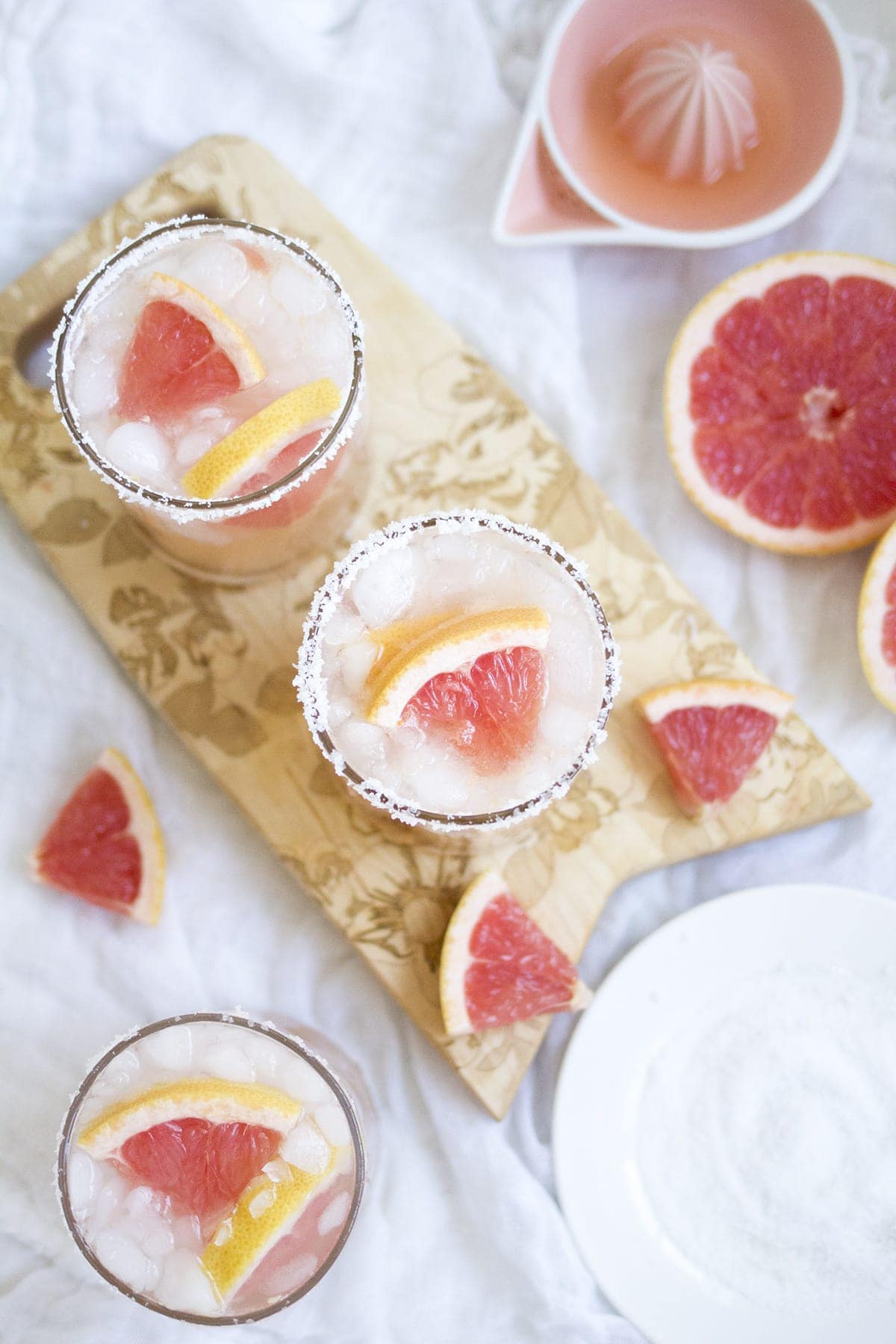 Simple Syrup for Cocktails
If you're feeling fancy, and have a bit more time to prep, try making a quick rosemary simple syrup to sweeten it up. Equal parts sugar and water go into a saucepan with a few sprigs of fresh rosemary. Bring to a simmer and stir just until the sugar dissolves.
Remove from heat and allow the syrup to cool completely. Remove the rosemary and add about 1-oz to your cocktail. This is my favorite way to drink a Greyhound or Salty Dog for that matter. Or if you want to make a plain simple syrup, use the exact same method and omit the rosemary.
Homemade simple syrup should be kept in an airtight bottle like this, in the refrigerator. Cheers!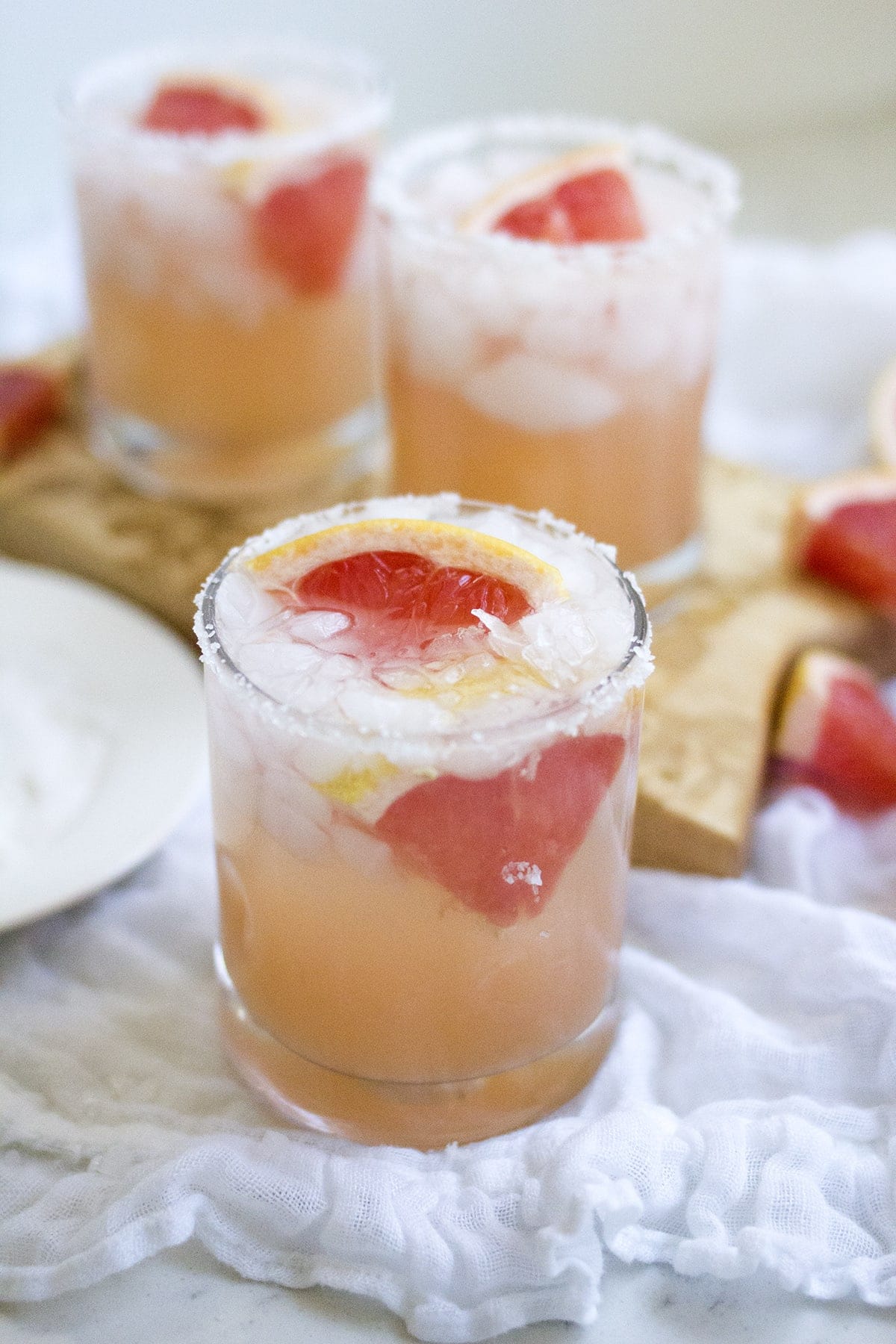 More Grapefruit Recipes to Try:
I love grapefruit and have used it in tons of recipes from cocktails to desserts! Here are a few for my fellow grapefruit lovers.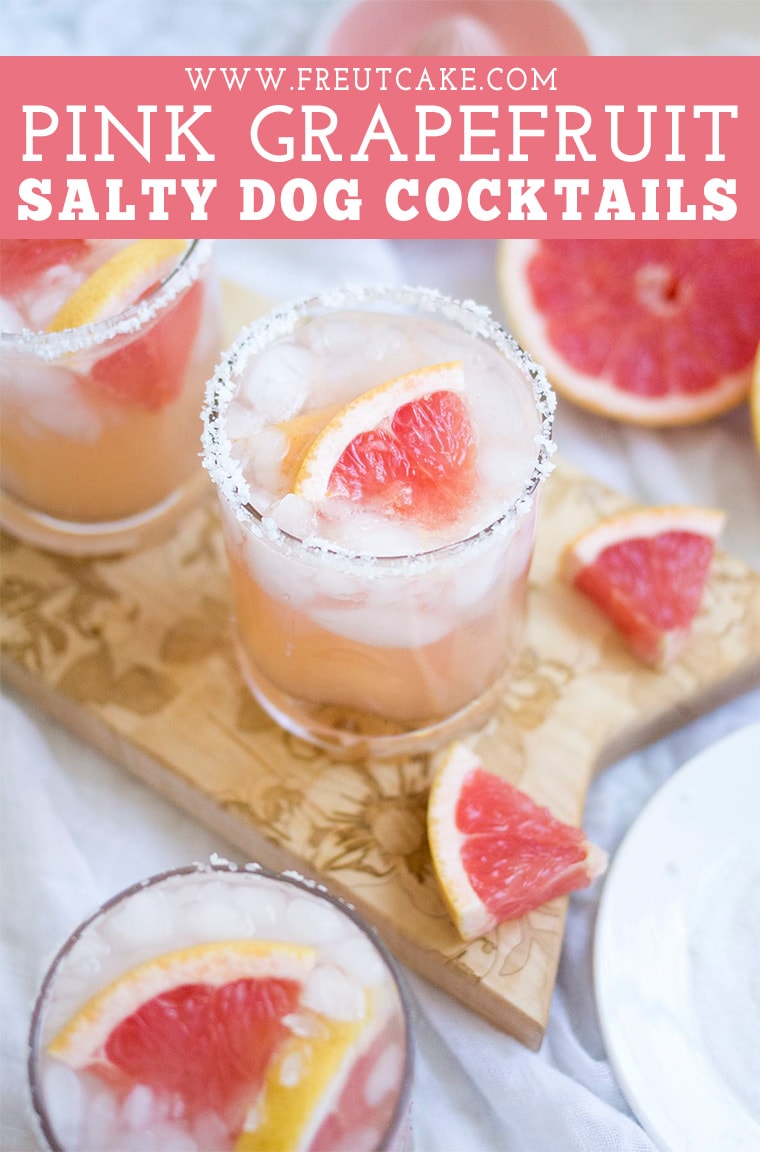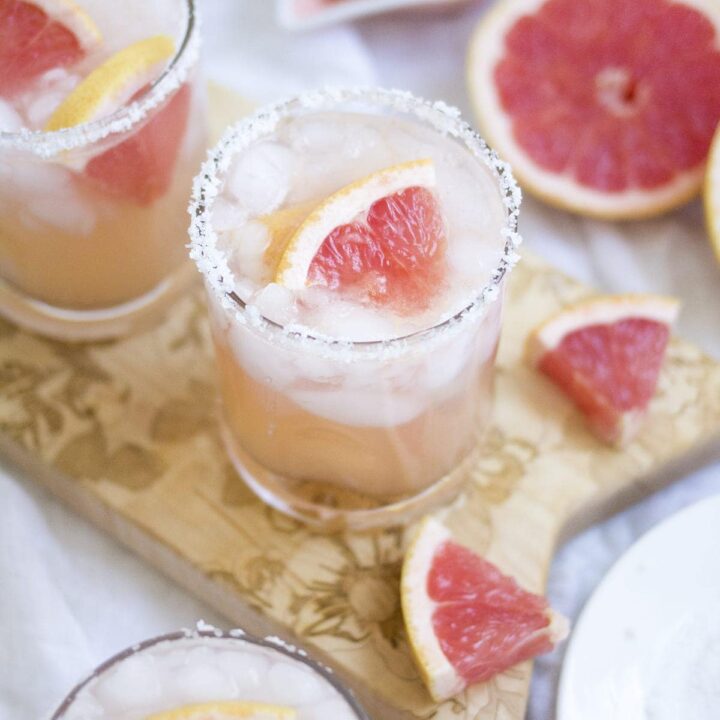 Salty Dog Cocktails
A salted grapefruit Greyhound cocktail with a pretty pink twist!
Ingredients
2 oz vodka
3 oz freshly squeezed grapefruit juice
1 oz simple syrup optional
crushed ice
coarse salt
grapefruit wedges, for garnish
Instructions
Salt the rim of a tumbler and fill with ice.
Add in vodka, pink grapefruit juice and simple syrup, and stir to combine.
Garnish with grapefruit wedges.
Notes
Make your own simple syrup by combining 1 cup sugar and 1 cup water in a small saucepan. Bring to a low simmer stirring until sugar is dissolved. Remove from heat and allow to cool completely before using in cocktails.
Nutrition Information:
Yield:

1
Serving Size:

1
Amount Per Serving:
Calories:

267
Total Fat:

0g
Saturated Fat:

0g
Trans Fat:

0g
Unsaturated Fat:

0g
Cholesterol:

0mg
Sodium:

583mg
Carbohydrates:

35g
Fiber:

2g
Sugar:

21g
Protein:

1g
Save
Save
Save