I've never gold leafed anything before in my entire life. So what compelled me to gold leaf Easter eggs this year? I can't really say, although I hoped that the end result would be half as fabulous as the golden eggs that live in my imagination. The good news is...they turned out even better and entirely unlike my imagination.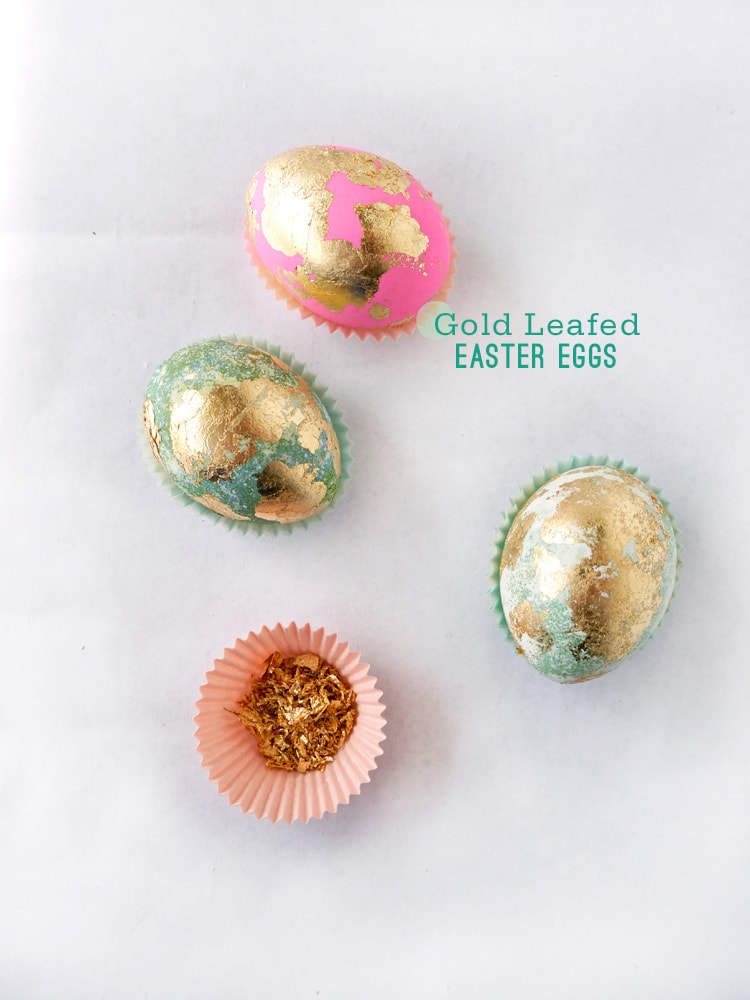 Golden, shiny and vibrantly colored, now that's a spin on the classic Easter egg! These were the sorts of thoughts going through my mind as I repeatedly dunked my Perfect Hard-boiled Eggs over and over again in their hot pink, blue, and green dyes. That night I smugly went off to bed, a dozen solid and freshly dyed eggs tucked away in the fridge for the morning. Are you getting the feeling that things went a little south? Well sure enough they did...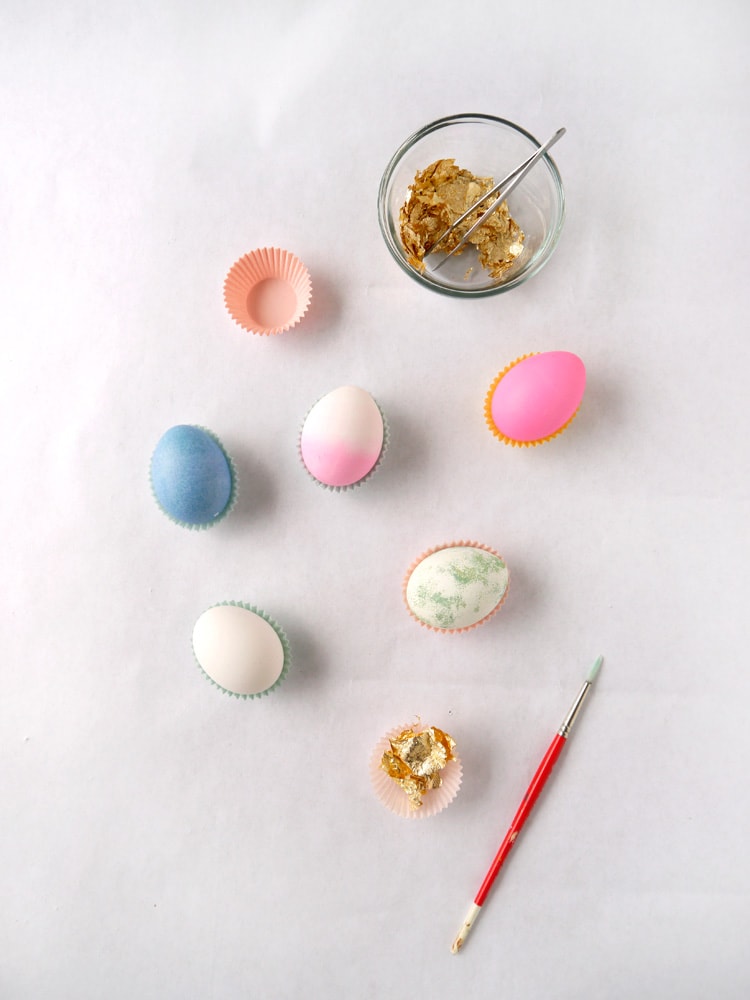 The next morning as I remove my eggs to come to room temperature I noticed that the previous night's dye job was a little less than perfect. Little condensation spots had formed, streaking and spotting my eggs. Not to worry, I thought, it's hardly noticeable. But as I sat watching my little colorful dozen sweat it out on the kitchen counter, those spots quickly turned into larger splotches and drips, eek! To make matters worse I began toweling them dry one at a time rubbing off more and more of their pretty coats. What I was left with was a hodge-podge of eggs with some serious character. (That's putting it nicely)
Let's face it, Easter eggs aren't supposed to be perfect! They're messy and speckled and really more fun to make than to look at. Had I forgotten this? After the eggs were dry and ready I started foiling my crazy eggs. Turns out the ugliest ducklings weren't ugly after all! In fact some of the most spotted eggs became the most beautiful once the foil was applied. My lesson had been learned. Decorating eggs is not a precise art; it's about having fun and making something unexpectedly beautiful. I hope you will gold leaf some eggs this year. You never know what sort of treasures await in your final product!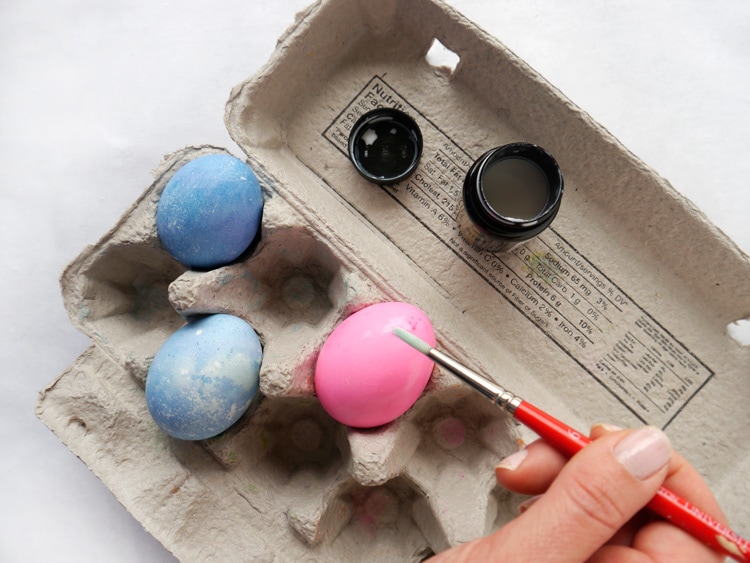 Supplies Needed:
Hard-boiled or blown eggs- dyed
Gold Leaf glue
Gold Leaf
A small paint brush
Step 1: With dry eggs, apply gold leaf foil glue in desired pattern and allow to dry completely. Glue will turn from milky white to clear and be very tacky to the touch but not wet.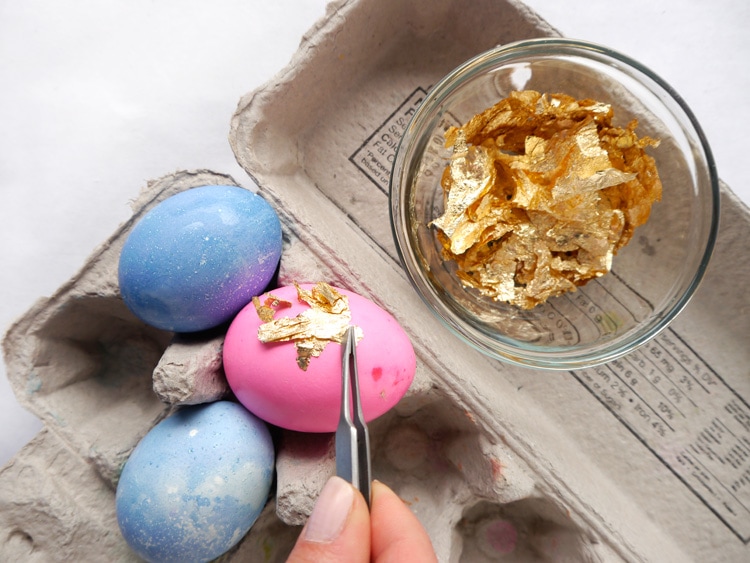 Step 2: With tweezers or fingers, apply pieces of gold leaf to dried glue.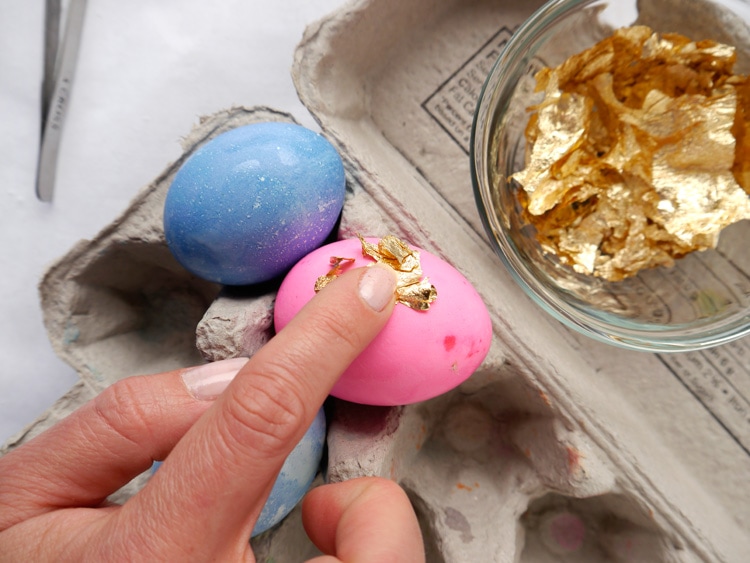 Step 3: Press gold leaf down with fingers. Gently rub gold leaf to smooth and remove excess.
Step 4: When completely finished gently rub entire egg with a paper towel to remove any loose pieces of gold leaf.
Notes: Gold Leafed Easter Eggs are best used for decoration. These would make beautiful table decor for an Easter party or used as place card holders. Hide a few of these golden eggs in a scavenger hunt and the person who finds this golden egg wins a special prize! Happy Easter.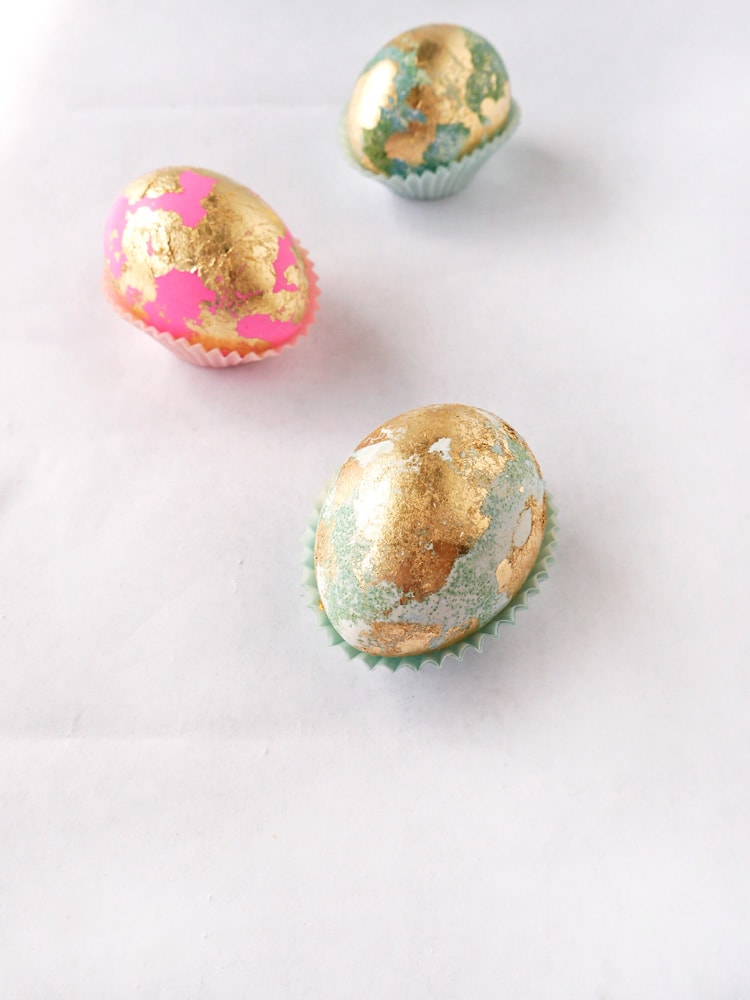 You can watch me demo making these Gold Leafed Easter Eggs live with Good Housekeeping right here on YouTube!