Call me nostalgic but I love a good Pineapple Upside-Down Cake! Second to ice cream cake, Pineapple Upside-Down Cake is the quintessential summer cake in my opinion. A moist yellow cake topped with gooey baked pineapple slices in a butter & sugar syrup and dotted with maraschino cherries, what's not to love?

Classic Pineapple Upside-Down Cake
It has been years since I last made a Pineapple Upside-Down Cake because I'm the only on in the house who likes it and I fear what will happen if I am left alone with a whole cake to myself. (Bad, bad things will happen I can tell you that much)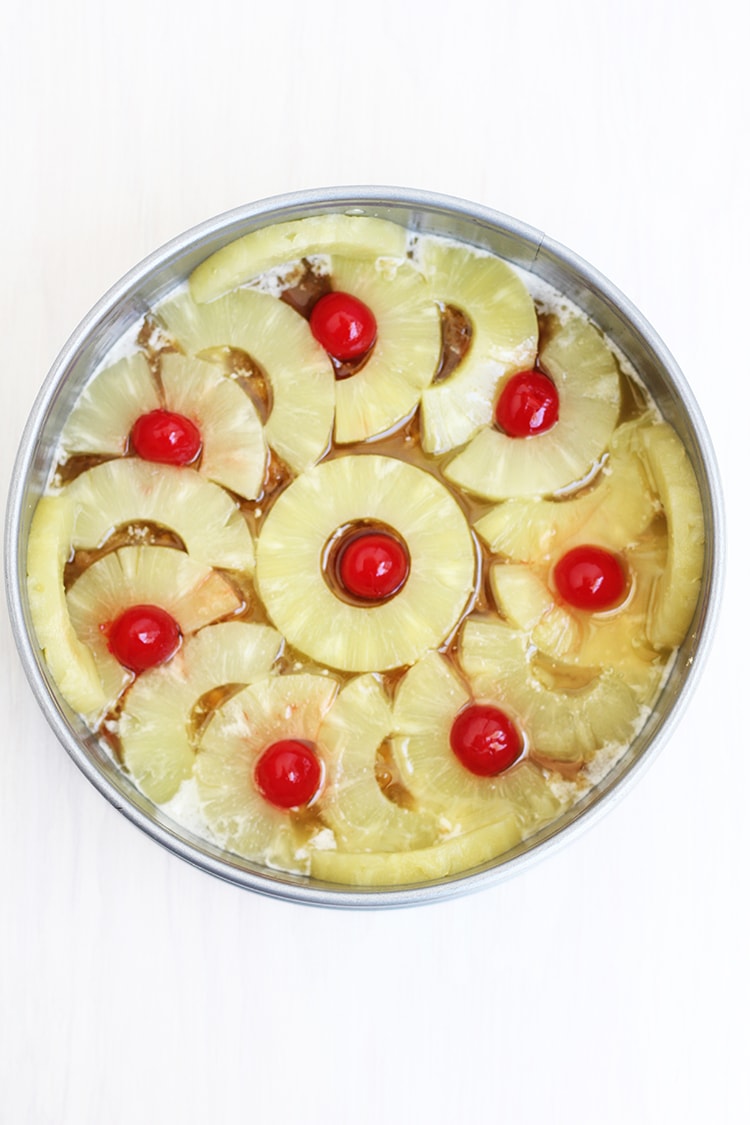 This last weekend I finally broke down, bought a can of pineapples and set to making this classic cake. The smell of pineapples, butter and brown sugar baking away is enough to drive anyone mad with hunger. It just might be the most delicious smelling cake that ever baked to golden brown goodness in my oven.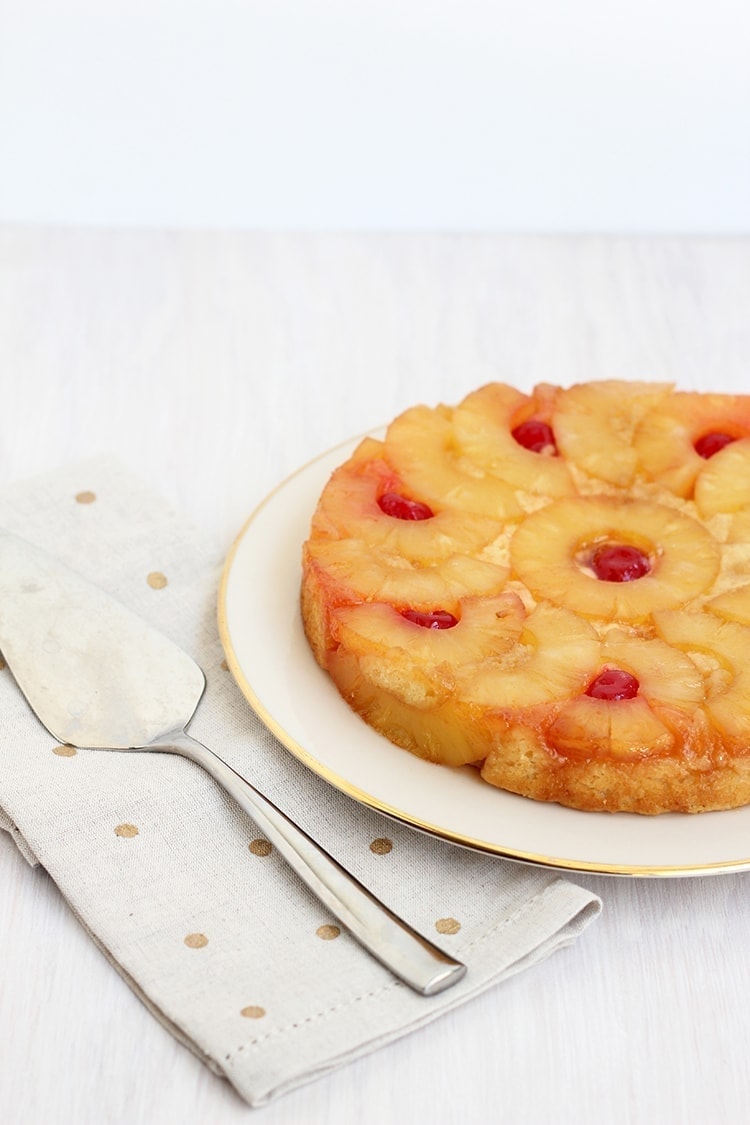 Forty plus minutes later it was time for the unveiling. As I inverted the cake onto a plate, marveling at the translucent jewels of pineapple and cherry, I wondered why I had waited so long!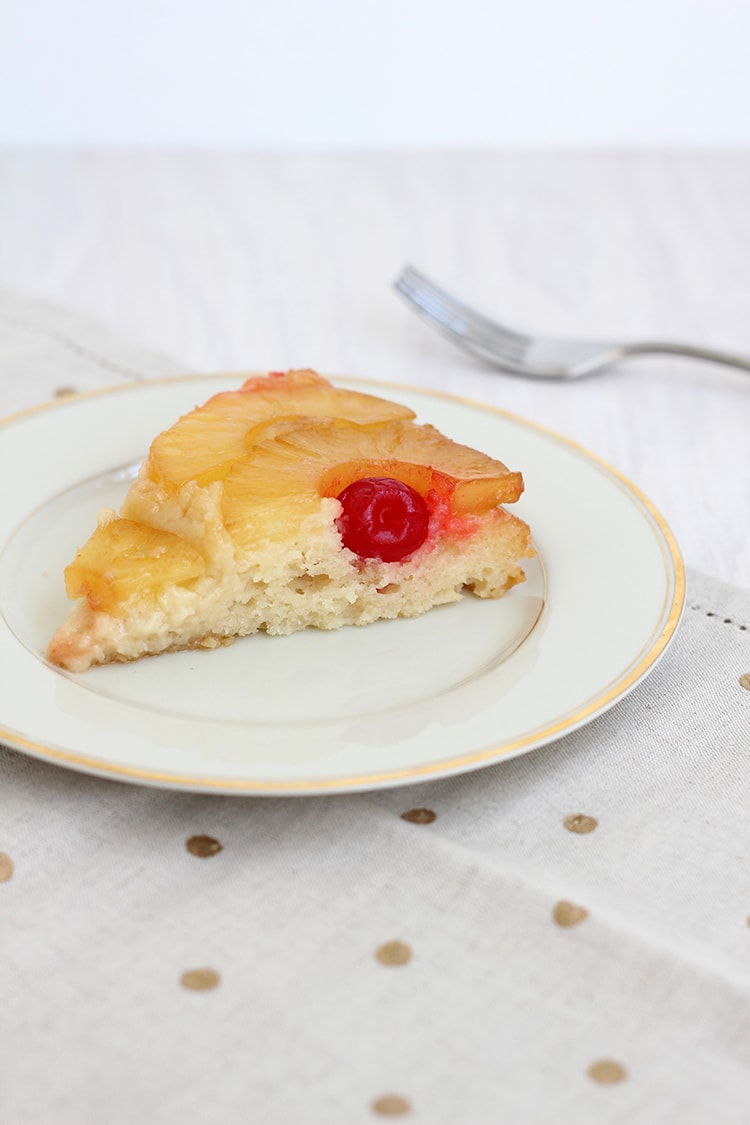 I sliced myself a wedge, topped it with creamy vanilla ice cream and dug right in while the cake was still warm. It was just as dreamy, gooey and sweet as I had remembered if not better. I then carefully wrapped up the remaining cake and drove it right over to give to Jason's Grandparents. After-all, cake is best enjoyed when you have someone to share it with.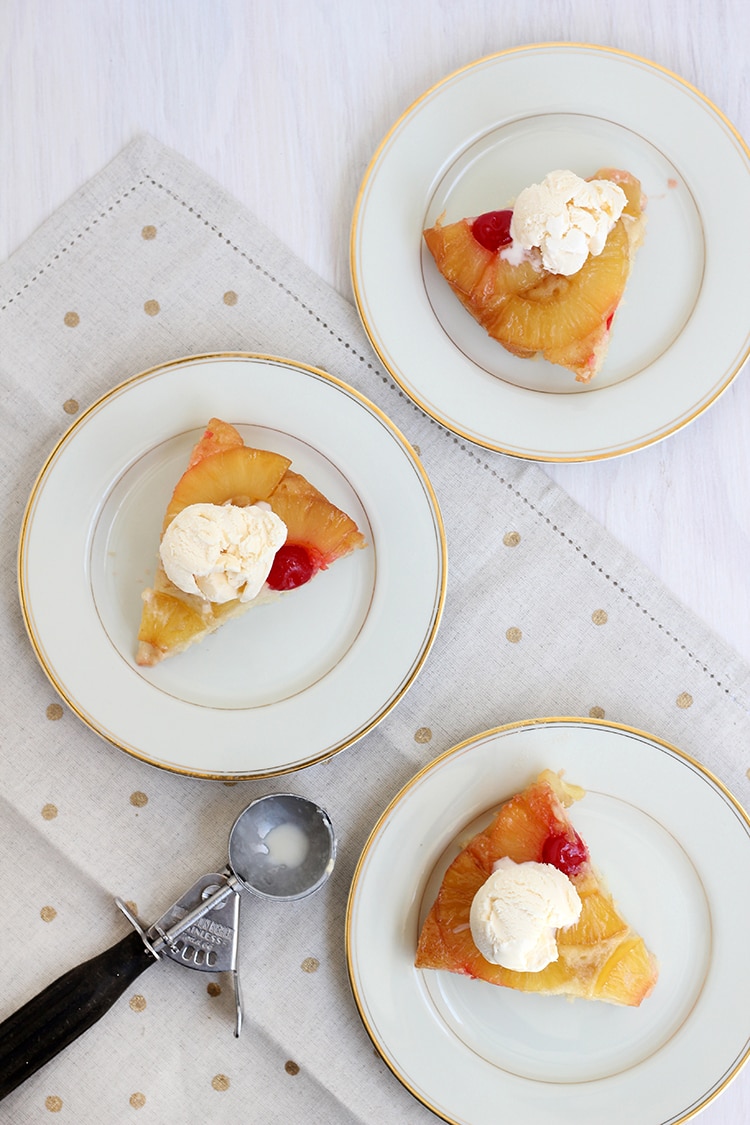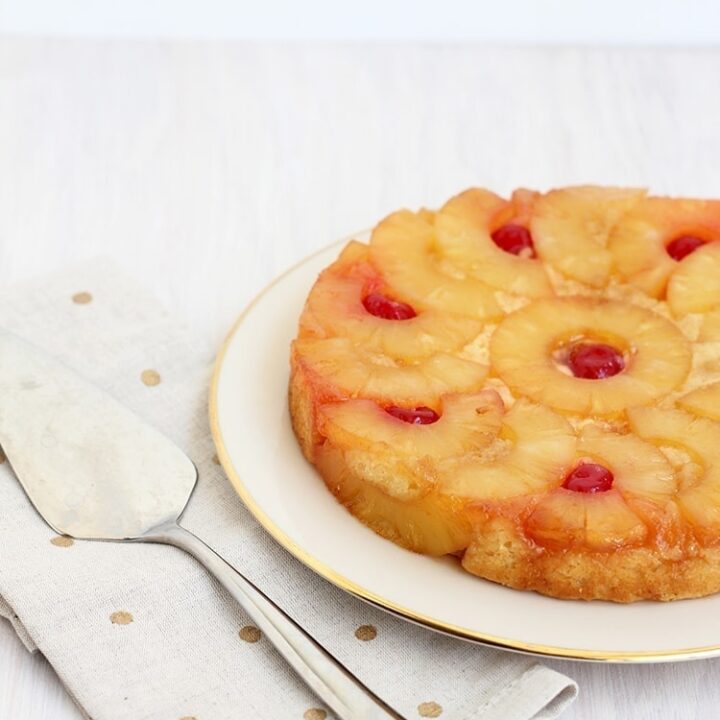 Pineapple Upside-down Cake
Additional Time:
55 minutes
Total Time:
1 hour
50 minutes
Classic moist and easy pineapple upside down cake.
Ingredients
½ cup unsalted butter
¾ cup light brown sugar, packed
20-ounce can pineapple slices
maraschino cherries
1 cup all-purpose flour
¾ cup granulated sugar
2 teaspoons baking powder
¼ tsp salt
1 large egg
½ cup buttermilk
⅓ cup sour cream
3 tablespoons canola or vegetable oil
2 teaspoons vanilla extract
Instructions
Preheat oven to 350F.
In a pan melt butter over low heat.
Pour the butter into a 9-inch round cake pan. Use a paper
towel to spread butter up the sides of the pan as well.
Evenly sprinkle the brown sugar over the butter.
Add 1 whole pineapple slice to the center of the pan.
Halve the remaining slices vertically. Arrange the slices in
a fan-like shape around the cake.
If you have left over slices use them around the sides of
the cake pan.
Place 1 cherry in the center of the whole pineapple slice in
the middle of the pan and additional cherries around; set pan aside.
In a large bowl, whisk together flour, granulated sugar,
baking powder, salt; set aside.
In a separate small bowl, whisk together the next 5 wet
ingredients (through vanilla).
Add the wet mixture to the dry, folding with a spatula until
just combined. Small lumps will be present, don't overmix.
Pour batter out into prepared pan, being careful to not
disturb the pineapple slices on the sides or bottom. Note: if you pan is on the
smaller side, fill pan only about ¾-full to prevent overflow.
Bake for about 40-50 minutes, or until center is set and
bounces back to the touch. A toothpick inserted into the center should come out
clean or with a few moist crumbs, but no batter.
Immediately run knife around the sides of cake and place pan
on a wire rack for 10 minutes to cool slightly.
Place a heat proof plate or platter over the cake pan. Using
oven mits, as the pan will still be hot, quickly invert the cake onto the
plate. If any pineapples or cherries come loose from the cake, don't worry,
just replace them!
Allow to cool at least 30 minutes before slicing and
serving. A la mode, optional.