All hail the first day of fall! I may loose a few friends by saying this, but summer is so overrated. Yes, the popsicles are fun and the occasional beach day is nice, but nothing compares to Fall. It took every ounce of self control to refrain from so much as whispering the word pumpkin until today—somehow I manage.
Pumpkin Spice Monkey Bread is just about as easy and delicious as pumpkin bread gets! Pull apart pieces of doughy-soft bread encrusted in pumpkin pie spice and brown sugar and oozing with caramelized pumpkin sauce. You should have seen Jason's face when this baby came out of the oven.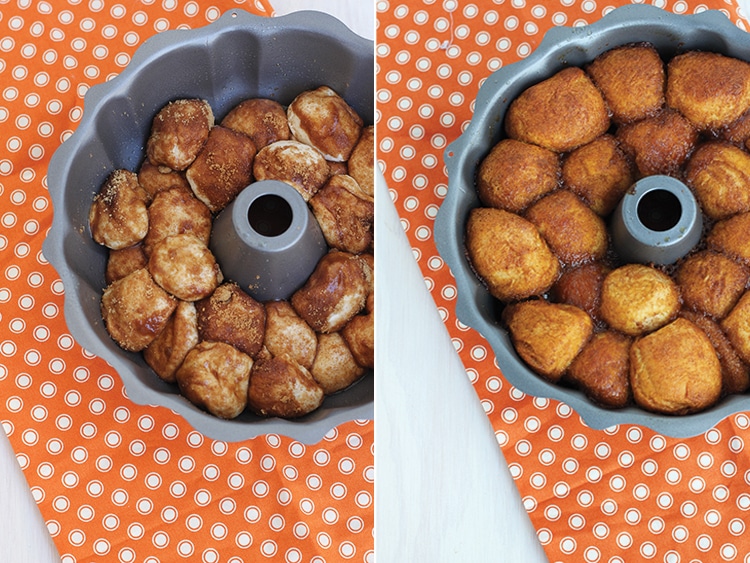 Invert the baked bread onto a serving platter and watch all of the caramelized goodness drip down the sides. This recipe creates it's own "frosting" of sorts and makes for the most beautiful presentation. Serve hot and bubbling out of the oven with a large carafe of coffee and lots of napkins, this monkey bread needs little more. Of course you could top each serving with a dollop of whiskey whipped cream if you were feeling extra indulgent. Enjoy!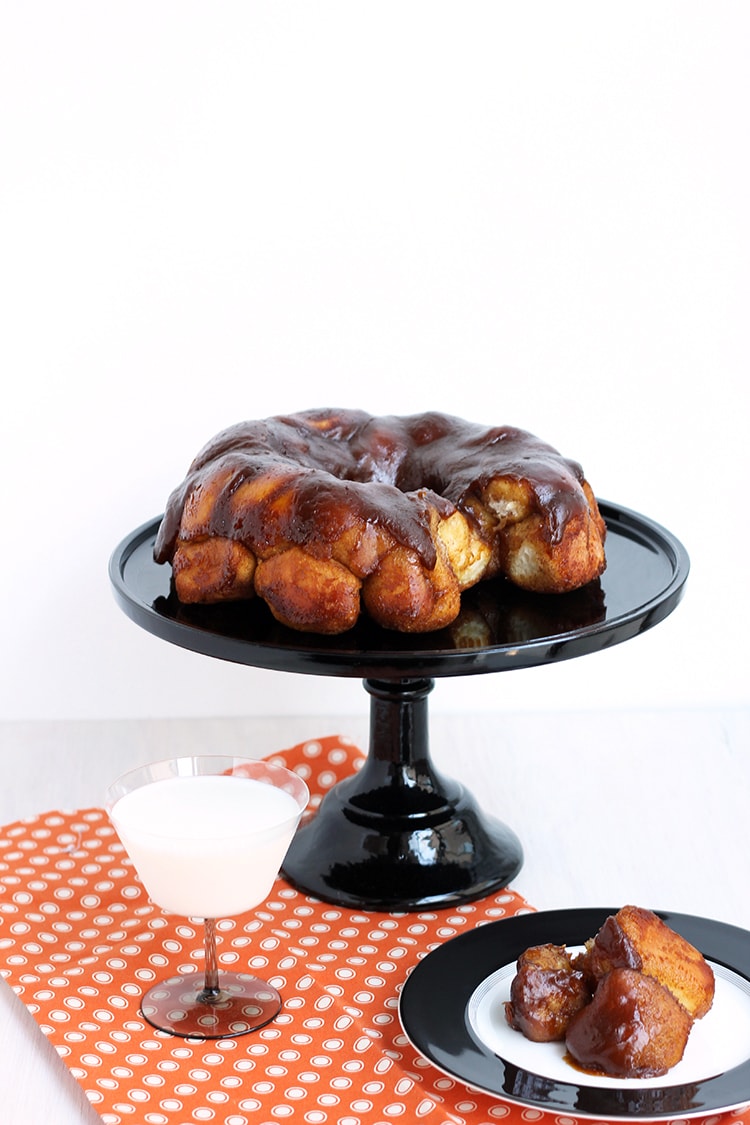 photos by Leah Bergman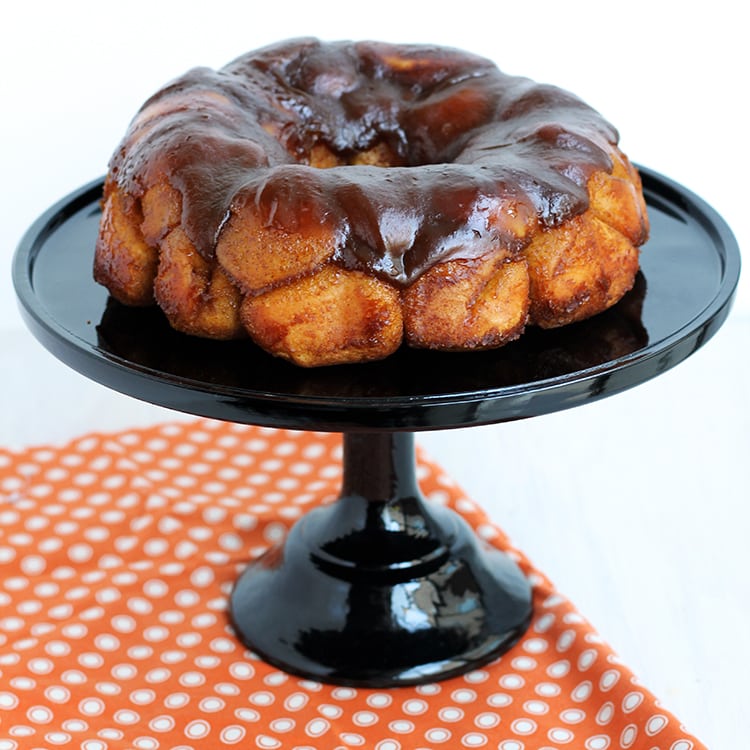 Pumpkin Spice Monkey Bread
2014-09-18 22:19:16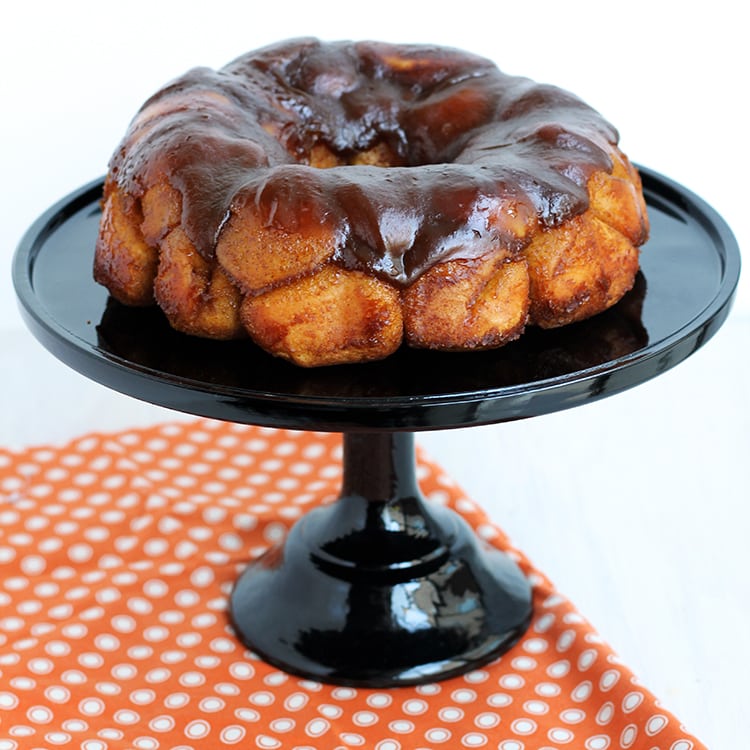 Serves 12
Ingredients
2 sticks (1 cup) butter
2 1/2 cups packed light-brown sugar
3 teaspoon pumpkin pie spice
1 25oz bag Parkerhouse Style Frozen Rolls (dough), thawed
3/4 cup pure pumpkin puree
non-stick cooking spray
Instructions
Let rolls thaw in a warm place free of drafts or covered in the refrigerator overnight.
Preheat the oven to 350˚F. Spray a bundt pan with not-stick spray and set aside.
Put 1/2 cup brown sugar and 2 tsp pumpkin pie spice in a resealable plastic bag; shake and knead the sugar mixture in the bag until combined.
A few at a time, place thawed dough balls in the bag with the spiced sugar and shake until coated; brush off any excess sugar and arrange in the prepared pan. Repeat with remaining dough balls.
Allow dough to rise until doubled in size in a warm place.
In a sauce pan combine 2 sticks butter, pumpkin puree and remaining 2 cups brown sugar. Bring to a boil over medium heat, stirring and/or whisking occasionally. Stir in remaining 1 tsp pie spice and remove from heat.
Pour sauce over the dough balls in the Bundt pan.
Bake the monkey bread until puffed and deep golden, 30-35 minutes. Remove from oven and invert carefully onto a serving plate. Serve hot!
Adapted from Sticky Toffee Monkey Bread
Freutcake https://www.freutcake.com/