Arugula Peach Salad with Pomegranate and Pecans is an ode to the end of summer and the promise that fall is on it's way.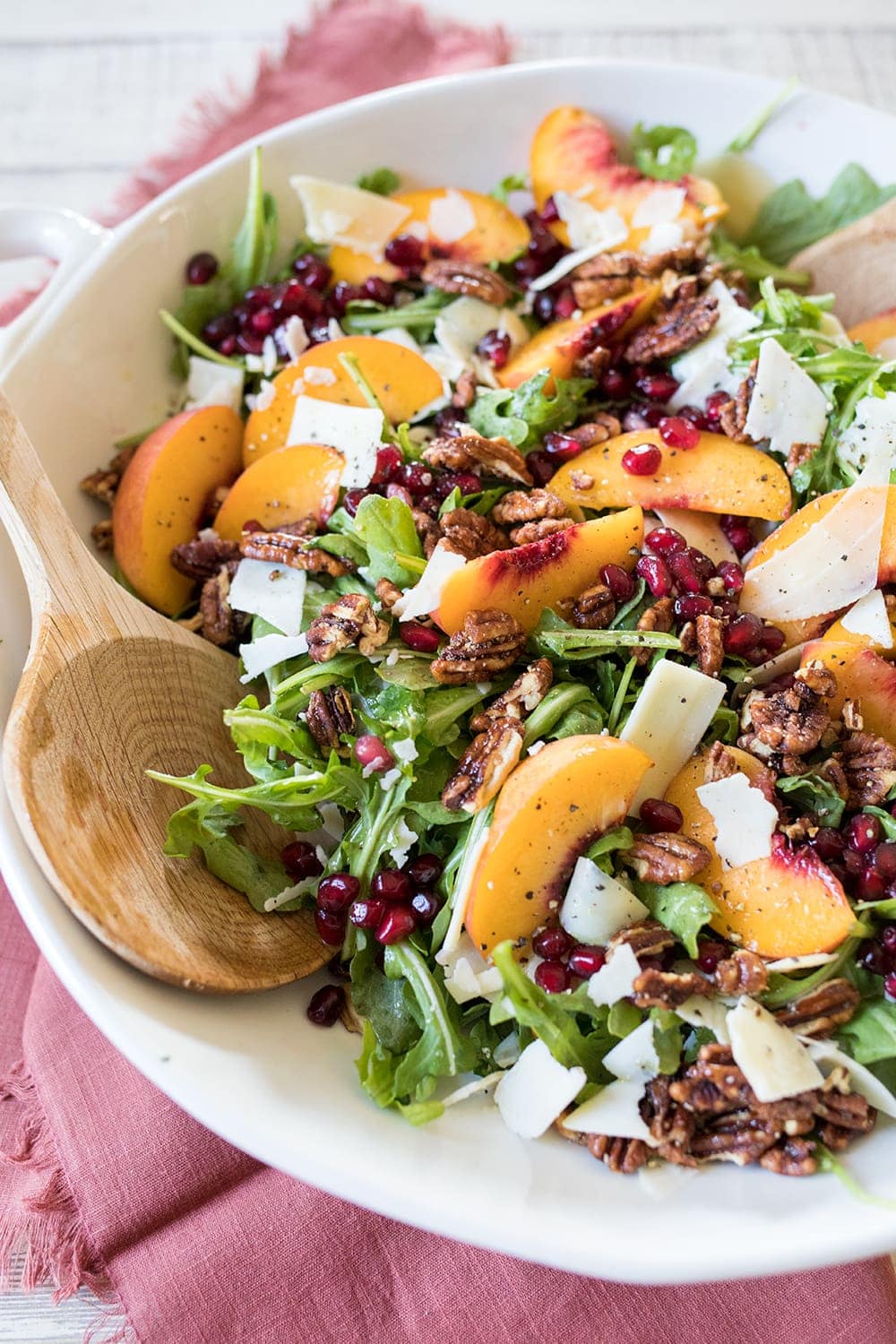 Arugula Peach Salad with Pomegranate and Pecans
The first signs of fall are subtle in southern California. A slight gloom in the morning and the smallest hint of a cool breeze come dinner time. But to us California natives we cling to these subtle shifts in the weather like some would observe the changing of the leaves. Fall is coming and I'm making Arugula Peach Salad with Pomegranate and Pecans to celebrate the seasons.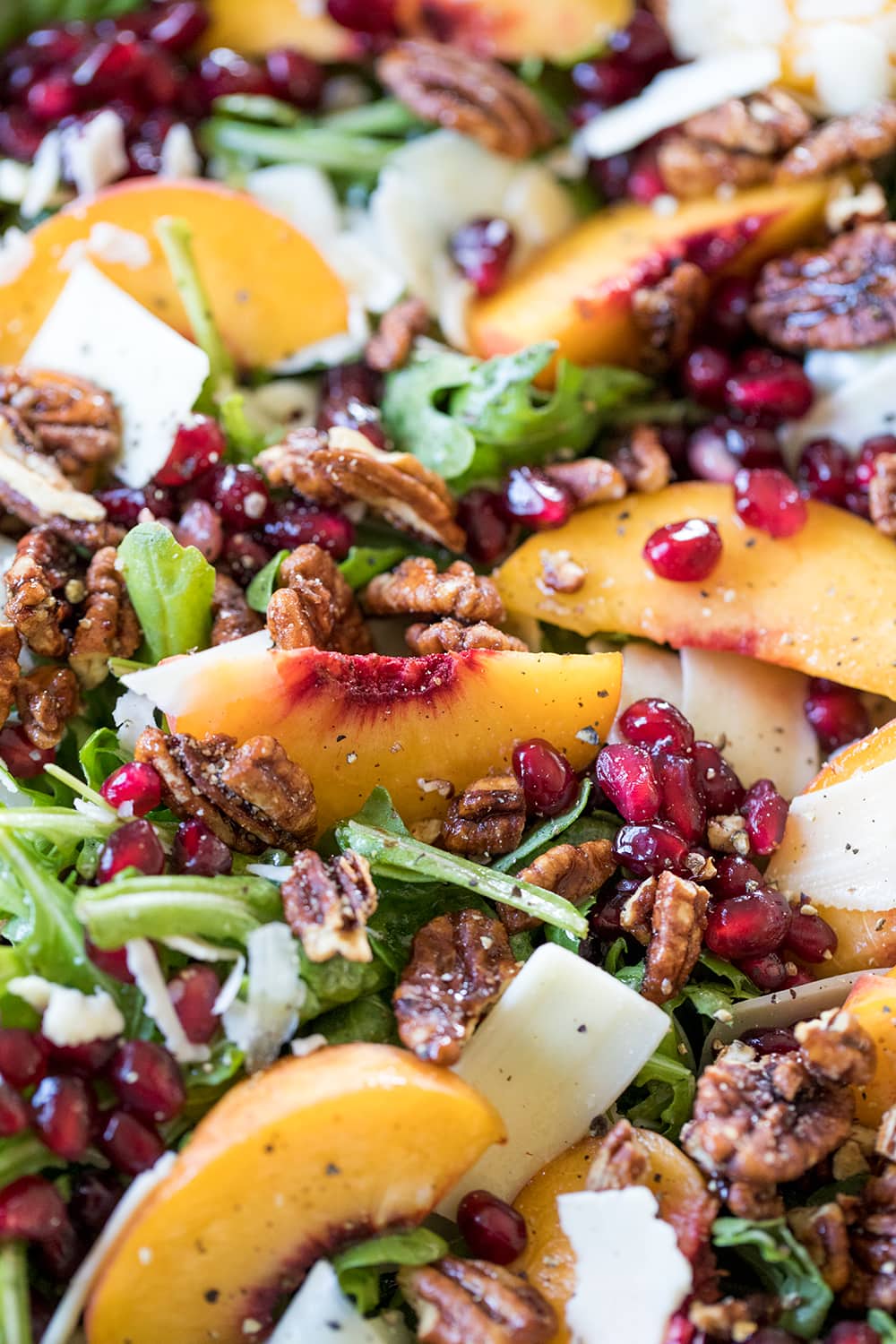 Arugula Salad Dressing
Baby arugula is hands down my favorite salad green. It's tender and spicy and so flavorful you'll never be bored eating it. My favorite arugula salad dressing is made with white wine vinegar because it's subtle but tangy and still let's the arugula flavor shine. This dressing gets a slight sweetness from the maple syrup which lends itself well to the fall flavors of pomegranate seeds and candied pecans.
Fresh Peach Salad
This time of year you can't help but reach for peaches in the grocery store or at the farmers market. They are at their peak of ripeness and such a tasty topping for this arugula salad. Fresh peach salad sings of summer but also pairs so nicely with the richness of candied pecans.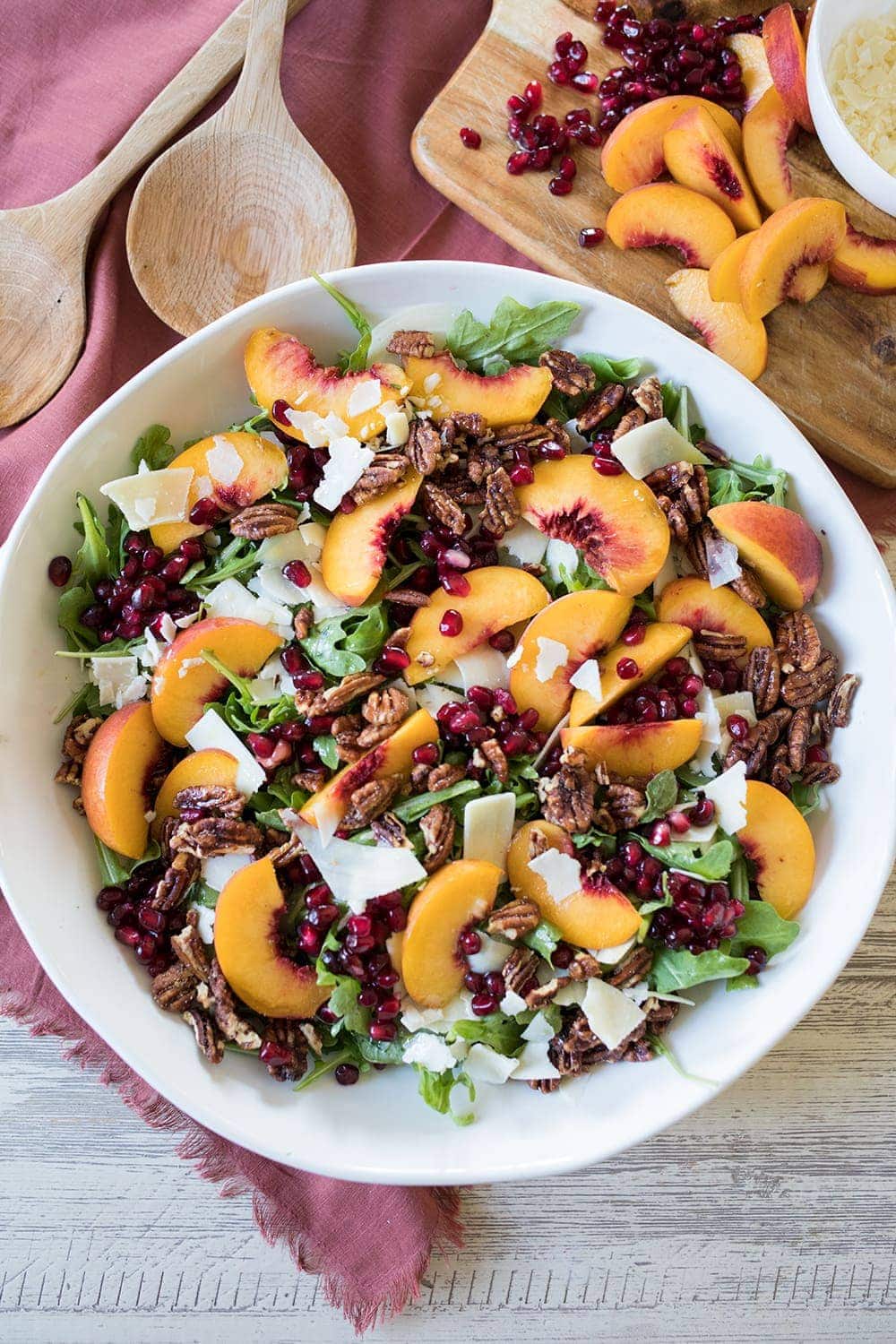 Last night for dinner I made my tried and true recipe for Turkey Black Bean Chili and this salad and we ate outside on the back patio, enjoying the cool late summer evening. It really was the ultimate ode to summer with a nod to fall and we will absolutely be making this dinner again. If you make this Arugula Peach Salad with Pomegranate and Pecans, I hope you will leave a comment here letting me know how you like it!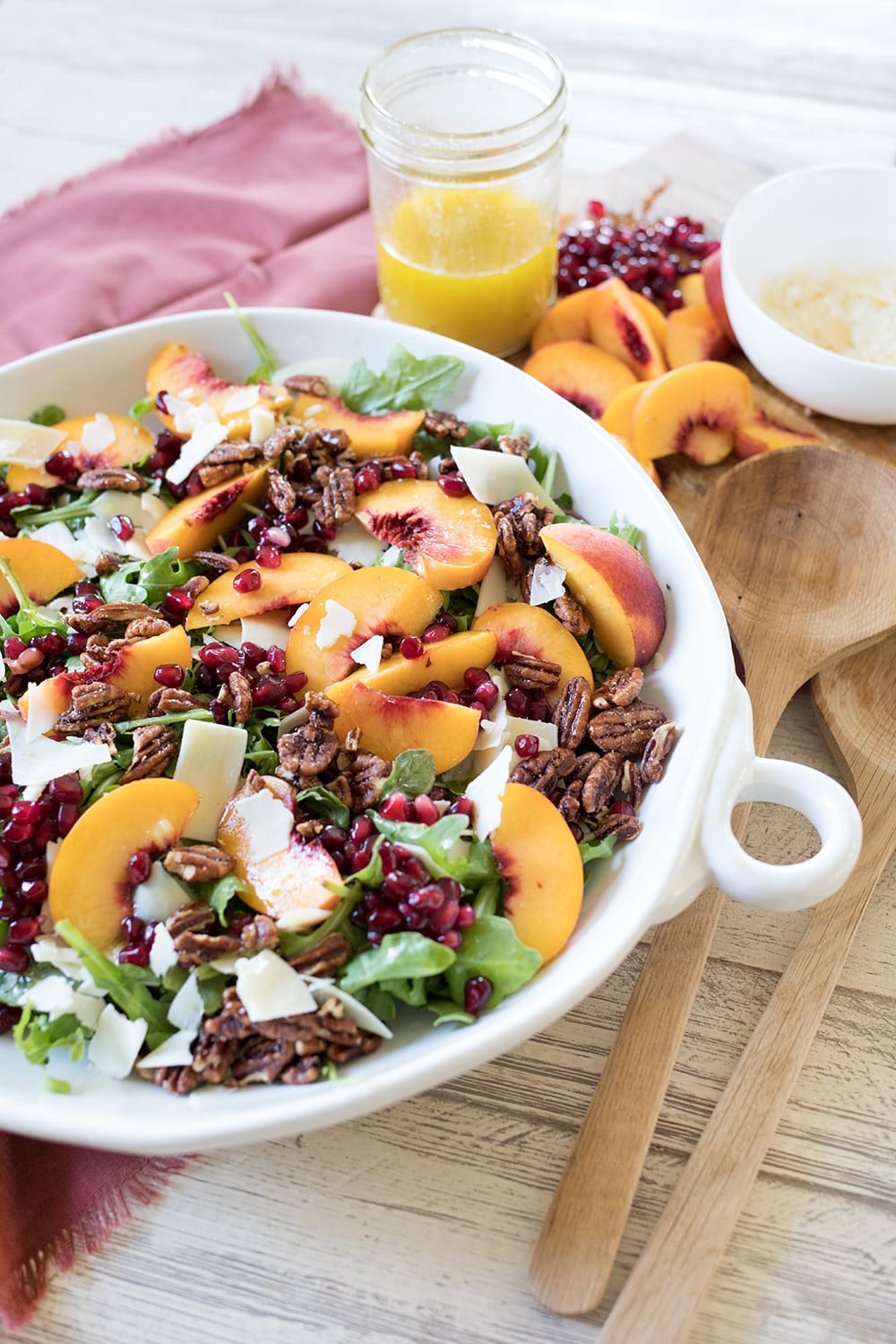 Looking for more ways to use up those late summer peaches? Try my Peach White Wine Slushies. You'll love this frozen fruity cocktail.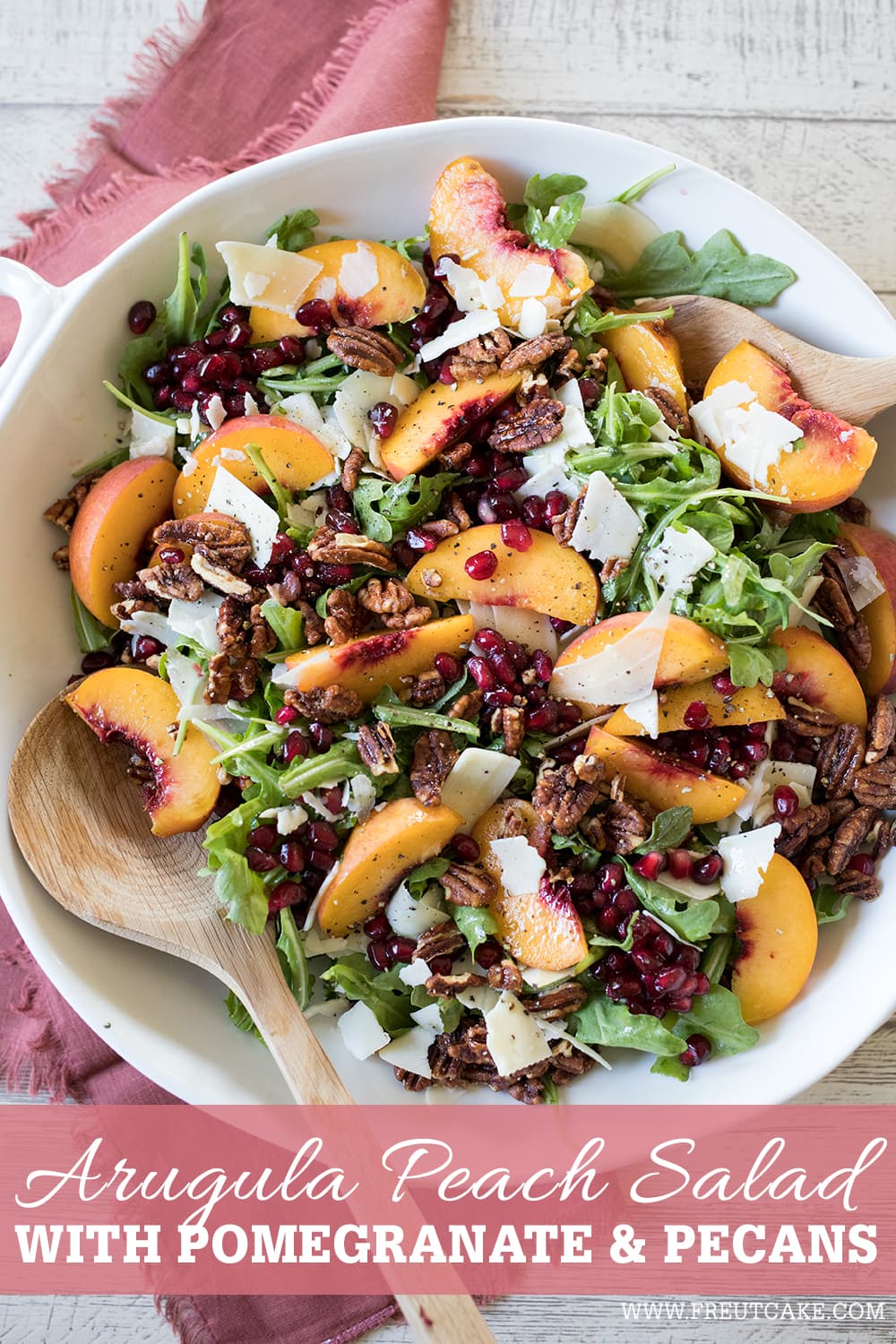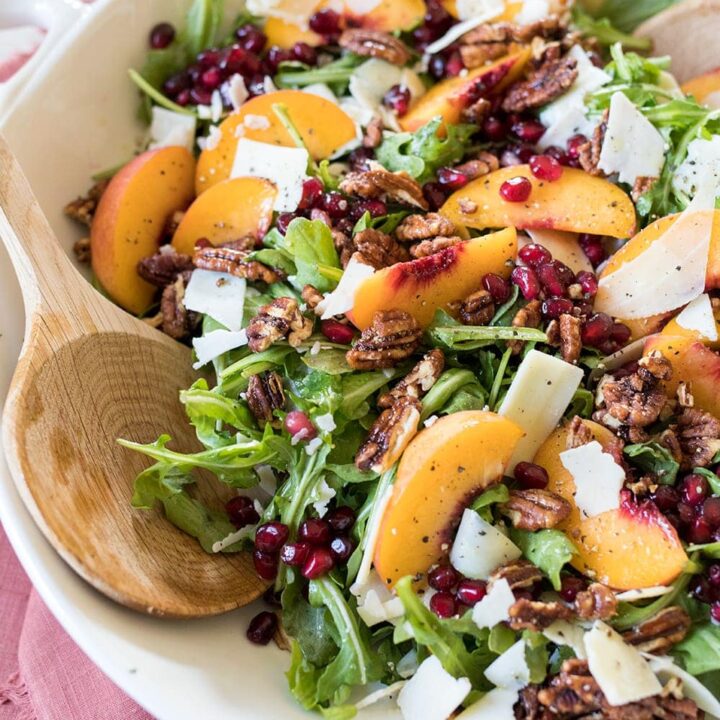 Arugula Peach Salad with Pomegranate and Pecans
The perfect end of summer beginning of fall salad recipe with a delicious maple syrup dressing.
Ingredients
1 (7oz) bag of organic baby arugula
3 ripe peaches, pitted and sliced
1 cup pomegranate seeds
1 cup candied pecans, chopped roughly
½ cup shaved parmesan-romano cheese blend
Salad Dressing:
⅔ cup olive oil
⅓ cup white wine vinegar
2 Tablespoons pure maple syrup
1 Tablespoon dijon mustard
¼ teaspoon salt
¼ teaspoon pepper
Instructions
Start by making the dressing. Whisk together olive oil, white wine vinegar, maple syrup, mustard, salt and pepper until emulsified. Store in a mason jar with a lid and refrigerate. This recipe will make more dressing than you will need for the salad.
Fill a large salad bowl with baby arugula and drizzle with a small amount of dressing. Toss to coat.
Add peaches, pomegranate seeds, candied pecans and cheese.
Drizzle with a bit more dressing and season with freshly ground black pepper.
Serve immediately.