I've never been much of a corn on the cob fan, but give me a serving of this Grilled Mexican Corn Salad and I'm going back for seconds!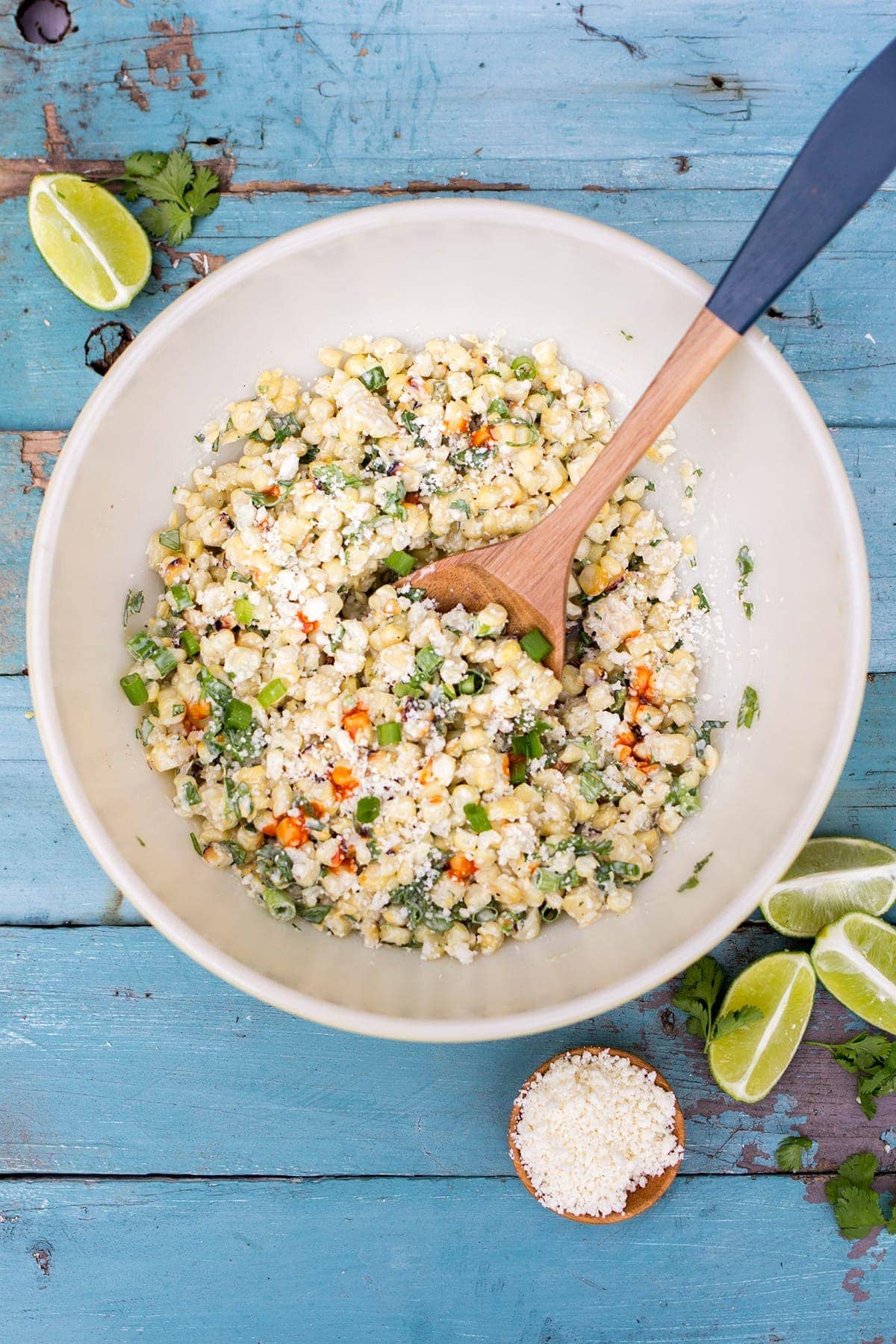 If you've lived in California, chances are you've eaten corn off of a corn cart. Mexican Street Corn or Elote is a street food staple served at Farmer's Markets and just about anywhere else people gather for food. It's usually boiled corn spread with mayonnaise while it's still hot, rolled in parmesan cheese or cotija, and doused in hot sauce. But before you turn your nose up at that pedestrian flavor combination, hear me out. It's DAMN delicious.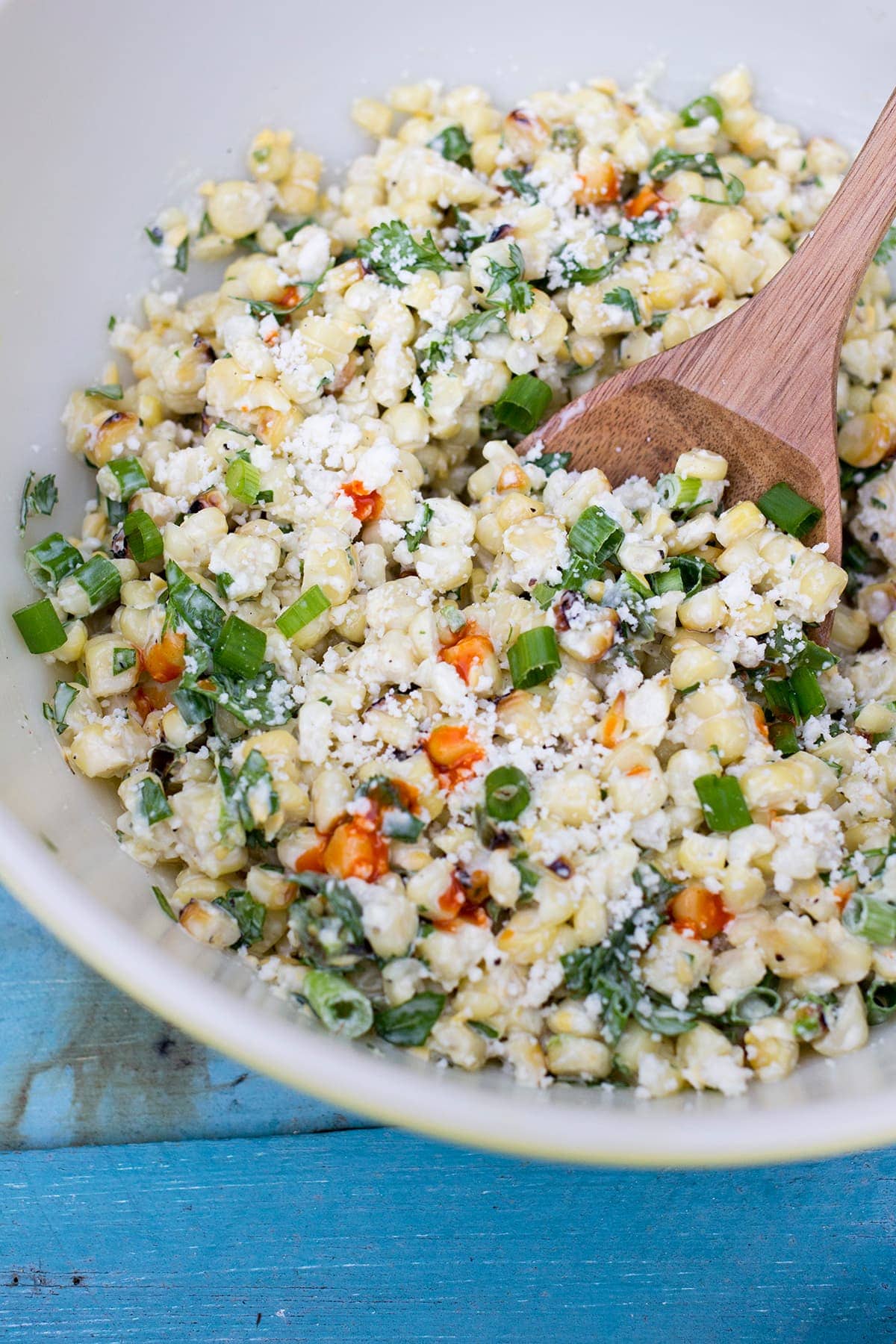 The flavors of this Grilled Mexican Corn Salad are all the classics you would find on Mexican Street Corn but with a few extra components. Grilled corn gives a smokey flavor and the addition of cilantro, lime, green onion and grilled chopped jalapeño take this salad over the top.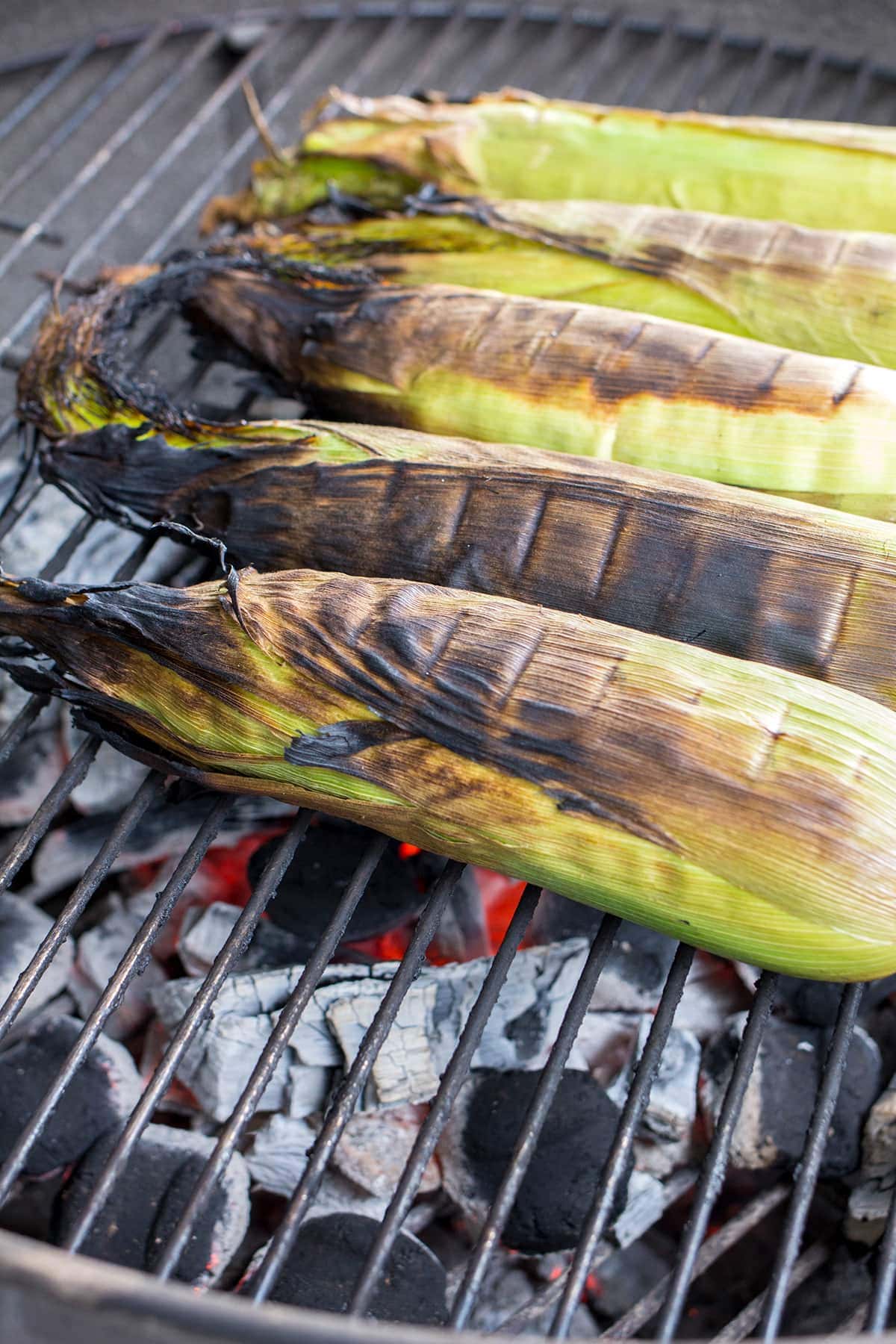 The trick to grilling corn is to leave the husks on! They work as a natural steaming device and ensure that your corn is tender and juicy in only 20 minutes. Rotate the cobs by a quarter turn every five minutes to prevent the kernels from charring too much. Don't worry if your husks are completely blackened, the corn inside will be sweet perfection!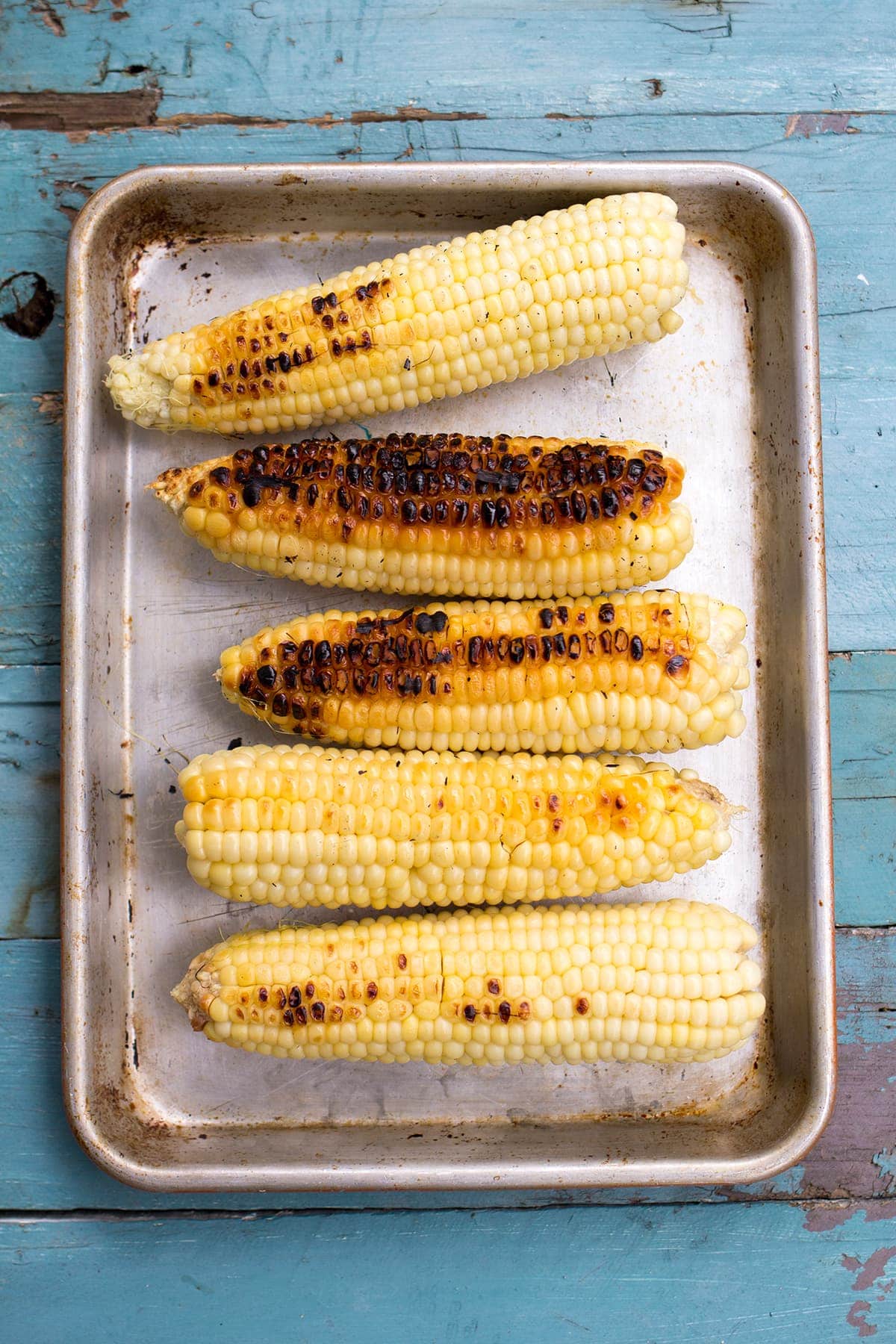 Once the corn is finished grilling, remove from the heat and allow to cool long enough that you can handle shucking them. Carefully peel back and remove all of the husks and silk (they come off pretty easily after grilling) and set aside.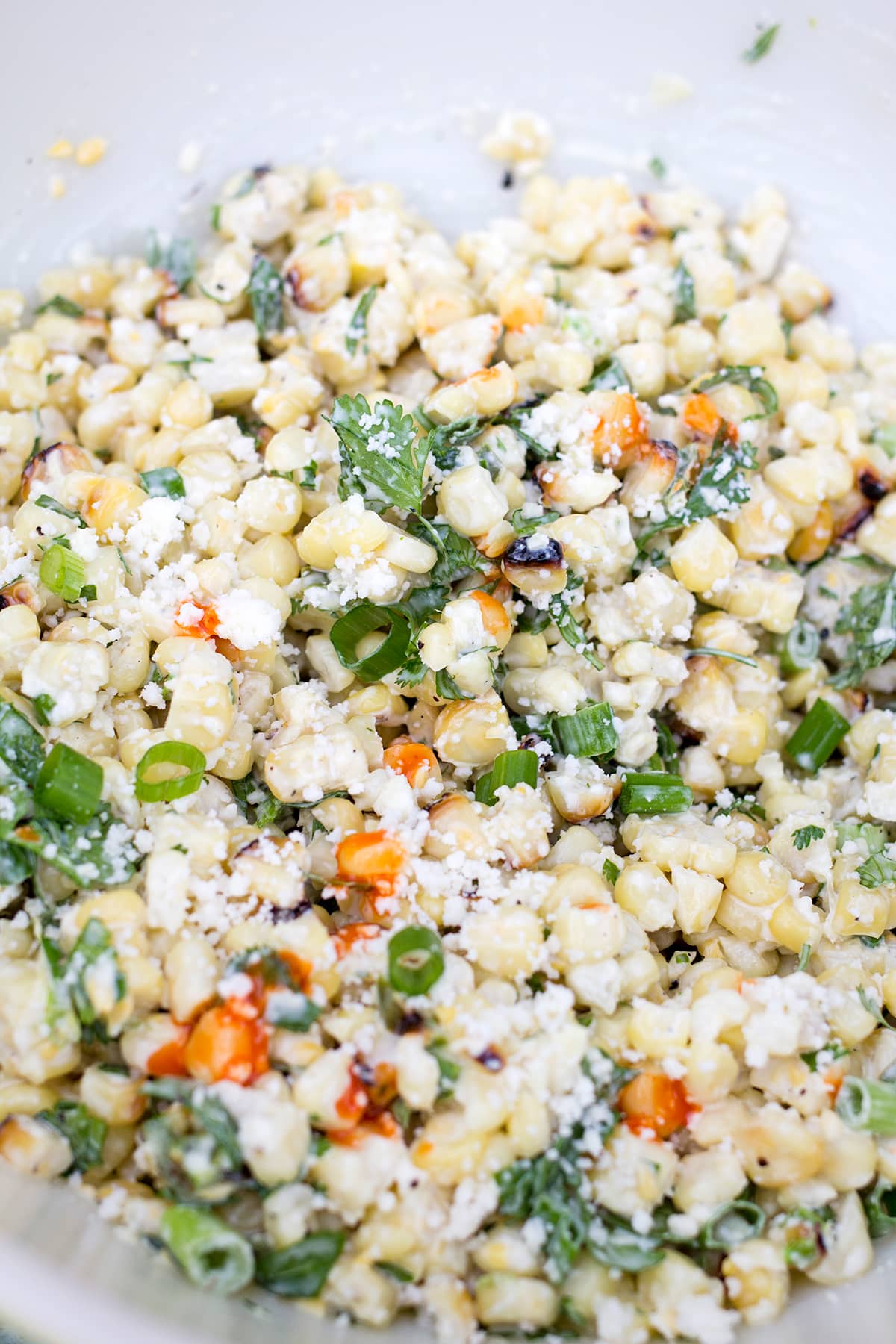 Using a sharp knife, scrap the corn kernels off of the cob and transfer them to a large bowl. This is my favorite step because there is something so satisfying about cutting corn off of the cob. No floss needed! Mix with the other ingredients and you have mouth-watering Grilled Mexican Corn Salad waiting to be served.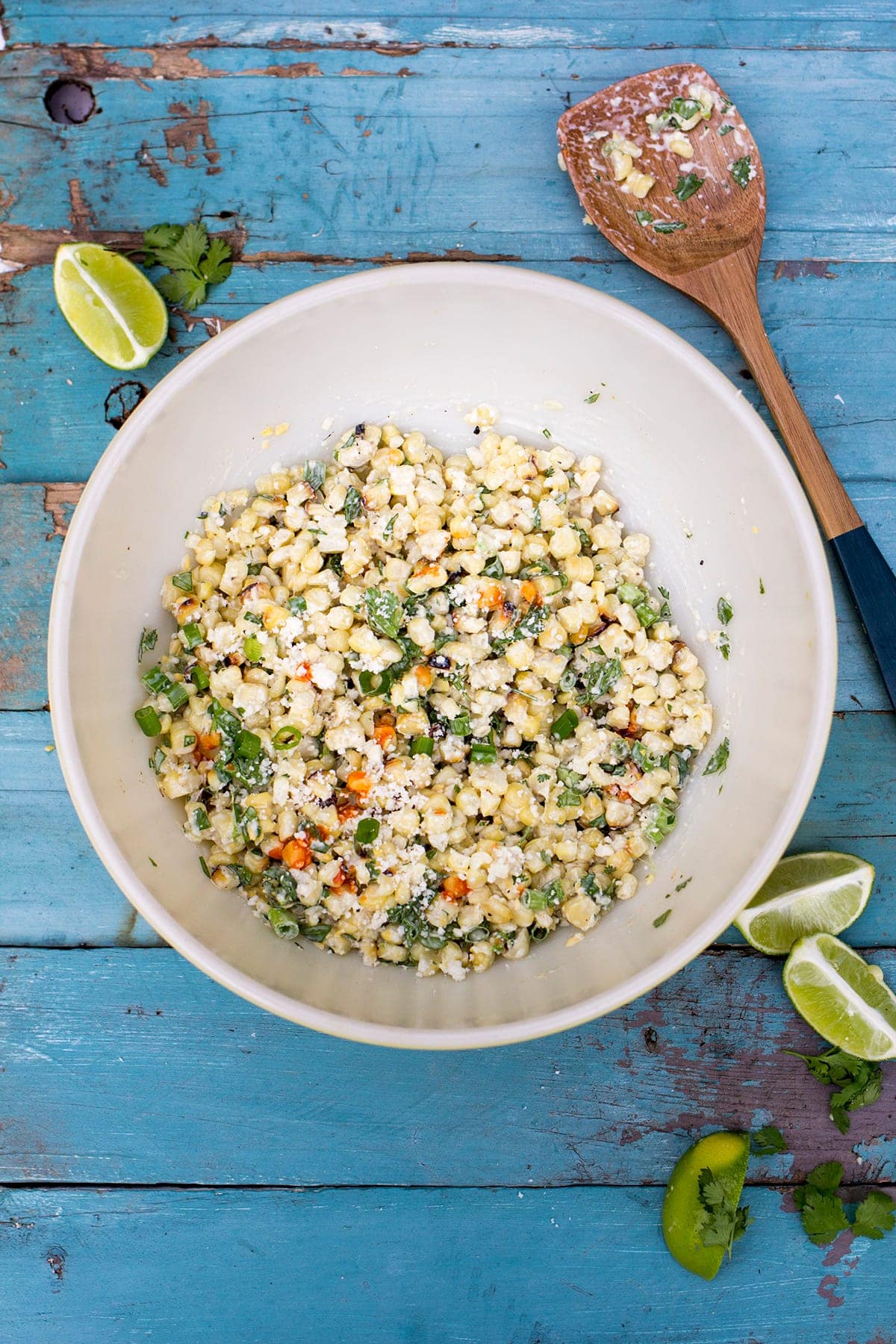 This past weekend we made this salad with grilled chicken and zucchini. A simple dinner that was incredibly festive considering it was a random Sunday night. For the twins, I reserved a couple scoops of the corn salad before I mixed in the grilled jalapeño and hot sauce. They love corn and I wanted them to enjoy it without setting their mouths on fire…which is always a good idea when feeding toddlers or big people for that matter! I hope you will give this corn salad a try. It's a taste of California and one of my favorite dishes.

Grilled Mexican Corn Salad
Grilled Mexican Corn Salad has all of the flavors of Mexican Street Corn in a bowl.
Ingredients
5 ears of corn, husks on
1 jalapeño, cut in half and seeded
1/4 cup mayonnaise
1/4 cup crumbled cotija cheese, plus more for garnish
3 Tablespoons chopped cilantro
2 Tablespoons green onion, chopped
juice of 1 lime
black pepper
hot sauce (Tapatio or Cholula)
Instructions
Place corn on grill over medium-hot coals and cover.
Grill for 20 minutes rotating by a 1/4 turn every 5 minutes until corn is cooled through. (Don't worry if husks are charred!)
Add jalapeño to the grill and cook about 5-10 minutes or until charred. Remove.
Remove from grill and allow to cool enough to handle.
Carefully remove husks and silk and discard.
Stand corn up on it's base and using a sharp knife, carefully cut kernels off of the cob.
Chop jalapeño finely and set aside.
Add kernels to a large bowl and toss with mayonnaise, cotija cheese, jalapeño, cilantro, lime juice, and green onions until well combined. Season with black pepper to taste.
Sprinkle with a bit more cotija and a few dashes of hot sauce and serve immediately.