Shrimp and Watermelon Salad is a fresh and easy side dish to spice up your Fourth of July table or any summer menu!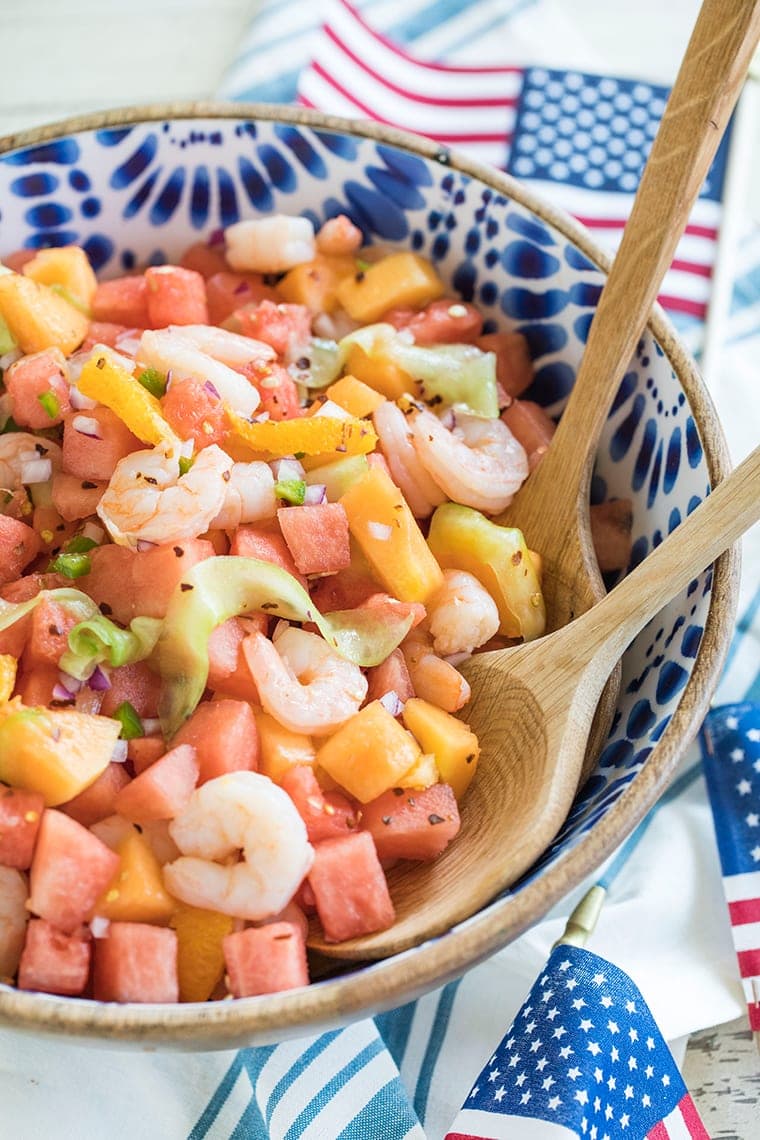 Shrimp and Watermelon Salad
Are you a ceviche lover? I could honestly live off of seafood so ceviche makes the list of my favorite foods, hands down. Is it sushi, is it salsa...one will never know. This Shrimp and Watermelon Salad is reminiscent of the that fresh ceviche flavor without the whole "raw shrimp" vibe. Sweet watermelon and cantaloupe play so well with juicy, meaty, cooked shrimp and I love the subtle spice of this dish.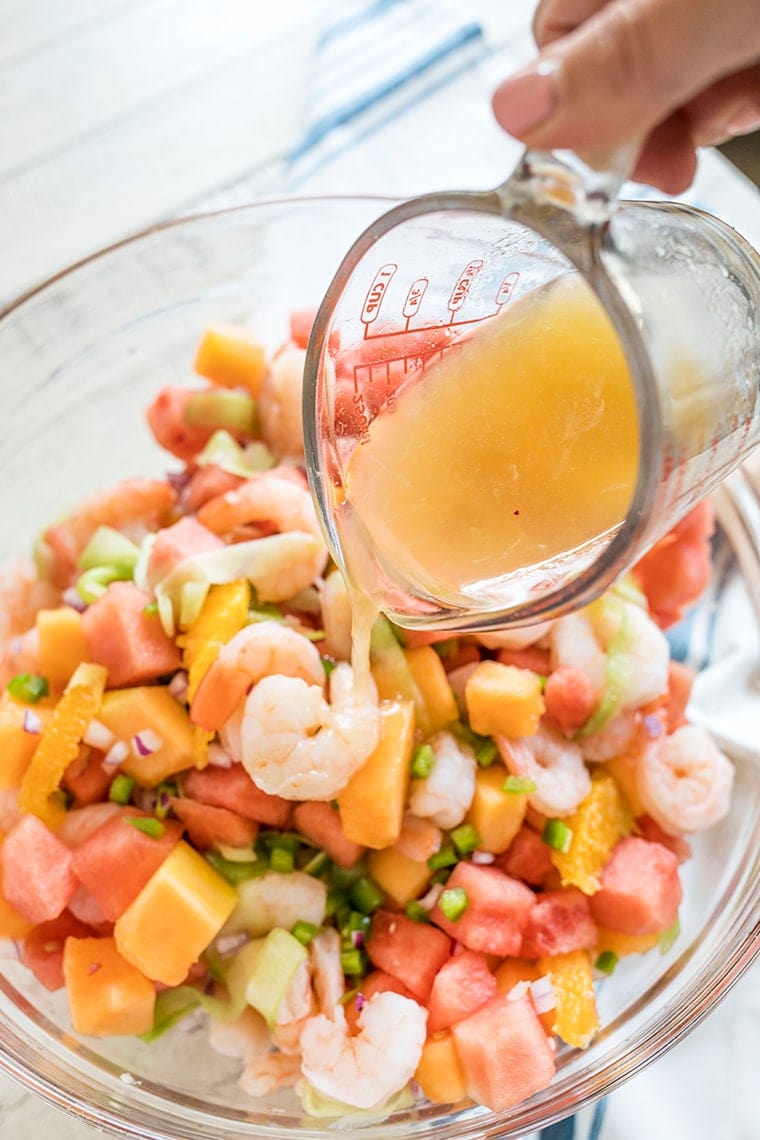 Ribbons of cucumber and segments of fresh orange add to the crunchy mix of flavors and textures while fresh minced jalapeño adds a spicy bite. Don't skip the red onion, it imparts so much flavor! A simple dressing of lime juice, brown sugar, salt and pepper season the entire mix and before long you have yourself the most refreshing summer salad.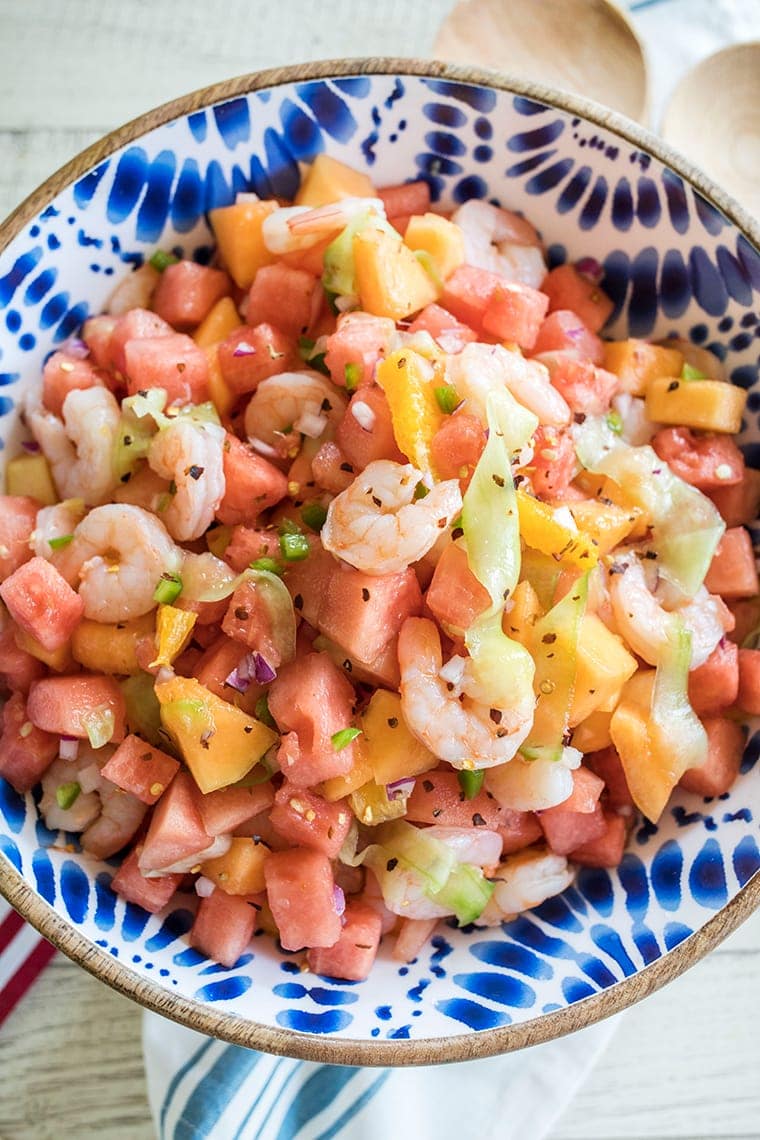 Fourth of July Recipes
Eat this Shrimp and Watermelon Salad on it's own or serve with your favorite grilling meal for the Fourth. Either way, it's a home run summer salad recipe you will want to bring to every party! Looking for more Fourth of July Recipes, you might like my Ultimate 4th of July Cheese Board or my Red, White & Blue Caprese Salad.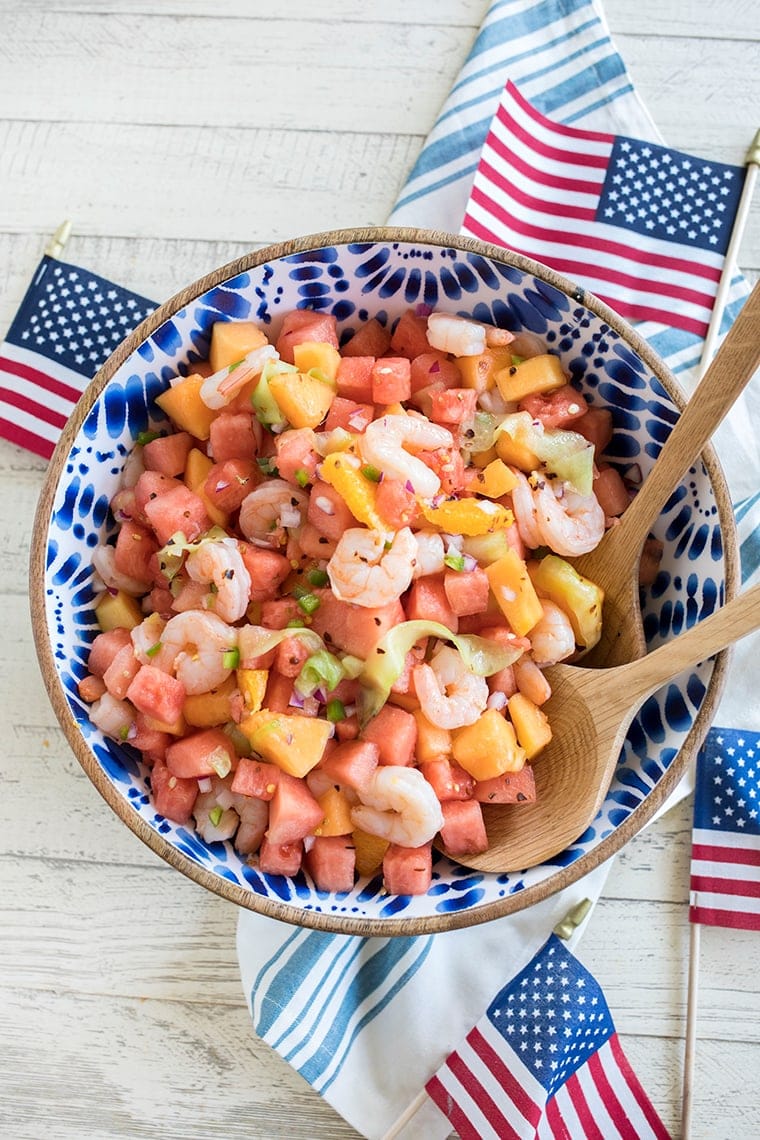 TIP: buy precooked and shelled shrimp from your grocery store seafood counter to cut down on prep time. Just remove tails and rise before tossing into the salad. Easy!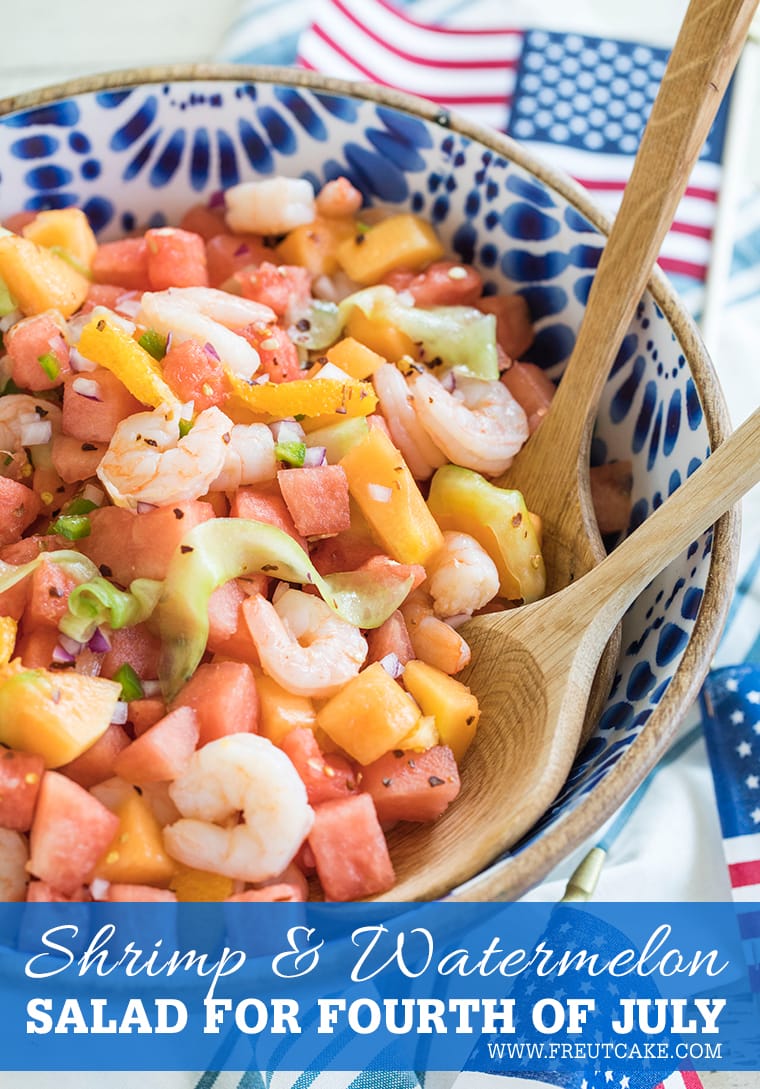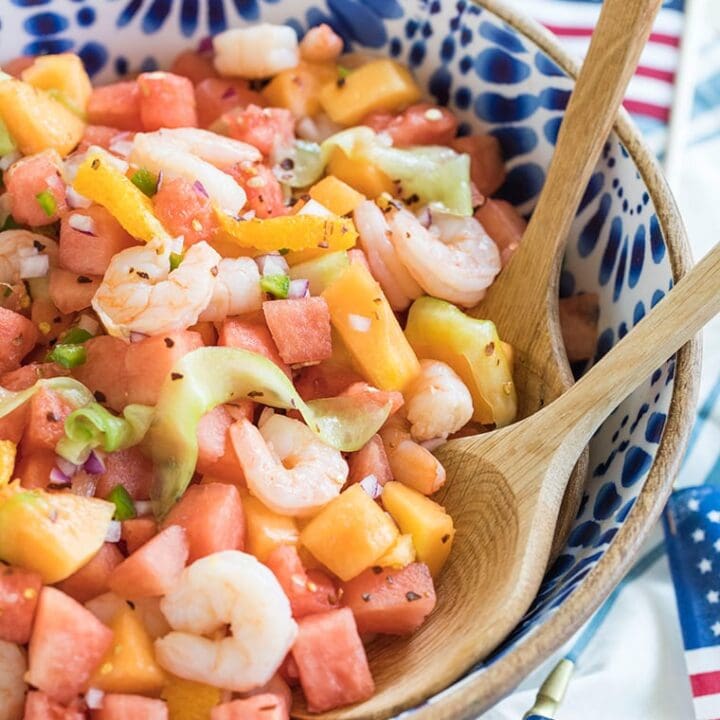 Shrimp and Watermelon Salad
A sweet and spicy fresh shrimp and melon salad.
Ingredients
1 small seedless watermelon, cut into 1-inch cubes (about 8 cups)
1 small cantaloupe, cut into 1-inch cubes (about 4 cups)
1 large hot house cucumber, peeled into ribbons or diced
1 large navel orange, peeled and sectioned
2 pounds peeled and deveined cooked shrimp
1 small red onion, chopped small
1 jalapeño pepper, seeded and minced
⅓ cup lime juice
1 tablespoon brown sugar
¼ teaspoon crushed red pepper flakes
salt and pepper
Instructions
Start by prepping all of the fruit and veggies. Combine chopped watermelon, cantaloupe, cucumber and orange in a large bowl. If there is any extra juice in the bottom of the bowl, drain before assembling the salad otherwise it will be too wet.
Note: I added the cucumber ribbons last (because they can become soft) but if you are dicing it you can toss the cubes into the salad with the other ingredients.
In a large bowl, combine watermelon, cantaloupe, cumber, orange, shrimp, red onion, and jalapeno. Whisk together lime juice, brown sugar and red pepper flakes. Season the dressing generously with salt and pepper to taste.
Drizzle over shrimp mixture and toss to coat. Refrigerate at least 20 minutes before serving. Toss before serving and garnish with more red pepper flakes if desired. Taste and season with more salt and pepper if necessary.