When I started using Young Living Essential Oils, one of the first things I made for myself was a "glow serum" roller. All I had was my starter kit but there were a few super powerful skin support oils in it. Frankincense, Lavender and Copaiba all mixed together with organic Jojoba oil. That was my first venture into DIY skincare with essential oils.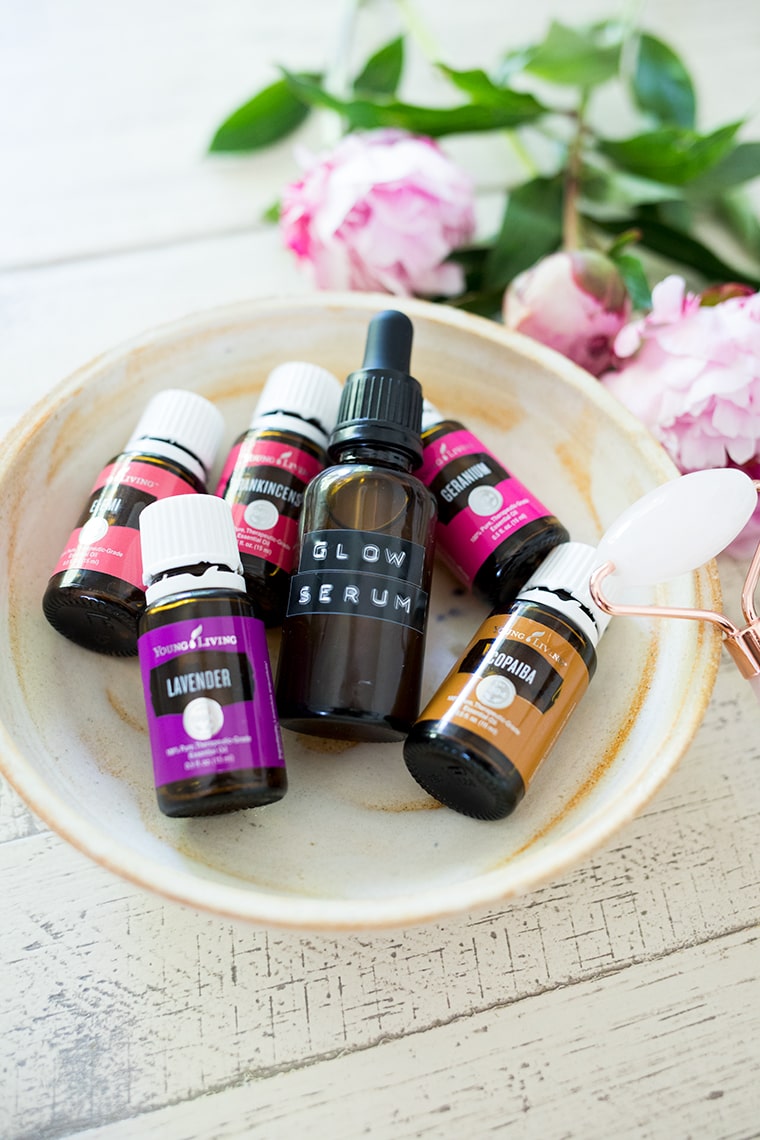 How to Make Essential Oil Glow Serum
For a few years now I've been switching to cleaner brands of skincare products without the toxic ingredients. However anti-aging serums can be super expensive and even some of the organic or "clean beauty" brands have hidden artificial fragrance and other nasty things that you really don't want absorbed by your skin. Today I'm going to show you just how easy it to make essential oil glow serum that is clean, simple and effective.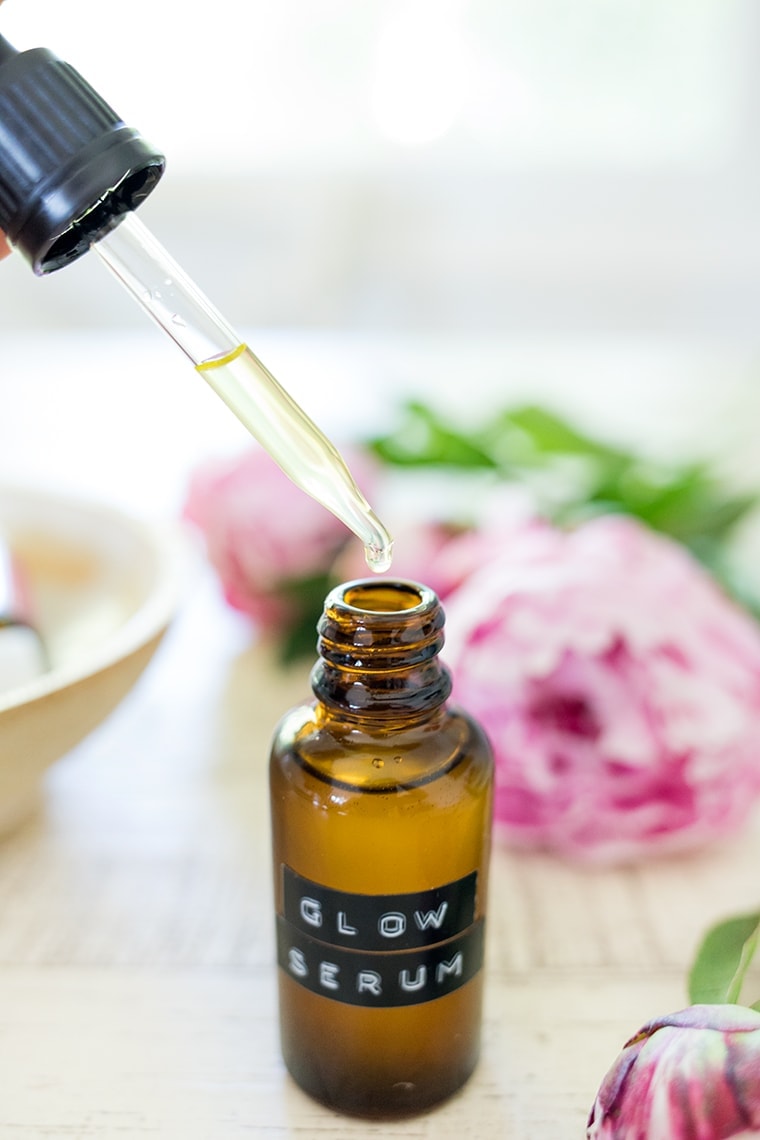 Why Young Living Oils
Before we get into the recipe for this incredible serum, I thought I'd take a minute to tell you WHY Young Living Oils as apposed to the essential oils you find in stores or online. Young Living has been around since the early 90's and has been the gold standard for essential oils and wellness products since. While the oils you see in stores might say they are "therapeutic quality," they standards for that title basically mean nothing. They don't even have to be pure essential oils and are often times blended with a carrier oil and sometimes even fragrance.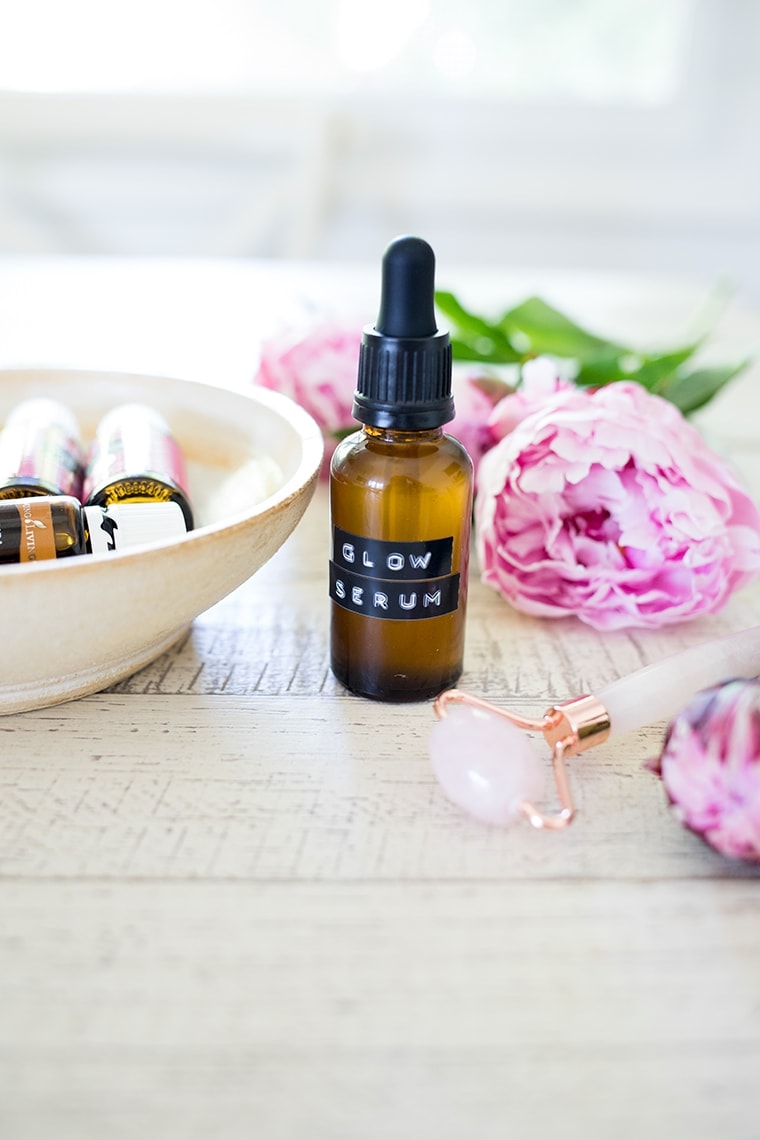 Even compared to other big name essential oils, Young Living has the highest manufacturing standards from "Seed to Seal" which means that they own and guarantee the sustainability and quality of their oils from the seed the plant was grown with to the moment the bottle is sealed. Every step of the growing, distillation process, and end product are the best. If you want more info on getting started with oils you can read this post here or grab your oils starter kit!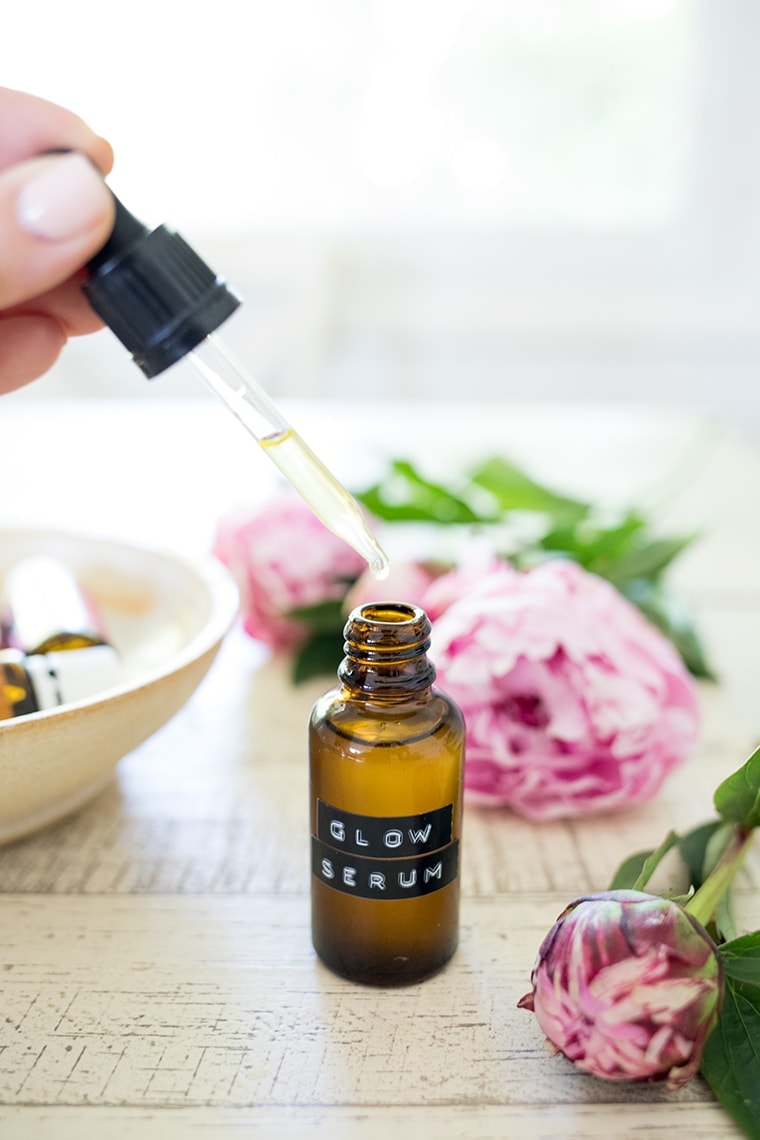 Glow Serum Recipe
There are a lot of variations of this glow serum recipe but they all start with the three basic oils: Frankincense, Lavender and Copaiba. I add in Elemi and Geranium as well to super boost my serum but there are tons of other oils you can use for specific needs. Rose, Neroli and Patchouli are also well known oils for healthy, radiant skin.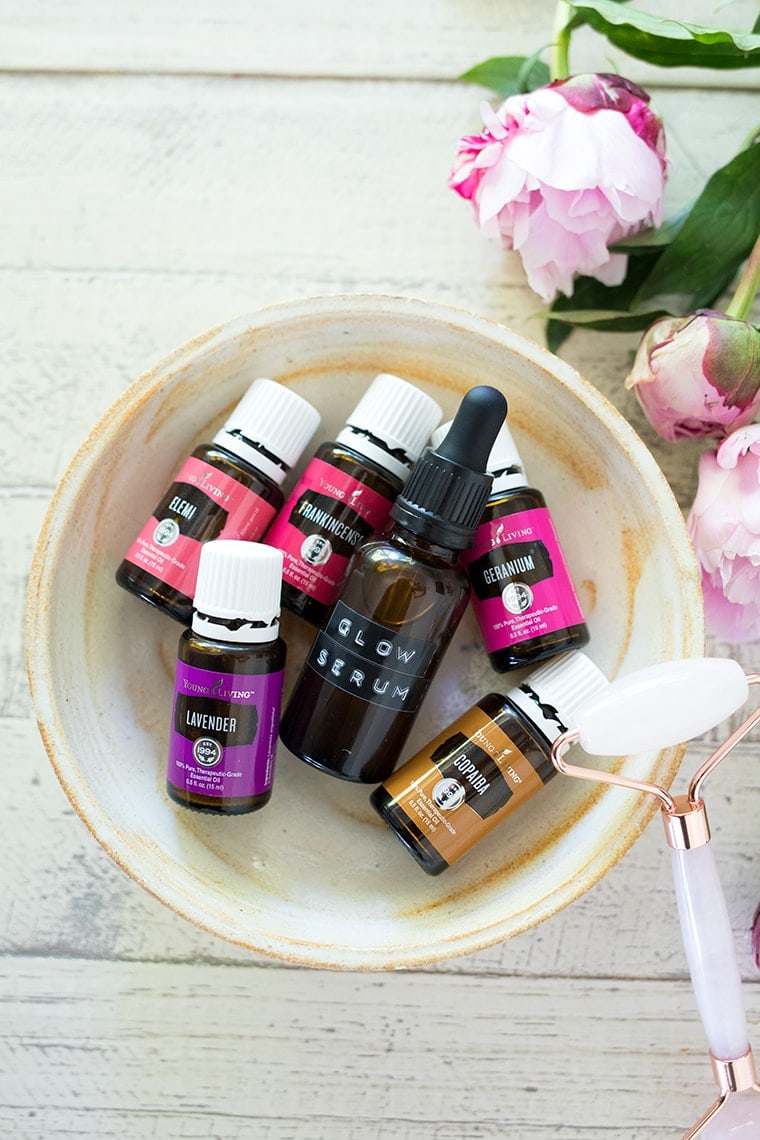 Frankincense is a powerful anti-aging oil and helps with the appearance of fine lines and wrinkles and gives your skin a dewy glow. It also helps reduce the appearance of scars.
Lavender is also good for wrinkles, is soothing and healing to the skin, and helps with scars.
Copaiba is believed to amplify the effects of any other essential oils.
Elemi is similar to Frankincense and is sometimes referred to as "poor man's Frank" because it has similar properties. I love the smell of this oil and use it in conjunction with Frank however you could use one or the other.
Geranium has such a beautiful scent but is also good for skin! This oil is antibacterial so it's good for skin that tends to breakout. It's also helps with inflammation and is calming to the skin, which is good for sensitive skin.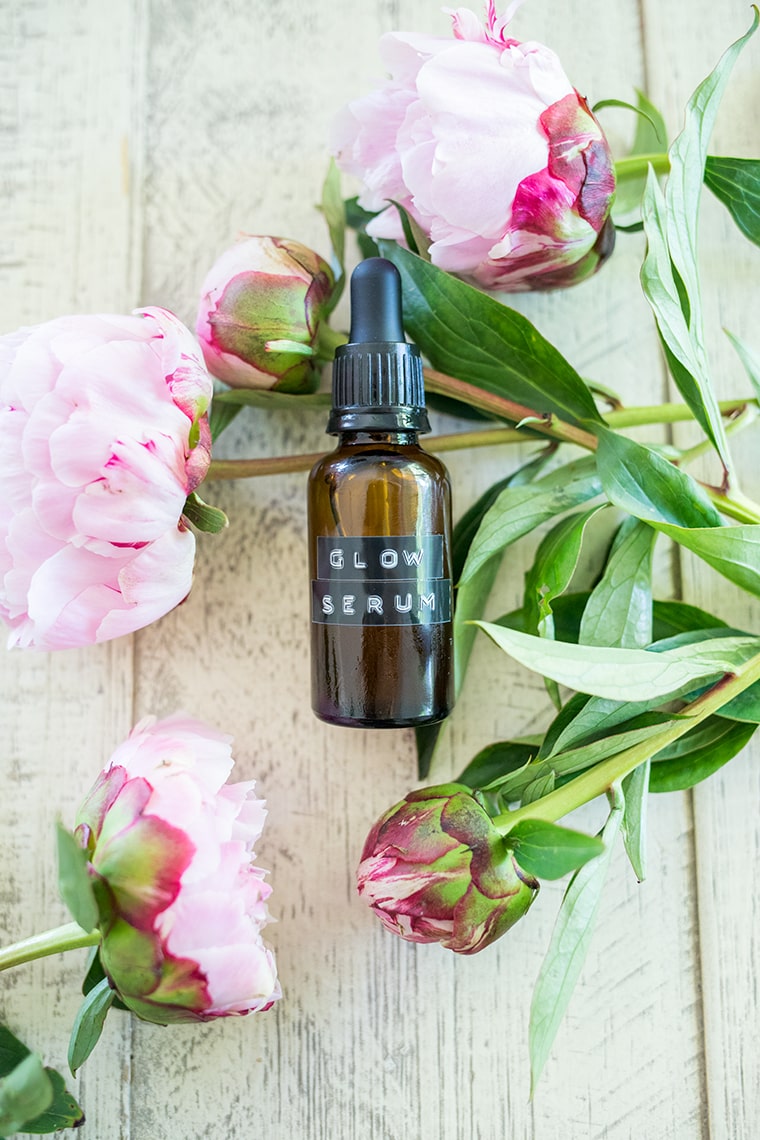 Glow Serum Recipe Continued...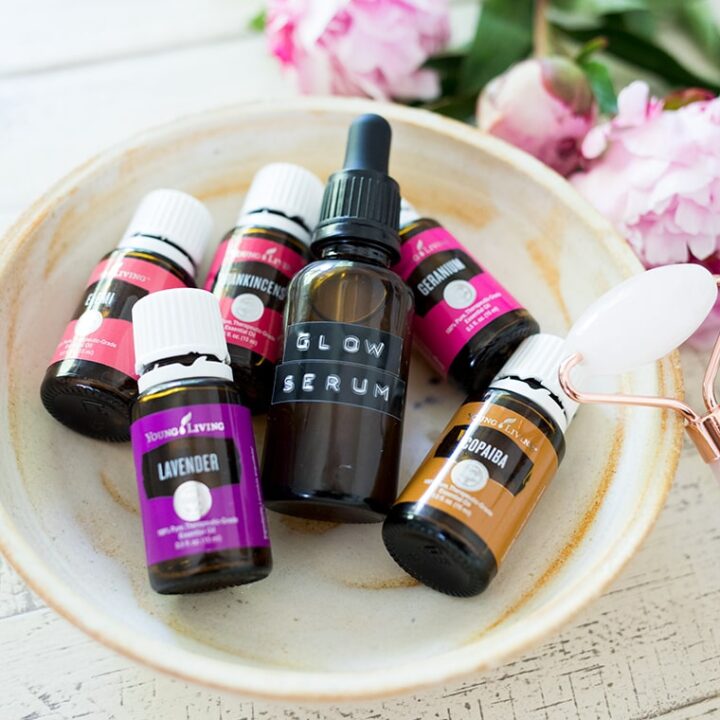 Glow Serum
A DIY essential oil glow serum for the face. Not for consumption.
Ingredients
10 drops Frankincense
10 drops Elemi
15 drops Copaiba
15 drops Lavender
5 drops Geranium
Organic Jojoba or Rosehip oil
Instructions
In a 2ml glass bottle with a dropper, combine all essential oils.
Fill the remainder with jojoba or rosehip oil.
Apply morning and night to a clean dry face avoiding the eyes.
For more on essential oils you can following me on Instagram @freutcakeessentials.