Roasted Delicata Squash with Cranberries and Feta is the perfect non-traditional side dish for Thanksgiving that leans heavily on fall flavors with squash and cranberries being the stars of the show.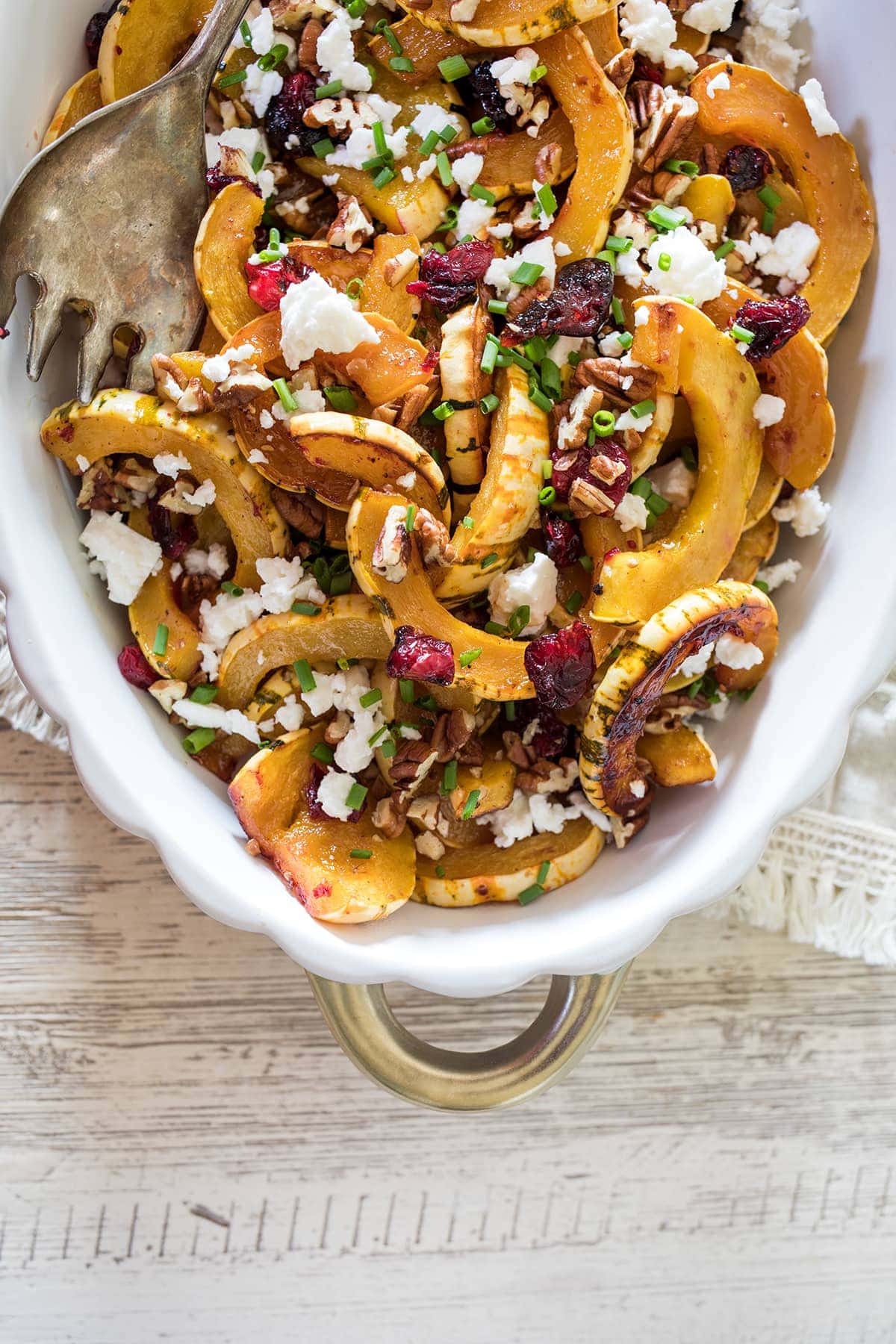 Roasted Delicata Squash with Cranberries and Feta
Fellow delicata squash fans please raise your hands! If you've never tasted Delicata Squash it is a super mild and slightly sweet squash with a soft edible skin that roasts up quickly in the oven and makes a healthy and delicious fall side dish. This version of roasted Delicata Squash is tossed in olive oil and maple syrup with tart fresh cranberries, feta cheese, pecans and chives...and it's DE-licious.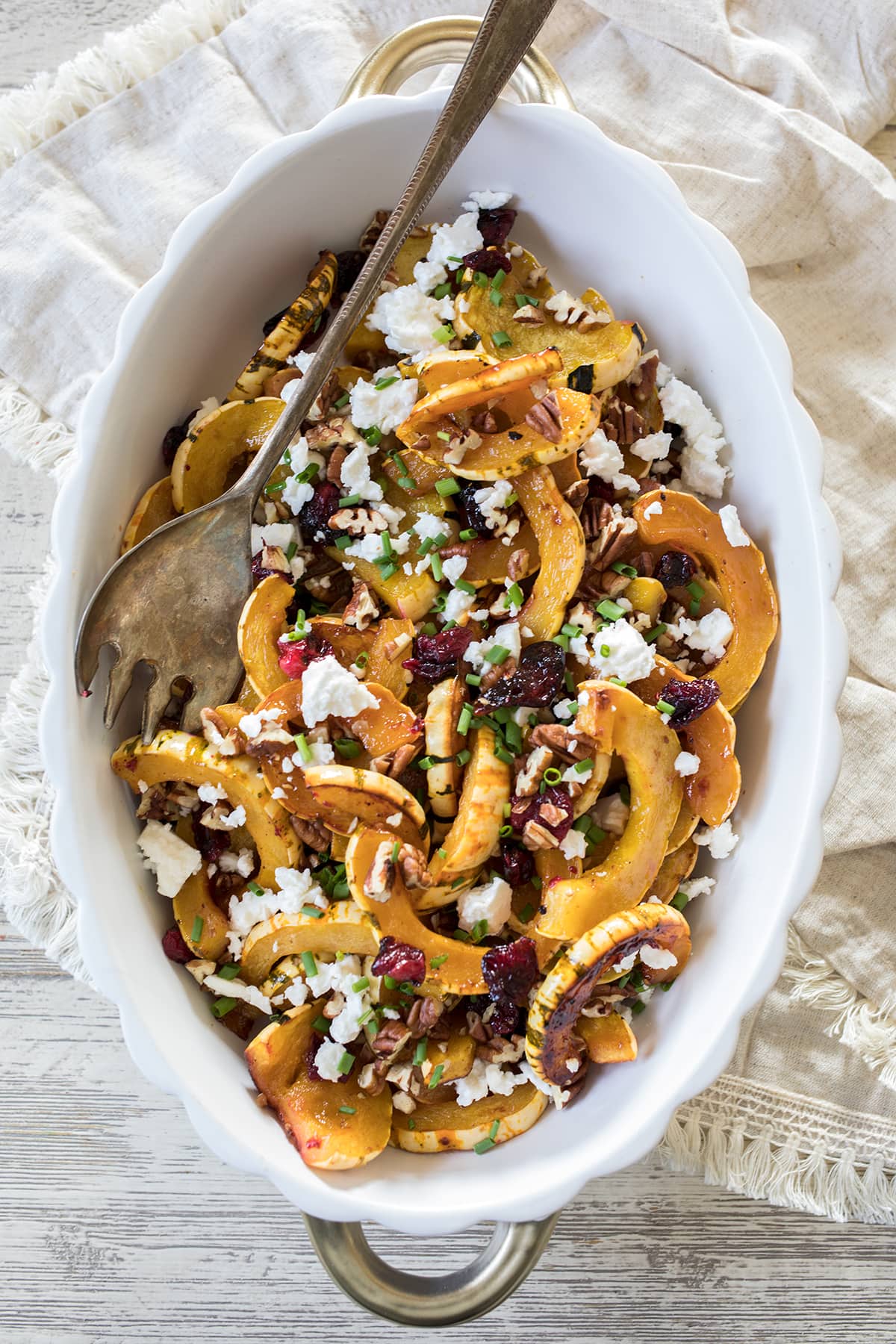 How to Cook Delicata Squash
The first time I picked up a Delicata Squash at the grocery store I was thankful for the sticker label that explained how to cook delicata squash. I honestly would have NEVER thought to roast it with the skin on...does that surprise you as well? Of all the squash that I've cooked from Spaghetti Squash to Acorn, Kobucha and Butternut; Delicata Squash is by far the easiest! It's softer than any other variety of squash so you can can easily cut it in half with a sharp knife and scoop out the seeds. From there all you need to do is slice it into ¼" half moon pieces and roast with olive oil and the seasonings of your choice for about 15-20 minutes. It doesn't get much easier than that!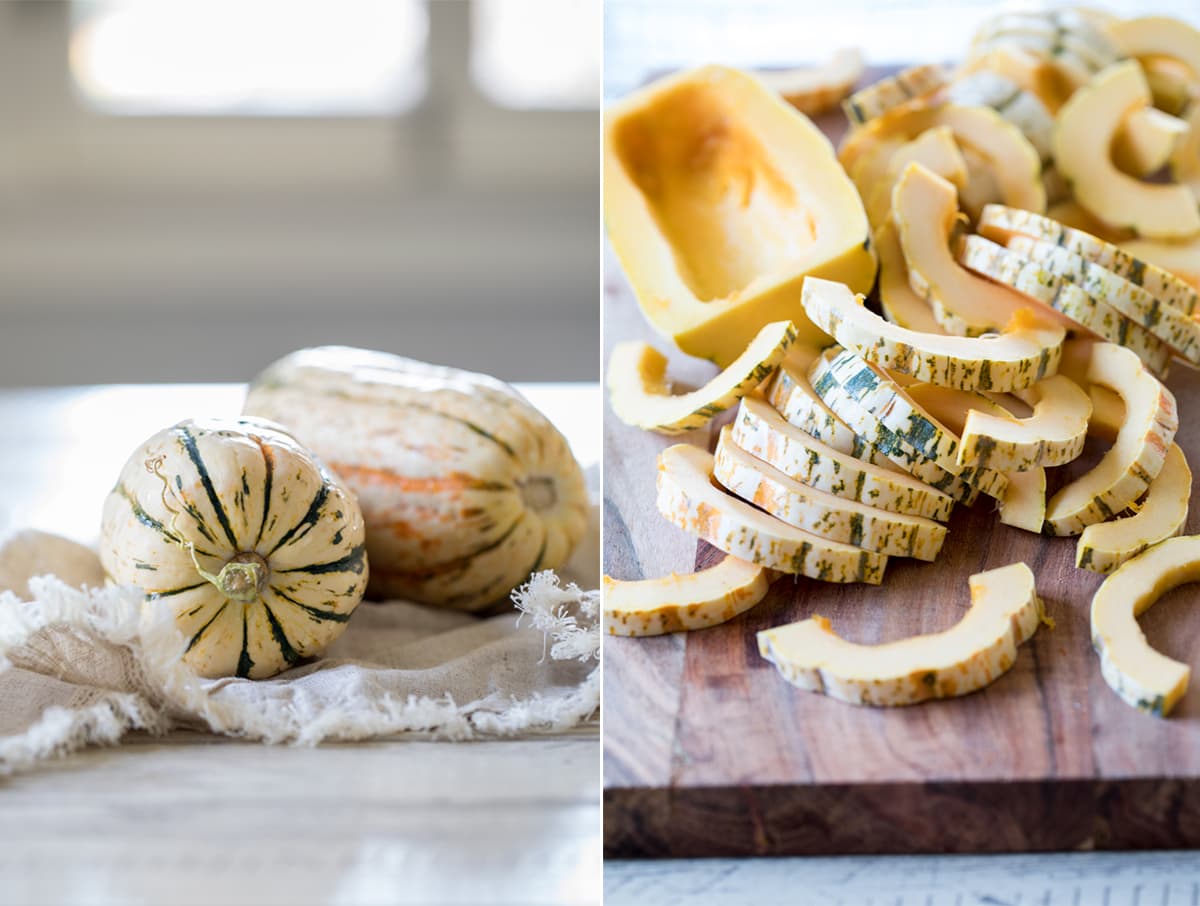 Roasting Fresh Cranberries
Have you ever roasted fresh cranberries? I hadn't either until recently when I experimented with a few that were left over from the Cranberry Apple Tarts I baked. I was afraid that they would be overly tart but with the maple syrup and sweet squash they were a nice balance of tart to the overall sweet. You could substitute dried cranberries at the end if you wish tossing them in with the nuts and cheese but I personally like the texture and flavor of fresh cranberries for this dish.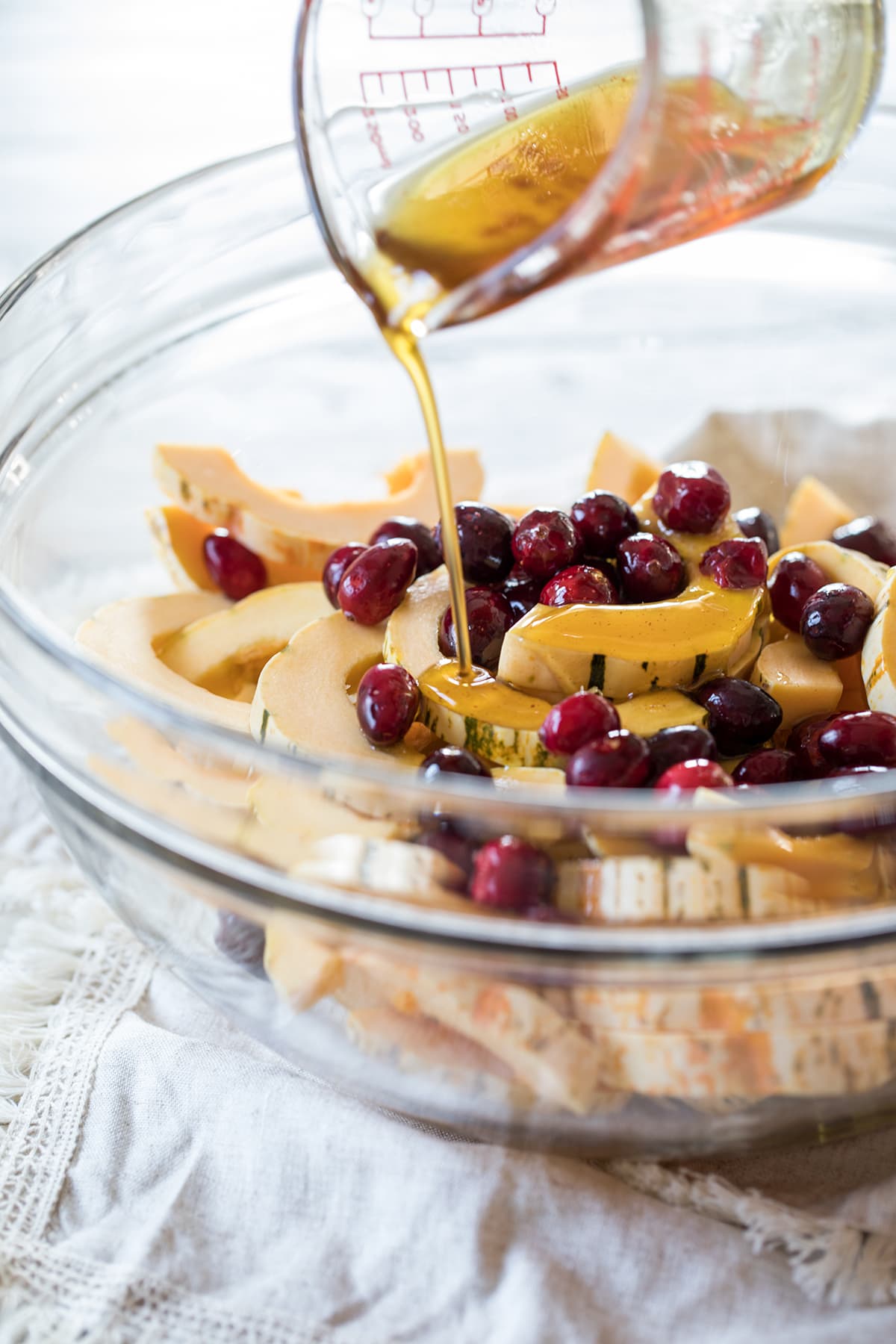 To glaze the squash and cranberries I whisked together olive oil, maple syrup and just a dash of cayenne pepper for some heat. You can add a generous amount of cayenne or just a couple dashes like I did depending on your heat tolerance. I do love all things spicy but generally avoid too much spice for Thanksgiving. I'll let you be the judge of that!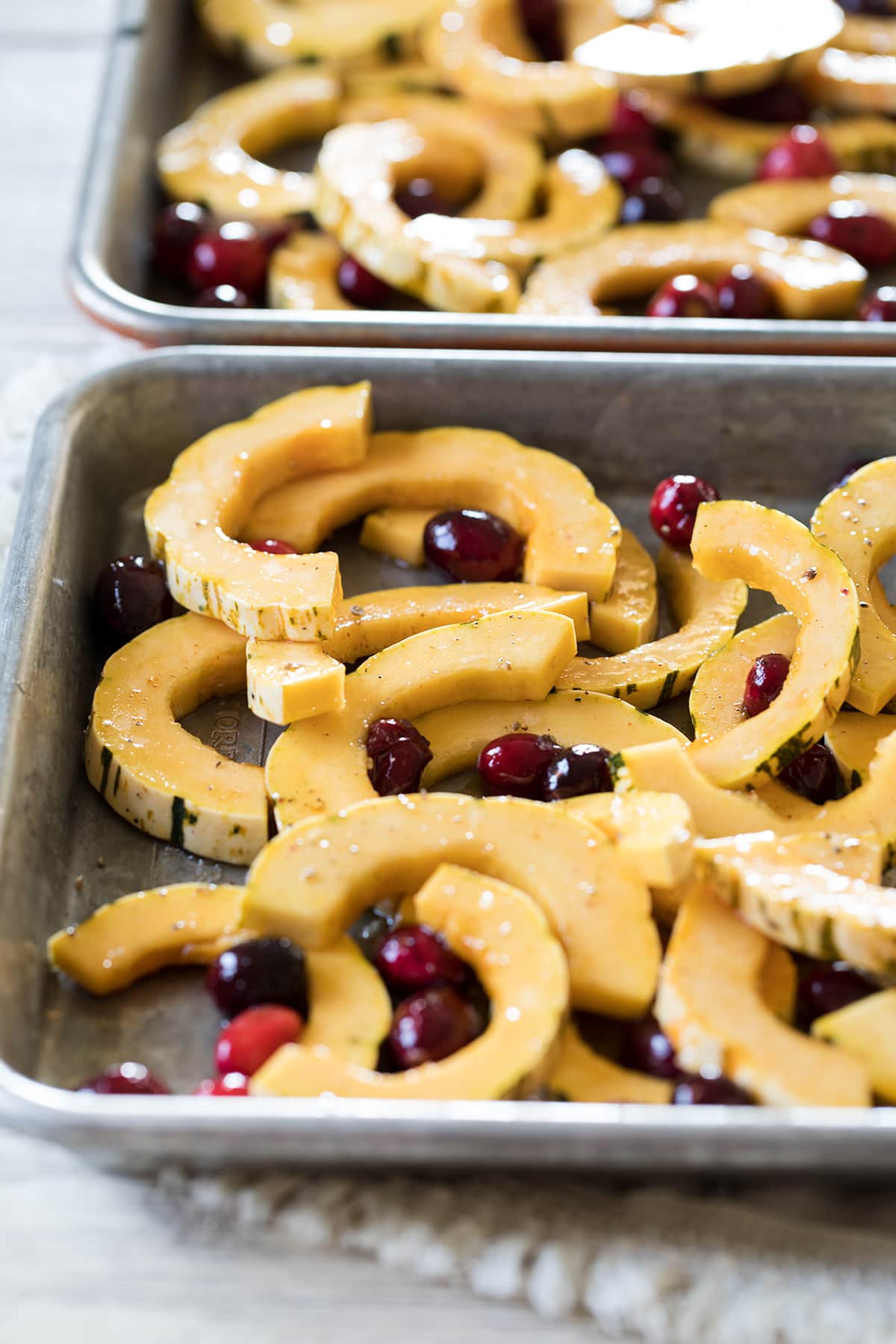 Once the squash is roasted and flipped and roasted some more, it's time to remove it to a serving dish and garnish it with the good stuff: crumbled feta cheese, chopped pecans and a good sprinkling of fresh chives. This dish is so packed with flavor it will be a hit on the Thanksgiving side dish table.
Can you make this dish ahead of time?
Yes! I made and photographed this dish and then later re-heated it for dinner so I would say that it would keep nicely over night in the fridge to be re-heated on Thanksgiving day. My recommendation would be to undercook the squash by just about 5 minutes if you make it ahead of time and leave out the "toppings" feta, nuts and chives until just before serving. Cover the roasted squash and cranberries with aluminum foil in the refrigerator until Thanksgiving day when you heat through in the oven.
Can you substitute the Delicata Squash for another squash?
Sure! I think you could easily substitute the Delicata Squash for either Butternut Squash however you will want to peel the butternut squash and bake it a bit longer until tender. The cranberries roast up pretty quickly so if you are switching out the squash for another squash that takes longer to roast you will want to keep that in mind and possibly add in the berries later. I say, give Delicata Squash a try! It's so easy to cook and one of our favorite squashes in this house. Plus, you can't beat a squash that doesn't require peeling. Happy Thanksgiving!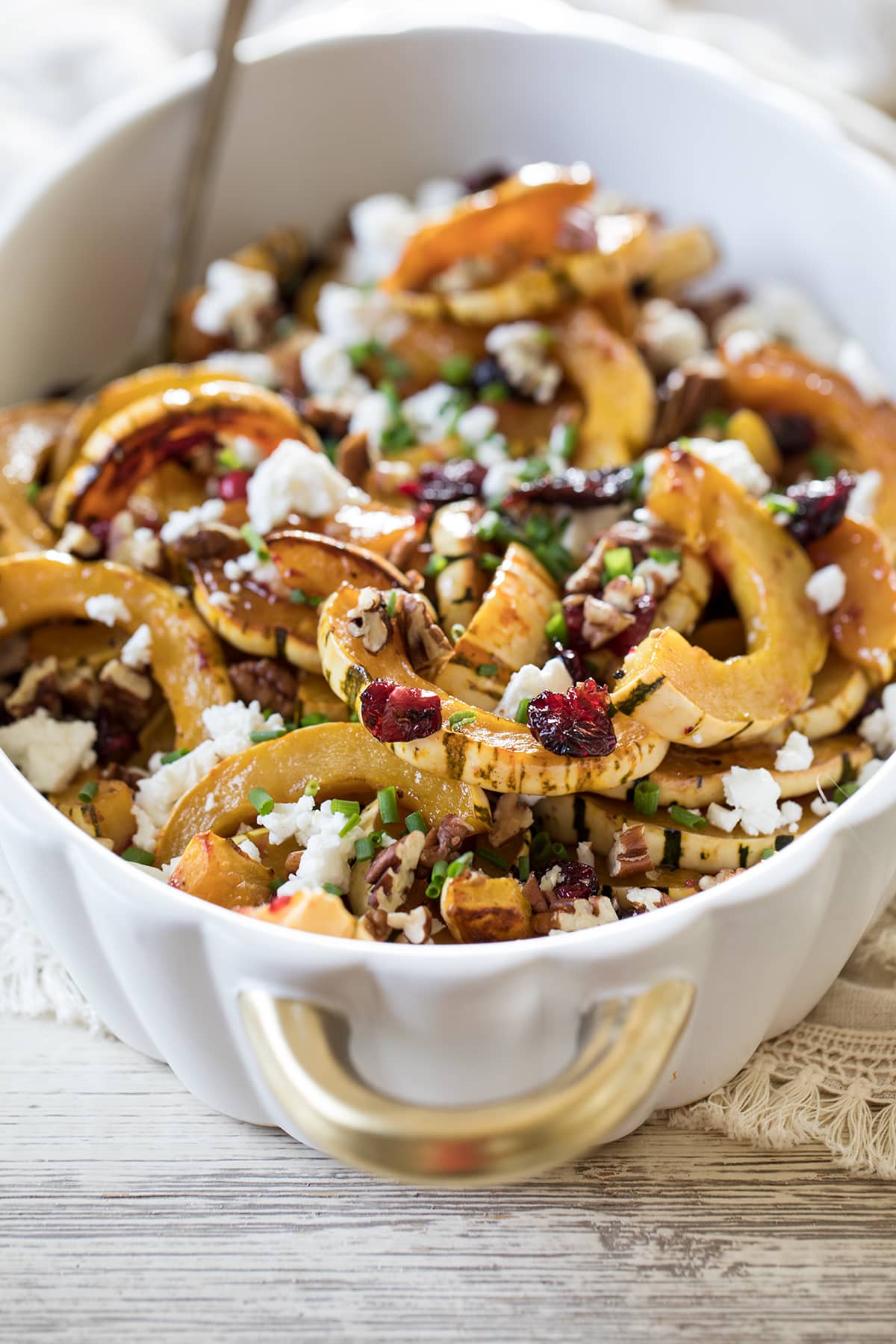 Looking for more Thanksgiving Side Dishes?
You might like these recipes...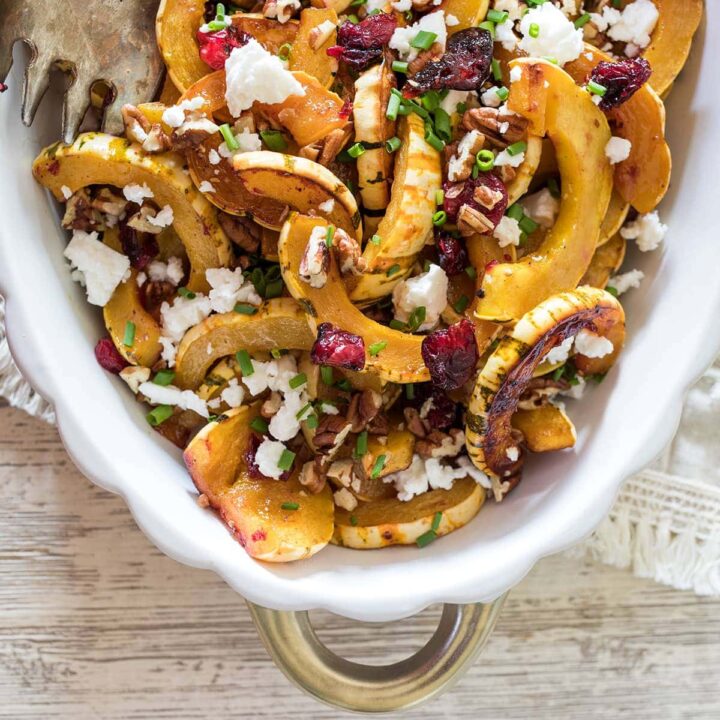 Roasted Delicata Squash with Cranberries and Feta
Roasted Delicata Squash with Cranberries and Feta makes for perfect Thanksgiving side dish or vegetable to serve during the holidays.
Ingredients
2 Delicata Squash
1 cup fresh cranberries
3 Tablespoons olive oil
¼ cup maple syrup
¼ cup chopped pecans
½ cup crumbled feta cheese
pinch of cayenne pepper
kosher salt and fresh ground pepper
2 Tablespoons chopped chives
Instructions
Preheat oven to 400 degrees.
Wash Delicata Squash well and cut both ends off. Cut squash length-wise and scoop out the seeds discarding them.
Slice Delicata Squash into ¼" slices and place in a large mixing bowl with cranberries.
In a glass measuring cup measure and combine olive oil, maple syrup and a dash of cayenne pepper. This will be to taste based on how spicy you like it. I did about two good shakes of the spice jar. Whisk with a fork to combine.
Pour oil mixture over squash and cranberries and toss to coat.
Spread squash out on a large rimmed baking sheet or two small sheet pans and season generously with kosher salt and fresh ground pepper.
Roast in a 400 degree oven for 20 minutes until squash is tender and slightly golden, flipping half way through. At this point you can stop if you are making the squash the night before and reheat the next day.
Remove squash and cranberries to serving dish and top with pecans, feta and chopped chives. Serve warm.