Thanksgiving is all about having a variety of side dishes and Wild Rice with Sausage, Sweet Potato, and Cranberries is a delicious addition to the Thanksgiving table! This side dish could easily be an alternative to stuffing, however it would also make a lovely addition to the feast. Stuffing and rice? That's my kind of Thanksgiving.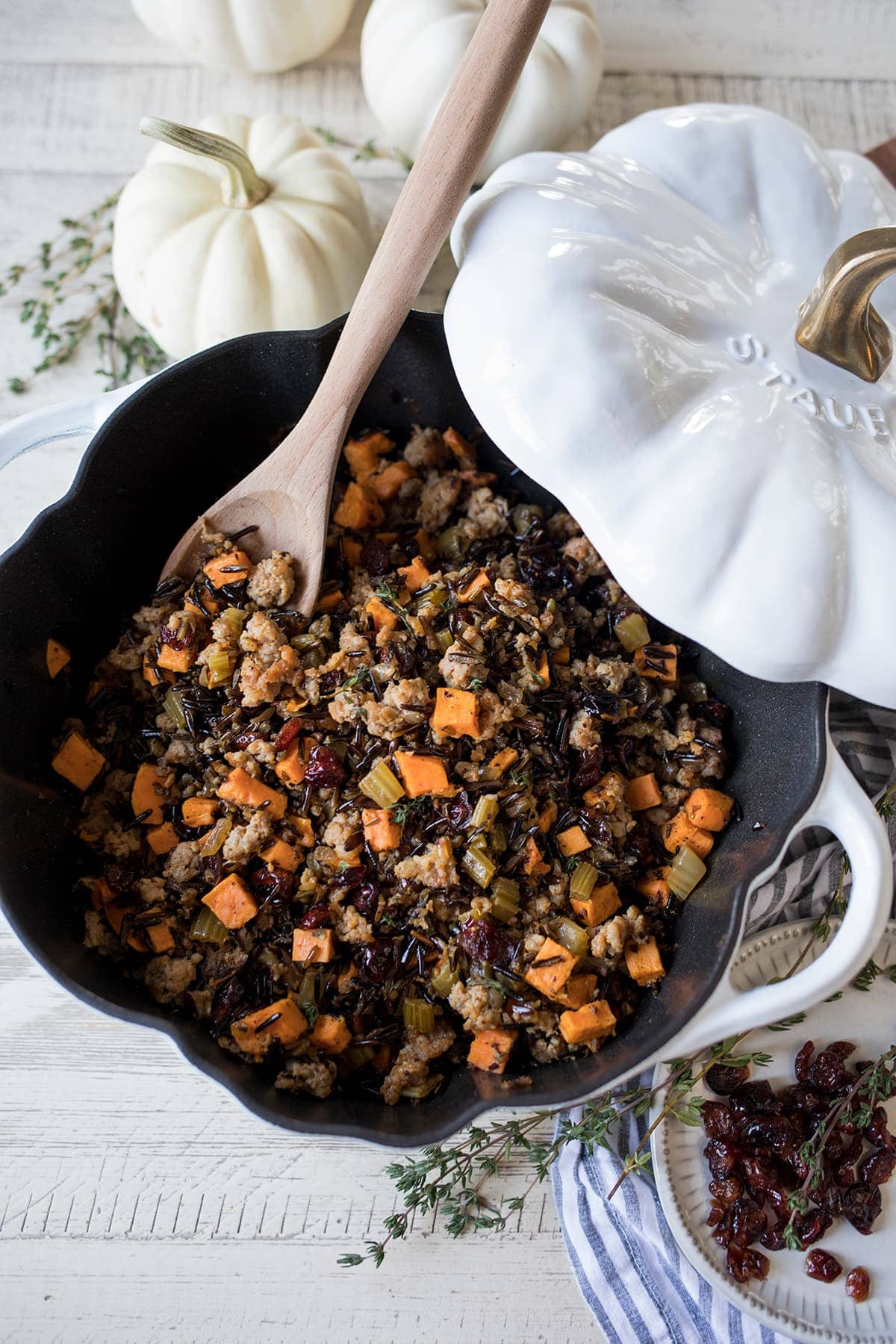 Wild Rice with Sausage Sweet Potato and Cranberries
This wild rice is packed with savory sausage, roasted sweet potato and tart dried cranberries. The cranberries warm through and plump up when you fold them into the hot rice. Each bite is full of nutty grains of wild rice and tons of flavor from the sausage. It really is a sensational seasonal side. Say that five times fast!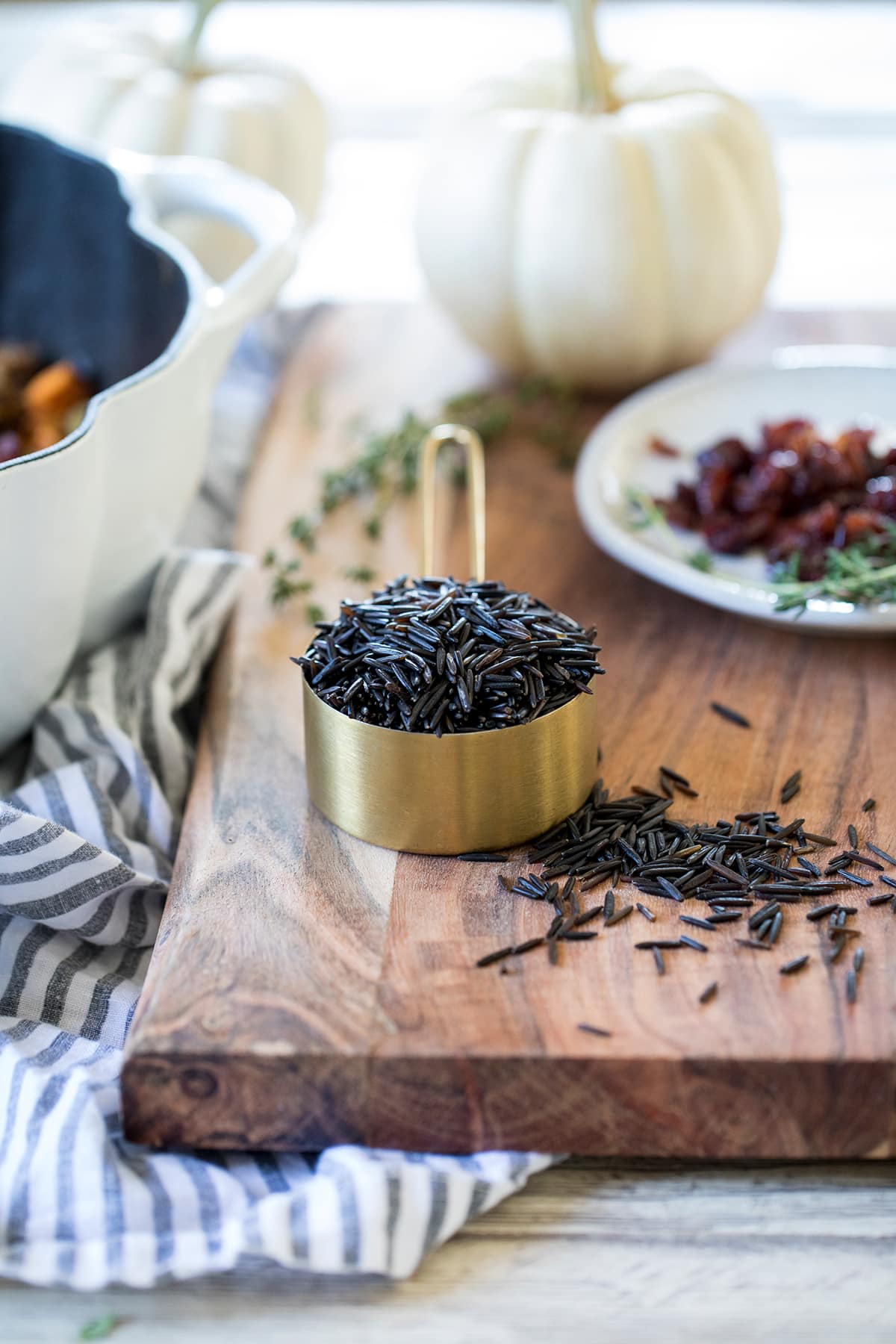 How to Cook Wild Rice
The main thing you should know about cooking wild rice is that it's going to take a long time. I say that not to dissuade you from trying this dish but more to prepare you for the low slow process of cooking the rice. Also, because wild rice is technically not "rice" at all but in fact the seed of a wild aquatic grass indigenous to North America (yup, I had to Google that,) it has a much firmer texture than let's say Basmati or Brown Rice. The liquid to dry proportion is always 3 to 1 for wild rice and if you give it it's adequate time, it should burst open when cooking and become very nutty and delicious in flavor.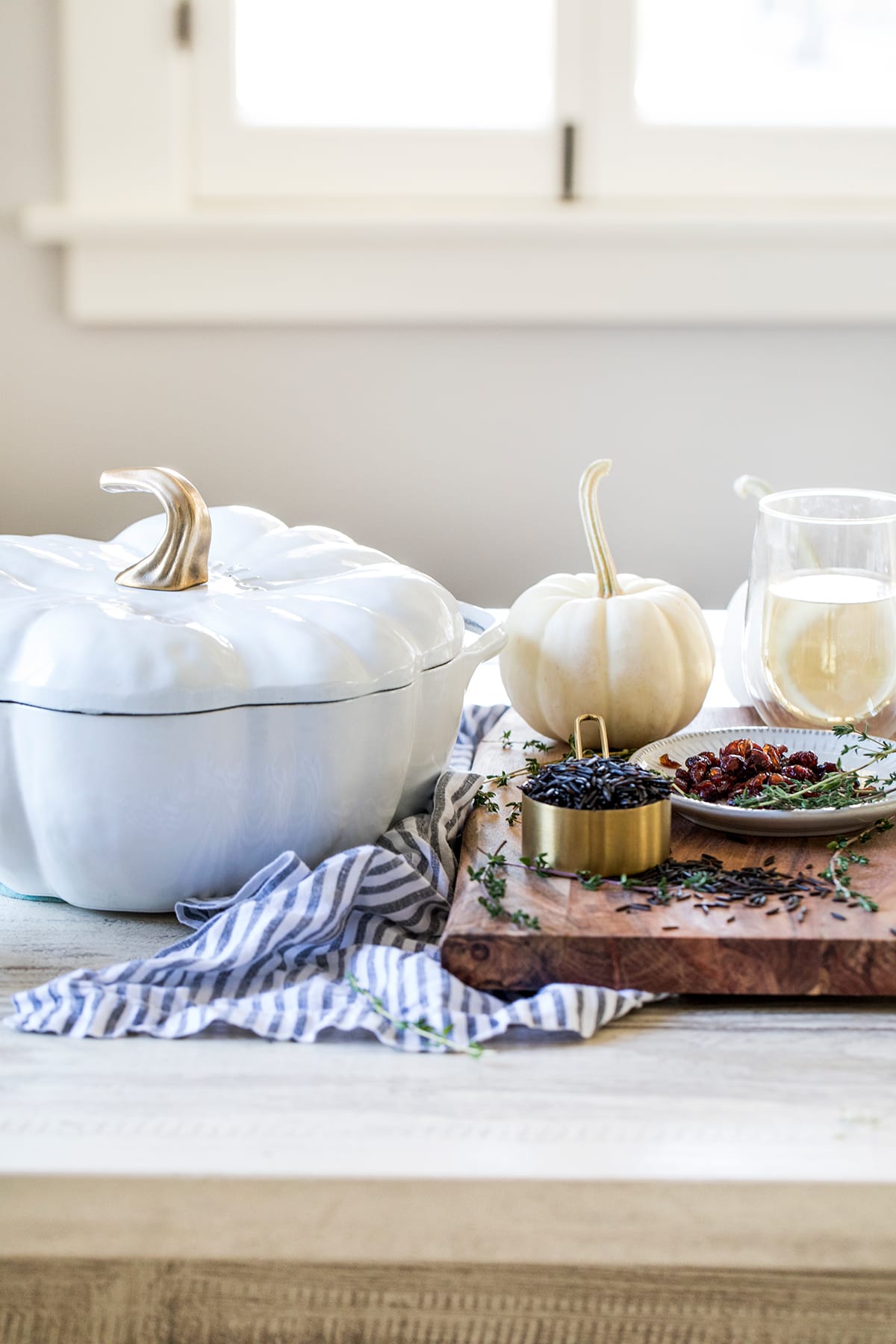 Oh, did I mention it's made with white wine? Just before adding in the chicken stock, I deglaze the pan with an entire cup of white wine and the resulting smells are something euphoric. As for the rice, I used the Cultivated Wild Rice from Trader Joe's but you can use your favorite brand of wild rice! I just love the dark black color of wild rice in contrast to the orange sweet potatoes and cranberries. Very fall festive!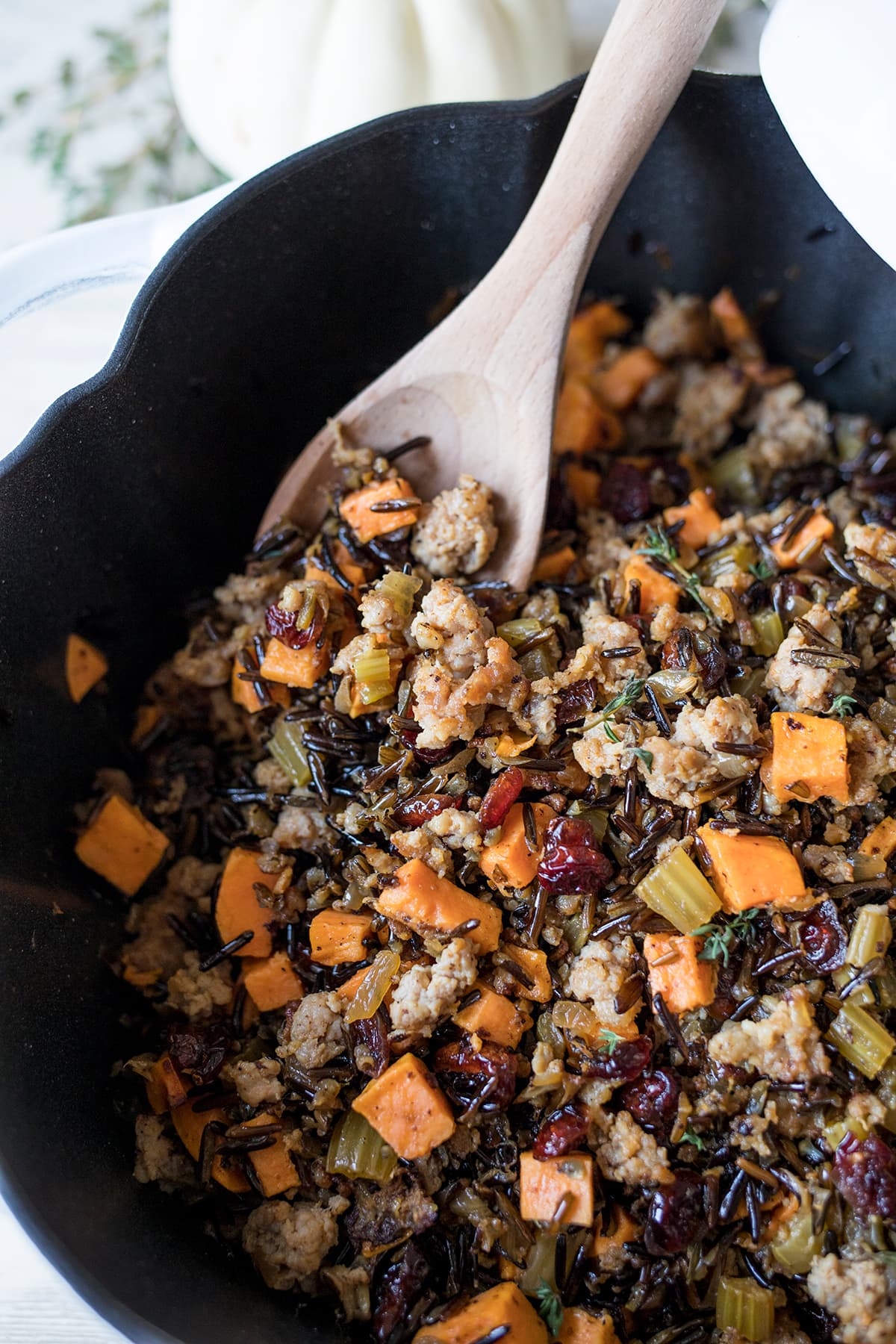 Wild Rice Stuffing
This rice would also make the perfect stuffing for roasted acorn squash or mini sugar pie pumpkins. If you are planning to serve this wild rice stuffed inside of a gourd like that, I would recommend substituting the sweet potato for whatever you plan to stuff it in. Stuffing mini pumpkins: add in roasted cubed pumpkin instead! You get the idea.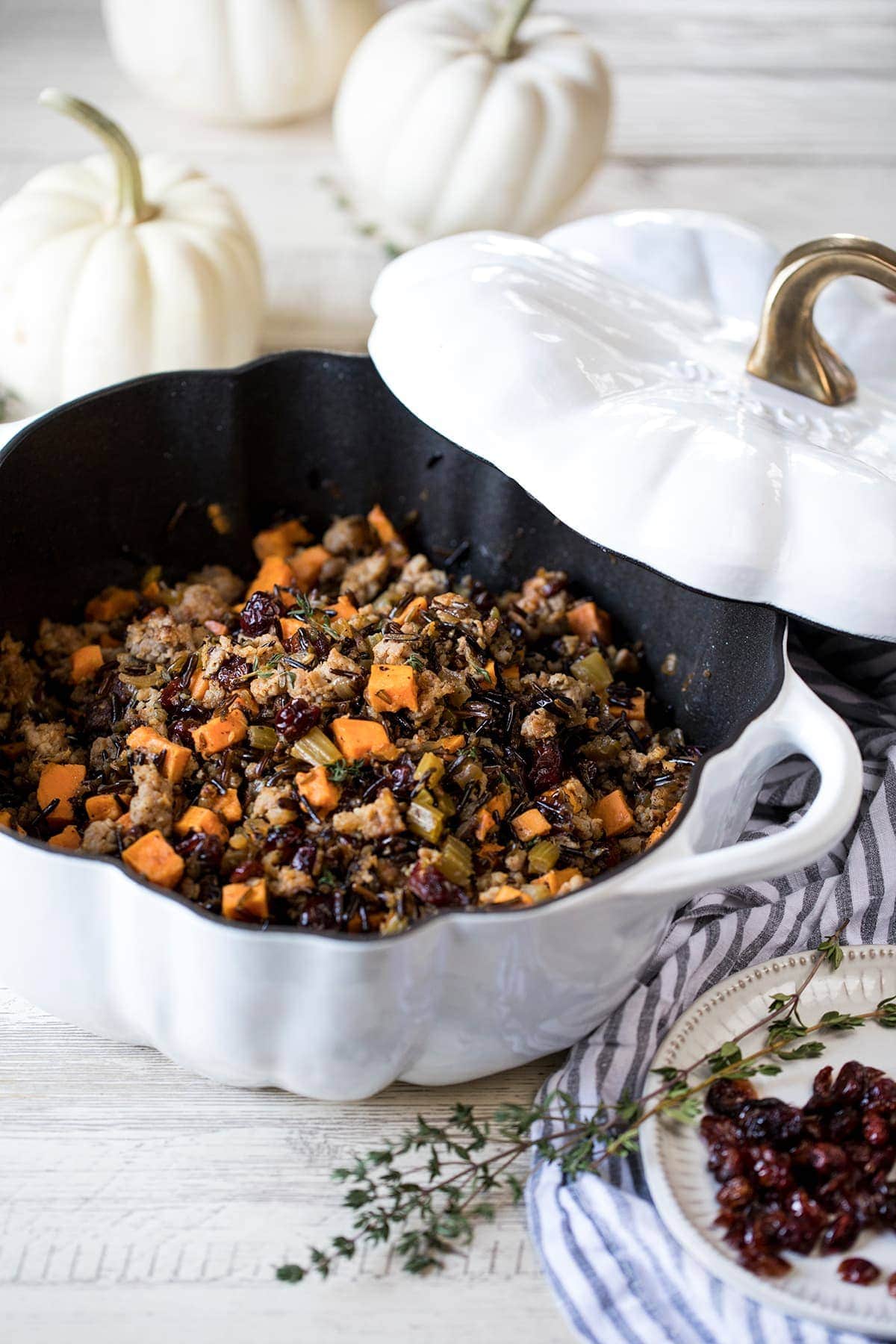 Staub Cast-Iron Pumpkin Cocotte
If you've never cooked in Staub cookware, it's such a treat! The sausage browns up so nicely and the entire cocotte conducts heat expertly. I love the look of the Staub Cast-Iron Pumpkin Cocotte for this wild rice because it's pretty enough to serve in. There aren't many dutch ovens lovely enough to make it to your Thanksgiving table. Also, it comes in a variety of colors if you have a more traditional look in mind. This pumpkin is also perfect for big batches of Pumpkin Soup or even hot cider!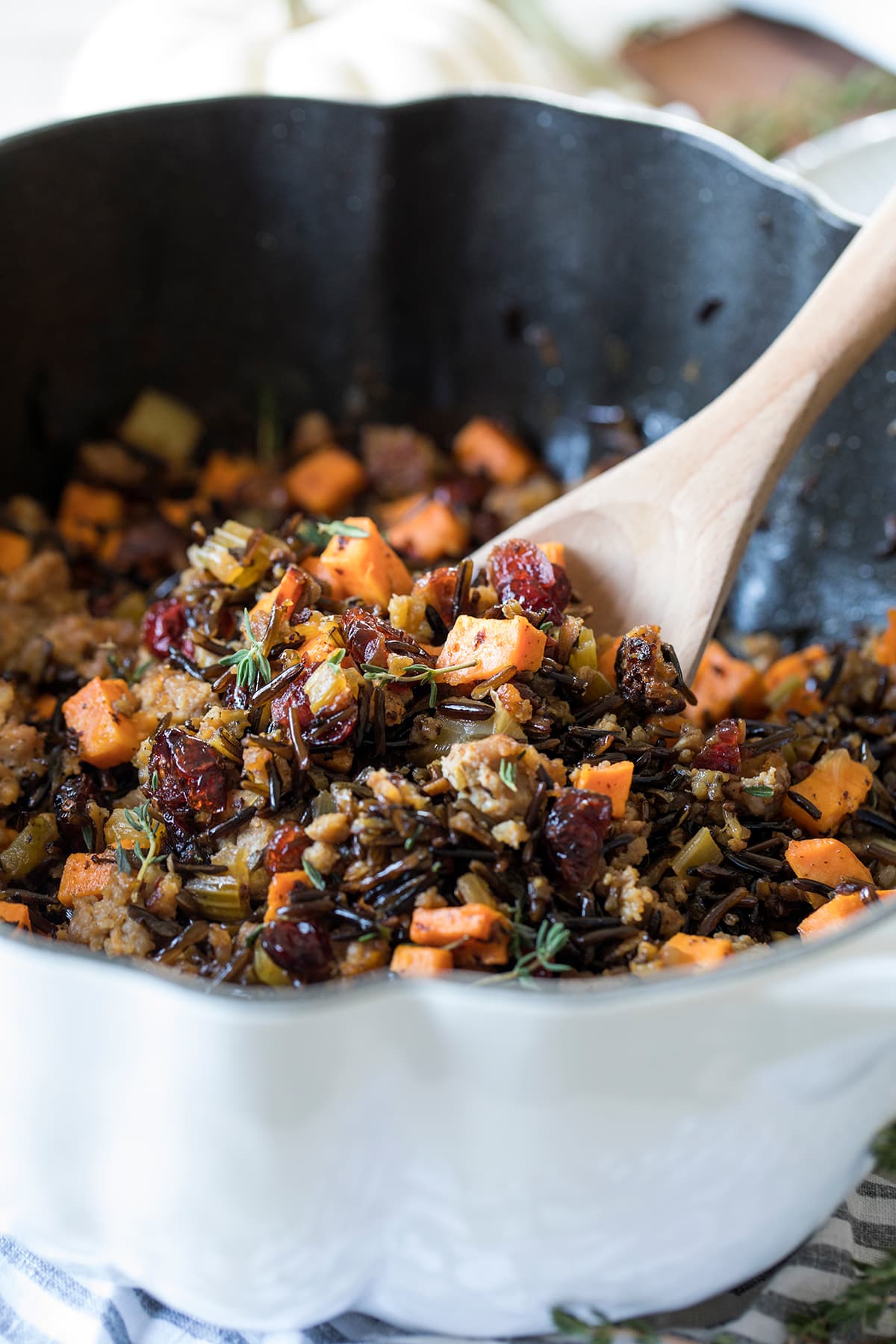 I hope you will try this Wild Rice dish for your Thanksgiving feast! If you make it, please come back and leave a comment letting me know what you think. Or share a photo on social #Freutcake. I always love to see what recipes you all are making. Happy Thanksgiving!
Looking for More Thanksgiving Sides?
You might like to try:
Creamy Pumpkin Soup
Spiced Pear and Cranberry Sauce
Brown Butter Mashed Potatoes
Roasted Kobucha Squash with Marshmallows and Pecans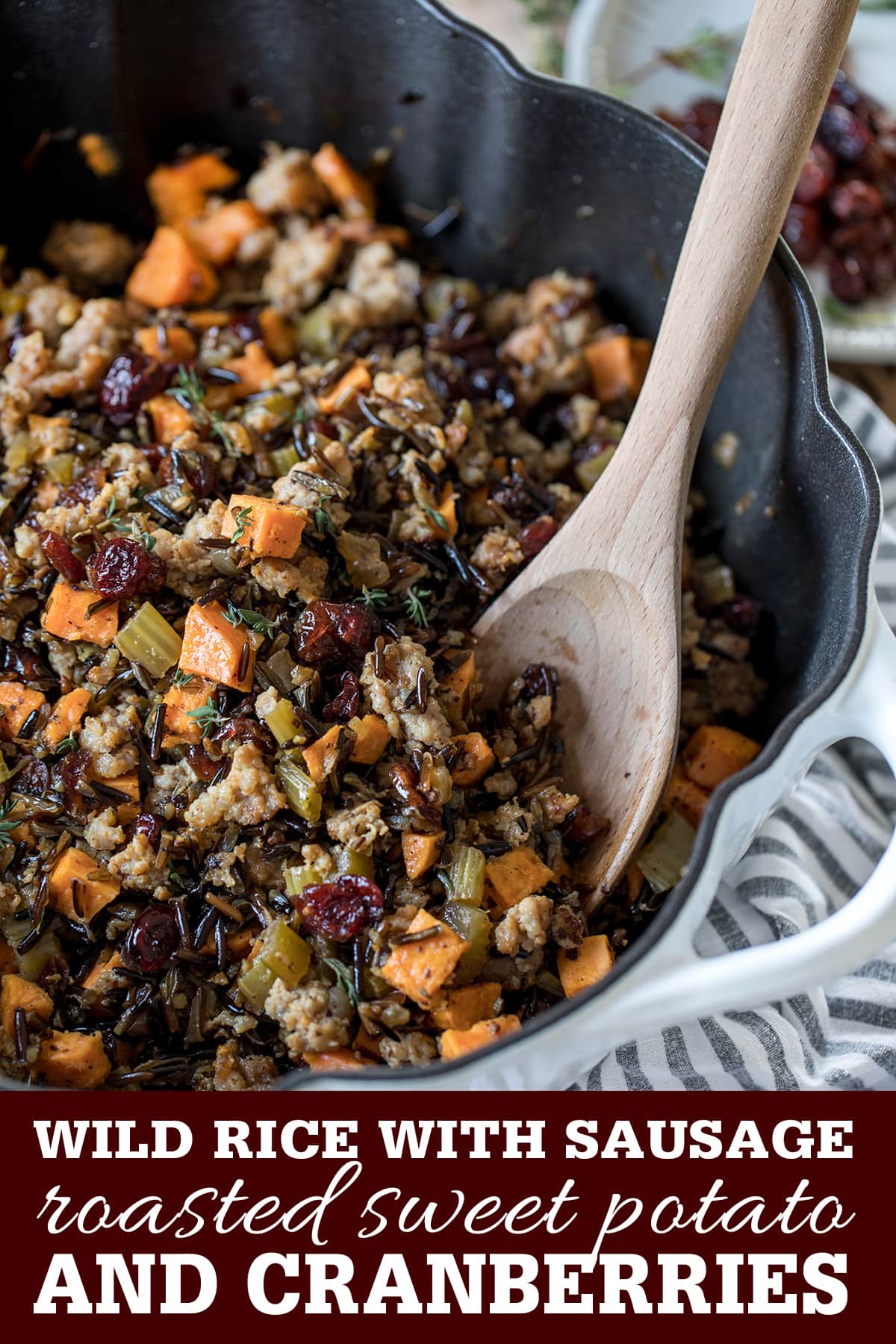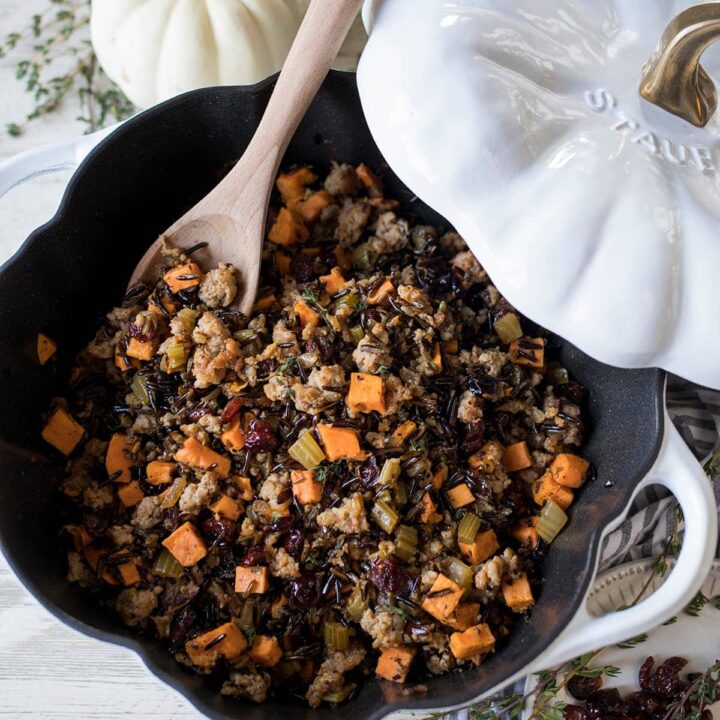 Wild Rice with Sausage, Sweet Potato and Cranberries
Cook Time:
1 hour
15 minutes
Total Time:
1 hour
35 minutes
Wild rice with sweet crumbled sausage, roasted sweet potato and tart cranberries is a hearty Thanksgiving side dish or stuffing alternative.
Ingredients
1 Tablespoon olive oil
1 lb Sweet Italian Sausage, removed from it's casings
2 Tablespoons butter
1 cup diced onion
1 cup diced celery
1 cup wild rice, washed and drained
3 sprigs fresh thyme
1 cup Pinot Grigio, white wine
2 cups chicken stock
¾ cup dried cranberries
3 cups peeled and diced sweet potato
(olive oil, salt and pepper for roasting)
Instructions
In a large dutch oven, heat olive oil over medium-high heat.
Add in Sweet Italian Sausage (I squeeze it out of it's casing right into the pan but if you can purchase it in bulk that works great too!) and cook breaking it up into a crumble until browned and cooked through.
Remove sausage to a paper towel lined plate and save for later.
Reduce heat to medium and add in 2 Tablespoons of butter. Don't worry if there are sausage bits stuck to the pan, that will add flavor and be deglazed later.
Add in the onion and celery and cook about 3 minutes until the veggies are tender but still firm.
Add in the washed and drained wild rice and the thyme sprigs (whole) and cook for 1 minute with the veggies.
Slowly pour in the wine scrapping the bottom of the pan to deglaze and bring up any browned bits left from the sausage.
Add in chicken stock and bring to a simmer.
Cover, reduce to low and cook for 1 hour 15-20 minutes or until the rice has burst open and is cooked through. Remember, wild rice will be firmer in texture than brown or white rice.
While the rice cooks, preheat the oven to 400 degrees.
Peel and dice your sweet potato. One large sweet potato should give you three cups.
Spread diced sweet potato on a lined sheet pan and drizzle with olive oil. Season with salt and pepper and toss to coat!
Roast for 20 minutes until the sweet potato is tender but not soft.
Once the rice is cooked, fold in the sausage, roasted sweet potato and dried cranberries.
Serve warm!
Notes
You didn't read that wrong, there is NO salt or pepper called for in the preparation of the rice! The Italian Sausage salts this dish and gives it tons of flavor.

Also, don't skip toasting the wild rice! This step helps expose the rice to heat quickly so that it speeds up the cooking process.