Creamy pumpkin soup served in mini roasted pumpkin "bowls" with cheesy ciabatta toast dippers is a recipe you will want to make all winter long. This soup is so indulgent and delicious, it's one of my favorite fall soup recipes!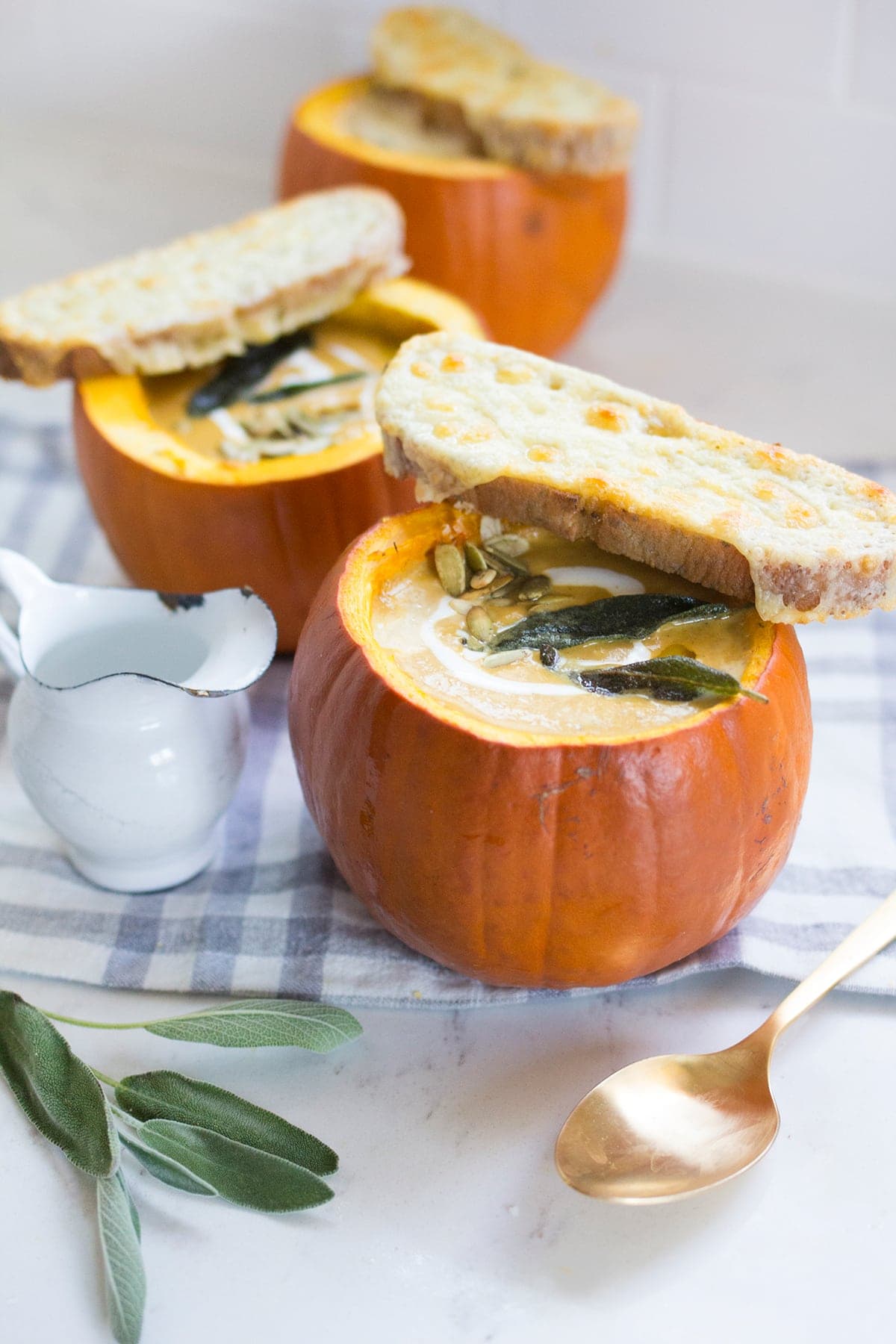 The pumpkin soup itself is incredibly easy to make and could always be served in bowls instead of little pumpkins if you are short on time! Or serve just a little bit of this soup in mini-pumpkins for a Thanksgiving starter.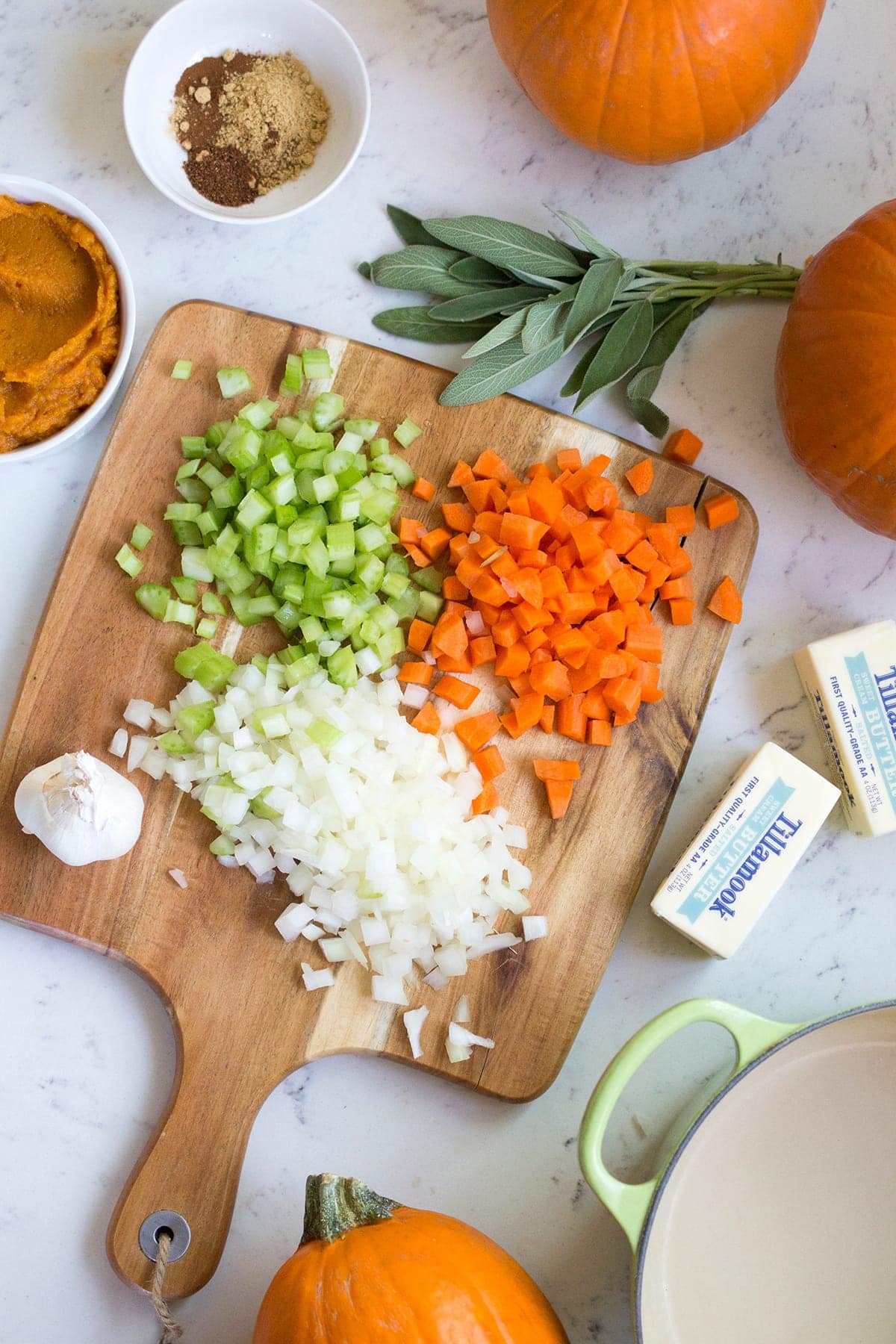 To get the soup extra smooth and creamy, I puree all of it with an immersion blender right in the pot. If you don't have an immersion blender in your kitchen tools, I can't recommend it enough! This little tool does the work of a traditional blender without having to pour hot soup and blend in batches which can definitely be a little tricky and messy. If you make a lot of soups, it will be your new best friend in the kitchen. I have this one.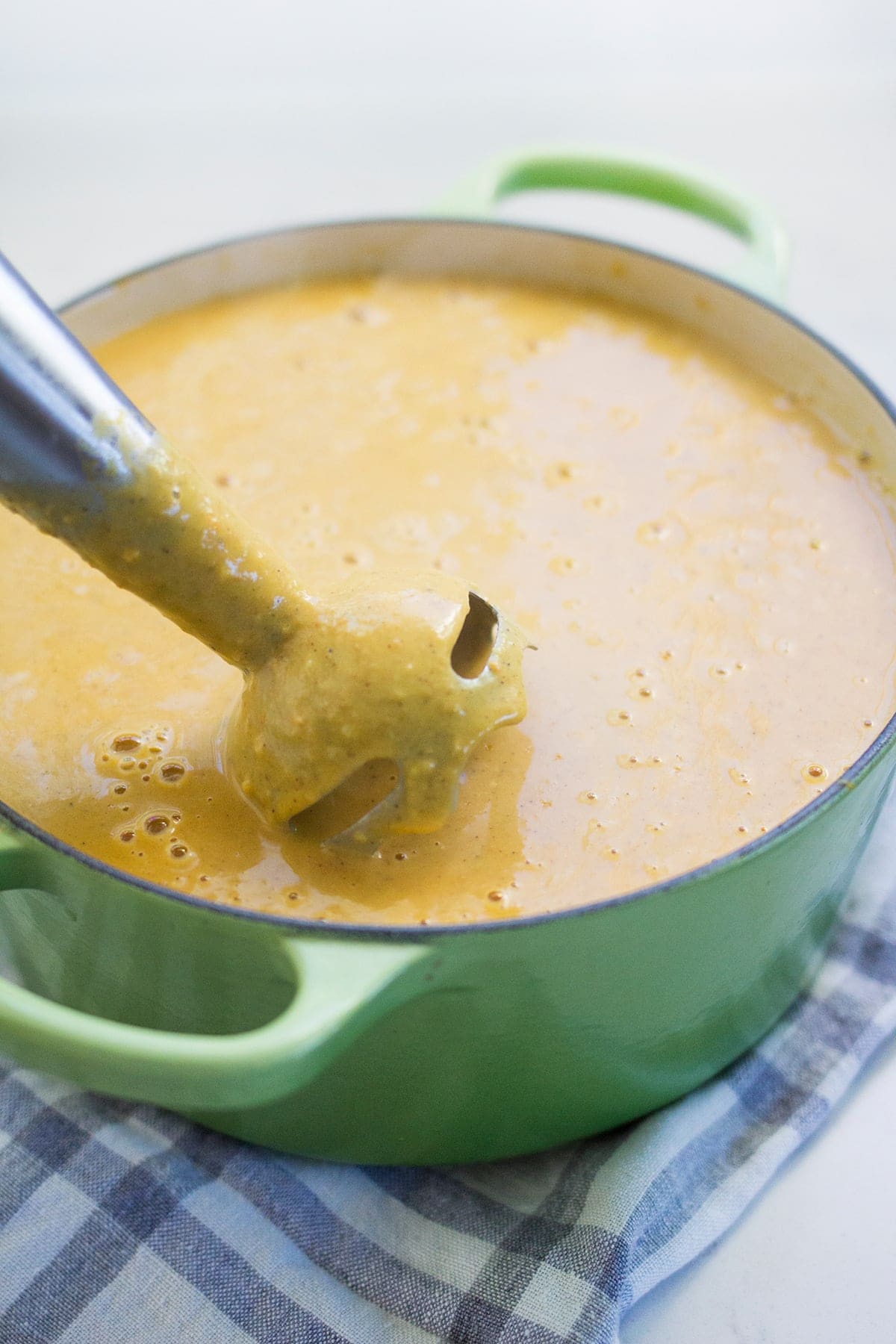 To take this soup over-the-top I serve it with a drizzle of sour cream, toasted pumpkin seeds, fried sage and cheesy toast dippers.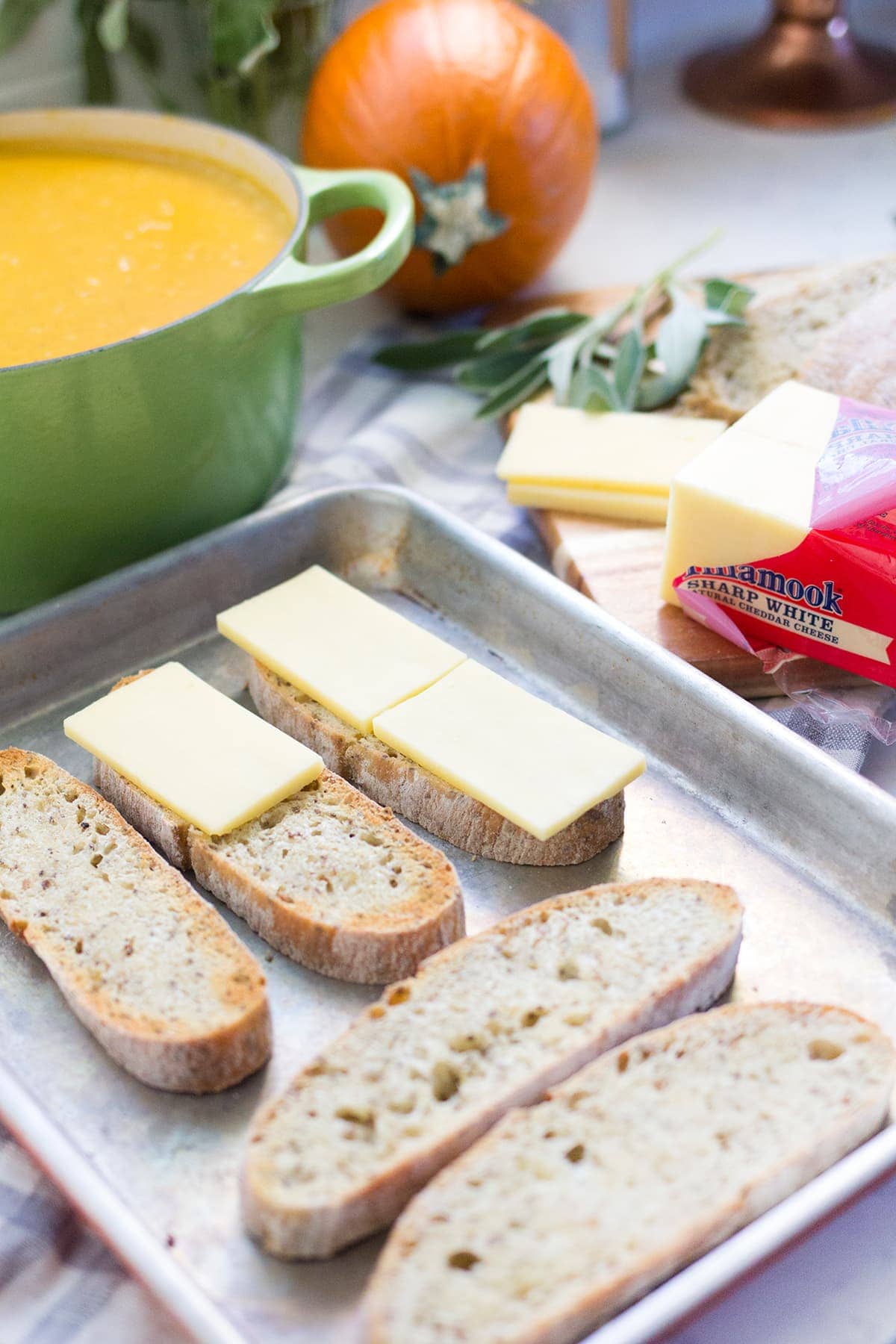 For crispy sage leaves, heat a decent amount of butter in a small skillet over medium-high heat. Add fresh sage leaves and fry turning once until slightly browned. Remove to a paper towel to drain. Make a whole bunch, trust me, they are salty delicious little crispy garnishes and you might end up wanting extras.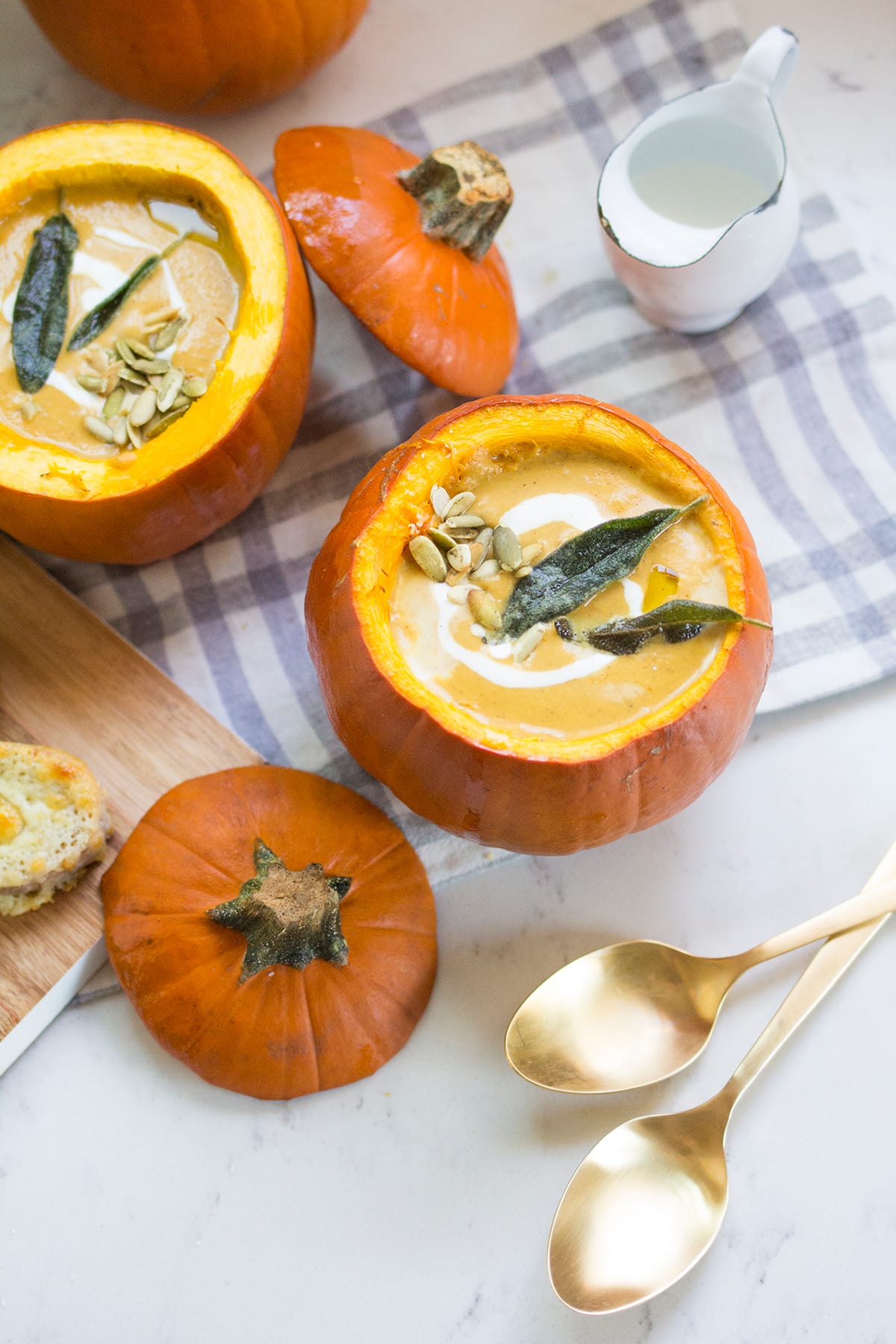 Before serving, prop the lids of the pumpkins back on the bowls or top with a cheesy ciabatta dipper. Either way, I guarantee your family is going to dig right into this delicious and beautiful soup!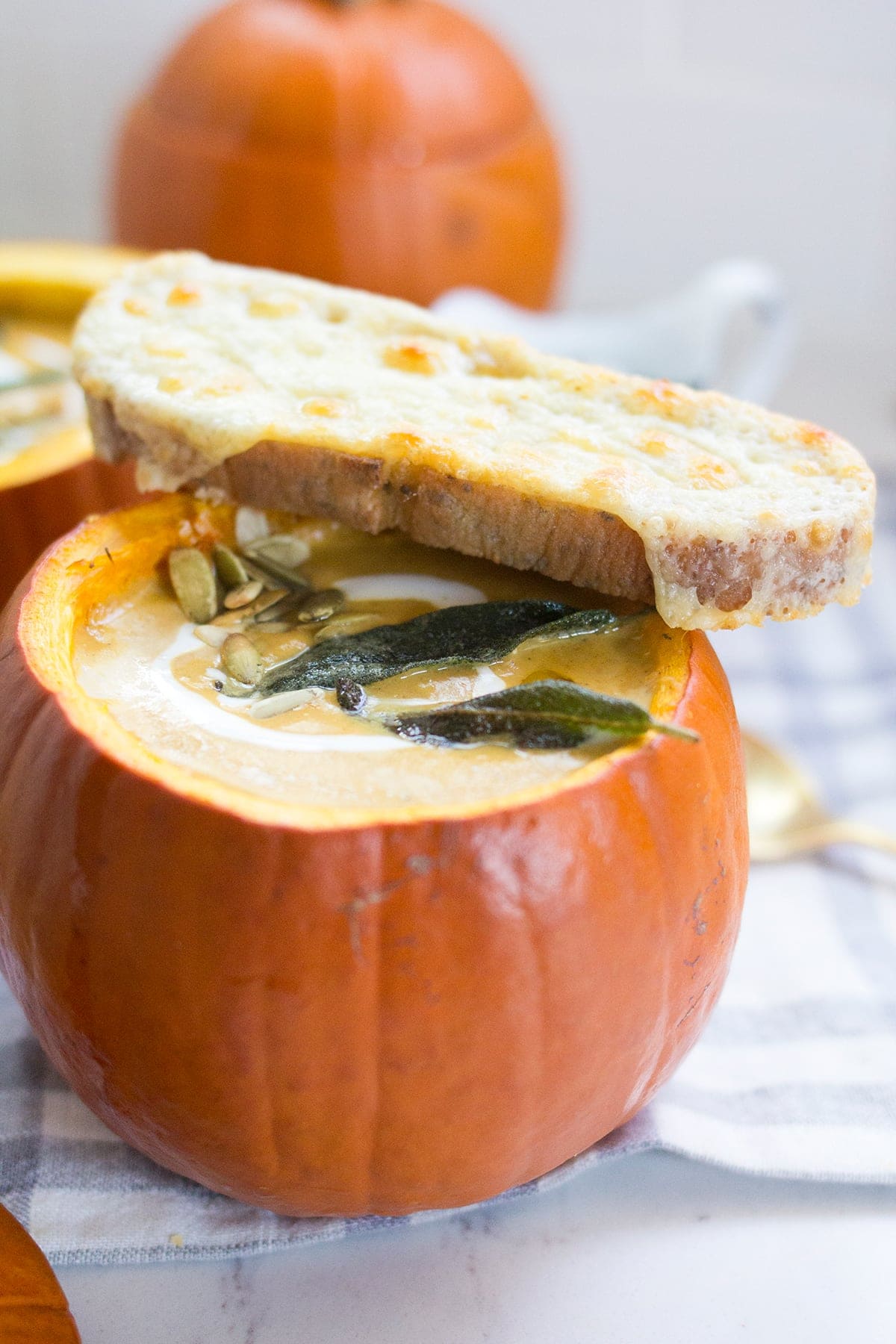 More Soup Recipes to Love!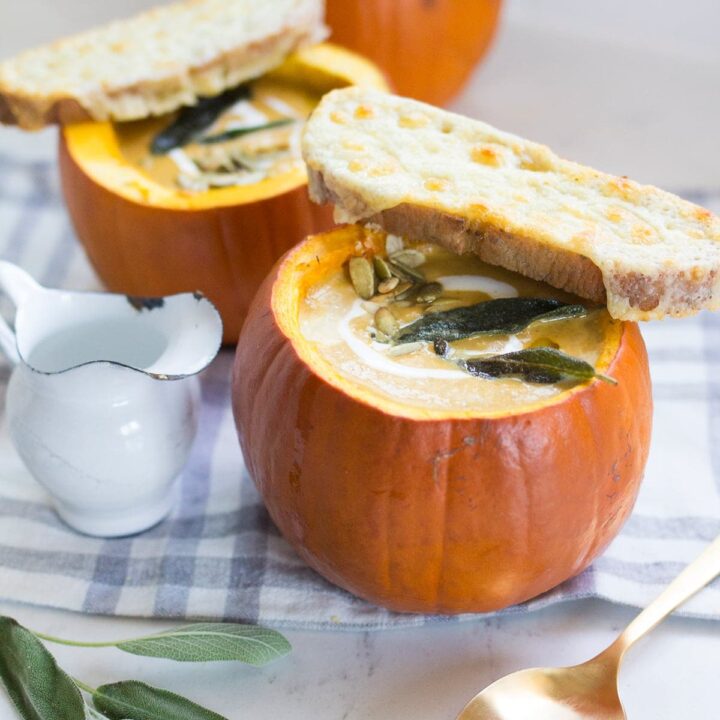 Creamy Pumpkin Soup
This spiced Creamy Pumpkin Soup has all of the flavors of the holidays from cinnamon and nutmeg to ginger and sage and is served in a roasted pumpkin bowl.
Ingredients
8 tablespoons salted butter
1 cup small diced yellow onion
⅔ cup small diced carrot
⅔ cup small diced celery
4 teaspoons finely chopped fresh sage leaves
2 teaspoons ground cinnamon
1 ½ teaspoon ground ginger
½ teaspoon nutmeg
2 cloves minced garlic
1 cup half-and-half
1 cup sour cream
4 cups reduced-sodium chicken broth
2 cups water
2 (15-ounce) can pumpkin puree
⅓ cup firmly packed dark brown sugar
3 teaspoon salt
1 teaspoon freshly ground black pepper
6-8 small pie pumpkins
olive oil for roasting
pumpkin seeds, for garnish
fried sage leaves, for garnish
Cheesy Dippers:
Ciabatta loaf sliced in ½" slices
White cheddar cheese, sliced
Salted butter
Instructions
Preheat oven to 400 degrees. Cut the tops off of pumpkins and clean out all seeds, scraping clean. Drizzle the inside of pumpkins with olive oil and sprinkle with salt and pepper. Place pumpkins and lids on a rimmed baking sheet and bake 20-25 minutes (depending on the size of your pumpkins) or until soft but not falling apart. They should still be firm enough to transfer and use as bowls.
In a large pot melt butter stirring, add in onions, carrot and celery and cook until veggies are tender. Add in chopped sage, cinnamon, ginger and nutmeg, and garlic and cook an additional minute.
Add in chicken broth, pumpkin puree, half and half, sour cream, brown sugar, salt and pepper. Whisk until well combined. Bring to a boil over medium-low heat, stirring frequently. When the soup starts to thicken reduce the heat to low. Using an immersion blender, puree the soup until smooth. Simmer until ready to serve.
On a baking sheet arrange cut slices of ciabatta and butter liberally. Toast under the broiler for a few minutes until golden and crisp. Top with sliced cheese and return to the broiler until the cheese melts, bubbles and becomes golden. Remove and serve with soup.
To serve: Ladle the soup into roasted pumpkin bowls. Mix a small amount of sour cream with milk or half and half to thin. Drizzle mixture over soup bowls and top with pumpkin seeds and crispy sage leaves fried in butter. Serve with a cheesy dipper.