I have a love-hate relationship with Pinterest. I love it because it inspires me to finally try projects like hand poured soy wax candles on a Sunday afternoon and I hate it because…well, I was pouring soy wax candles on Sunday afternoon. Ha! I'm joking, making Homemade Soy Pumpkin Spice Candles was actually completely easy, and a bit relaxing.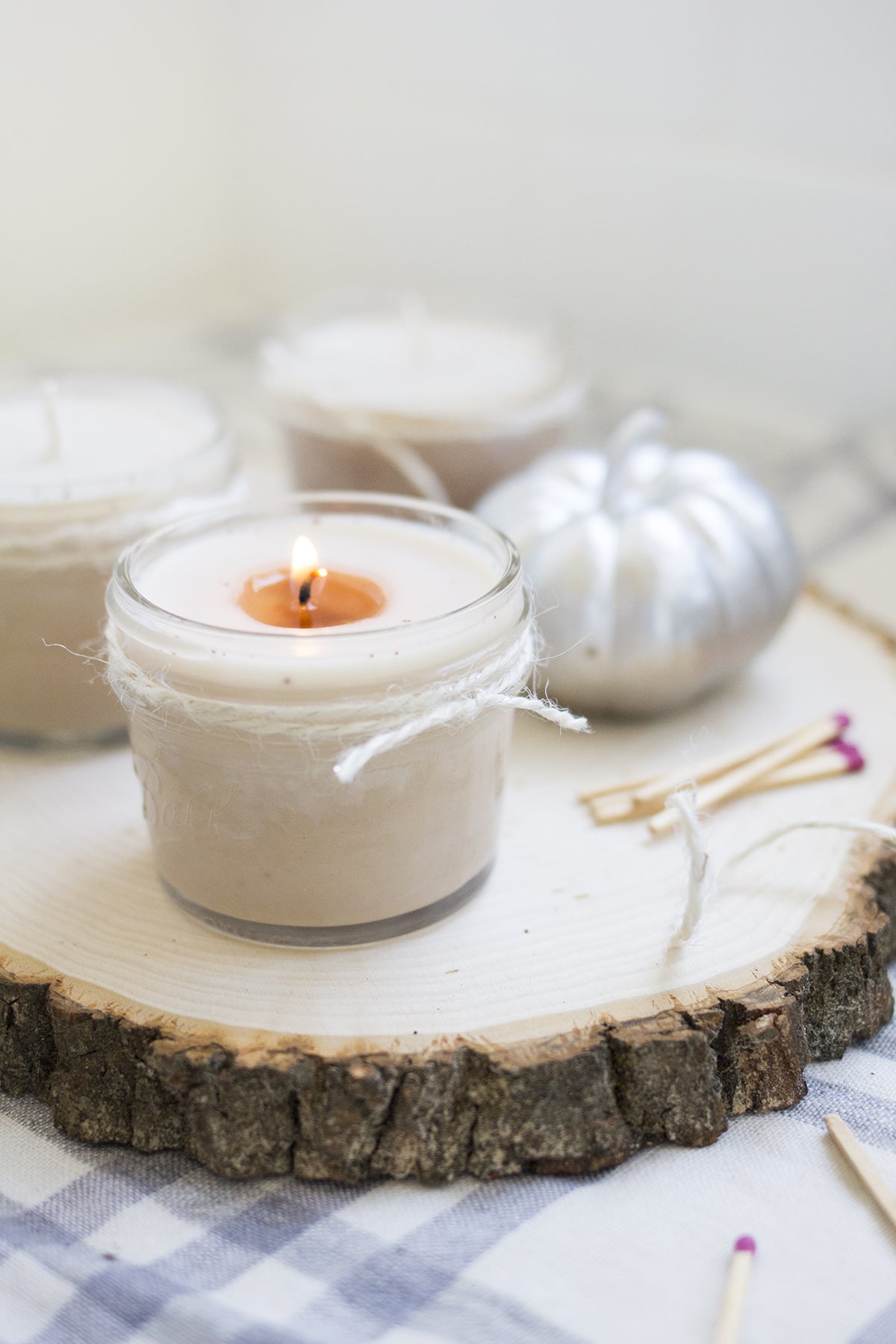 I've spotted how-to's for Pumpkin Spice Candles here, here, & here and loved how simple the steps and ingredients appeared. No artificial fragrance and the soy wax base was easy to find at Michaels, perfect! You know I'm all about a simple diy. I purchased a one pound bag of soy wax flakes and a package of weighted wicks from the craft store, dug out a few small mason jars, cinnamon, nutmeg and of course pumpkin pie spice, and was ready to get melting. Here's how I made them…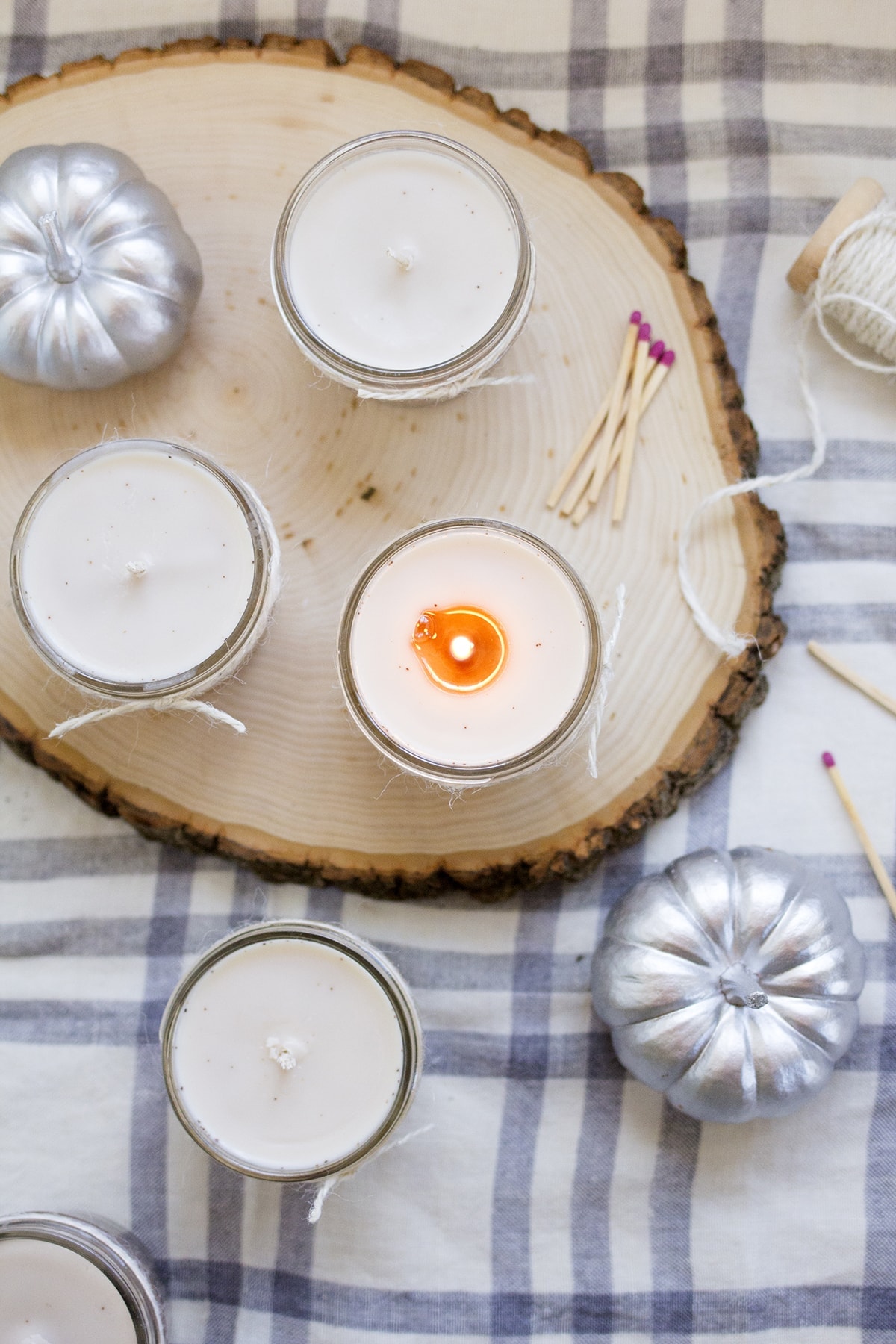 Makes 5 – 4 oz candles
Supplies:
1 lb soy wax flakes (or any candle wax you prefer)
5 (4 oz) canning jars
candle wicks with weighted bottoms
chopsticks or skewers
2 tsp pumpkin pie spice
1 tsp nutmeg
1 tsp cinnamon
pumpkin spice fragrance oil (optional)

Steps:
1. Place soy wax flakes in a heat proof bowl over a pot of simmering water and stir with a heat proof spatula or wooden spoon until fully melted.
2. Once wax is fully melted stir in the spices.
3. Dip end of wicks in melted wax and adhere to the bottom of jars.
4. Stabilize wicks with skewers to keep them centered.
5. Re-stir wax to distribute the spices and carefully pour into jars. (make sure to cover work area first)
6. Double check that all wicks are centered and held in place by skewers and allow to cool completely.
7. Cut wicks, light and enjoy!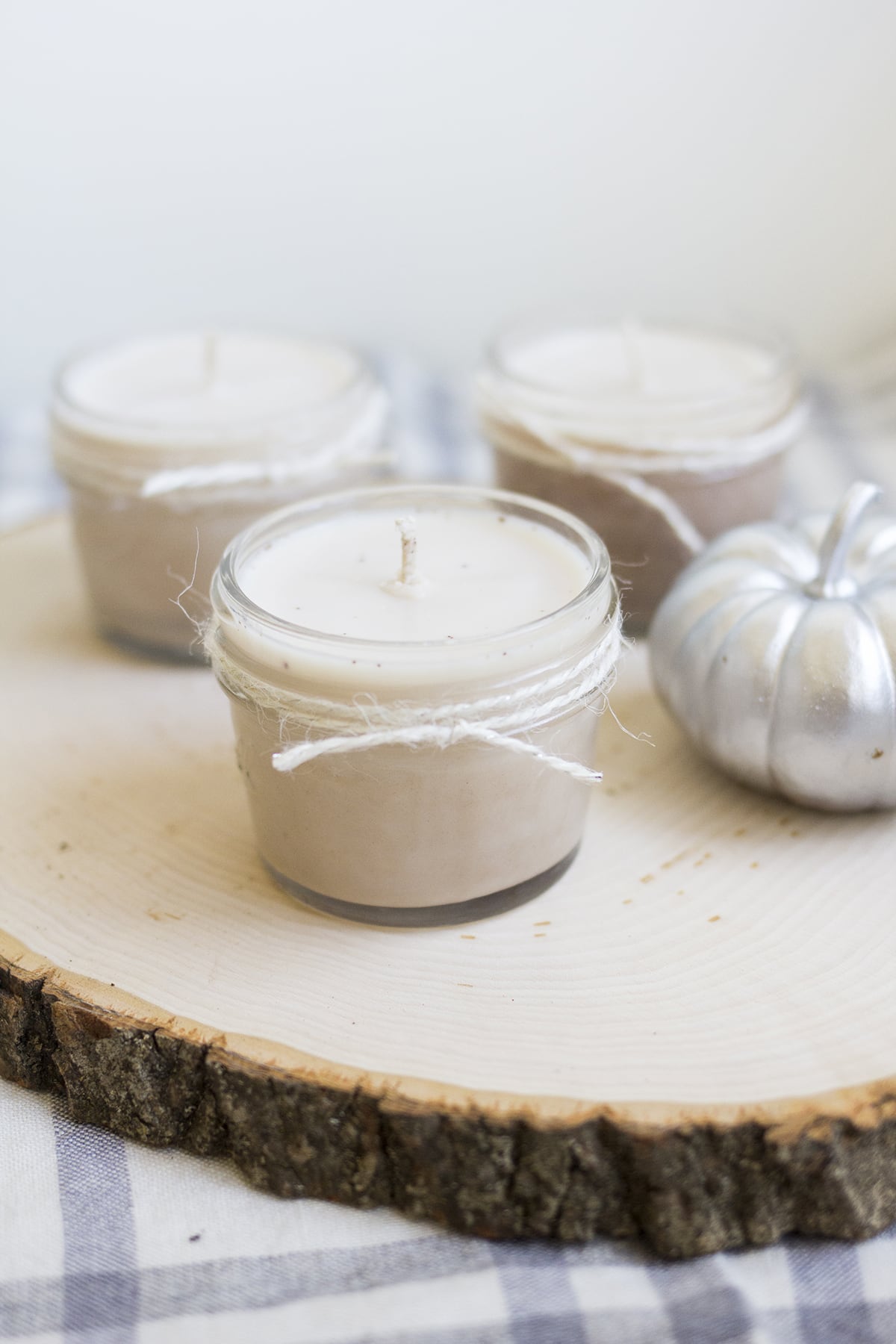 The candles cooled quickly in about 20-30 minutes and I had one made and lit in about 1 hour total. The result was a very mildly spiced candle that smells like nutmeg and a hint of cinnamon. They have a lovely creamy white color with flecks of spice throughout which is really pretty in the tiny mason jars I used.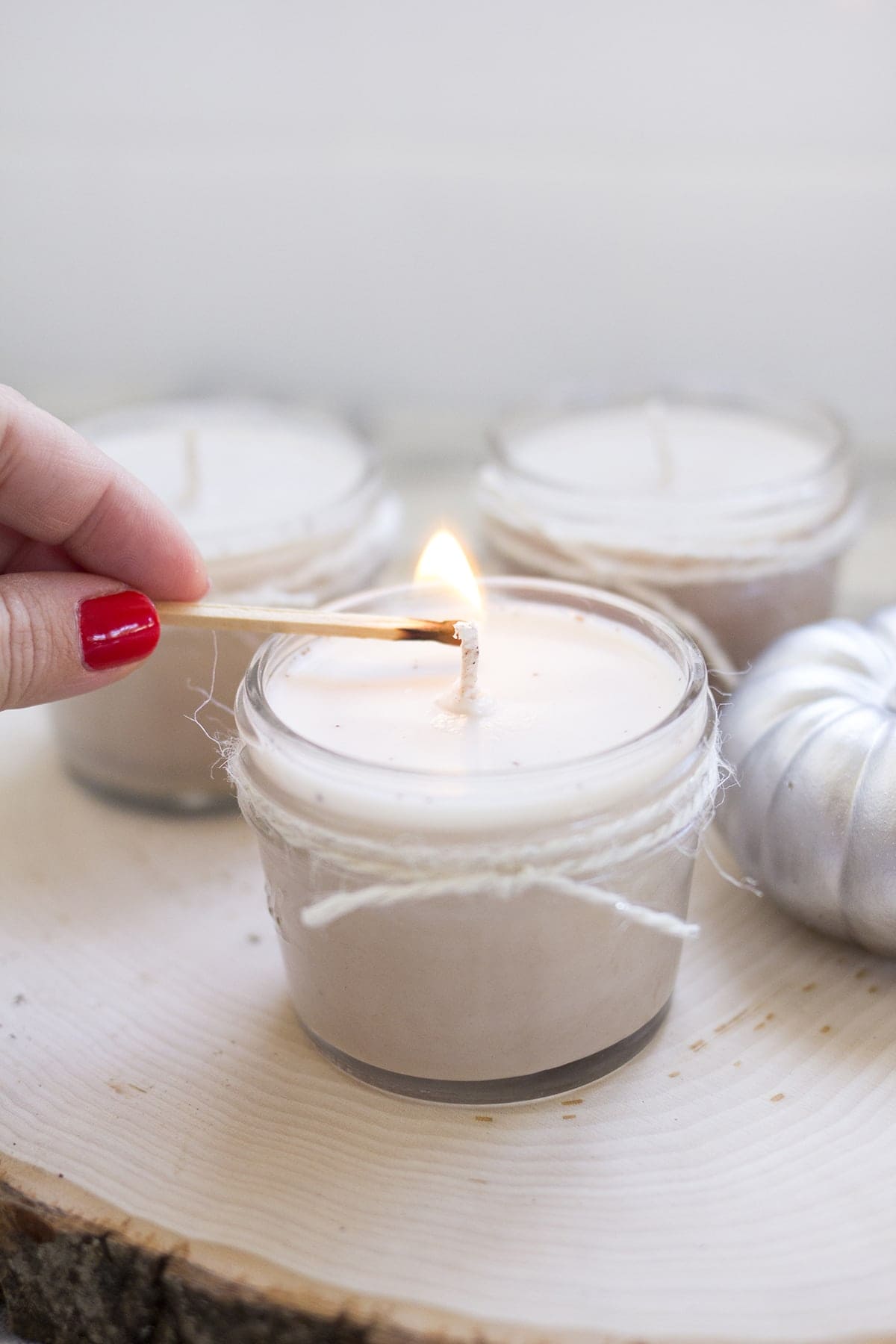 I think next time I might purchase a pumpkin spice fragrance oil for candles to bump up the scent but for now these will create a pretty homemade fall glow around our home. So, have you ever made candles?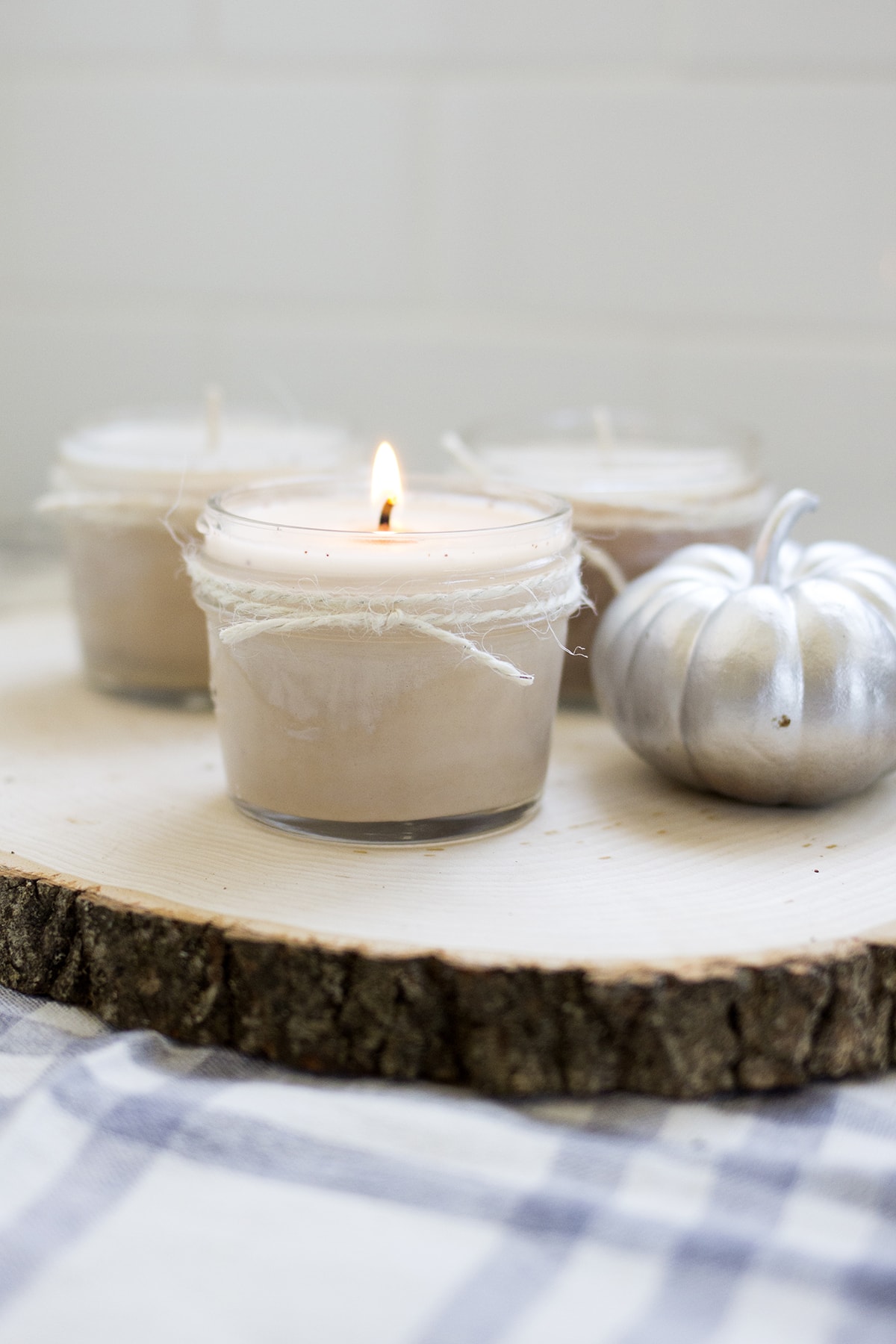 photos by Leah Bergman
Save
Save