Stuck inside and looking of a cute craft to make with your kids? Grab these simple supplies and make handprint fish puppets! The twins had so much fun making these and I love that it starts with their little handprints.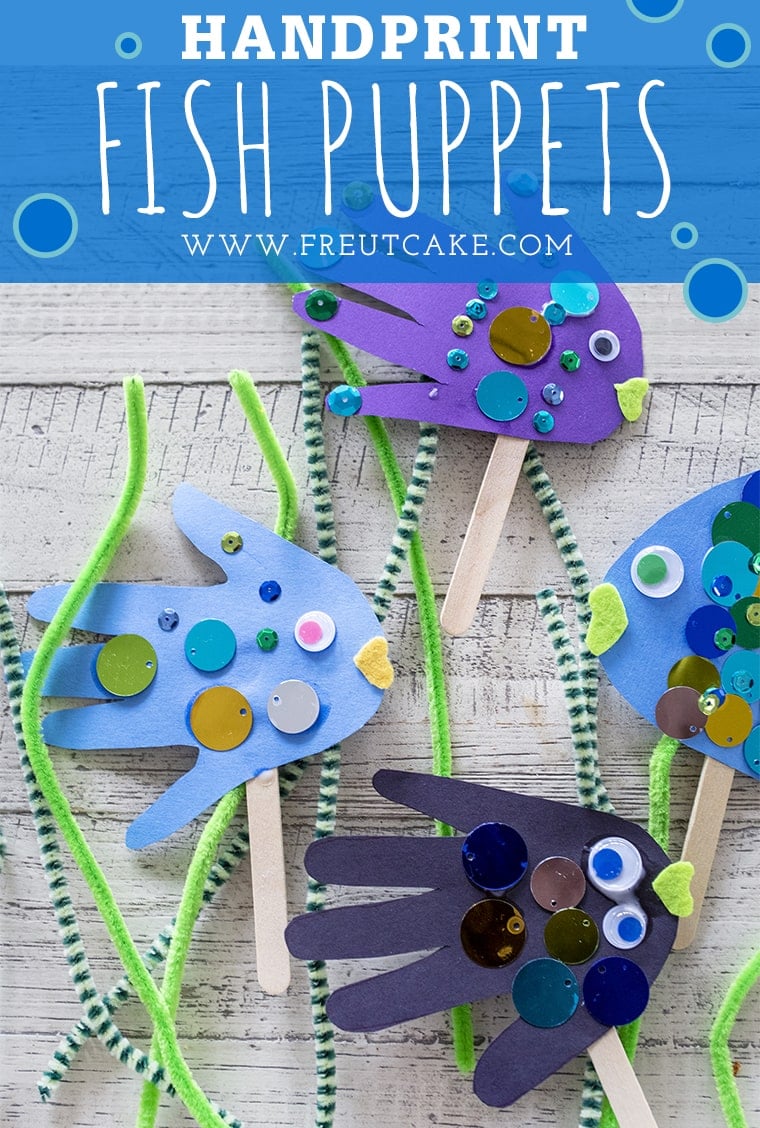 Handprint Fish Puppet Craft For Kids
During times when we are all stuck inside due to a rainy day, or in our current situation a quarantine, Dory's moto from Finding Nemo comes to mind, "Just Keep Swimming!" So, we took Dory's lead and crafted colorful fish puppets to play with.
I absolutely love handprint art for young kids because it captures the smallness of their little hands to remember for years. We made these hand and footprint turkeys for Thanksgiving one year and they are still my favorite.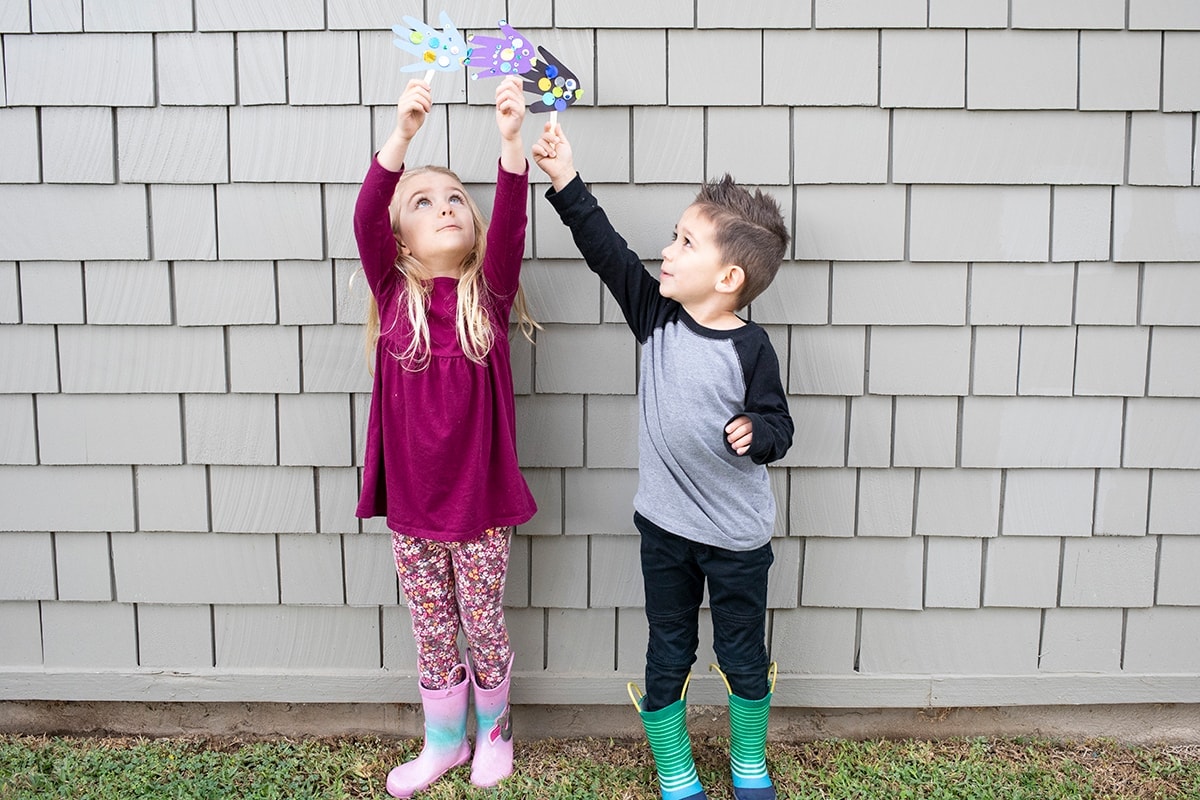 Supplies Needed to Make Fish Puppets
construction paper - fish come in all colors so let your little ones chose what color they would like to use.
popsicle sticks - years ago I bought a pack of popsicle sticks on Amazon and they have come in handy with so many craft projects and recipes.
googly eyes - any color will do but I love having a variety of colors and sizes. They give so much character to any craft. You can get a whole set of them right here!
white glue - we used white school glue for this project.
sequins - you can use any size or color but I found that large flat sequins were easiest for my 4 year old twins. You can find right here.
safety scissors - depending on the age of your child, you can ask them to try cutting out the handprints however this was a bit too difficult for my 4 year olds so I did it for them.
felt - not shown here because I decided to add it later. This is for the kissy fish lips! If you don't have felt you can use more construction paper.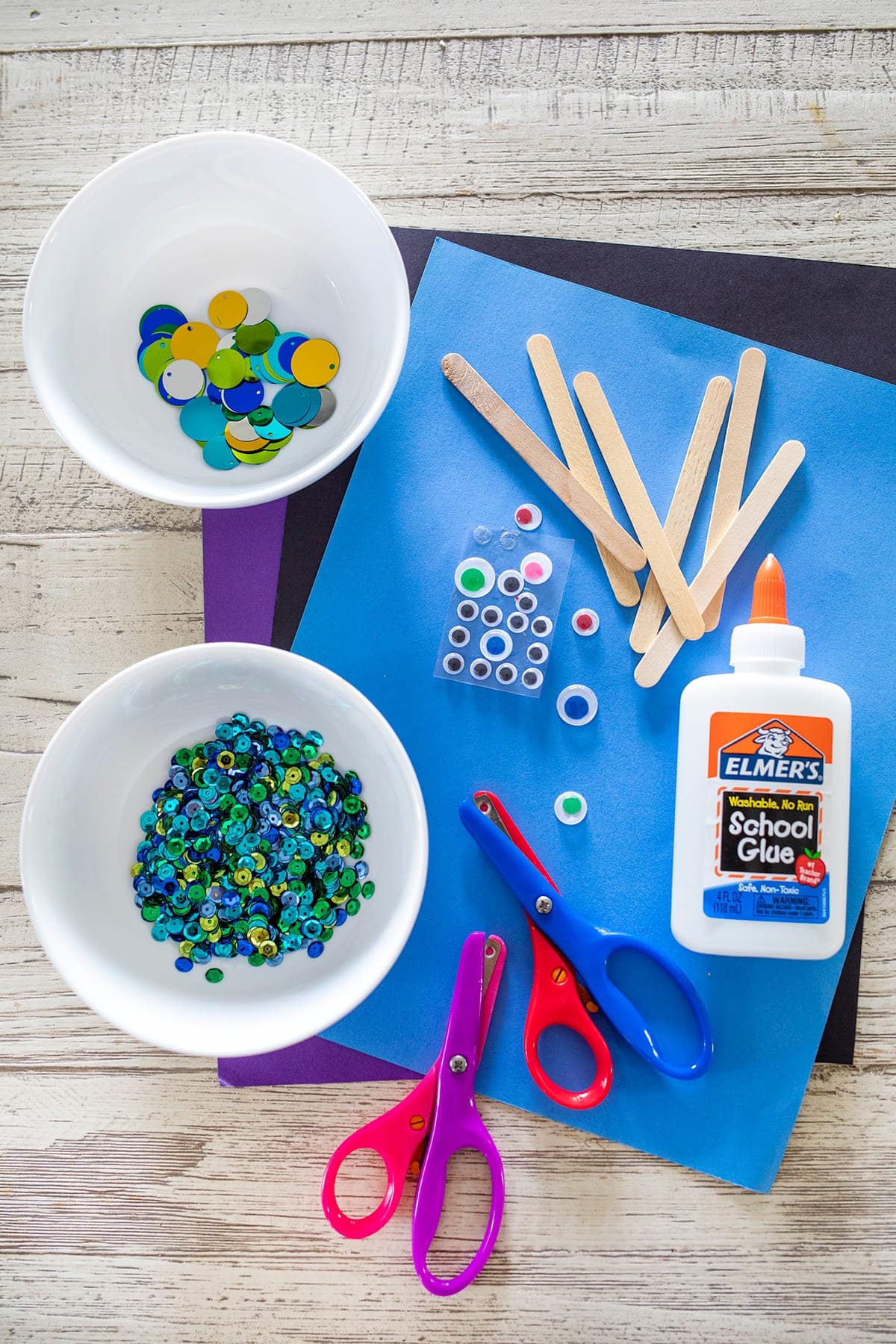 How to Make Hand Fish Puppets
Trace - trace your child's hand on construction paper. We started with fingers together but ended up liking the look of the fish with fingers spread apart. It gives the fish more of a tropical fin look.
Cut - either have your child cut out the shape of their hand or assist them with this step.
Decorate - have your child decorate their fish with sequins for scales, a felt mouth and a googly eye to bring the fish to life. TIP: show your child pictures of colorful fish or fish with lots of scales. Let them interpret that in their own way.
Glue - Once the scales have dried, you can turn the fish over and glue on a popsicle stick.
Dry - Allow fish puppets to dry completely before playing with them.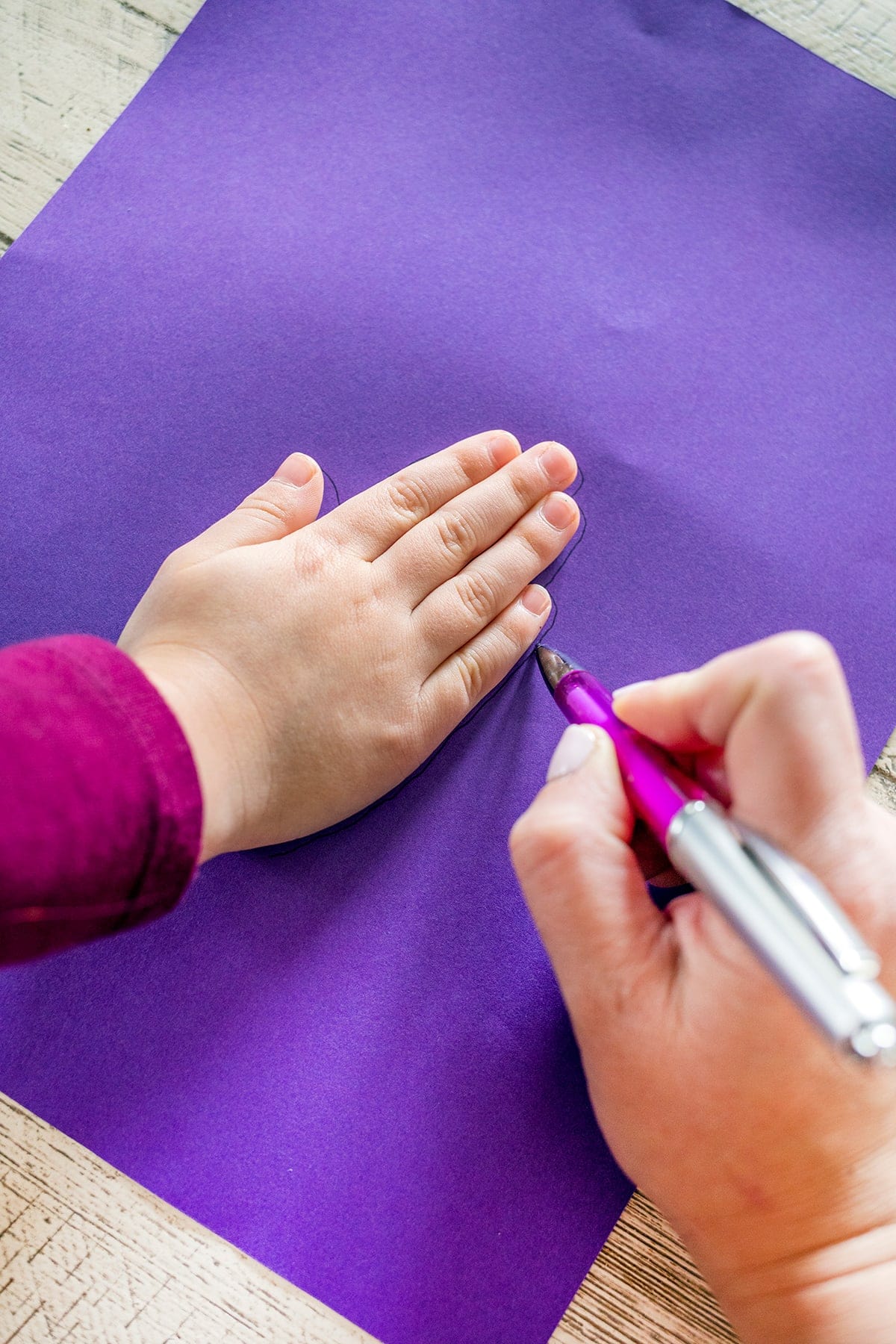 Children's Books about Fish
Reading a book, telling a story, or listening to a song before or after doing a craft is a great way to turn one craft project into an entire themed activity. Here are a few books all about fish: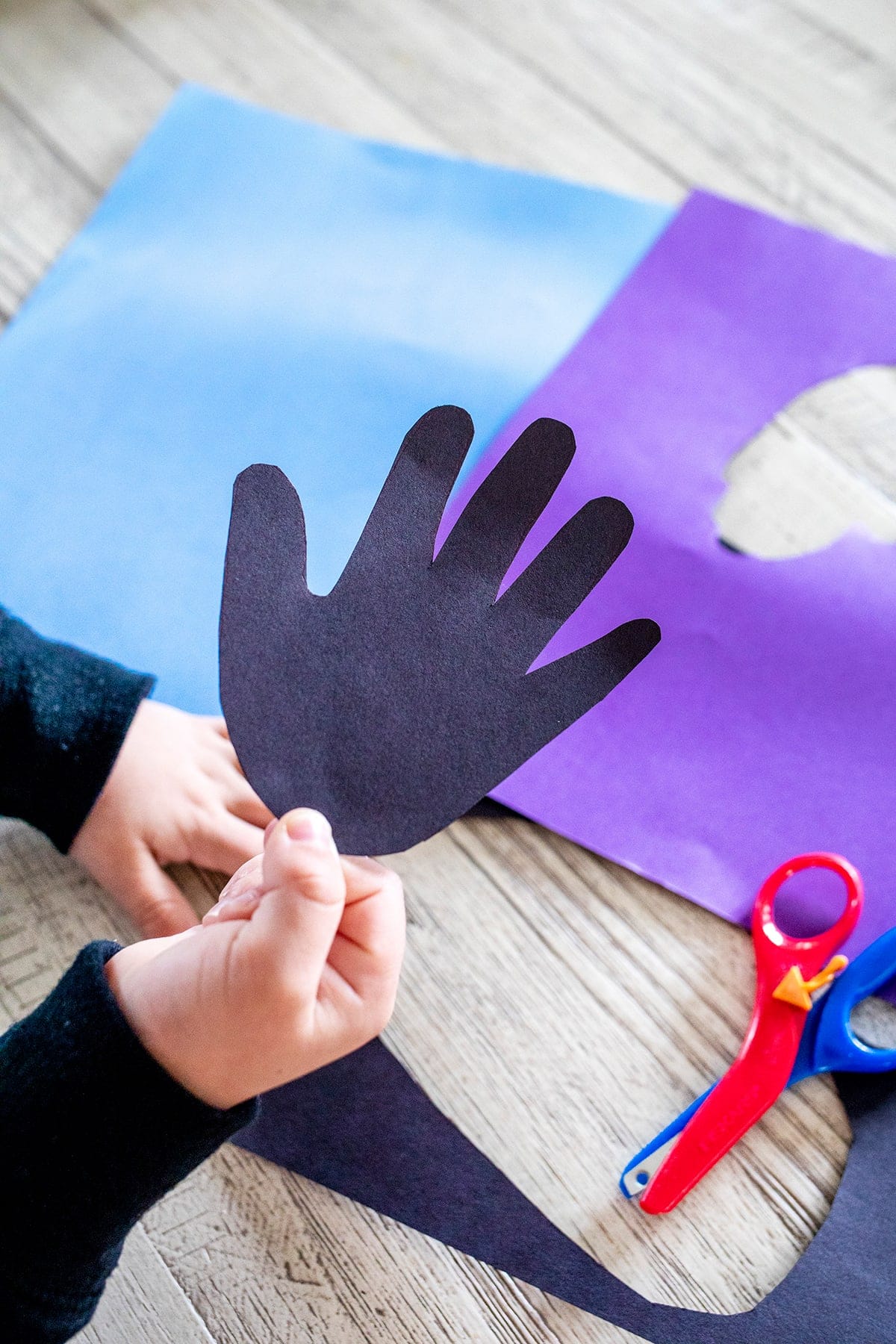 Tips for Crafting with Kids
One of the most important lessons I learned from the twin's Preschool is that the PROCESS is more important than the OUTCOME. This is important to remember and will help with an expectation shift. Here are my tips for crafting with kids:
Have all of the supplies out and ready before calling kids to the table.
Have small supplies like sequins (for example) in little bowls to keep the messes contained.
If you are crafting with more than one child, make sure they each have their own set of supplies if possible. Their own glue bottle etc. unless they are really patient.
More Tips For Crafting with Kids...
Don't show children a picture of what the craft is supposed to "look like" first. Explain it to them and let them use their imaginations. Seeing a finished project can be intimidating as they might feel like it will be too hard to recreate.
DO NOT make the craft yourself. I know that's tough because it's fun to get crafting right along with your kids. I KNOW this from our Preschool teachers but I couldn't resist making my own sparkly fish after the twins made theirs. Millie took one look at mine and said, "Your's is soooo much prettier than mine Mama." I felt completely deflated. Leave the crafting to the kiddos.
Let it be messy! You can always clean afterwards so just relax and let it happen.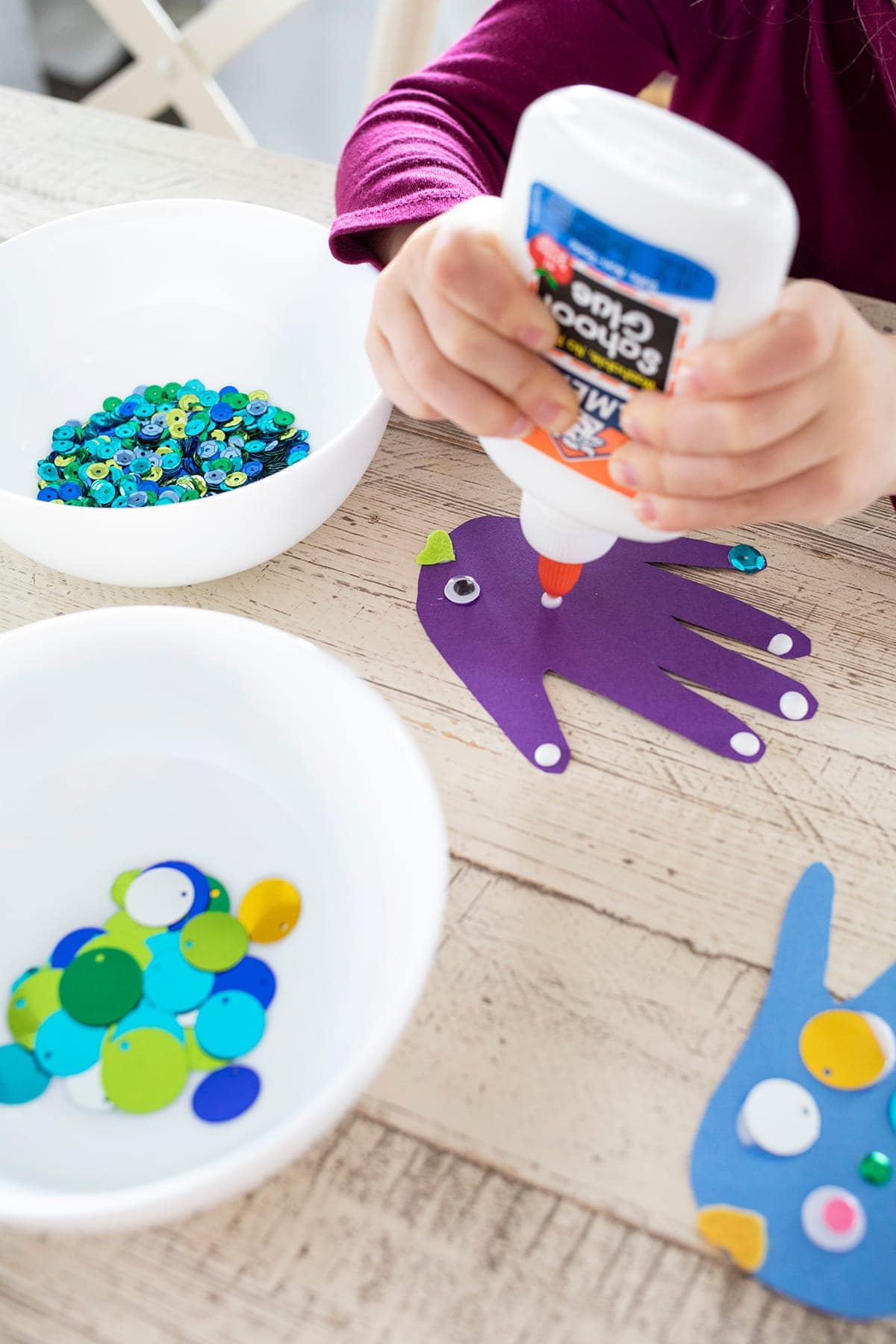 Puppet Playtime
The twins had a hard time waiting for their fish puppets to dry. Once they did we took them out to the yard to "swim." This would also be a cute craft to make if you have a puppet theatre! Have kids put on an underwater show. Now I'm thinking of how we can make other sea creature puppets. Wouldn't a handprint octopus be cute?!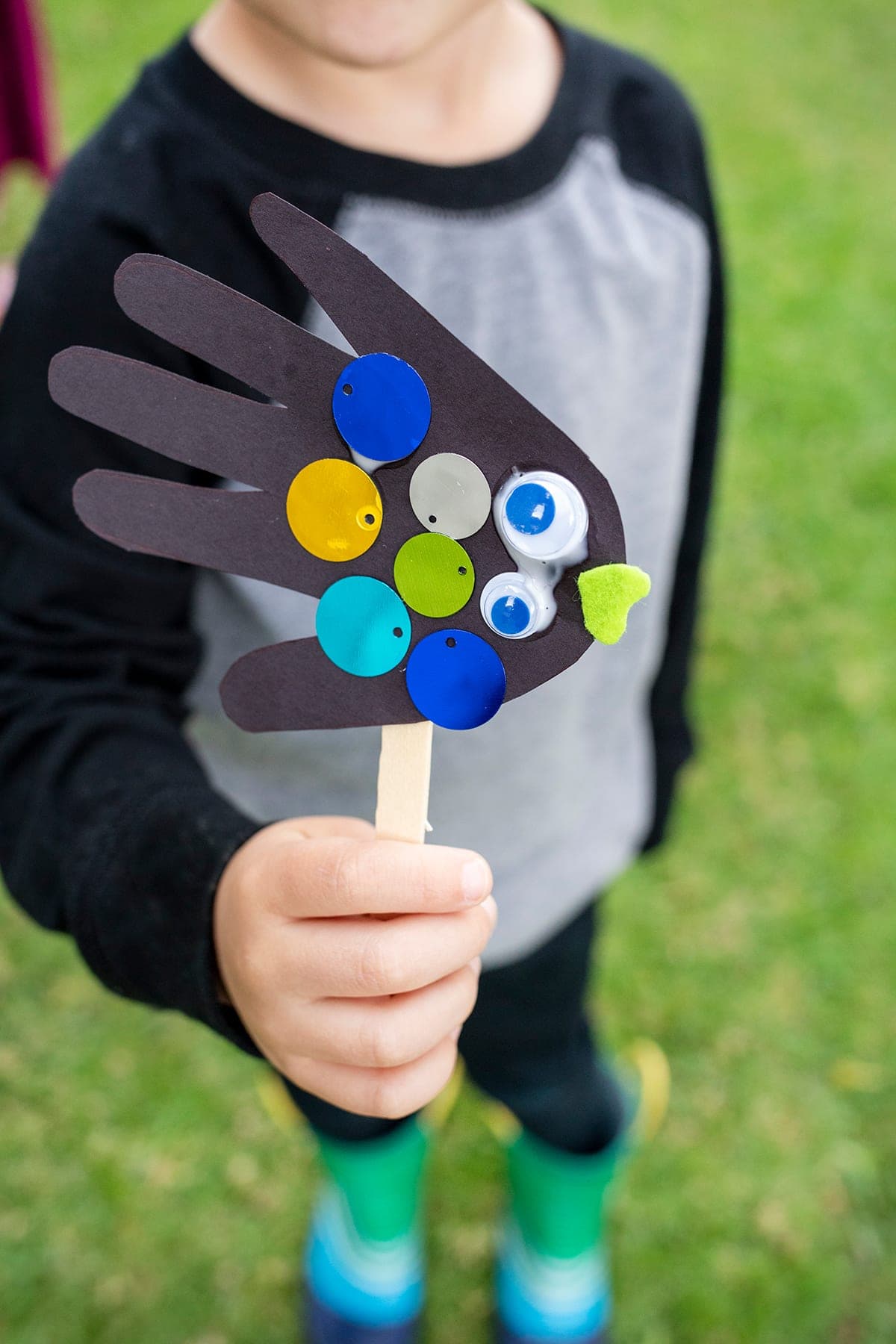 More Crafts for Kids
Looking for more easy craft projects to make with your kids? Here are a few of our favorites!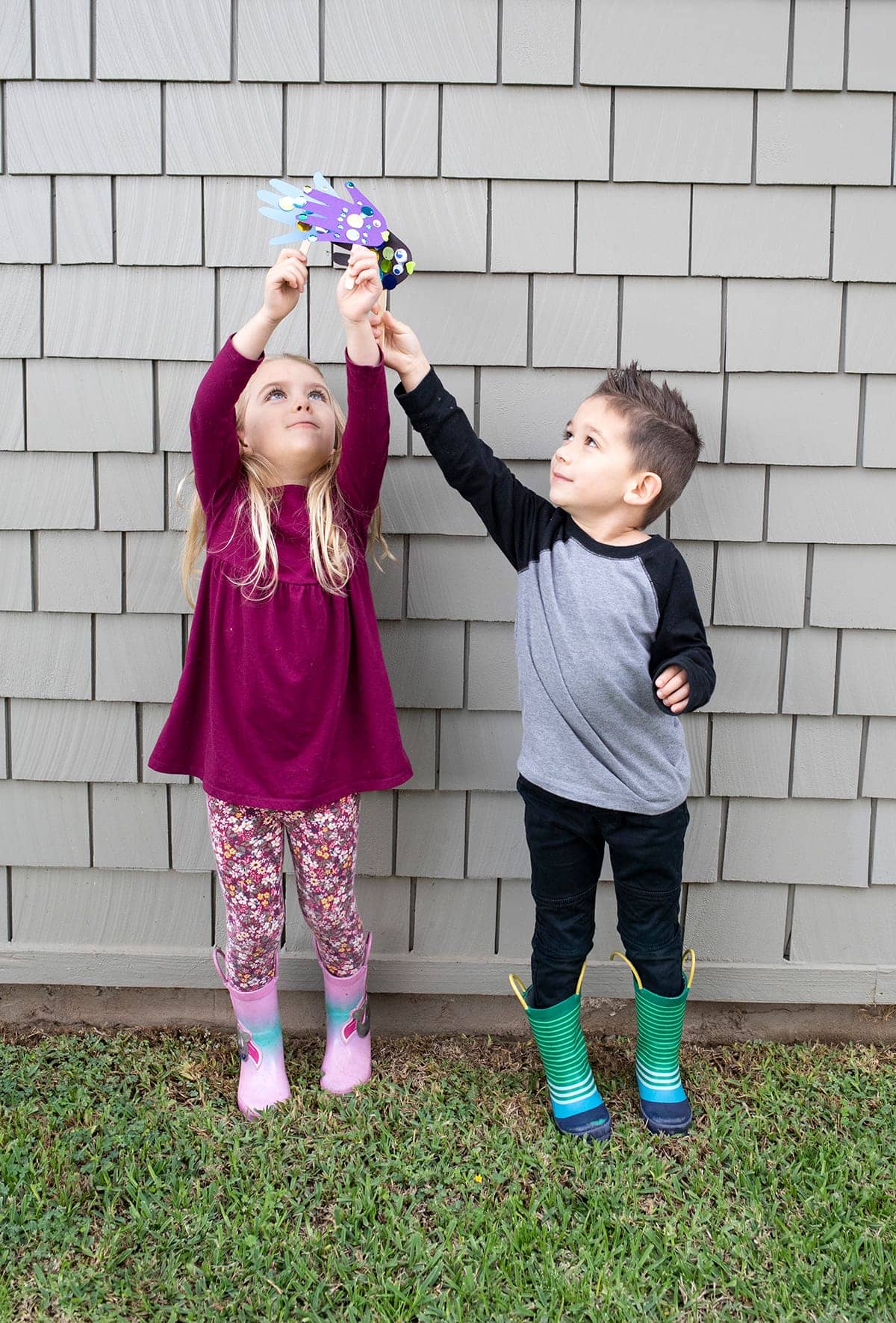 I hope this post will inspire you to get crafting with your kids! If you make our handprint fish puppets, please leave a comment and share on social media tagging @freutcake #freutcake so that I can see your creations! Happy kid crafting.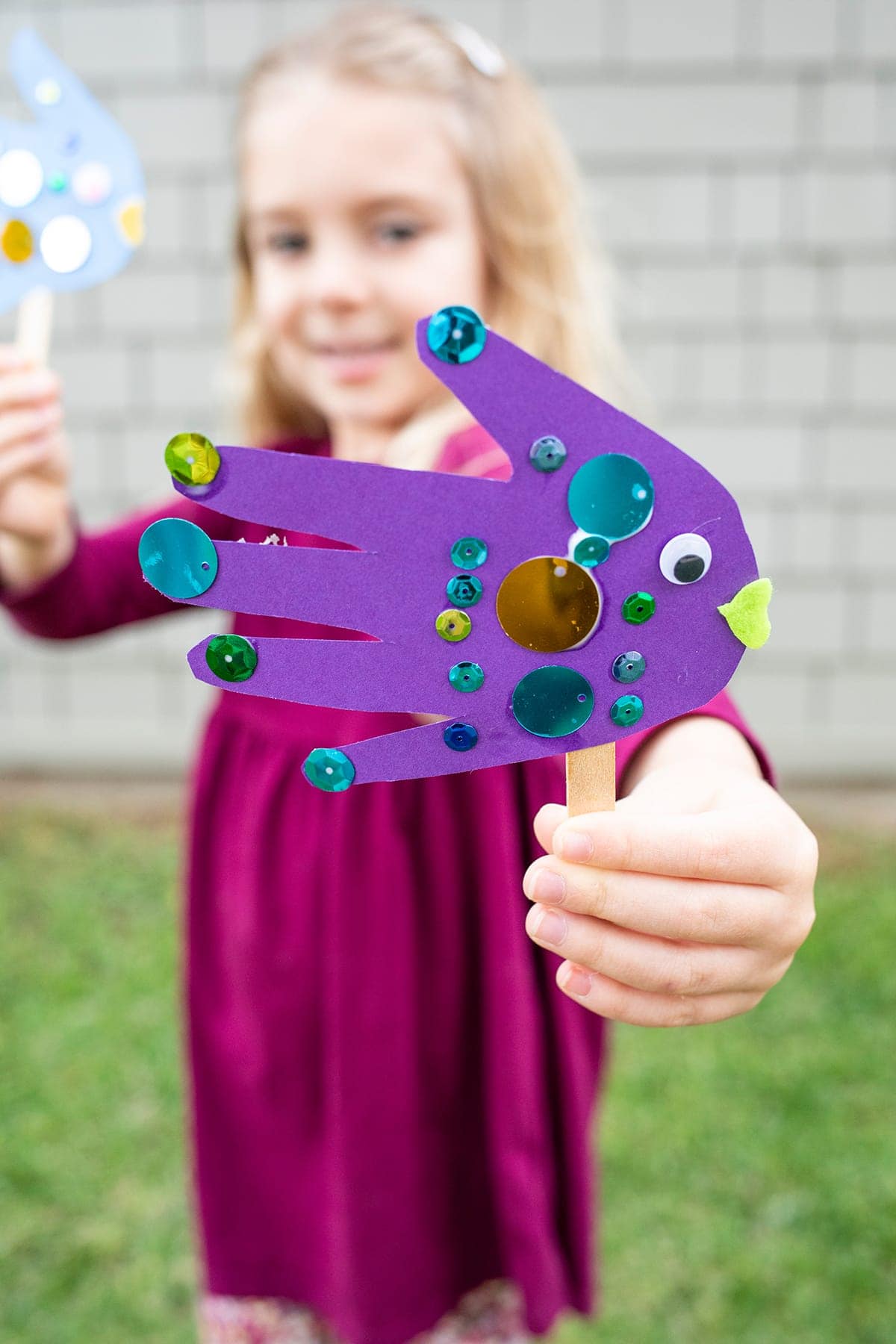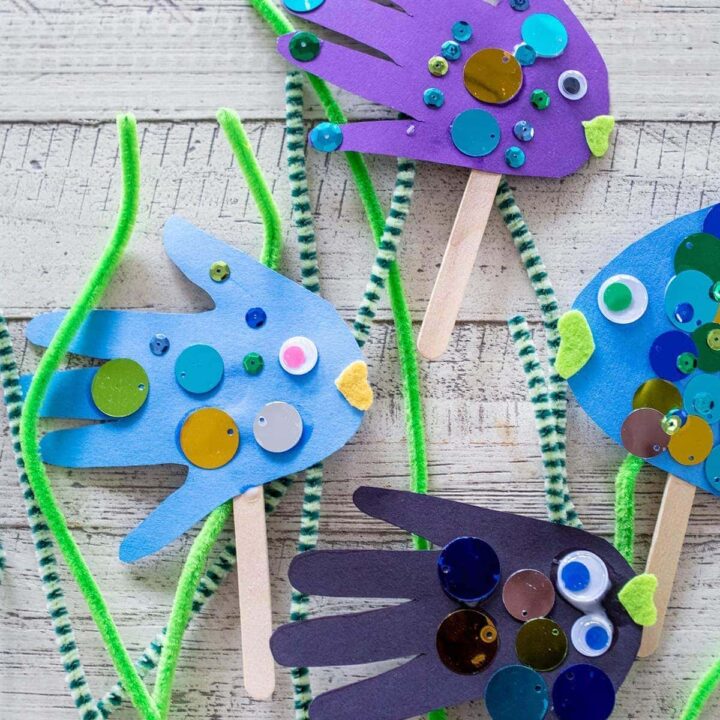 Handprint Fish Puppets
How to turn your child's handprint into a sparkling fish puppet.
Materials
construction paper
popsicle sticks
googly eyes
white glue
sequins
felt (optional for the mouth) or more paper
Tools
safety scissors
pencil or pen
Instructions
Trace the outline of your child's hand on construction paper.
Cut out the shape of the hand.
Have your child decorate their fish using glue and sequins for scales, a felt mouth and a googly eye to bring the fish to life.
Once the fish is dry, turn it over and glue on a popsicle stick handle.
Allow fish puppets to dry completely before playin with them.

Notes
Read blog post for supply sources and tips for crafting with kids!