I love everything beauty. In fact one of my favorite childhood memories is of sitting at our kitchen table with a palette full of Mary Kay makeup samples and my own light-up makeup mirror while my Mom taught her friends and clients how to apply a full face. I can still remember the smell of those Mary Kay lipsticks – although that could be because it was usually smeared all over my face! And so my love for beauty products began.
Over the holidays I posted a short survey asking what topics you would like to see more of here on Freutcake. The response was quite unanimously: more food, diy, and beauty! I so appreciate that feedback and am all too happy to oblige. Just don't be surprised if you find me sitting at the kitchen table with a face smeared in makeup...for blog research of course! Here are just a few of my New Beauty Favorites. What are your?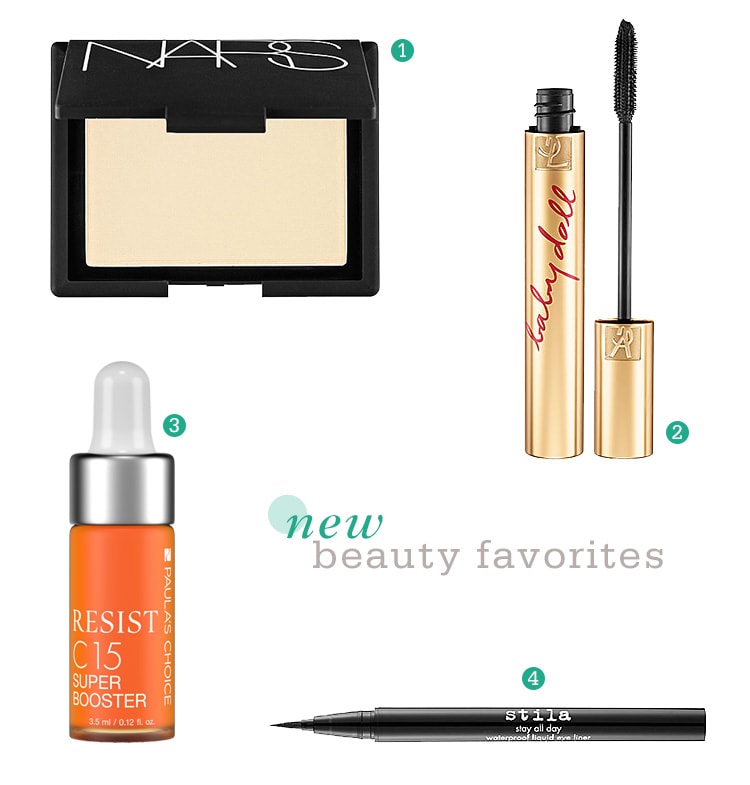 1. NARS, Blush in Albatross - $29
I can't say enough about NARS products and once again I have found a favorite. This "blush" is really more of a highlighter than anything else and gives a beautiful golden, pearly glow to cheek and brow bones. It's absolutely flawless and gives my skin a soft-dreamy quality.
2. Yves Saint Laurent Mascara Volume Effet Faux Cils Babydoll - $30. I sort of cringe at the price of this mascara but can honestly say that it's the best I've ever tried. If you are looking for a splurge worthy product then I highly recommend this one. Plus it has a skinny little applicator brush that does amazing work at defining and plumping up lashes. I love a full, thick lash and this mascara does just the trick.
3. Paula's Choice, Resist C15 Super Booster- $38.25
I recently started using this vitamin C serum after a rave review from one of my girlfriends. I love vitamin C serums for fading pigmentation, fighting wrinkles, and all around boosting the appearance of my skin but they can be really expensive! So far I like this product because it's gentle on sensitive skin and fragrance free. Plus, in the world of overpriced serums, this product is a steal. Bonus: Paula's Choice also sells sample sized bottles of this serum for just $7.65 so try it out first!
4. Stila, Stay All Day Waterproof Liquid Eye Liner in Jet Black- $20
I love, love, love this liquid eyeliner and want to kiss Stila on the face for creating it. It's so easy to achieve the perfect little cat eye with the soft flexible tip. Plus the liner stays all day without smudging but still comes off easily with my face wash. I call that eyeliner perfection!