A couple of weeks back I had the pleasure of attending the Target launch party for the new line of premium skin care products now carried in Target stores. I had no idea that I would be gifted with so many amazing products, but was thrilled to have the opportunity to try them out for myself. I am very particular about my sensitive skin, as you know, but like a good sport I gave them a try and found a few from the bunch that have become new favorites for Summer. Have you used any of these lines?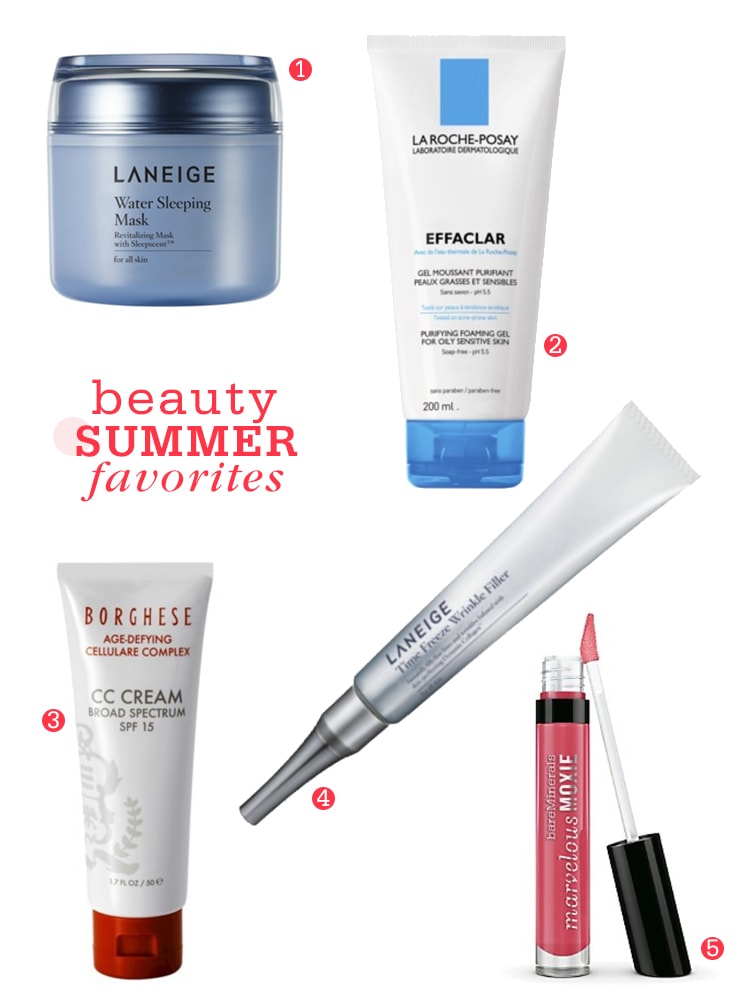 1. Laneige Water Sleeping Mask - $23
I love the smell of this stuff! It's a cooling and relaxing creamy blue gel mask that you leave on overnight in place of moisturizer for a once a week moisture boost. While it's not over-the-top moisturizing, it's perfect for my sensitive combination skin.
2. La Roche Posay Effaclar Purifying Foaming Gel Cleanser  - $19.49
I was pretty set on my cleanser, which I still love by the way, until I tried this one! This cleanser is a ultra foamy gel that is completely gentle but takes off eye makeup like a charm. The scent is ultra floral-fresh which at first was a bit much for me. Now that I've experienced how gentle it is, and not at all irritating, I actually like the smell. Definitely one of my all-time favorite cleansers.
3. Borghese Age-Defying Cellulare Complex CC Cream Broad Spectrum SPF 15 - $23
The truth is, this is my first ever CC cream! So with that being said I can't compare it to others on the market but I can say I really like this product. The smell is not so great but I like the sparkly tint and SPF. It's perfect for wearing sans foundation to the pool but still light enough to use as a moisturizer under your foundation for daytime.
4. Laneige Time Freeze Wrinkle Filler - $40
Well maybe it's the genius packaging that sort of resembles a needle, but I adore this wrinkle filler. It's super thick but goes on really smoothly. I like to wear it under my foundation in the daytime as it does in-fact fill in the wrinkles nicely! We shall see if it has longer, more lasting effects after using it a bit longer. So far, so great!
5. Bare Minerals Marvelous Moxie Lipgloss, Hot Shot - $18
Sadly, this product is not available at Target but I had to include it in my Summer Favorites! For the last couple of months this has been my go-to lipgloss every day. I actually need to re-order as I am almost completely out. This gloss is thick and ultra shiny with a lovely vanilla-mint scent. Plus it lasts for hours which is the ultimate test. Next time, I'm getting two.
Note: This is not a sponsored post however these products were gifted to me. All opinions are my own and I genuinely like and use these products. I hope you enjoy them as much as I do!