This year for Valentine's Day I'm turning a favorite drinks—the Manhattan Cocktail—into homemade truffles, spiked with all of the classic cocktail ingredients.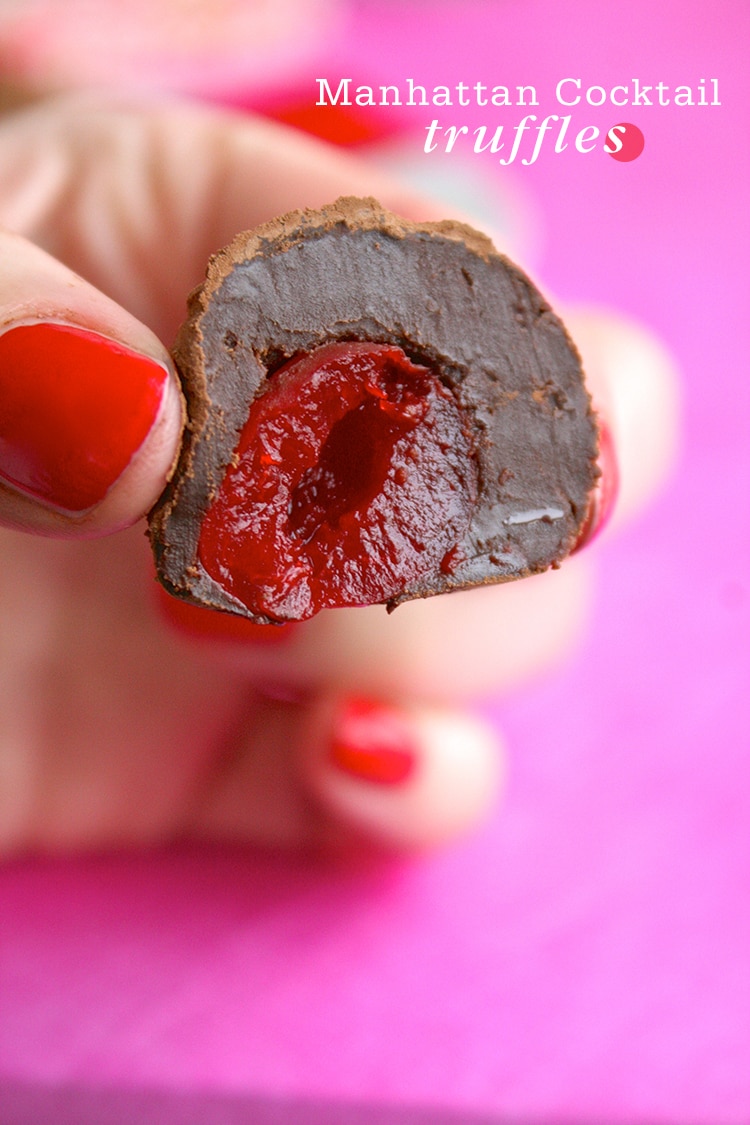 The Manhattan Cocktail
Historians can't seem to come to a consensus on the origin of the Manhattan Cocktail but the components have endured over the years: rye whiskey, sweet vermouth, few dashes of angostura bitters, and a lemon twist...modern bartenders often use an orange twist and drop a maraschino cherry (or two) in there, as well!
We are taking all of those classic flavors and rolling them up into a bite sized chocolate that you can make with just a handful of ingredients.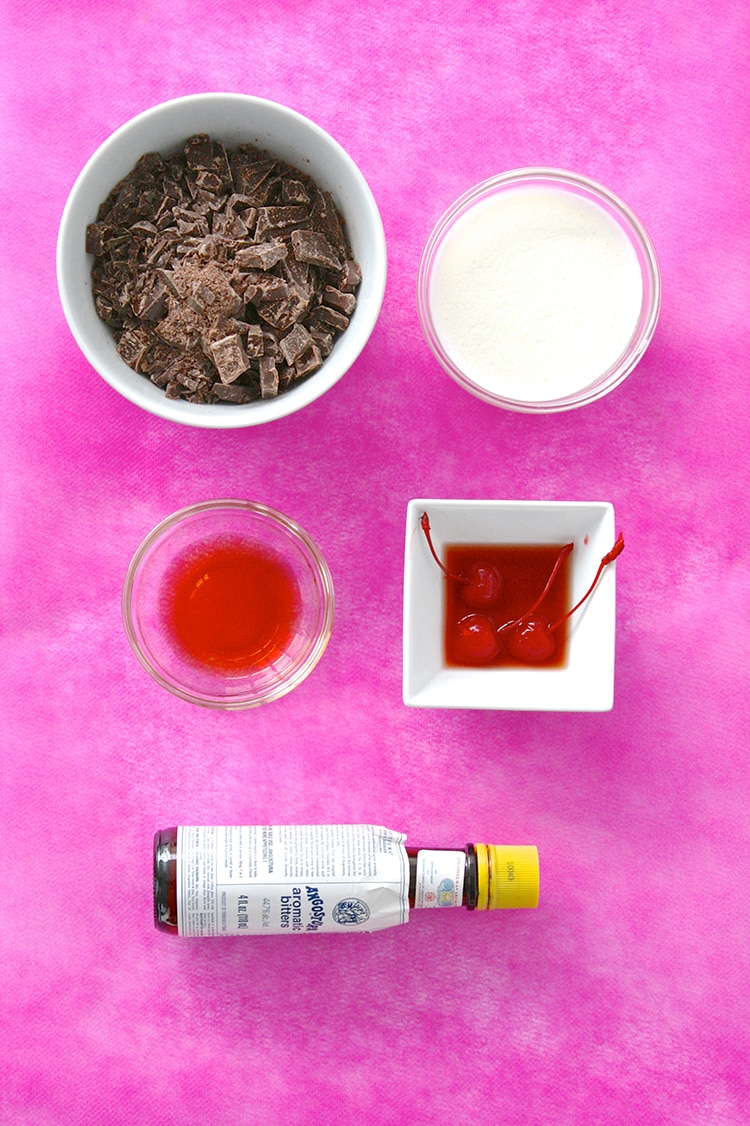 Ingredients in a Manhattan Cocktail Truffle
Chocolate - for these truffles I recommend bittersweet chocolate.
Heavy cream - this is what makes the ganache or truffle batter.
Rye whiskey - classic in a Manhattan cocktail recipe.
Angostura bitters - another must have ingredient in this cocktail.
Sweet Vermouth - another Manhattan cocktail ingredient.
Maraschino cherries - for the center.
Cocoa powder - for dusting.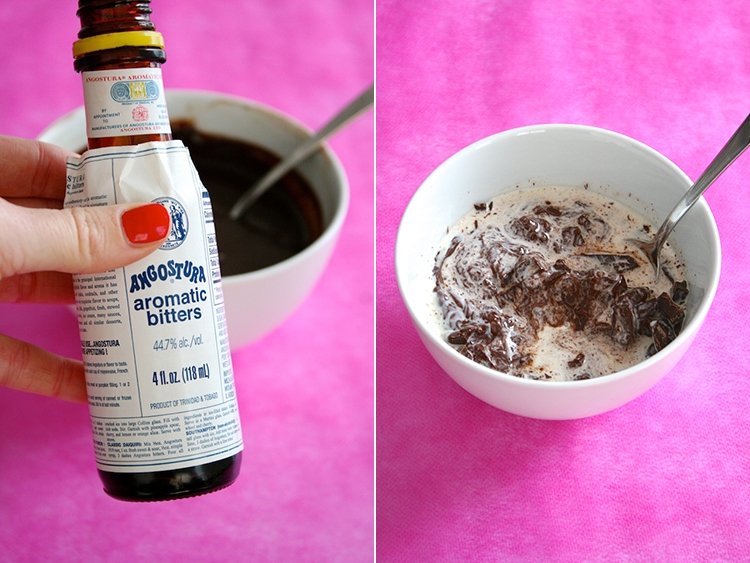 How to Make a Manhattan Cocktail Truffle
To keep this recipe super-simple, I used the microwave to heat up heavy cream for the ganache (just the fancy/technical way of saying "truffle batter"). When you pour the hot cream over the chopped chocolate, the chocolate melts into a smooth, shiny base.
Got lumps? No problem! Just pop the mixture back in the microwave for about 30 seconds until it's totally melted.
After the truffles are formed, roll them in cocoa powder for a polished look. Feeling even fancier? Cover the truffles with melted dark chocolate, sprinkle with sanding sugar, nonpareils or edible gold leaf and refrigerate until set.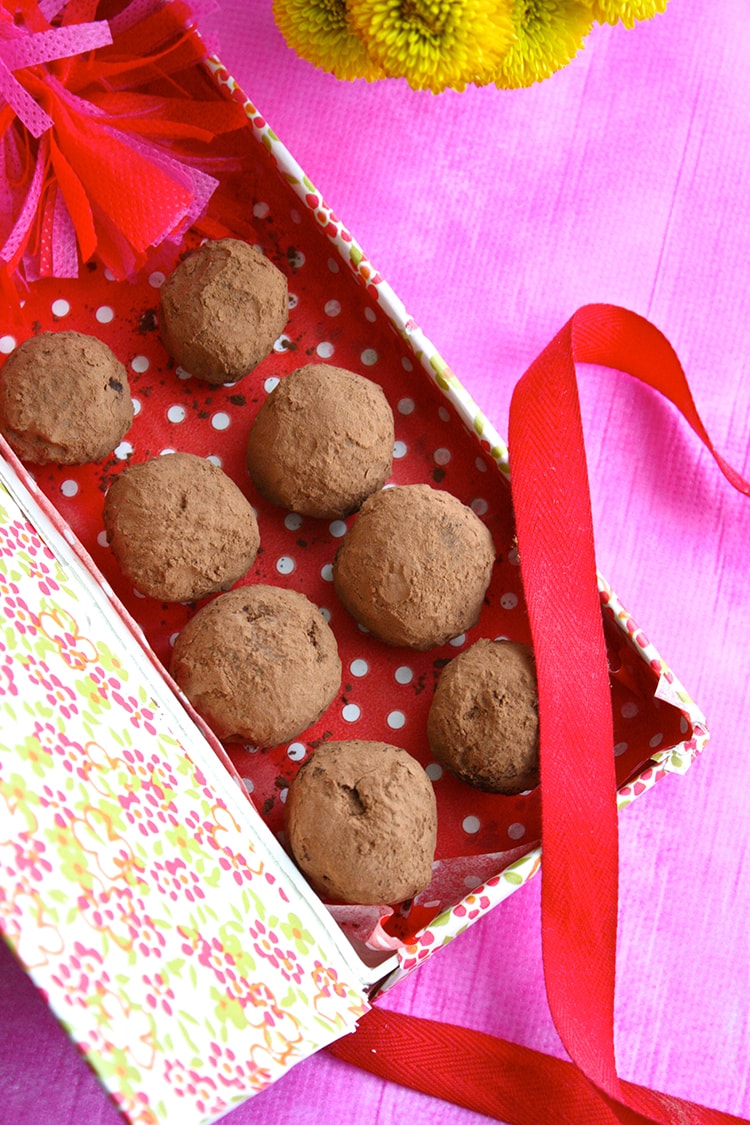 More Decadent Chocolate Recipes: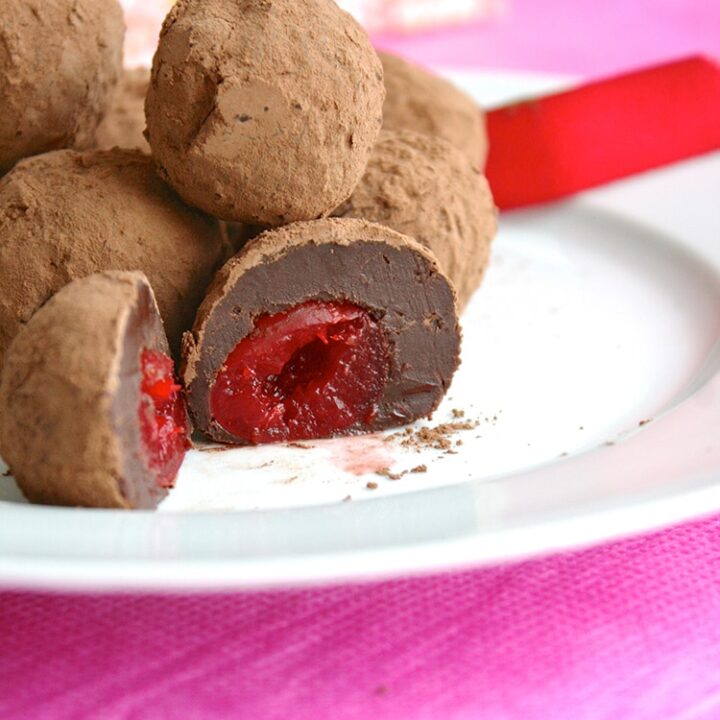 Manhattan Cocktail Truffles
Total Time:
2 hours
17 minutes
Boozy Manhattan Cocktail Soaked Chocolate Truffles with a cherry center.
Ingredients
8 ounces bittersweet chocolate, chopped

½ cup heavy cream

3 tablespoons rye whiskey

6 dashes angostura bitters
1 tablespoon, plus 2 teaspoons sweet vermouth

18 to 20 maraschino cherries, stems removed

Cocoa powder, for dusting
Instructions
Place the chocolate in a microwave-safe bowl.
Add the heavy cream to another microwave-safe bowl and microwave on High until boiling, about 2 minutes.
Pour over the chocolate; let side 5 minutes, then stir until melted. (Still lumpy? Microwave 30 more seconds until chocolate melts completely).
Stir in 1 tablespoon rye, 2 teaspoons sweet vermouth and 3 dashes angostura bitters. Cover and refrigerate 1 hour.
Meanwhile, put the remaining 2 tablespoons rye, 1 tablespoon sweet vermouth, 3 dashes angostura bitters, and maraschino cherries in a small bowl. Let soak 1 hour; drain and pat dry.
For each truffle, mold a small spoonful of chocolate mixture around 1 cherry, smoothing to cover completely; roll between your hands to form a ball.
Roll in cocoa powder. Refrigerate 1 hour or until ready to package and serve.
Notes
If you would rather use the stovetop you can heat the cream until it comes to a simmer in a small pot before pouring over the chocolate.
Nutrition Information:
Yield:

10
Serving Size:

1
Amount Per Serving:
Calories:

219
Total Fat:

16g
Saturated Fat:

10g
Trans Fat:

0g
Unsaturated Fat:

5g
Cholesterol:

14mg
Sodium:

14mg
Carbohydrates:

12g
Fiber:

4g
Sugar:

5g
Protein:

4g