When we first decided to buy our house, the bathroom was the room that kept me up at night. It was scary...scary and small and dark and just down right yucky. It needed a whole lot of love, and work!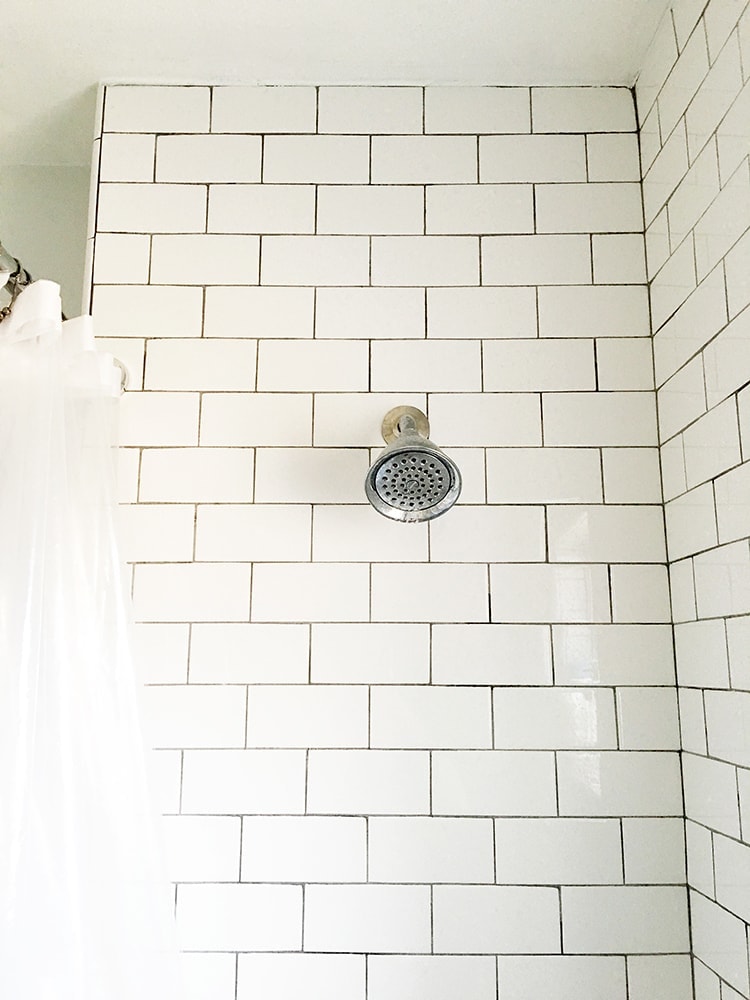 It was basically a total gut job from the walls to the floor, the sink and toilet, and all of the fixtures. The only thing that was semi-salvageable was the bathtub which was in good enough condition to have re-surfaced. I believe my exact words (before the re-surfacing) were, "I'm not bathing babies in that tub!" Yup, it was a mess. But for the sake of a good before and after (and a bit of shock value) here is a look at the bathroom BEFORE we renovated.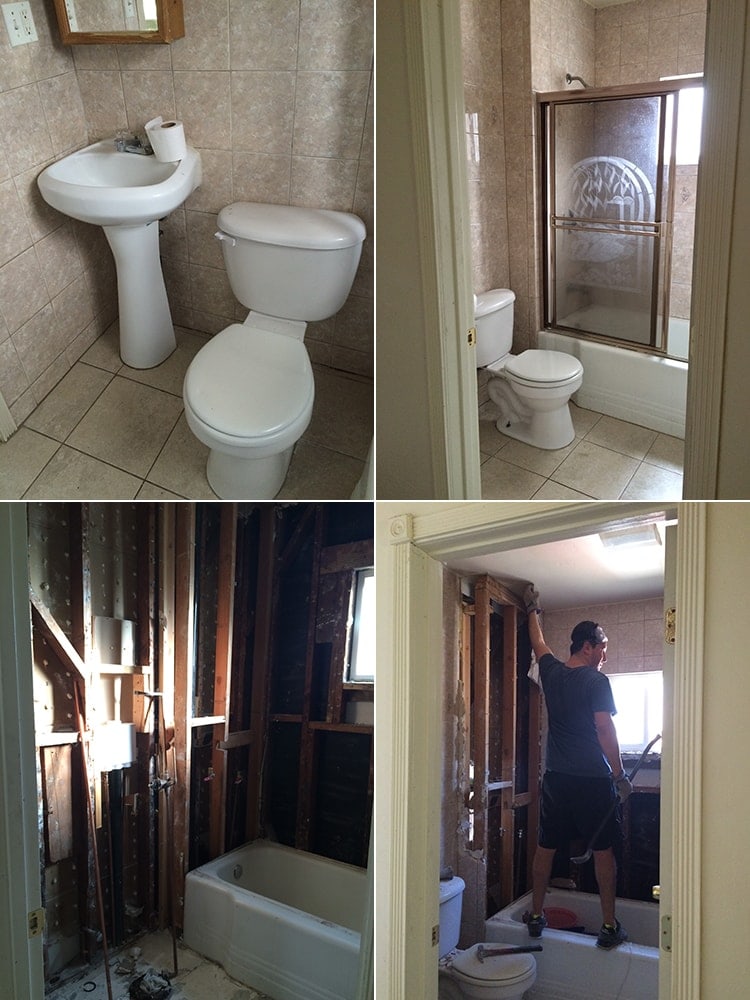 Floor to ceiling mauve tile, a sad little pedestal sink and an etched glass shower enclosure straight out of the 1980's all had to go. We chose simple white subway tile for the shower with dark grey grout which we extended to the ceiling to add height. For the floor tile we stuck with the same grey tile from our kitchen to tie in the space. We painted the walls one of my favorite paint colors, Nebulous White by Sherwin Williams, replaced the toilet and sink, added in a simple mirror and mounted a new light fixture. Now the bathroom is fresh and bright and most importantly, clean.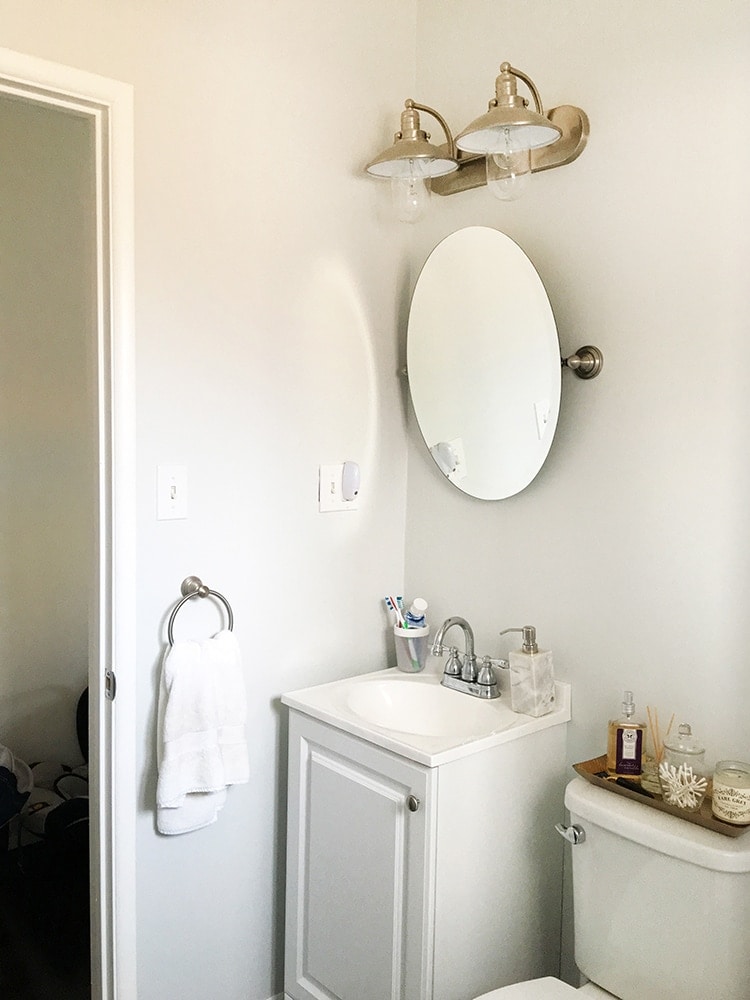 All of that worked perfectly for us when the goal was to get a working bathroom BEFORE we moved in and before the babies arrived! So, as much as I would have liked to have taken the time to design the space in the renovation stage, it just didn't happen. And every day I look at the bathroom and puzzle over spacial issues and the overall lack of design. So, here's the plan:
Clutter: one of the biggest issues in our bathroom is lack of storage. The little things like our toothbrushes, for example, take up valuable space on our tiny sink and make the bathroom feel even more cramped. So, the first order of business is to find places for the clutter.
Mirror: shopping for mirrors online is hard you guys! And while the mirror we chose would probably look fine in a larger bathroom, it's just too big in our space. I like the idea of a more narrow rectangular mirror like the one below with a possible shelf for little nic-nacs and products. (image source)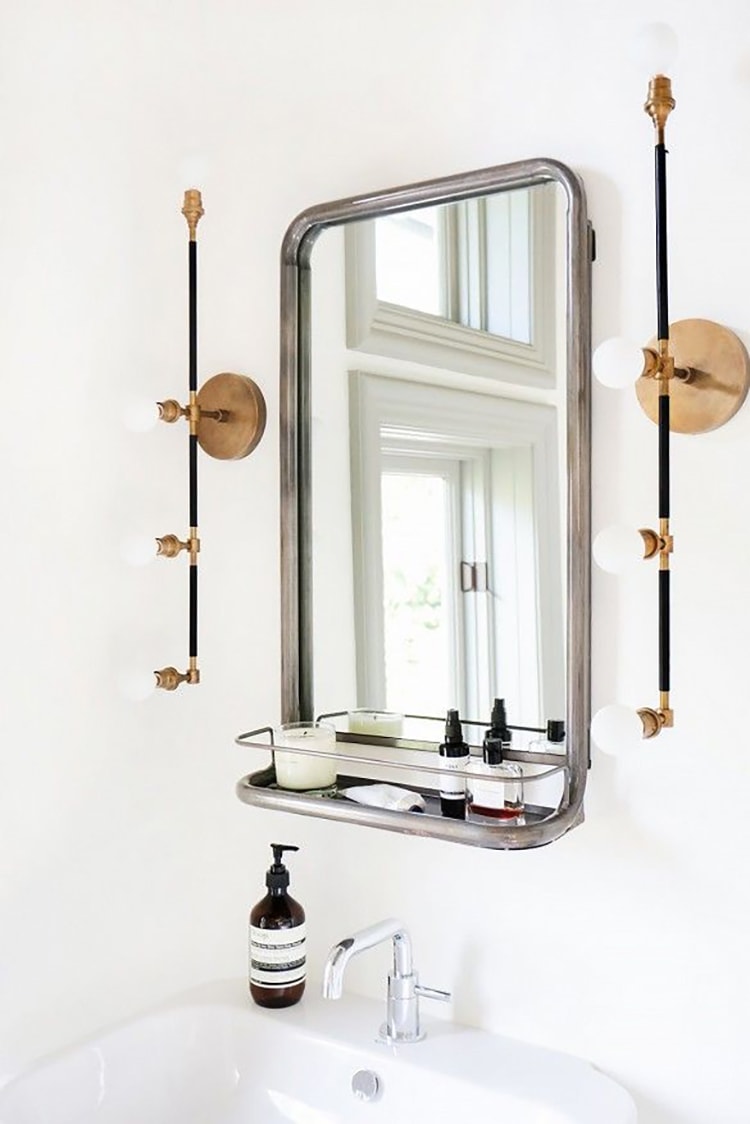 Shelving: hanging small shelves above the toilet will add more storage for small bathroom items and get it up off of the back of our toilet.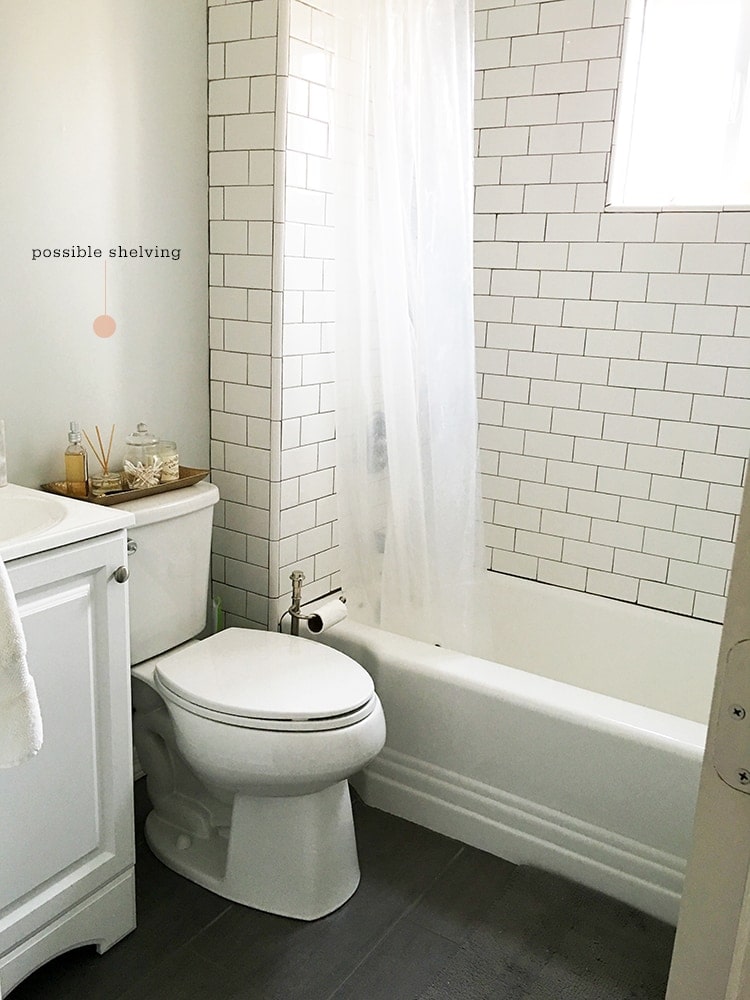 Lighting: Jason and I have an ongoing argument about the lighting situation in our bathroom. We currently have a wall mounted fixture over the mirror as well as a ceiling light/fan. While I love the idea of a pretty pendant lamp, I think that keeping the fan is much more practical. It's a tough decision!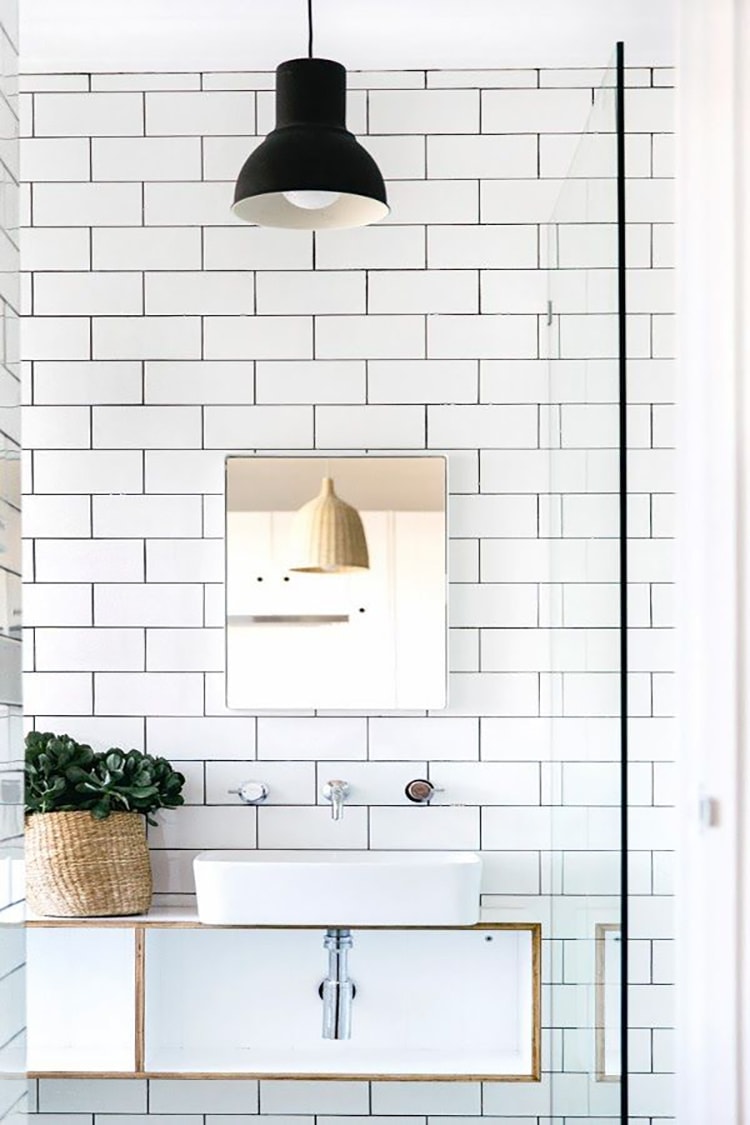 Storage: Ugh. We have little house problems...and if you have suggestions I am all ears! But for now, I will just say, storage. There needs to be storage.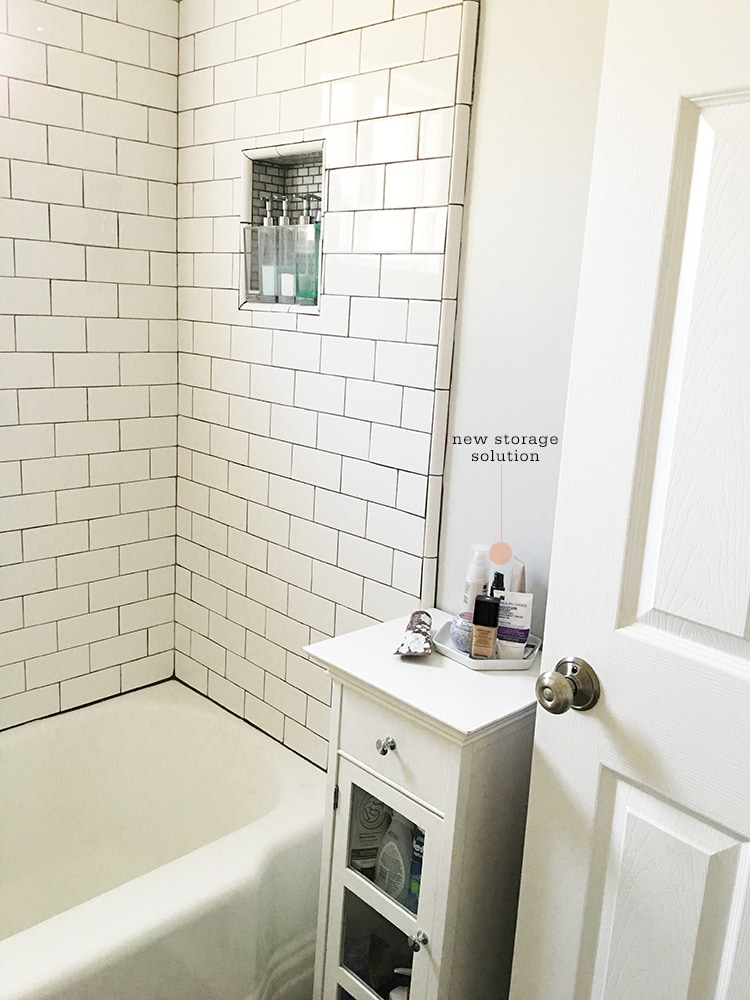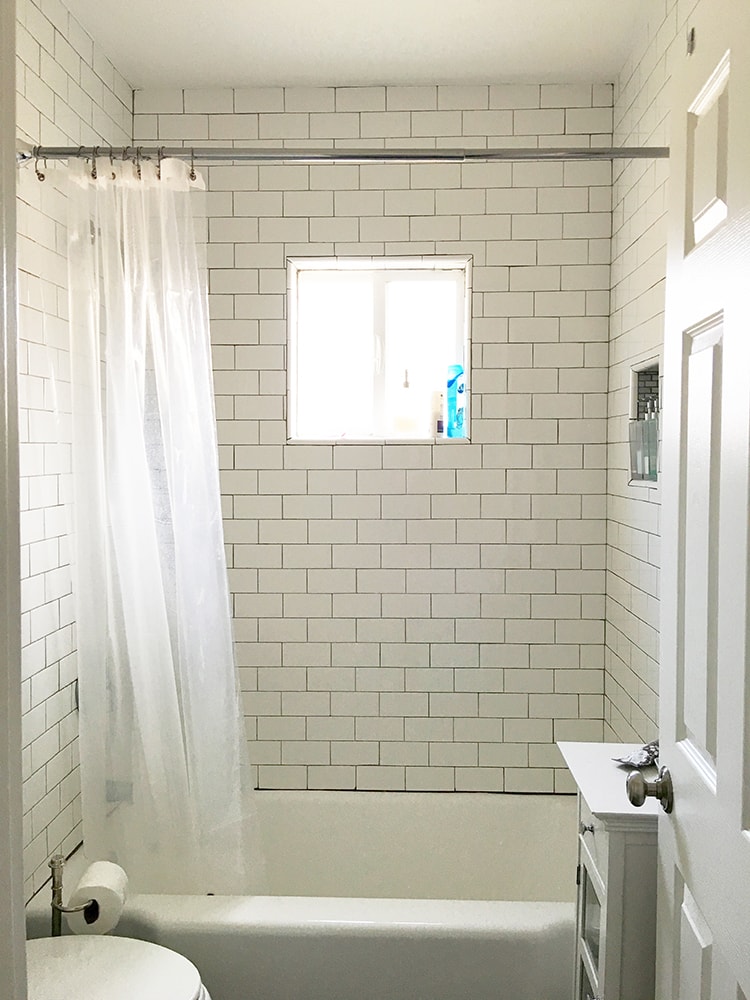 Paint: Call us crazy but Jason and I are dying to paint the ceiling in our bathroom! With the walls a light grey and all of the white tile, we both agree that a black ceiling would be really dramatic and cool. I love the look of the bathroom below which happens to be similar in size to ours. (photo source)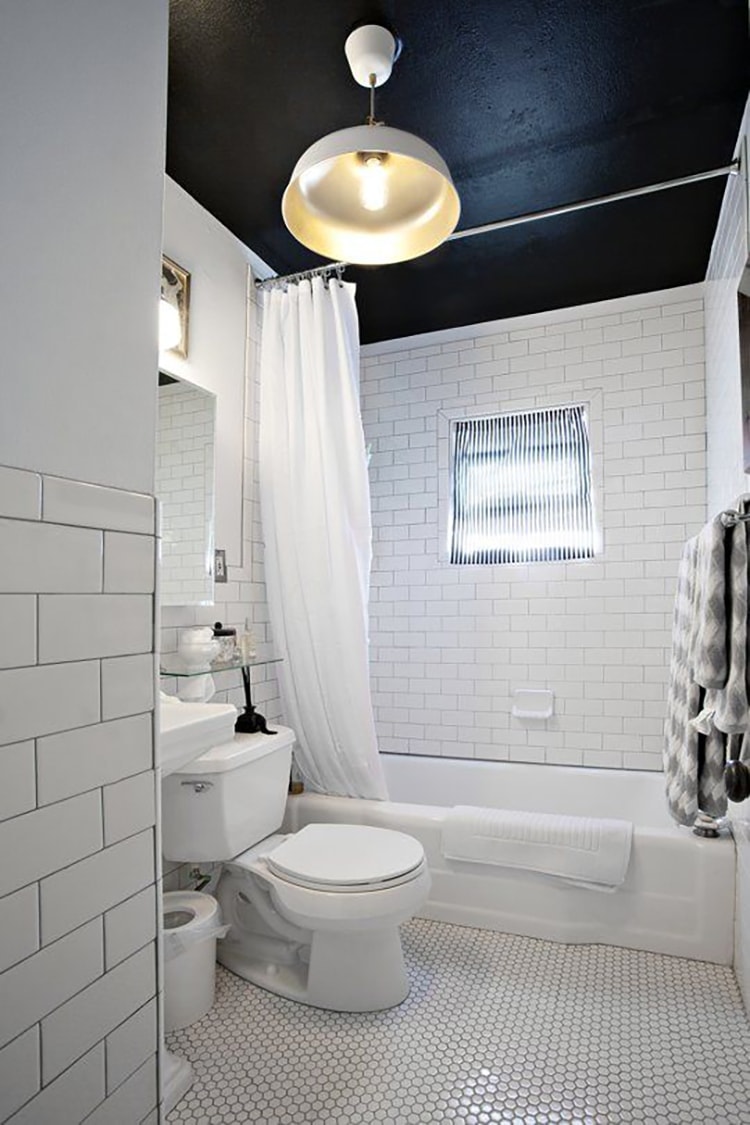 Artwork & Photos: Finally, we need a little something just outside of the bathroom in our completely blank hallway. I'm not quite sure what it will be yet but I'm keeping my eyes peeled for the perfect little mirror or frames for this wall. Just a little something that says, welcome...I may be a small bathroom but I sure am clean!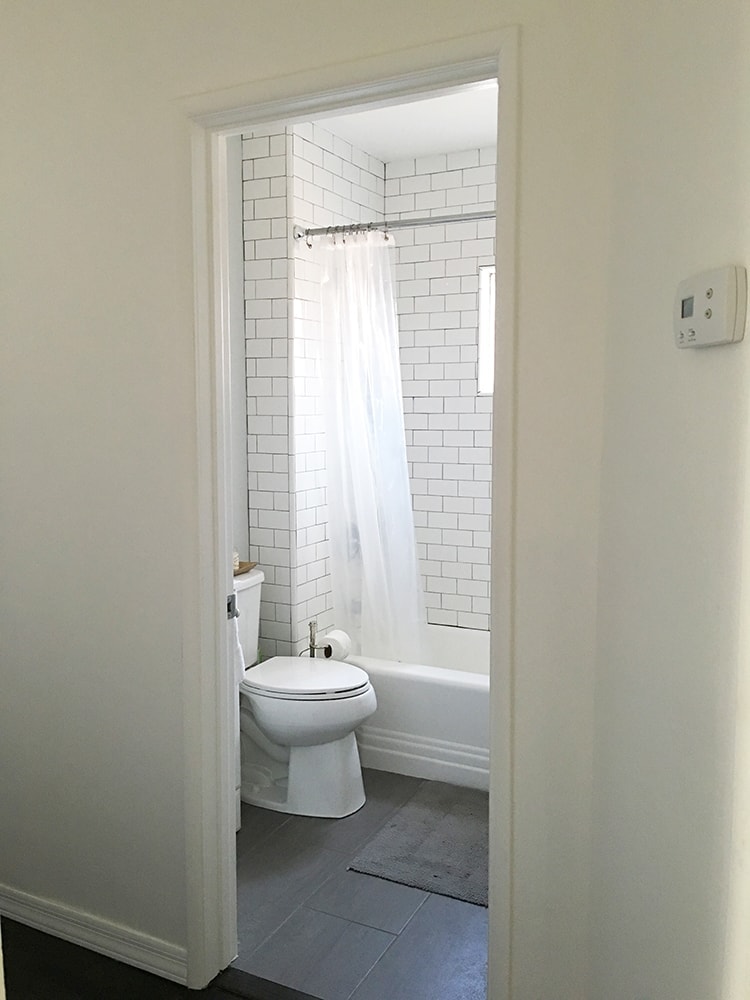 So, what do you think? Pendant or fan?