Pizza Pull-Apart Bread is packed with all of the classic pizza flavors you love in a fun finger-food form. Like a savory Monkey Bread, this pizza bread will be a new favorite appetizer!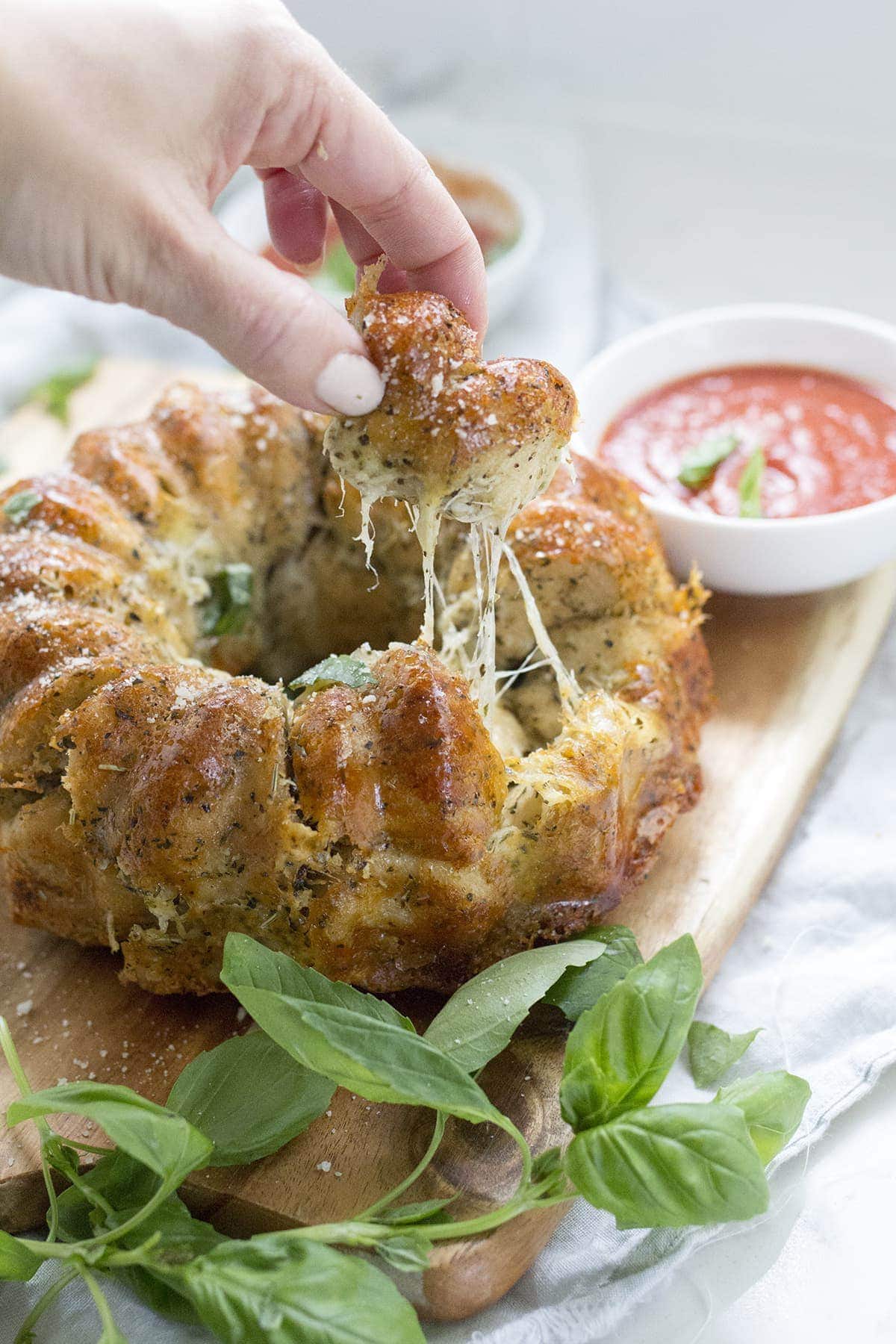 Pizza Pull-Apart Bread Recipe
This recipe couldn't be easier to make or more delicious! Store bought pizza dough (I used whole wheat but you could use any kind) rolled in garlic butter, cheese and Italian herbs, piled into a bundt pan and baked.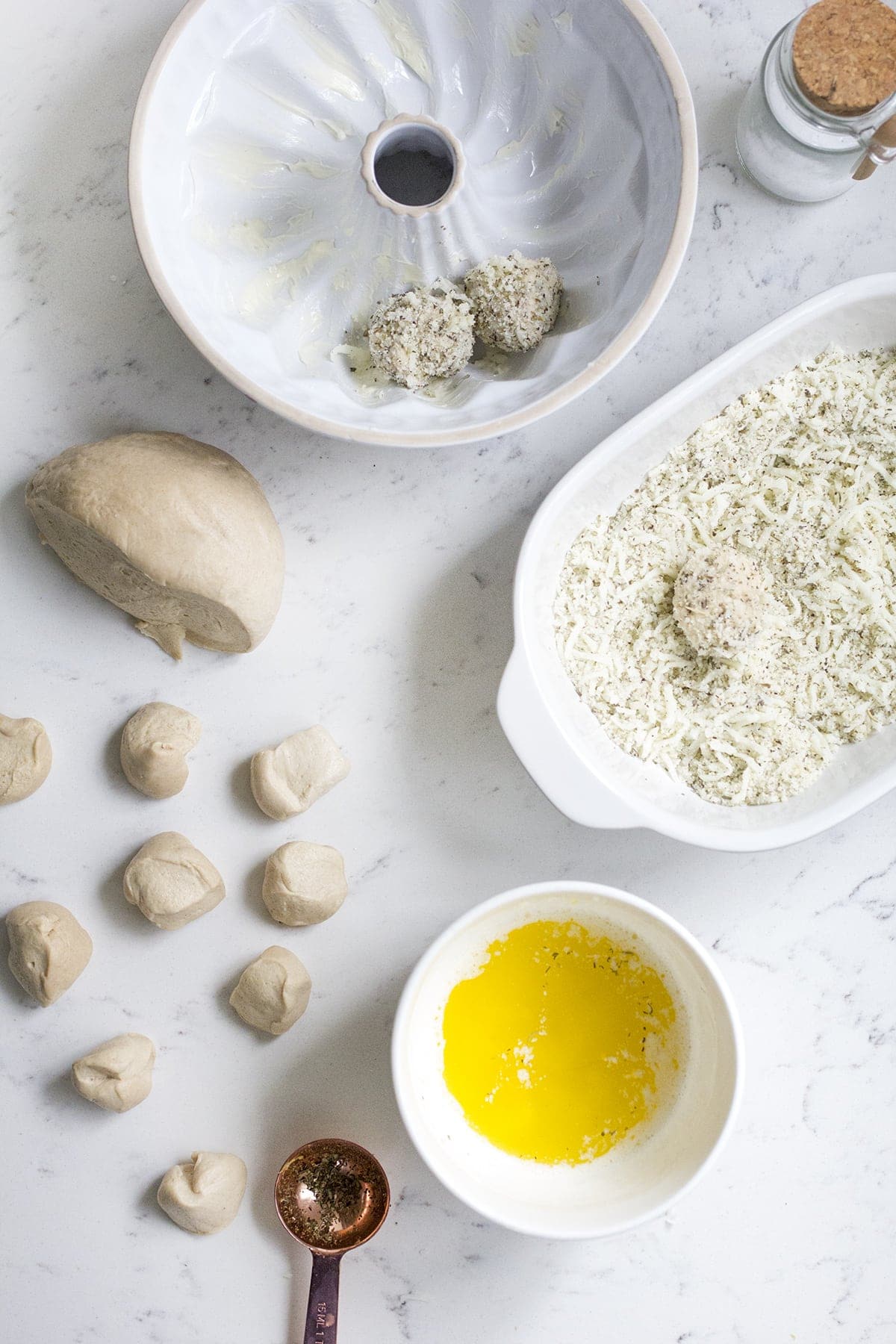 Pulled-apart while still hot and dunked into warm marinara sauce or pizza sauce. This stuff is addictive!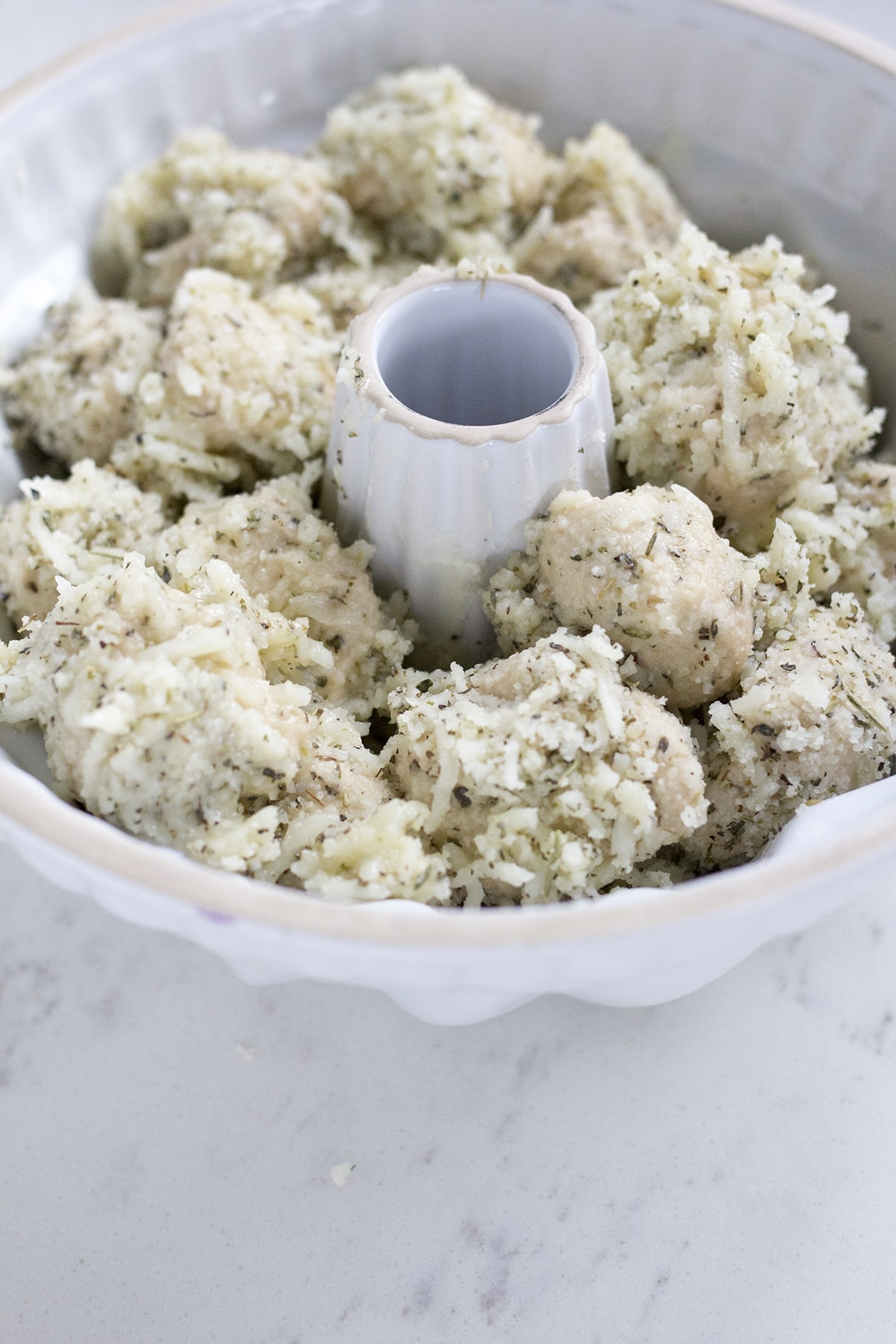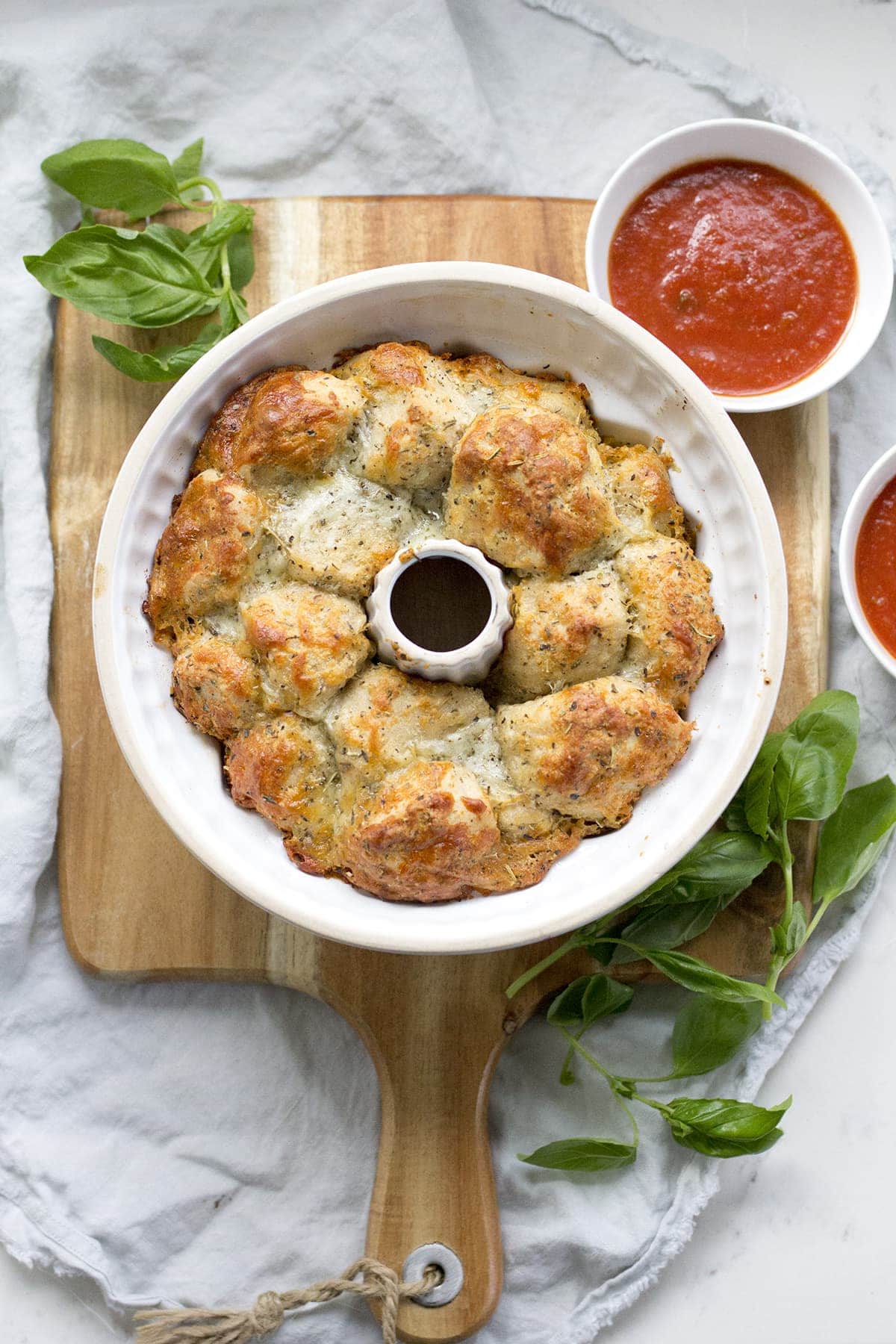 So, my question is...if you were Emma Stone would go home, kick off your heals after that crazy Oscars finale and eat an entire pan of Pull-Apart Pizza Bread? I know I would. Ha!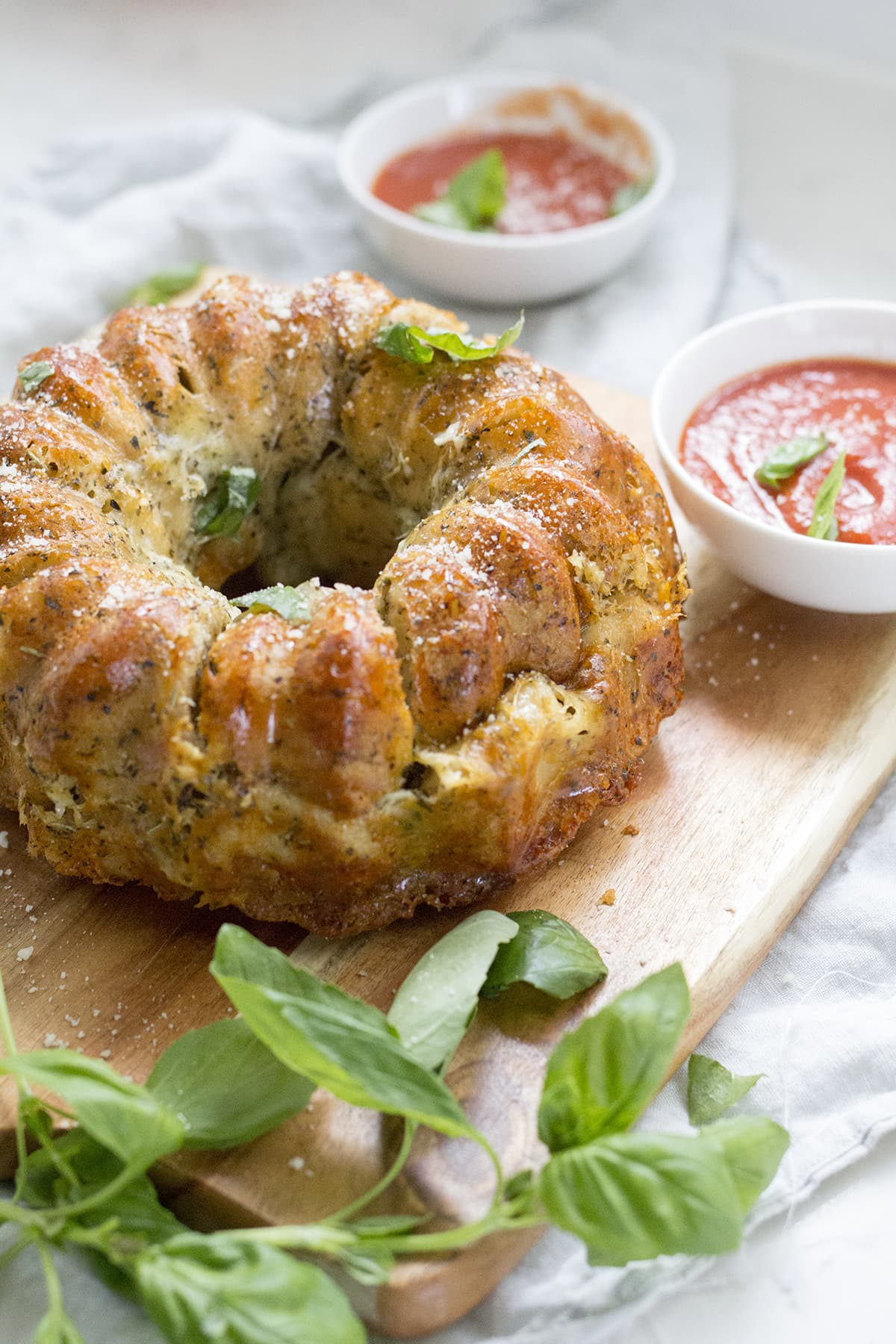 More Pizza Recipes You'll Love!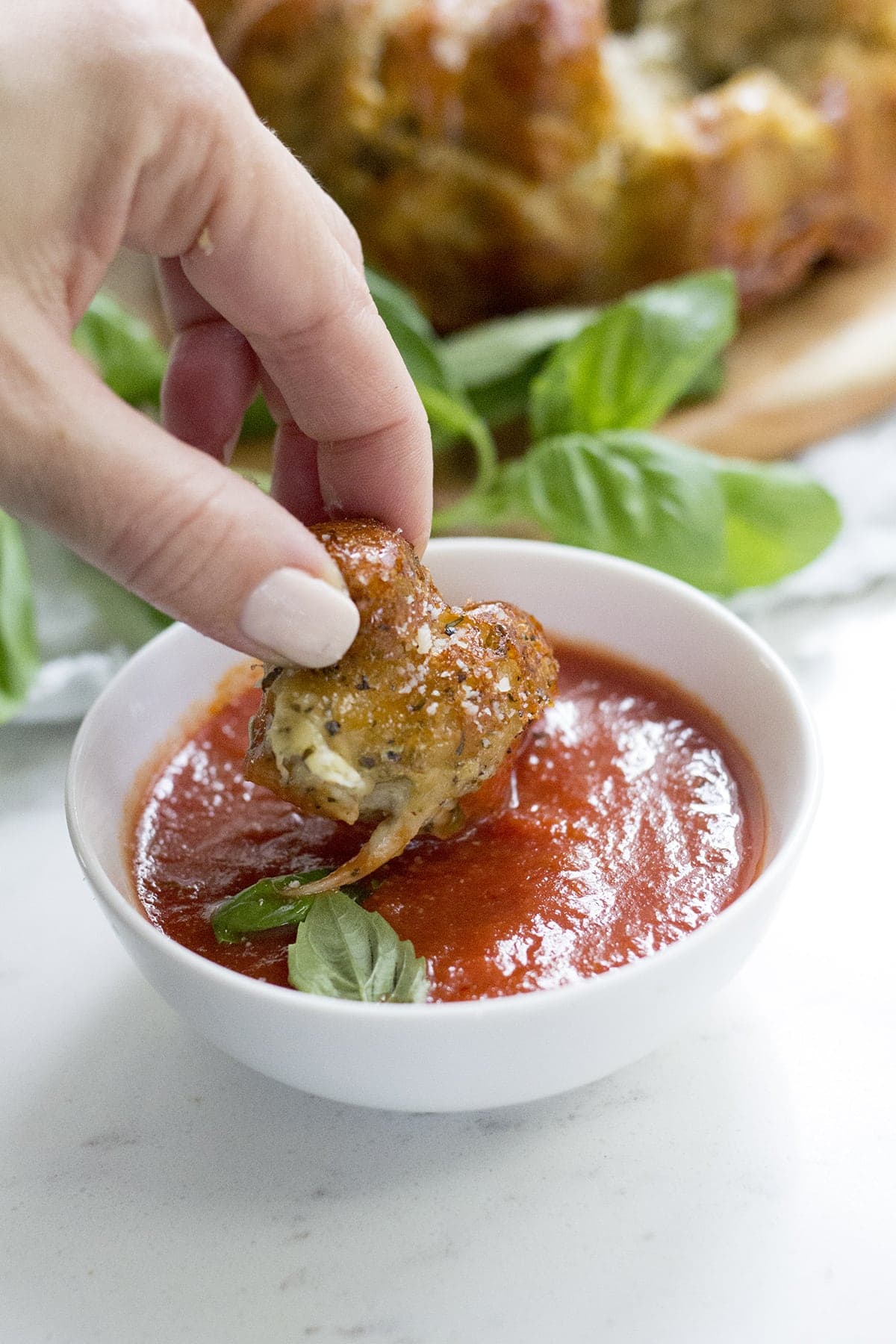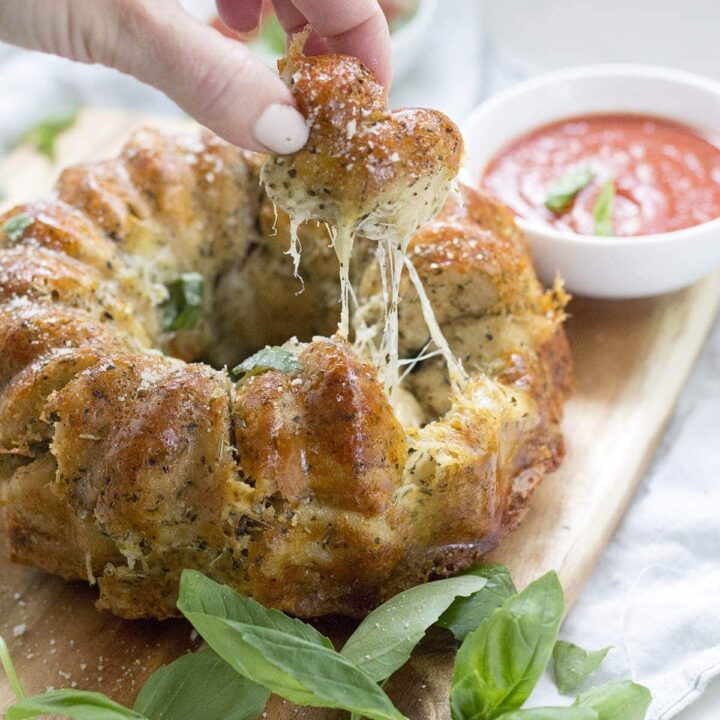 Pizza Pull-Apart Bread
Cheesy, mozzarella and Parmesan-herb bread that can be pulled-apart and dunked in marinara sauce.
Ingredients
1 batch prepared pizza dough, I used store-bought whole wheat dough
½ cup butter, melted
2 garlic cloves finely minced
⅔ cup grated Parmesan cheese
⅓ cup shredded mozzarella cheese
2 teaspoons Italian seasoning
½ teaspoon kosher salt
¼ teaspoon black pepper
marinara sauce, for serving
fresh basil for garnish
Instructions
Preheat oven to 400 degrees.
Generously butter a small bundt pan and set aside.
Set store bought pizza dough out at room temperature for 30 minutes to rise and warm, or rise according to directions.
In a bowl combine cheeses, Italian seasoning, salt and pepper and mix well.
In a second bowl melt butter in the microwave in 30 second increments until completely melted. Stir in minced garlic and set aside.
Divide pizza dough into 24 pieces. Dip each piece quickly in the melted garlic butter and then roll in the cheese and herb mixture.
Drop coated dough balls into the buttered bundt pan.
If the butter begins to cool, microwave for another few seconds until well melted.
Bake for 20-25 minutes or until golden brown.
Remove from the oven and cool for about 5 minutes. If there is extra butter bubbling up on the edges, pour that out and dispose of it.
Carefully (using oven gloves) turn bread out onto a serving plate or board. If a few pieces stick to the pan, replace them by hand. This doesn't have to be perfect!
Serve with warmed marinara sauce for dipping.
Save
Save
Save
Save
Save
Save