Caramel Apple Baked Brie, melty brie cheese baked up in a puff pastry crust and topped with baked apples and a salted caramel sauce drizzle. Dessert or appetizer...you decide!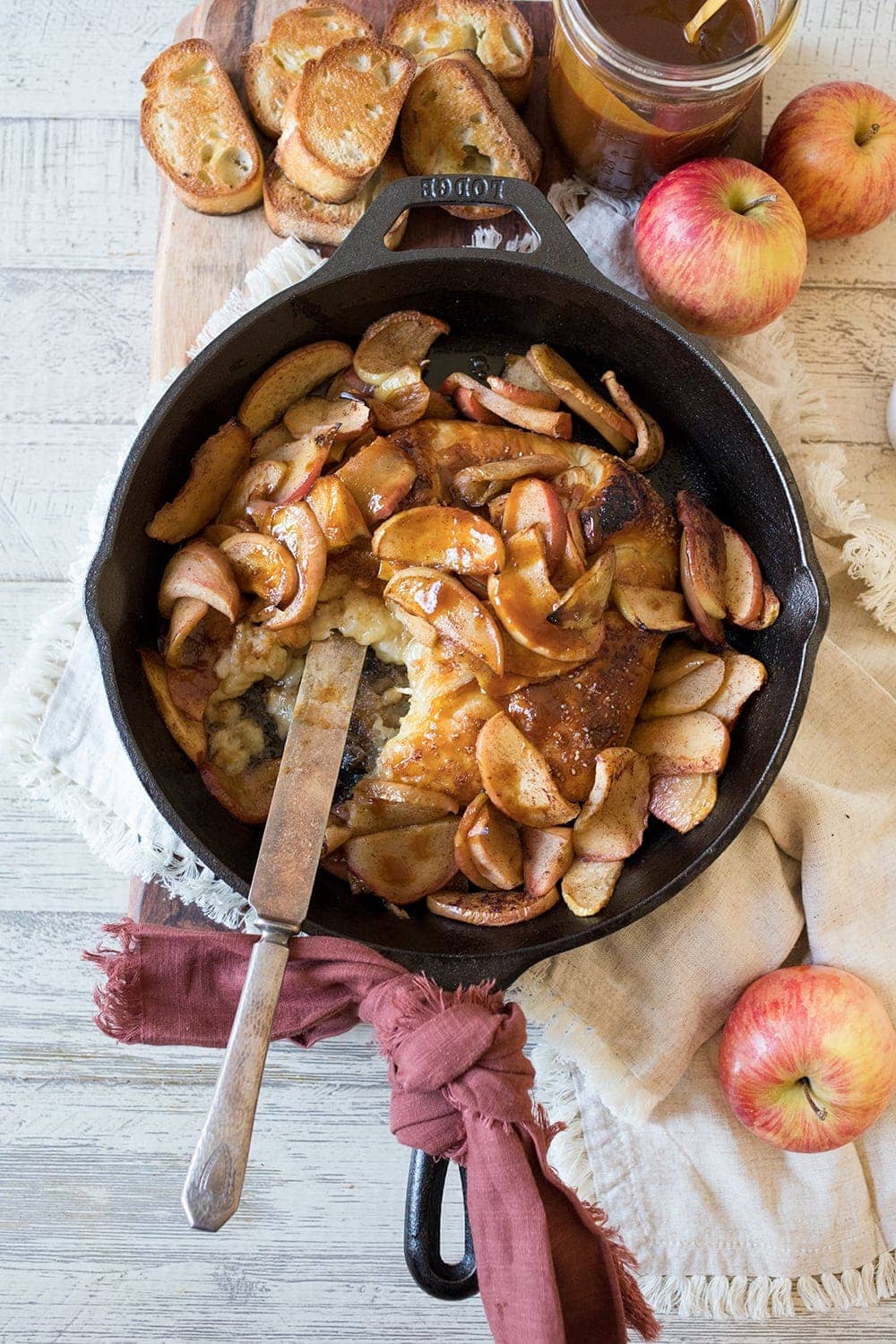 Salted Caramel Apple Baked Brie
This recipe was dreamed out purely out of my love for baked brie and for my desire to make an appetizer that met all of my fall flavor cravings. Initially it began as baked brie with apples but at the last minute I added the salted caramel sauce and oh, mama was that a good idea!
Of course this Salted Caramel Apple Baked Brie could pass for either an appetizer or dessert...it's technically a cheese course and hits all the flavor notes of both sweet and savory.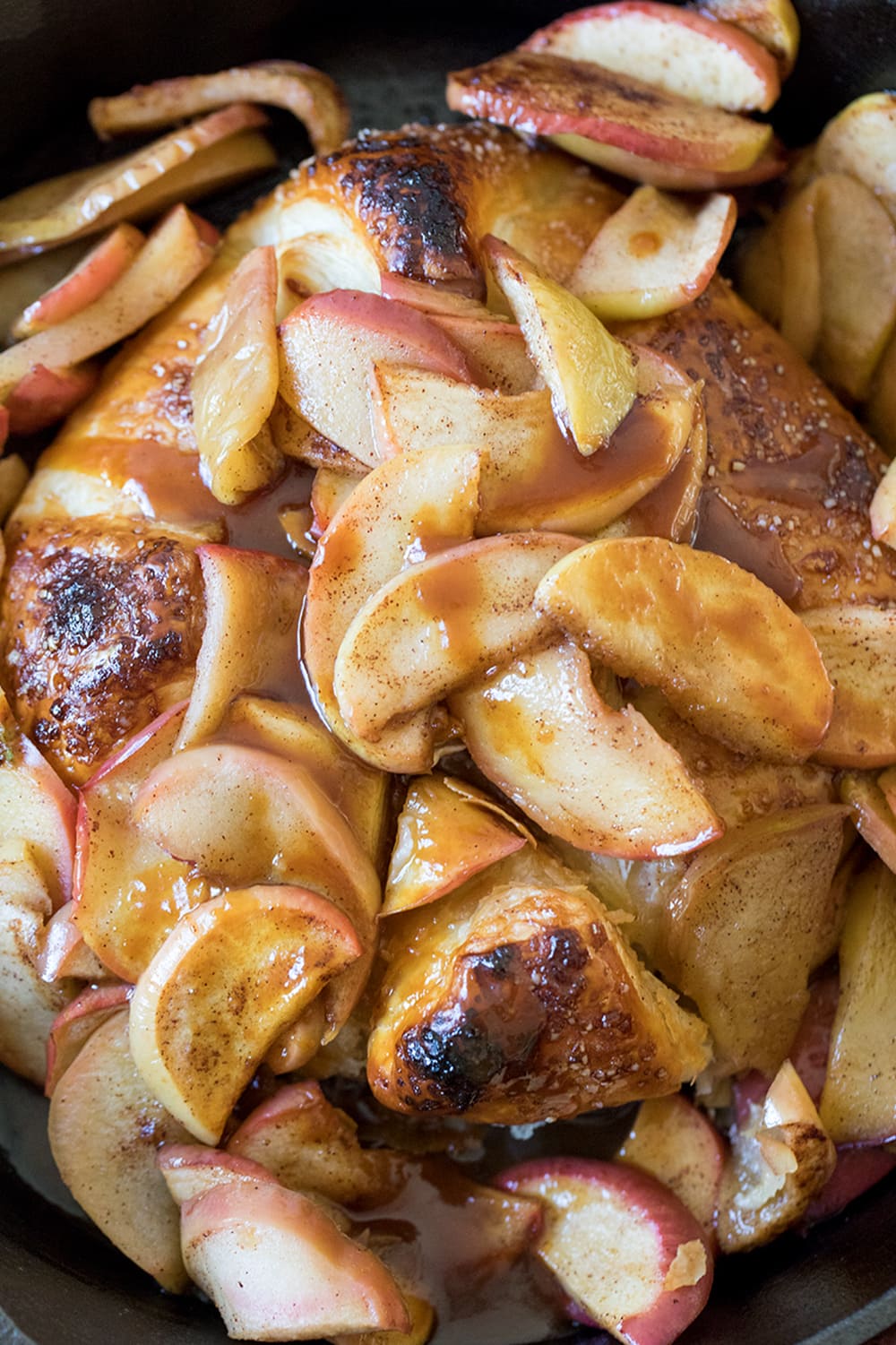 How to Bake Brie
Baking brie is actually incredibly easy! All you will need is a wheel of your favorite brie cheese and store bought puff pastry dough. You can usually find puff pastry dough in the refrigerated section of the grocery store next to pizza dough and crescent rolls.
Baking Brie is as simple as wrapping the wheel in puff pastry dough, placing it on a baking sheet or in a skillet (as I did) and baking it until the puff pastry is browned and puffed and the cheese inside is melted. I also brush my dough with an egg wash and sprinkle it with sanding sugar before baking to give it a beautiful golden crust.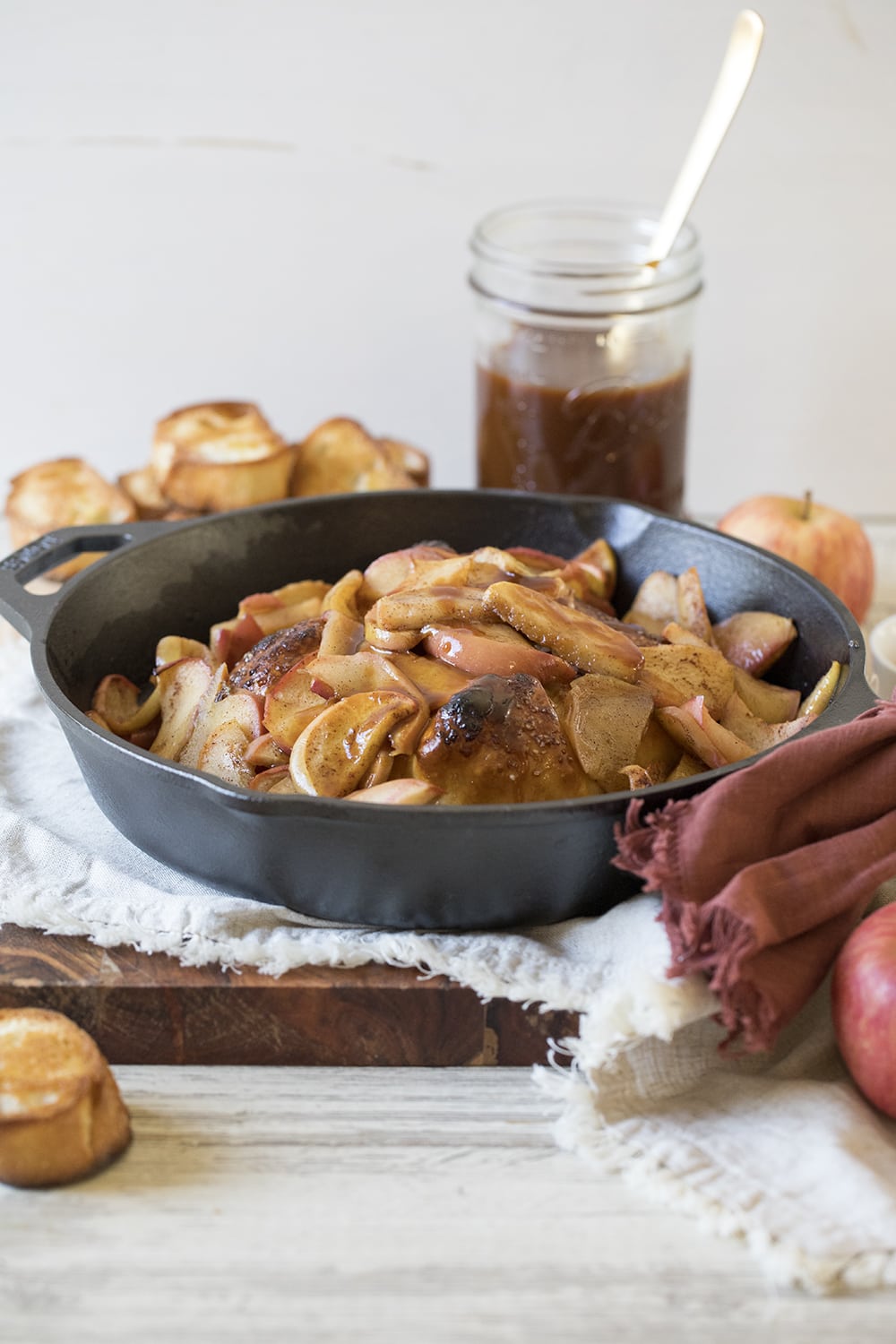 The deliciousness of this appetizer really comes from the combination of the fluffy and crisp puff pastry filled with gooey melted cheese. You can serve the brie with a side of your favorite bread or crostini to scoop it up with or simply with a knife for cutting wedges and eating with a fork. This is a rustic appetizer so there is no need to complicate it!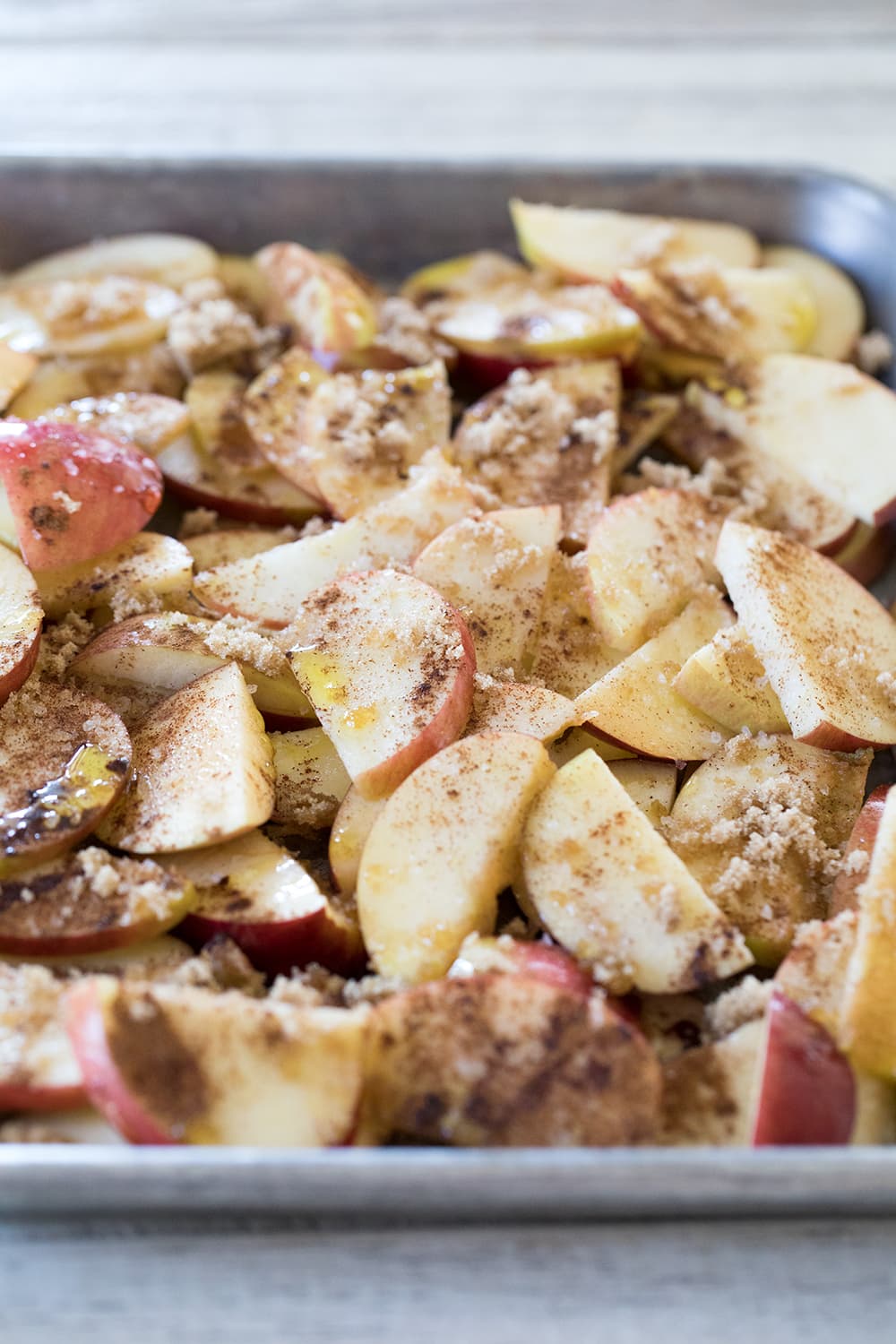 Easy Baked Apples
Easy baked apples really bring the flavor in this dish. Sliced apples are tossed on a cookie sheet with a drizzle of olive oil or melted butter, a sprinkling of brown sugar and cinnamon. It's so simple and in 20 minutes you have beautifully baked, soft and delicious apples that taste like pie. Spoon them right over the top of your baked brie. I could honestly eat these apples on their own with nothing more than a dollop of whipped cream.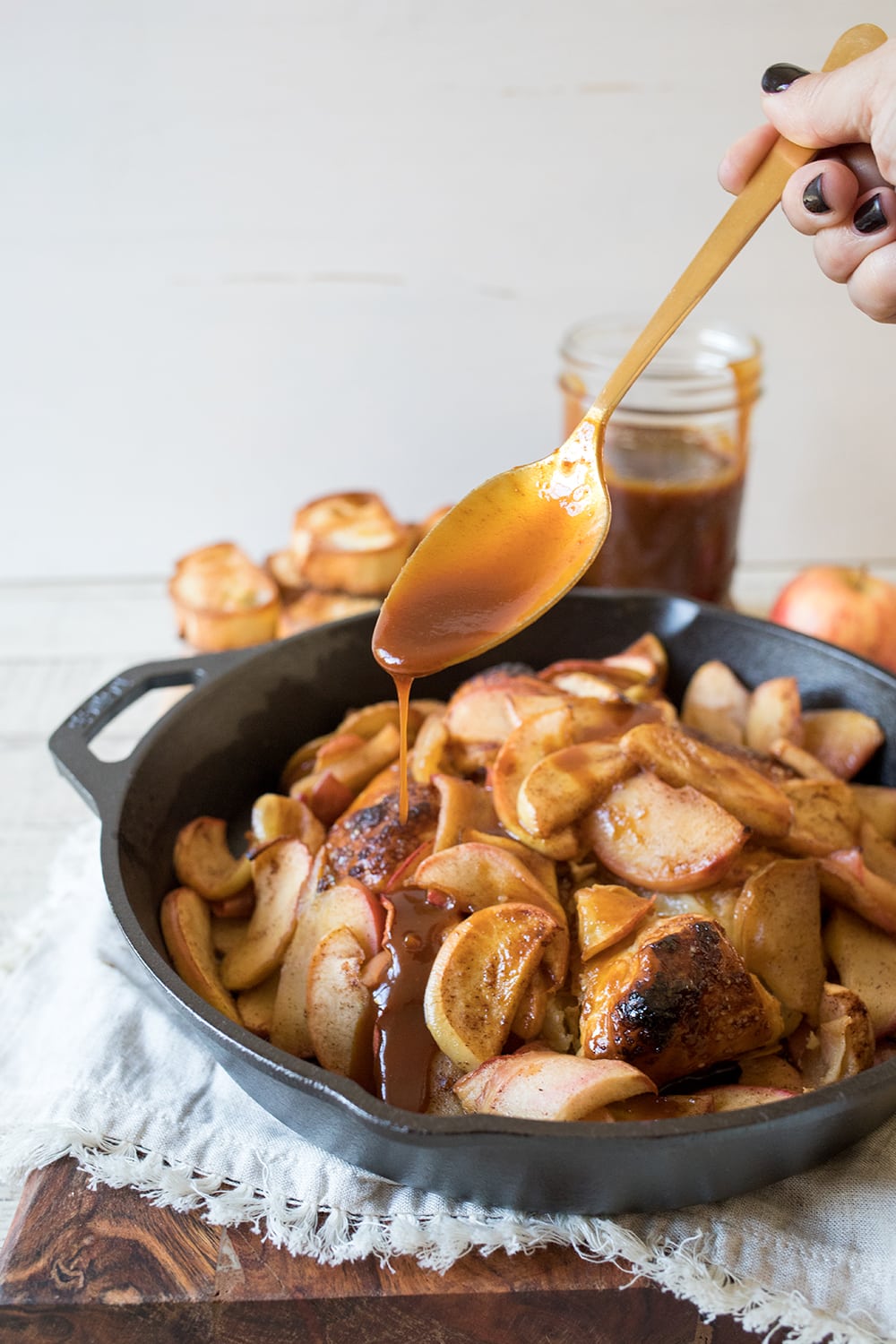 Homemade Salted Caramel Sauce
No exaggeration here, I was eating this homemade salted caramel sauce with a spoon shortly after making it. Burning the heck out of my mouth and not caring because it's REALLY that good. Of course it's better if you have some self control and wait until it cools to drizzle overtop the baked brie and apples.
The recipe I'm sharing is from Southern Living and it's truly the easiest caramel sauce to make. I recommend making it ahead of time so that you have it on hand when it comes time to prep the brie. Plus, you'll want a jar of this gold in your refrigerator for late night ice cream cravings. I'm just sayin'.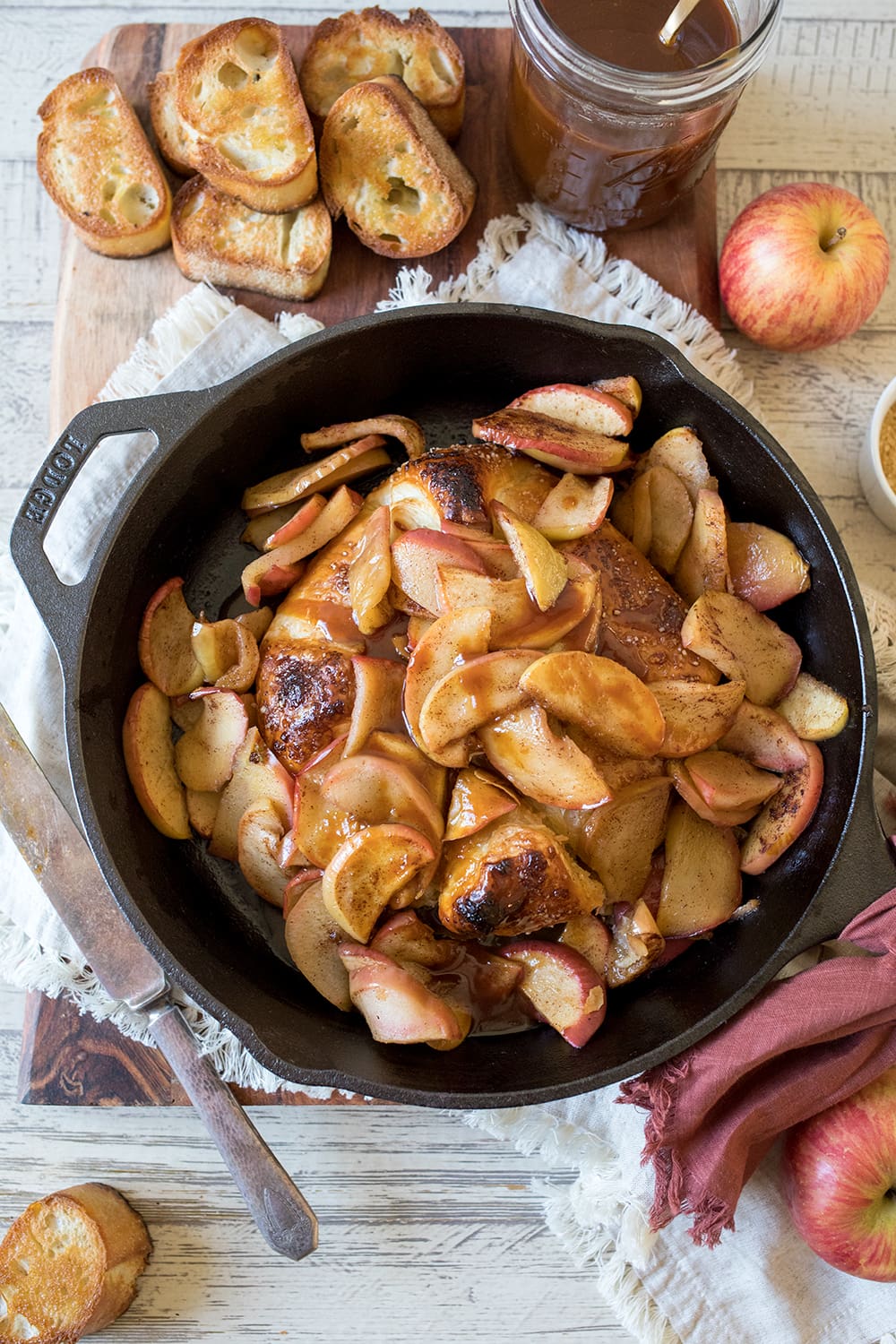 If you don't have the time to make a homemade salted caramel sauce, Trader Joe's sells a Fleur de Sel Caramel Sauce that's actually really tasty and would be a great store-bought shortcut!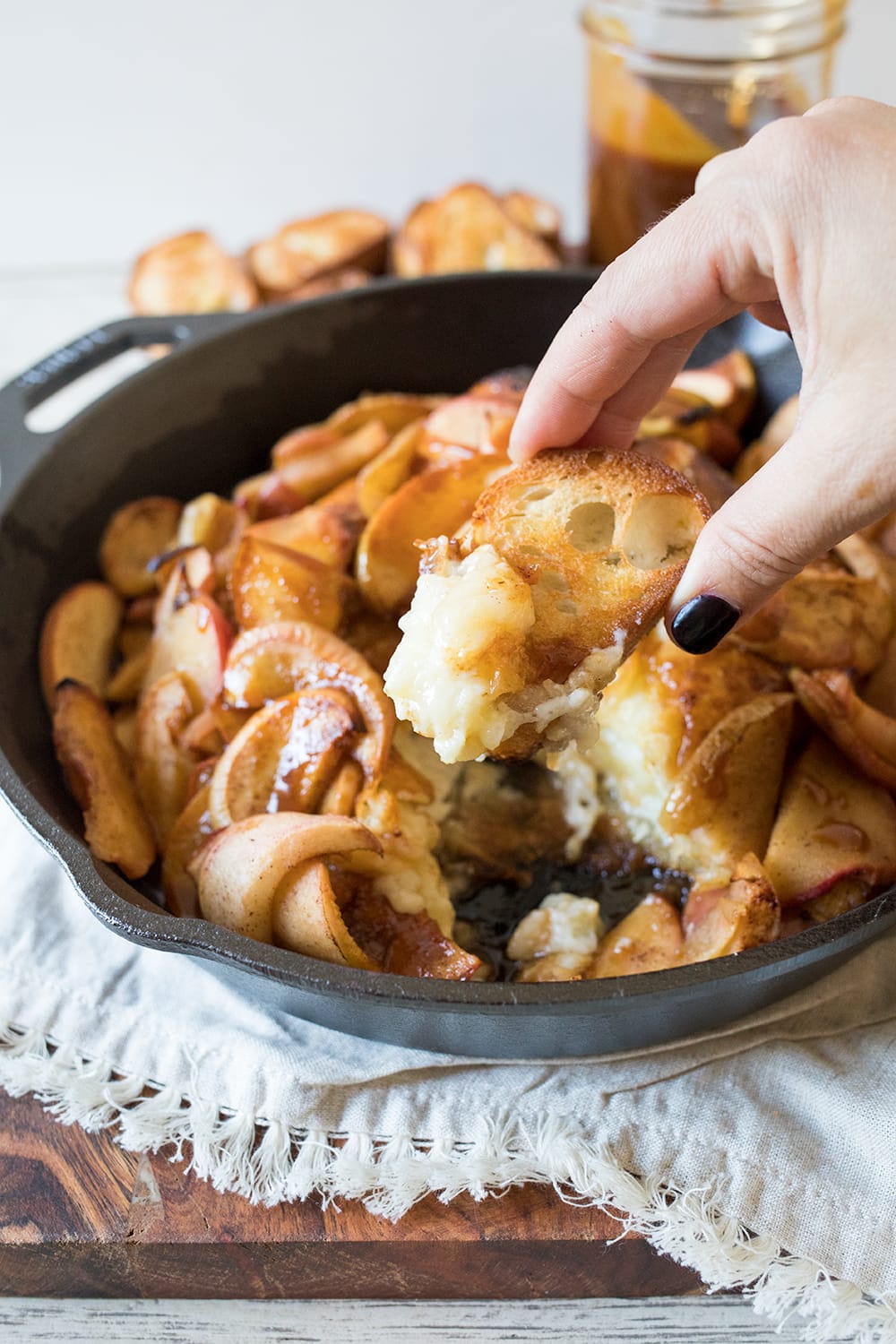 I could eat baked brie for every special occasion, holiday, or even casual dinner with friends. It really is the most delicious and impressive appetizer and far easier to make than it looks. If you want another baked brie recipe, try my Baked Brie with Roasted Strawberries!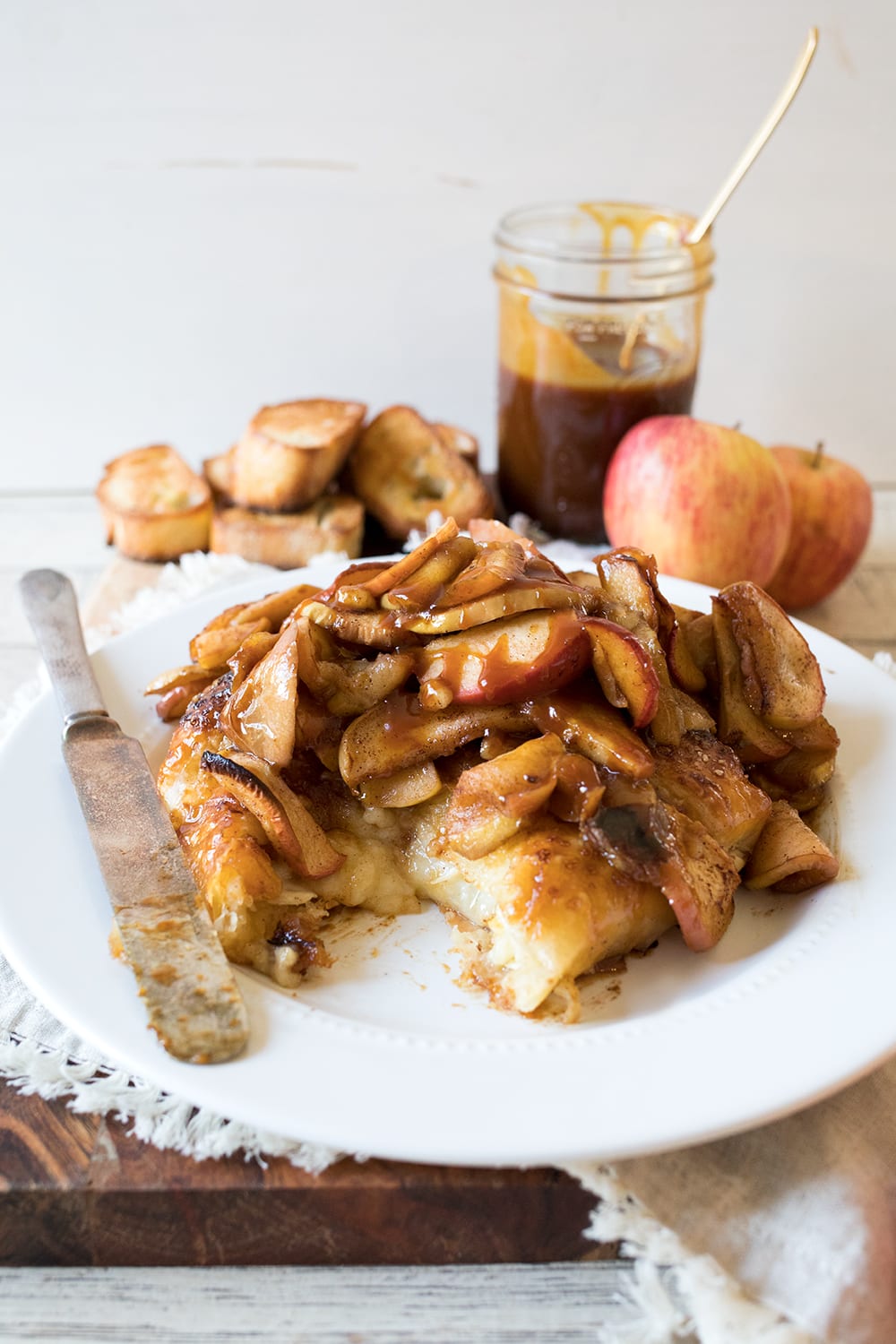 Salted Caramel Apple Baked Brie really is the ULTIMATE fall appetizer! Serve it hot right in a cast iron skillet with a cloth wrapped handle and a warning, or transfer it to a simple platter before topping with the apples and caramel sauce. Either way, you will fall in love with this easy fall appetizer.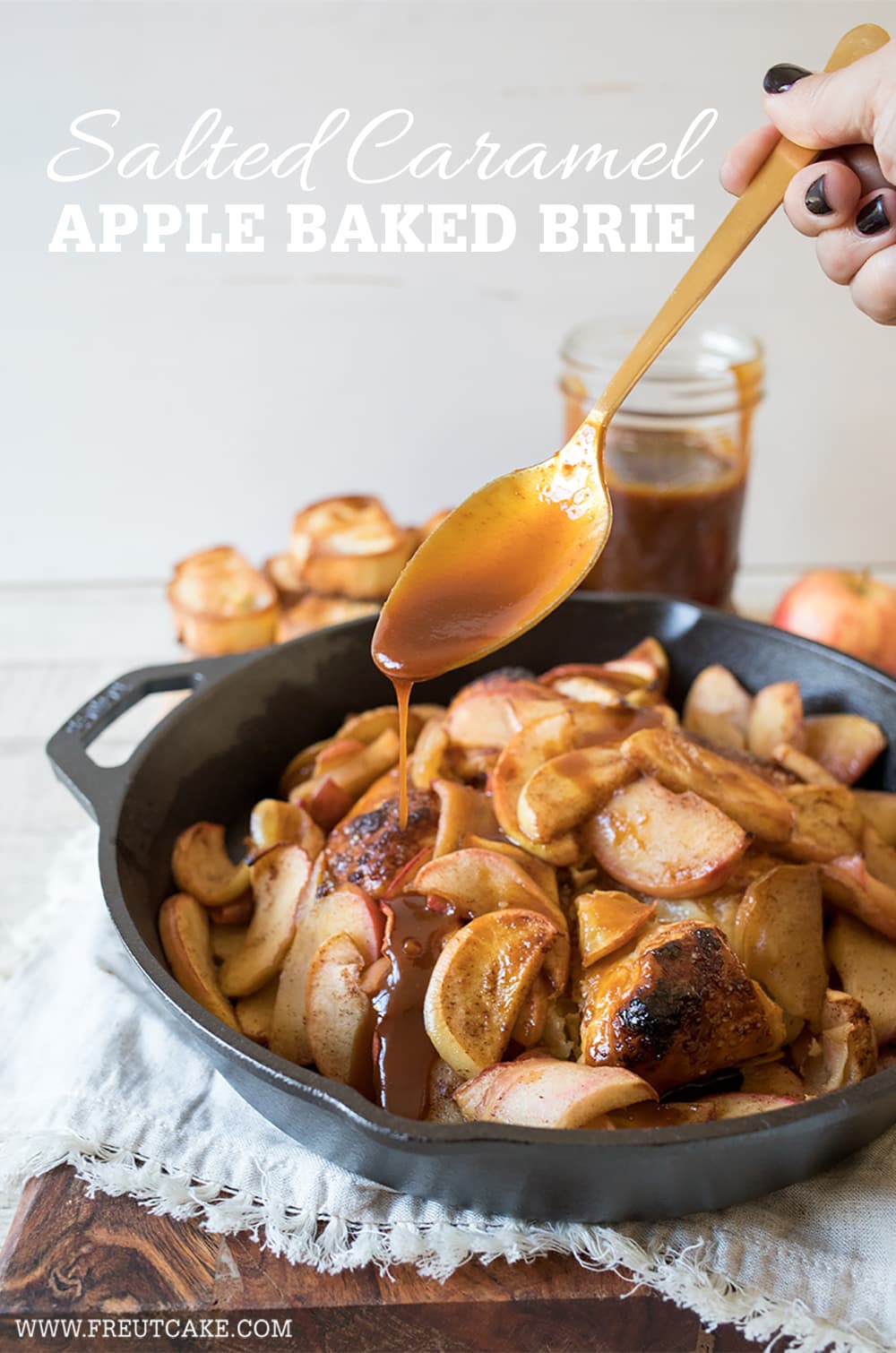 More Fall Recipes to Try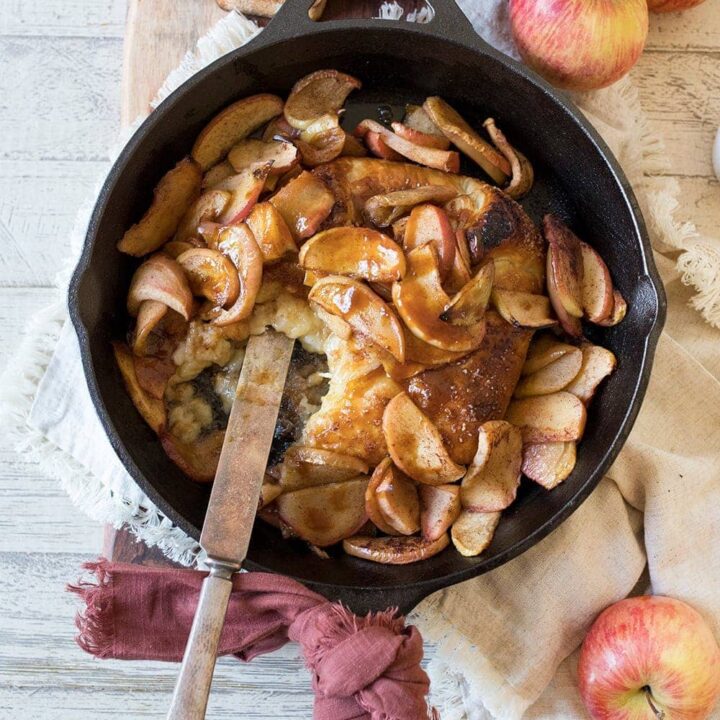 Salted Caramel Apple Baked Brie
Brie baked in puff pastry topped with baked apples and drizzled with salted caramel sauce.
Ingredients
1 wheel of double or triple cream brie cheese
refrigerated puff pastry dough
1 egg, beaten
sugar in the raw
3 honeycrisp apples, cored and sliced thin
1 Tablespoon brown sugar
¼ teaspoon cinnamon
olive oil
Caramel Sauce:
1 ½ cups granulated sugar
3 tablespoons water
¾ cup heavy cream
½ teaspoon vanilla extract
¼ teaspoon kosher salt
Instructions
Step 1: Using a long-handled wooden or heatproof metal spoon, stir together sugar and water in a deep, heavy 10-inch skillet or medium-size enameled cast-iron saucepan over medium. Cook, stirring occasionally, until sugar is mostly dissolved. Increase heat to medium-high, and bring mixture to a boil, stirring constantly. Cook, stirring, until mixture turns into a clear syrup. Continue to cook, stirring constantly, until mixture dries out, turning sandy and crumbly, and then begins to melt again. Cook, stirring often, until melted mixture darkens to an amber color, 8 to 10 minutes. Remove pan from heat.
Step 2: Carefully pour in heavy cream, stirring constantly. (Caramel will bubble up, boil vigorously, and steam profusely.) Stir constantly until boiling gradually subsides. Return pan to medium-high; cook, stirring until mixture is smooth. Remove pan from heat; stir in vanilla extract, kosher salt, and, if desired, apple brandy. Let Caramel Sauce stand until room temperature, 15 to 20 minutes.
Step 3: Transfer room-temperature Caramel Sauce to a jar or container with an airtight lid. Keep refrigerated up to 2 weeks. Warm over low heat before using.
Preheat oven to 425 degrees.
Place sliced apples on a rimmed baking sheet and drizzle lightly with olive oil. Sprinkle with brown sugar and cinnamon and toss to coat.
Butter a cast iron skillet or baking dish for the brie.
Unroll puff pastry and place wheel of brie directly in the center.
Use a sharp knife to slice the rind off of the top of the brie.
Fold puff pastry up over the brie covering it completely like wrapping a present. There is no wrong way to do this. Just make sure the brie is covered.
If you puff pastry sheet is rather large, you may want to cut it down to a square to better wrap the wheel.
Brush brie with beaten egg and sprinkle with sanding sugar.
Bake both the brie and the apples in the oven for 20-25 minutes until the apples are softened and the puff pastry is deep golden and puffed.
Remove from oven and transfer brie to a serving tray if desired. Top with apples and a drizzle of warmed up salted caramel sauce.
Serve with your favorite bread for dipping.
NOTE: Prep and cook time does not include the caramel sauce which should be made ahead and will take about 55 minutes total.
Notes
NOTE: IF YOU ARE NOT MAKING HOMEMADE CARAMEL, SKIP THE FIRST 3 STEPS.