Greek Turkey Meatballs are packed with delicious flavor and perfect for serving over rice or wrapped in flatbread for a fast Gyro style dinner.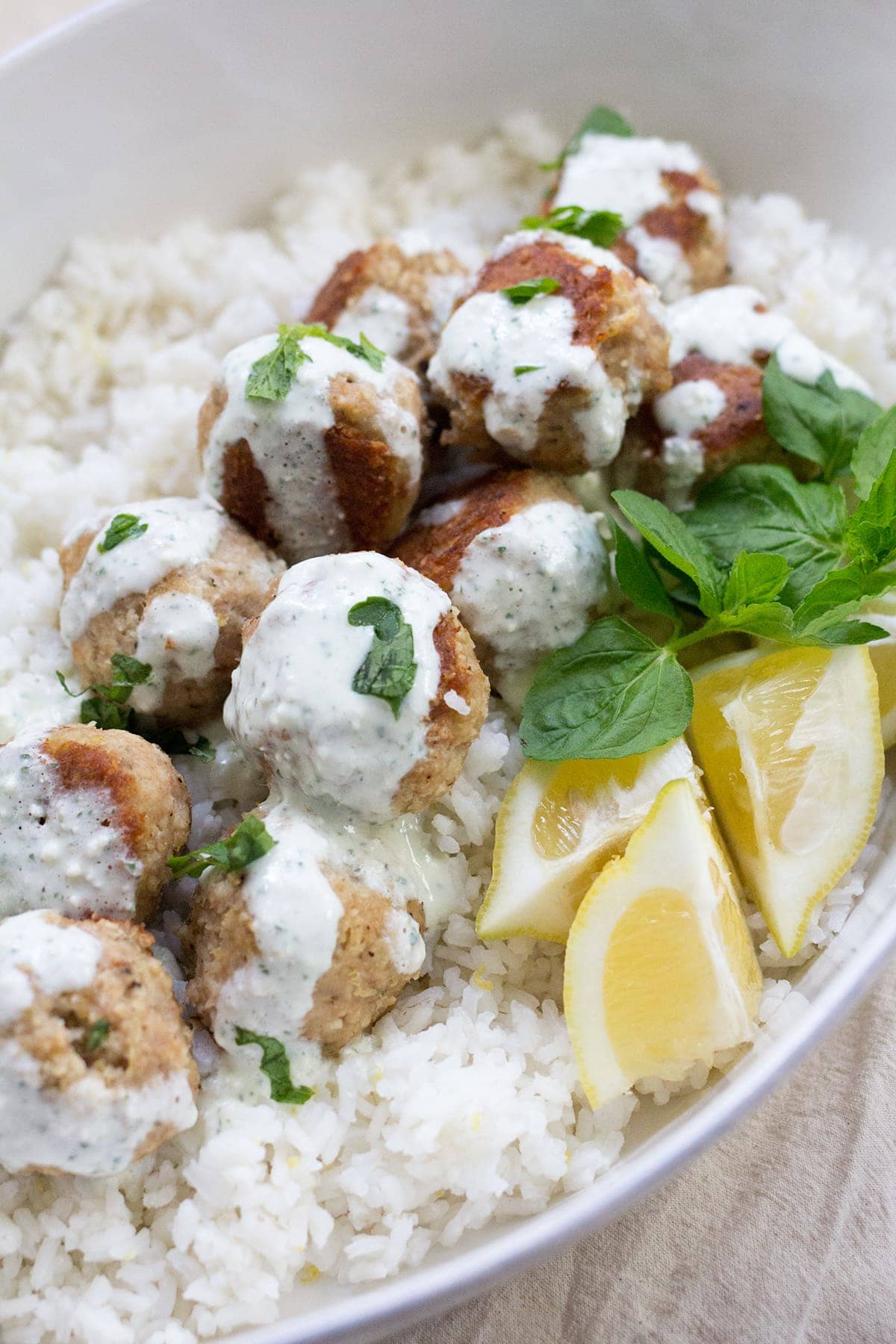 Greek Turkey Meatballs
I can be a very lazy cook. There is a delicious Greek Chicken I make which requires a couple of hours of marinading in the fridge before being skewered and grilled. Honestly, the thought of having to marinade and prep in advance is occasionally (more often than I might like to admit) the reason why I don't make that chicken weekly. See what I mean? Laaaa-zy.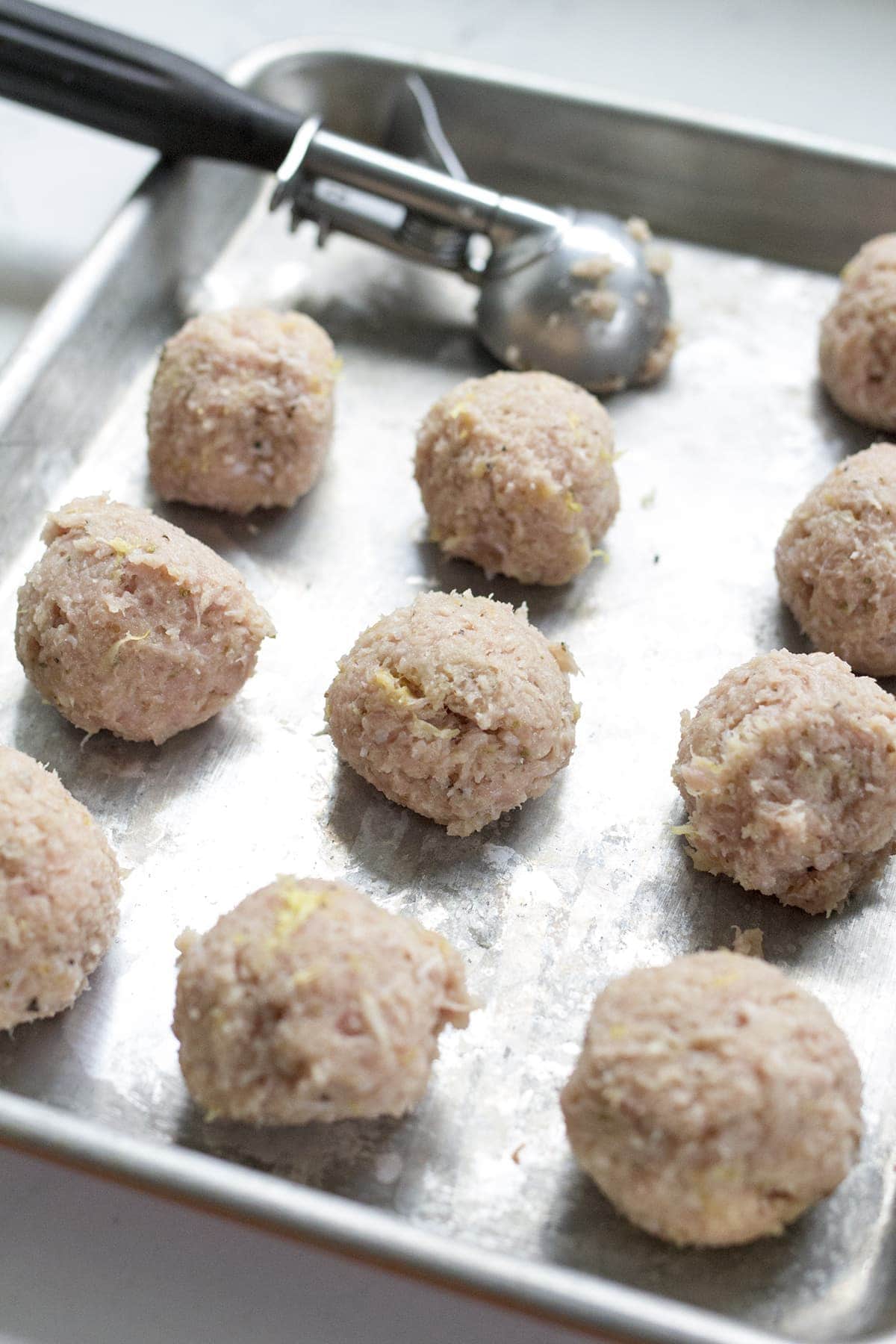 However, I wanted to find a way to get all of the flavors of that delicious chicken into something fast like baked meatballs. Serve them drizzled in same sauce I use on the skewers and there you have it, Greek Turkey Meatballs with Mint Feta Sauce. My lazy kitchen days continue...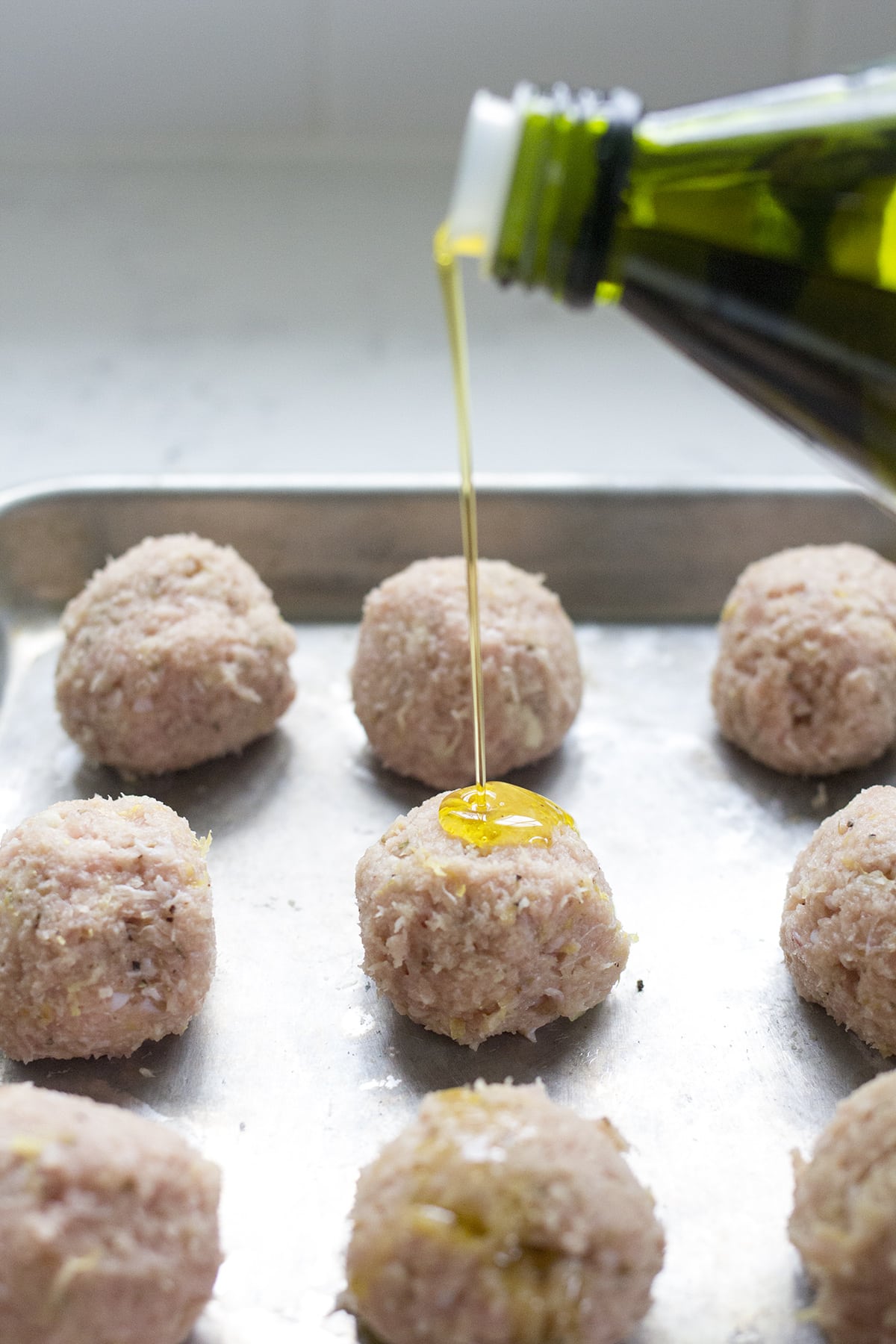 Ingredients in Greek Meatballs
These meatballs are packed with flavor. Lemon, garlic and oregano all go inside these meatballs along with Panko bread crumbs and egg. I scoop them out with a small ice cream scooper because it makes them all uniform and the prep is fast! They get an extra drizzle of olive oil to make sure they stay moist and into the oven they go.
Of course, if cooking meatballs on the stovetop is your thing, by all means fry away! I just prefer the mess-free, oil free, approach to baking them. (See what I mean about my lazy-cook tendencies?) Now onward we go to the sauce!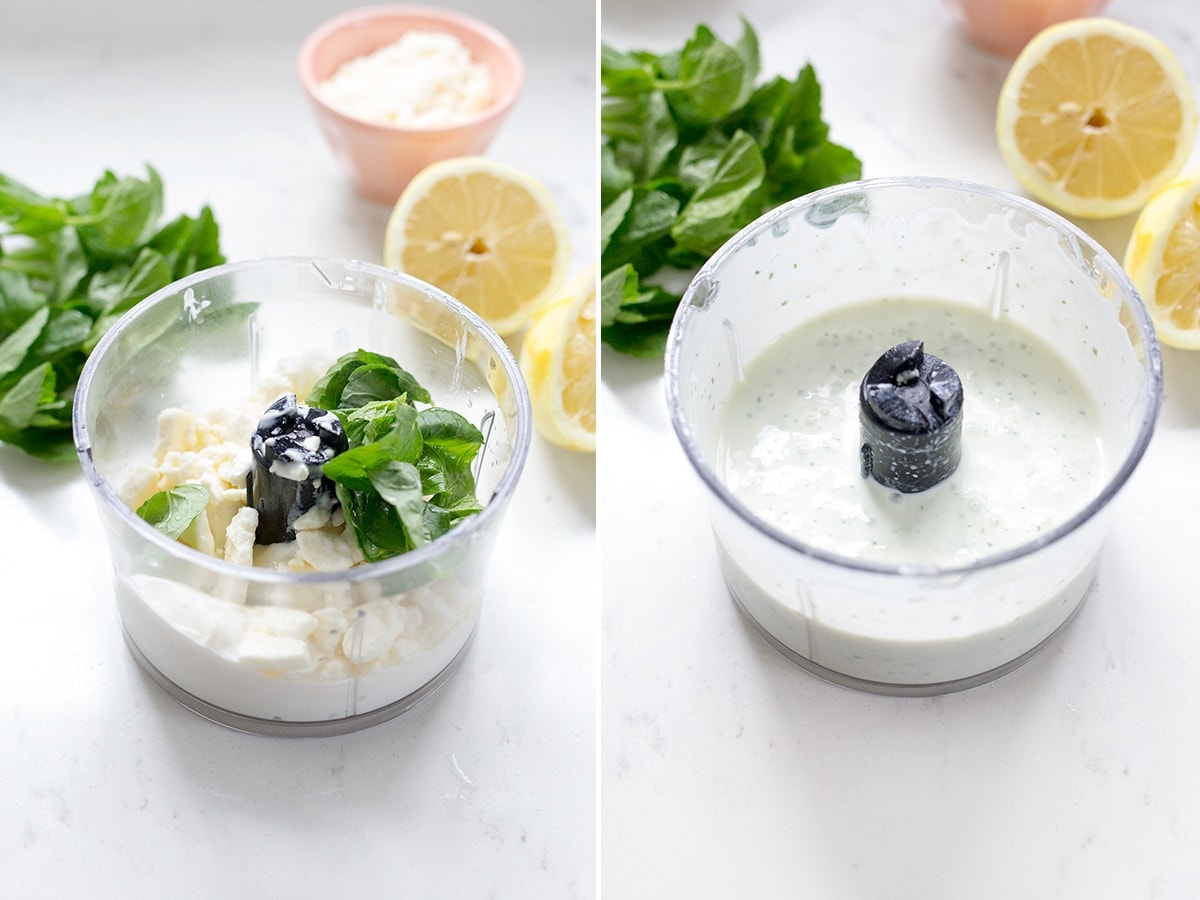 Easy Feta Yogurt Sauce
While your meatballs bake, or fry, blend up a batch of yogurt sauce. In a small food processor, I combine whole milk yogurt, feta, fresh mint and lemon juice. It's tangy and minty, and has just enough cheese. Taste it and season with salt and pepper if needed but I find it's perfect as is!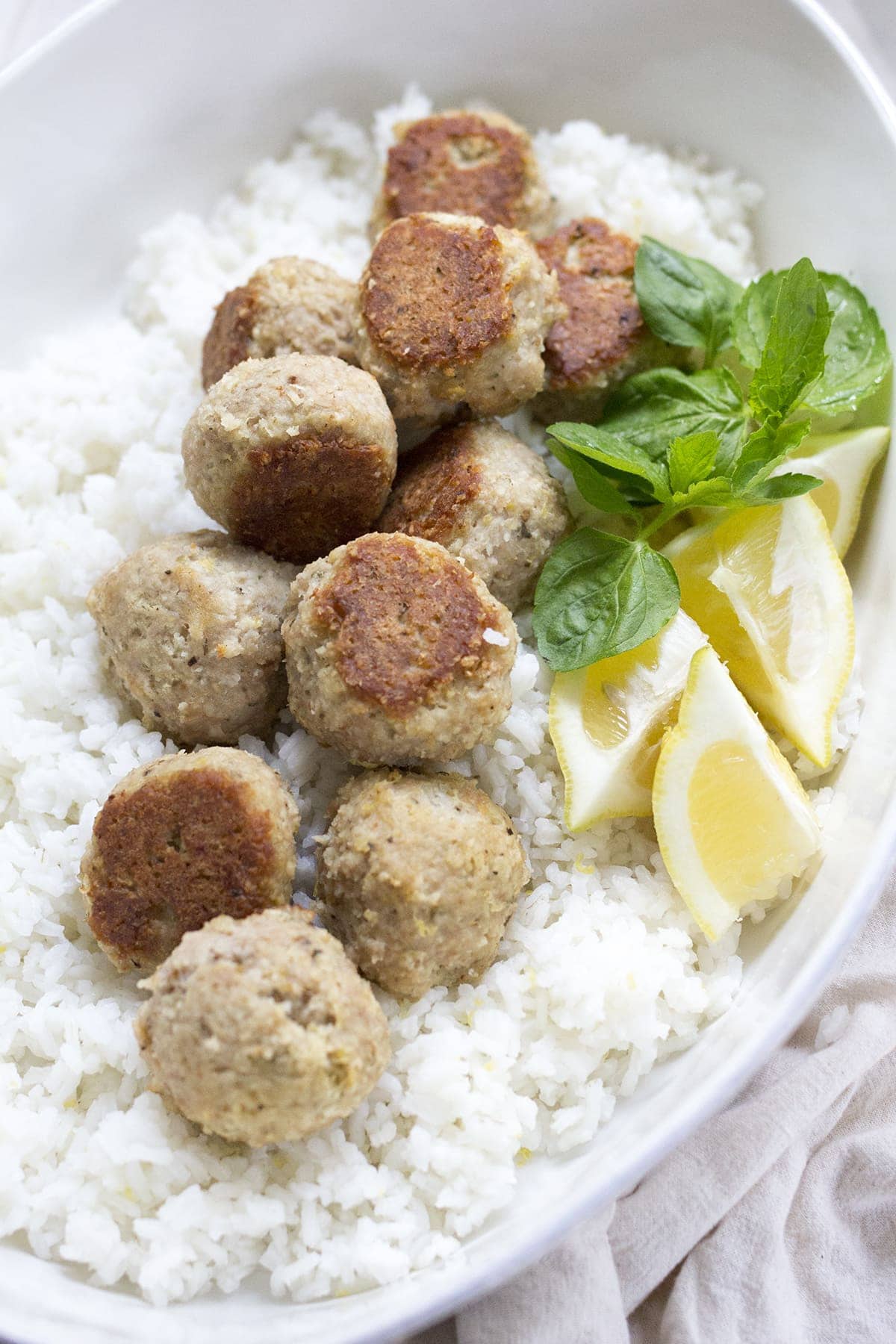 How to Serve Greek Meatballs
When your meatballs are finished cooking, arrange them on a bed of white rice and drizzle with plenty of sauce or serve them wrapped inside of a pita or flatbread to make easy Gyro wrap. Dinner is served!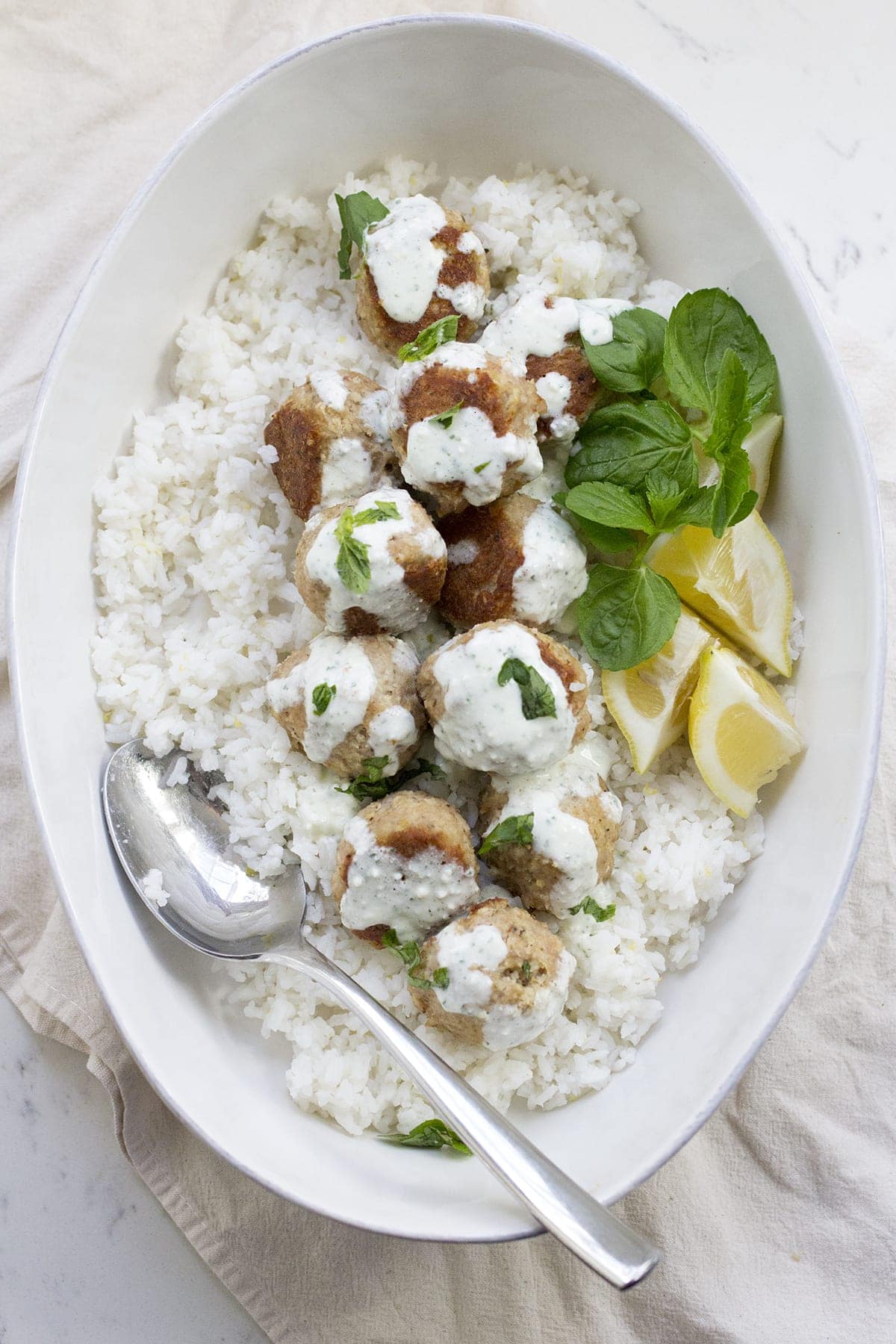 More Delicious Weeknight Recipes: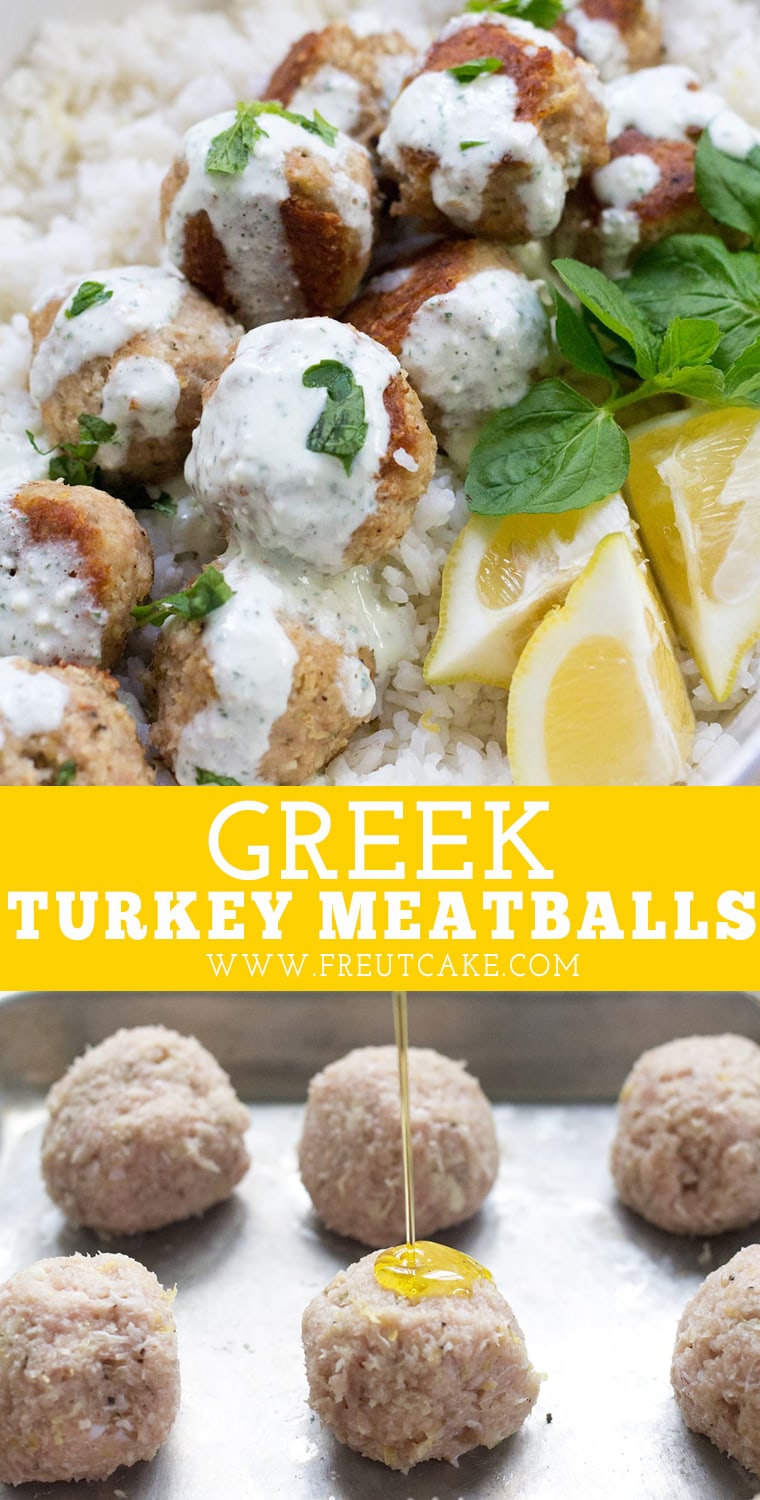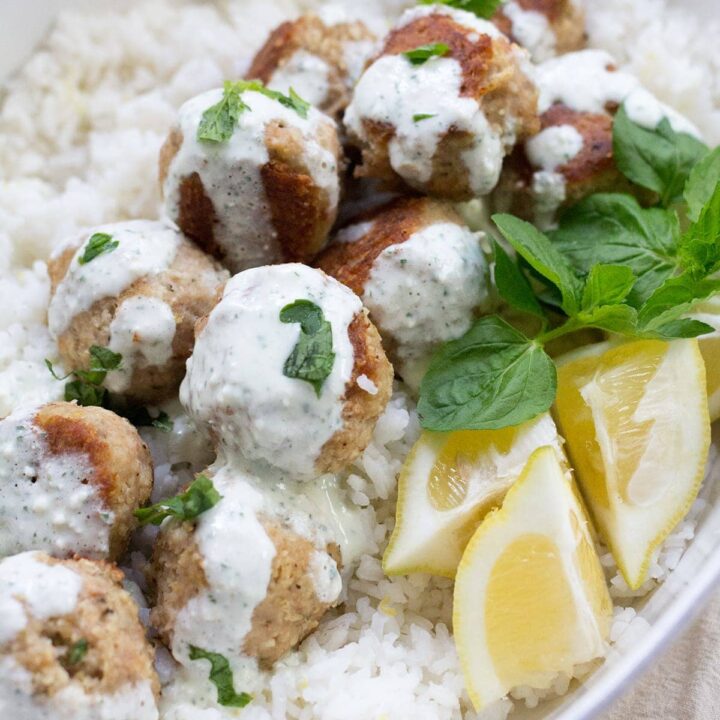 Greek Turkey Meatballs with Mint Feta Sauce
Baked Greek Turkey meatballs topped with a mint and feta yogurt sauce.
Ingredients
16 oz ground turkey (I prefer the 85% lean as the 95% becomes dry easily)
1 large egg
1 cup Panko bread crumbs
1 clove garlic, minced
1 teaspoon dried oregano
1 tablespoon grated lemon zest
½ teaspoon salt
¼ teaspoon pepper
drizzle of olive oil
For the Sauce:
½ cup full-fat yogurt
½ cup crumbled feta cheese
2 tablespoons fresh mint, torn
1 tablespoon lemon juice
Instructions
Preheat oven to 400 degrees.
Lightly oil and set aside a rimmed baking sheet.
In a large bowl combine turkey, egg, Panko, garlic, oregano, lemon zest, salt and pepper.
Mix until well combined. (Hands work best!)
Scoop out 12, ¼ cup portions, rolling each into balls and placing on baking sheet.
Bake for 15 minutes or until cooked through and no longer pink in the middle. Do not overbake as they will dry out.
Make the sauce: Combine yogurt, feta, mint and lemon juice in a food processor and pulse until well blended. Season with salt and pepper to taste.
Serve on a bed of white rice or wrapped in flatbread with a drizzle of sauce and more for dipping.
Save
Save
Save
Save