Buffalo Chicken Meatballs with a drizzle of blue cheese dressing is a zesty and flavorful appetizer to serve on game day.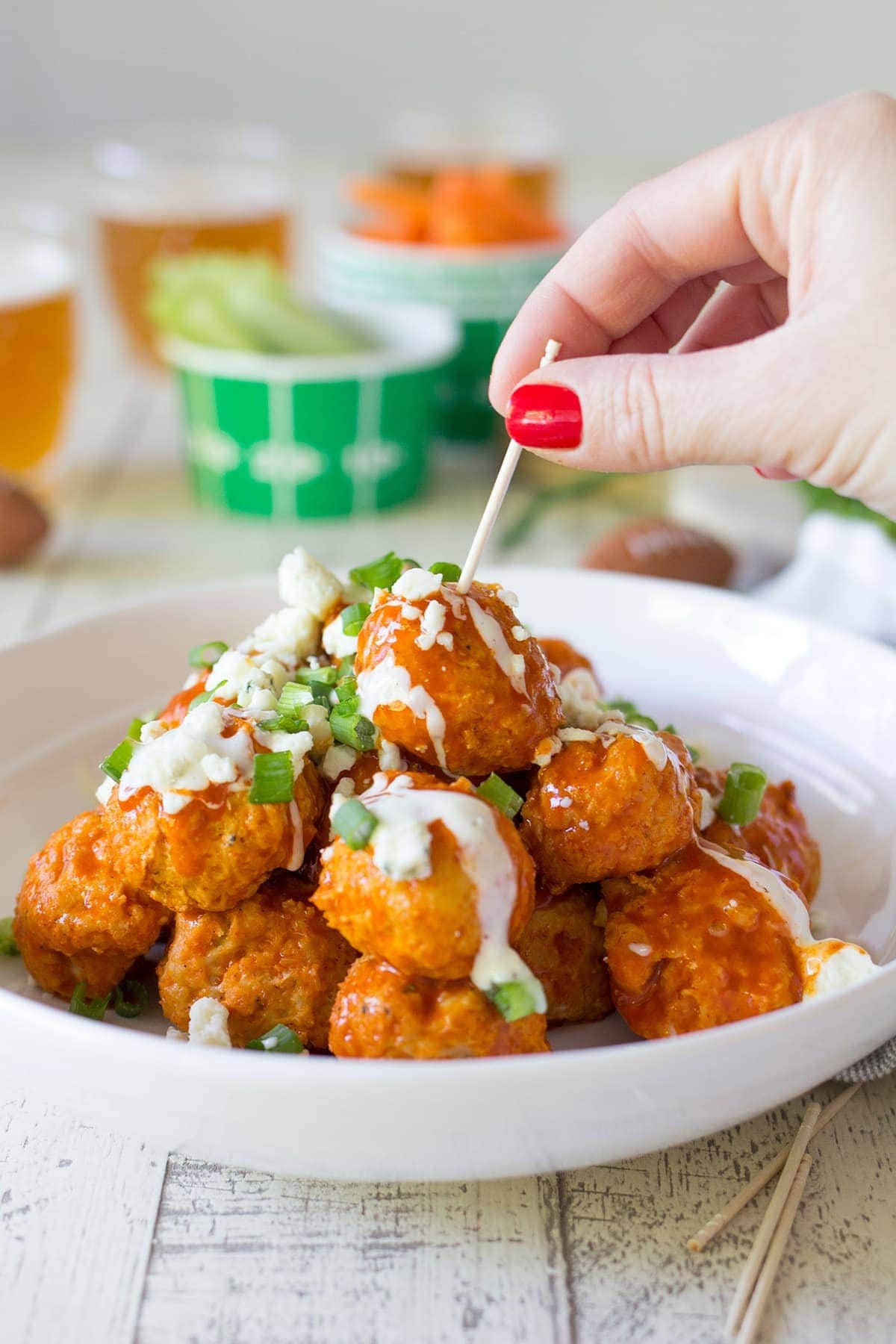 Buffalo Chicken Meatball Recipe
There are few thing I love more than the flavor of buffalo sauce. Give me spicy buffalo wings with blue cheese dip and I'm a happy lady. I took all the flavors of that classic game day appetizer and turned them into bite size (and far less messy) buffalo chicken meatballs!
Serve them with ice cold Michelas and you are all set for a day filled with football and good food.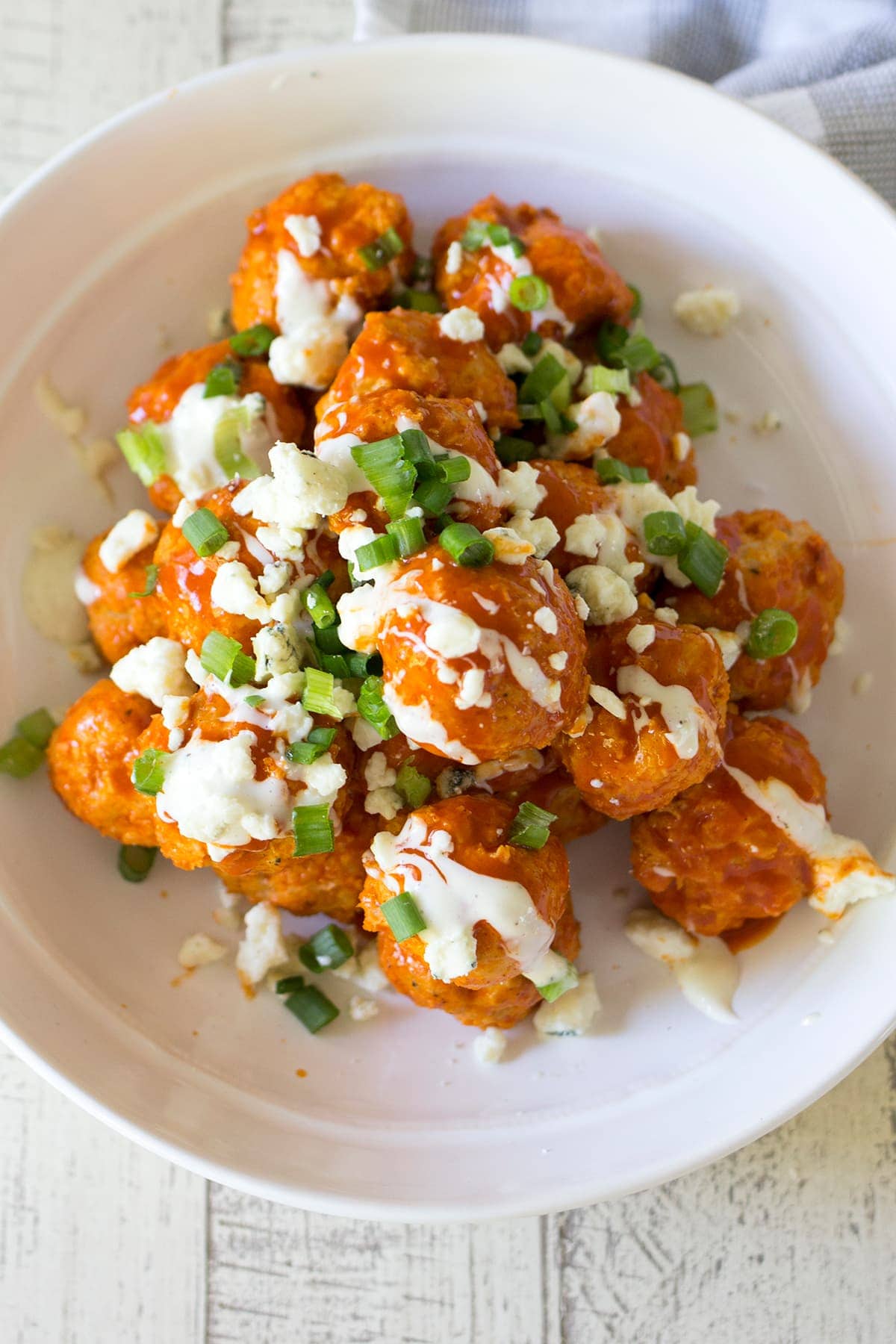 Ingredients in Buffalo Chicken Meatballs
Ground Chicken - it's lean and delicious in these meatballs but you could use ground turkey as well.
Egg- this is the binder to hold the meatballs together.
Panko bread crumbs - I love these Japanese bread crumbs because they don't make your meatballs soggy.
Seasonings - garlic, onion powder, black pepper, all the usual suspects.
Franks Red Hot wing sauce - only the best!
Blue Cheese - You'll need both blue cheese dressing and crumbled blue cheese for this recipe
Fresh Things- green onions, celery and carrots all for garnish.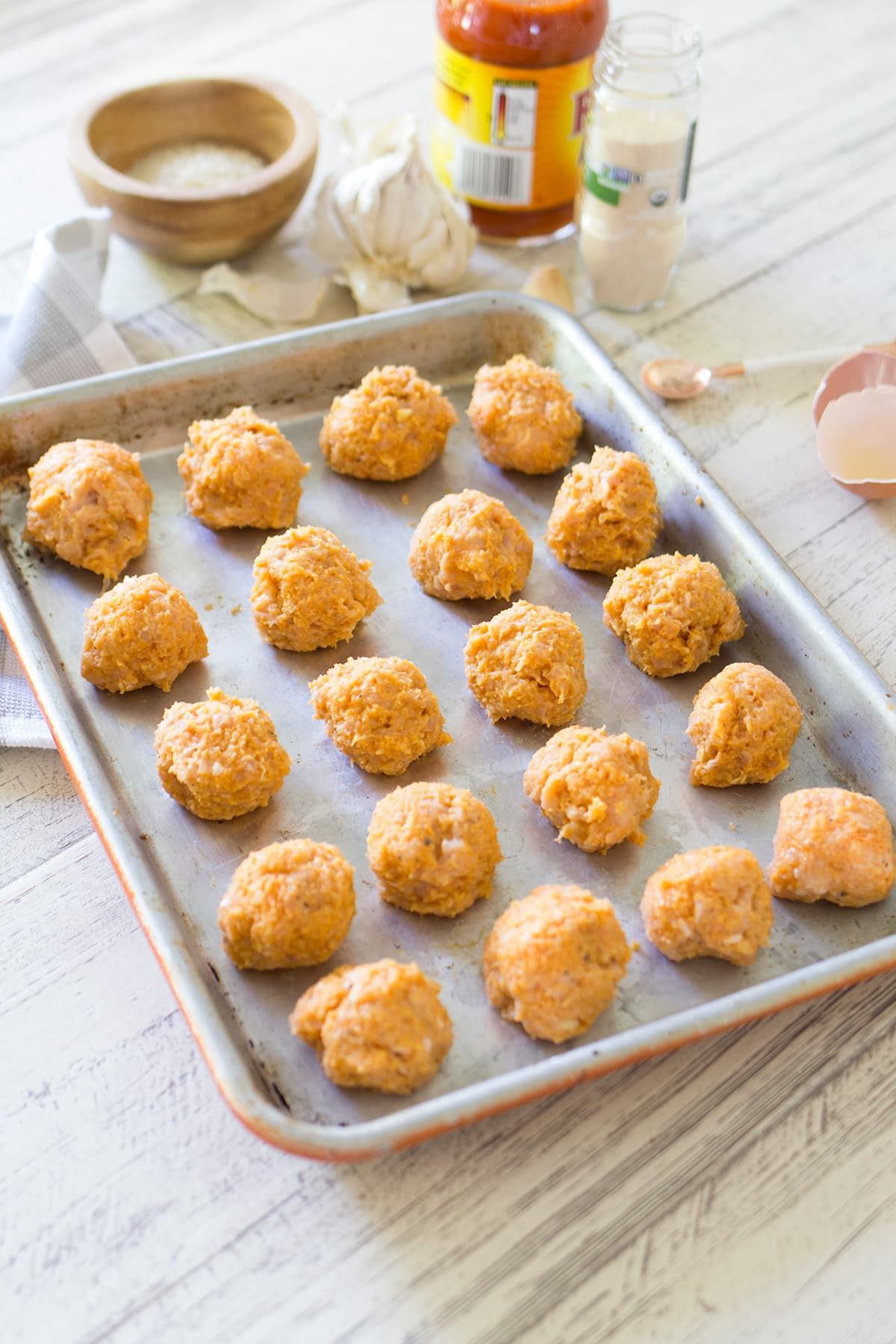 How to Make Buffalo Chicken Meatballs
Mix ground chicken, Panko bread crumbs, fresh garlic, hot sauce, seasonings and an egg together in a bowl.
Roll into cocktail sized meatballs and bake for 15-20 minutes.
Toss in more of your favorite wing sauce, drizzle with blue cheese dressing, a sprinkle of crumbled blue cheese and green onions. Pile them high on a platter and serve with toothpicks on the side.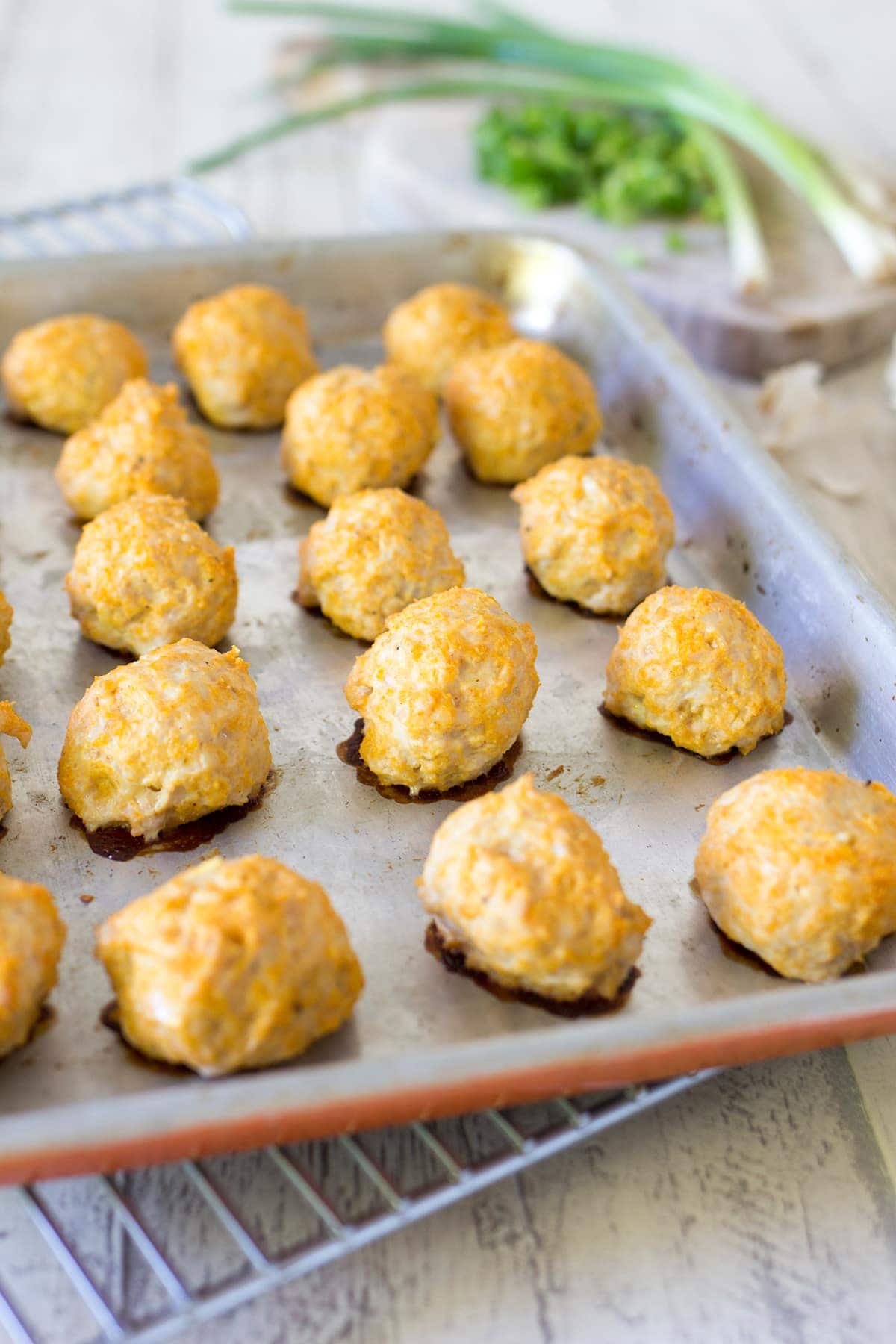 How to Bake Meatballs
Baked meatballs are my secret weapon, well one of them along with grating garlic and immersion blenders. But seriously, baking meatballs in the oven versus frying them in a pan cuts down on mess and also results in a lighter, less greasy meatball!
All you have to do is roll your meatballs, place them on a greased cookie sheet, and bake until cooked through! It's the simplist thing to do. I use the same method with my Turkey Zucchini Meatballs and my Greek Turkey Meatballs.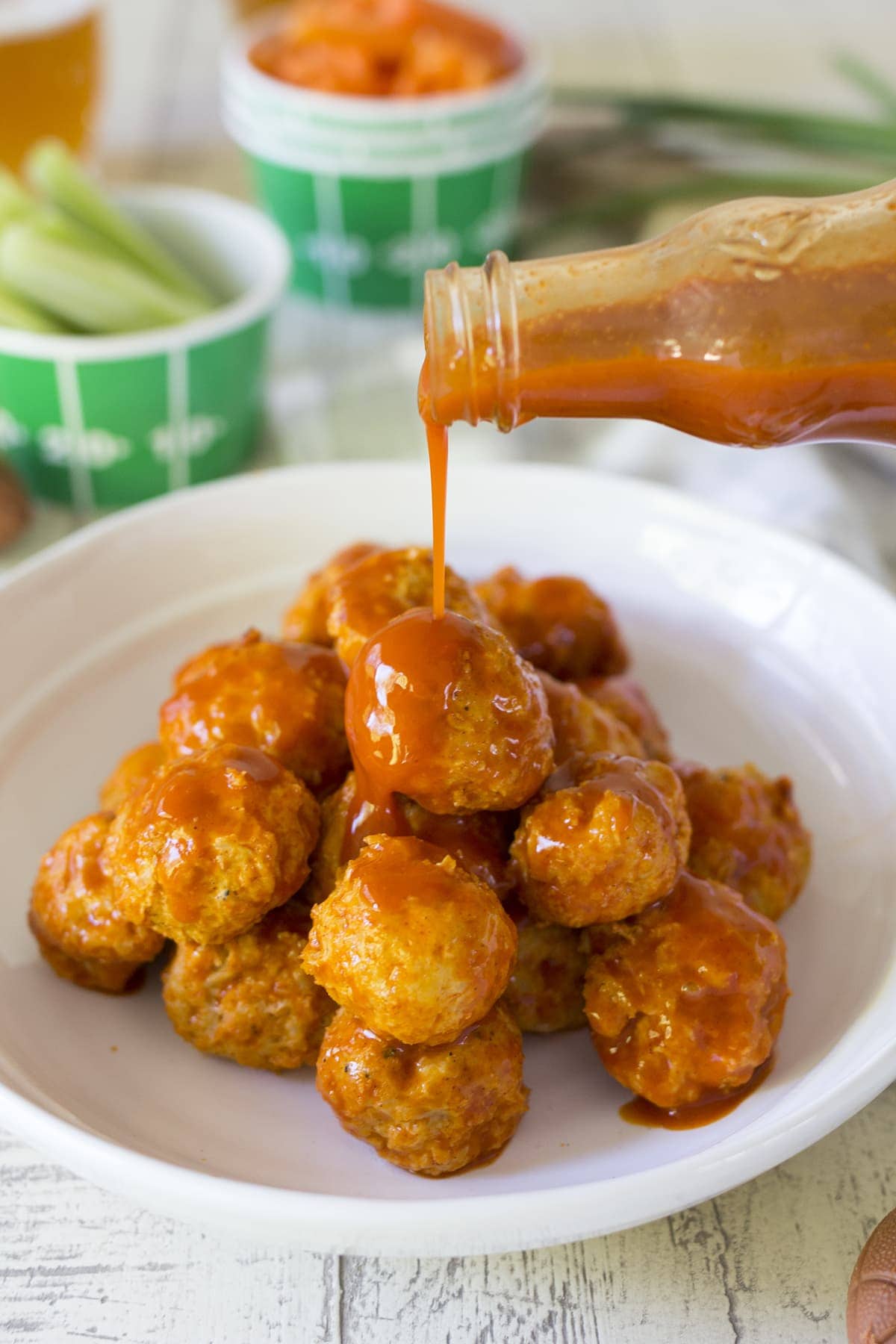 How Many Meatballs Does This Recipe Make?
This recipe makes 24 cocktail sized meatballs so if you plan to host a large party game day party, I would definitely suggest doubling the recipe! In fact, just double it. You'll thank me once you taste them.
Now let's get down to business and talk appetizers! Buffalo wings are one of my all-time favorite appetizers for game day, but they can be messy and also a pain to make. These buffalo chicken meatballs, on the other hand, have all of the classic flavors of hot wings baked into a zesty chicken meatball.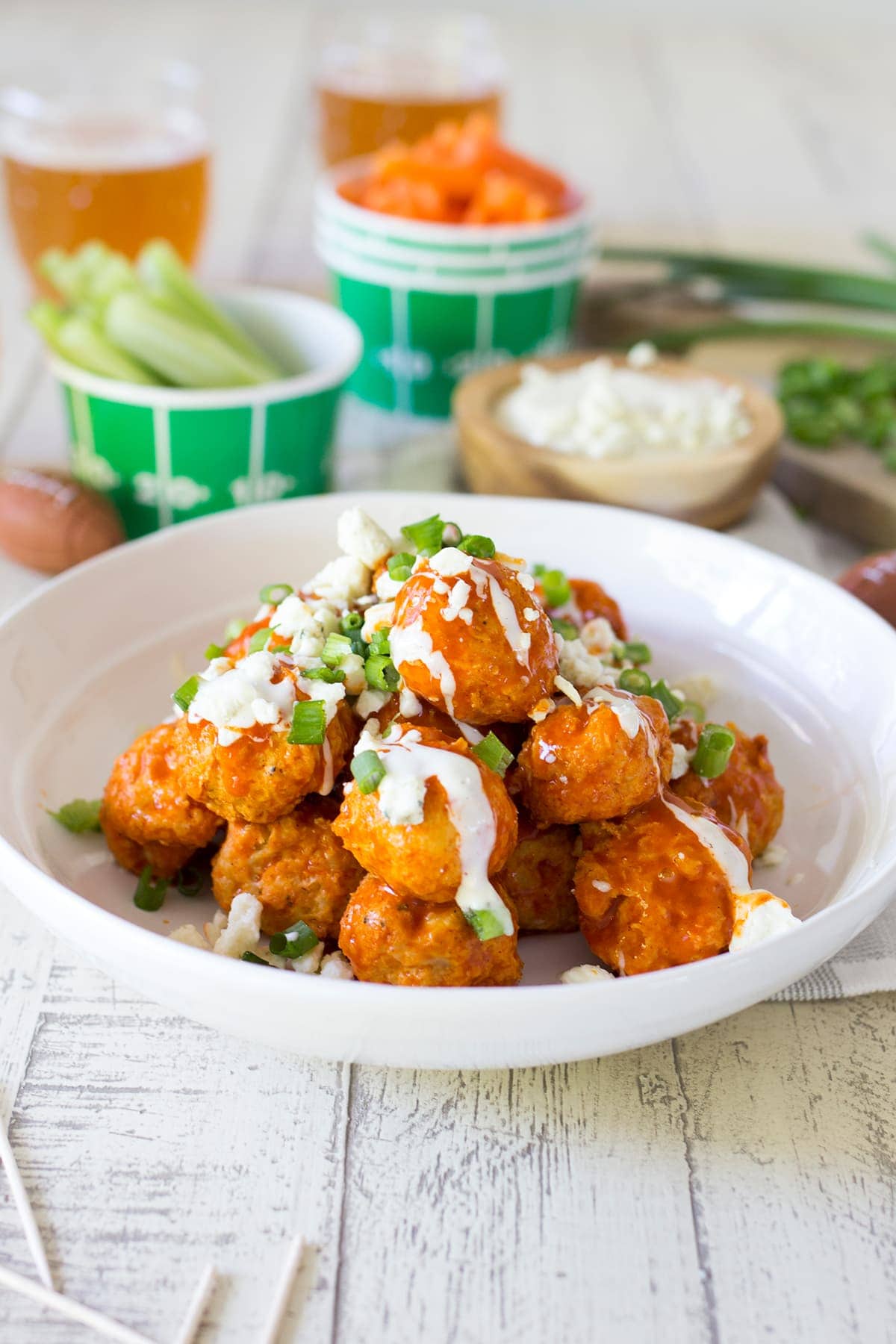 What To Serve with Buffalo Meatballs
Serve with celery, carrots and more blue cheese dressing on the side. These meatballs are guaranteed to be the most popular appetizer on your game day table. You might also like to make Pizza Pull-Apart Bread or even Easy Pepperoni Pizza Rolls to round out the appetizer spread.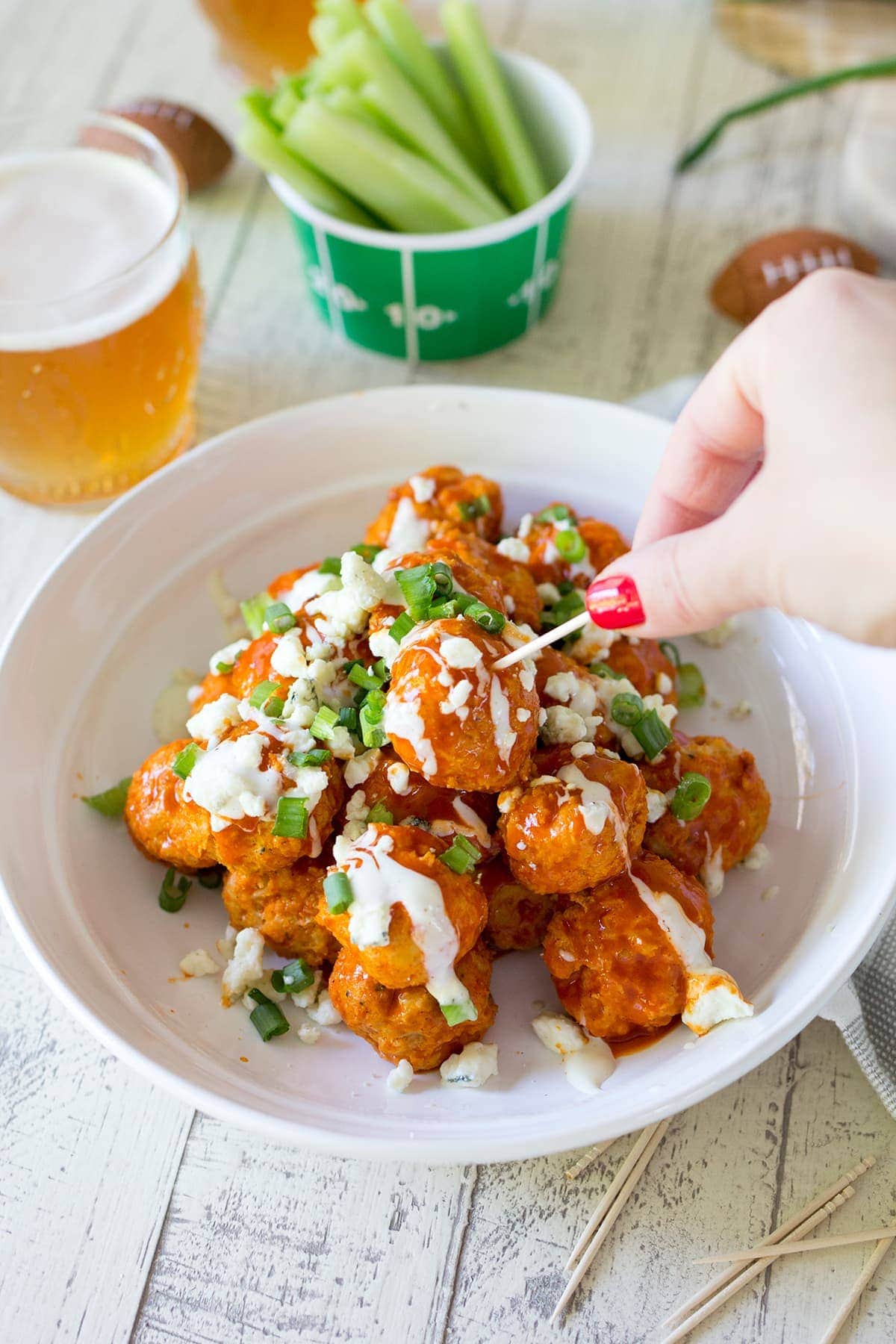 More Game-Day Recipes: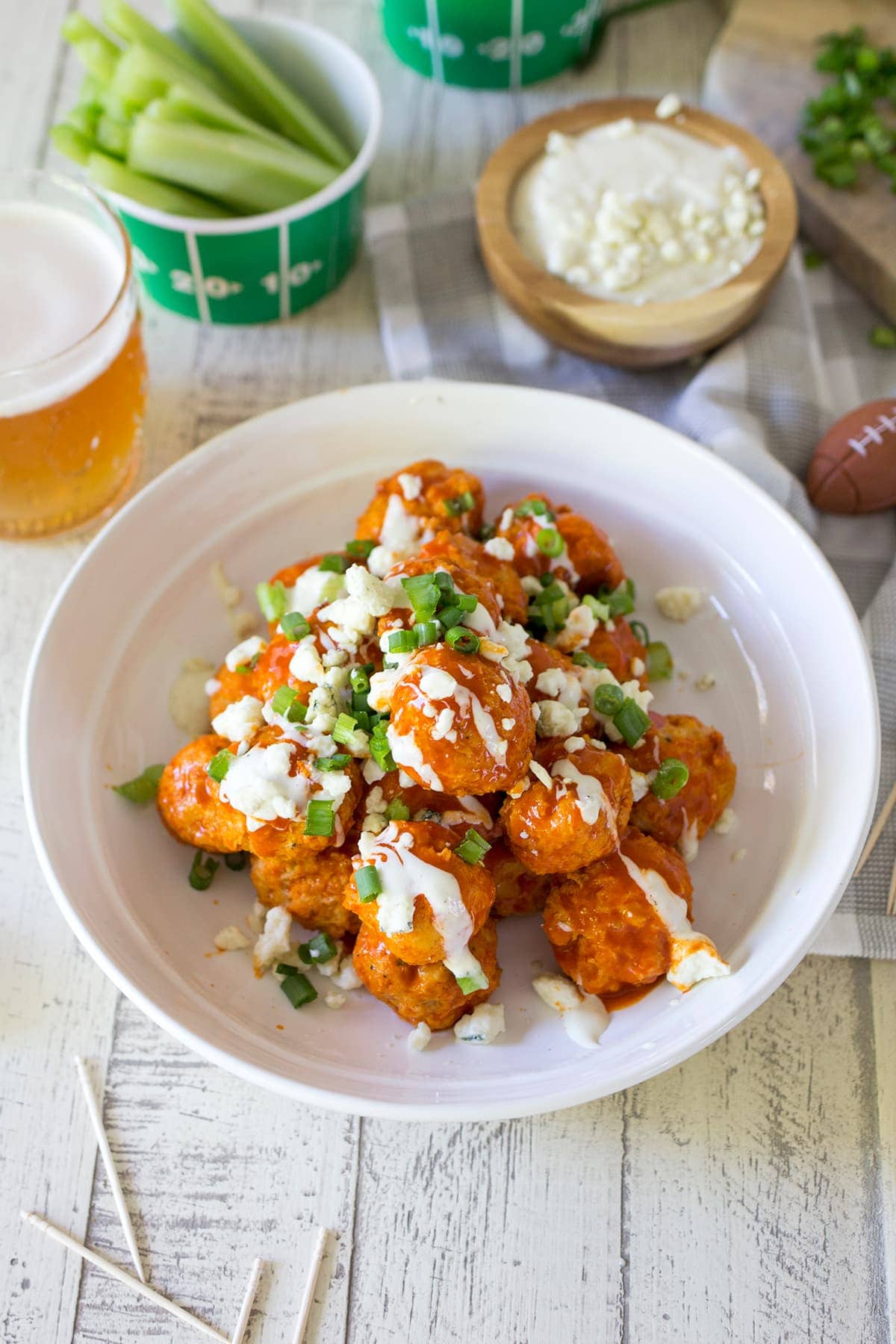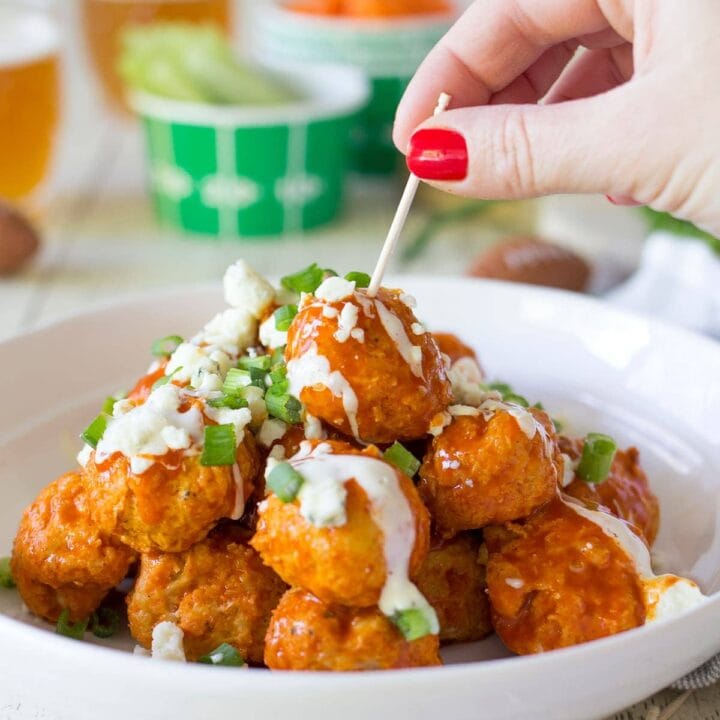 Buffalo Chicken Meatballs with Blue Cheese
Zesty buffalo chicken meatballs baked in the oven and topped with blue cheese and green onions make a great game-day appetizer!
Ingredients
1 pound ground chicken
1 clove garlic, minced
1 large egg
½ cup Panko bread crumbs
½ teaspoon onion powder
freshly ground black pepper
1 bottle Franks Red Hot wing sauce
blue cheese dressing
crumbled blue cheese
2 green onions, sliced.
Instructions
Preheat the oven to 400 degrees and spray a rimmed cookie sheet with non-stick cooking spray.
In a bowl mix together garlic, egg, bread crumbs, onion powder, ¼ cup wing sauce and a few grinds of fresh black pepper.
Mix in the ground chicken by hand until well combined and roll into 24 small cocktail meatballs placing them on the sprayed cookie sheet.
Bake 15-20 minutes or until cooked through.
Remove from oven and toss in more hot sauce until all meatballs are well coated. Arrange on serving dish and drizzle with blue cheese dressing.
Garnish with a sprinkling of crumbled blue cheese and sliced green onions.
Serve hot with toothpicks for serving.