It's probably no surprise to you that I am an avid recipe collector. Yes, I'm a curator of all things sweet and savory with a slight addiction to good old-fashioned paper recipe cards. Even with this blog working as my virtual recipe box I still find myself carefully filling out the paper versions and storing them away.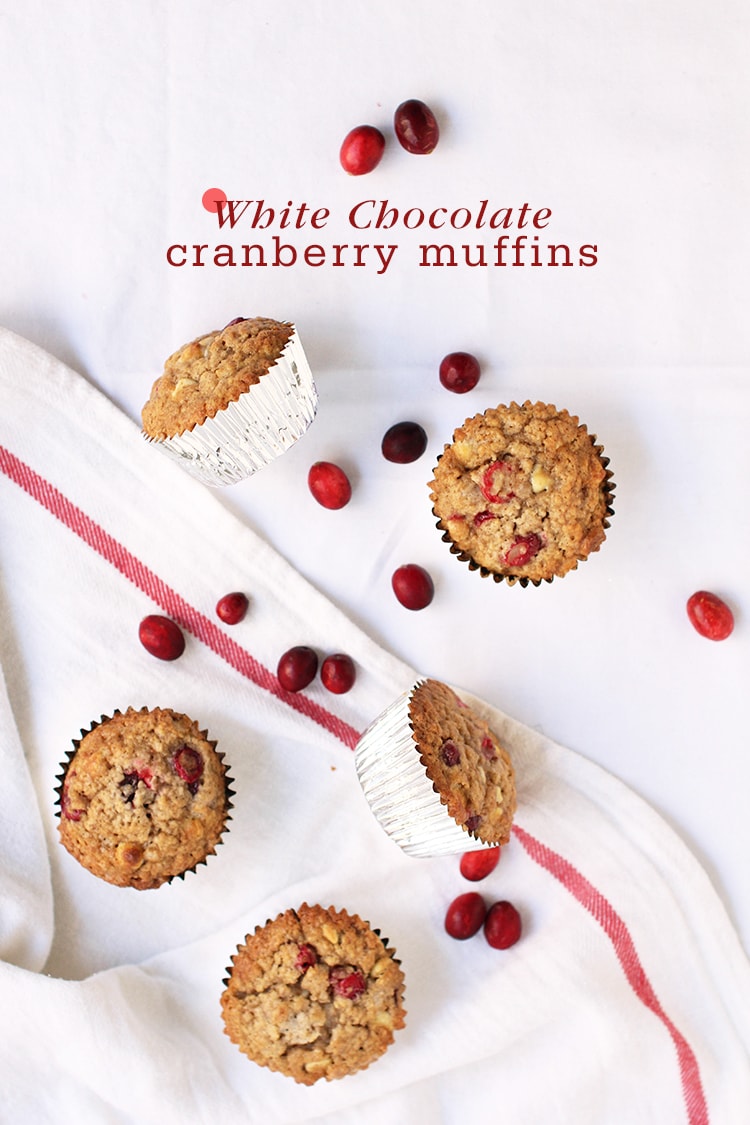 Recently I baked a batch of these Cranberry White Chocolate Muffins, quickly filled out a recipe card because they were just so darn good, snapped a few shots of them to post on the blog and printed my photos on my new Canon PIXMA printer to test it out.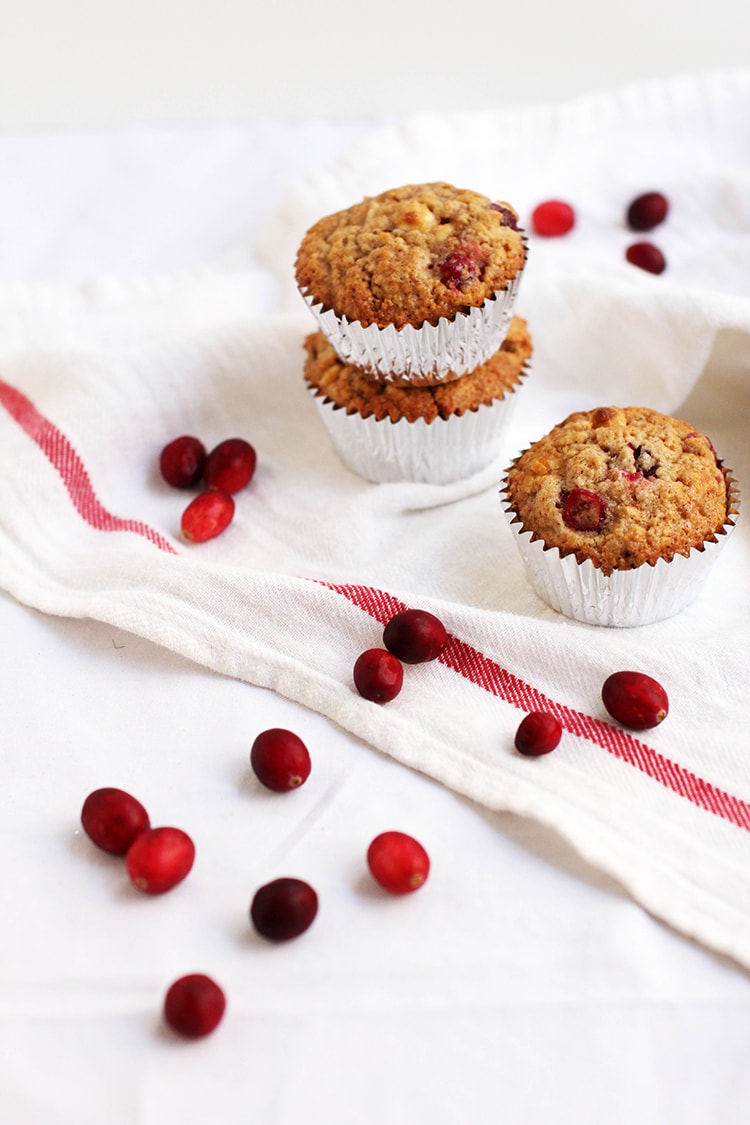 The photos printed so beautifully that it inspired me to give prints of my favorite holiday recipes along with recipe cards to my friends and family this year for Christmas…of course I'll actually make the recipe for them as well! Getting a big old basket of baked-goods as a gift is delicious, but having the recipe to match is even sweeter. Who knows, I might just have to add photos to all of my recipe cards!
My Cranberry White Chocolate Muffins are tart from the fresh cranberries, sweet from the white chocolate chips, and just festive enough to get you into the holiday spirit.
Here's how to assemble this edible & printed gift:
Step 1: Bake Cranberry White Chocolate Muffins. (Recipe to follow)
Step 2: Print out a bunch of blank recipe cards including the recipe for the muffins and a photo to match- download recipe cards here.
Note: I recommend printing recipe cards on card stock or heavy weight paper and print food photos on glossy photo paper. I used Canon Photo Paper Plus Glossy II.
Step 3: Gift Away!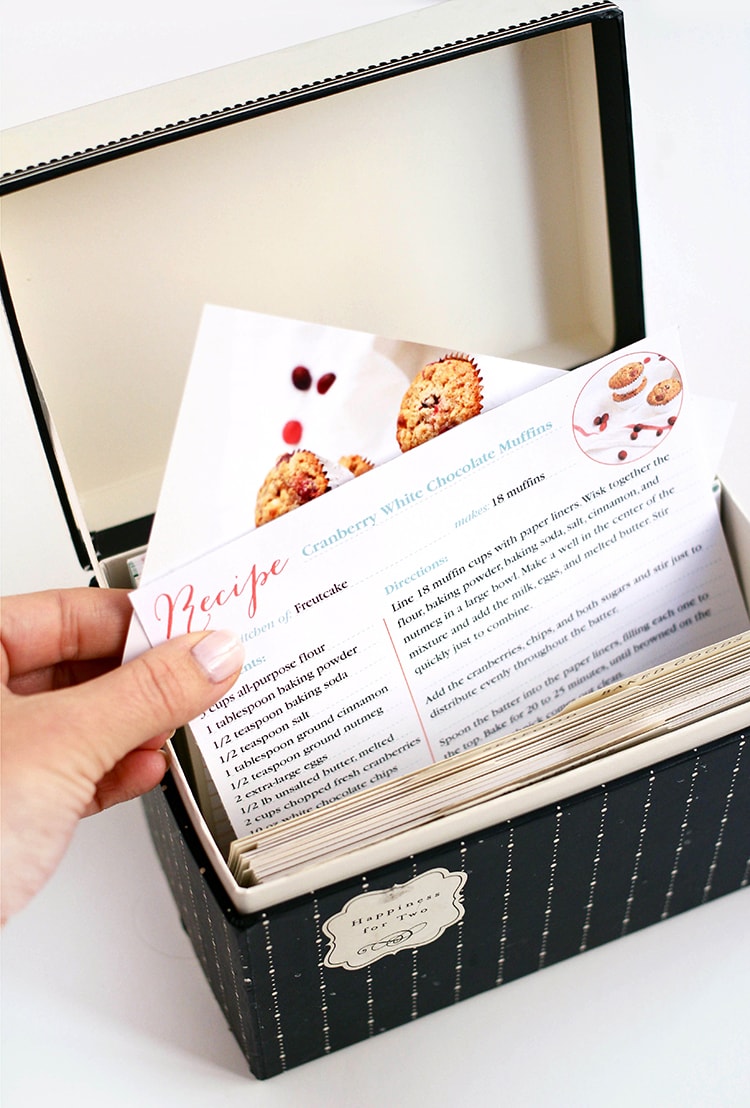 photos & recipe card design by Leah Bergman
Cranberry White Chocolate Muffins- adapted from Barefoot Contessa
Makes 18
3 cups all-purpose flour
1 tablespoon baking powder
½ teaspoon baking soda
½ teaspoon salt
1 tablespoon ground cinnamon
½ teaspoon ground nutmeg
2 extra-large eggs
½ lb unsalted butter, melted
1 ¼ cups whole milk
2 cups chopped fresh cranberries
10 oz white chocolate chips
¾ cup brown sugar, packed
¾ cup granulated sugar
Directions:
1. Preheat the oven to 375 degrees and line 18 muffin cups with paper liners.
2. Whisk together the flour, baking powder, baking soda, salt, cinnamon, and nutmeg in a large bowl.
3. Make a well in the center of the mixture and add the milk, eggs, and melted butter. Stir quickly just to combine.
4. Add the cranberries, chips, and both sugars and stir just to distribute evenly throughout the batter.
5. Spoon the batter into the paper liners, filling each one to the top. Bake for 20 to 25 minutes, until browned on the top and a toothpick comes out clean.
Disclosure: This post is sponsored by Canon but all opinions expressed here are my own. Thank you for supporting the sponsors who allow me to continue creating new content for Freutcake!