Quick Rhubarb Compote, the perfect tart and sweet topping for a bowl of vanilla ice cream or a slice of buttery pound cake!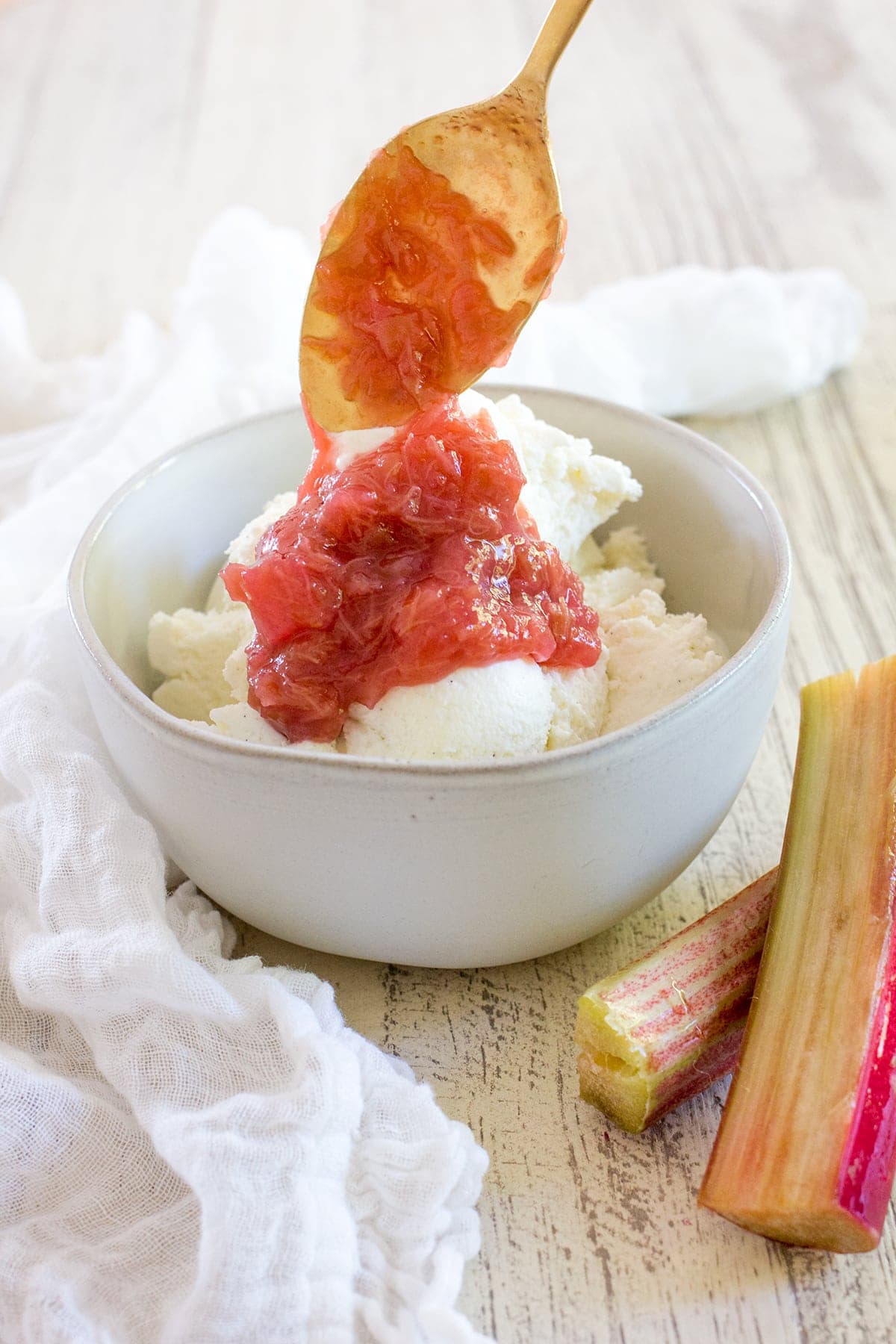 Although rhubarb is technically a vegetable, it is most often used like a fruit! Chopped small and cooked down with sugar, lemon juice and lemon zest, this compote comes together quickly and has a lovely and unique tart flavor.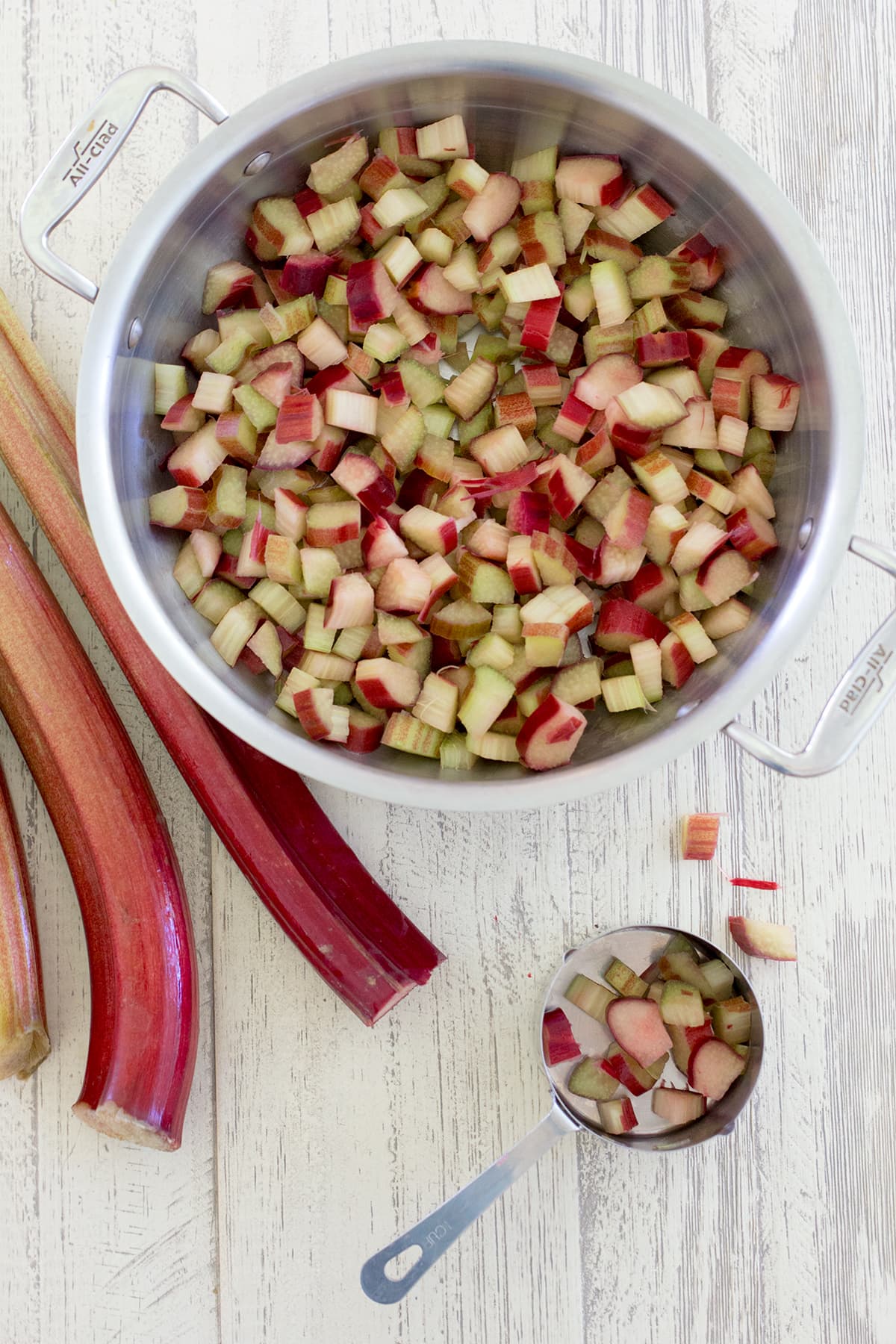 When picking your rhubarb, look for the pink and red stalks (versus green.) These colorful stalks will be more flavorful and tender and produce a pretty pink color when cooked down. My local grocery store is still carrying rhubarb (in July) which is amazing but the color selection wasn't the best. Even with a few light green stalks thrown in there, this compote still turned out mouth puckering-good.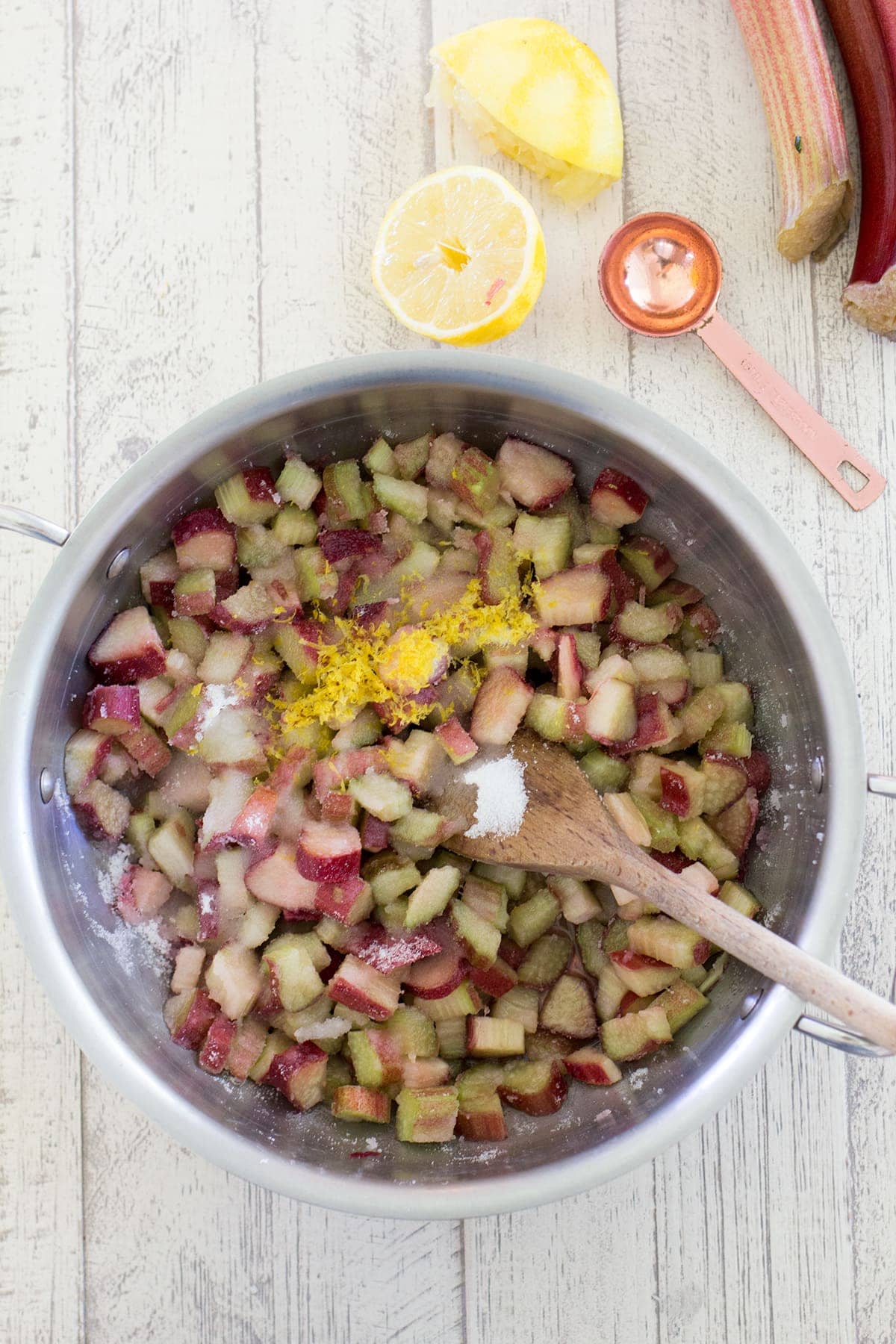 Start by allowing the sugar to sit on the chopped rhubarb for about 10 minutes to release the juices. This will help the rhubarb cook down quickly and boil away into a slightly chunky compote. After the juices are released, stir in lemon juice, and lemon zest. There isn't a lot in the way of flavorings going into this mixture because I wanted the rhubarb to shine. The end result is pure, fresh rhubarb flavor. The natural sour candy of the veggie world and the perfect contrast over sweet vanilla bean ice cream.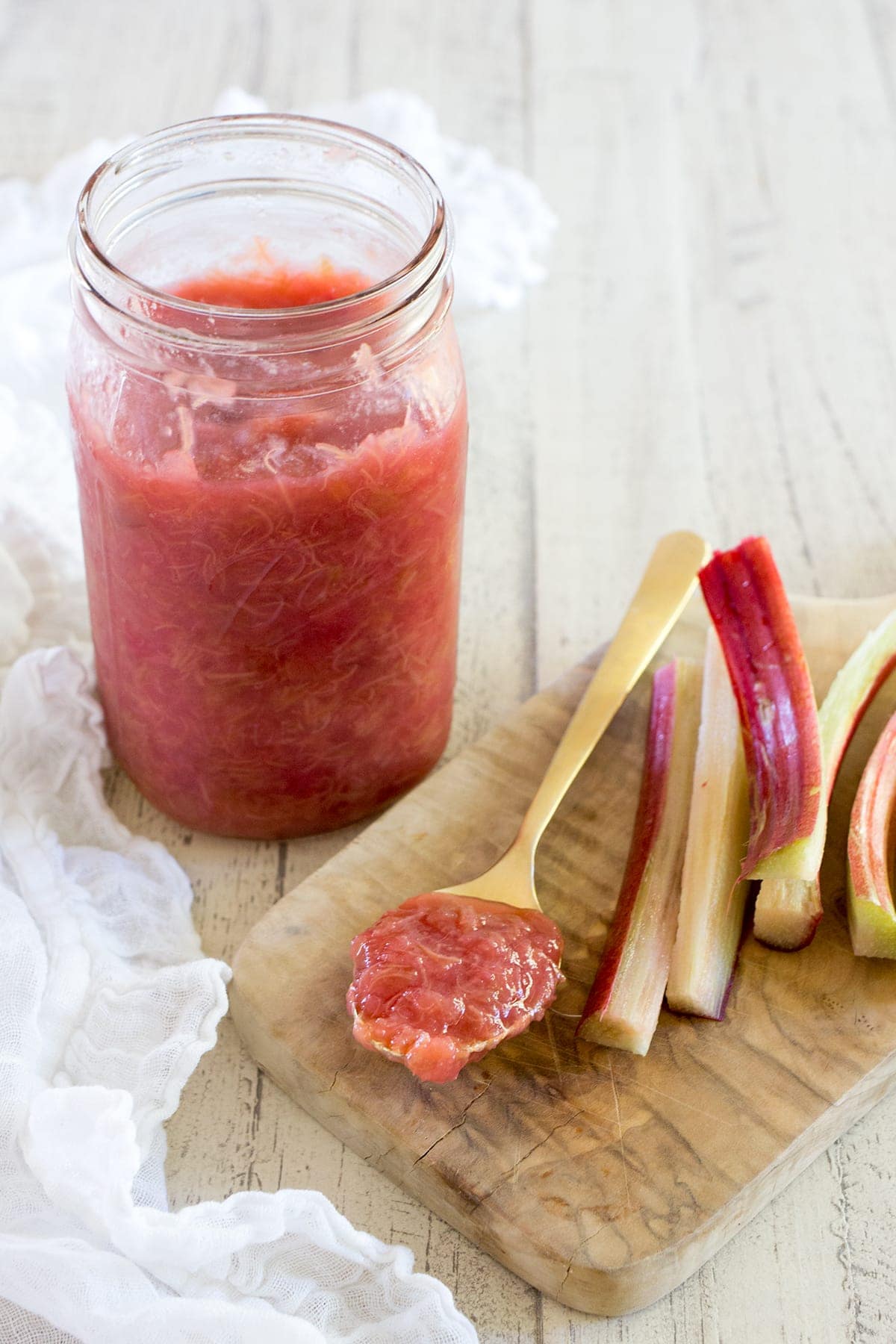 And since you will want to eat this compote on pretty much everything, we are making a big batch. Try topping yogurt with granola + this compote. Add a spoonful on top of your morning waffles or pancakes. Or simply eat it by the spoonful if you must. Just make sure to give this recipe a try! It makes an effortless homemade dessert in no time and everyone will ask you for the recipe.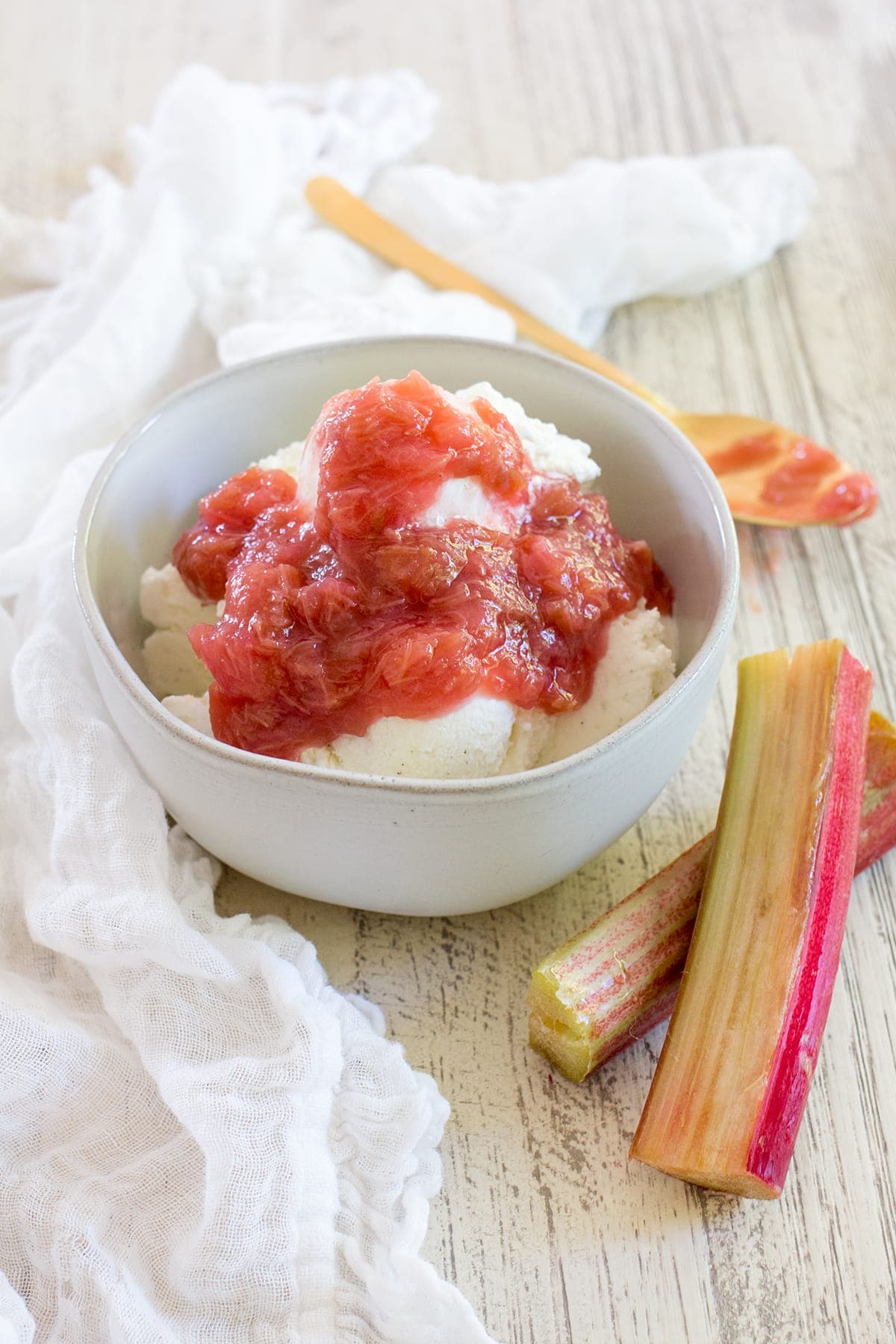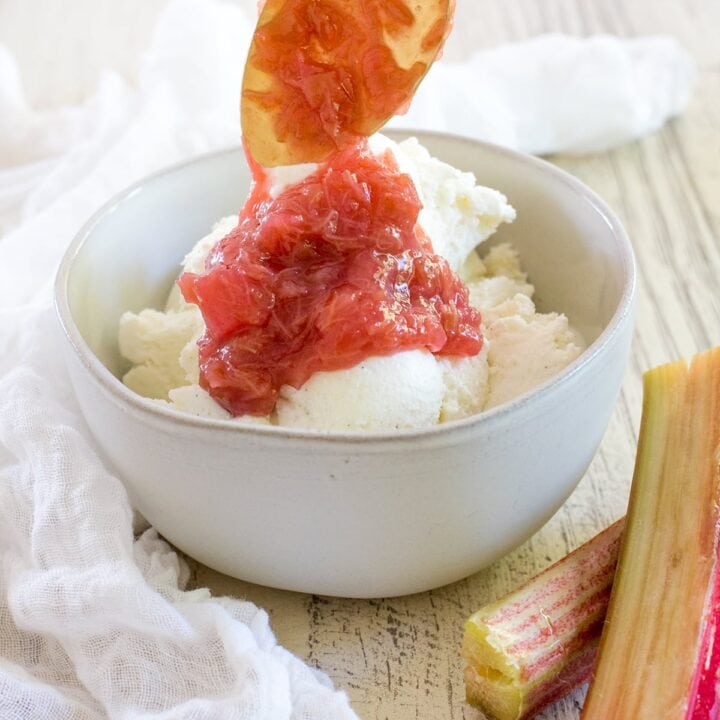 Quick Rhubarb Compote
A sweet and tart rhubarb compote perfect for serving over your favorite ice cream, yogurt or cake.
Ingredients
8 cups chopped rhubarb – ½ inch pieces
1 ½ cups sugar
zest of lemon
1 Tbsp lemon juice
Instructions
Chop rhubarb and place in a large pot. Cover with sugar and allow to sit for 10 minutes until rhubarb begins to release some of it's juices. (off of the heat)
Stir in lemon zest and lemon juice.
Bring to a boil over medium-high heat stirring frequently.
Reduce to medium-low heat and cook about 7 minutes stirring frequently The sugar should be completely dissolved and the rhubarb cooked down until it breaks apart.
Remove from heat and allow to cool completely.
Store in a covered glass jar in the refrigerator.
Here are some fun and interesting facts about rhubarb:

(Source)
1: The earliest records of rhubarb date back to China in 2700 B.C., where it was used for medicinal purposes.
2: It's Really A Vegetable. Rhubarb is a member of the buckwheat family and botanically speaking, it's a vegetable, not a fruit.
3: Rhubarb Cooking Tip: 1 pound of fresh rhubarb yields about 3 cups chopped or 2 cups cooked.
4: Rhubarb is also commonly referred to as a "pie plant" after one of its most popular applications...pie.
5: Americans are all about pairing tangy and tart rhubarb with sweet and juicy strawberries. In Britain they enjoy it with spicy ginger – yum!

Looking for more tasty rhubarb recipes? Try my Strawberry Rhubarb Crumble shown below. Here's the recipe!