Last week I had an especially stressful day amplified by the fact that the water and power in our building simultaneously went out. I tried to steady my blood pressure, knowing that no work, or showers for that matter, would be accomplished that day. I packed a bag with my swimsuit, called the spa and made myself an appointment. Driving over with my disheveled-unwashed hair and frazzled brain, I started to regret my impulsive spa day and the money I was going to spend. At the same time I couldn't help but think about how much I needed to sit in a Jacuzzi for at least an hour, drink a gallon of Cucumberade "spa-water" and try my best to relax a little. Maybe my water and power going out was the universe telling me to slow-down. Maybe the stress had finally caught up to me. Or maybe I just needed an excuse to relax a little. Can you really put a price on taking care of your body and mind? If I focus more on relaxation and de-stressing every day, maybe I won't have these little meltdowns. Or maybe I'll just book monthly spa days and put it on the Universe's tab. If only!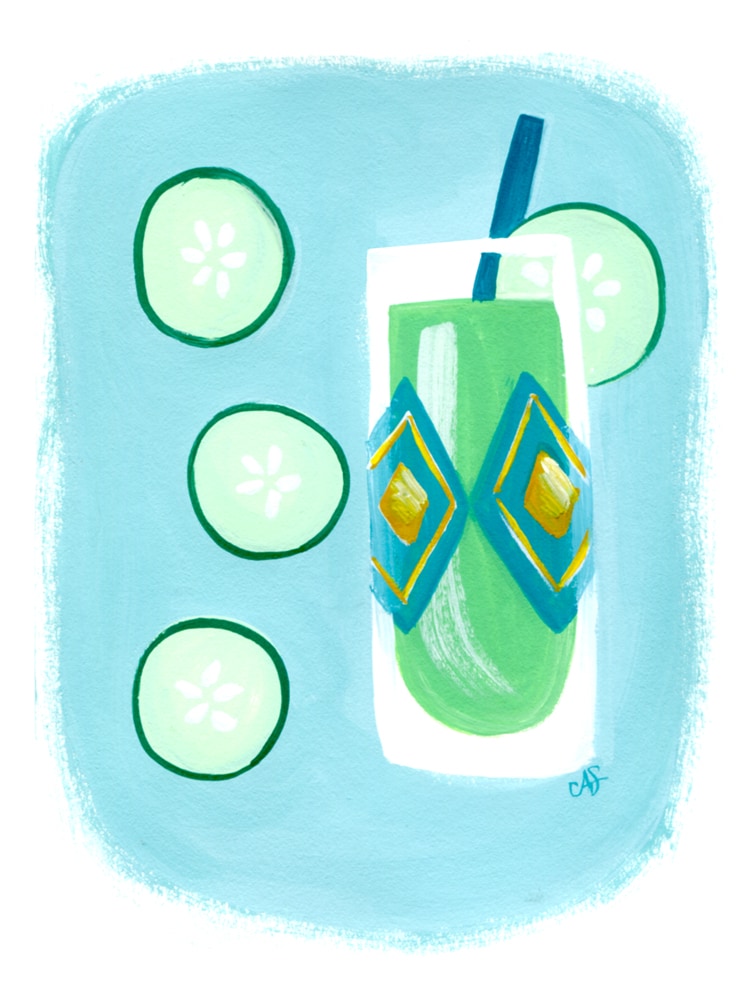 Illustration by Ann Shen
Cucumberade– recipe from Cool Waters cookbook
serves 6
2 large cucumbers
juice of 1 lemon
juice of 1 lime
pinch of sea salt
6 cups filtered water
Directions:
1. Thinly slice on of the cucumbers and reserve. Peel, seed and coarsely chop the second cucumber.
2. Puree the chopped cucumber with the lemon and lime juices, salt, and 1 cup of the water in a blender. Strain through a fine-mesh sieve into a large pitcher, using a ladle or rubber spatula to extract as much juice from the pulp as possible.
3. Add the remaining water and the cucumber slices, stir gently, and serve. To intensify the cumber flavor, allow the water to steep for a couple of hours in the refrigerator. Drink same day!
Note: This drink is packed with electrolytes and vitamin C, so it's healthy and delicious!