Happy Friday friends! My friend Courtney from the adorable entertaining blog Pizzazzerie is guest posting today to share a Pineapple Mojito cocktail recipe for your long weekend. Oh, how I wish I could have one of these! I might just make myself a virgin...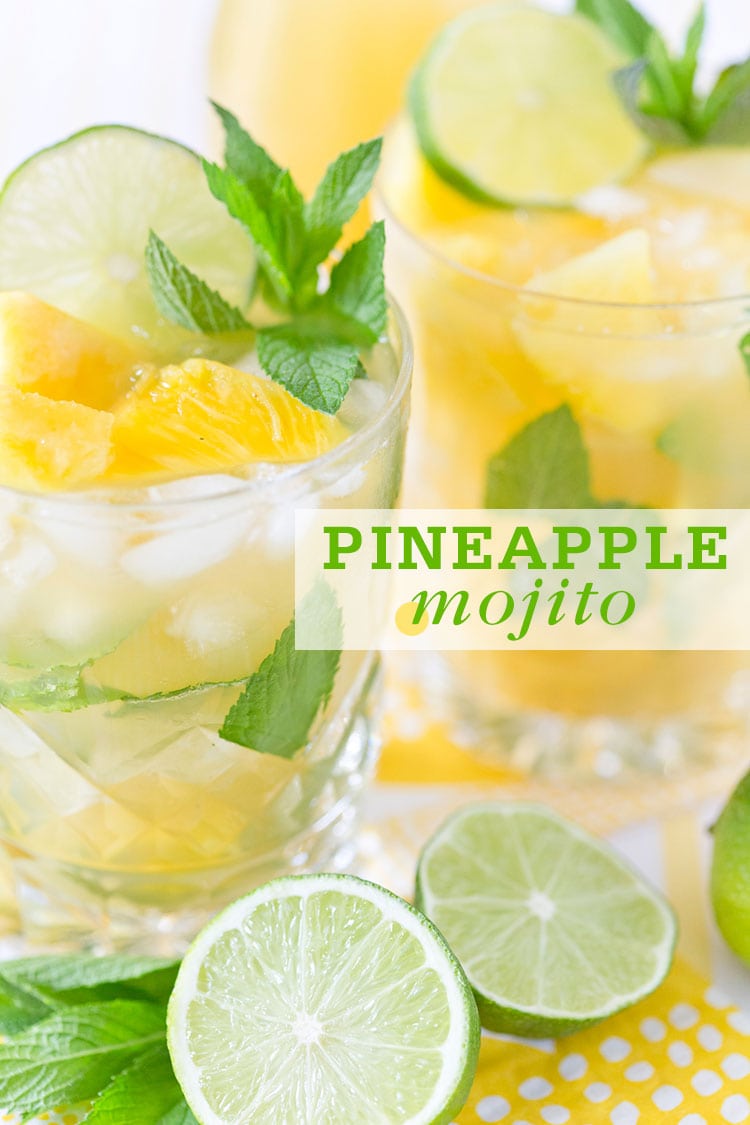 Hi everyone! I'm so thrilled to stop by with a delicious cocktail recipe while Leah is busy preparing for the cutest twins and future bloggers ever. And since she can't partake in alcohol recipes at the current moment, you and I shall enjoy all the cocktails…mmk? Perfect!
Pineapple Mojito Recipe
Pineapples are the epitome of summer flavor! I personally love Pina Coladas but sometimes you don't really want to have to fuss with a blender and serving frozen drinks for a group can be hard (what hostess wants to be stuck behind the blender?) so I solved that problem – pineapple mojito!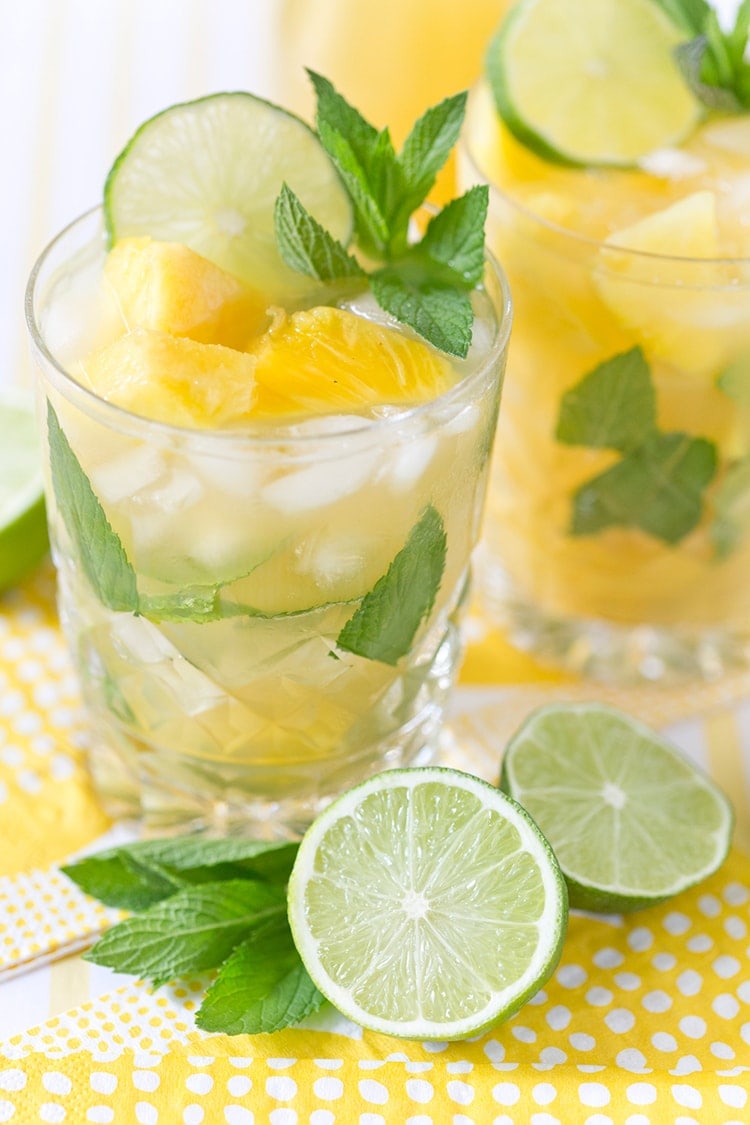 Ingredients in a Pineapple Mojito
rum
pineapple juice
sugar
club soda
fresh mint leaves
lime wedge
pineapple slices- for garnish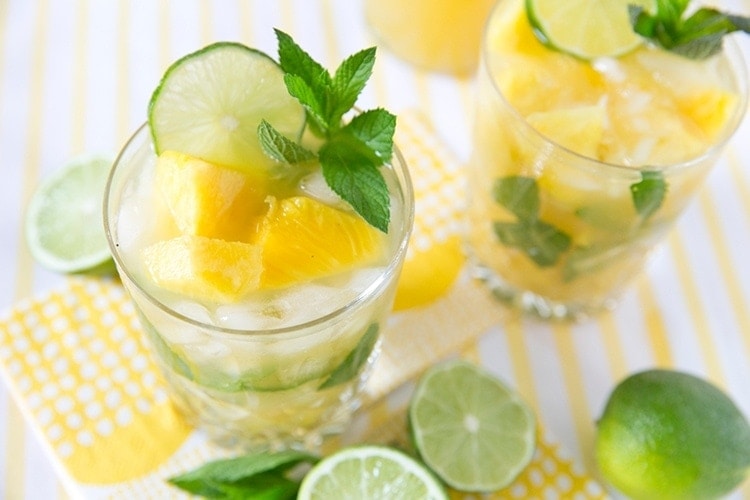 It has all the same deliciousness yet eighteen times easier to make. Pitcher drinks are the best kind of drinks to serve for groups because you can prep a large quantity ahead of time and have them chilling in the refrigerator while you go kick your heels up and check Instagram – oh wait, is that just me? Anyway, this is a cocktail you don't want to miss!
More Tropical Cocktails to Try: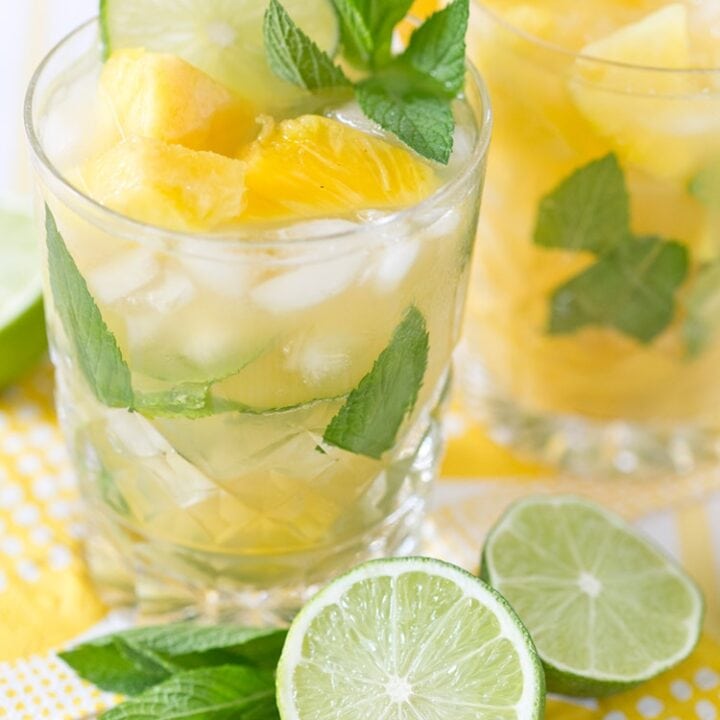 Pineapple Mojito
A tropical fruity twist on the classic mojito made with fresh pineapple.
Ingredients
2 ounces rum
2 ounces pineapple juice
1 tablespoon sugar
1 ounce club soda
6 fresh mint leaves
1 lime wedge
pineapple slices for garnish
Instructions
In the bottom of your serving glass, muddle together mint leaves and sugar.
Add pineapple juice and rum and stir until sugar is
dissolved.
Add ice, club soda, and garnish with lime wedge and pineapple slice (or chunks). Serve immediately.