Frozen Banana Cocktails, or Banana Daiquiris are one of my favorite tropical drinks. They taste like days spent poolside or at the beach and have you longing for tropical breeze and coconut scented sunscreen. This is the ultimate recipe for a frozen banana cocktail.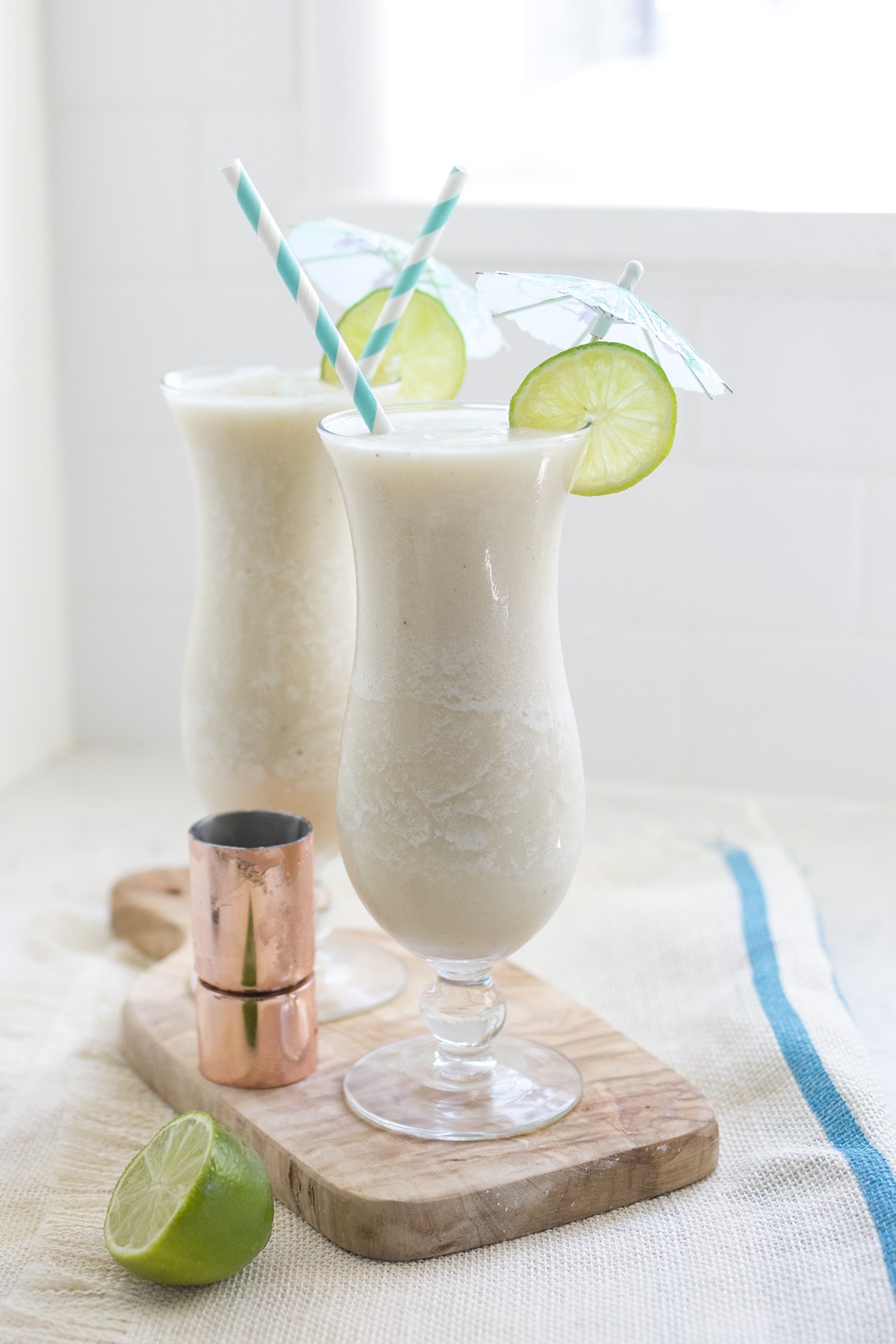 Banana Daiquiris
My sister and I like to talk about one weekend in particular when she came down to visit me at the beach and we spent three glorious days sipping frozen daiquiris, swimming in the warm ocean water, and relaxing on the sand.
Last week I had one of those days (minus the frosty-frozen drinks) and it was incredible. The weather was down right perfect, the water was crystal clear and warm enough to swim, sea shells studded the beach and the twins were on their best beach behavior…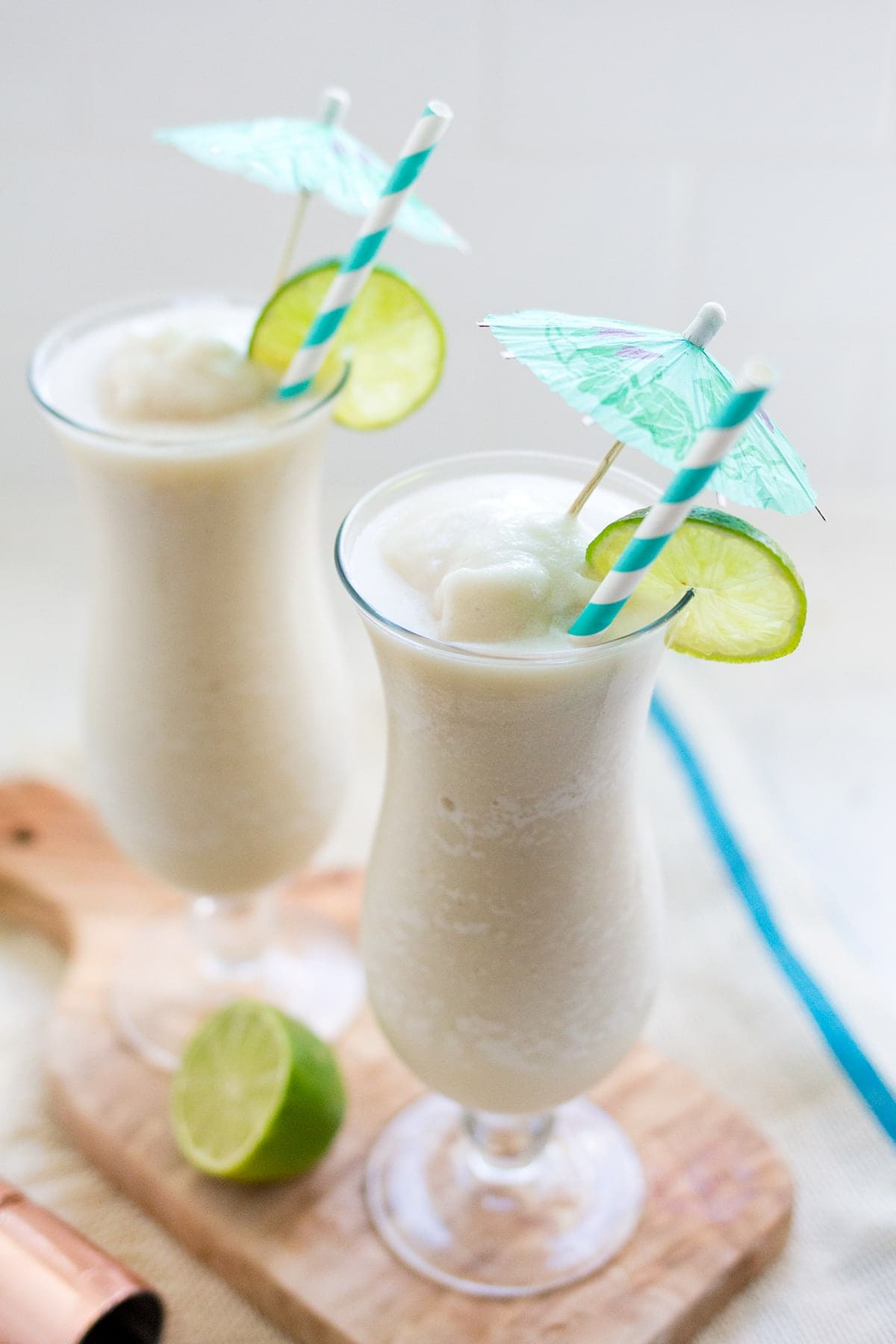 Of course I would have liked nothing more than to sit on that warm sand with a Frozen Banana Cocktail and sip the beautiful sun-filled hours away. So, naturally I headed home and made myself a Frozen Banana Cocktail the next day. Blended rum, cream of coconut, frozen bananas, fresh lime juice and ice all served up in a big hurricane glass.
Ingredients in a Banana Daiquiri
Bananas - frozen bananas that is, to achieve that super thick and creamy texture.
Cream of Coconut - I like Coco Real because it comes in a convenient squeeze bottle and tastes amazing!
Lime - to give just a hint of tart to all that sweet.
Ice - so that your frozen cocktail is extra thick and cold.
Dark Rum - I prefer dark rum for this drink because it adds more flavor but any rum will do, even banana rum!
Cute Garnishes- Lime wheels, paper umbrellas and straws...all completely optional but very fun.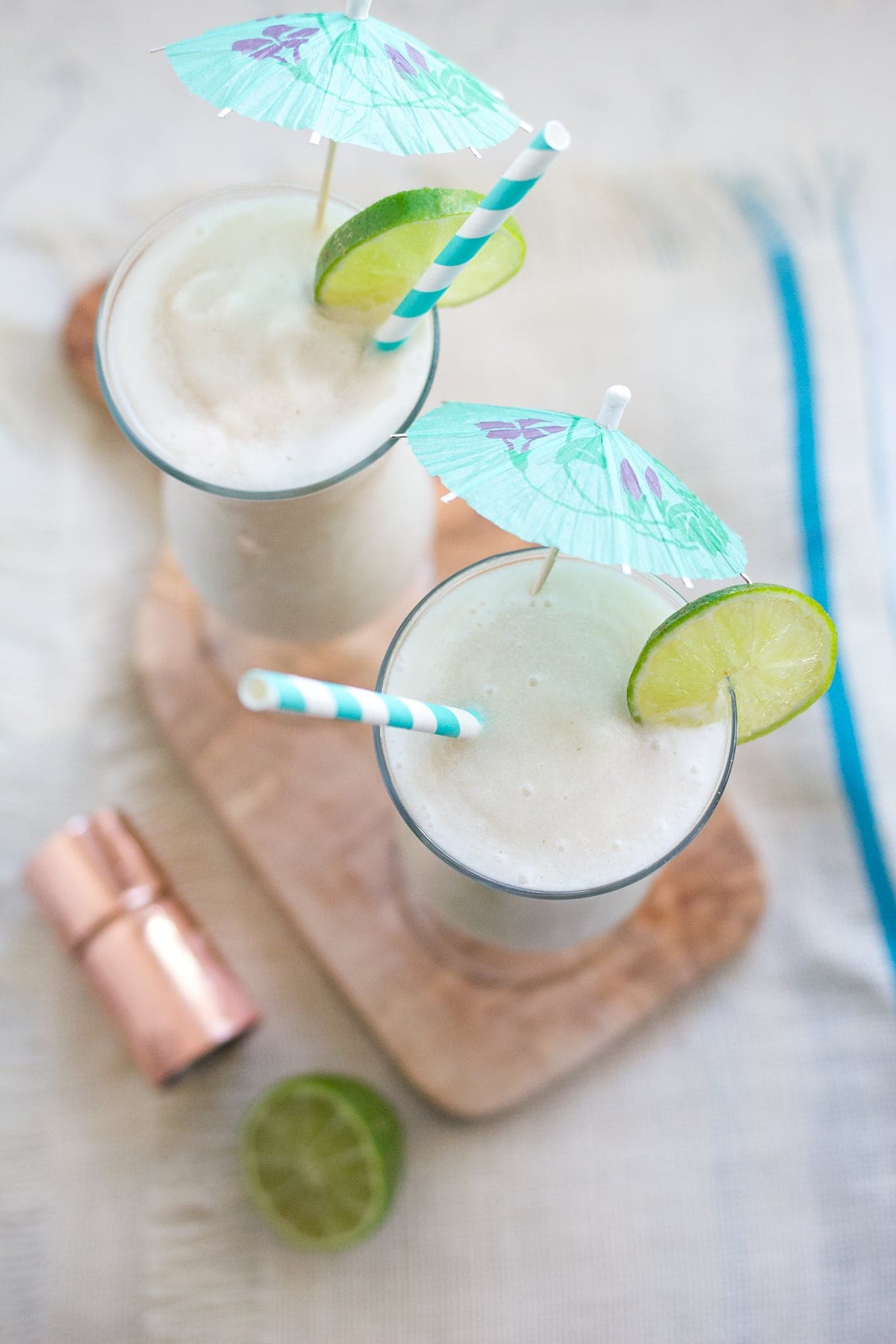 It's the ultimate in vacation flavored cocktails right along side frozen margaritas and piña coladas, that have you dreaming about afternoon naps and swim-up bars. But a word to the wise, just like a beautiful day in the sun, these babies go down really easy so proceed with caution. Don't forget about all of the rum inside! CHEERS!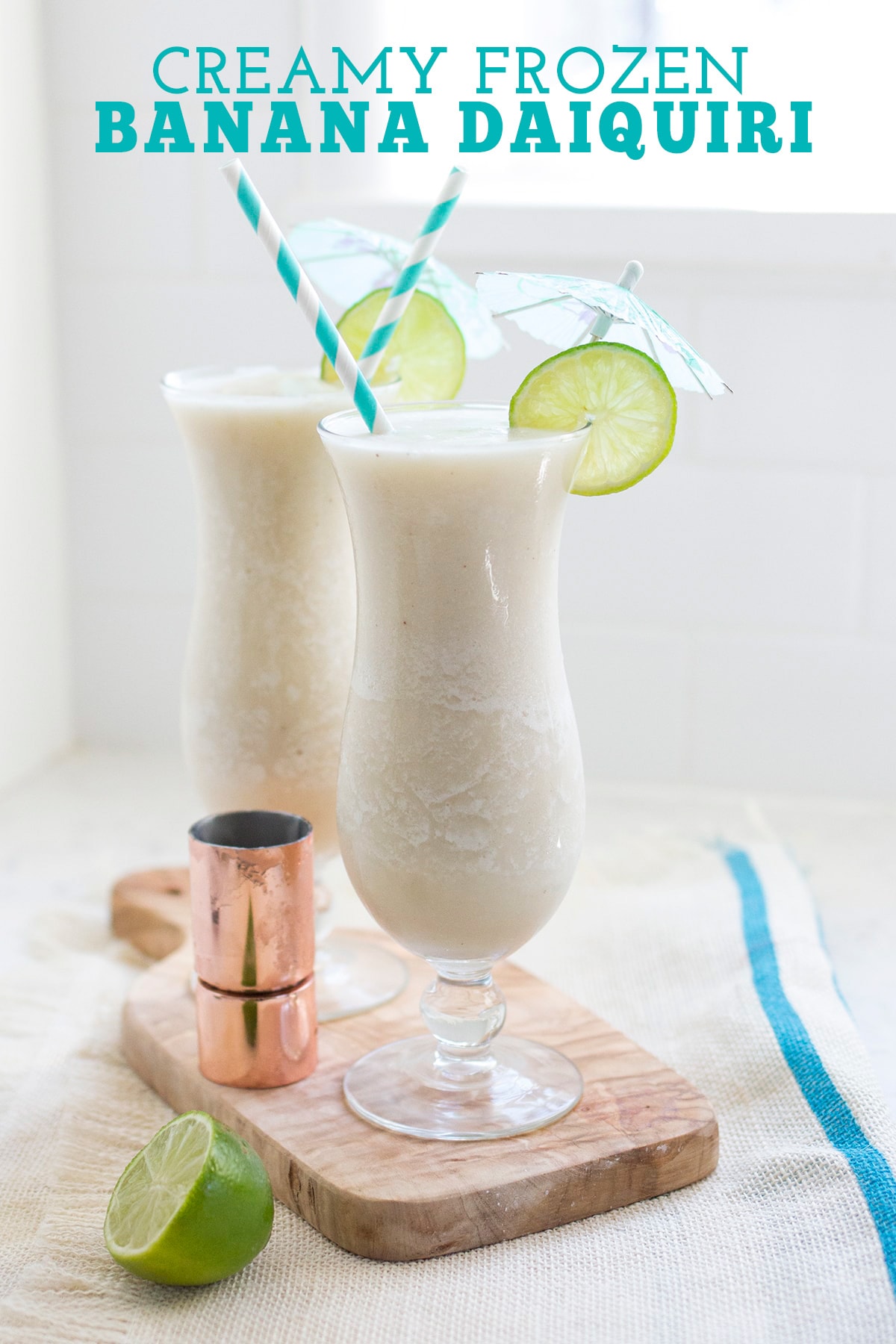 More Tropical Drinks to Try: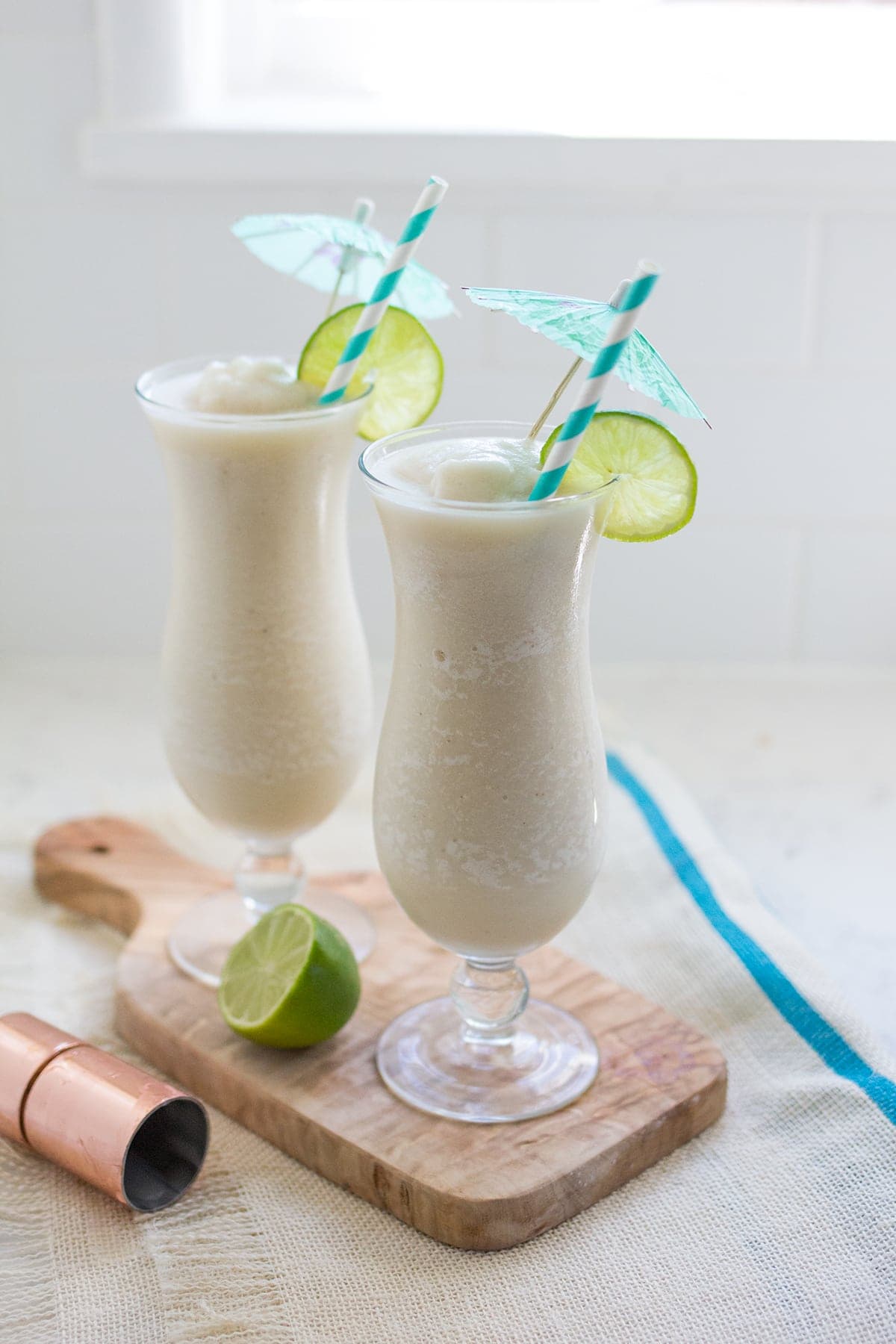 More Banana Lover Recipes
I'm always looking for more ways to use up the ripe bananas I save in the freezer, how about you? If you aren't making Banana Cocktails, you might like to try some of these delicious banana recipes: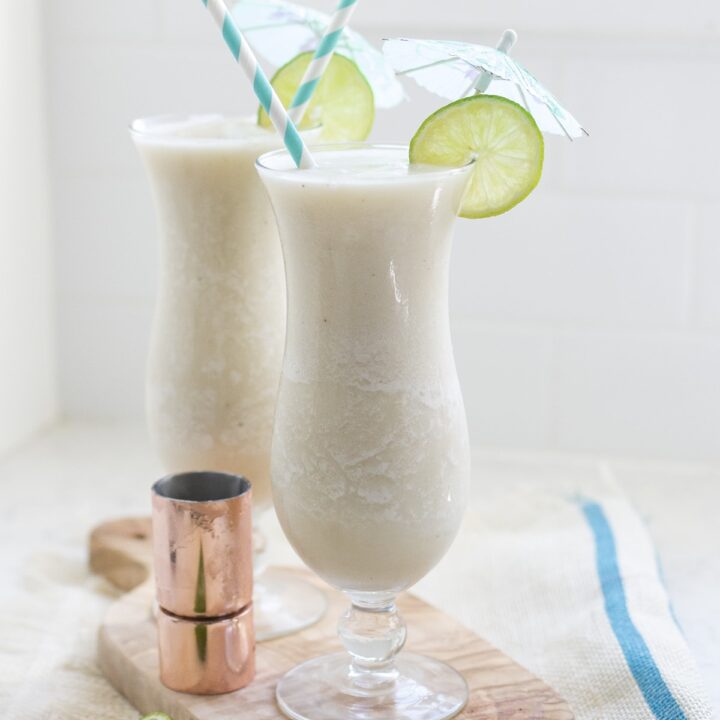 Frozen Banana Cocktails
A frozen coconut banana rum cocktail that tastes like a tropical beach vacation.
Ingredients
2 large frozen bananas
6 oz cream of coconut (I like Coco Real)
juice of 1 lime
4 cups ice
6 oz dark rum (or use your favorite!) Note: banana rum would be delicious as well!
Lime wheels, paper umbrellas and straws for garnish.
Instructions
In a blender combine all of the ingredients and blend until smooth.
Taste and add more ice or lime juice as needed.
Serve in hurricane glasses with a lime wheel, umbrella and paper straw.
Notes
Substituting dark rum for a banana rum or even coconut rum in this recipe adds even more flavor!
Nutrition Information:
Yield:

2
Serving Size:

1
Amount Per Serving:
Calories:

878
Total Fat:

45g
Saturated Fat:

32g
Trans Fat:

1g
Unsaturated Fat:

10g
Cholesterol:

101mg
Sodium:

154mg
Carbohydrates:

74g
Fiber:

10g
Sugar:

43g
Protein:

6g